This recipe is just like the chicken tikka masala you order from a restaurant. It's one I cook for friends who love the British restaurant classic when hosting a curry night.
So, the great news is – this is the answer to your endless search for that creamy, coconut curry sauce which you can't make at home.
The news you might not be as chuffed about – this isn't a 'simple' or 'quick' recipe. This recipe follows the mythology the restaurants will – which is cooking a large batch of 'generic' curry sauce which is adaptable for a range of spices (think a mild curry-ish vegetable stew), then creating a 'masala' sauce. I'd recommend choosing to cook this recipe on a Sunday or day where you have time to relax and not rush. The great news is, once the sauce is made, it makes enough to freeze half and next time it's a quick de-frost kinda meal! 🙂
Base Sauce: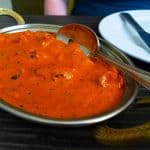 Restaurant Style Base Curry
This is a curry base like what most British Indian restaurants will use. Make a large batch of this curry, freeze, and add variant spices to to create your favorite restaurant dishes.
Ingredients
1kg

roughly chopped onions

1/2

chopped carrot

1/2

chopped pepper

1/2

sliced potato

1/2

tsp

salt

1

tsp

ginger/garlic paste

1/2

litre

water

1

tbsp

vegetable oil
Stock
2

cinnamon sticks

3

cardamon pods

2

bay leaves
Fried Spices
1

tbsp

vegetable oil

1

tbsp

garlic/ginger paste

3

tsp

turmeric

1/2

tin

chopped tomatos

2

tsp

curry powder

1

tsp

coriander

1

tsp

cumin

2

tsp

chilli powder

1/2

tsp

garam masala
Instructions
Take a deep, non-stick pan and add all the ingredients.




Turn up the heat and bring to a steady boil. Boil it for at least 30 minutes, making sure the bottom doesn't catch.

If it is looking dry, or begins to catch, add some more water. There is not an exact cooking time as to when it's ready. Like most things it is done by eye and when the onions begin to 'melt' it is time to move to the next stages.

In a separate pan, behind to make the stock - by boiling the cinnamon sticks, green cardamom pods and bay leaves. Boil this for about 10 minutes, then strain through a sieve straight into the onion/carrot base pan.

In a frying pan add and heat the oil under the 'spices' list above.

Add the ginger/garlic paste to the hot oil (be careful, it will splutter) and cook until it begins to turn slightly brown

Add the rest of the dry spices, and cook for 2-3 minutes, until they smell fragrant (be careful not to have your heat too high to burn the spices)

Add the 1/2 tin of tomato to the spice mix and stir to combine

Transfer the tomato/spice mix into your large pan of onions - stirring to combine

Cook the large pan of onions/stock/spices for a further 5 minutes.

Turn off the heat and allow the base curry to cool slightly before bending to a smooth paste unsing an immersion blender.

You can now allow the base curry to completely cool and freeze in batches for later use, or begin to start cooking spices to 'finish' your curry - see below for Chicken Tikka Masala.
Recipe Notes
This recipe has been adapted and scaled down from the popular 'Zaals' restaurant recipe. http://www.curry-recipes.co.uk/curry/index.php?topic=8871.0
Chicken Tikka Masala: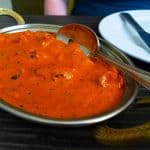 Chicken Tikka Masala Sauce
This is part 2 of the recipe. This turns the 'base' sauce into a rich, creamy Chicken Tikka Masala just like you'd get at a local British Indian restaurant.
Ingredients
Chicken
1

tbsp

Pataks Tandoori Paste

1

tbsp

natural yogurt
Sauce Ingredients
2

tbsp

Oil

vegetable or sunflower

1

pint

Base Sauce

from the recipe prepared above)

100g

Creamed Coconut

2

tbsp

Ground Almonds

1

tsp

Clear Honey

1

tbsp

Tomato Ketchup

175ml

tin

Heinz Cream of Tomato Soup

1

tsp

Salt

1

tsp

Paprika

1

tsp

Chilli Powder

1

tsp

Garam Masala

1/2

tsp

Cumin

1

tsp

Red Food Colouring

optional - but if you want that 'restaurant' color, i'd recommend to add

4

breasts

chopped chicken breast
Instructions
Mix the chicken with the Pataks paste and yogurt and put in the fridge whilst you prepare the rest of the meal.

Heat the oil in a pan until very hot. Slowly add the base sauce, it will spatter at first so be careful.

Bring to boil and add the salt, paprika, chlli and food colouring, cooking for around 10 minutes until the sauce starts to thicken.

Add the remaining ingredients and simmer for 2 minutes, then add the pre-cooked chicken tikka pieces, simmer for a further 2 minutes and your done.

Grill the earlier marinated chicken (or fry in a shallow pan with a little oil) until cooked. Using a kitchen towel, pat the chicken pieces dry of any oil once cooked and add to the prepared sauce.

Serve with rice and naan, and sprinkle with a little fresh coriander to serve.
Recipe Notes
Adapted from http://www.curry-recipes.co.uk/curry/index.php?topic=1823.0