This low FODMAP fragrant chicken curry is ideal as light, summer dinner.
If you love lime and lemongrass – this is the curry for you. Made with only low FODMAP ingredients in under 30 minutes it's a recipe you can enjoy whilst on one of the toughest diets!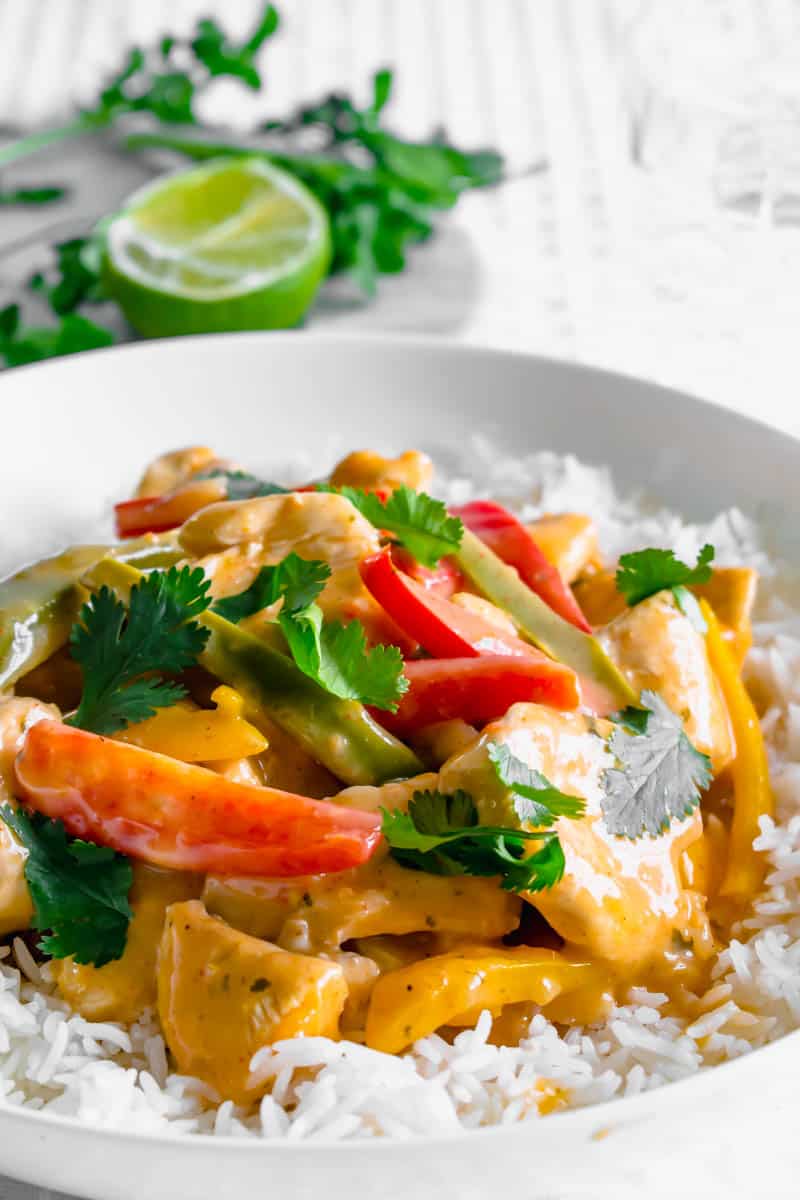 I've of course removed all onions and garlic from this dish – adding sweetness from coconut cream and thickness from some cornflour.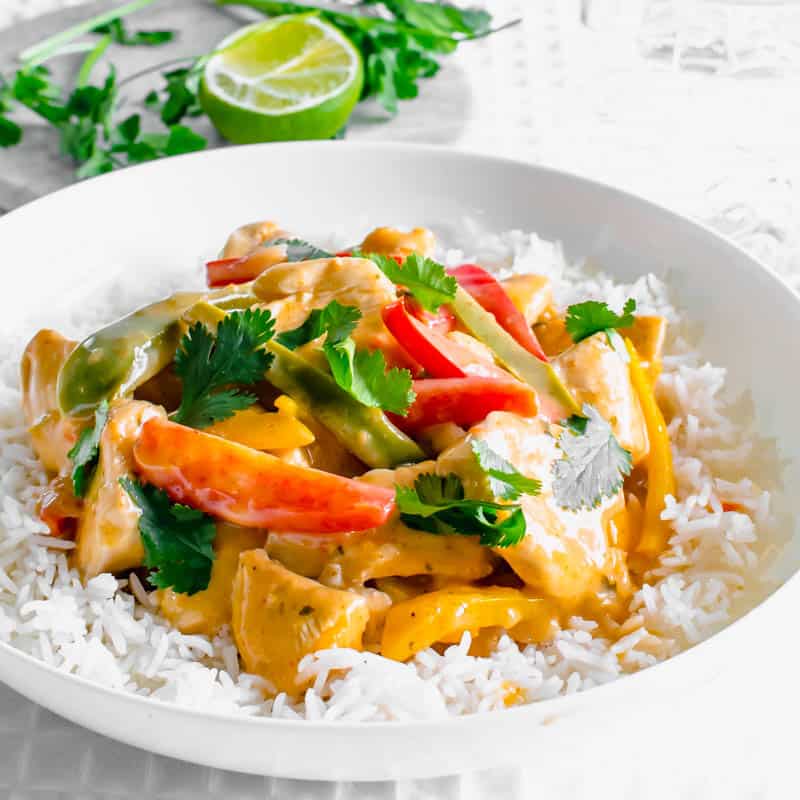 How to make a fragrant low FODMAP curry
Scroll down for recipe card and ingredient list
1. Add the 'paste' ingredients to your blender/food processor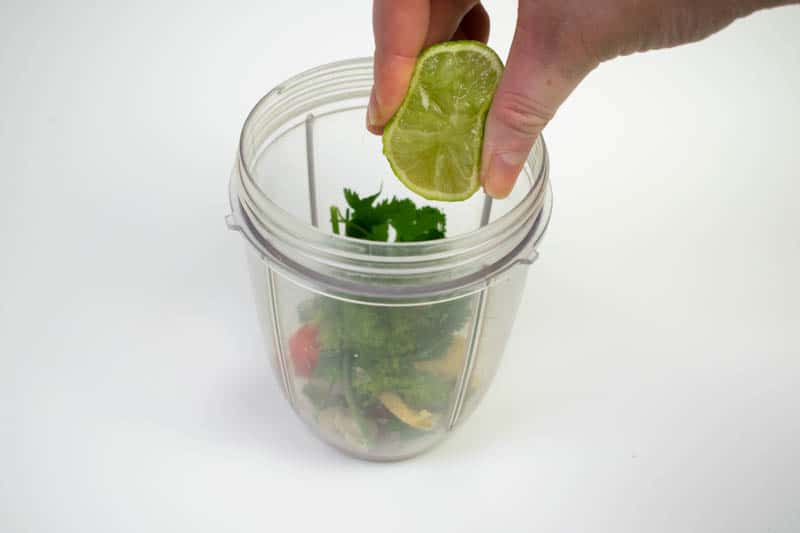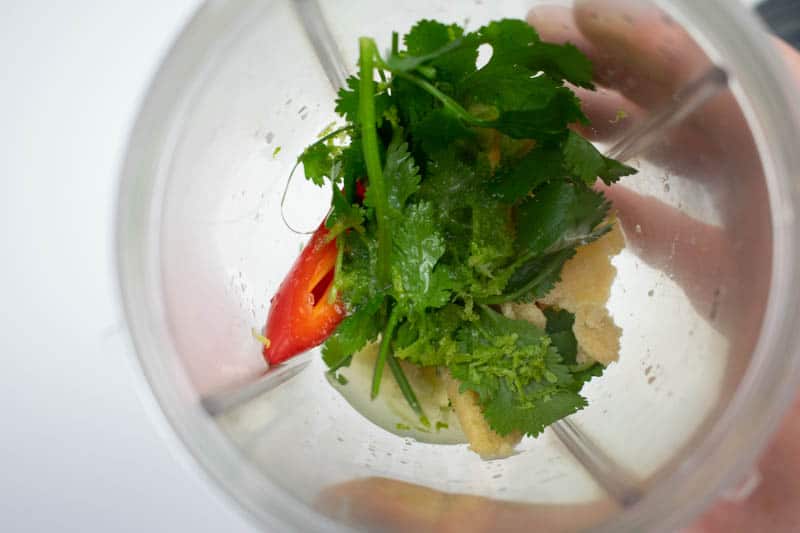 2. Blend until chopped and smooth
3. Add oil to a hot pan and heat to medium/high heat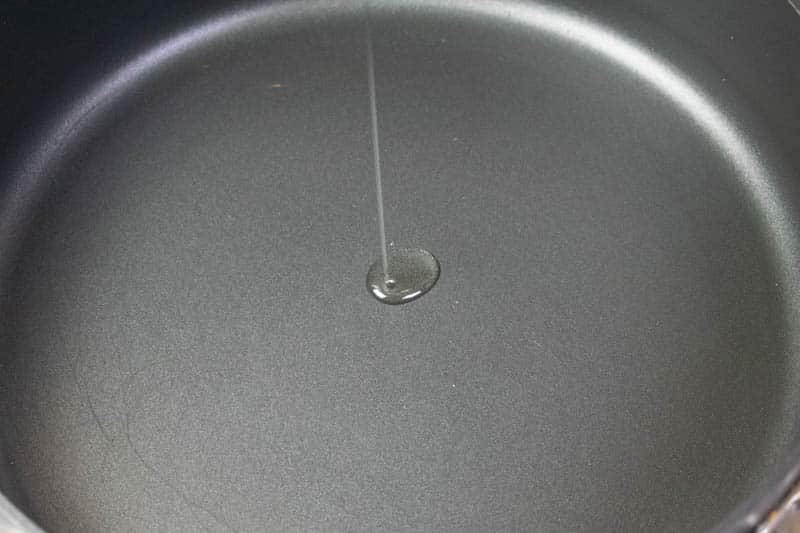 4. Add the chopped chicken and cook for 2 minutes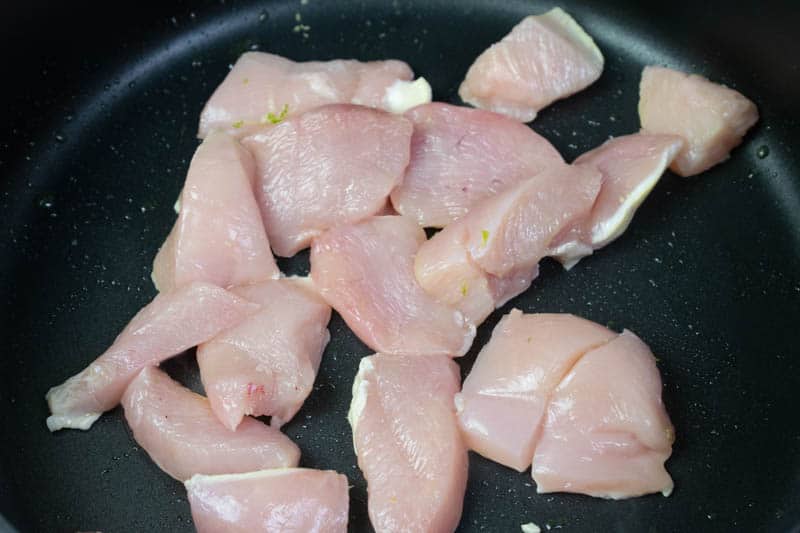 5. Then add the chopped peppers and cumin
6. Stir to coat the chicken in the cumin and cook for a couple more minutes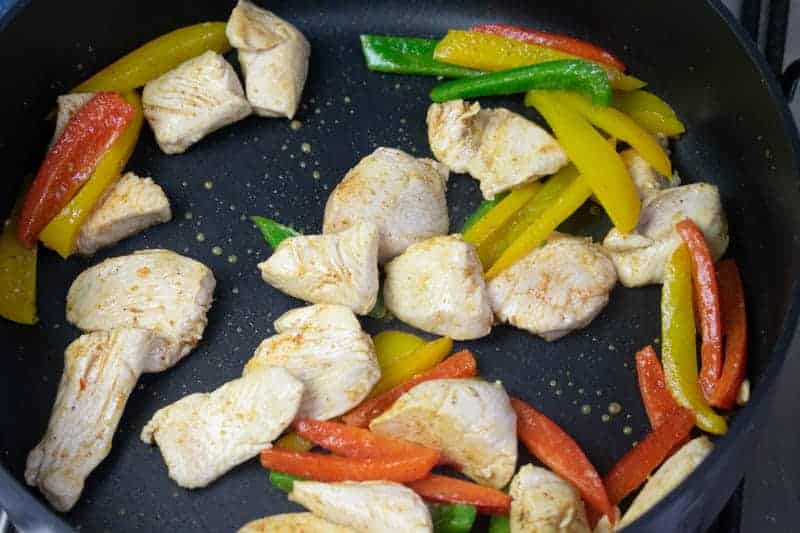 7. And the curry 'paste' you made earlier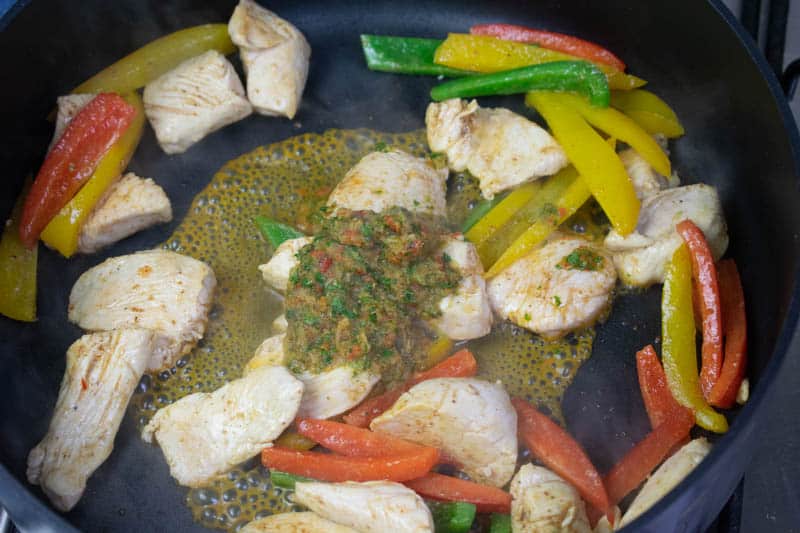 8. Stir to coat the chicken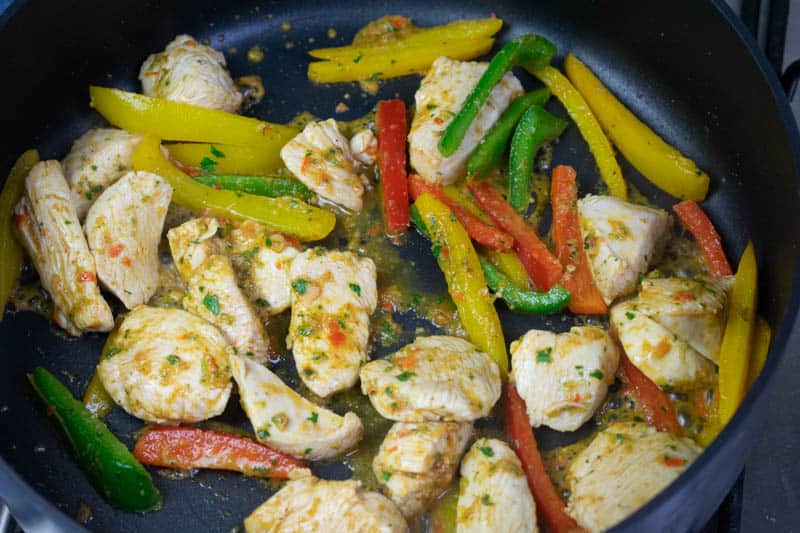 9. And add the coconut milk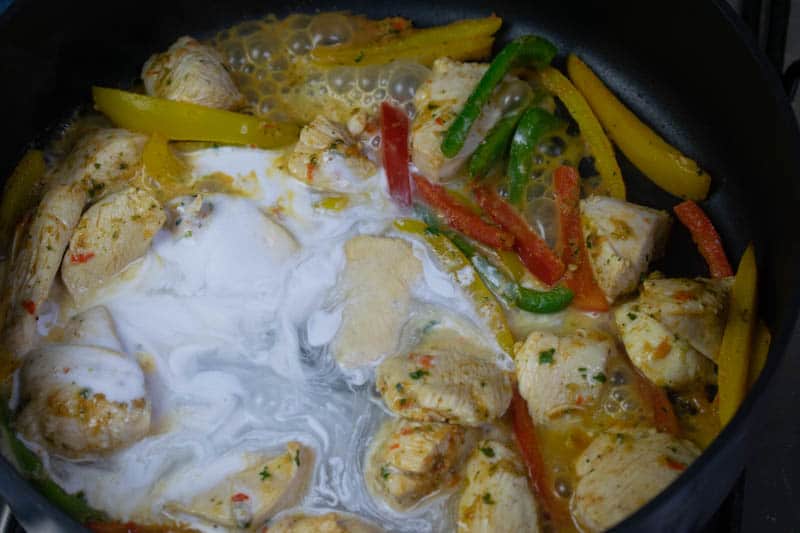 10. Stir and add the paprika, brining it to a simmer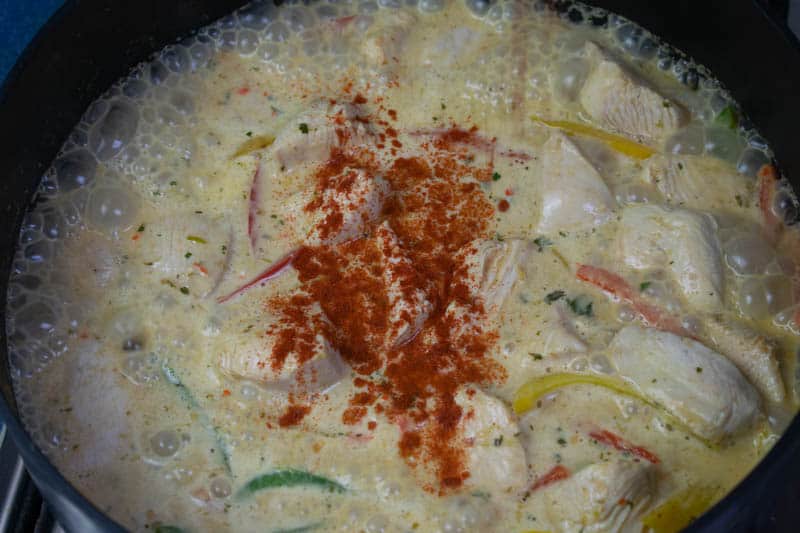 11. Pour in the water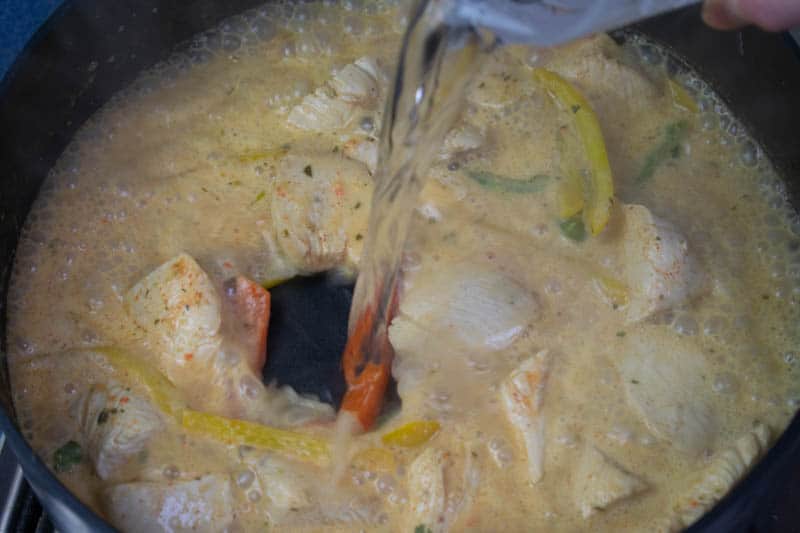 12. Then Combine 2 tbsp water with 1 tbsp cornflour in a separate bowl until smooth
13. Add the cornflour mixture into the curry and mix – this will thicken the sauce. Simmer until the sauce is how this as you like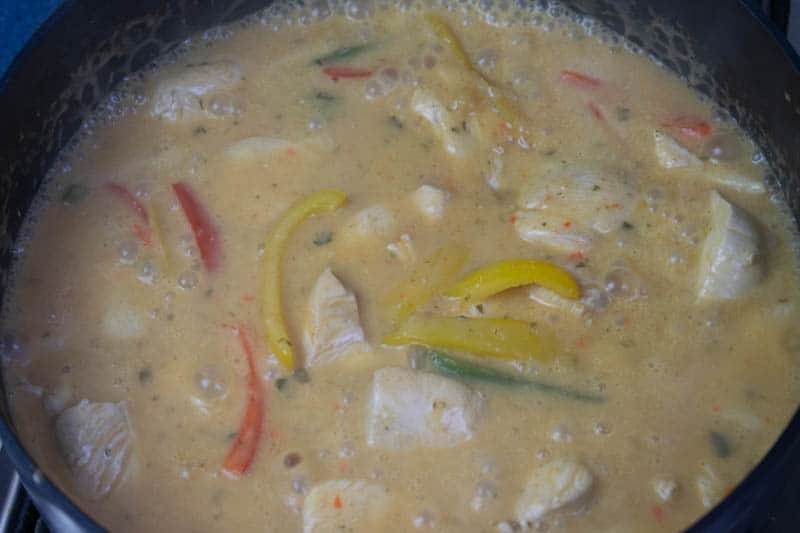 Yield: 4
Low FODMAP Thai Red Curry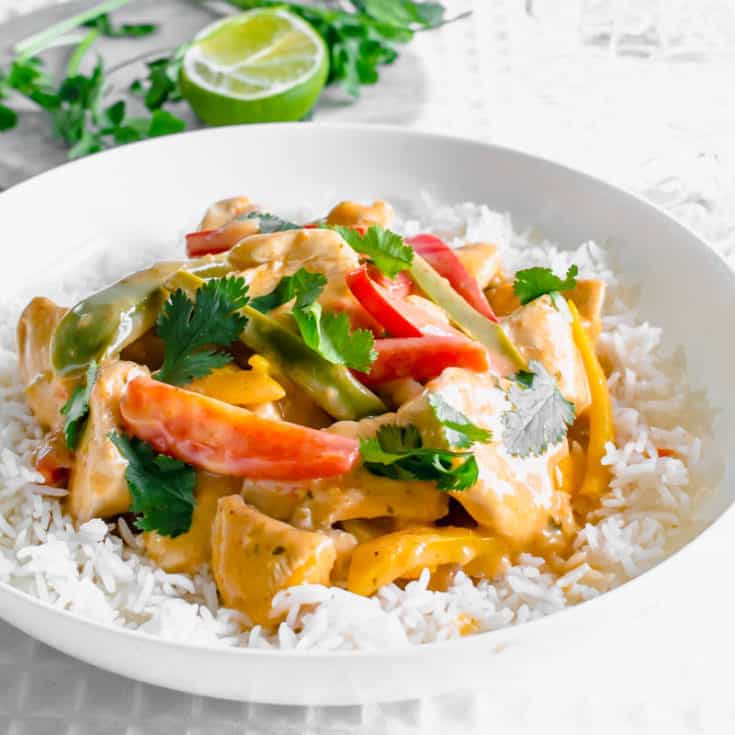 A fragrant coconut and lime low FODMAP curry.
Ingredients
1 Tsp Oil
1 Chilli (deseeded)
1 Lime
1 Tbsp Fresh or Frozen Lemongrass
4 Coriander Stems
1cm Ginger
4 Chicken Breasts
2 Red Peppers
1 Tsp Ground Cumin
1 small Tin Coconut Milk
1 Tsp Paprika
To Serve (Optional)
Green parts of a Spring Onion
Rice
Instructions
Deseed the chilli
Zest and juice the lime
Add the deseeded chilli, zest and juice, coriander stems & ginger to a blender and blitz until smooth (I use my nutribullet)
Slice the chicken breasts into bite-sized pieces
Chop the pepper into strips
Heat oil in a large, non-stick pan
Add the chicken, stir and cook for 5 minutes, on medium heat, until browned on each side
Add the ground cumin and coriander and cook for 1 minute
Add the paste you made - stir and cook for 2 minutes
Add the peppers, cook for 1 minute
Pour in the coconut milk and stir
Then add the paprika, stir and turn the heat down - simmering for 10 minutes
Once chicken is cooked through, serve with the green parts of a spring onion, fresh coriander and rice (Optional)