These triple chocolate cookies are absolutely perfect for any chocaholic. Made with dark chocolate, and crammed full of white and milk chocolate chips – these are a truly rich, sinful treat you're guests are sure to love (that is, if you don't eat the lot before their arrival!).Cookies are an all time favorite – and personally, I think chocolate is the perfect pairing for cookies – my favorite flavors being chocolate chip, and this triple chocolate recipe.
Yield: 8
Triple Chocolate Cookies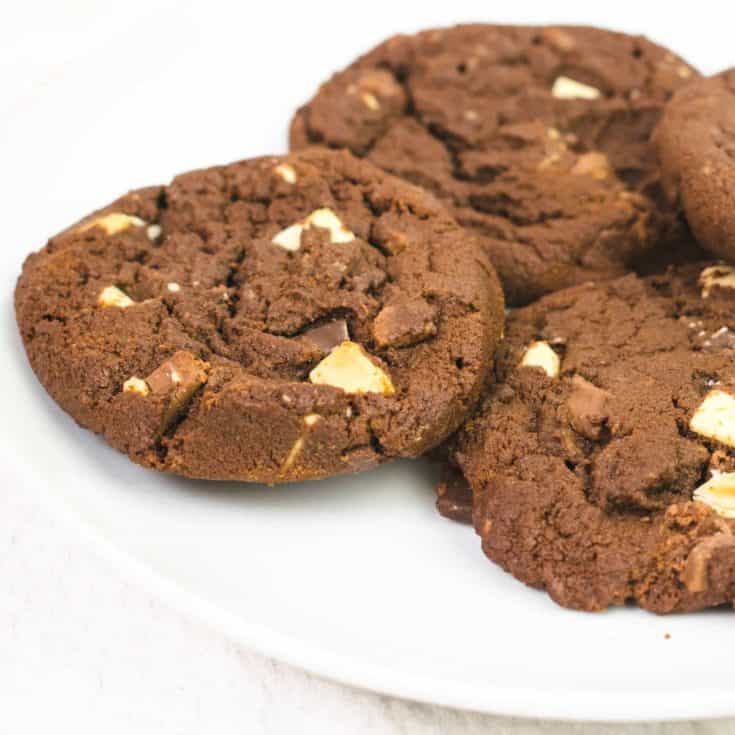 Easy to follow recipe for delicious triple chocolate cookies, with milk and white chocolate chips. Lovely and crisp with lots of chocolate chips. 
Ingredients
150g Dark Chocolate
150g Unsalted Butter
100g Soft Light Brown Sugar
75g Caster Sugar
1 egg
175ml Plain Flour
2 tbsp Cocoa Powder
1 tsp Baking Powder
200g Milk Chocolate Chunks
200g White Chocolate Chunks
Instructions
Preheat the oven to 180°C/gas mark 4.
Line a baking tray with baking paper, and beat your egg in a cup
Place the dark chocolate in a heatproof bowl over a pan of simmering water (make sure it's not touching) until melted. Leave to cool slightly.
Using an electric mixer, whisk together the butter, light brown sugar, caster sugar and vanilla extract until creamy. Whisk in the melted dark chocolate and egg.
Stir in the flour, cocoa powder and baking powder, until well combined. Stir in the chocolate chunks. Spoon rounds of the mixture on to the trays and bake for 12 minutes.