Tonight I decided to have a lazy evening and order some dinner in. Whilst browsing the Domino's menu, I noticed they've now launched fries?! This is quite welcome as, many of the Domino's deals are made up a pizza, sides and a drink for a discount – however, most of their classic sides (notably – their potato wedges) are not great.
And beyond not great, I'd go as far as to say they're bad. I'd rather have no sides than their potato wedges. So, I was looking forward to seeing how their fries compared – although I had very little hopes.
What are they like?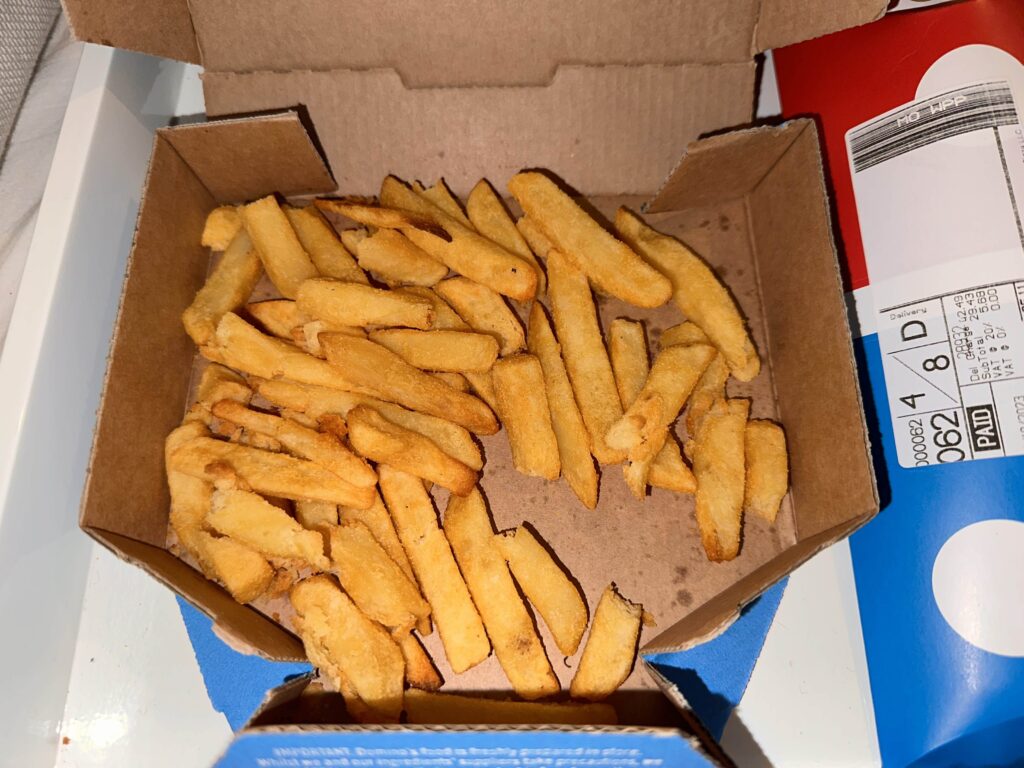 On their website, they describe the fries as: "A portion of perfectly crispy, golden fries served with 1 sachet of salt. Serves 2 – 259kcal, 1089kJ / serving."
Unfortunately, my order arrived without a salt sachet – so I had them unseasoned. However, I think the salt is just standard salt and not a special seasoned one, so I don't think missing that makes too much of a difference in my review.
The Domino's fries are baked rather than fried and taste honestly like (not great) home-cooked oven fries. It's not a very large portion if sharing between two and nothing to write home about. They're not bad… but just really nothing special.
Are the new Domino's fries worth it?
At my local store, they're £4.99 for a portion, or often as part of a meal deal. Long story short – they are 100% NOT worth £4.99 in my opinion.
They don't come with any sauce which is a shame, as, I didn't have any salt or sauce with them – having a dipping sauce would have helped a little.
Would I have them again?
Not if I had to pay for them. As part of a meal deal where my pizza would be cheaper for buying them alongside, I'd choose them over potato wedges, but that's not saying much. I certainly wouldn't add them to an order for £4.99 again, nor would I rush to have them again.
I'd recommend if you fancy fries with your pizza to pop some in your air fryer to be ready at a similar time to delivery – they'd be both cheaper, and better.
But also, I think the issue with Domino's is their pricing vs taste – chips at a local takeaway are generally cheaper and often better – so if you're craving pizza and chips it might be worth weighing up other takeaways in your area!
Have you tried them? What did you think? Let me know in the comments below – and, any better recommendations you have for Domino's sides, please!