Actifry Spaghetti & Meatballs is one of my new favorite Actifry recipes. It's well-loved in my home and super easy to do. Of course, as with most Actifry recipes, it's super guilt-free and a much lighter version than if they're pan-fried.
The juicy meatballs sit in a garlic and tomato pasta sauce – all made in the Actifry pan. When you cook the sauce you need the paddle in to ensure nothing leaks into the base of the Actifry (depending on your model). I recommend starting the cooking without the paddle though so the meatballs don't break up. I've detailed when to add the paddle below.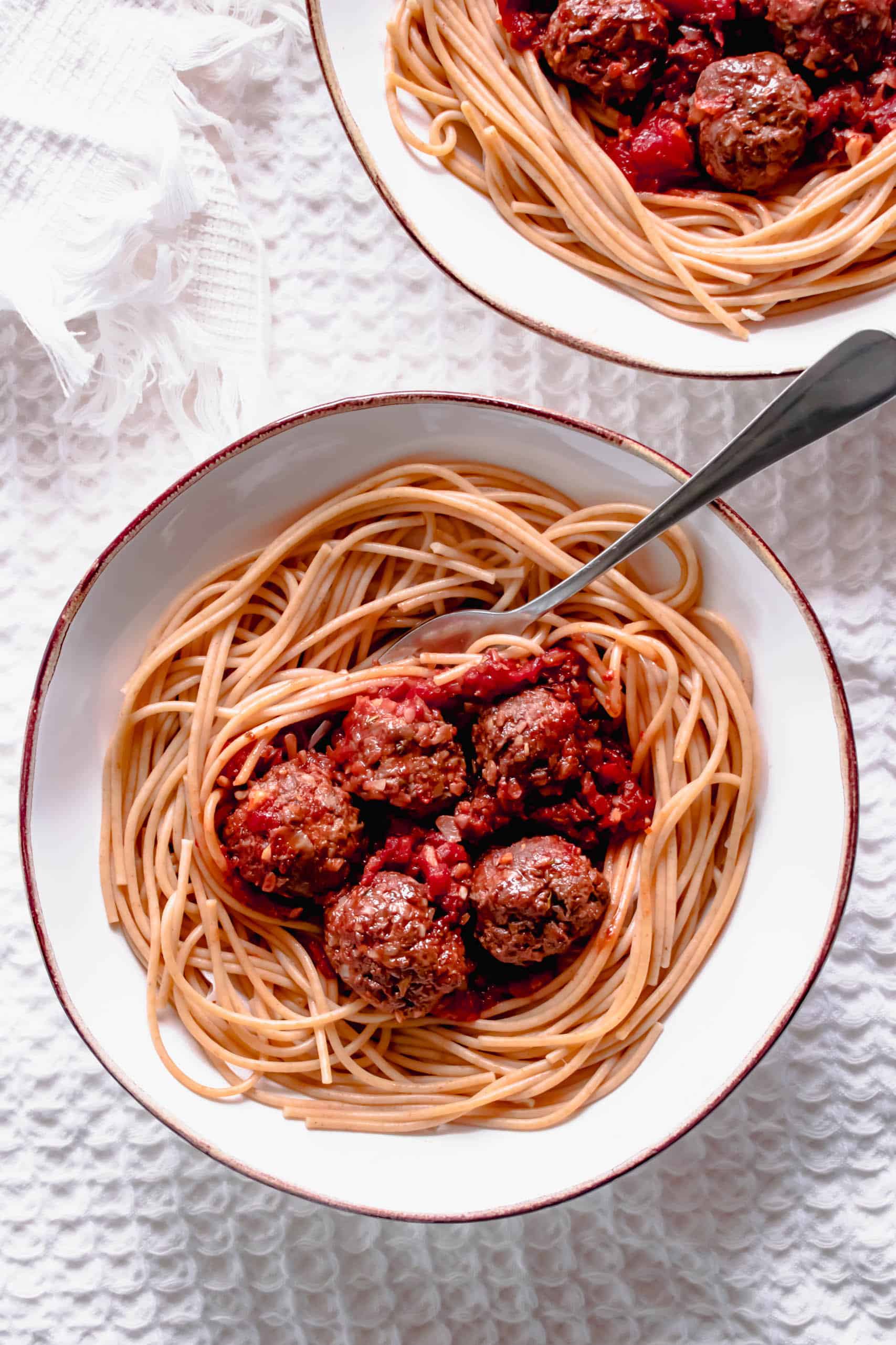 I often make pasta dishes with the Actifry, I make a super quick and easy pasta with sliced vegetables and pesto which I'll be adding to the site soon. If you'd like to hear when I post new Actifry recipes please join my Facebook group: Actifry Recipes by Hint Of Helen.
You can, of course, use store-bought meatballs for this recipe to save on time. Often when I buy a pack of 4 burgers, I use 2 as burgers on day one, then use the remaining burgers and roll them into 10 meatballs, for this dish the next day.
This meatball recipe would work well with turkey mince too if you prefer.
How to make Spaghetti & Meatballs in the Actifry
1. Finely dice the garlic and onions (I use my food processor to do so)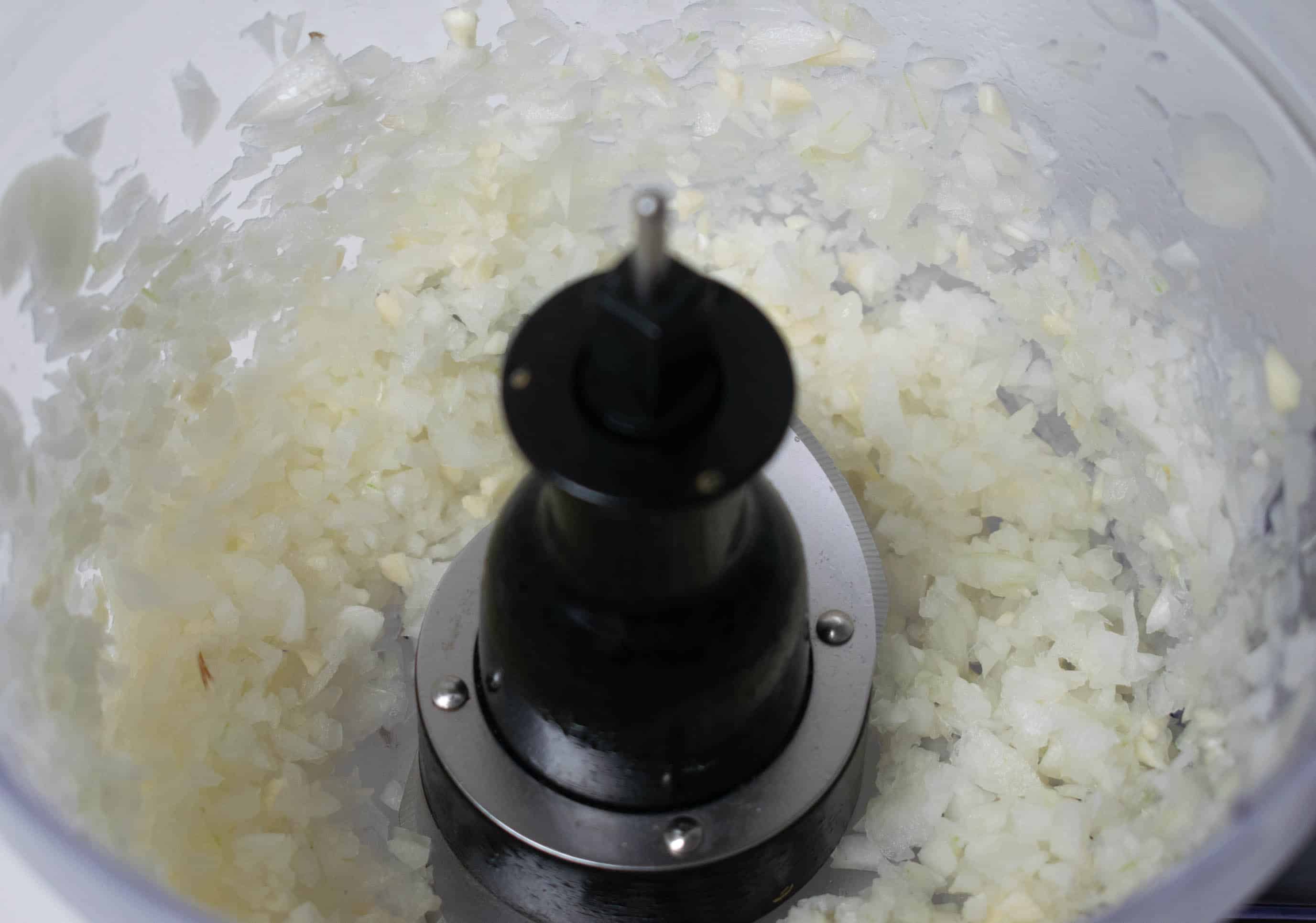 2. Transfer half of the onion/garlic mixture into a large bowl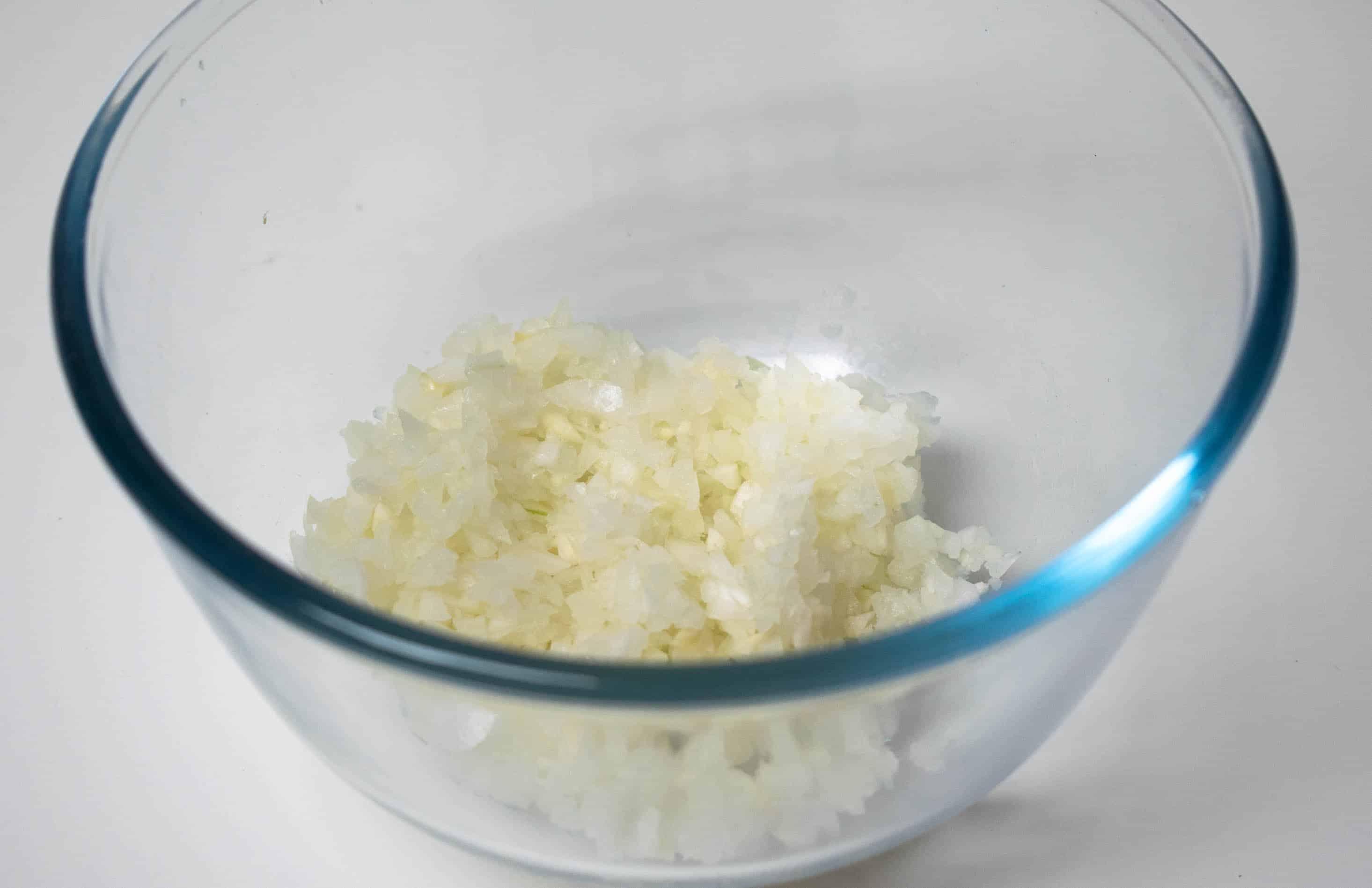 3. Then add the minced beef and herbs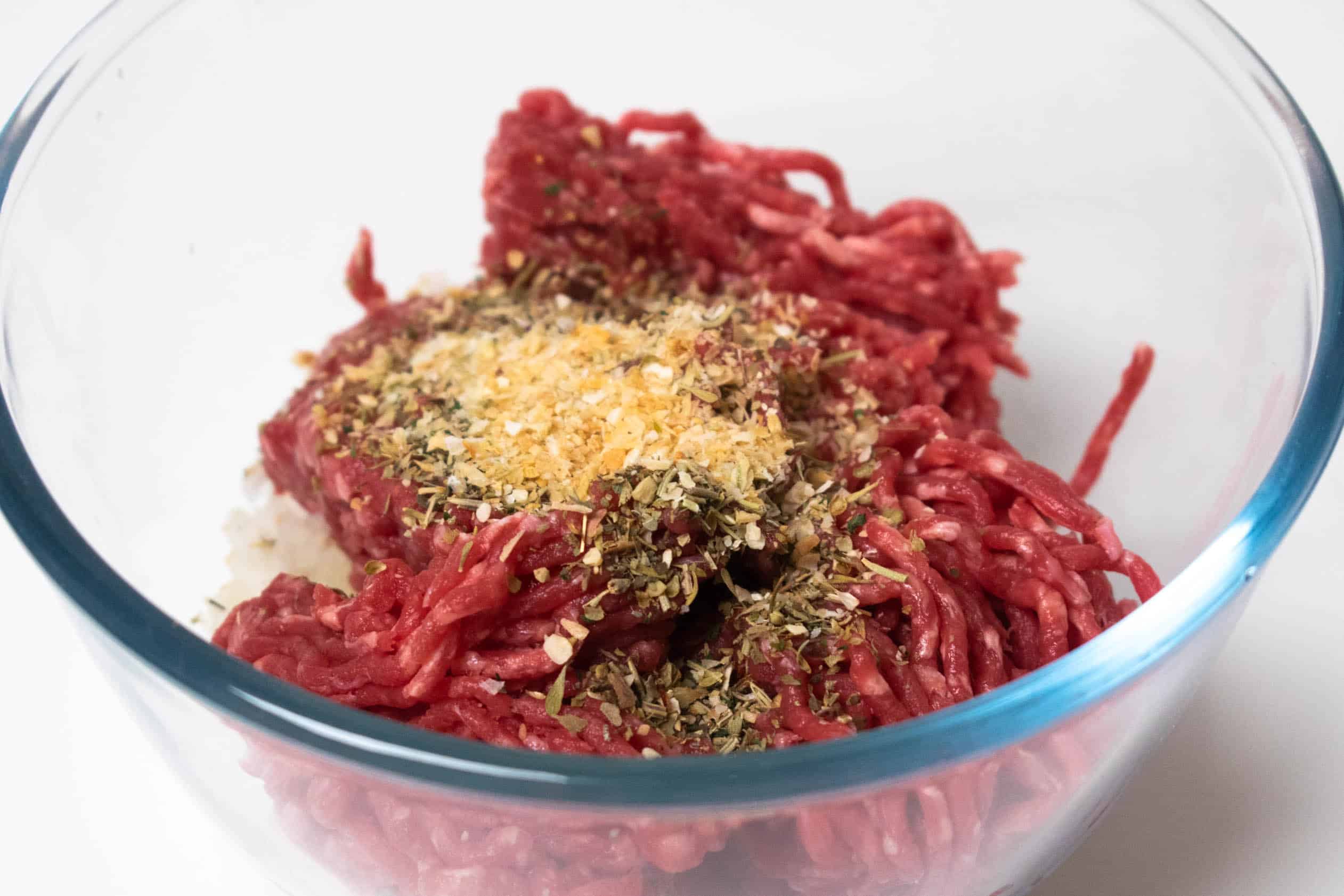 4. Mix to combine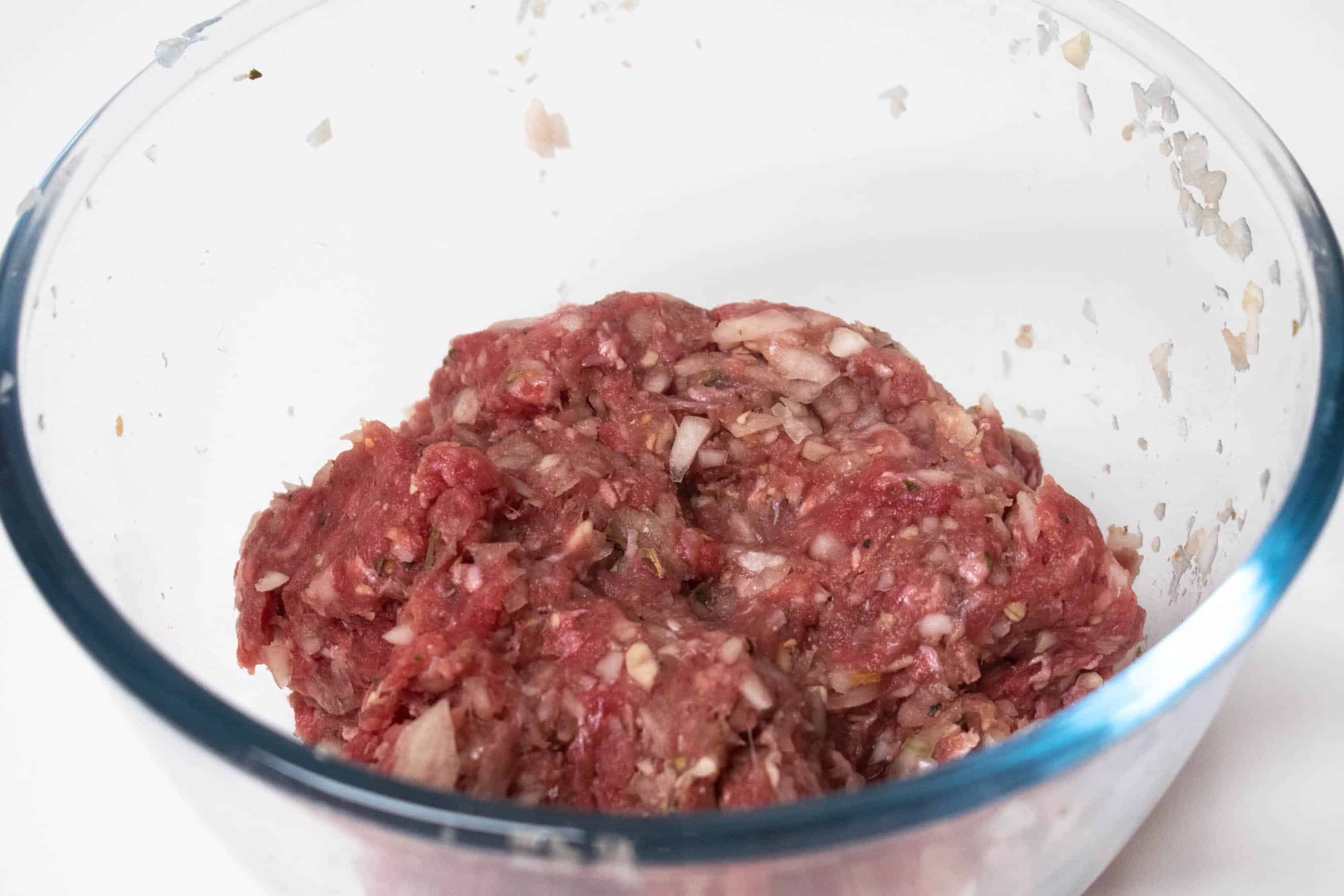 5. Then roll into bowls (I make 10 out of this mixture)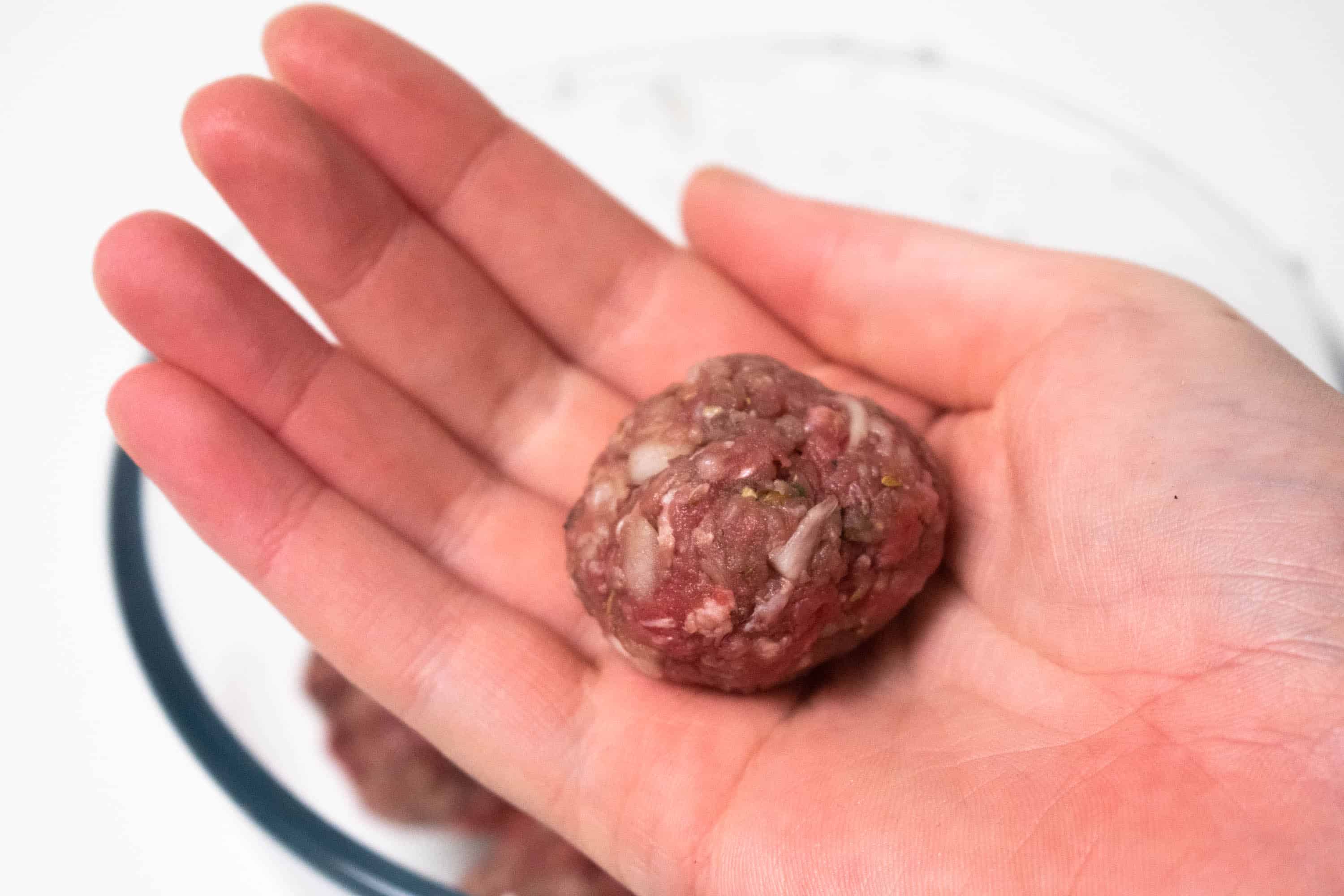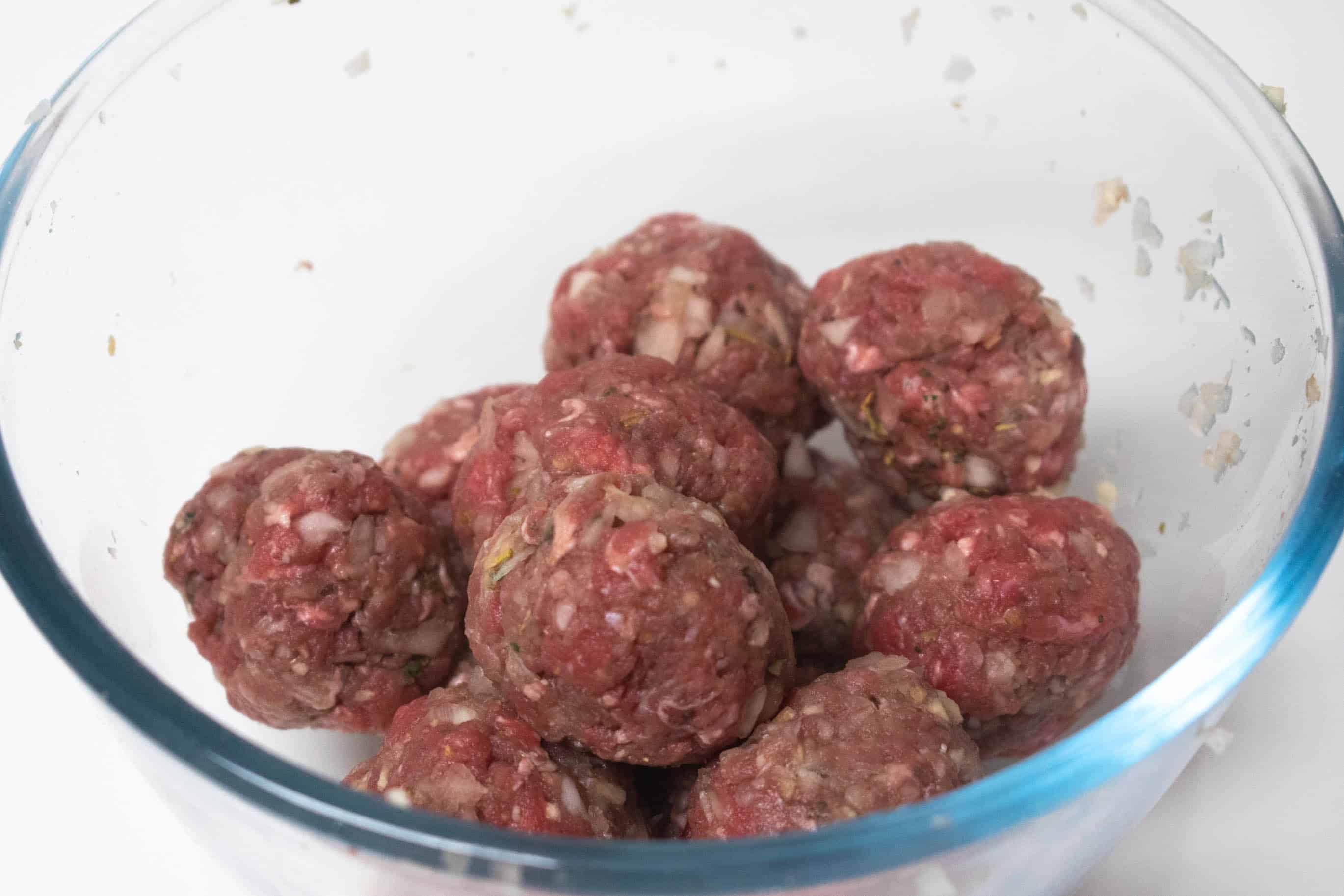 6. Next, place the remaining chopped onions and garlic into the actifry, with oil and the meatballs (remove the paddle)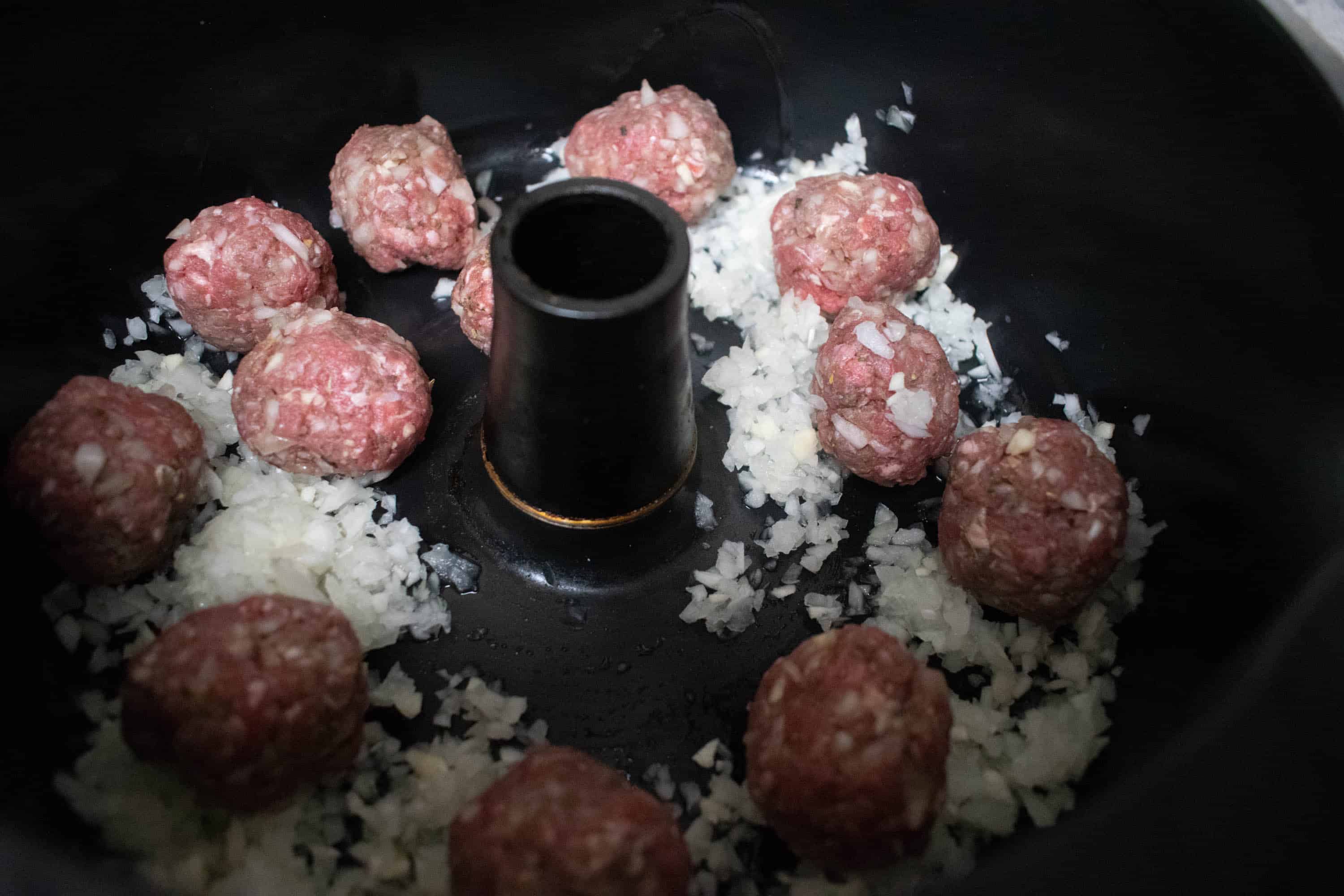 6. Cook for 6 minutes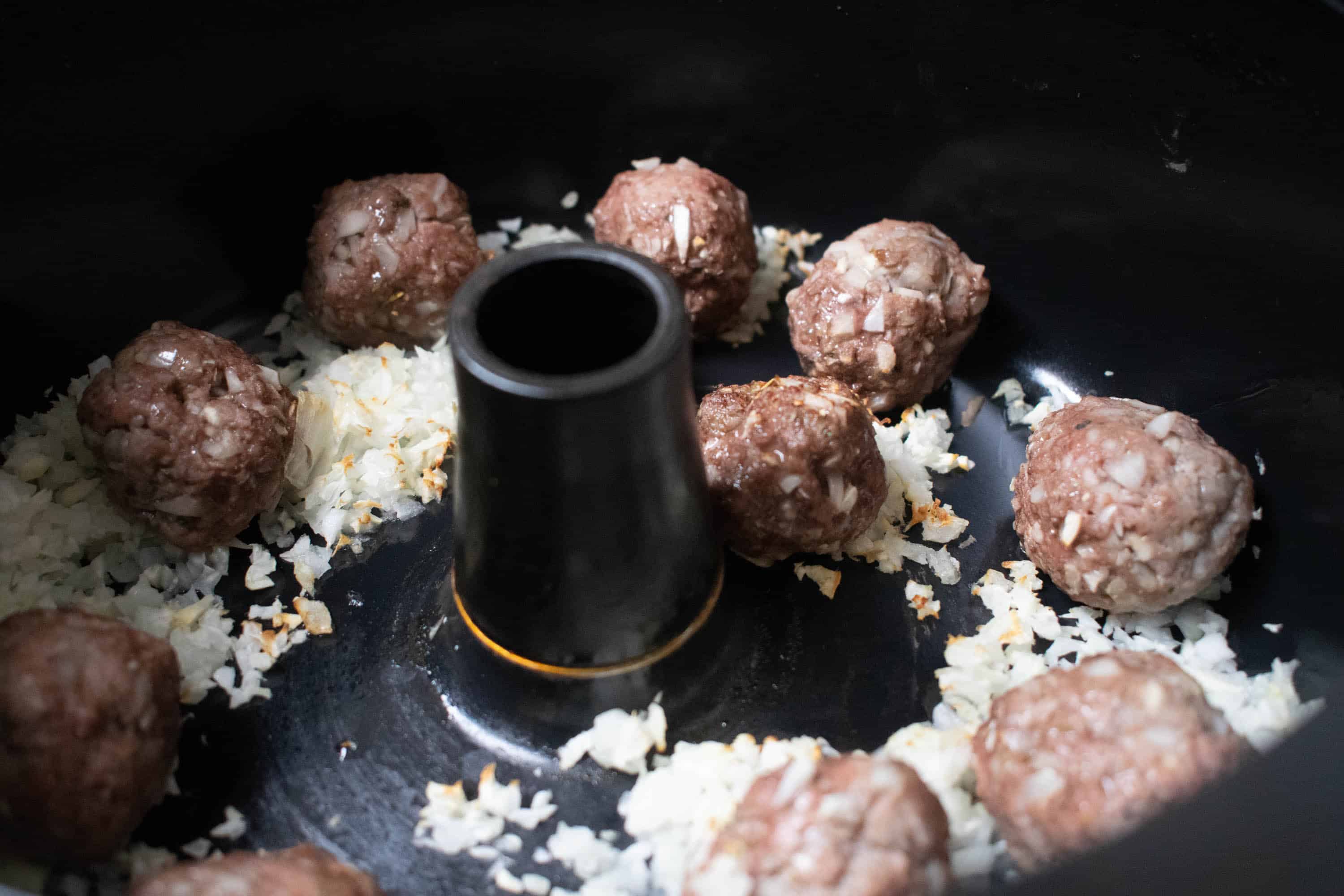 7. After the 6 minutes, add the paddle in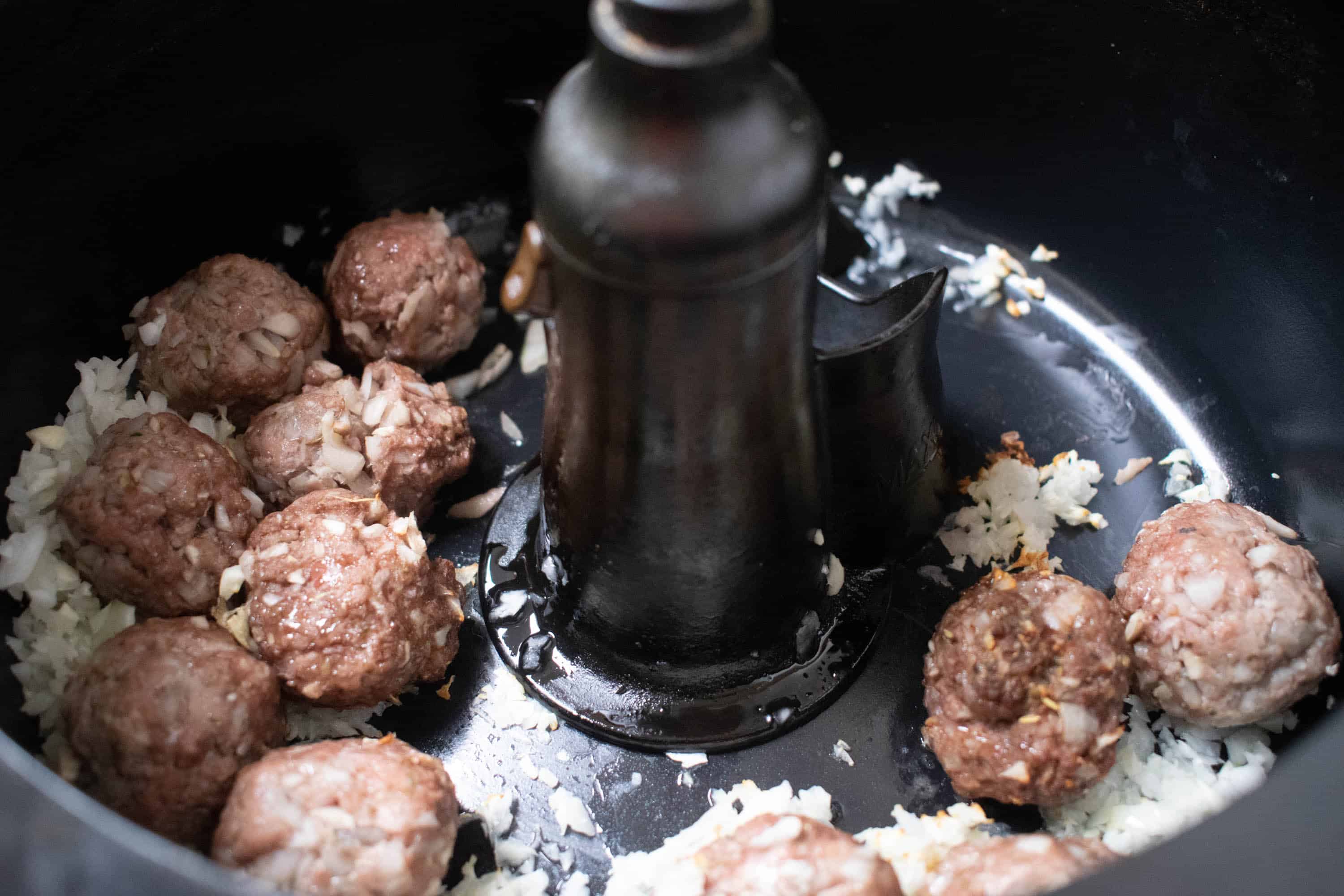 8. Cook for a further 3 minutes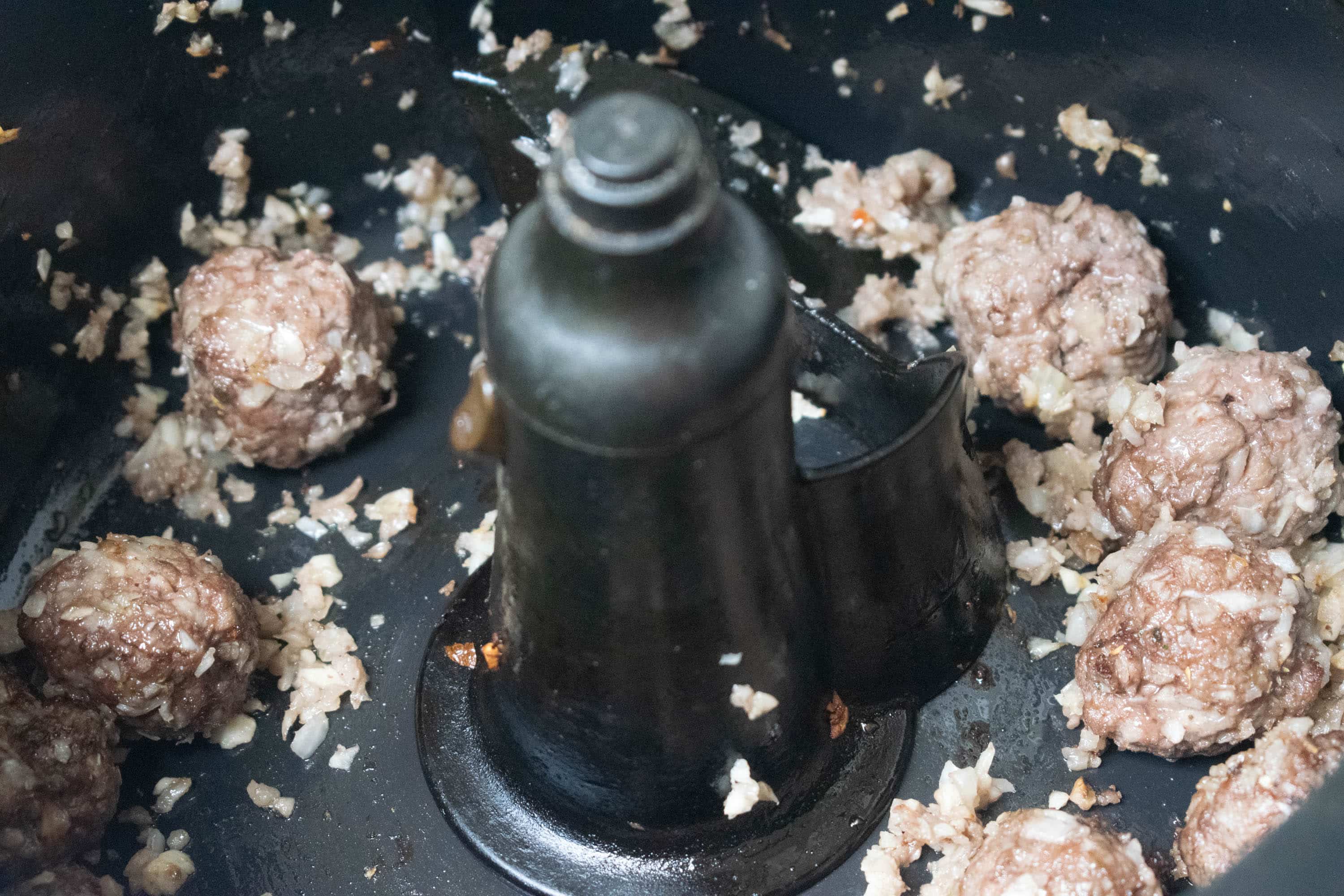 9. Then add the tinned tomatoes, herbs and balsamic vinegar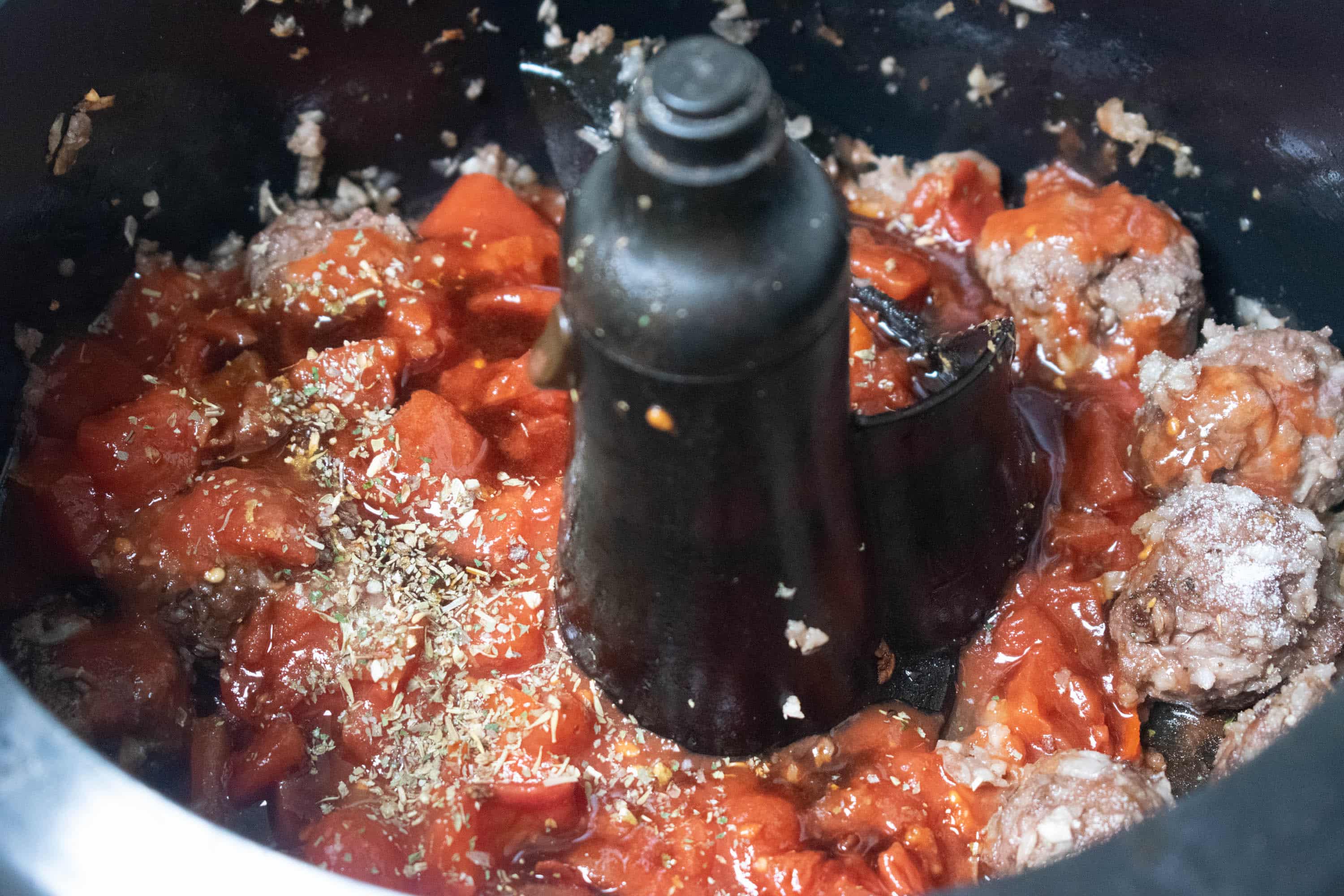 10. Cook for a further 4 minutes, or until the sauce is thickened and meatballs cooked through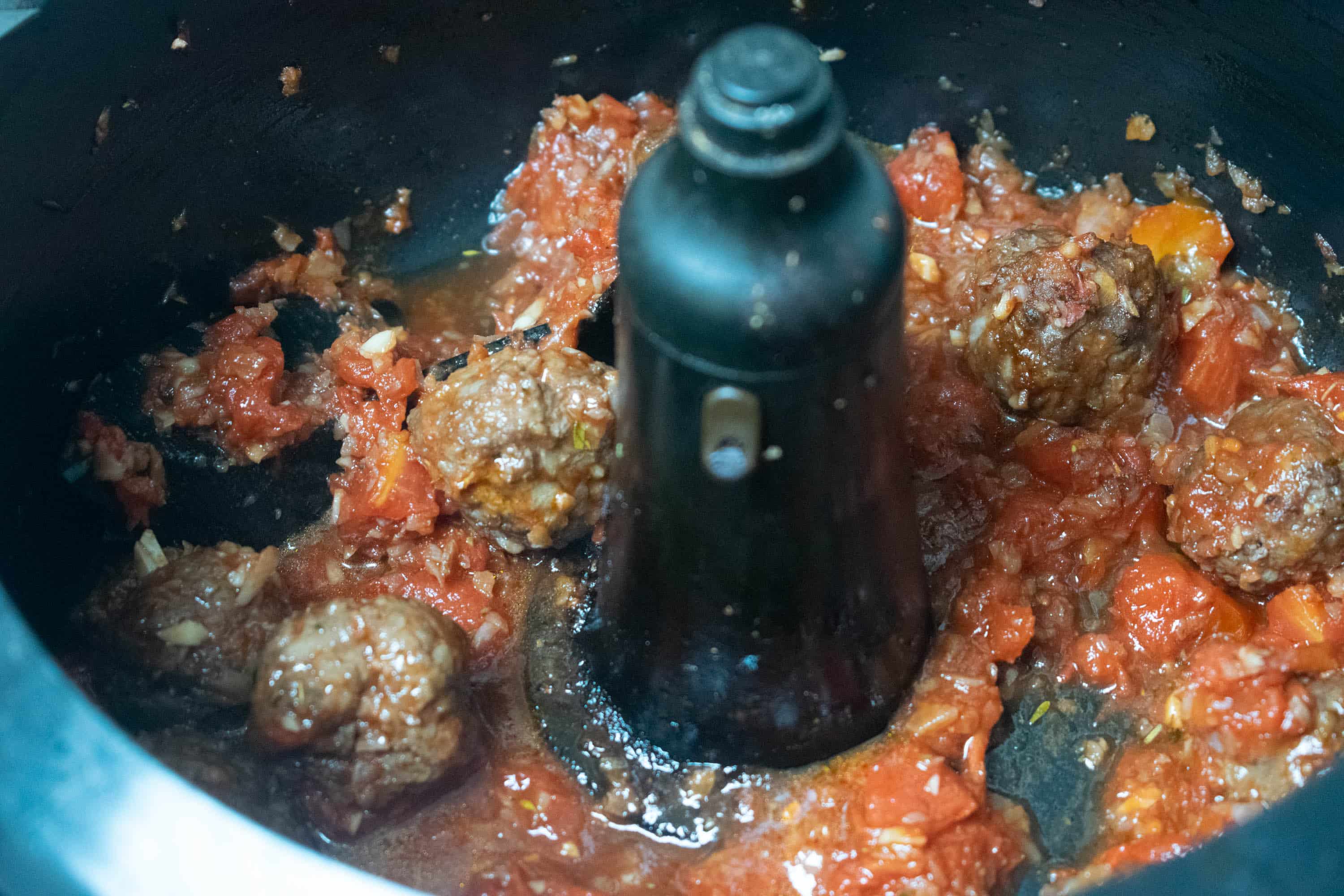 11. Once cooked through, serve on a bed of spaghetti for a delicious meal the whole family will love!
Yield: 2 People
Actifry Spaghetti & Meatballs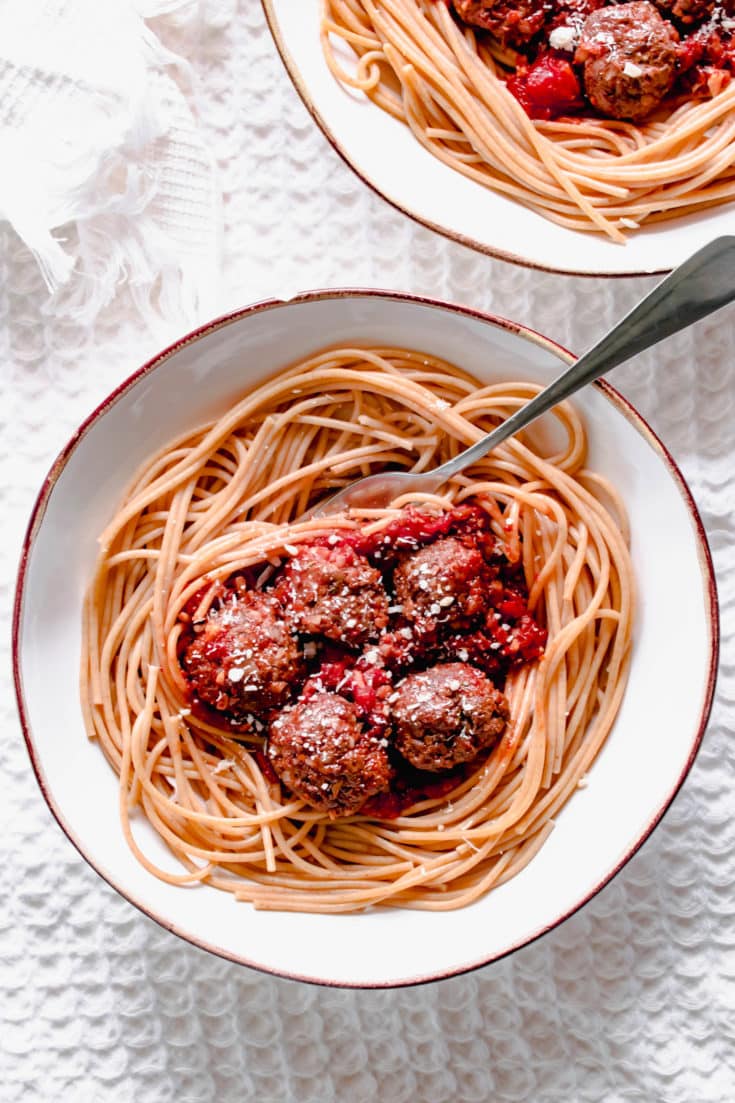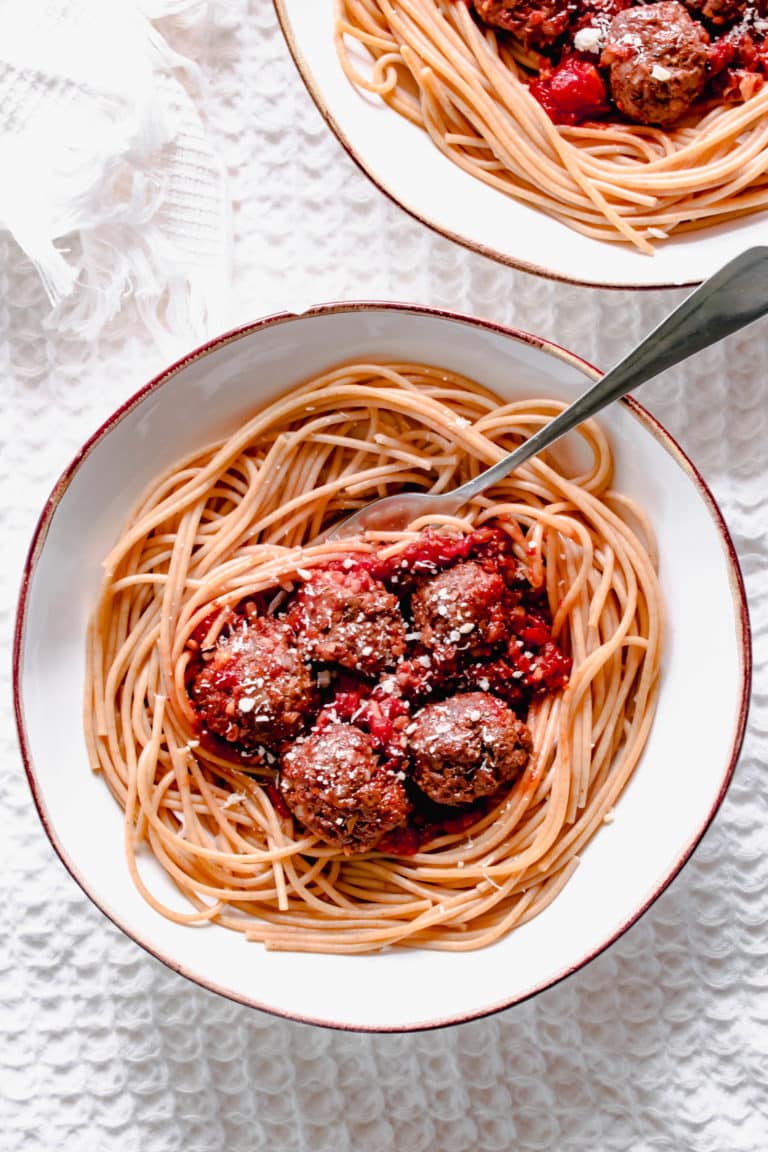 This Italian inspired dish is delicious and simple - perfect for a mid-week dinner.
Ingredients
For the meatballs:
1 Onion
1 Garlic Clove
500g 5% fat minced beef
1 tsp Onion Granules
1 tsp Italian Seasoning
For the Sauce:
1 Onion
2 Garlic Cloves
200g Tinned Chopped Tomatoes
1 Tsp Sugar
1 Tbsp Balsamic Vinegar (optional)
1 Tbsp Italian Seasoning
To Serve
Spaghetti, Cheese (optional)
Instructions
Begin by finely chopping the onions and garlic cloves. I tend to do this in my food processor to save time
Next, cook the spaghetti as per packet instructions whilst you cook the meatballs and sauce. Once the spaghetti is cooked turn off the heat and allow to sit until the meatballs and sauce is ready.
To make the meatballs: Mix together the 'meatball' ingredients in a large bowl
Then make round balls with the mixture
Add oil to the Actifry, then add in the remaining chopped onions and garlic, with the meatballs
Cook for 6 minutes without the paddle
Then add the paddle and cook for a further 3 minutes
After 3 minutes, pour in the tinned tomatoes, and add in the sugar, balsamic vinegar and Italian seasoning
Close the lid and cook for a further 4 minutes, or until the sauce has thickened and the meatballs are cooked through
Once cooked, serve on a bed of spaghetti
Nutrition Information
Yield
2
Serving Size
1
Amount Per Serving
Calories

407
Total Fat

16g
Saturated Fat

7g
Unsaturated Fat

7g
Cholesterol

64mg
Carbohydrates

42g
Fiber

5g
Sugar

11g
Protein

25g