Sweet and sour chicken in the Actifry is one of my go-to weekend dinners when I'm craving a 'treat meal'.
Made with just one spoon of oil and fresh vegetables, this dish is much leaner than what you'd order from a take-away. And much quicker too!
The sweetness of this dish comes from tinned pineapples and brown sugar – balanced out with soy, oyster and rice vinegar.

I use shop-bought breaded chicken when I make this recipe usually. You could use chicken breast or thigh if you'd prefer.
This sticky sweet and sour dish is perfect topped with fresh spring onion on a bed of rice for a Chinese treat in less than 30 minutes!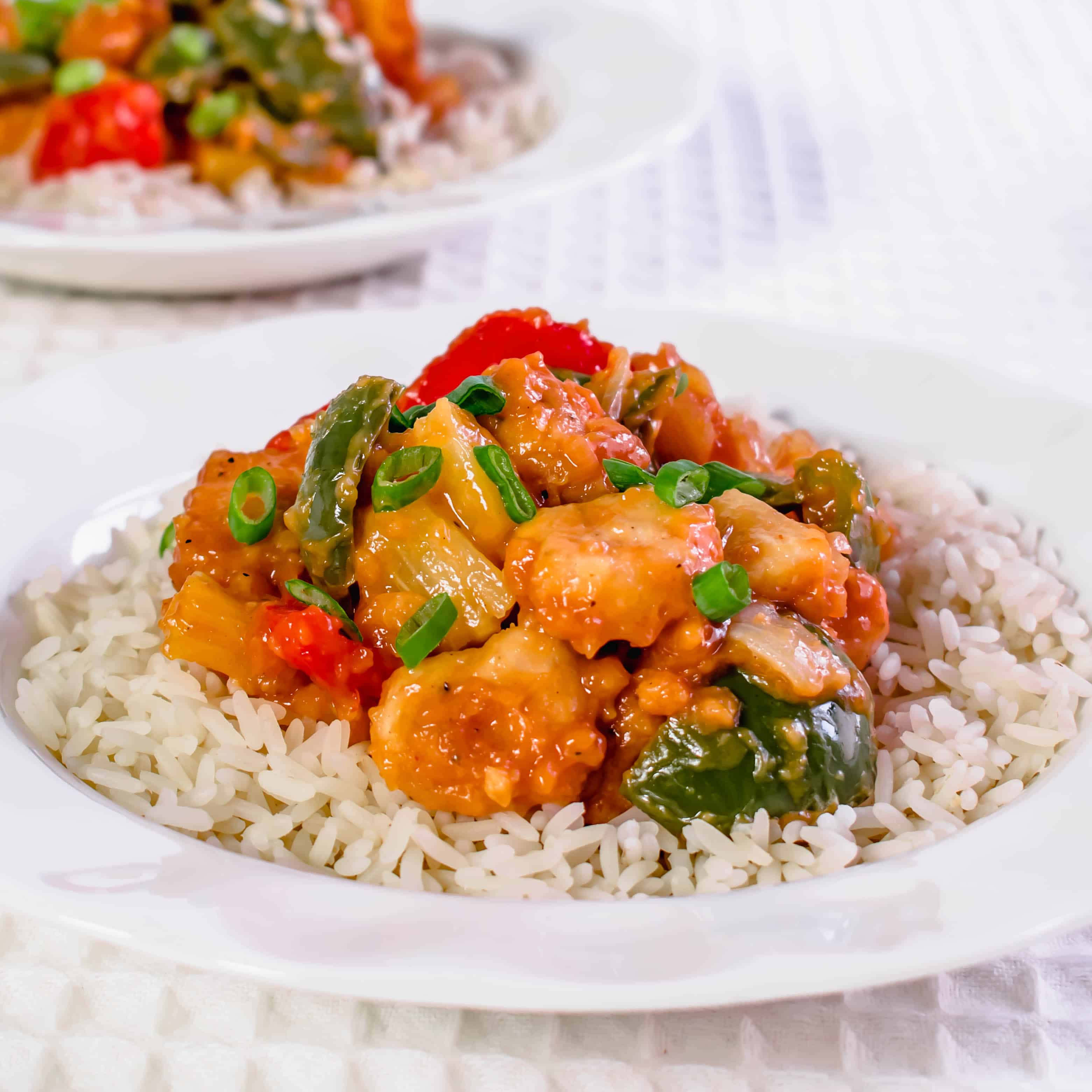 How to make Sweet & Sour Chicken in an Actifry
1. Add the chopped onion to the Actifry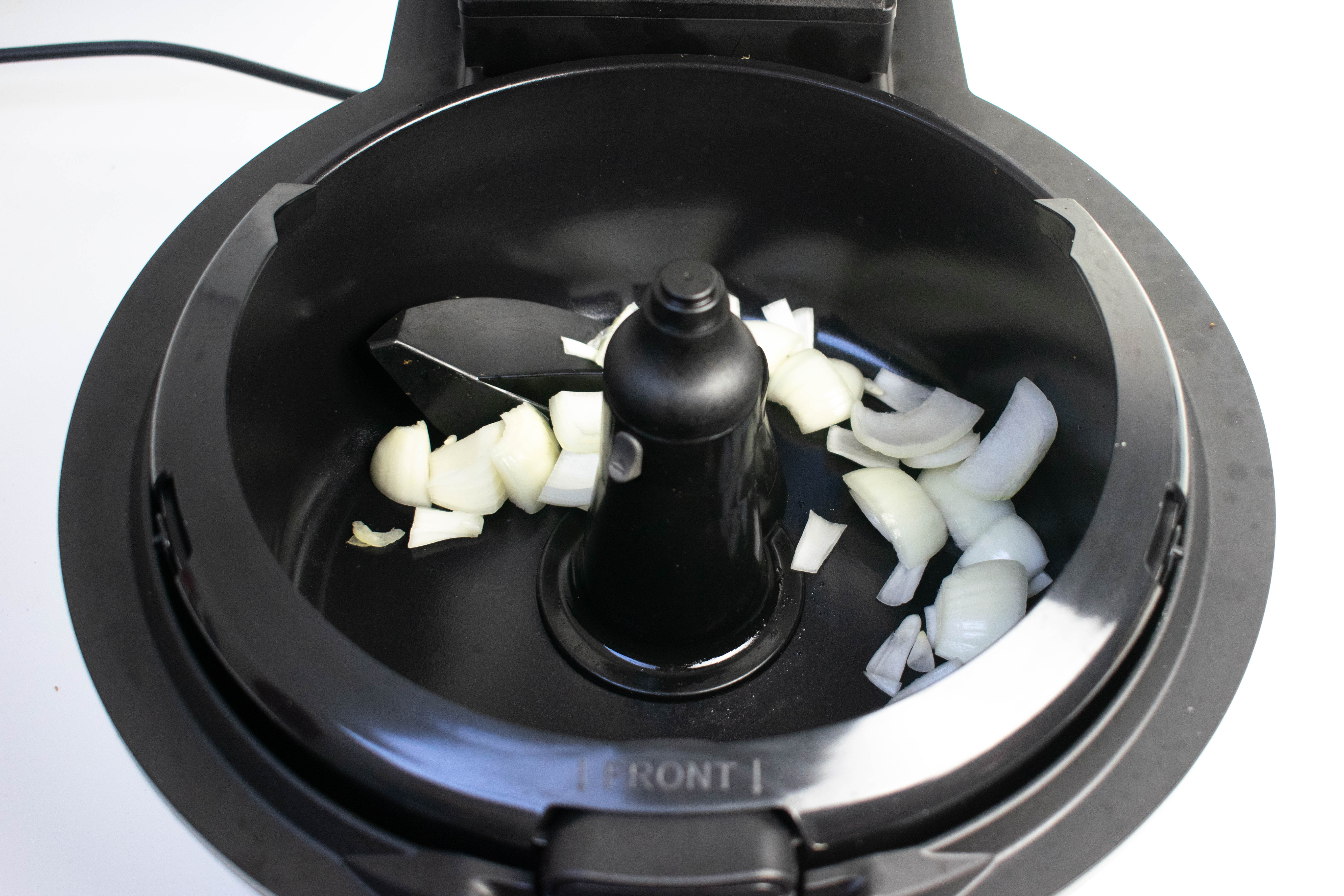 2. Then add the chopped peppers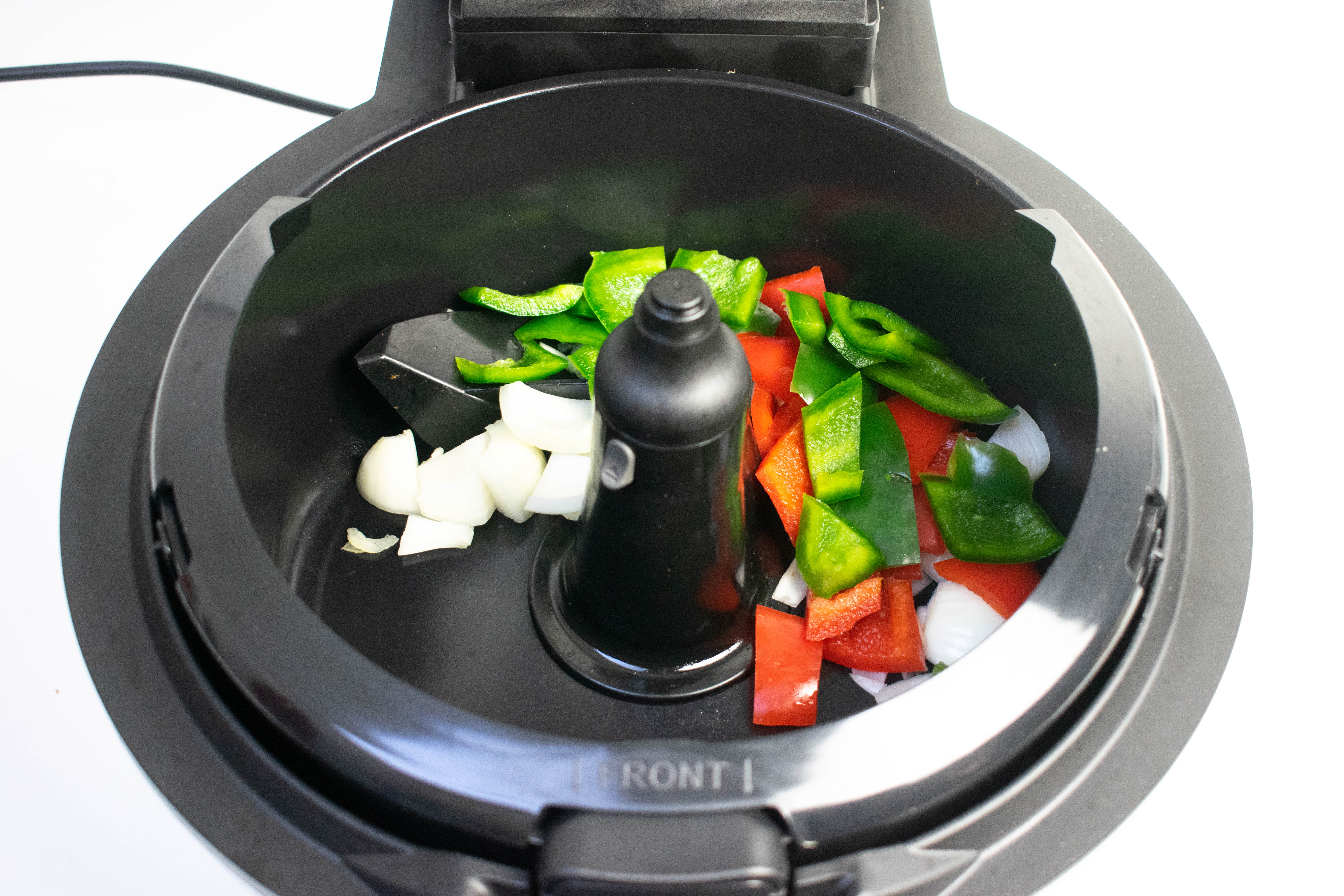 3. And the chicken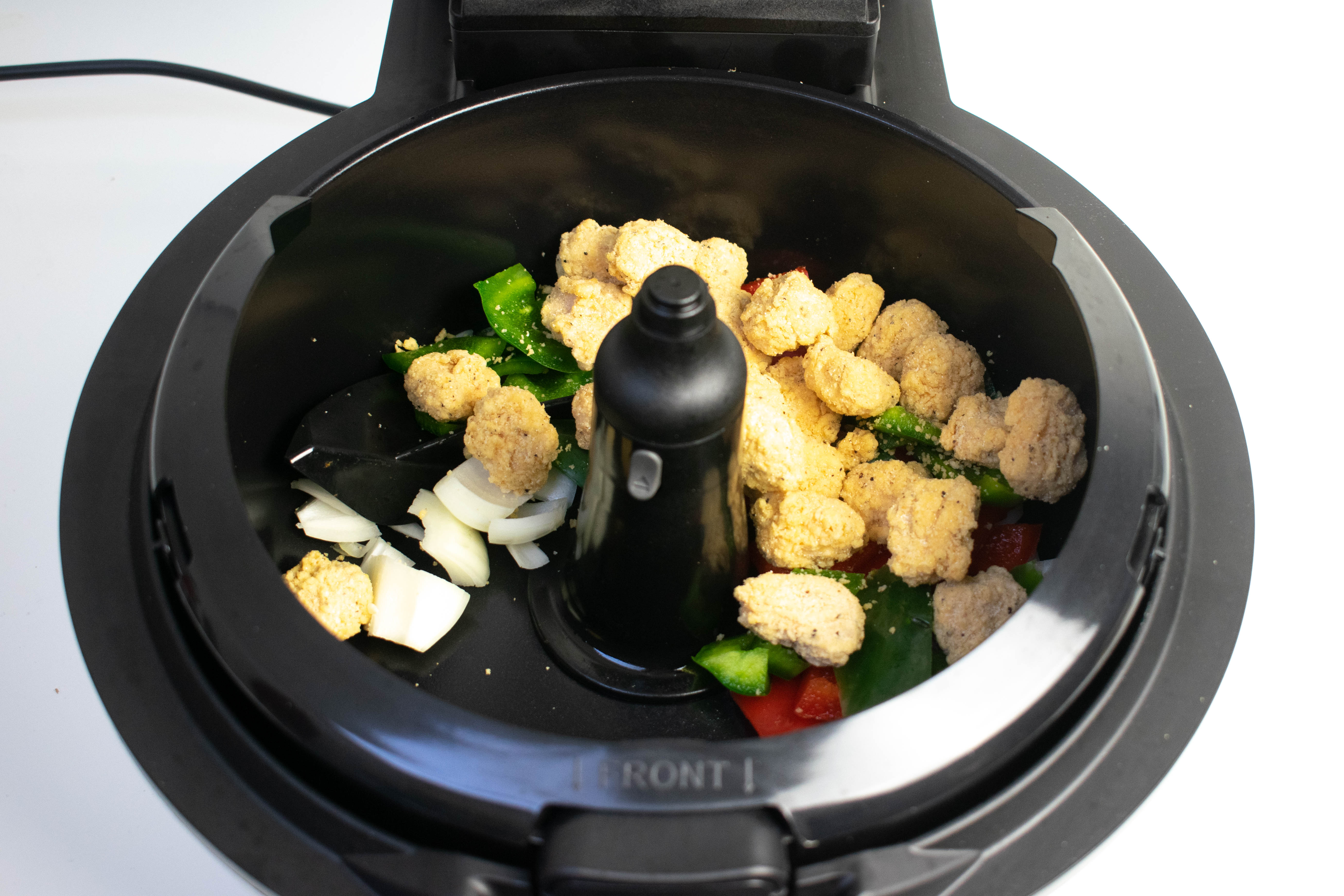 4. Pour over the oil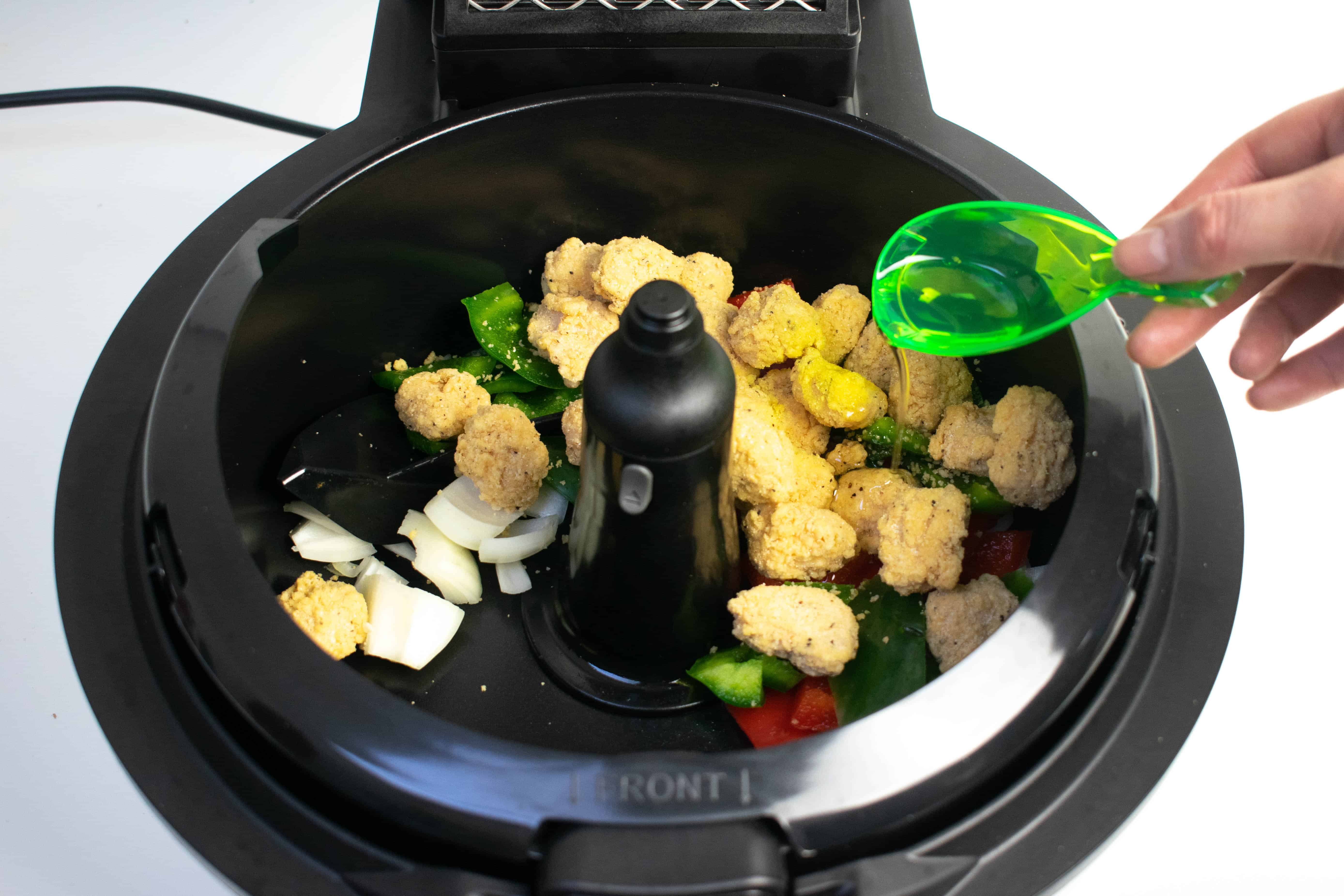 5. And cook for the time indicated on the chicken packet minus 4 minutes (e.g. my chicken said to cook in the oven for 13 minutes so I cooked it for 9 minutes here)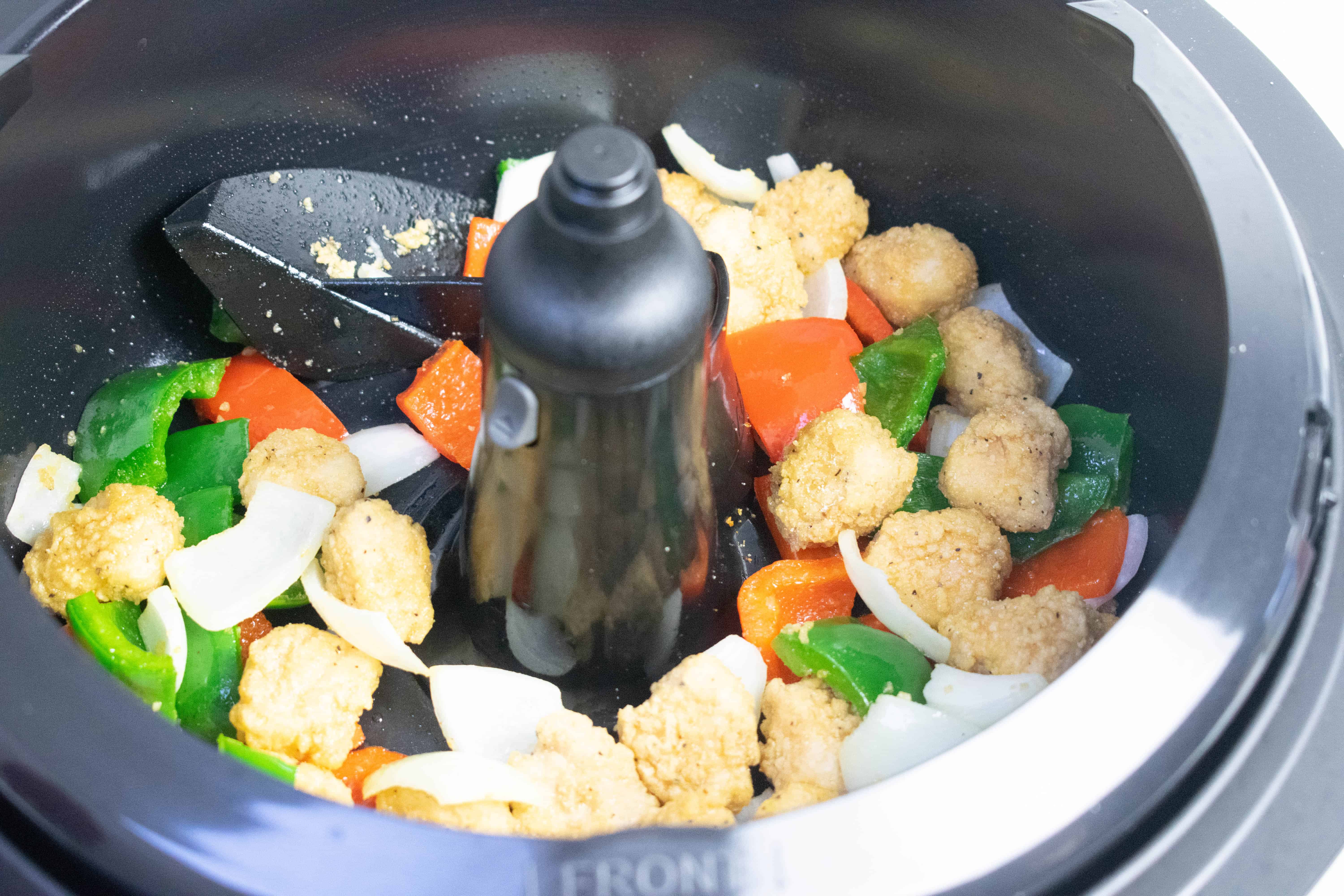 6. Whilst the chicken and vegetables are cooking mix together the cornflour, ketchup, oyster sauce, soy sauce and vinegar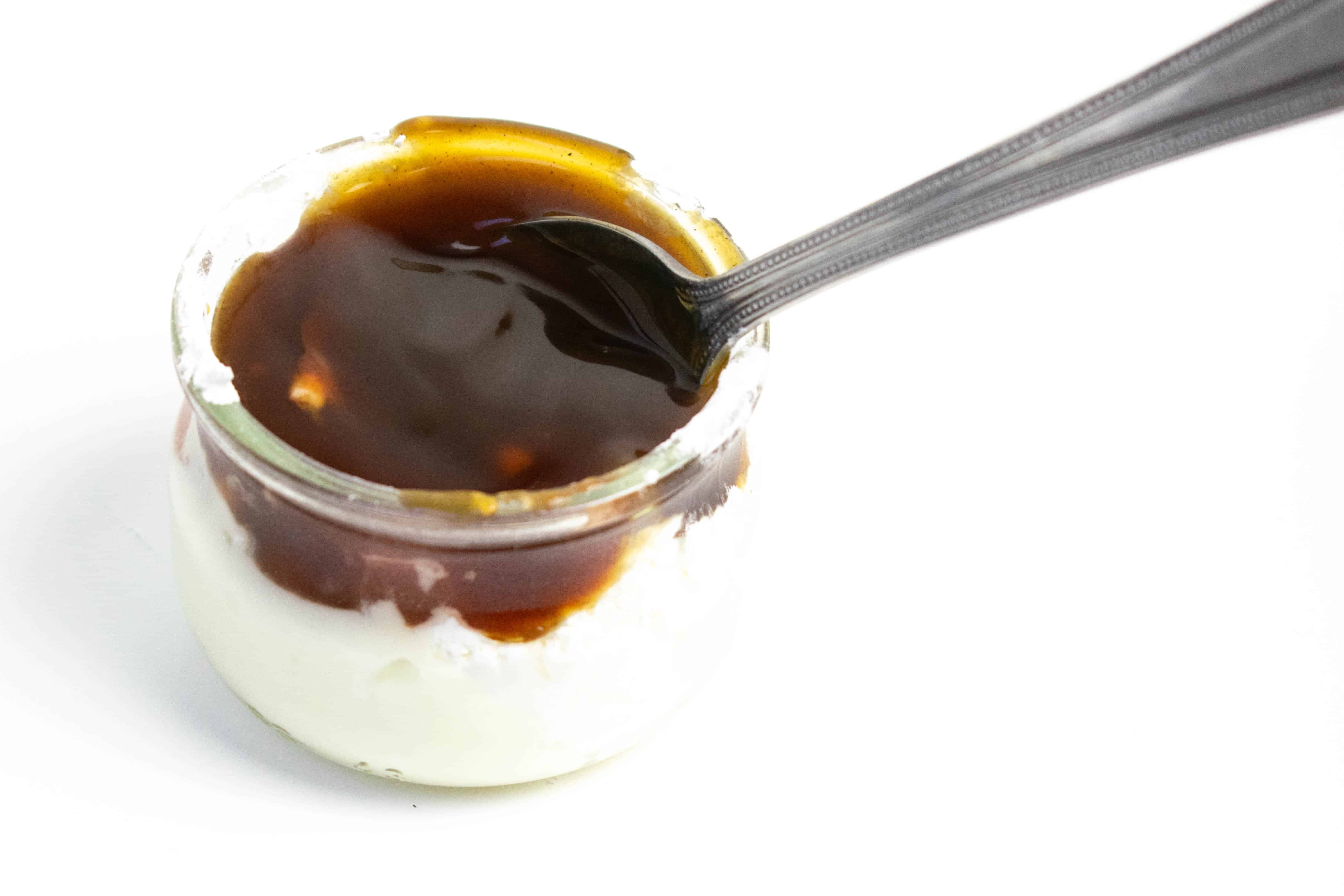 7. Stir to combine and create a smooth, thick paste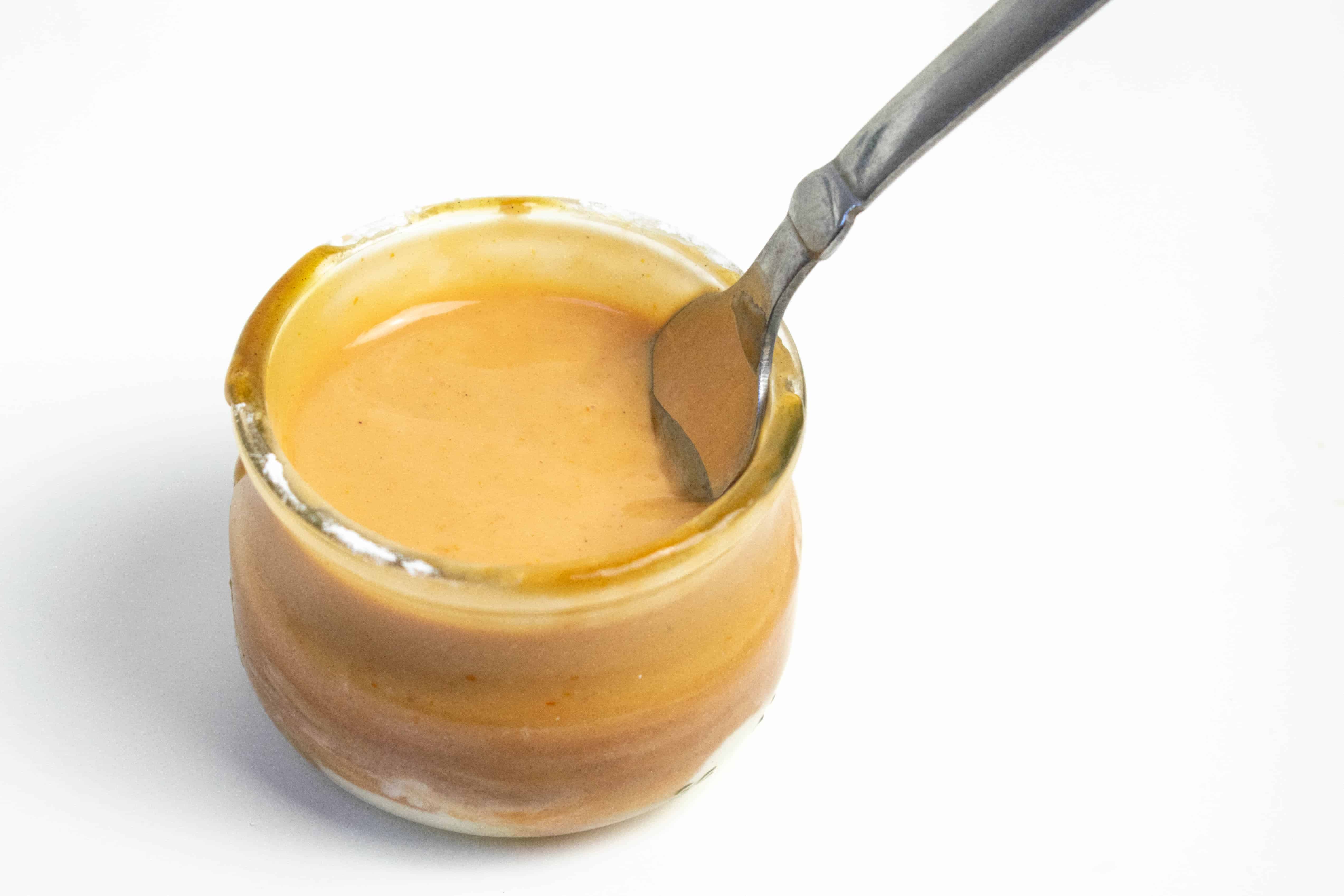 8. Once the timer goes off, add in the tin of pineapples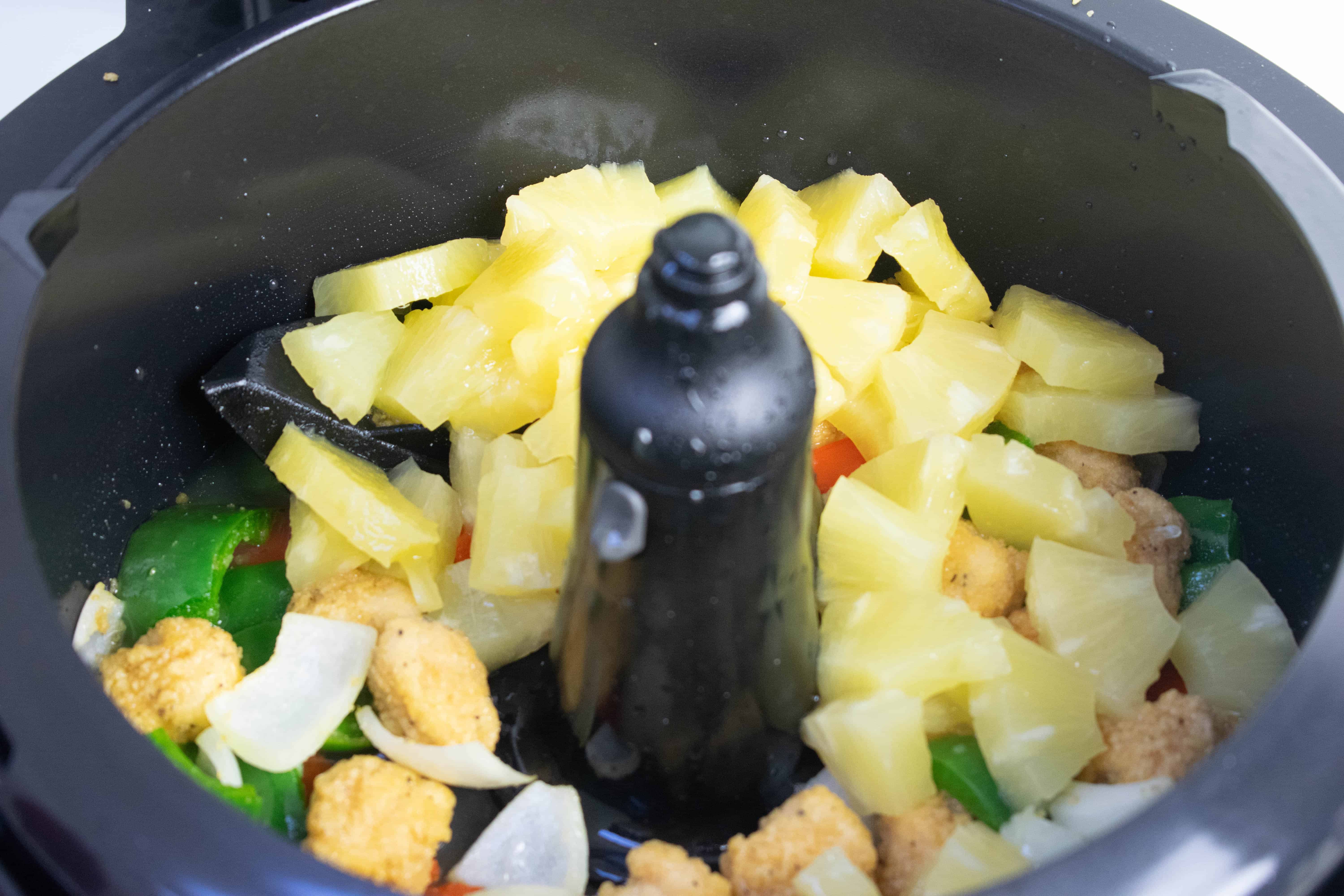 9. The garlic paste (or fresh crushed)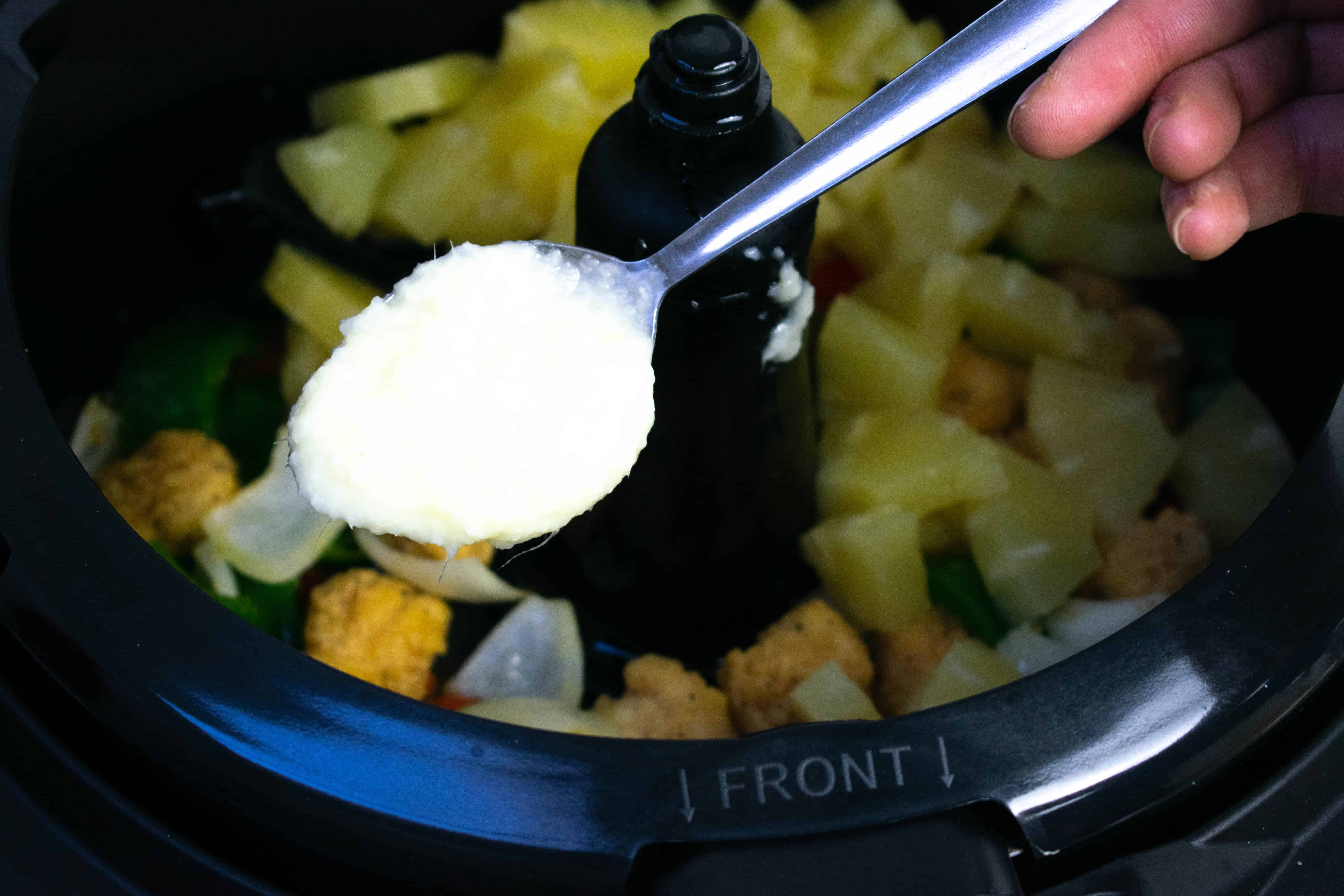 10. The cornflour mixture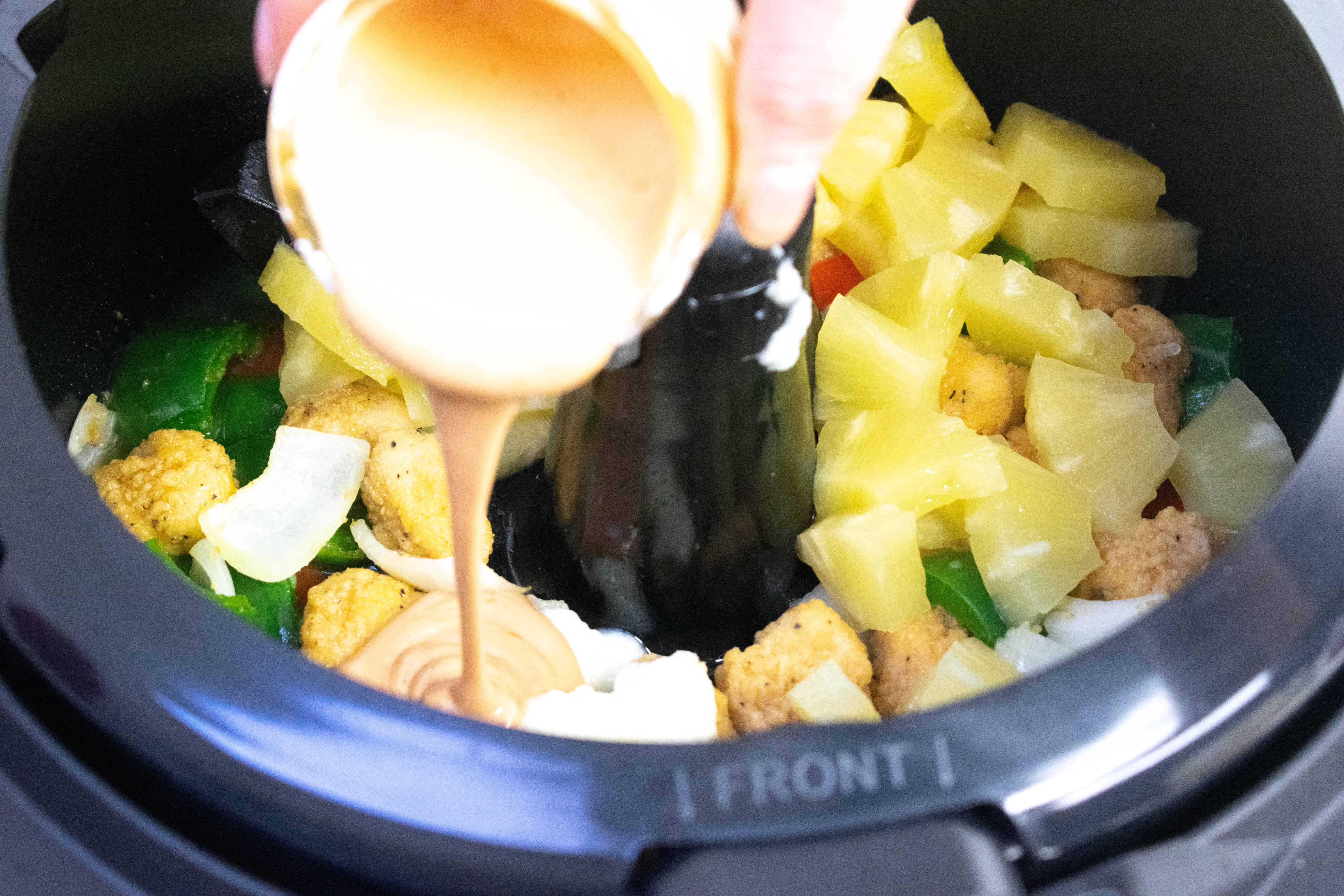 11. And the brown sugar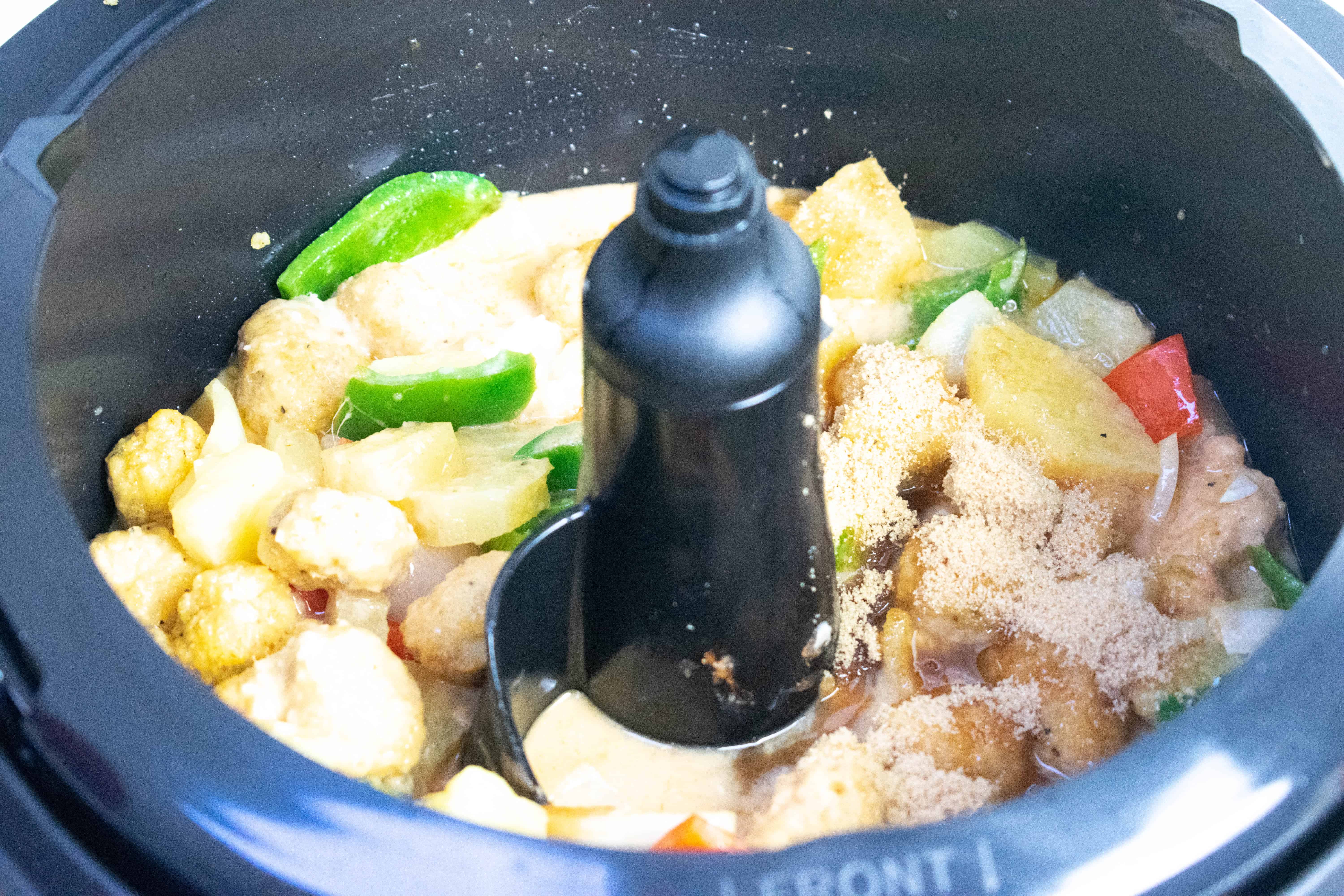 12. Close the lid and cook for 5-10 minutes – until the sauce has thickened around the chicken.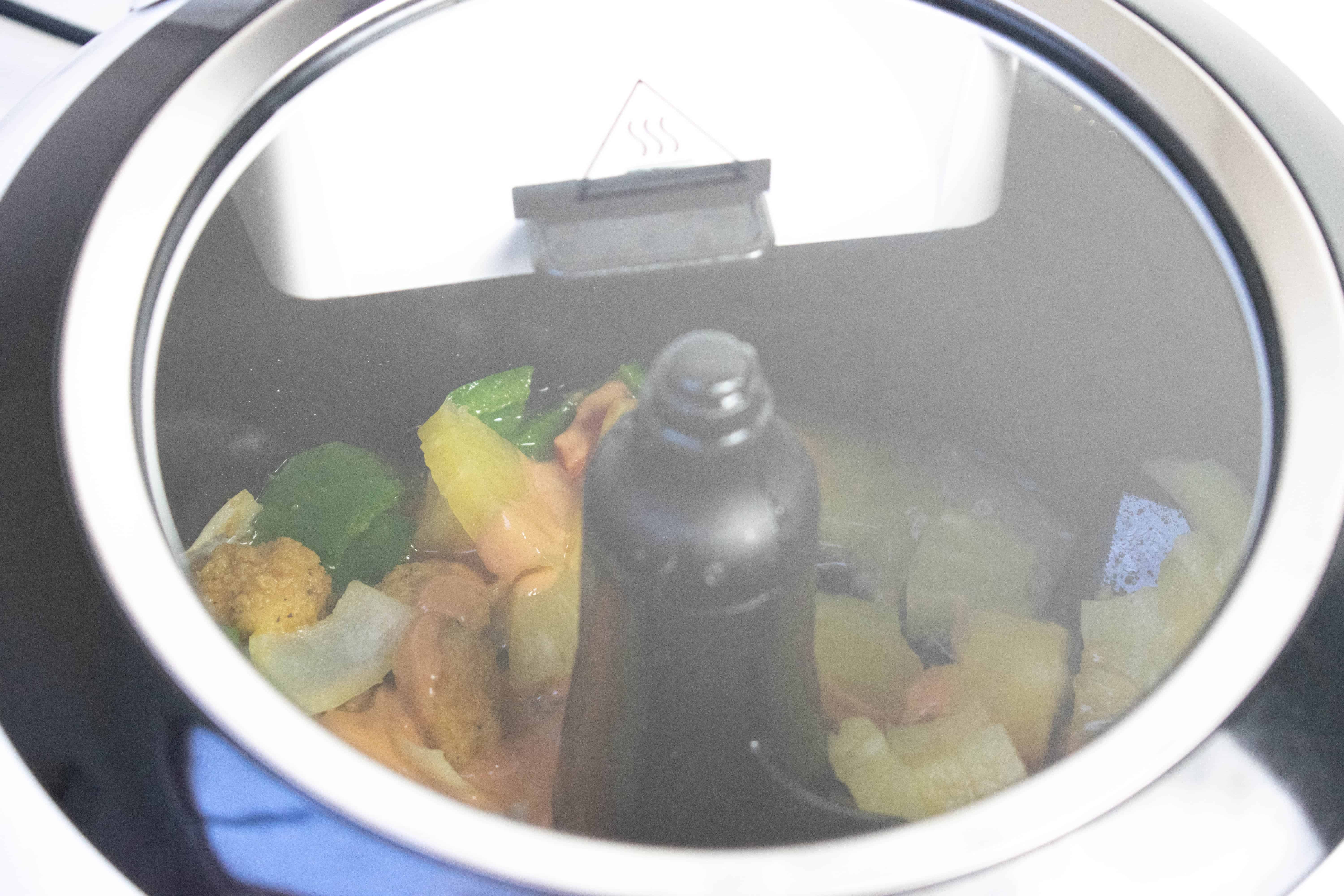 13. At first the sauce will seem very thin but as it cooks it thickens. Make sure to check on it between 5 and 10 minutes to ensure the sauce doesn't become too thick – I like mine sticky like this: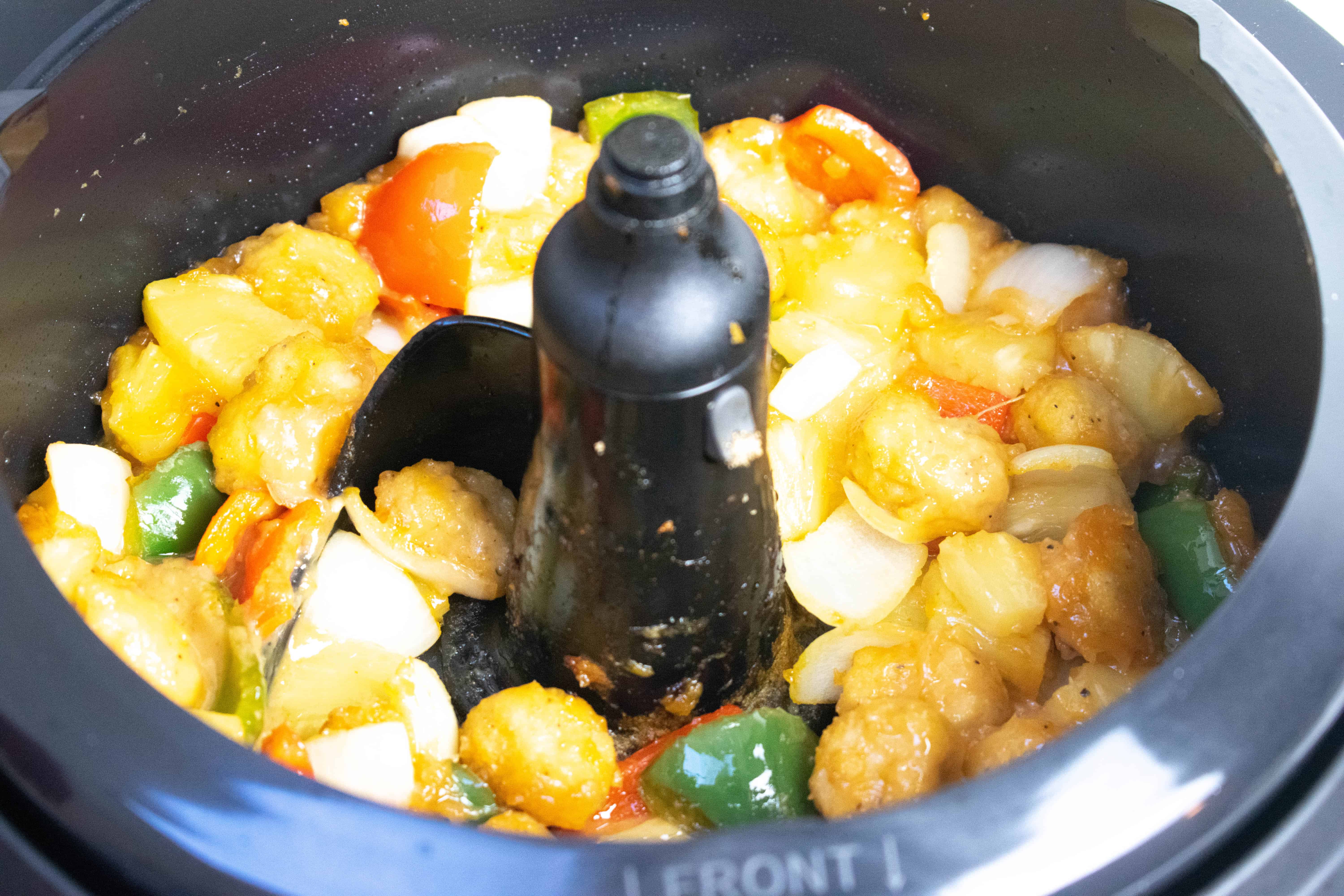 Yield: 4 People
Actifry Sweet & Sour Chicken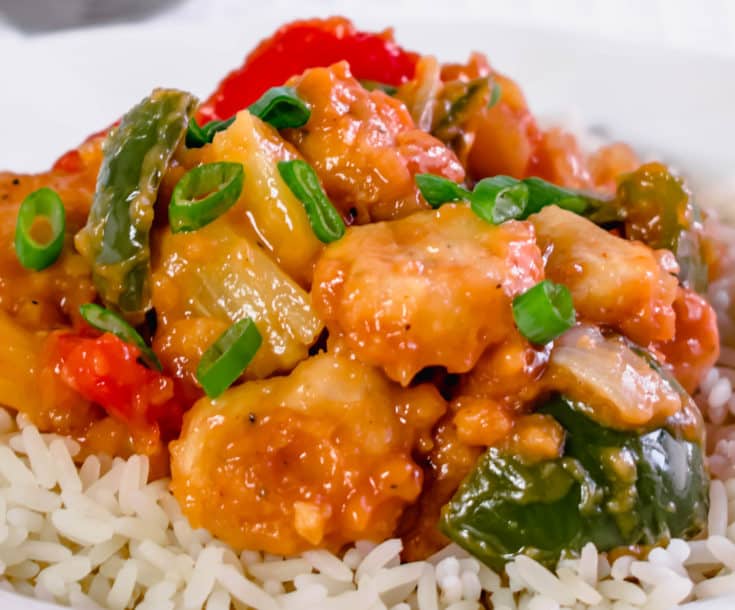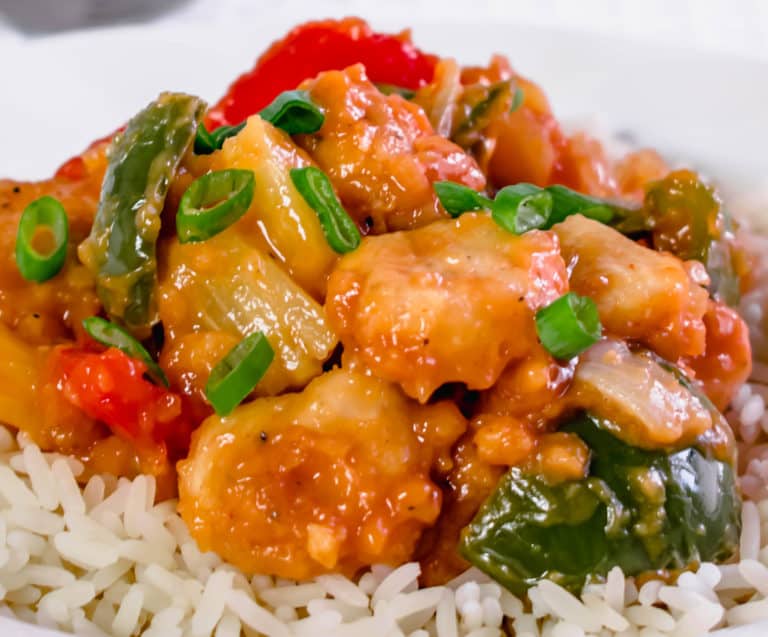 Enjoy a Chinese takeaway classic Sweet & Sour chicken by cooking it in your Actifry Air Cooker. Made with pineapples, peppers and onion.
Ingredients
1 Pack of store-bought breaded or battered chicken (I use frozen southern fried chicken bites)
1 Tin chopped pineapple
1 Onion
2 Peppers
2 Tbsp Light Brown Sugar (or caster if that's all you have in)
1 Tsp Crushed Garlic
Sauce
2 Tbsp Light Soy sauce
3 Tbsp Rice Vinegar
2 Tbsp Ketchup
2 Tbsp Oyster Sauce
2 Heaped Tbsp Cornflour
To Serve (Optional)
Instructions
Chop the peppers and onions into bite-sized pieces
Add the chicken, peppers and onions to the Actifry and cook with the paddle in for the time indicated on the chicken packed minus 4 minutes (eg. my chicken said cook for 13 minutes so I cooked it for 9 minutes at this stage)
Whilst the chicken is cooking, mix together the 'sauce' ingredients in a bowl until you form a thick, smooth paste
Once the chicken has cooked, add the tin of pineapples and juices to the Actifry
Then add the crushed garlic, sugar and sauce mixture
Mix, then close the lid and cook for a further 5-10 minutes - until the sauce has thickened and chicken cooked through
Serve topped with spring onions on a bed of rice
Notes
The sauce will seem thin to start but as it heats up it will thicken
Recommended Products
As an Amazon Associate and member of other affiliate programs, I earn from qualifying purchases.