I tried something a bit different in the Actifry this week: a kofta curry!
I chose to use lean turkey mince and low fat yogurt to make this a diet friendly treat dinner. This Actifry Kofta curry is delicious served with chips, rice or in a wrap.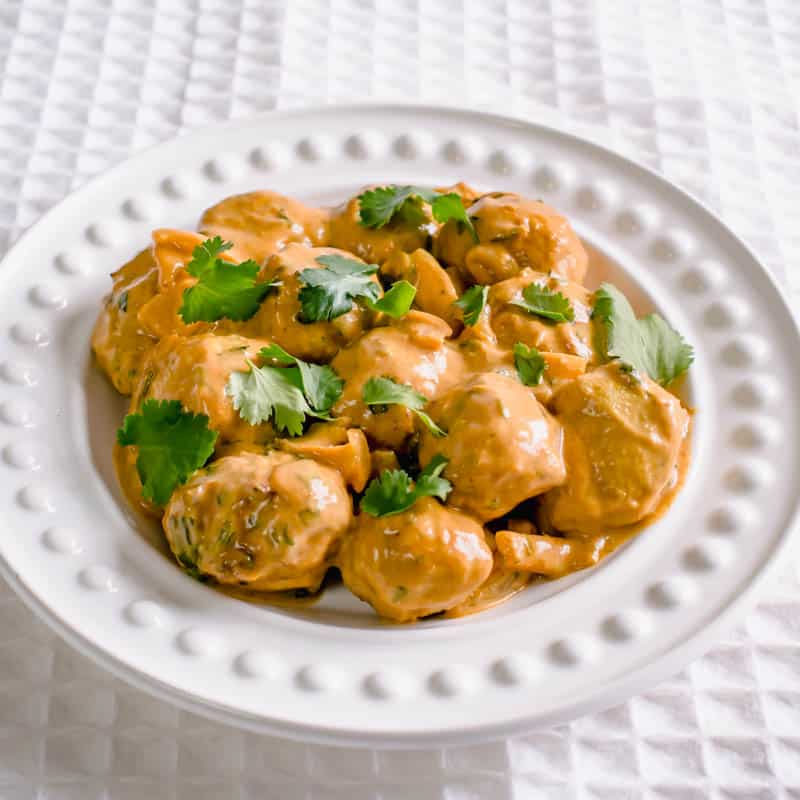 As with all curry sauces, the more you cook this dinner the more you should experiment with the flavours to suit your families style. You could add fresh chillies or peppers to the sauce if you wish.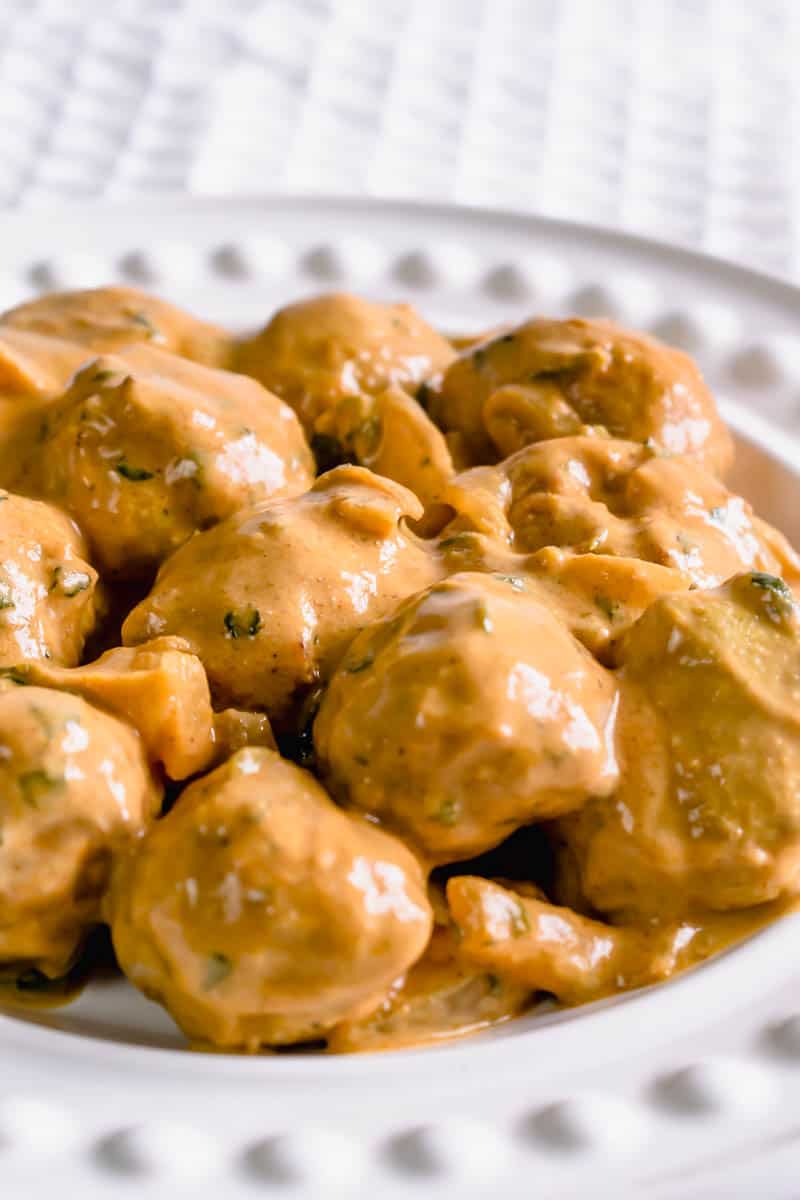 Using turkey for these Koftas mean they're super lean and low fat – turkey mince is amazing for carrying great flavour.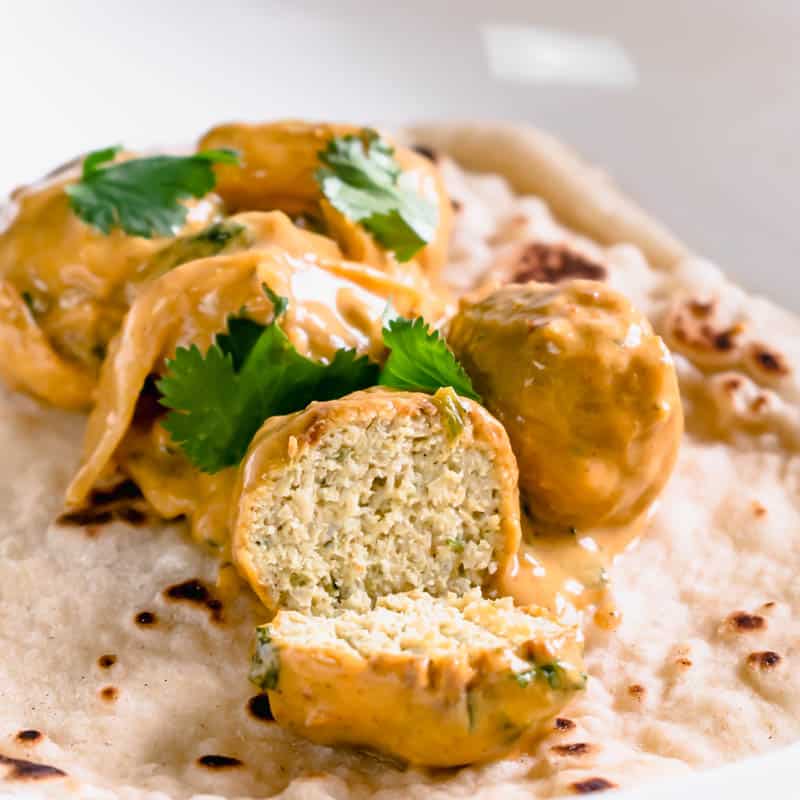 How To Make Actifry Kofta Curry At Home
Scroll down for recipe card and ingredient list
1. To a food processor add all the kofta ingredients (besides the turkey) and blitz until chopped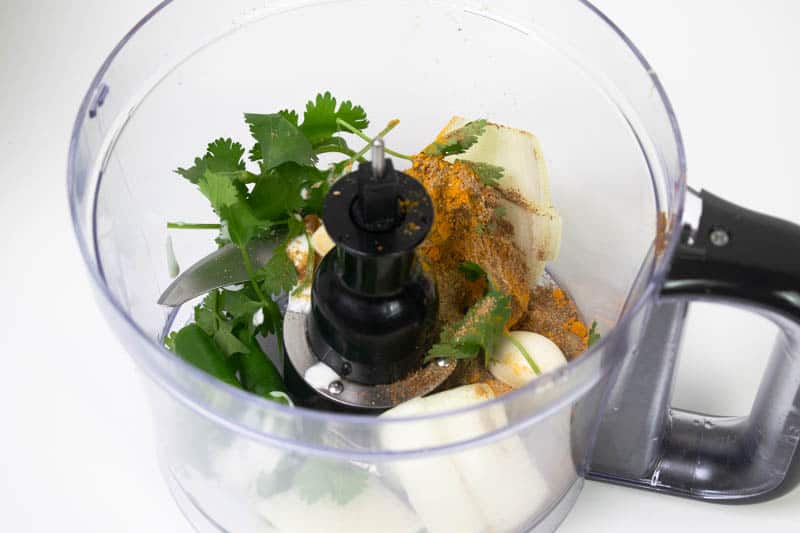 2. Then add the turkey mince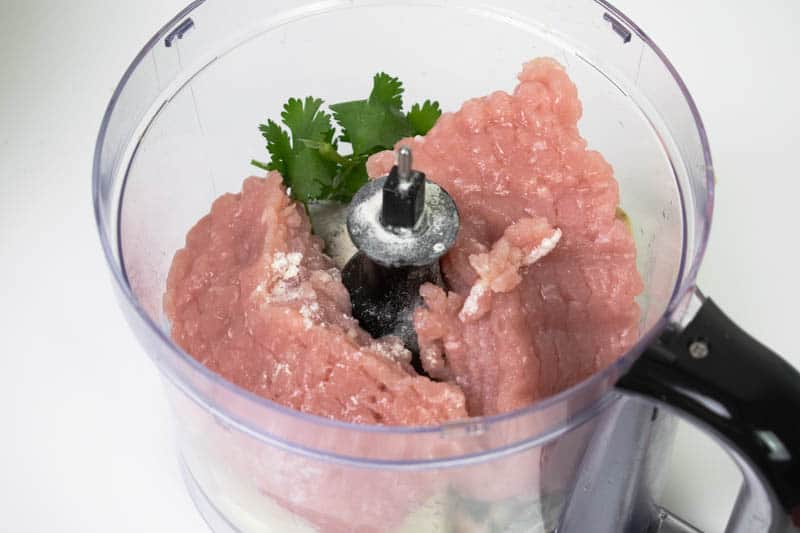 3. And blitz until smooth and combined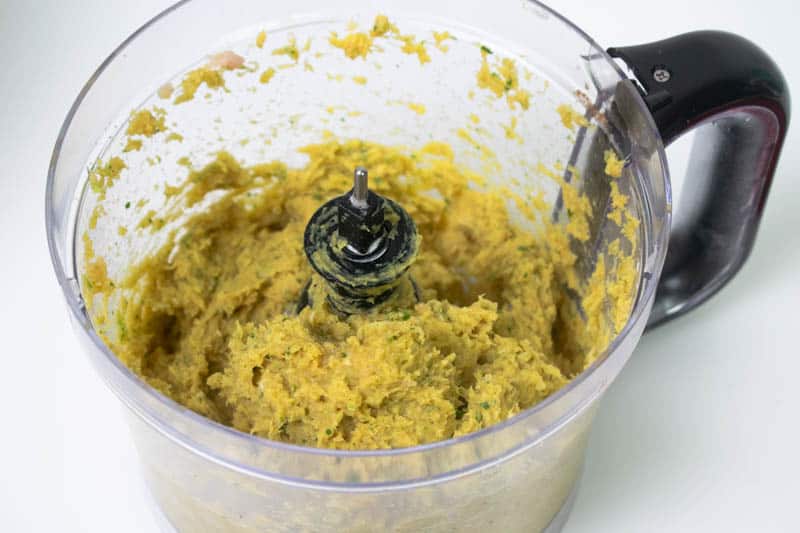 4. Use floured hands to roll the mixture into bite-sized balls and place onto a lightly floured plate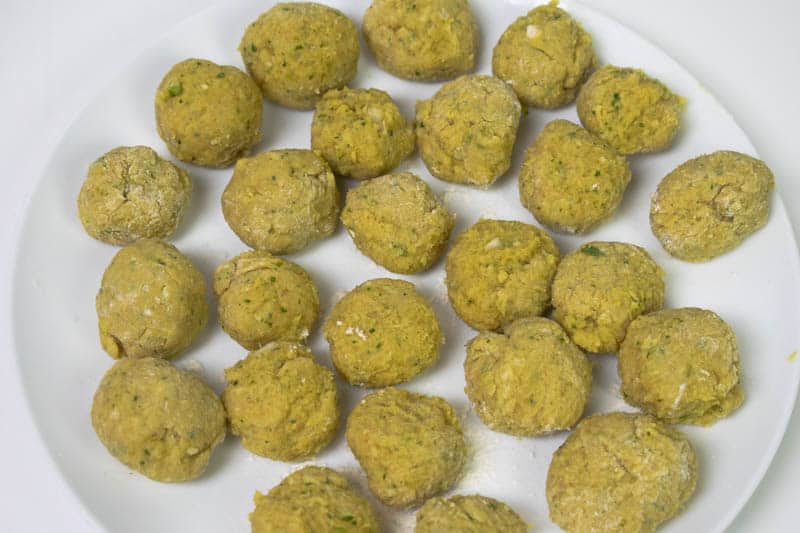 5. Chop an onion (for the curry sauce) and add this into the Actifry (paddle in) with the oil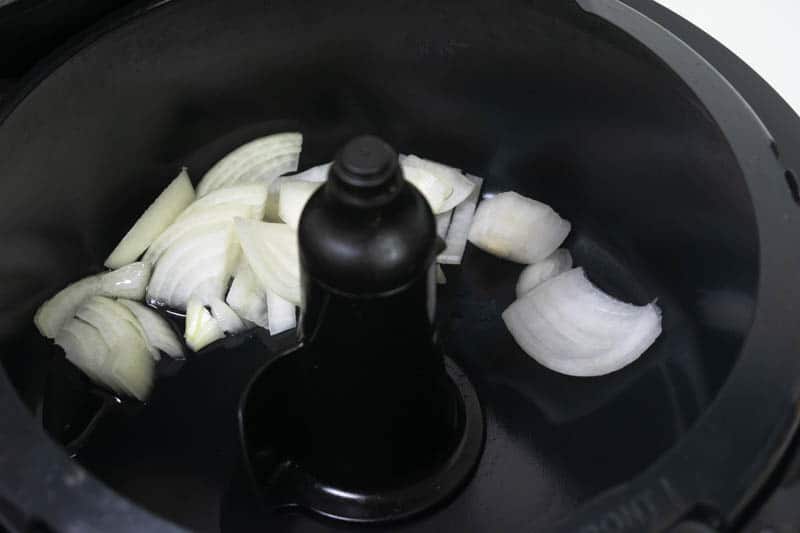 6. Cook for 5 minutes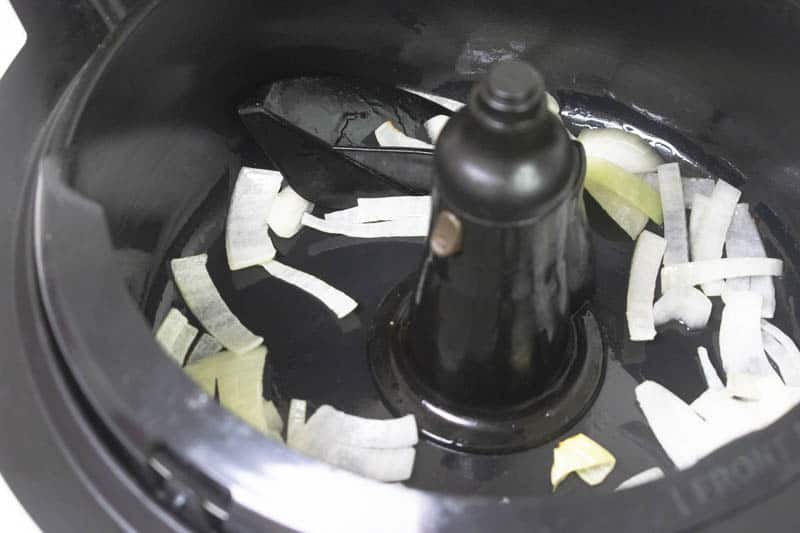 7. After 5 minutes, remove the paddle and gently place in your koftas (don't stack them on top of one another if you can avoid that). Close the lid and cook for 5 minutes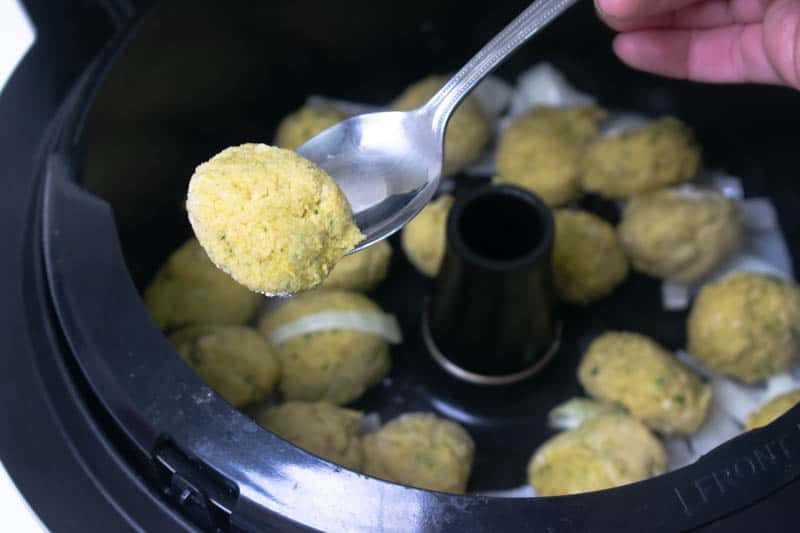 8. Whilst the koftas are cooking begin to make the sauce by mixing together all the remaining sauce ingredients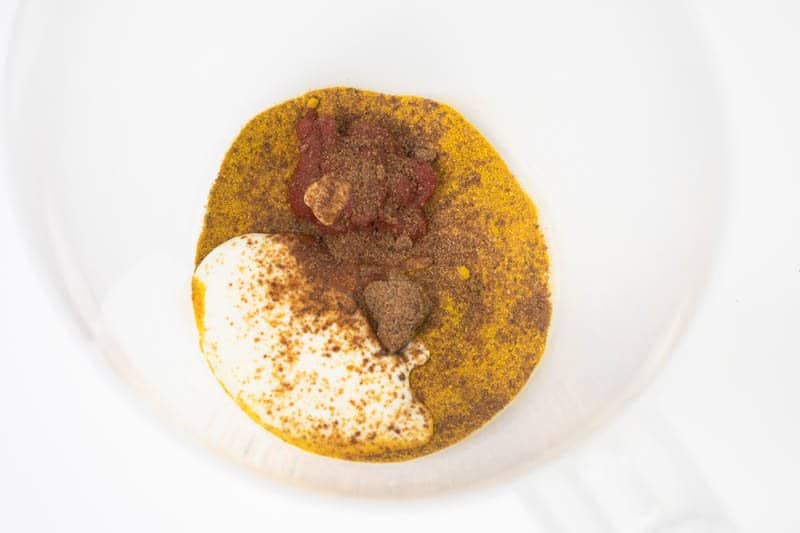 9. Mix until smooth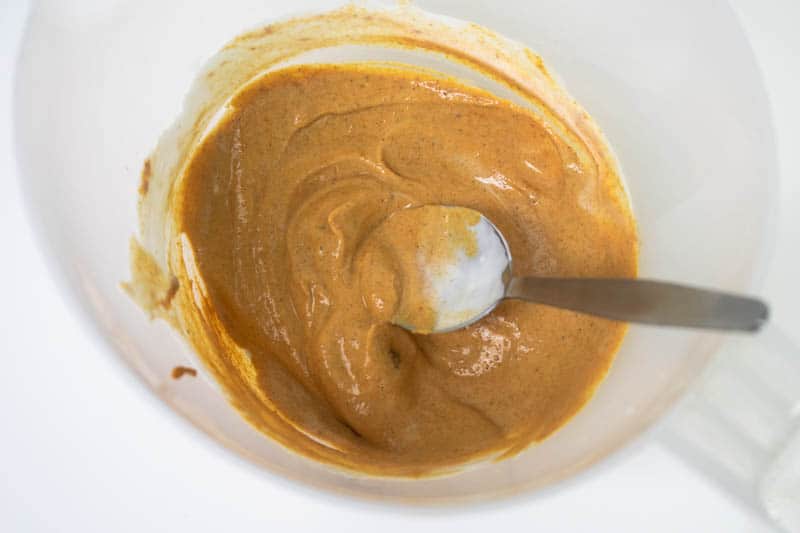 10. After 5 minutes cooking the koftas should have a drier outer now – don't worry that some are browner than others, each Actifry has a 'hot spot' usually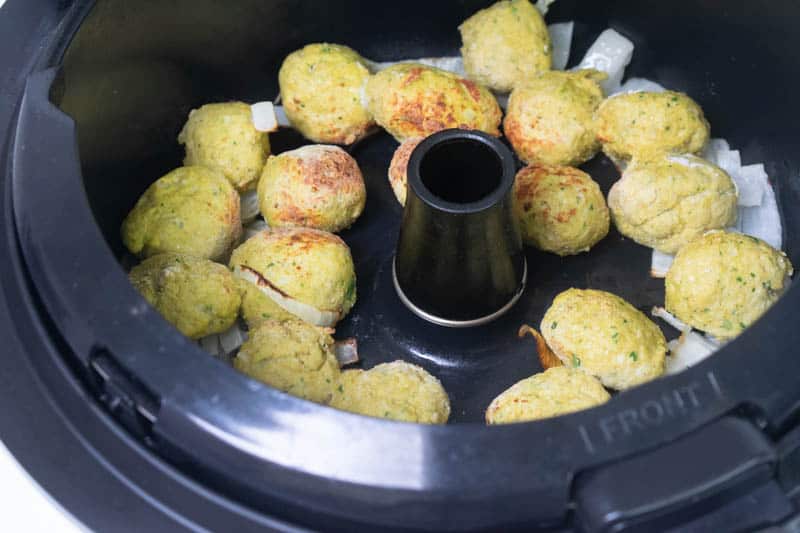 11. Add the paddle back into the Actifry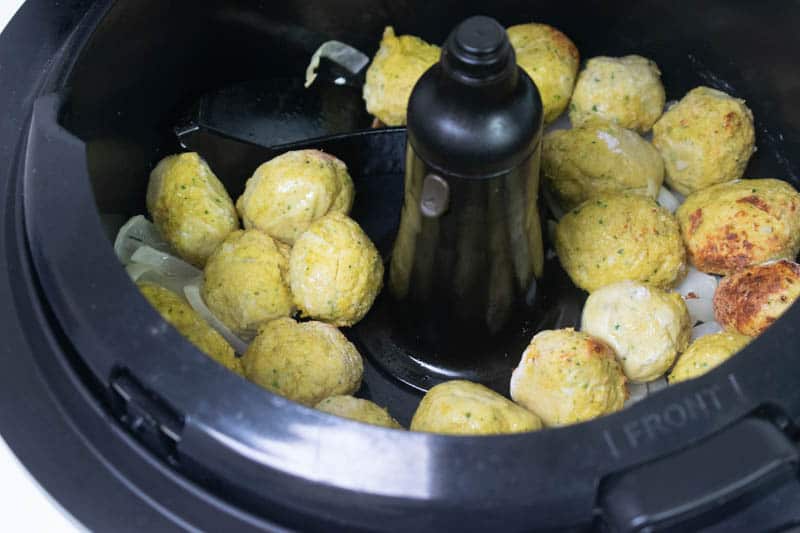 12. Close the lid and cook for a further 5 minutes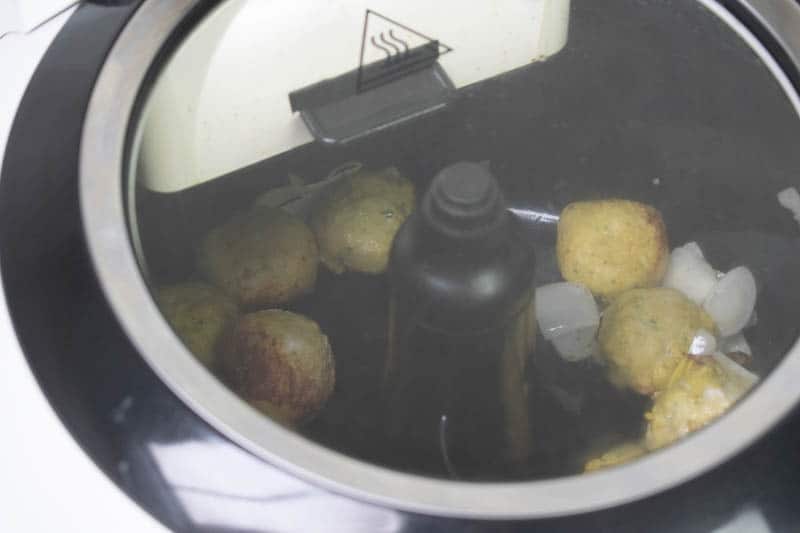 13. After 5 further minutes, open the lid and add in the curry sauce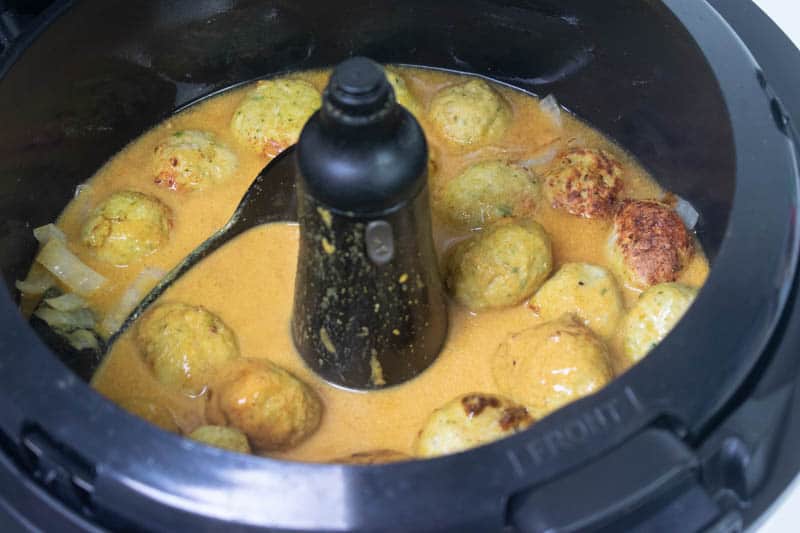 14. Again, close the lid and cook for a further 5 minutes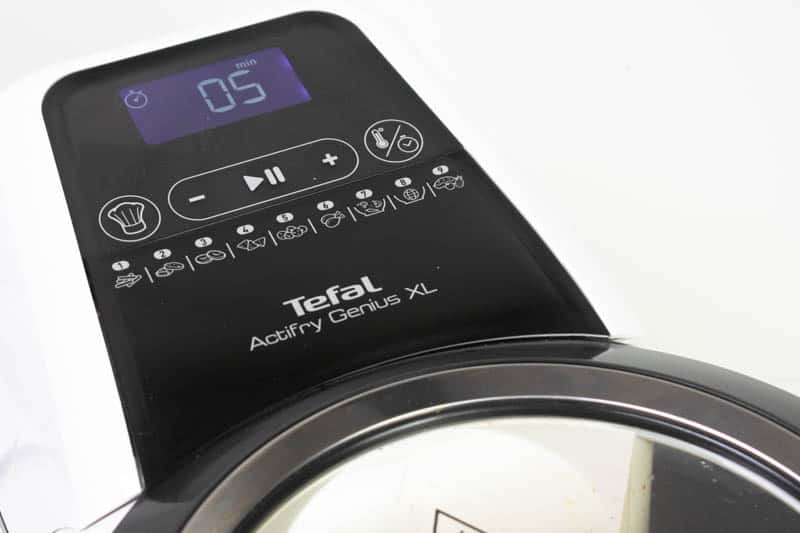 15. Whilst the sauce is cooking roughly chop some more coriander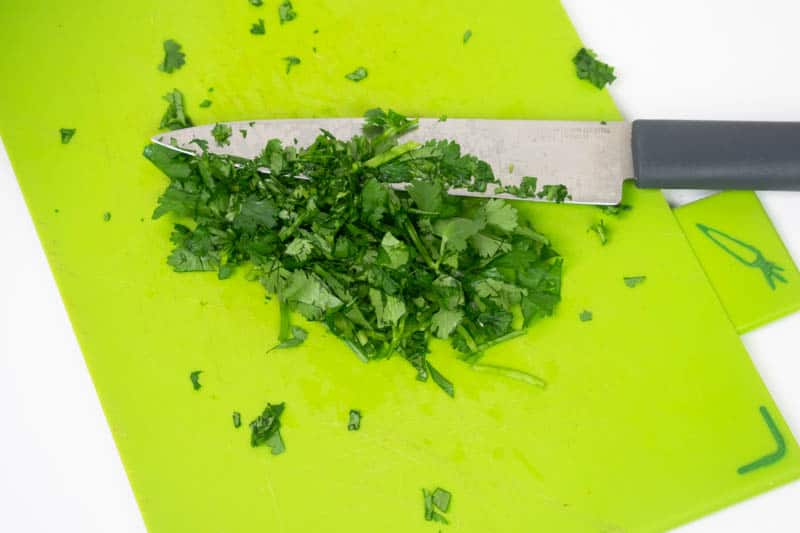 16. Add it to the Actifry once the 5 minutes is up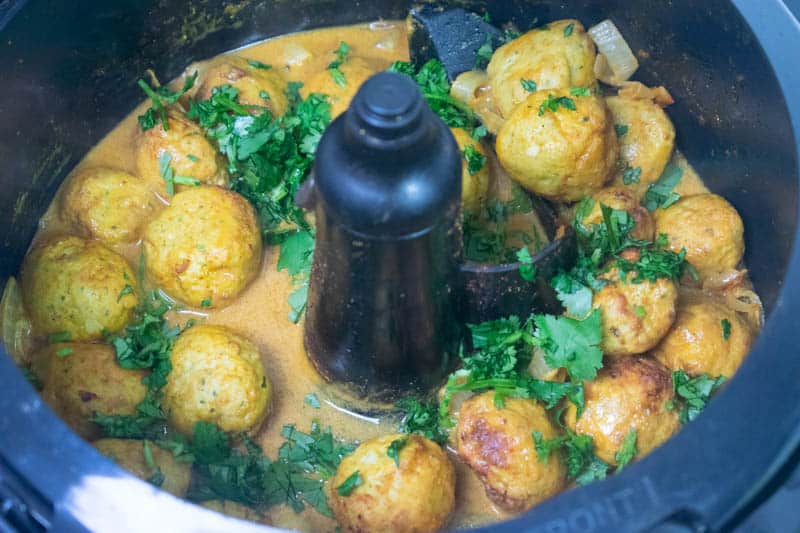 17. Close the lid and cook for a further 2 minutes – before serving with rice or naans!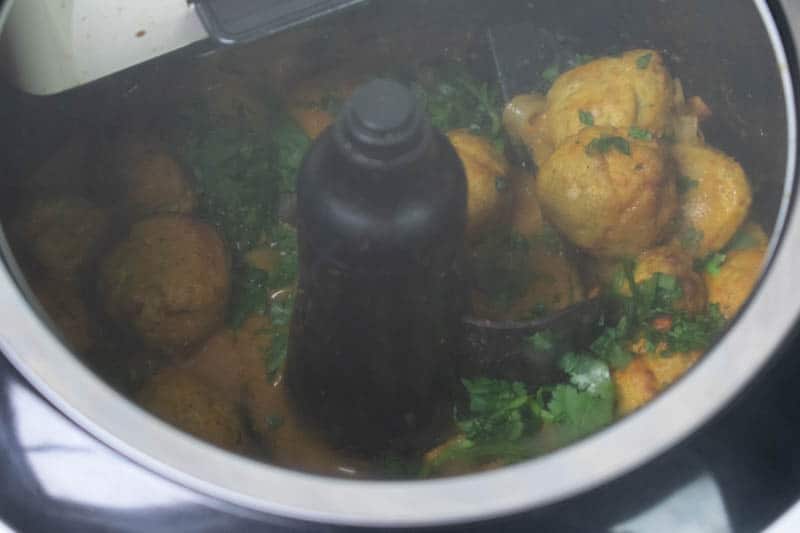 Yield: 4 People
Actifry Turkey Kofta Curry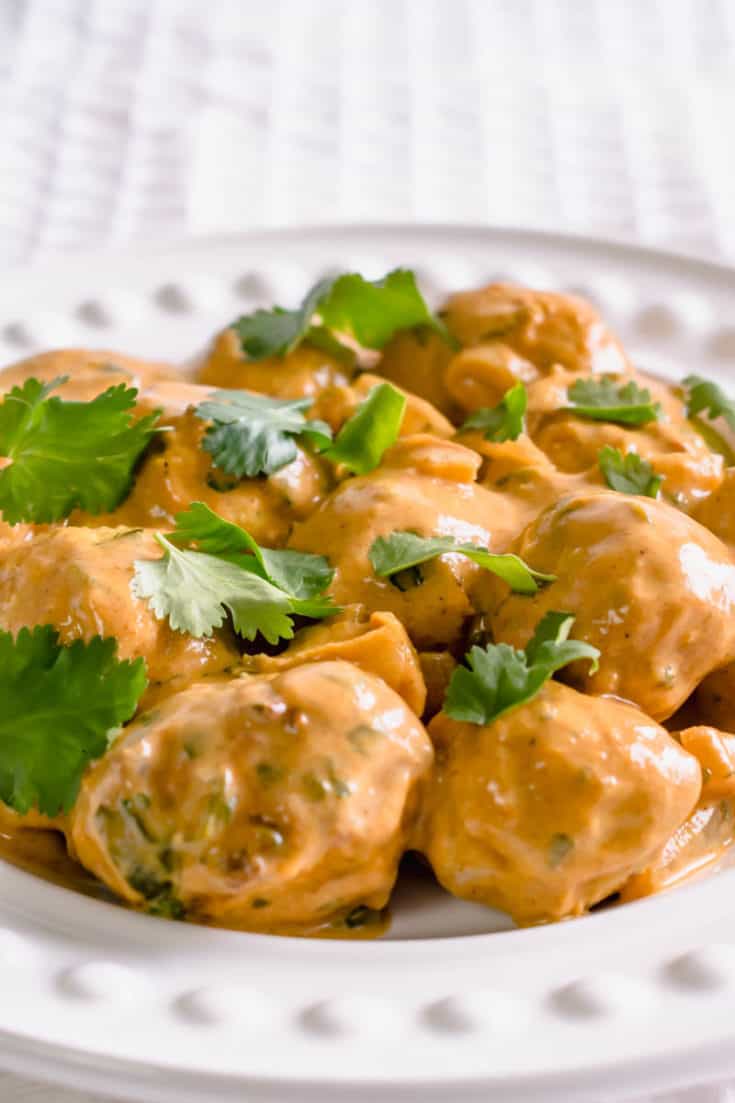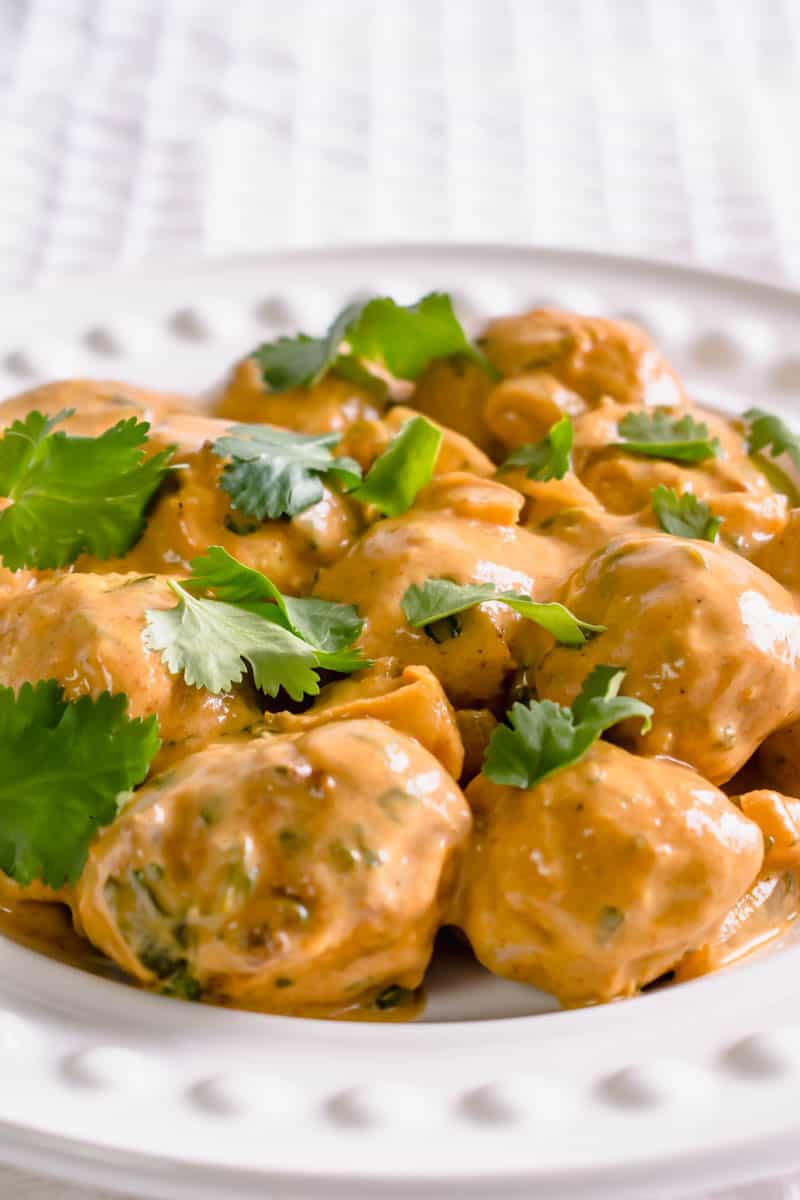 A lean turkey kofta curry made easy in the Actifry. The basic minced meat mixture can be moulded around a skewer, sausage style if you'd prefer.
Ingredients
For The Koftas
450g Low Fat Turkey Mince
1 Onion
1 Handful Fresh Coriander
1 Tbsp Natural (plain) Yogurt
3 Tbsp Plain Flour
2 Tsp Ground Cumin
1 Tsp Garam Masala
1 Tsp Ground Turmeric
1 Tsp Ground Coriander
1 Chilli (Deseeded)
2 Garlic Cloves
For The Curry Sauce
1 Onion
1 Tsp Oil
3 Tbsp Curry Powder
1 Tbsp Tomato Puree
7 Tbsp Natural (Plain) Yogurt
1 Chicken Stock Cube
8 Tbsp Boiling Water
Handful Fresh Coriander
Instructions
To a food processor add all of the kofta ingredients besides turkey mince - blitz until chopped
Then add the turkey mince to the same food processor and blitz until all ingredients are combined and the mixture is smooth
If you don't have a food processor, finely chop the ingredients and mix them into turkey mince
Once the kofta mixture is created, form bite-sized balls using floured hands, then place these onto a lightly floured plate
Roughly chop the onion for the curry sauce and add this to the Actifry with the tbsp of oil
Cook for 5 minutes (paddle in)
After 5 minutes, remove the paddle and place the koftas in the Actifry - cook for 5 minutes
Then, place the paddle back into the Actifry and cook for a further 5 minutes
Whilst the Kofas are cooking, make the curry sauce by mixing together all the 'curry sauce' ingredients
After the Koftas have cooked for 5 more minutes, pour in the curry sauce
Close the lid and cook for 5 minutes
Then add the fresh chopped coriander, close lid and cook for a further 2 minutes
Serve with rice, chips, salad or naan
Notes
If you want more sauce, add more water or yogurt to the sauce mixture
Nutrition Information
Yield
4
Serving Size
1
Amount Per Serving
Calories

459
Total Fat

32g
Saturated Fat

9g
Trans Fat

0g
Unsaturated Fat

18g
Cholesterol

148mg
Sodium

717mg
Carbohydrates

27g
Fiber

5g
Sugar

7g
Protein

43g