Guacamole, meaning 'avocado sauce' in Aztec is the perfect accompany to many dishes. Whether you're topping toast or tacos, it's simple, delicious and nutritious. This guacamole recipe is balanced with enough zing and heat to cut through the rich creaminess of the ripe avocado. Get your knife out and prepare this simple recipe in just a few minutes (and you can keep it in the fridge for a couple of days too!)
Important Ingredients for a Perfect Guacamole:
Ripe Avocados
Avocados are the most important ingredient of guacamole, so make sure this part is right! To know when an avocado is ripe give it a quick squeeze, it should feel slightly soft beneath the skin.
Lime & Coriander
Both essential ingredients to bring an aromatic zest to your guacamole. If you don't have any limes to hand, bottled juice is absolutely fine – but don't cut any corners with your coriander – this HAS to be fresh.
Tomatoes
Tomatoes add the perfect amount of acidity to compliment the creaminess of avocado – when you get the balance right. I choose just a couple of small, vine ripened tomatoes as to not overpower the guacamole. I've made guacamole with sun-dried tomatoes when that's all i've had in the cupboard, which brought a welcome, different dynamic to the dip.
Chillis
Fresh green chillis bring freshness and punch to guacamole. Think about how much heat you want in your guac before over-adding chillis, remember you can always add-to, but can't really remove chilli heat. I like to top my guacamole with additional chilli flakes – which results in a really fiery, hot guacamole – perfect alongside milder dishes.
Making Guacamole Ahead Of Time
If you're making this recipe ahead of time, be careful it doesn't turn brown as it sits (this doesn't happen quickly – don't worry – but after an hour or so, it might be an issue!). To stop your guacamole from browning, stop air from getting in contact with it by covering it with clingfilm or a tight fitting lid.
Side note: If you've ever cut yourself whilst preparing an avocado, you need to up your game and purchase an avocado tool – the safest way to prepare your avocados in a rush – it may sound overly cautious, but in 2017 we were all warned about 'avocado hand' (aka. slipping with the knife – ouch!)
Guacamole is a great dip to play around with – change the quantity of each ingredient to fit your taste and dish – and let me know which combinations you find in the comments below!
Yield: 4
Chilli Guacamole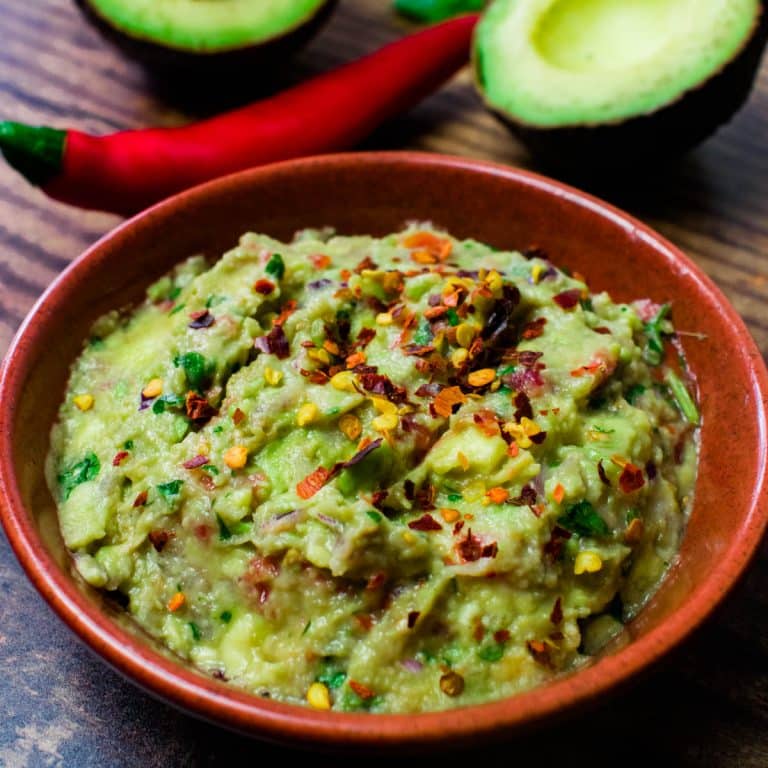 Whether you're topping toast or tacos - this guacamole is the perfect balance of zest, heat and creaminess. 
Ingredients
2 Ripe Avocados
2 Small Cherry Tomatoes
1/2 Red Onion
Handful Fresh Coriander
1 Tbsp Lime Juice
Green Chilli (From half a green chilli to three - depending on how much heat you like)
Crushed Chilli Flakes (Optional)
Coarse Sale (Optional)
Instructions
Peel and roughly chop the onion, chilli, coriander and tomato
Scoop out the avocado flesh
Add all ingredients to a bowl and crush together with the back of a fork
Sprinkle with crushed chilli flakes and salt to serve (optional)