One of my favorite things about the school day used to be eating chocolate crunch. I actually ate one of these every-single-day at 10:30am (piggy!).
I've always been a choc-a-holic. This is the best chocolate crunch recipe because it is a) very chocolatey, and b) very crunchy!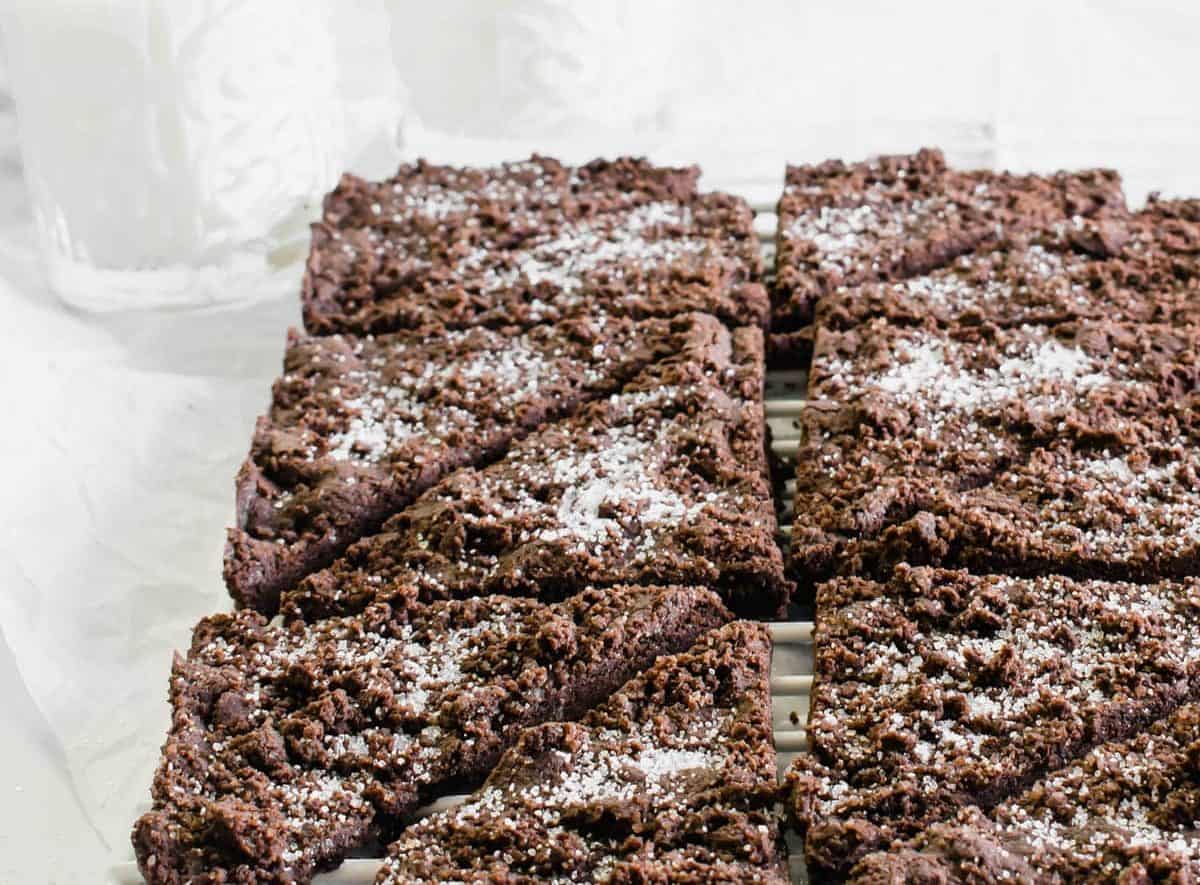 If you've not had a chocolate crunch before (where have you been?!) they're a classic, English school dessert. A chocolate, tray bake made with very 'short' ingredients which sets to a hard, crunchy brownie like cake. There's lots of texture to a chocolate crunch (also known as a chocolate concrete cake) and they're super moorish.
There's two ways to eat these – either immediately whilst they're hot, when they're soft and the main texture comes from the granulated sugar. Or cold, and crunchy – which is my preference!
Are chocolate crunches the same as chocolate concrete cake?
Yes! They are – in my school they were called chocolate crunches and served hot at 10:30am. I know other schools called them chocolate concrete cakes and served them with custard – i've never had them this way, but hear its amazing!
How to make chocolate crunches soft?
By their very nature, chocolate crunches are crunchy – but, your school may have served them super soft too (as mine sometimes did). When they were soft, the napkin used to pick them up was also saturated in grease – because of the high butter content! The recipe below is for a short, crunchy chocolate crunch, but if you'd like yours to be soft add some more butter and eat them warm!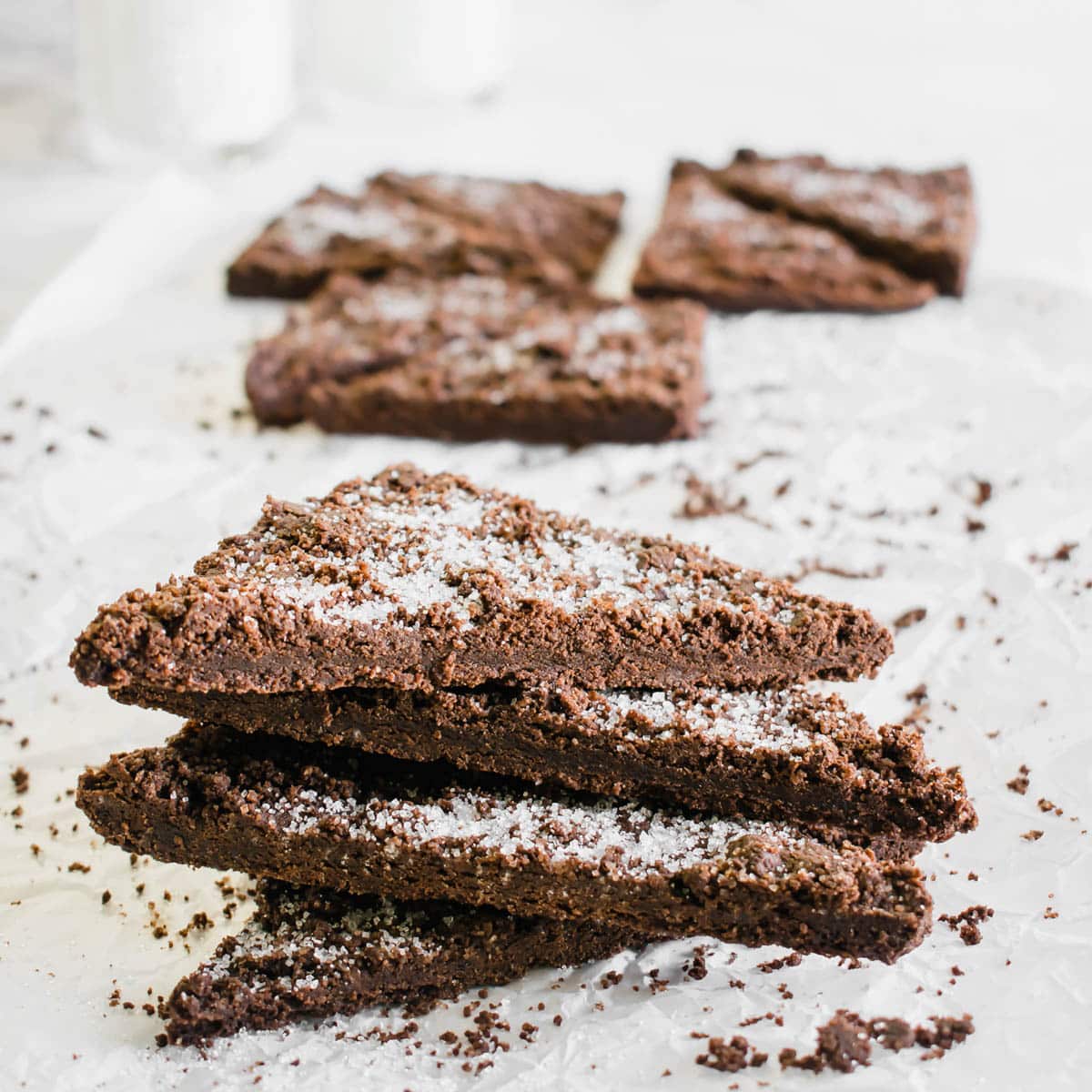 Yield: 12
Chocolate Crunch Recipe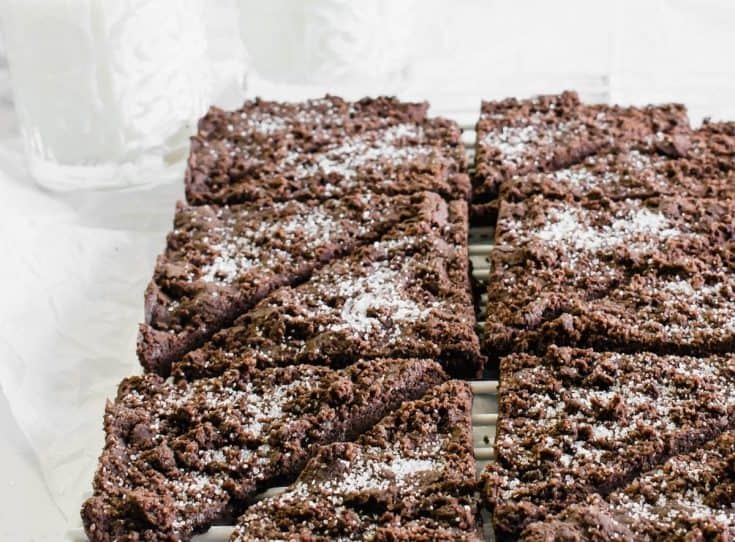 An easy to follow recipe for the school lunch classic: chocolate crunch. Sprinkled generously with granulated sugar - yum!

Prep Time 5 minutes

Cook Time 20 minutes

Total Time 25 minutes
Ingredients
300g Plain Flour
300g Granulated Sugar
80g Cocoa Powder
150g Butter (Vegan butter works great too!)
Instructions
Preheat oven to 180C
Mix the flour, sugar and cocoa in a large mixing bowl
Melt the butter until runny (either in microwave or in a pan)
Pour the melted butter into the flour mixture and mix to a crumble
Butter a deep-sided tin, then tip the crumble mixture into it
Use your hands or a spatula to press the crumble down to form a flat, dense cake
Bake in the oven for 20 minutes
Remove from the oven and sprinkle with more granulated sugar
Allow to cool for 1 minute if you like them warm and soft, otherwise allow to fully cool for a 'crunch'
Notes
If you'd like your chocolate crunch to be softer than this, add more butter - i'm not 100% sure how much, but you really can't go wrong with this recipe. Or, eat is when its really warm. I'd advise against putting the chocolate crunch in the fridge as it will go solid - leave in a sealed concealer at room temperature if you plan on eating these over a few days.

Nutritional values calculated using VeryWellFit and are based on 12 servings.
Recommended Products
As an Amazon Associate and member of other affiliate programs, I earn from qualifying purchases.
Nutrition Information:
Yield:
12
Amount Per Serving:Calories: 289 Total Fat: 11.3g Saturated Fat: 7g Cholesterol: 27mg Sodium: 74mg Carbohydrates: 47.8g Fiber: 2.7g Sugar: 25.2g Protein: 3.9g

I wonder if these are still served in schools? I seem to imagine everything is a touch healthier now, with granola bars and fresh fruit. This recipe can easily be made vegan too, by using a vegan 'butter'.