With just three store cupboard ingredients (flour, oil and water) you can have a stack of soft flatbread! Not only are they super delicious, cheap and easy to make – they're very versatile too!
These flatbreads are soft and can be easily wrapped, or topped with ingredients – or, used as the perfect side dish to saucy curries and stews.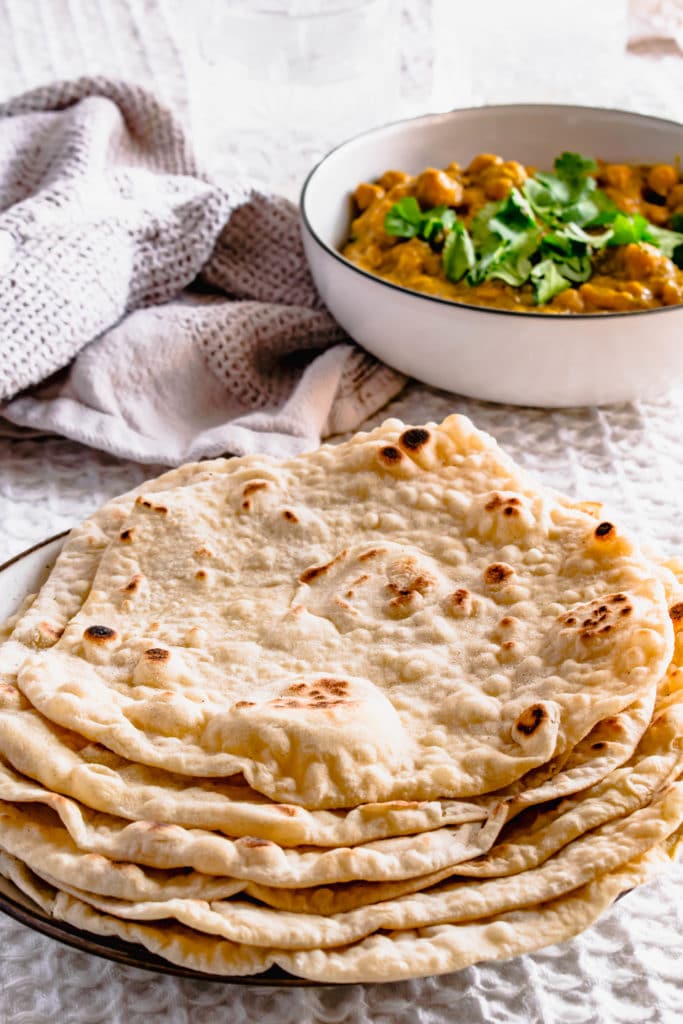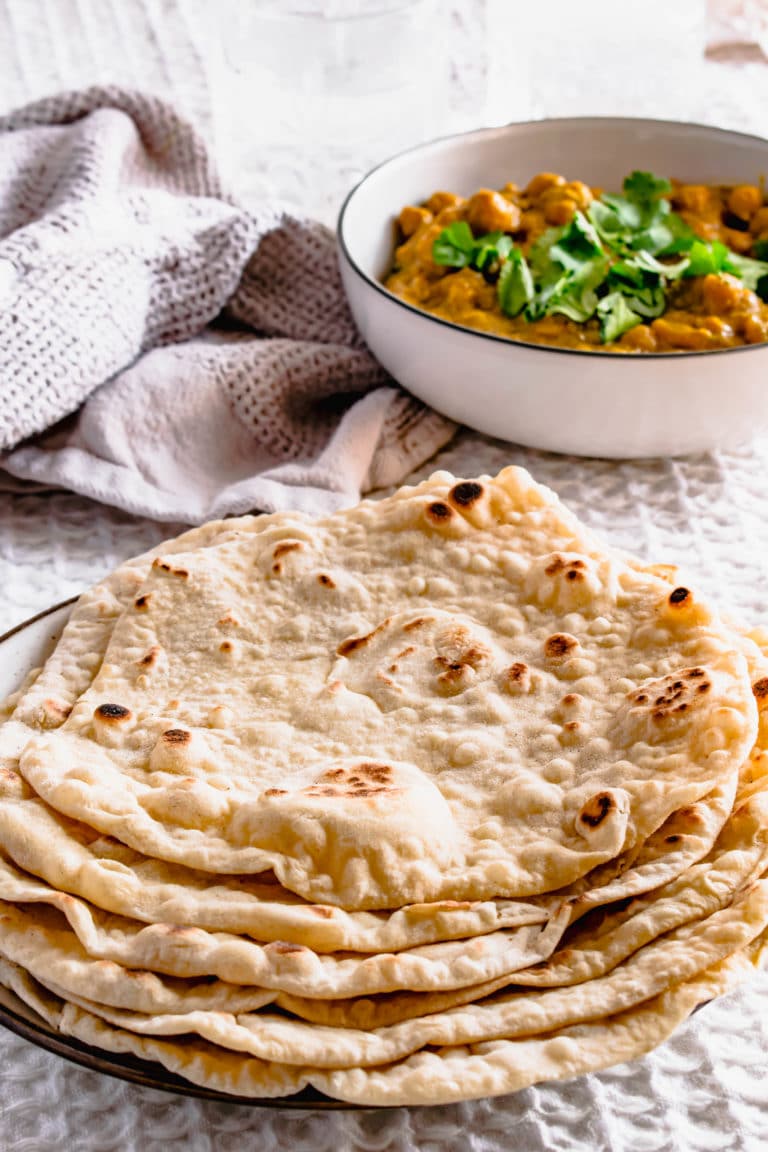 The recipe itself is very simple – no yeast is needed as the rising agents in self raising flour creates the bubbles all over. And you really don't need to have anything besides the basics in the cupboard. I sometimes brush these with garlic butter for a Friday night treat – but generally have them 'dry' to mop up a curry sauce.
These flatbreads are really nice to make even if you're not an experienced bread maker. They're something I used to make as a young teen whenever mum would make curry. It's a great way to get used to dough, and a super fun activity to get the kids involved with too!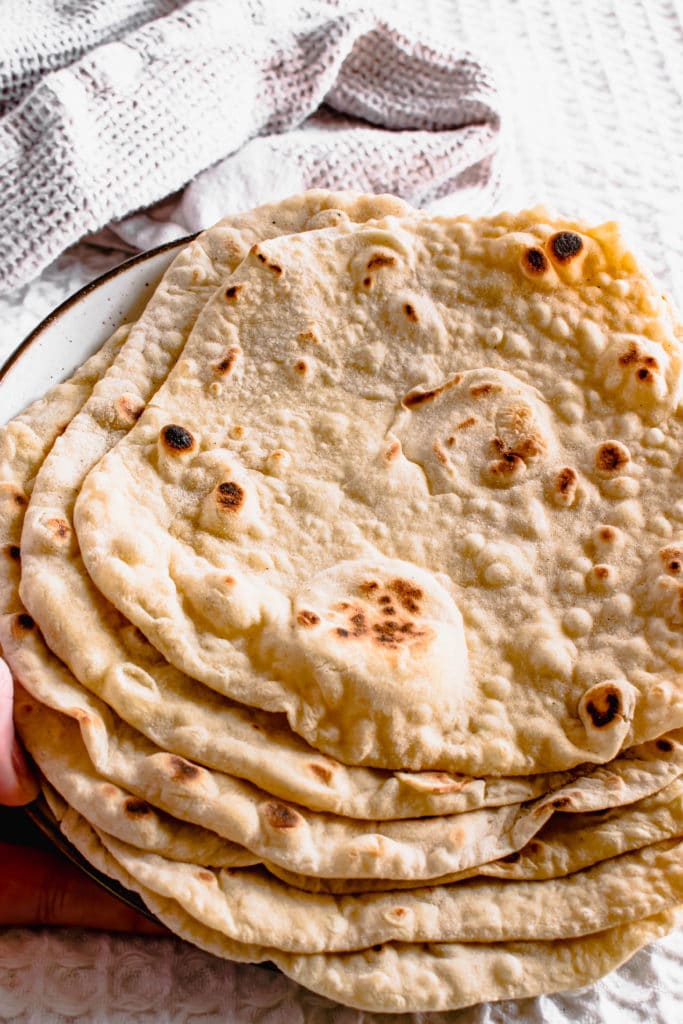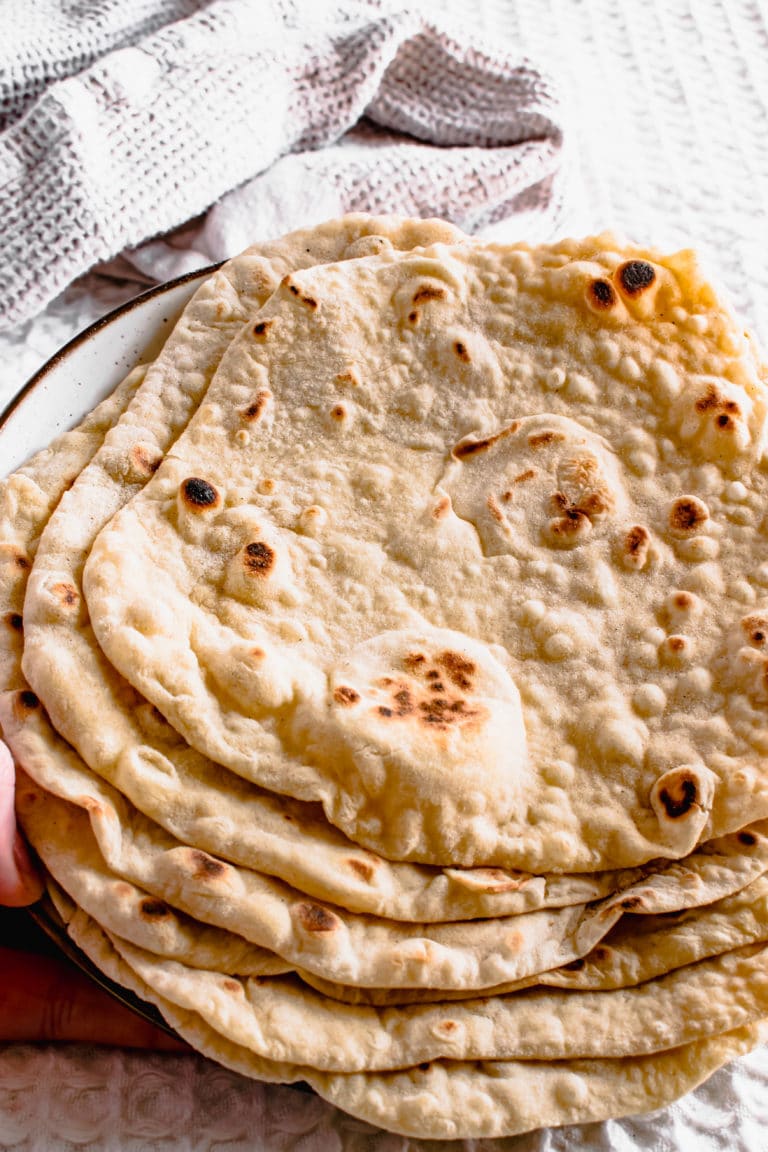 It's great to know exactly what's in the food you eat (rather than shop bought wraps and breads which contain preservatives and unnecessary salt and sugar) and once you've tried these you won't be wanting shop-bought again. These flatbreads are easy and cheap to make – I love them to mop up curry, to use as a wrap, or even as a pizza base.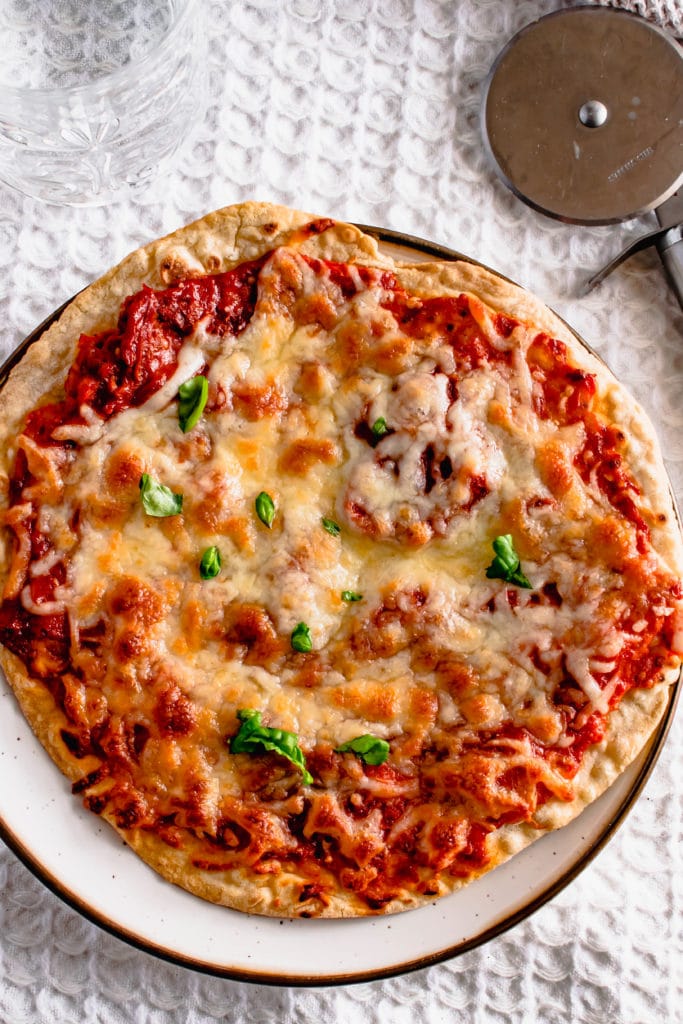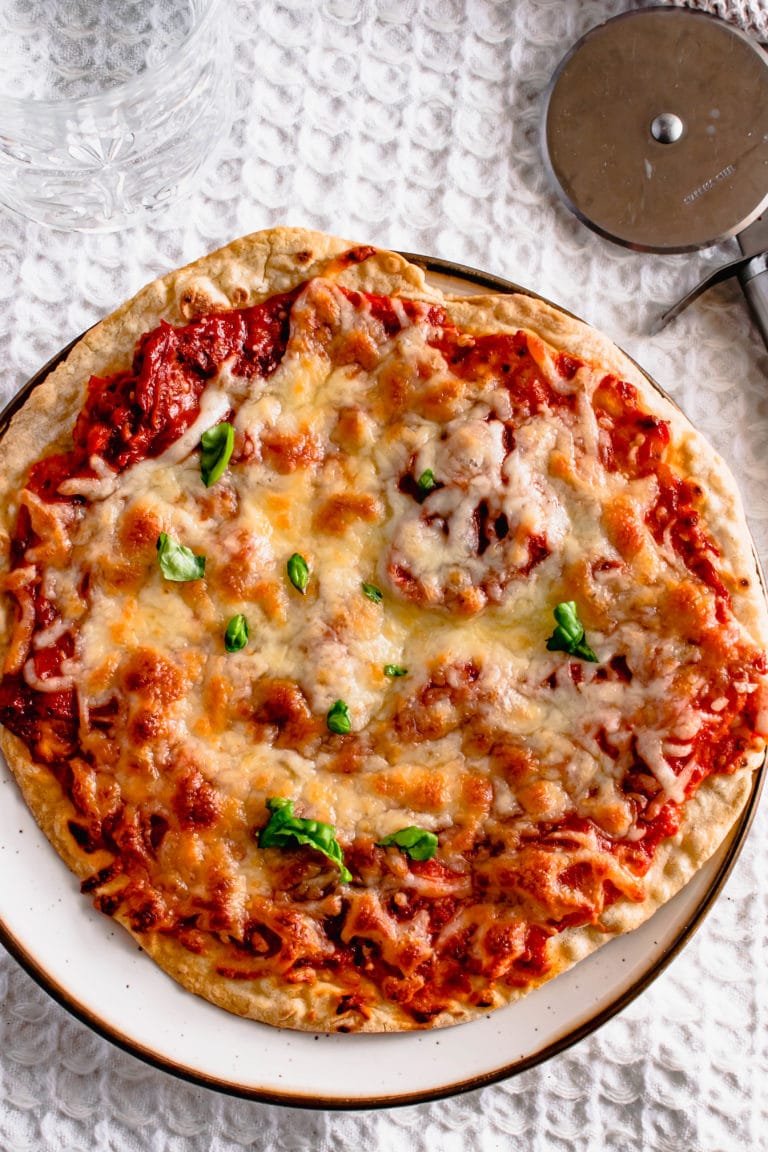 Practice really does make perfect with these flatbreads, but the main thing to bear in mind if you're new to this recipe is you're after a soft dough which is easy to work with. Please don't adjust the recipe too much (i.e. adding a lot more of either water or flour) but feel free to do what feels natural in small additions (tablespoons).
Store these flatbreads at room temperature in sealed Tupperware or freeze. You can also halve or quarter the recipe if you only need a couple of flatbreads.
How to make easy flatbreads at home
Scroll down for recipe card and ingredient list
1. Add flour to a large mixing bowl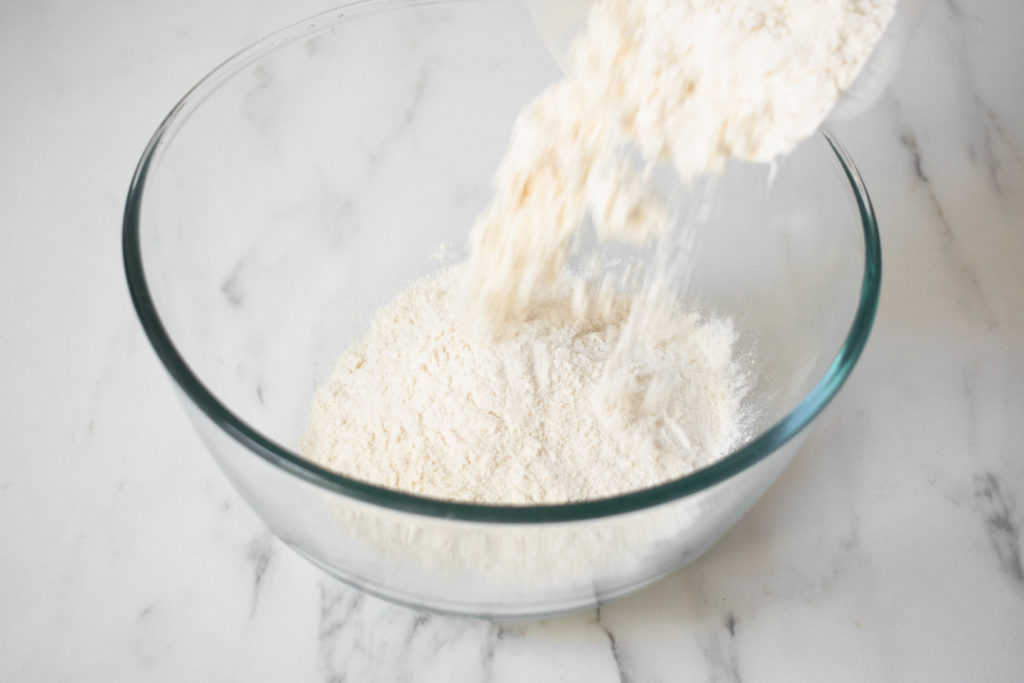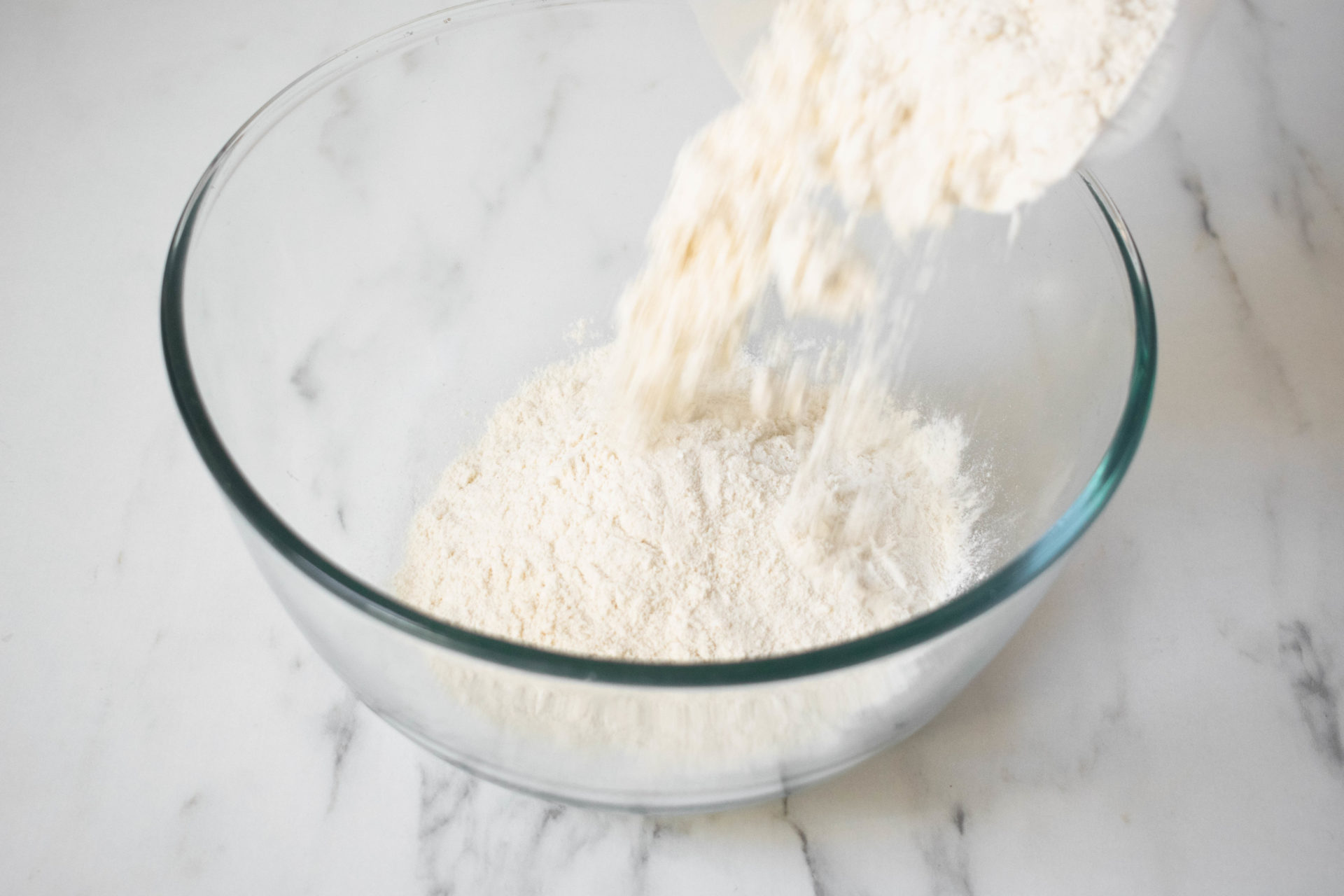 2. Add in water and oil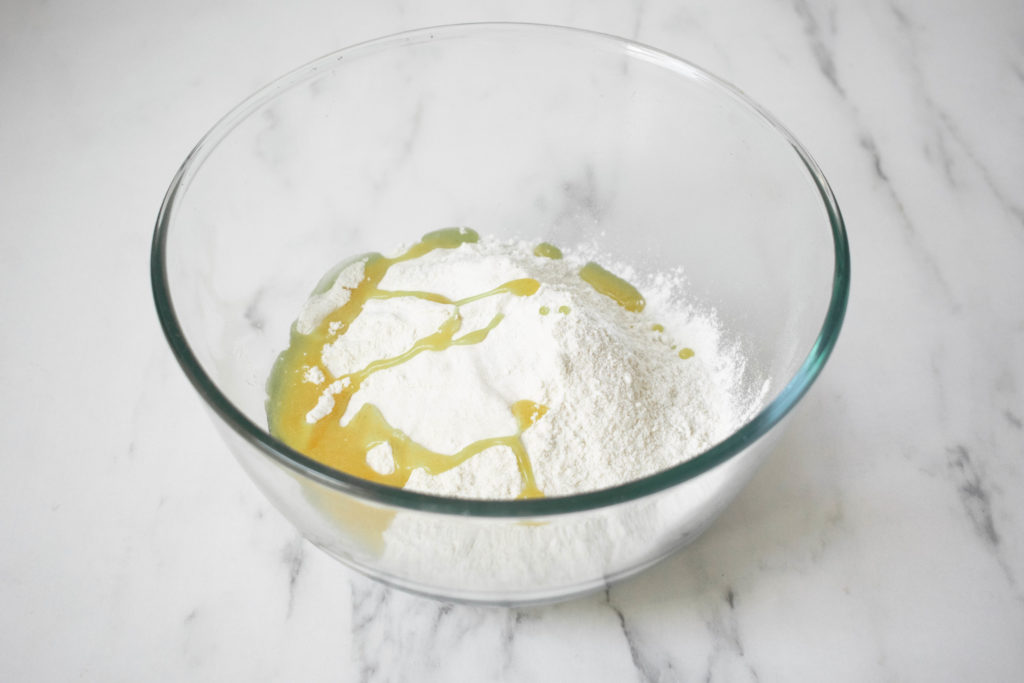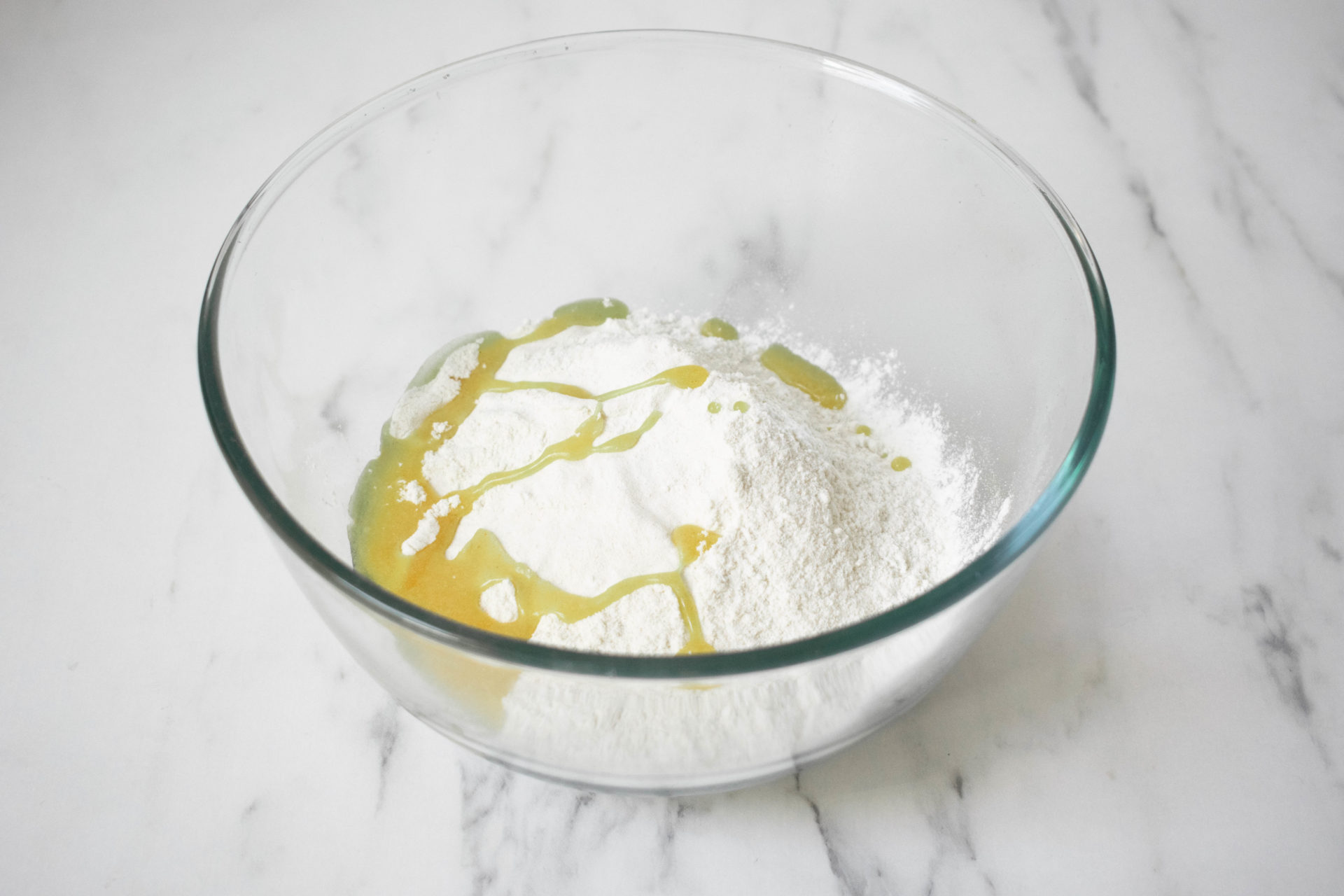 3. Stir to form a rough dough using a wooden spoon (or whichever utensil you have)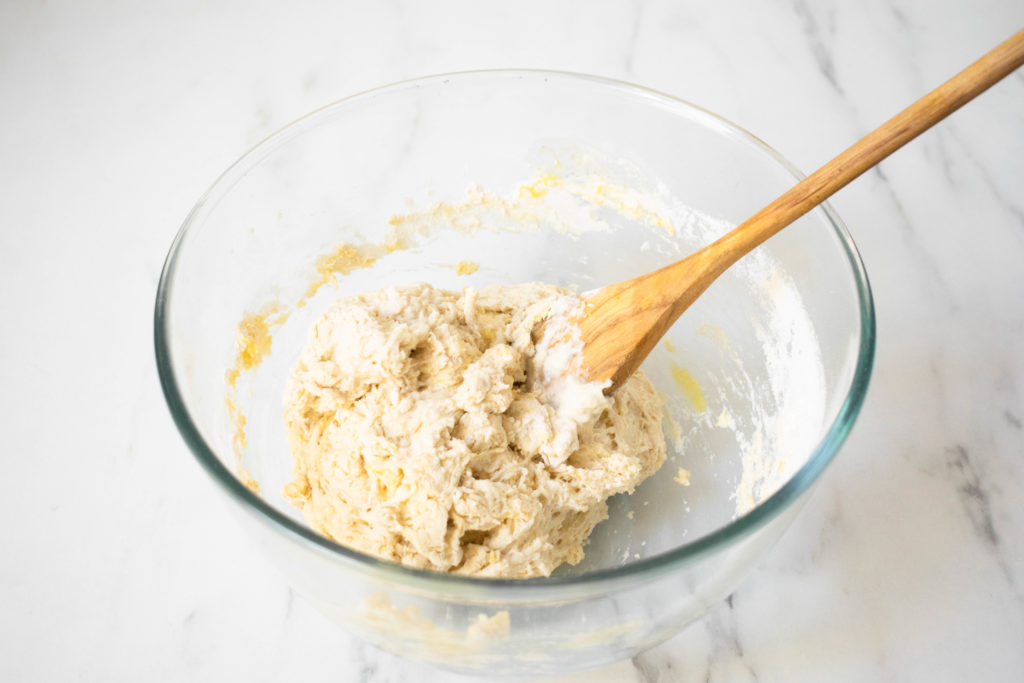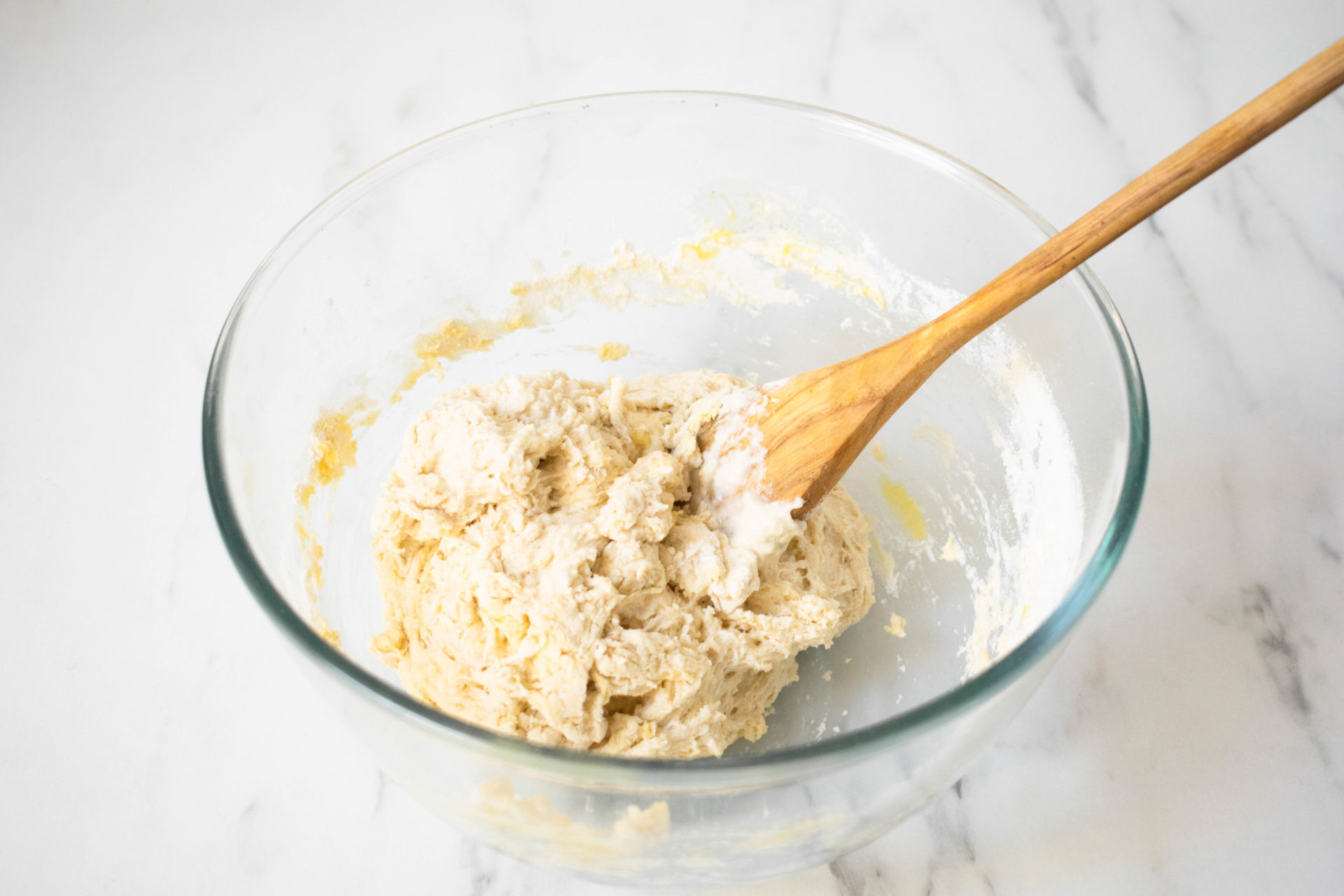 4. Once the dough has come together – begin to work it with your hands. You want it to be a soft dough, which isn't sticky, but definitely isn't firm. Add a little more water if needed (1 tbsp at a time) if the dough is too wet, add flour back – a tbsp at a time.
Once the dough is soft, pour it onto a floured work surface and knead using your hands for 2 minutes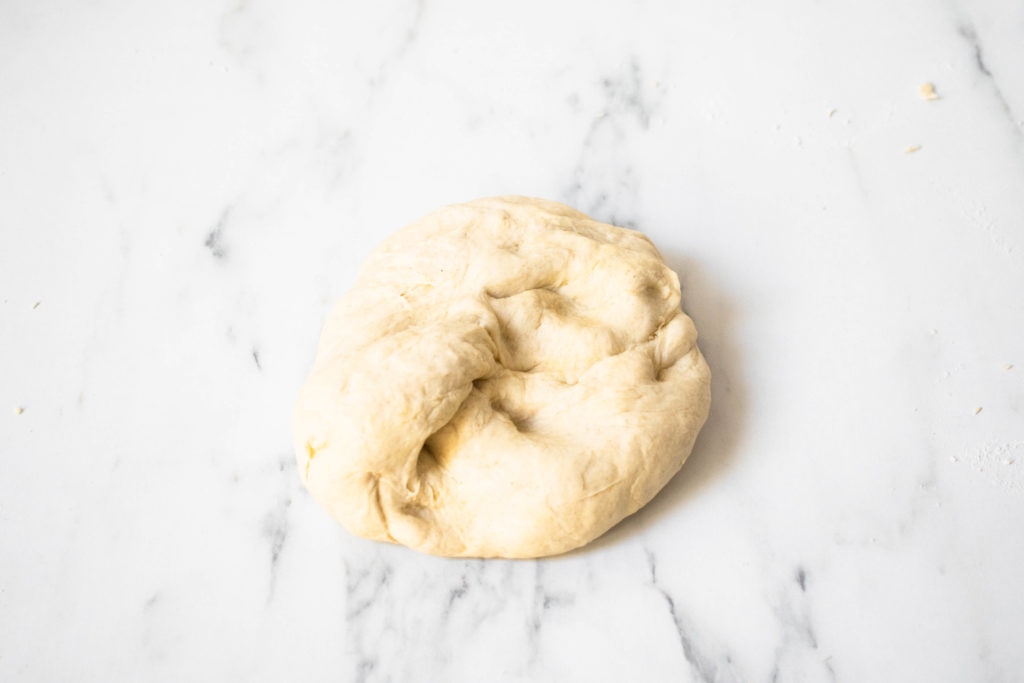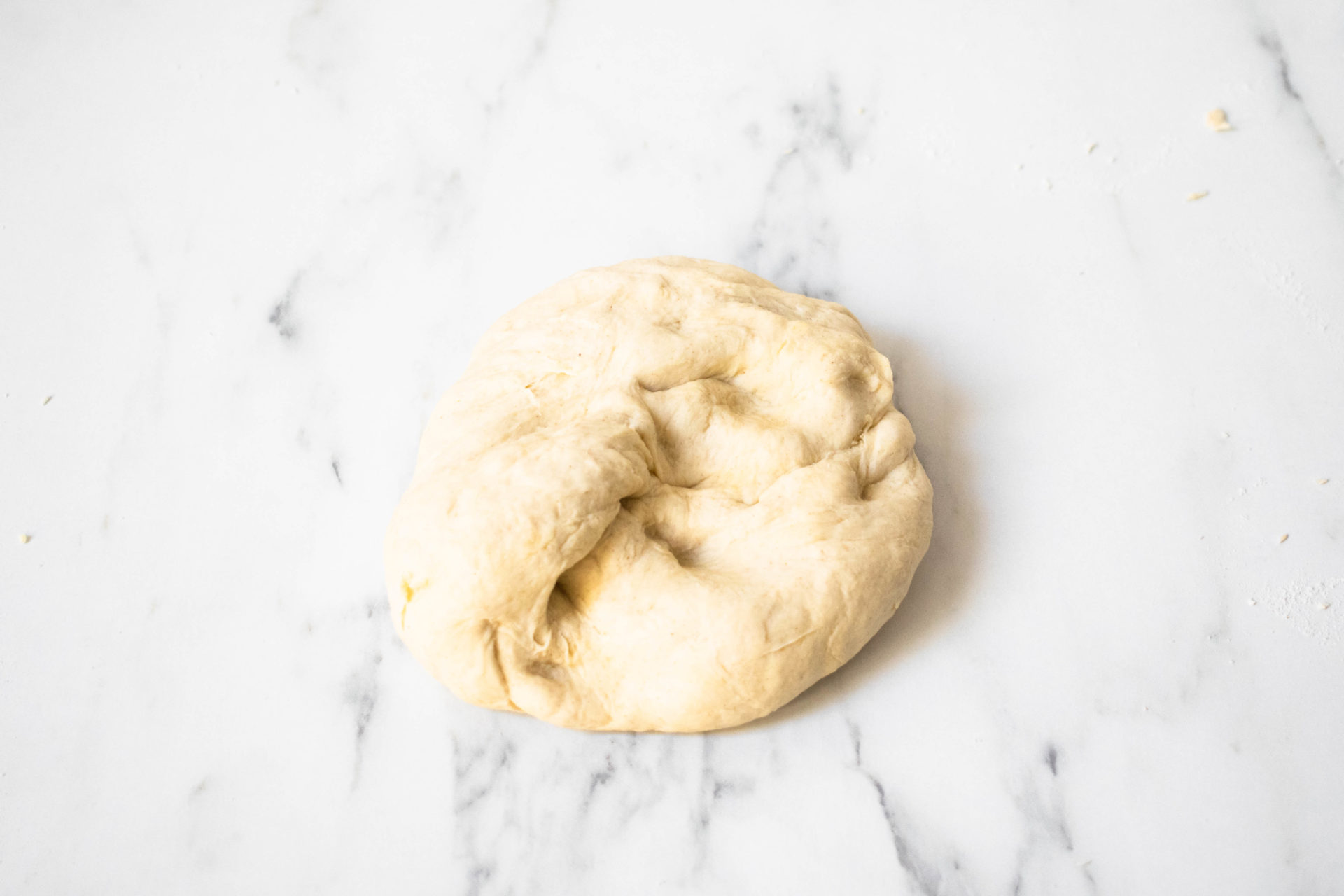 5. Once kneaded, cover with a slightly damp teatowel for 30 minutes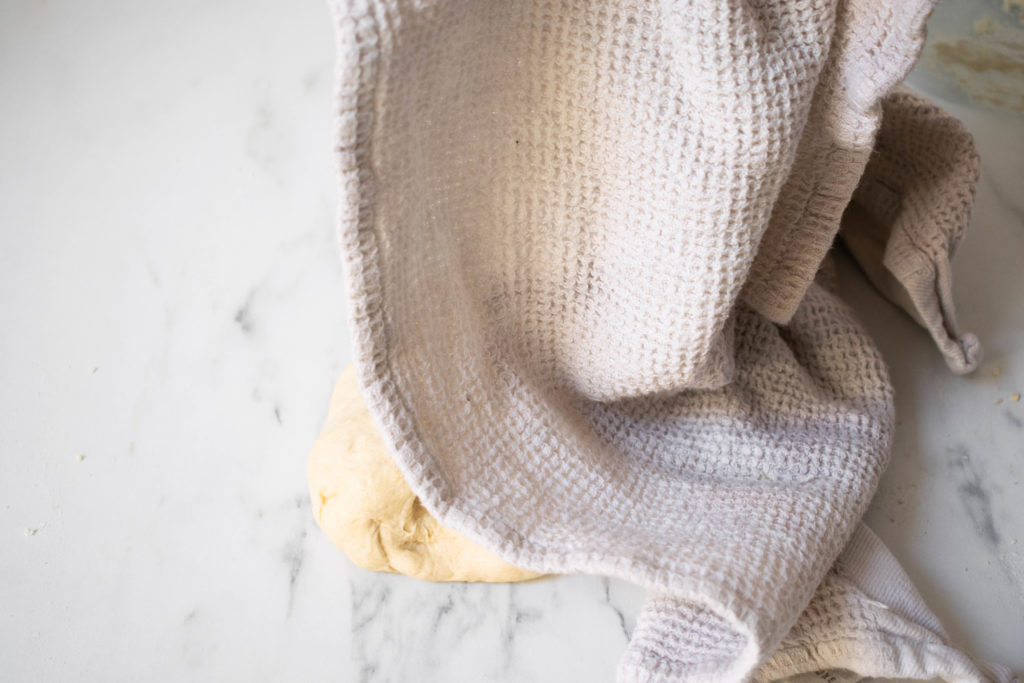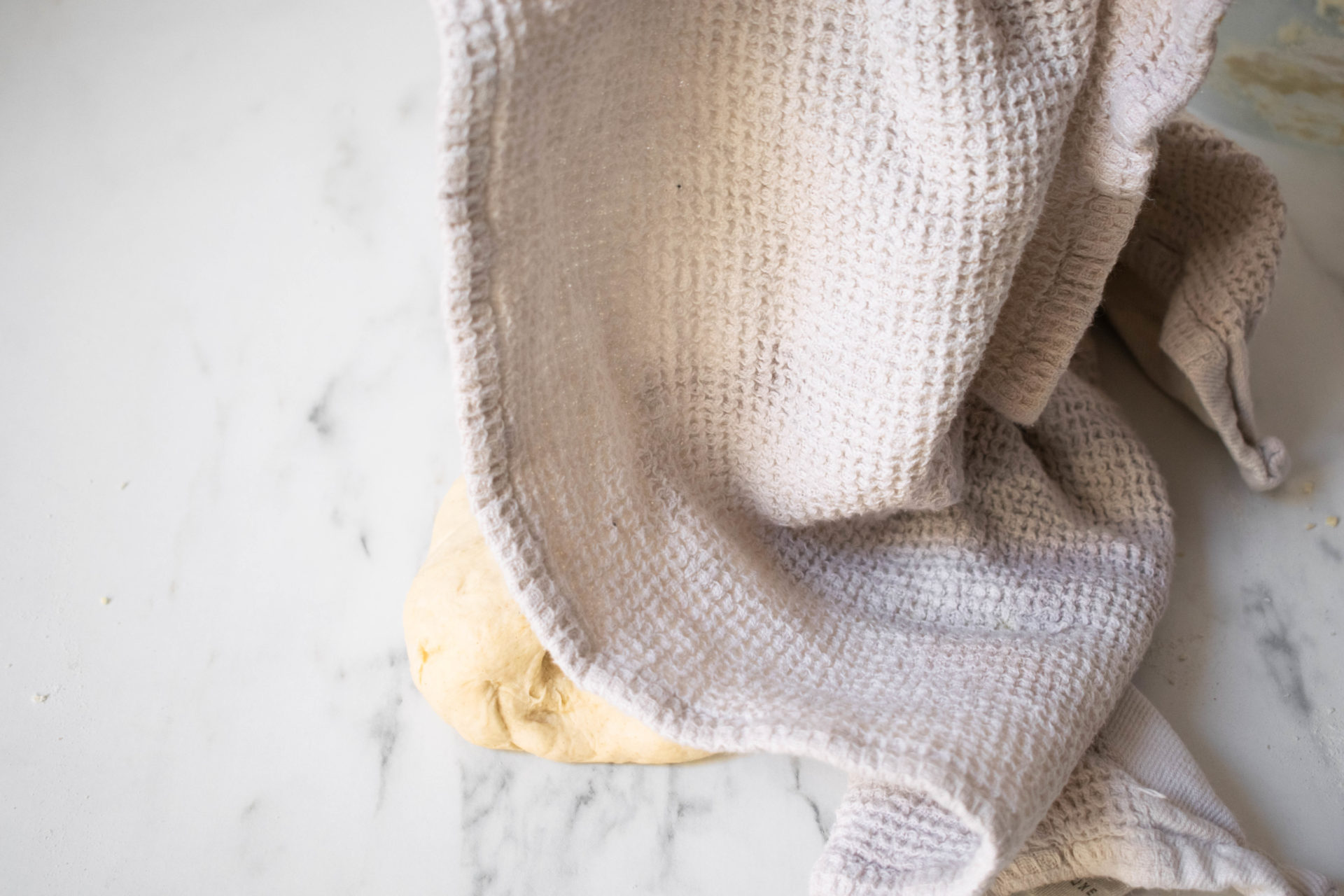 6. After 30 minutes, uncover the dough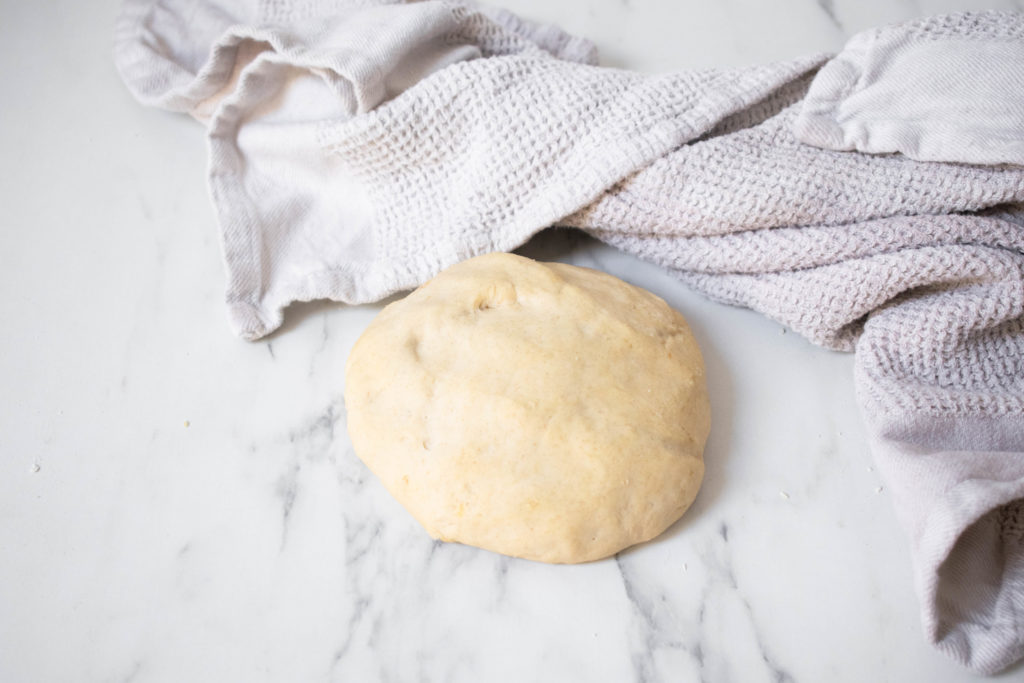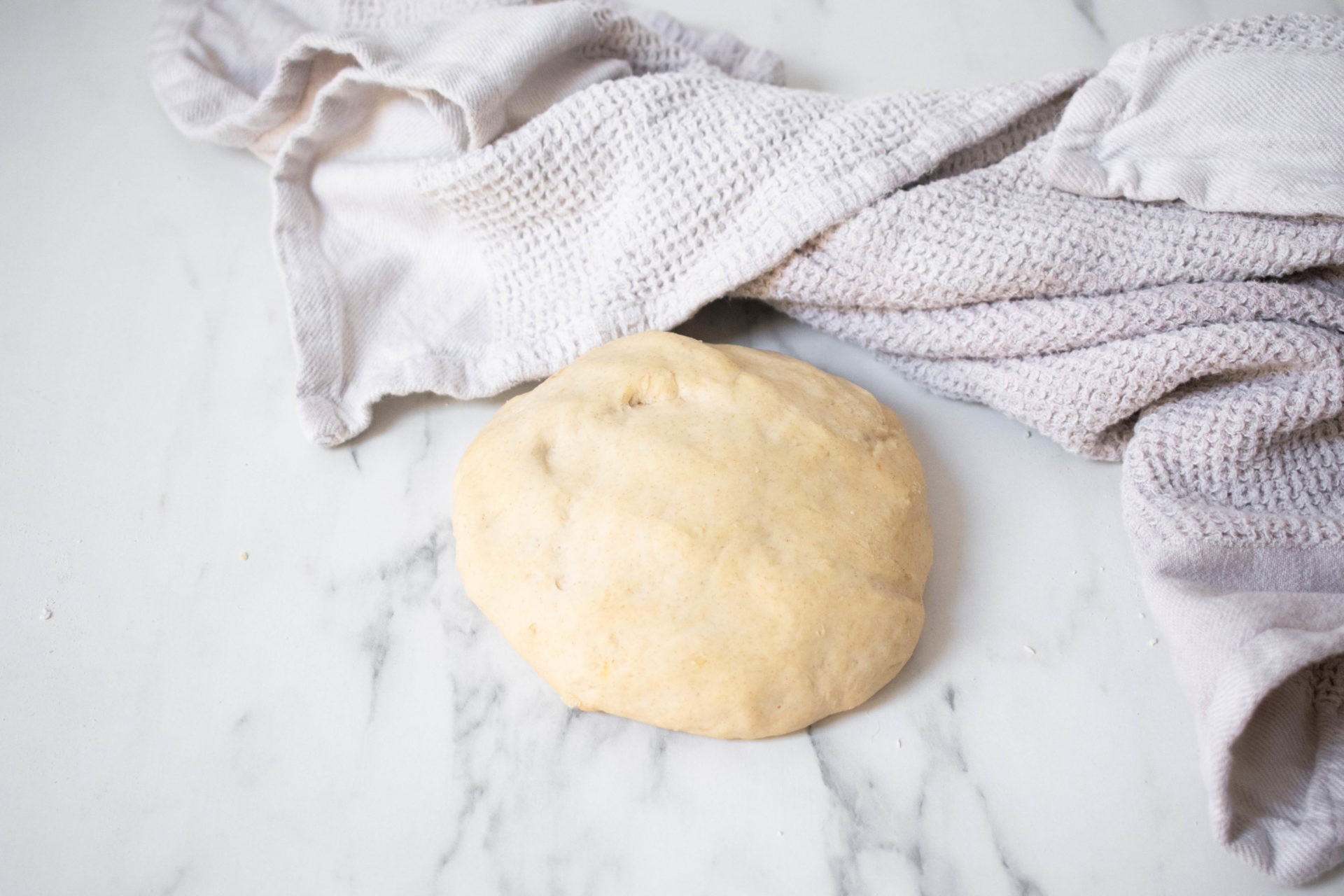 7. And sprinkle with a little more flour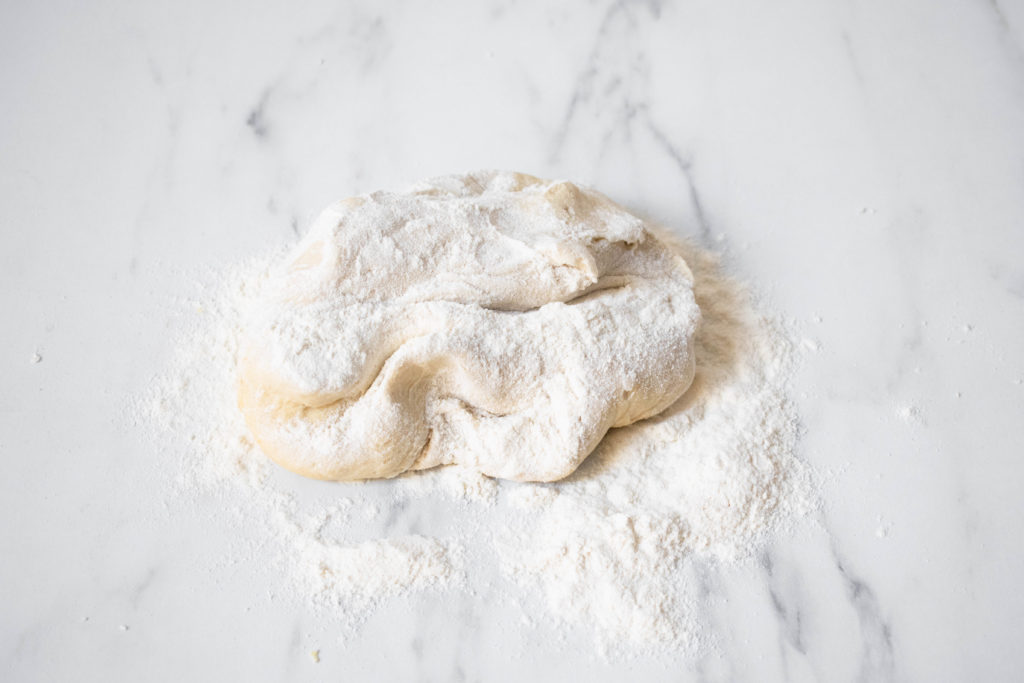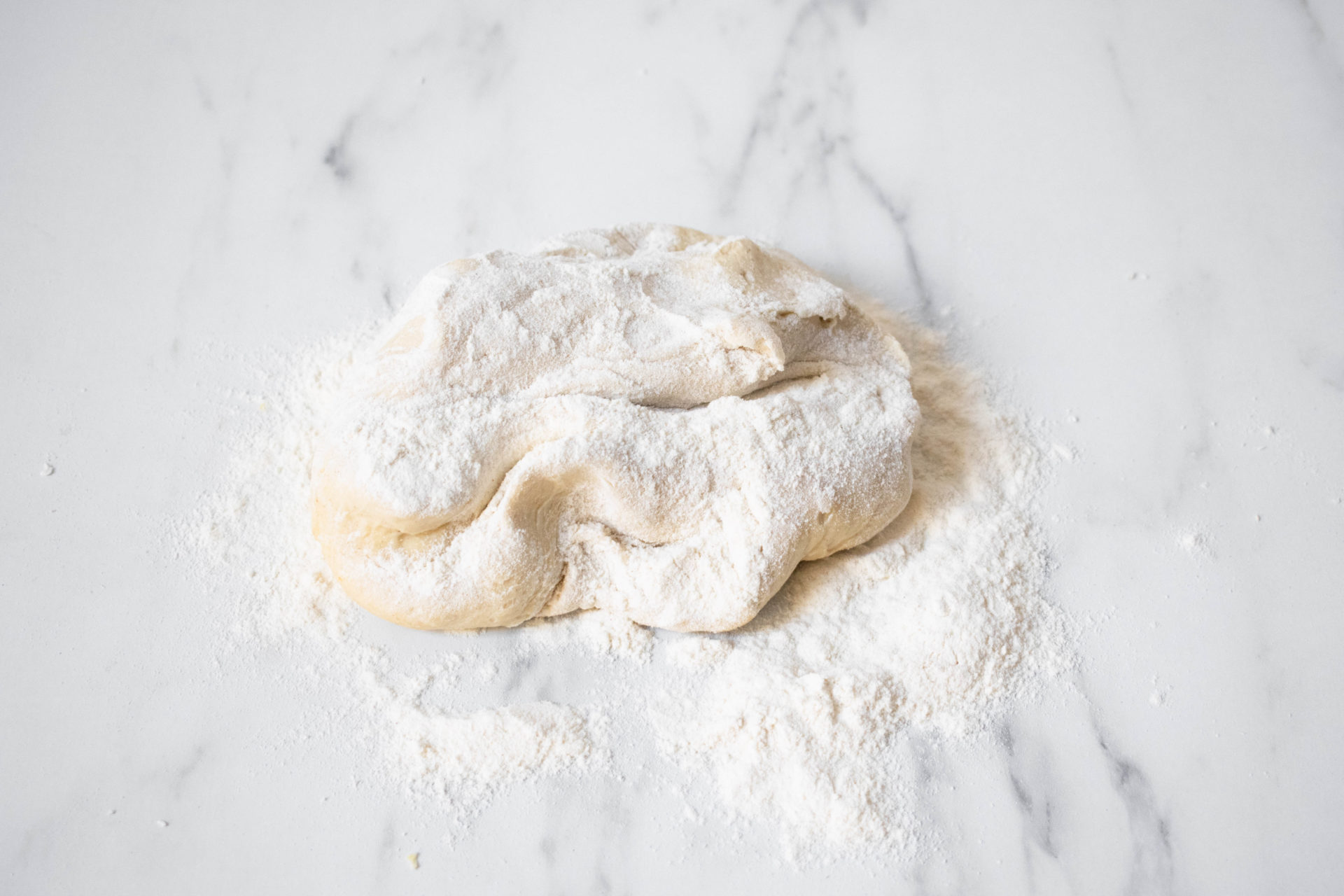 8. Divide the dough into 6 equal pieces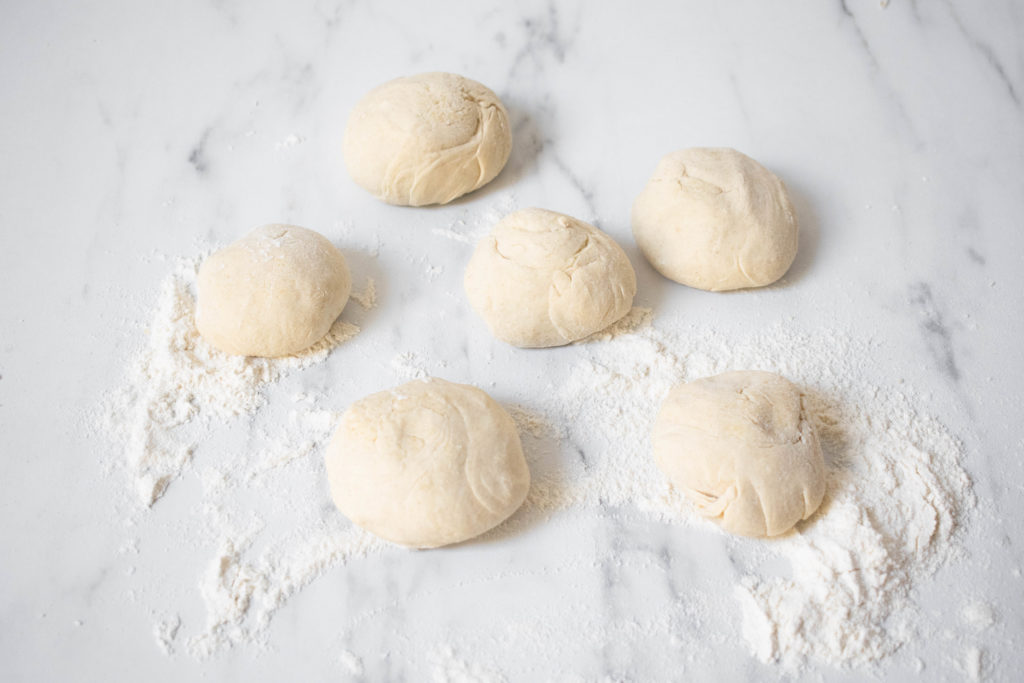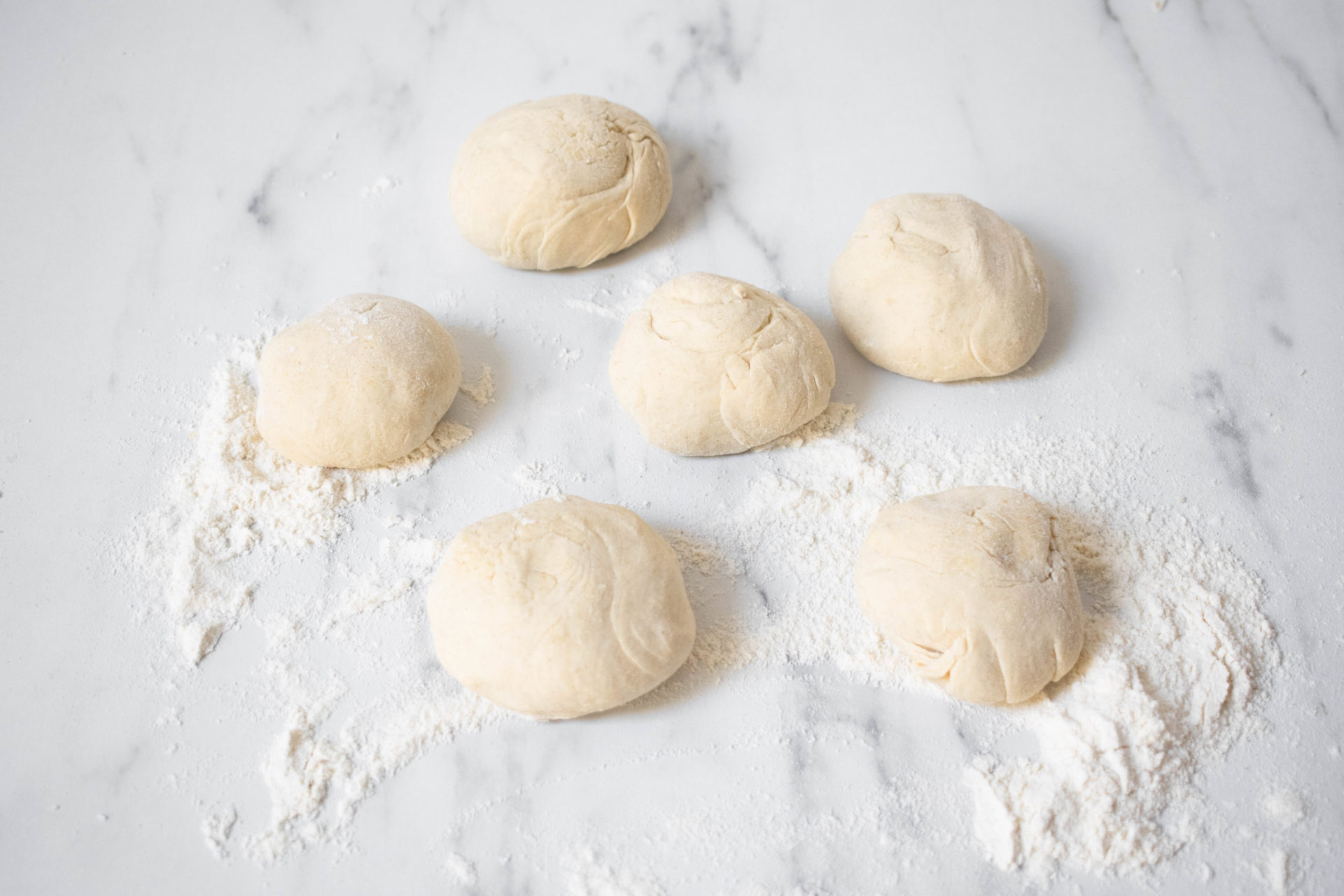 10. Begin heating a large, non-stick pan on the hob
11. Whilst it's heating roll one of them out into a thin, round disk – as thin as you can really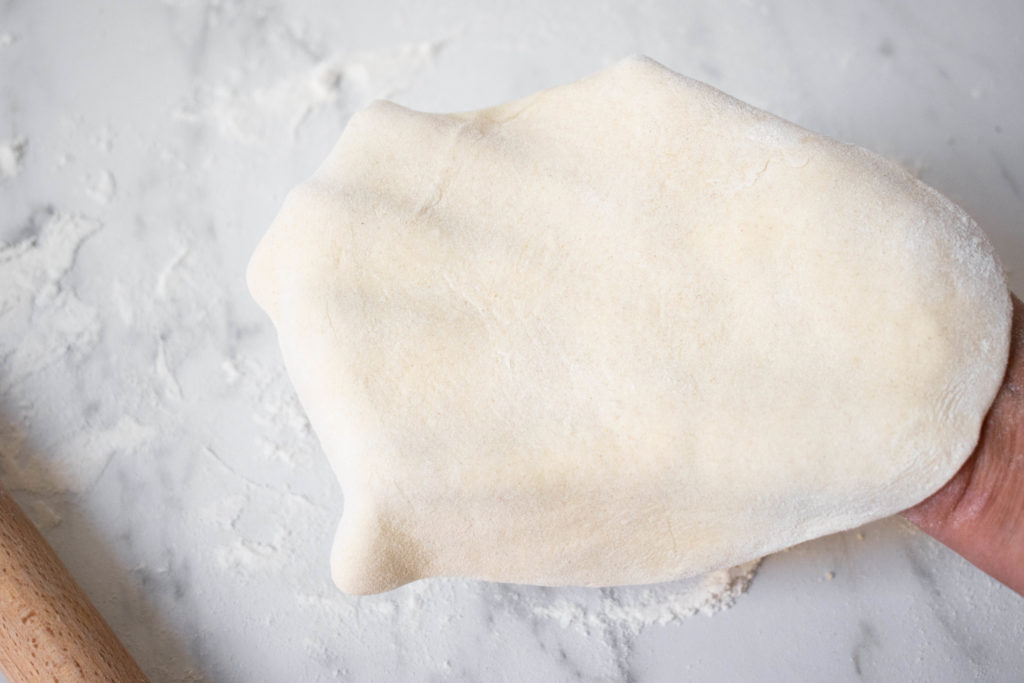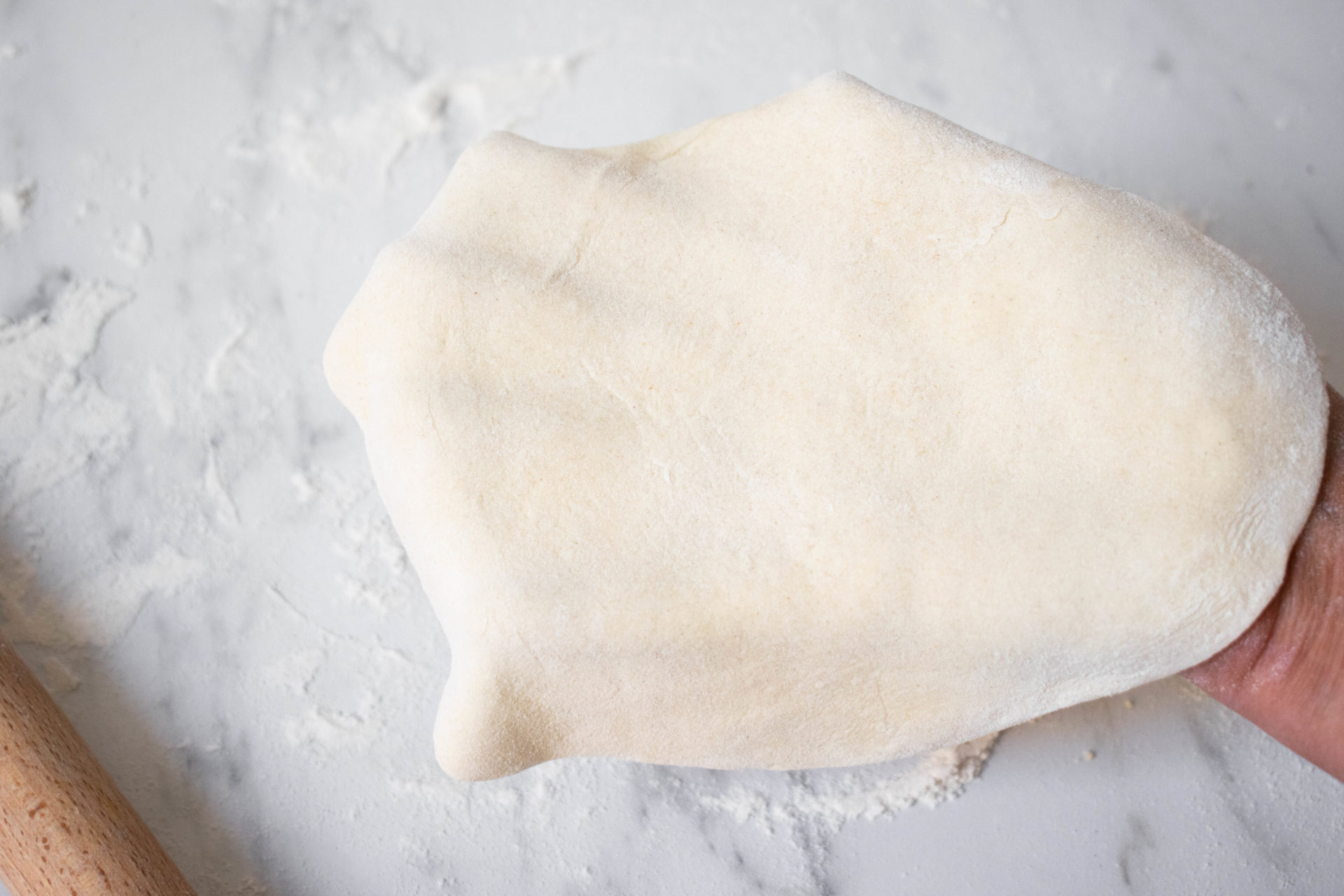 12. Add the dough to the pan (no oil needed – just straight into the dry pan)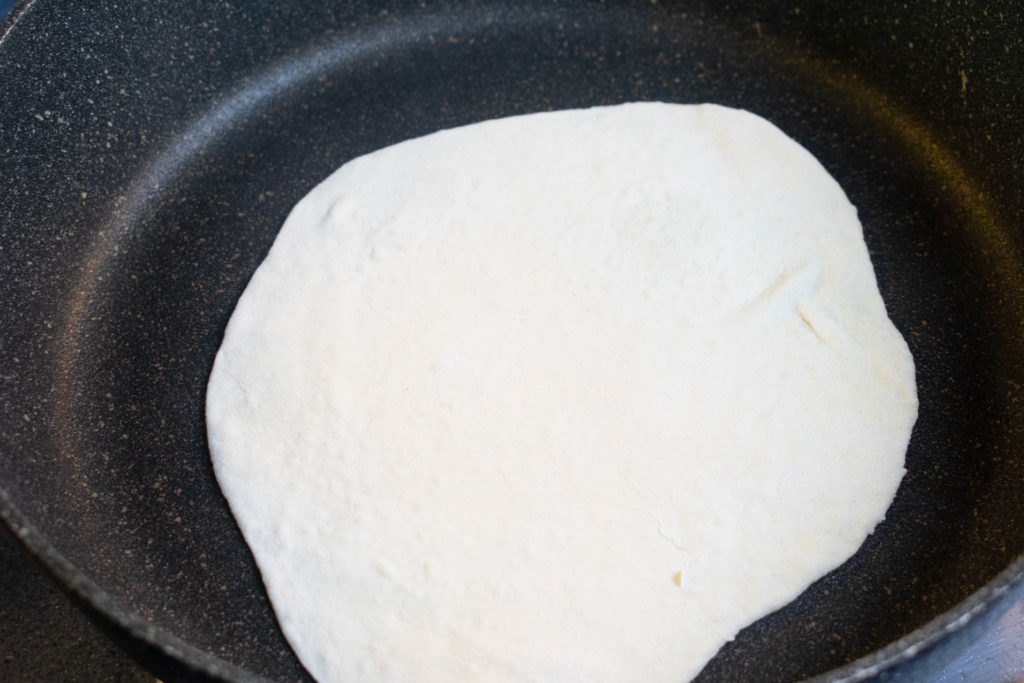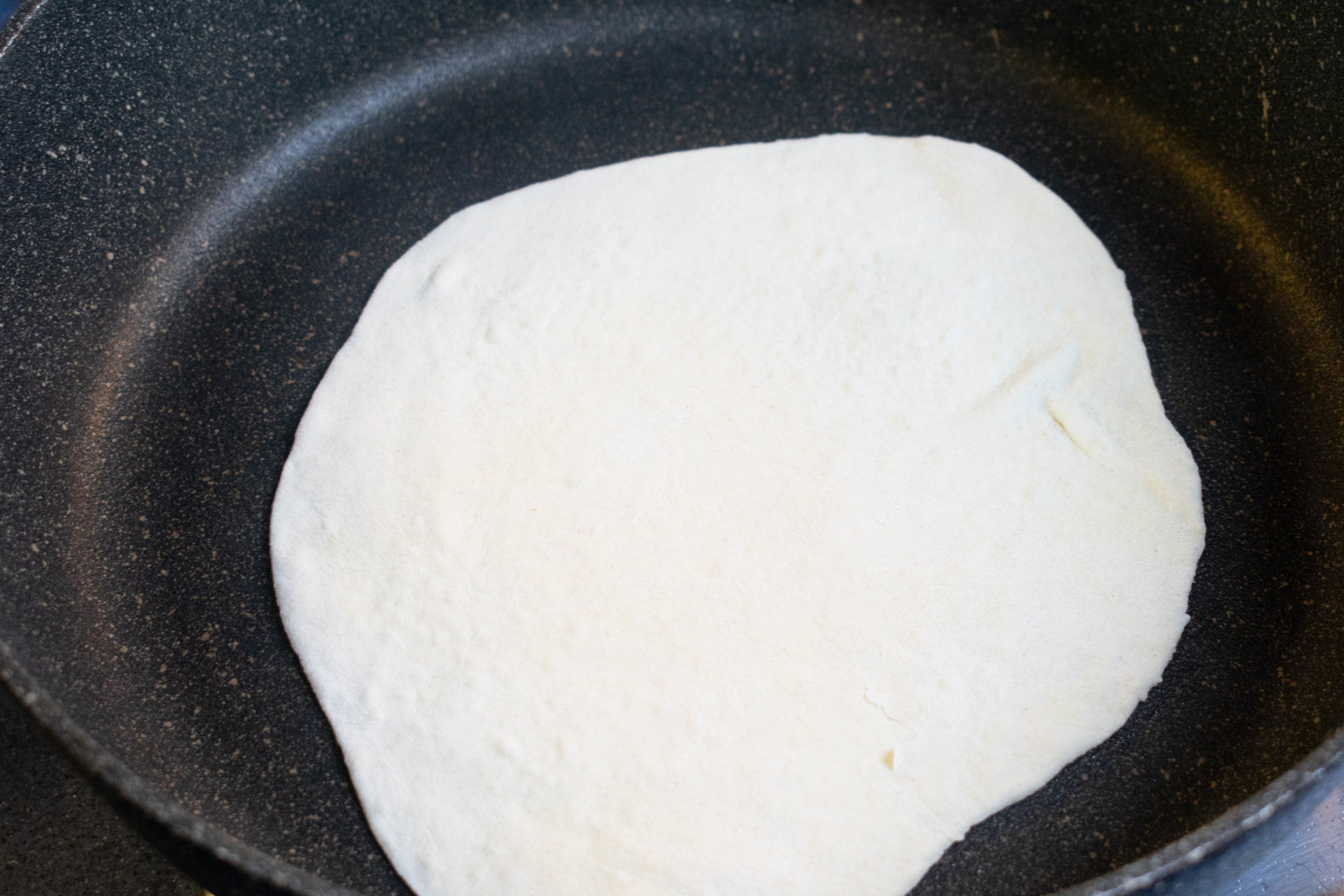 13. And cook for 30 sec – 1 minute – until it begins to bubble up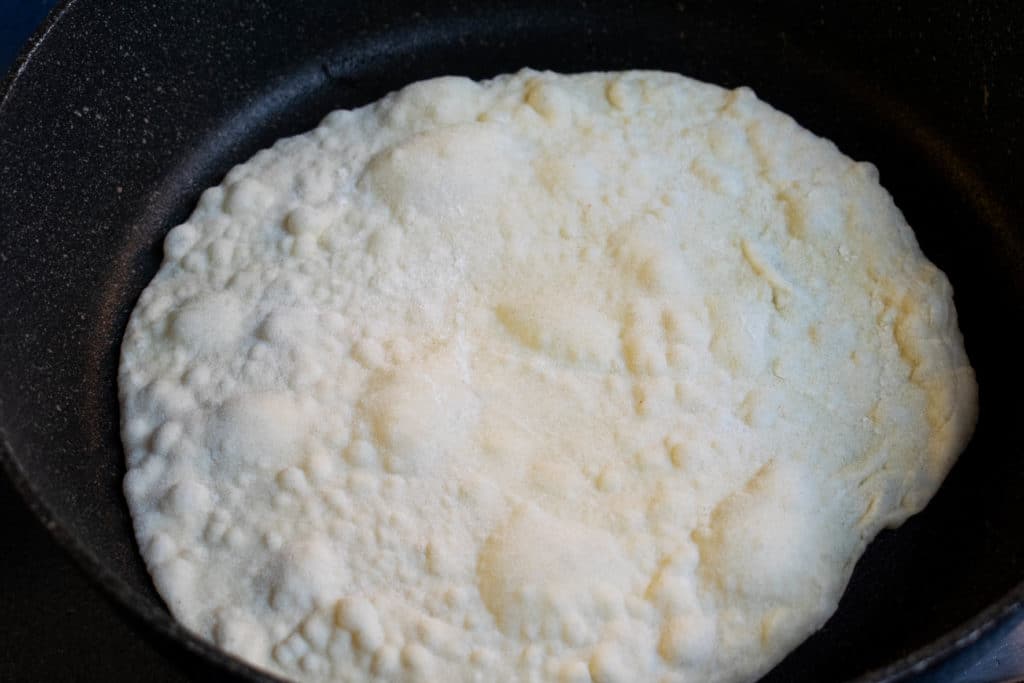 14. Then flip it and cook for a further 1 minute on the other side – don't over-do it cause you want the flatbreads to remain soft. During the final 10-15 seconds of cooking gently press down on the bread to add some additional browning to the bubbles on the other side.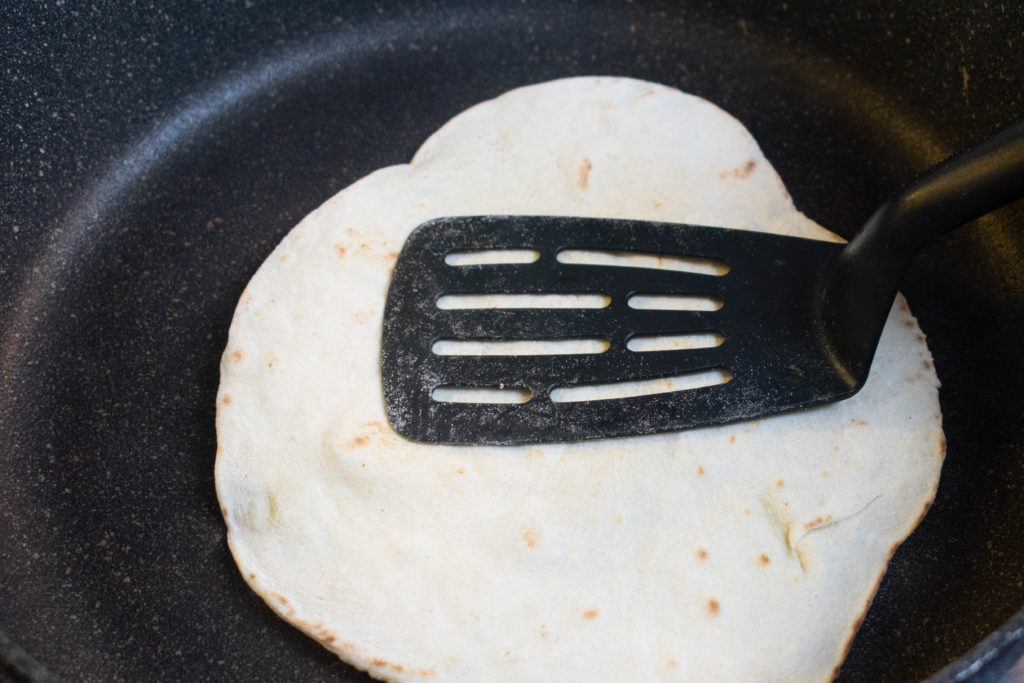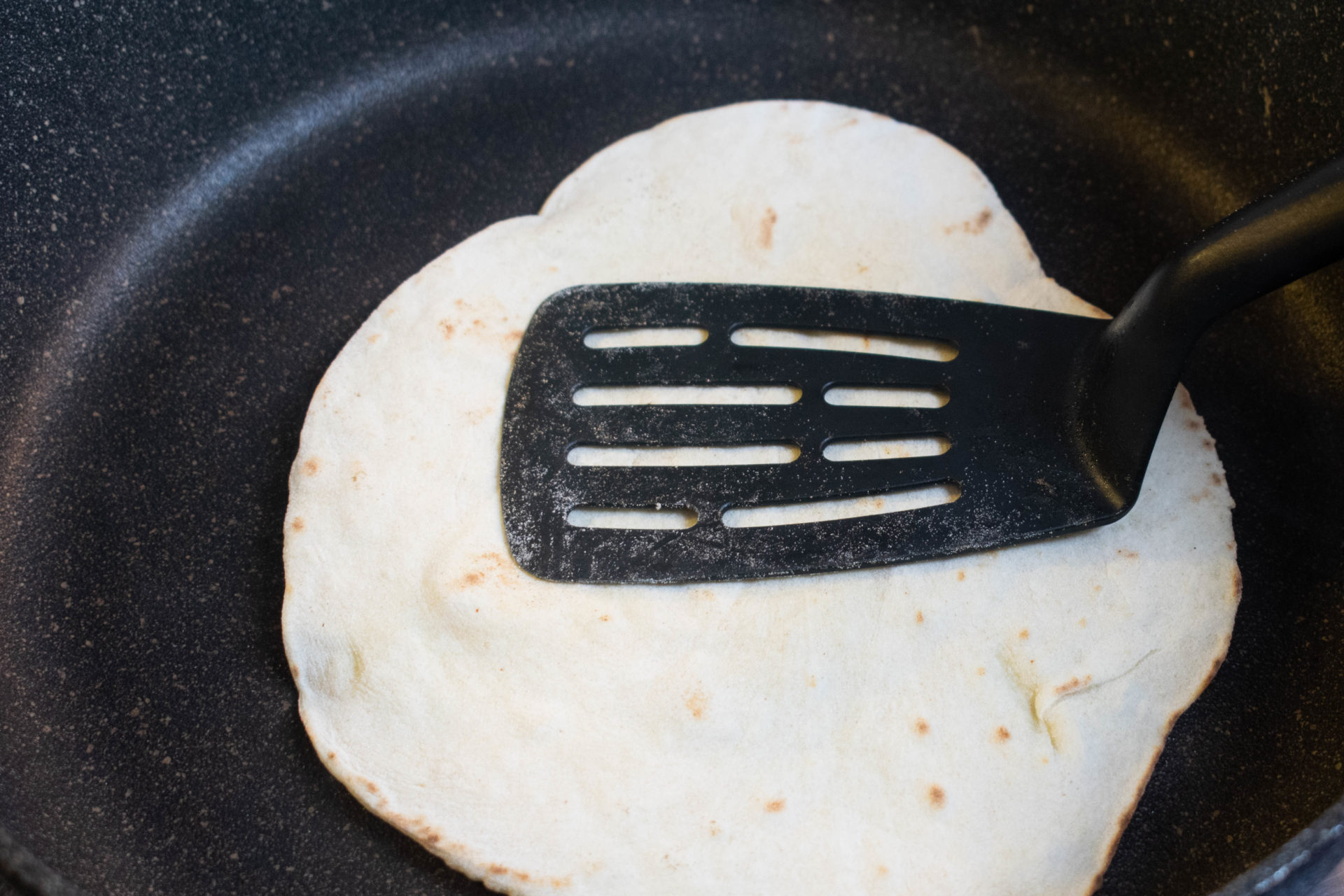 15. Once the first one is cooked, repeat by rolling out the next flatbread, and repeating the cooking process. I tend to roll my flatbread whilst my last flatbread is cooking – but if you're new to these I recommend you take your time and roll each one separately. Stack the cooked flatbreads on a plate covered loosely by a slightly damp towel until ready to serve.
Yield: 6 Flatbreads
Easy Flatbread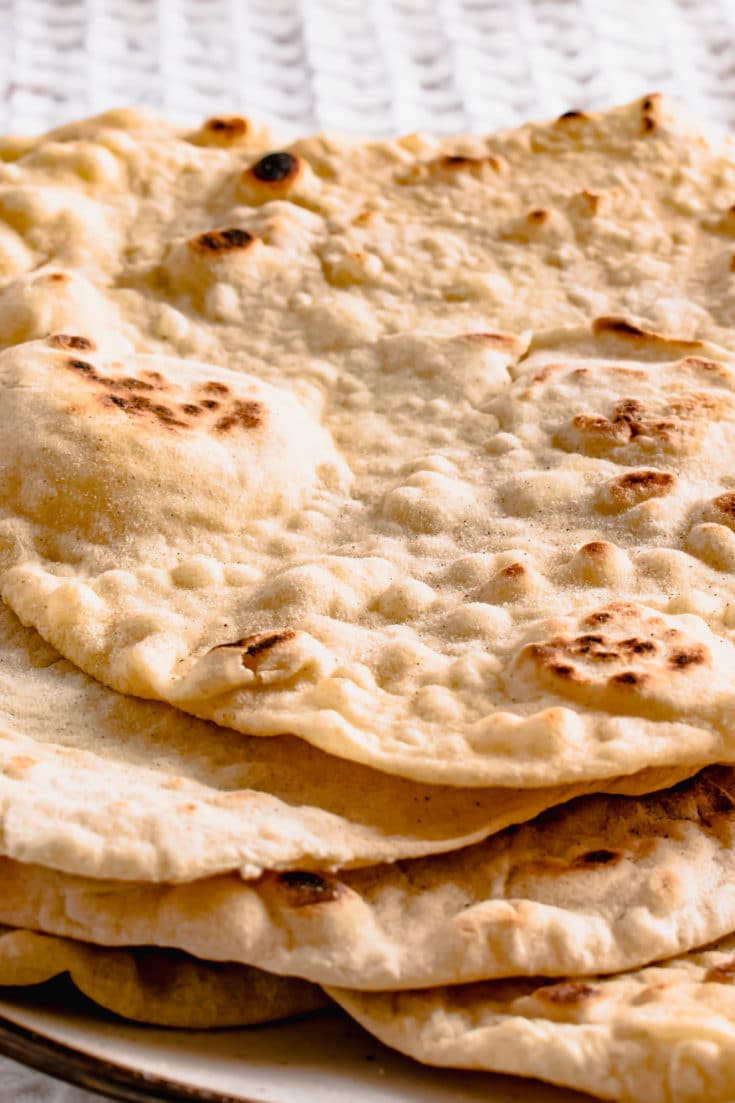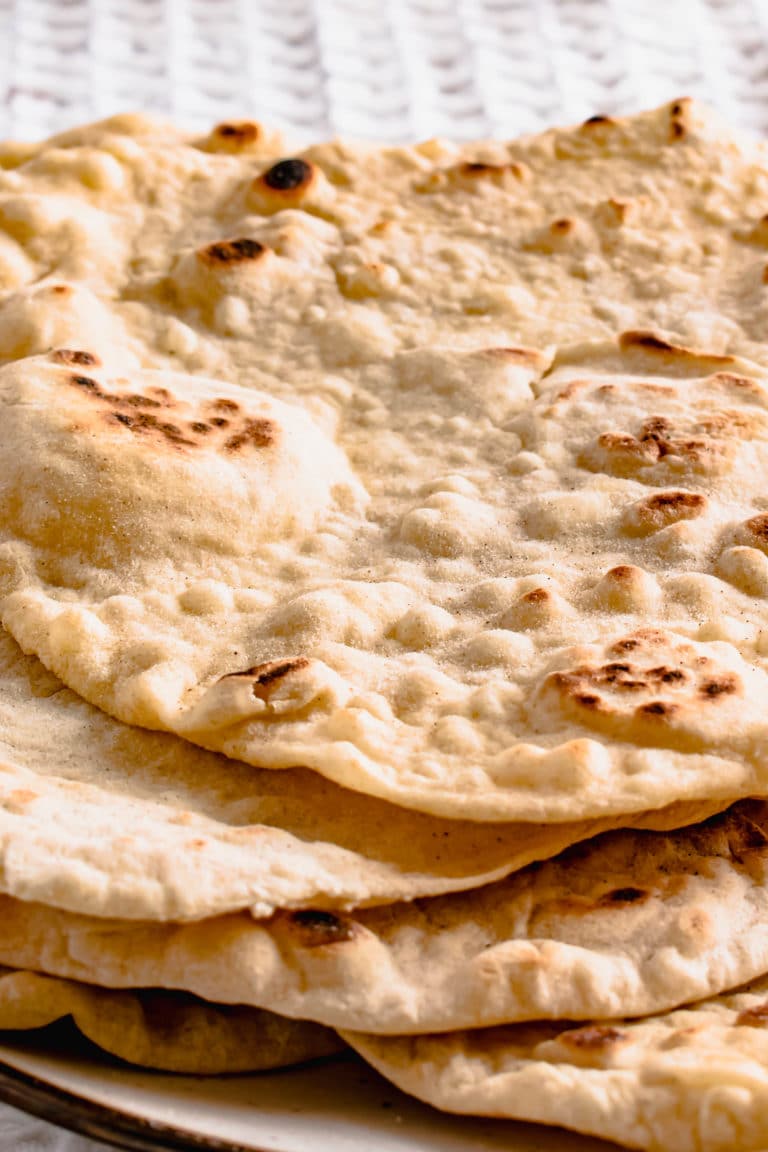 These flatbreads are delicious, easy and cheap to make. Using only three ingredients you can have a delicious fresh bread which is the perfect side dish!
Additional Time
30 minutes
Ingredients
250g self-raising flour (plus extra for the worktop)
1 tbsp vegetable oil
Roughly 140ml warm water (don't add all at once - read below)
Instructions
Add the flour to a large mixing bowl
Add in the tbsp of oil and 120ml of warm water (the water should be warm to the touch)
Use a wooden spoon to mix together until a rough dough forms
Use your hands to knead the dough, and add as much more water is needed to make a soft dough (don't add too much at once, introduce 20ml-ish, one tablespoon at a time and stop when it becomes a soft dough).
Knead for around a minute, until the dough feels smooths
Then cover the bowl loosely with a damp tea towel for 15 minutes
Lightly flour your worktop and put the rested dough on it
Divide the dough into 6 equal pieces and roll into balls using the palm of your hand
Heat a large, non-stick pan to high heat
Whilst the pan is heating, roll one of the dough balls into a flat, circle
Once the pan is hot, place the rolled flatbread onto it (no oil, put it into a dry pan)
Cook for 30 seconds on one side (it should begin to rise up)
Then flip using tongues
Quickly cook on the other side for a couple of minutes - until there are brown speckles (but don't over-do it else it'll be crispy, you want them to remain soft)
Once cooked, transfer to a plate, and repeat the process with the rest of the flatbreads
If you're not serving immediately, cover the plate of stacked flatbreads with a slightly damp tea-towel to keep moist and soft
Serve warm
Notes
Do not roll out each roti and stack them raw, they will stick together.
You can easily halve or double this recipe depending how much dough you need.
Nutrition Information
Yield
6
Serving Size
1
Amount Per Serving
Calories

138
Total Fat

3g
Saturated Fat

0g
Trans Fat

0g
Unsaturated Fat

2g
Cholesterol

0mg
Sodium

498mg
Carbohydrates

31g
Fiber

1g
Sugar

0g
Protein

4g
Nutritional data provided here is only an estimate. If you're tracking these things for medical purposes please consult an outside, trusted source. Thanks!