A five guys inspired cheese burger. This is the ultimate homemade cheeseburger recipe, if i do say so myself! Below i cook a classic cheeseburger, sticking to nothing but steak, cheese and onions – on a fresh sesame seed bun with lashings of tomato ketchup and mustard. In true Five Guys fashion though, feel free to add WHICHEVER topping you fancy; beef tomato, lettuce, mushrooms, hot sauce?!
This recipe consists of two, thin beef patties sandwiched together with a layer of melted cheese – just like you'd have at Five Guys!
Reading up on what makes the ultimate five guys burger, I found the same recurring information – nothing but steak! So, this makes for a super simple burger recipe, as the burger patty is made up of nothing but minced steak!
Due to the simplicity of the burger patty, we put a little more effort than usual into making the rest of the burger amazing – which results in the best cheeseburger recipe ever!
Five Guys will have a well seasoned grill, which cooks burgers all day everyday. As we don't – I began the recipe by frying onions in a pan, and using the remaining onion flavoured oil to cook the burger pattys.
Here's how to make a Five Guys cheeseburger at home:
Slice your seeded buns in half

Heat a large, non-stick pan to high heat, then add the burger bun slices, face down to toast

Remove from the pan after 1 minute – or, when they look like this:

Add your favourite sauce to the toasted buns (I used ketchup and mustard) then set aside ready for your burgers

Heat oil in the same pan, then add sliced onions and begin to fry them on low heat whilst you prepare your burgers
Grab a palm-sized amount of minced steak
Roll into a meatball shape (compress the meat so there's not lots of air between it and the mince shape disappears)

Then press down onto a piece of parchment (or baking) paper. Repeat – until you have enough burger patties. Remember, a single burger will be made up of two patties, so you'll need two, thin patties per person – don't worry that they'll be too thin, as when they're stacked together with cheese, they're ample!

Once the onions are cooked, remove from the pan and set aside
With the pan still hot from the onions, add the burger patties

Cook on high for 1 minute, then flip

Add a slice of American cheese on top of each patty
Cook for a futher 2 minutes, then turn off the heat and stack one patty on top of the other (with the cheese slices touching)
Transfer the burgers onto a piece of kitchenroll to drain up any excess oil

Then place the burgers on top of the toasted buns, and top with the fried onions


Wrap loosely with tinfoil for a few minutes, which will allow the heat to melt the cheese a bit more, and also make the bun a bit softer
Then unwrap and serve!

Yield: 2 Burgers
Five Guys Burger Recipe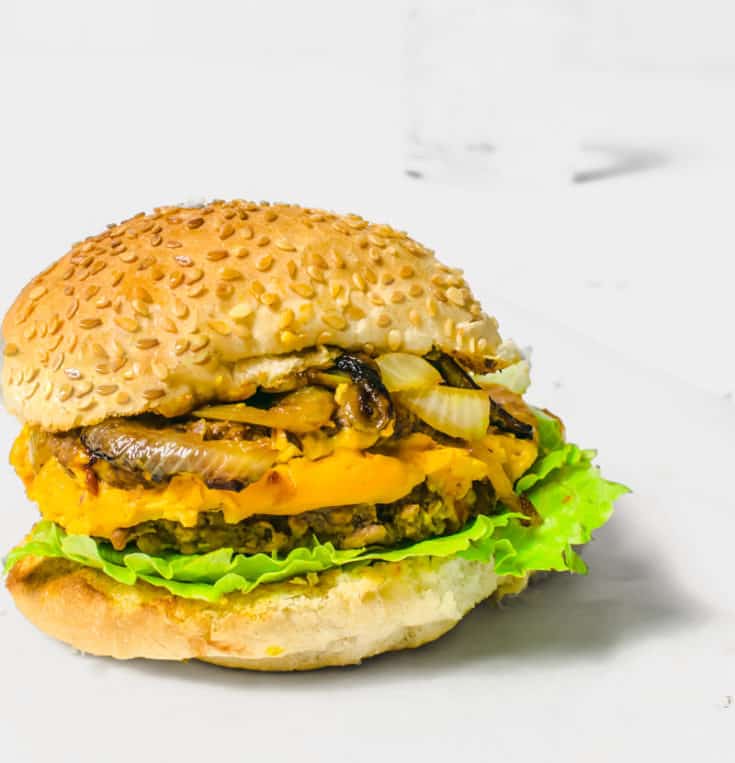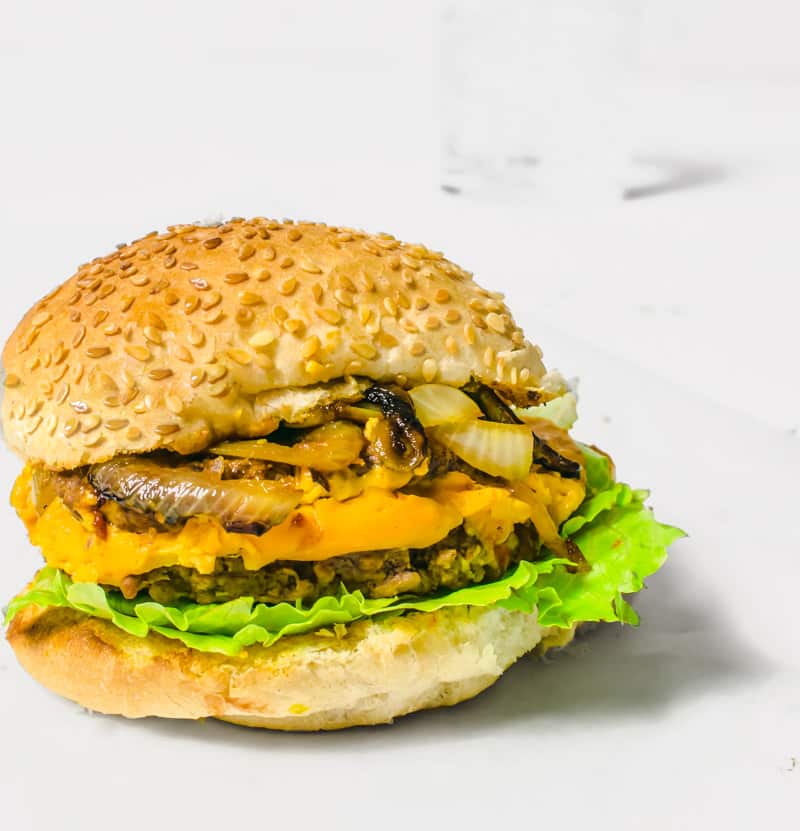 A super simple, delicious cheeseburger recipe inspired by Five Guys.
Ingredients
1 Onion
1 Tbsp Oil
250g 15% Fat Steak Mince (get the best quality you can)
4 Slices American Cheese
2 Burger Buns
Your favourite toppings to serve, suggestions: tomatoes, lettuce, ketchup, mustard.
Instructions
Slice the onions
Slice the burger buns in half
Heat large, non-stick pan
Place the burger buns in the pan, face down, on high heat until toasted (about 60 seconds)
Then remove the burger buns from the heat, top with your favourite sauces (ketchup and mustard?) and set aside ready to assemble the burgers later
In the same pan, heat the oil and add the onions, fry the onions on a low heat whilst you prepare the burgers (keep an eye on them so they don't catch or burn though)
Whilst the onions are cooking, grab a palmful of minced steak, and form a meatball in your hand
Press the meatball down on a piece of parchment (or baking) paper to form a thin patty
Repeat until you have 4 patties - this will make 2 burgers. Don't worry if these seem much thinner than you'd usually make burgers - you'll be stacking them two high when eating
Once your onions are cooked to your liking, remove from the pan and set aside on a piece of kitchen roll
Add the patties to the hot, onion-y pan
Cook the burgers on high heat for 1 minute, then flip using a spatula
Place a slice of American cheese on top of each patty, then cook for a further 2 minutes
Turn off the heat, and stack one patty on top of the other (so each patty is 2 high, with 2 pieces of cheese between)
Transfer the burgers to a piece of kitchen roll to drain any excess oil
Place the patties on top of the toasted buns, and wrap the burgers in a piece of tin foil for 2 minutes - to allow the cheese to melt some more, and the bun to soften with the heat of the burger
Serve hot with your favourite sides
Notes
This is the minced steak I used today.
If you have time, pop to your local butcher and get some high quality steak mince, it'll taste amazing. But for the sake of this recipe, I actually bought some high quality, 15% fat steak mince from a supermarket - and i'm super happy with how they tasted, so if you're pressed for time, higher quality minced steak from your local supermarket will work well too!