Here's a easy mid-week tart which will make everyone happy! The perfect combination of spicy, Indian flavors on a comforting, flakey puff pastry base.
Did you know that jus rol puff pastry is vegan? 
Yield: 4
Jalfrezi Puff Pastry Tart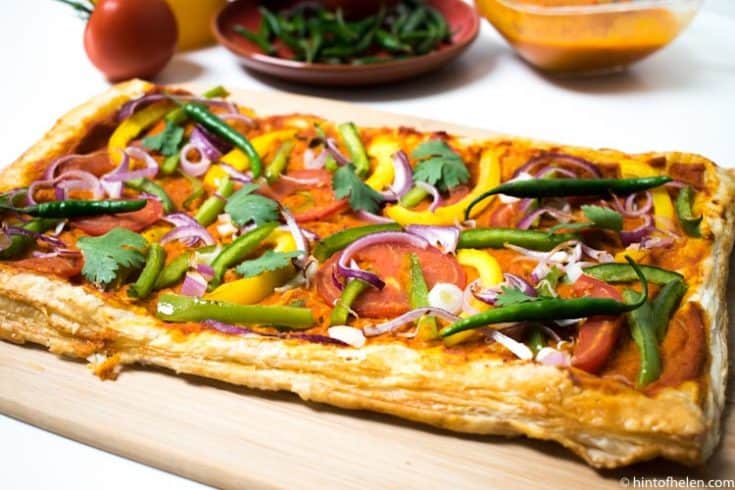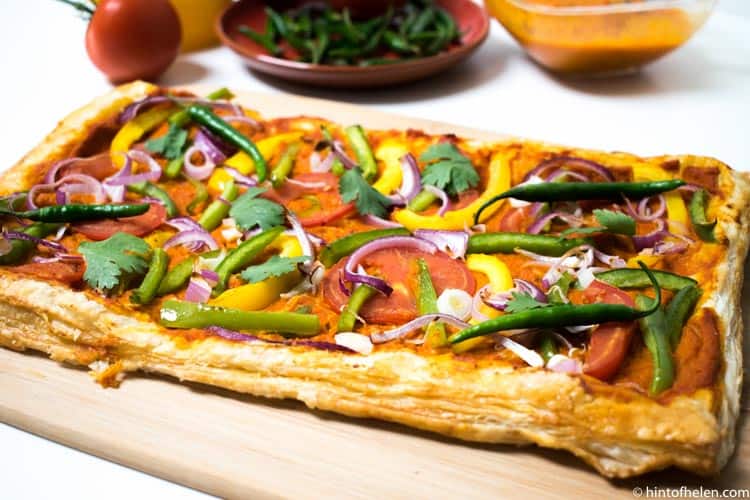 A delicious, easy curry tart made using shop bought puff pastry and fresh peppers, onions and chilli.
Ingredients
For base:
1 Jus-Rol Puff Ready Rolled
For sauce:
1 onion, chopped
2 garlic cloves, chopped
1 tbsp tomato puree
1 chilli, chopped
1 tbsp ground coriander
1 tbsp ground cumin
2 tbsp turmeric
1 tsp sugar
1 tin tomatos
2 tsp garam masala
Toppings:
2 chopped peppers
1 chopped onion
1 chopped chilli
1 chopped tomato
Instructions
Pre-heat your oven to 190C, with a large, flat baking tray inside to pre-heat too
Heat oil in a large frying pan and add then add onion; turn the heat to low medium and cook onion until they turn clear
Add garlic and tomato puree, stir and cook for a minute
Add chopped chilli, stir and cook until slightly colored
Add dried spices, mix and cook for a further 2 minutes (if the mixture is very dry at this point, add some more oil)
Add the tin of tomatoes to the pan, stir and bring to simmer
Simmer for further 5 minutes then remove from the heat
Liquidise the sauce mixture using your food processor or blender until smooth
Set sauce aside and allow to cool
Make the Tart:
Unroll the puff pastry and remove the pre-heated baking tray from the oven. Place the pastry on the tray and prick all over with a fork
Put the pastry in the oven for 12 minutes (to 'blind bake') - this step will ensure you don't end up with a 'soggy bottom'
After 12 minutes, remove the pastry from the oven and spread the prepared sauce on top
Top the sauce with your chopped ingredients and return to the oven for 15 minutes (until edge is browned and pastry cooked)
Remove form the oven and allow to cool; top with chopped coriander and serve