Beef bolognese is a favourite dinner in most households – making its way to the weekly meal plan.
Eating your favourite dinners whilst following a low FODMAP diet can be challenging. There are so many foods which are not allowed and many which are allowed only in small servings. In the case of spaghetti bolognese, the ingredients which are usually used, which cannot be used on a low FODMAP diet are: garlic, onions, balsamic vinegar, beef stock and spaghetti.
Difficult right!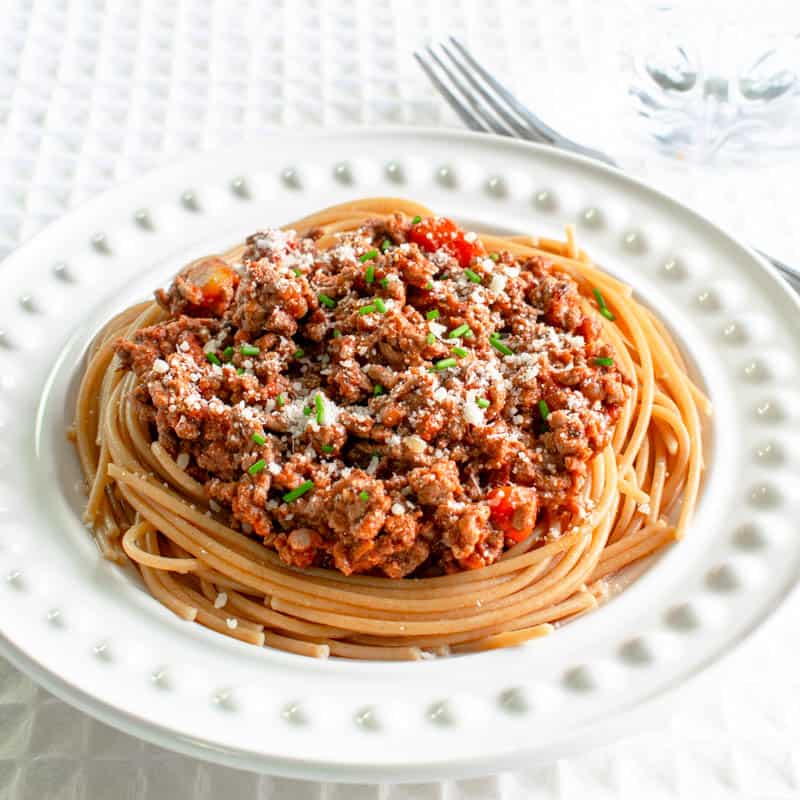 Here i've adapted my favourite spaghetti bolognese recipe to suit a low FODMAP diet – the addition of Worcestershire sauce balances out the richness of the tomato and brings a depth of flavour to the dish.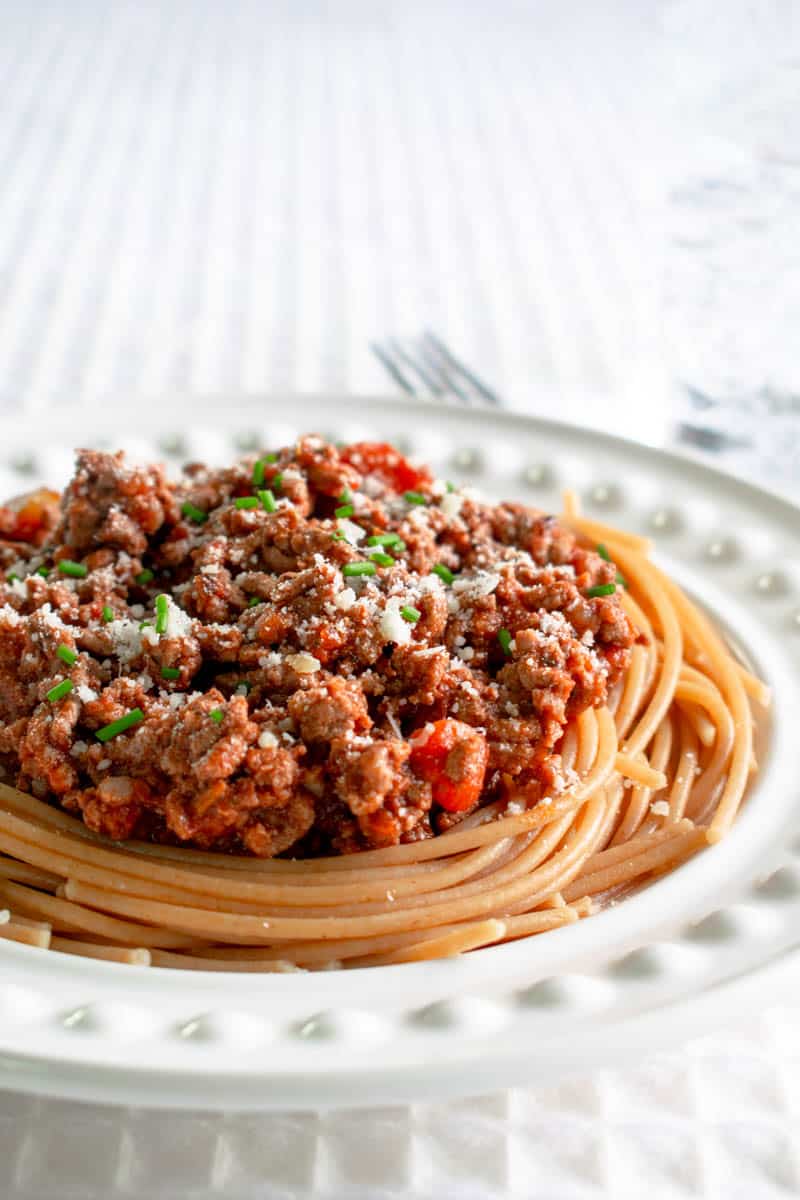 I top this dish with parmesan and chive snippings – you can skip this step if you have neither in the house, but it makes the dish feel a bit more fancy – and adds nice cheesy kick.
Serve on a bed of gluten free spaghetti, or spiralise some veg for vegetable spaghetti.
Of course, if you know any of the below ingredients disagree with you – skip them. If you need help – ask me anything in the comments below!
See more of my low FODMAP recipes here.
How to make a Low FODMAP Spaghetti Bolognese
Scroll down for recipe card and ingredient list.
1. Add minced beef and oil to a hot pan. Use your spatula to break up the chunks of meat (medium/high heat)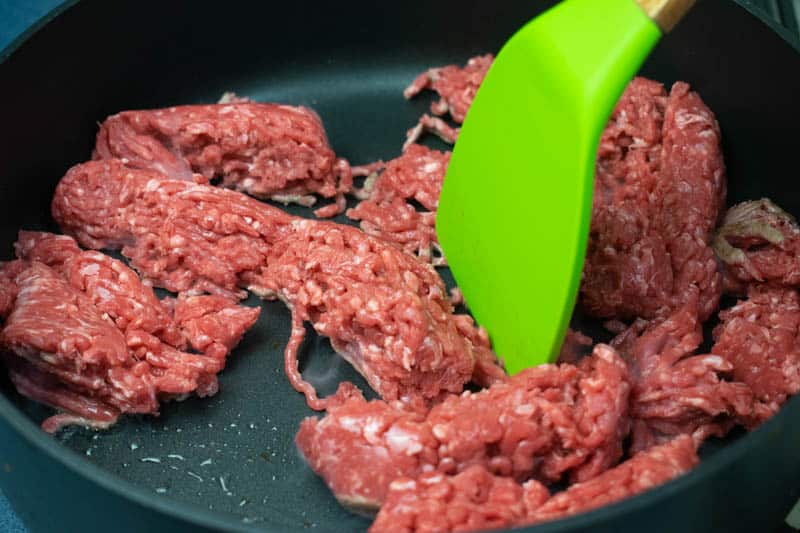 2. Continue to stir and break up the meat as it browns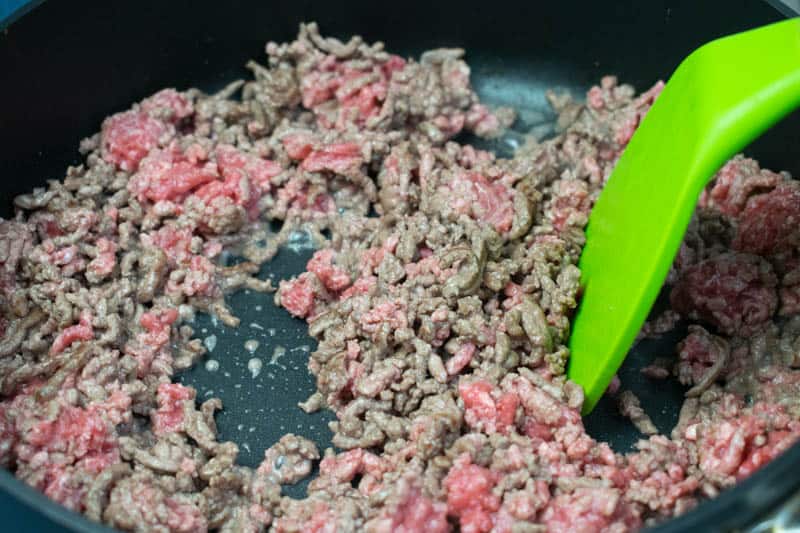 3. Cook until all pieces are browned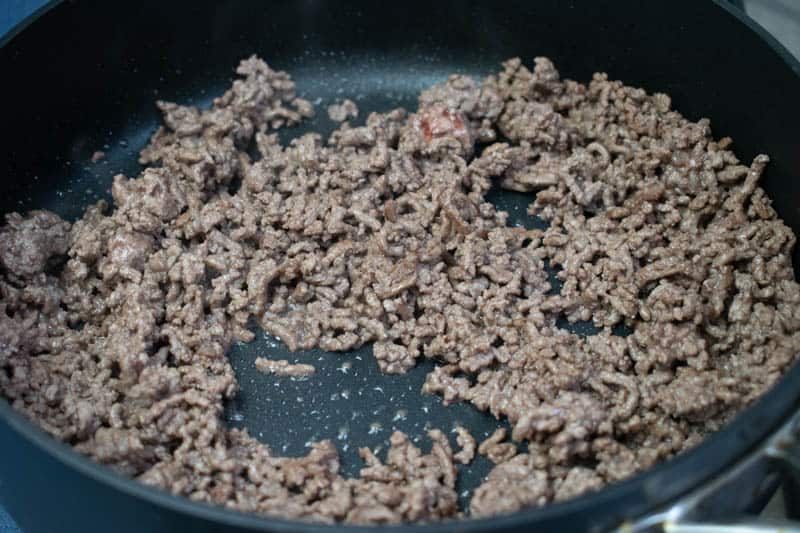 4. Then drain off any access oil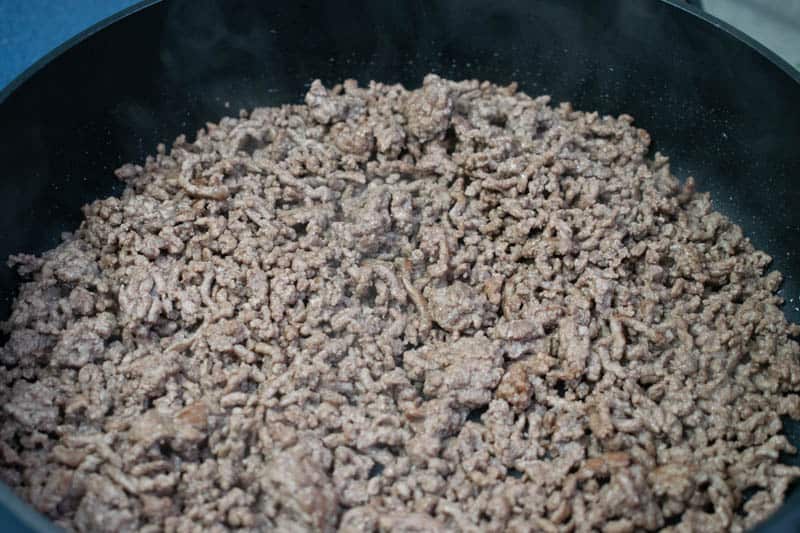 5. Next add the dried herbs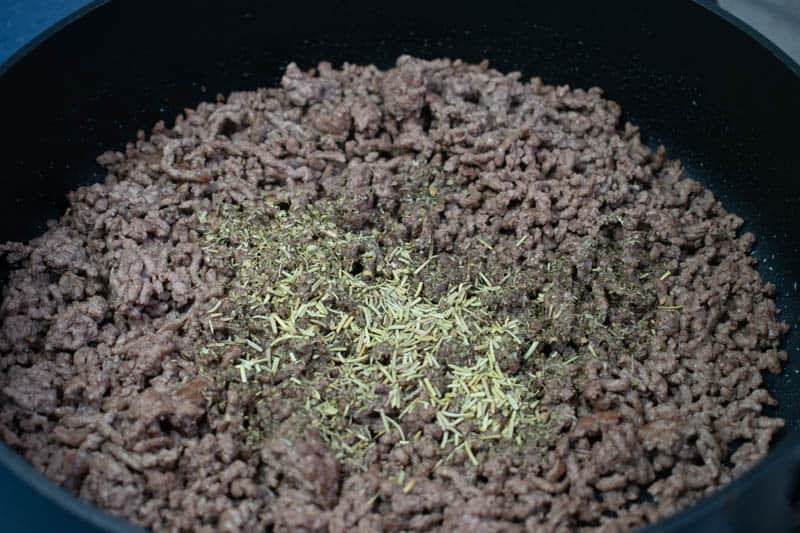 6. Stir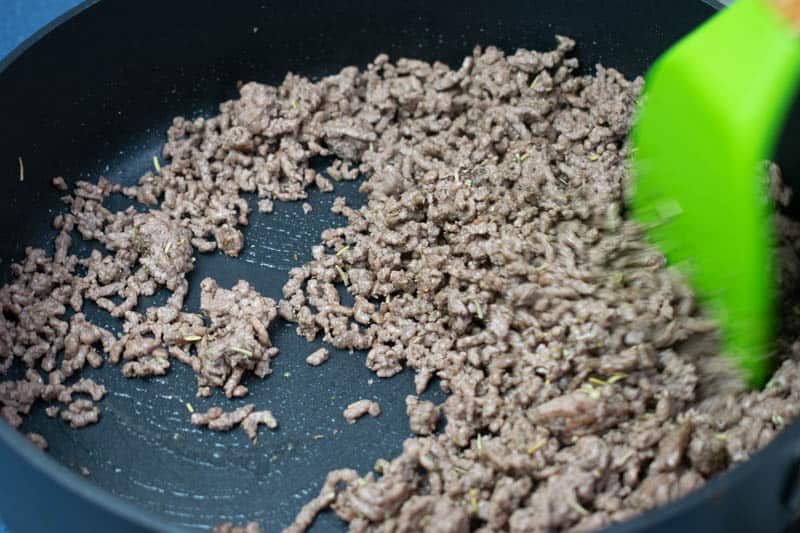 7. Then add the tomato puree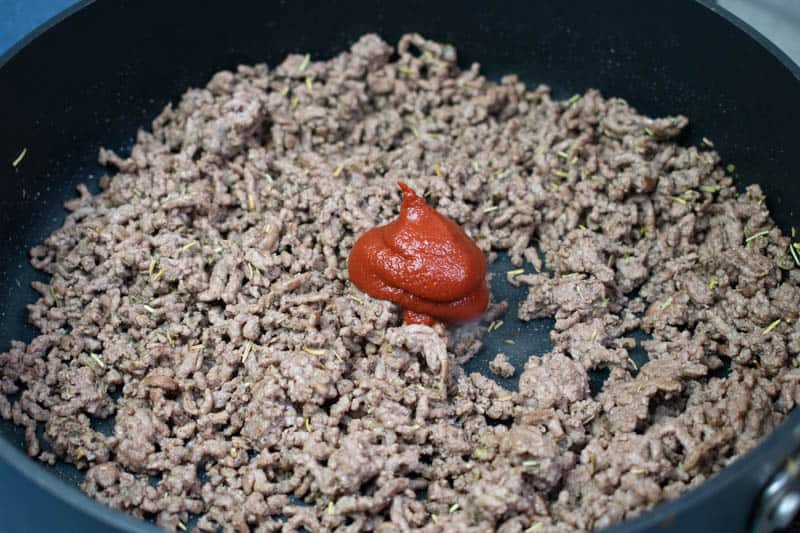 8. And stir to coat the meat in the tomato puree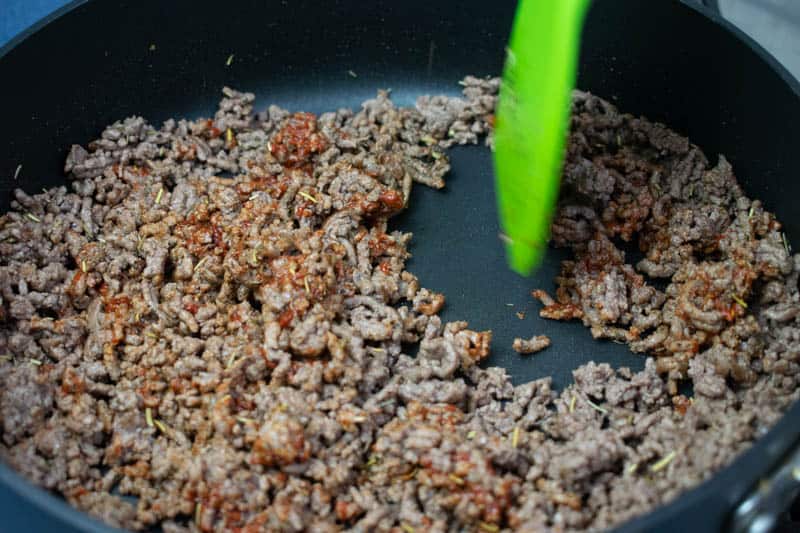 9. Next add the tinned tomato
10. And stir to mix evenly through the meat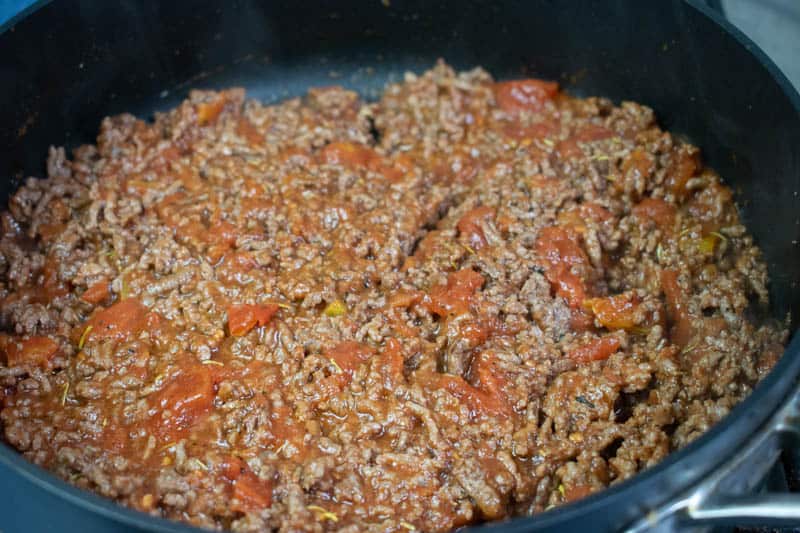 11. Add the sugar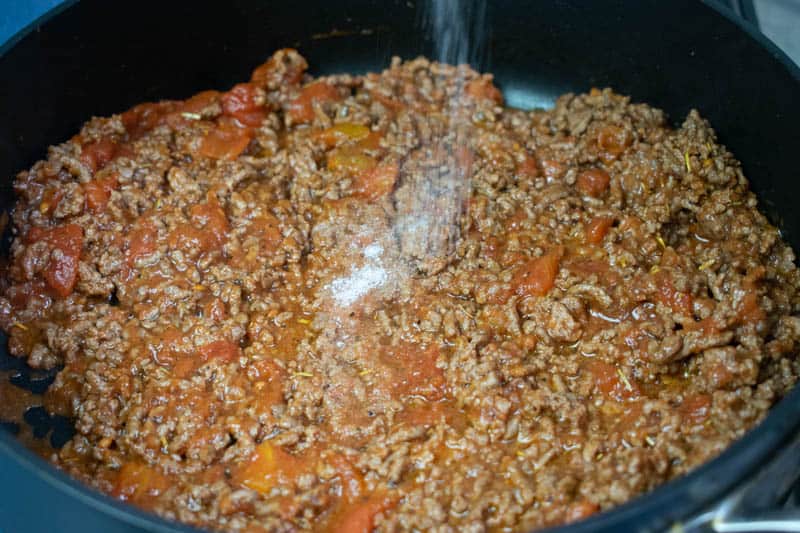 12. And the Worcestershire sauce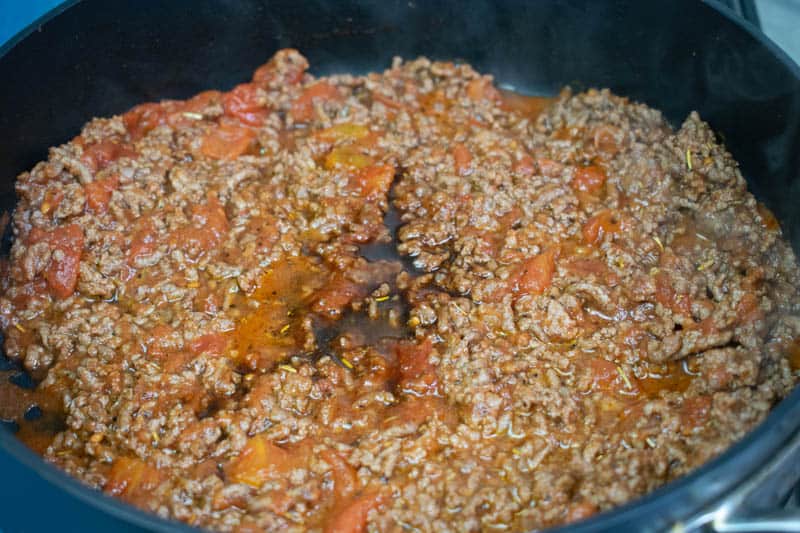 13. Stir to combine then allow to simmer for 5 minutes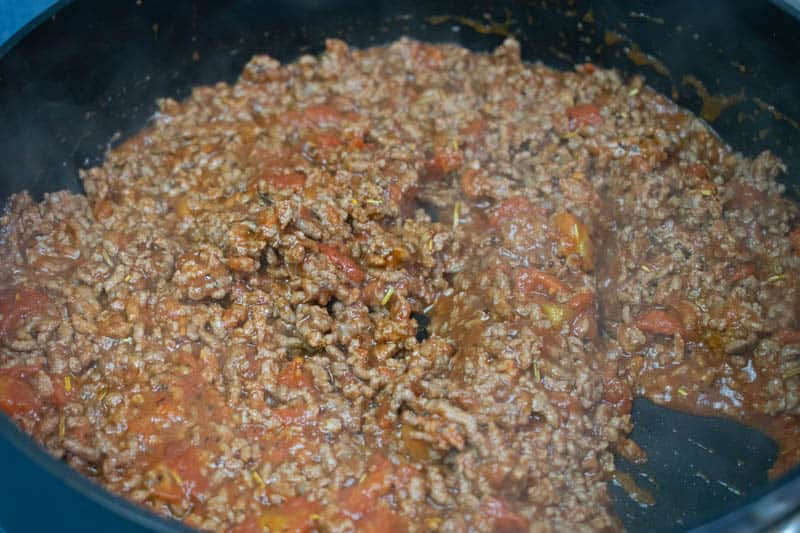 14. Serve on a bed of gluten free low FODMAP safe spaghetti, topped with parmesan and chives (optional)
Yield: 4 People
Low FODMAP Bolognese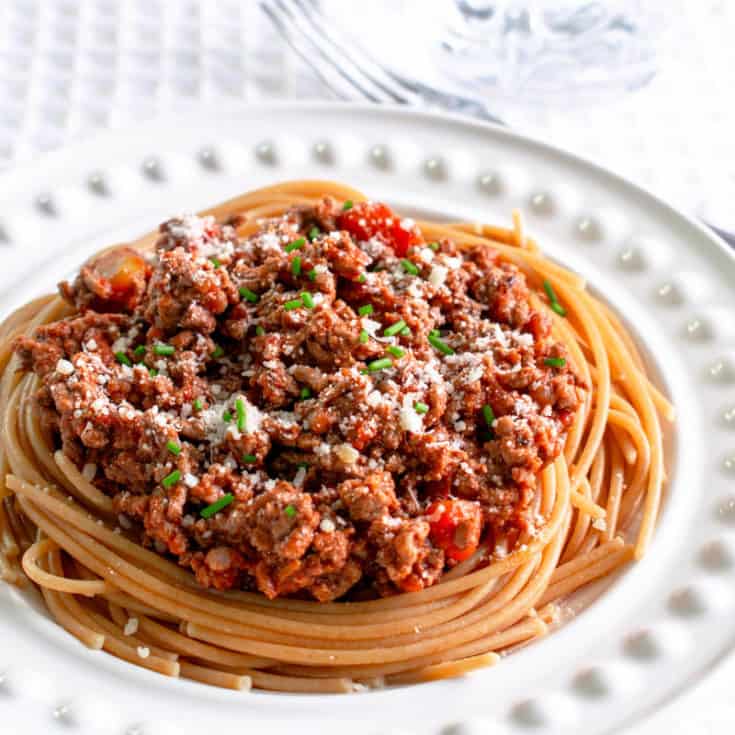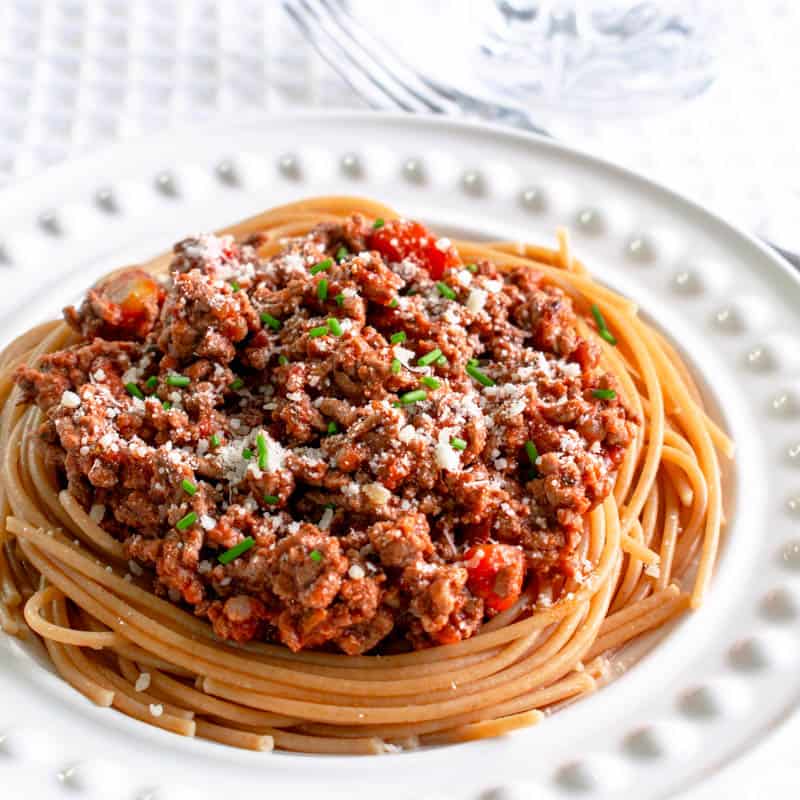 A Low FODMAP spaghetti bolognese recipe made with lean mince and tinned tomatoes - with no onion or garlic.
Ingredients
1 Tsp Oil
500g Minced Beef
1 Tbsp Tomato Puree
1 Tsp Oregano
1 Tsp Rosemary
1 Tsp Basil
1/4 Tsp Thyme
1x 400g Tin Chopped Tomato
1 Tsp Sugar
1 Tbsp Worcestershire Sauce
To Serve (Optional)
Chives
Parmesan
Gluten free or vegetable spaghetti
Instructions
Heat the oil in a large, non-stick pan
Add the minced beef and cook until browned - breaking up any large chunks
Once browned, add the oregano, rosemary and basil
Stir to coat the mince then add the tomato puree
Stir and cook for 2 minutes
Then add in the tin of tomatoes, sugar and Worcestershire sauce
Bring to simmer, then turn the heat down and cook for 5 minutes
Serve with fresh chives and parmesan (optional) on a bed of gluten free, low FODMAP safe spaghetti
Notes
Please do not use ingredients you know don't work for you - if you have any questions how to substitute ask me in the comments below. I am not a dietician.