Potato farls are definitely one of my favourite breakfast foods. They're actually really easy, and cheap to make – it just takes a little longer than store-bought – but they're SO worth it and freeze well enough that you can enjoy them for weeks following (if you manage not to eat the whole bunch!).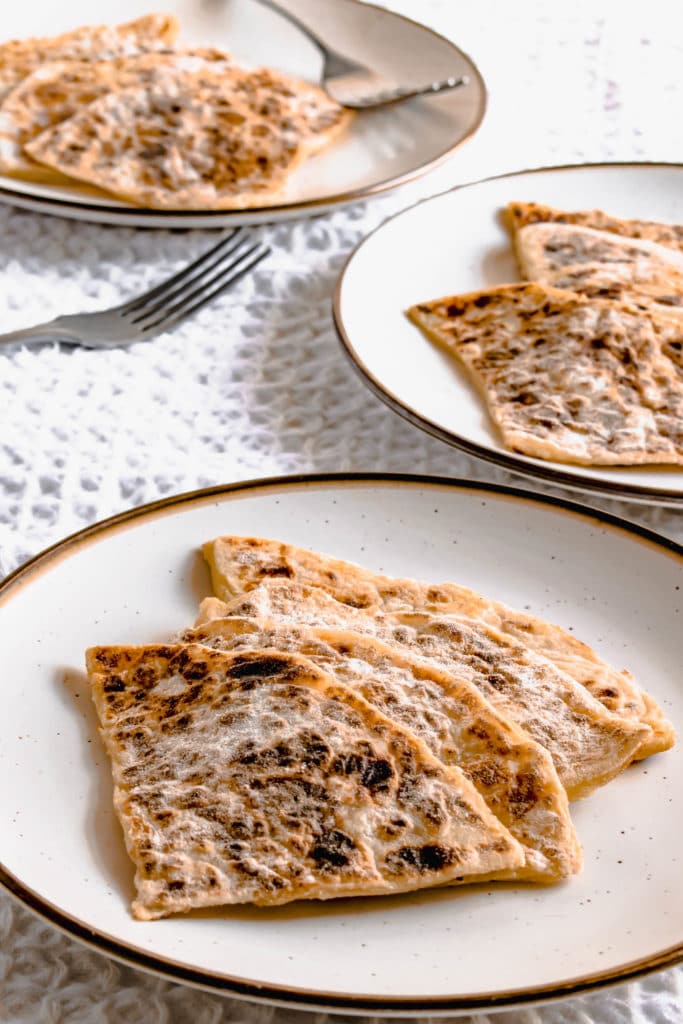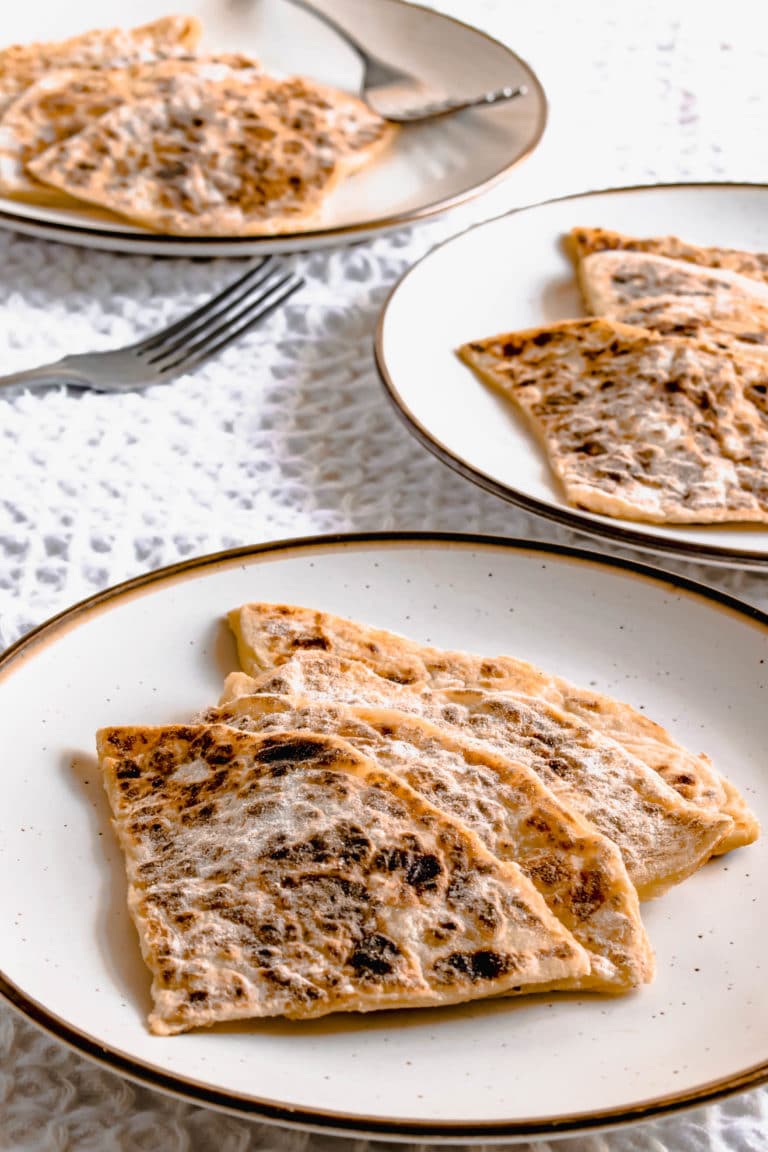 As you'll see from my photos – my farls are far from perfect in shape – I tend to make them on a lazy Sunday and not be too fussed about them being super round. I've been making farls for years and whilst I could make them really round if really wanted to – I now enjoy their rustic charm. Home cooking isn't always about perfect presentation – just about perfect taste!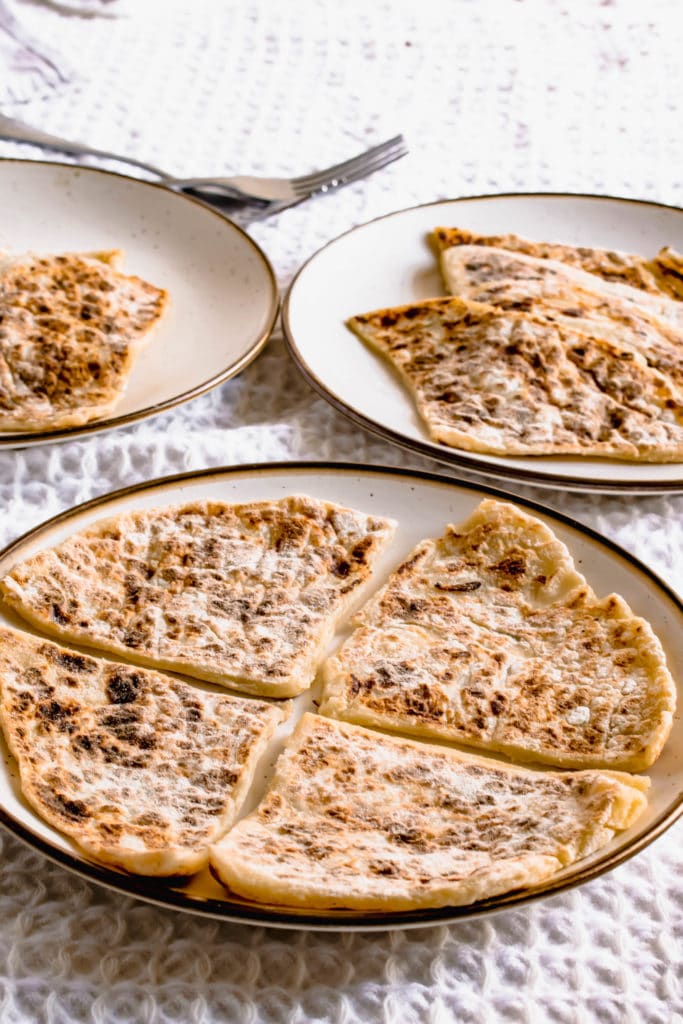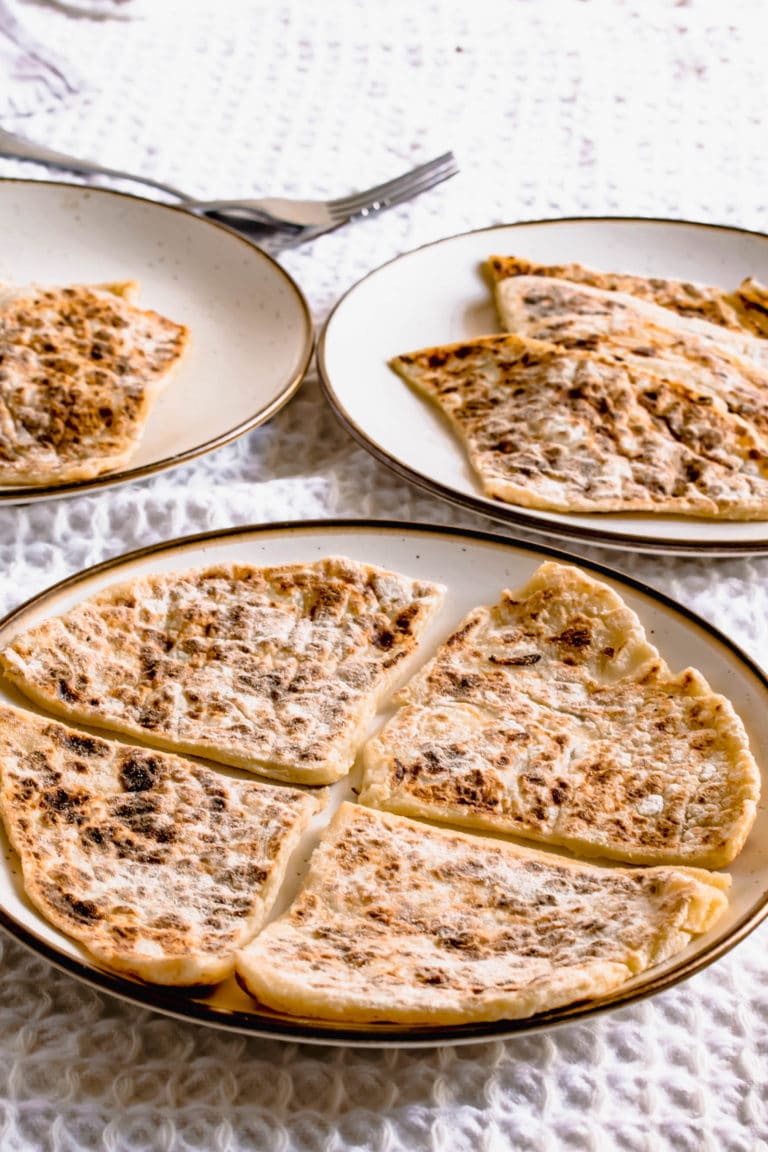 Potato farls are also known as potato cakes and tattie scones in Scotland. They're a true Gaelic treat popular in both Scotland and Ireland. Farl means quarters I believe – hence cutting each of the circles into four pieces. It's really tough to mess up making a farl – so give it a go! My main piece of advice is just adding enough to flour to make the dough manageable – and cook them on a low enough light to brown them and cook through.
You can make potato farls with leftover mashed potato, next time you have any leftover! I also sometimes add a dash of garlic and onion granules too (about 1 tbsp of each for the size of the recipe below).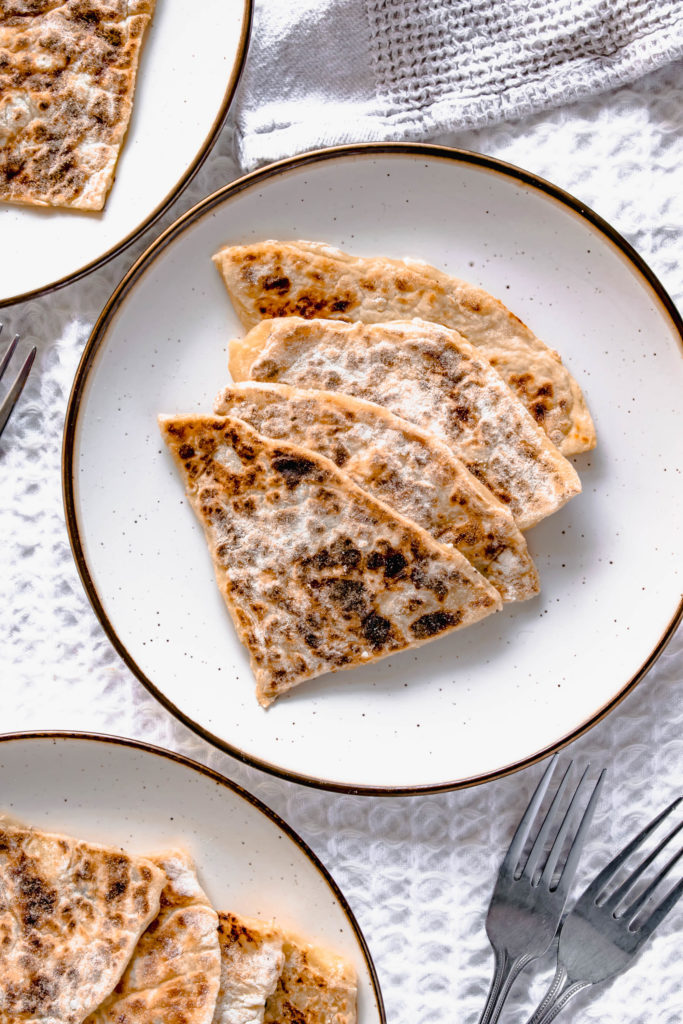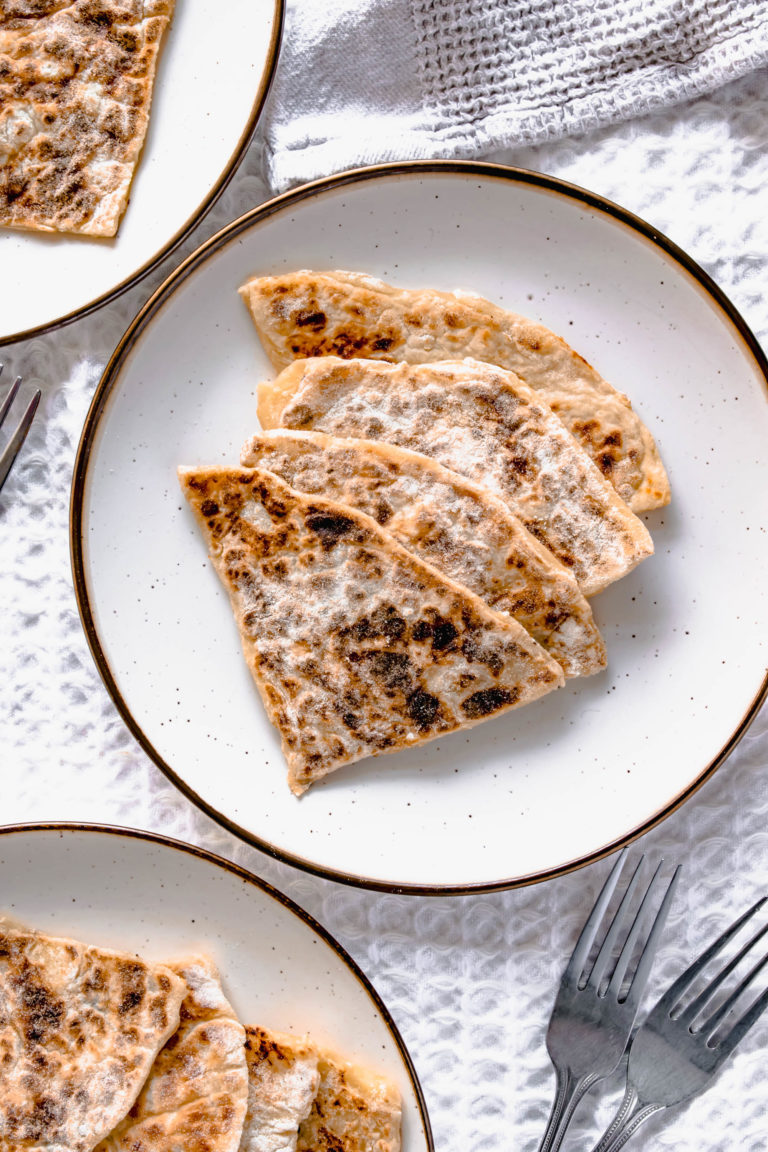 I tend to make a large batch of these farls (the below recipe makes about 10!) then I freeze them to eat throughout following weekends, and keep a few in the fridge for the coming days. I reheat them quickly in the toaster and top with butter.
If you enjoy this recipe please join me on Instagram and Facebook!
How to make Potato Farls (Potato Cakes)
Scroll down for printable recipe card and ingredient list
1. Peel potatoes and quarter them (or cut into equal-sized pieces). Bring water to boil in a saucepan and boil the potatoes until soft when poked with a fork.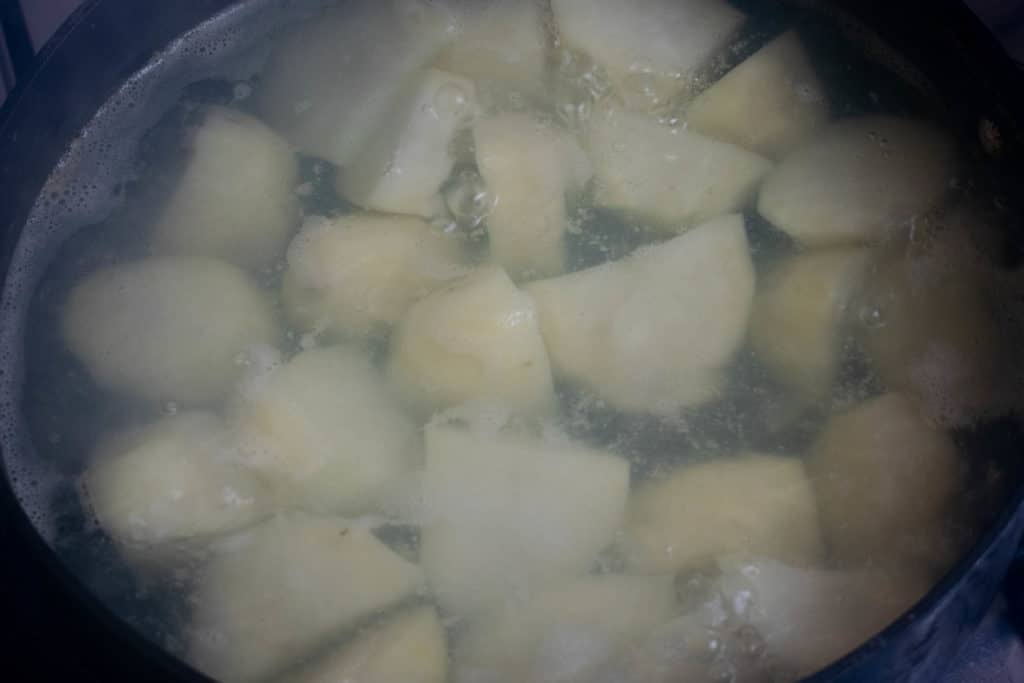 2. Once the potatoes are soft, drain them and allow them to dry completely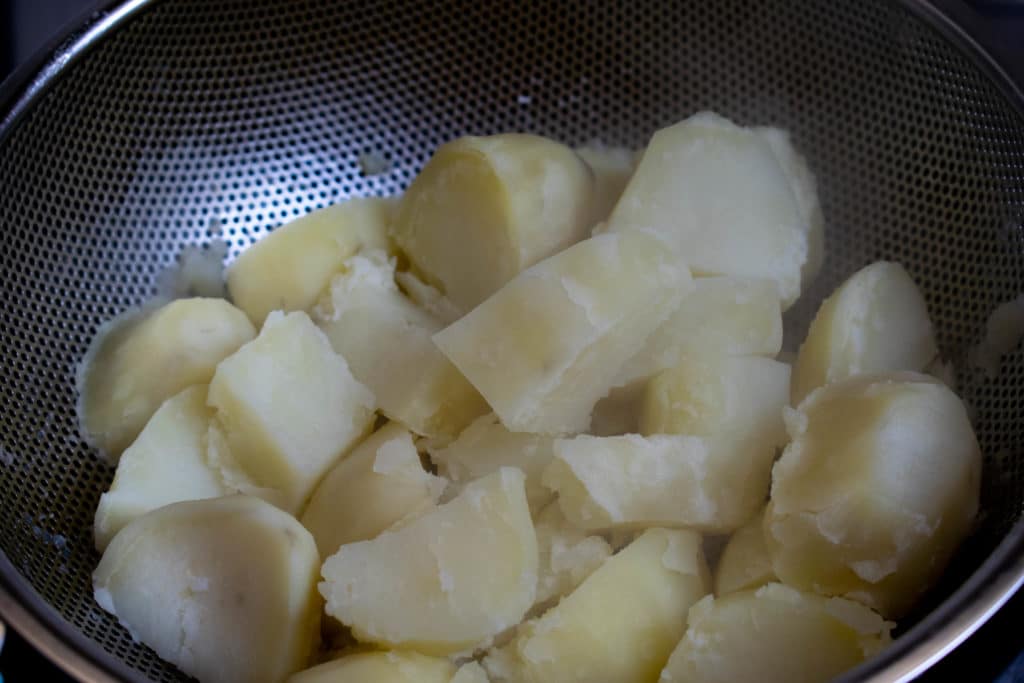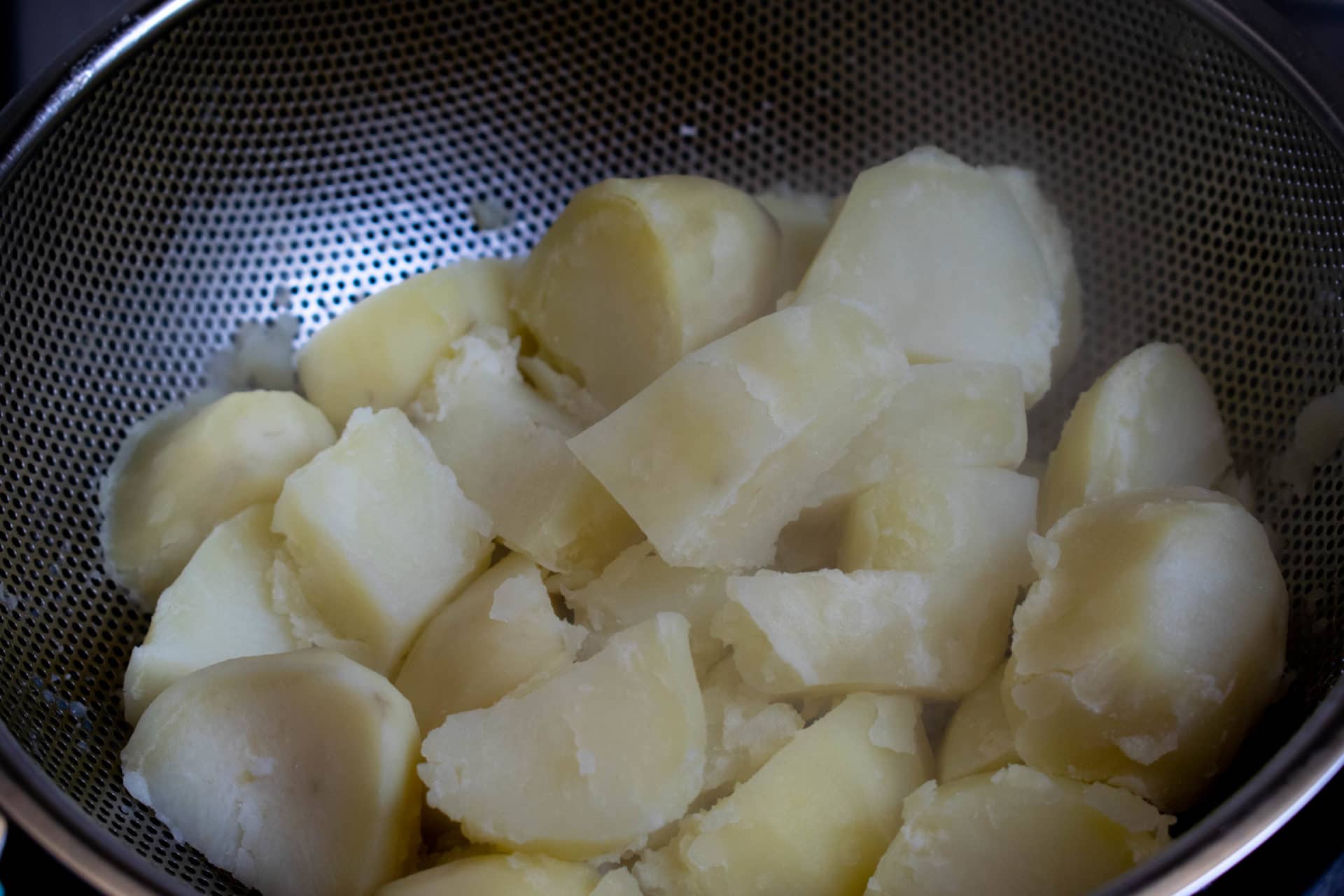 3. Then transfer the potatoes to a large mixing bowl and mash with a potato masher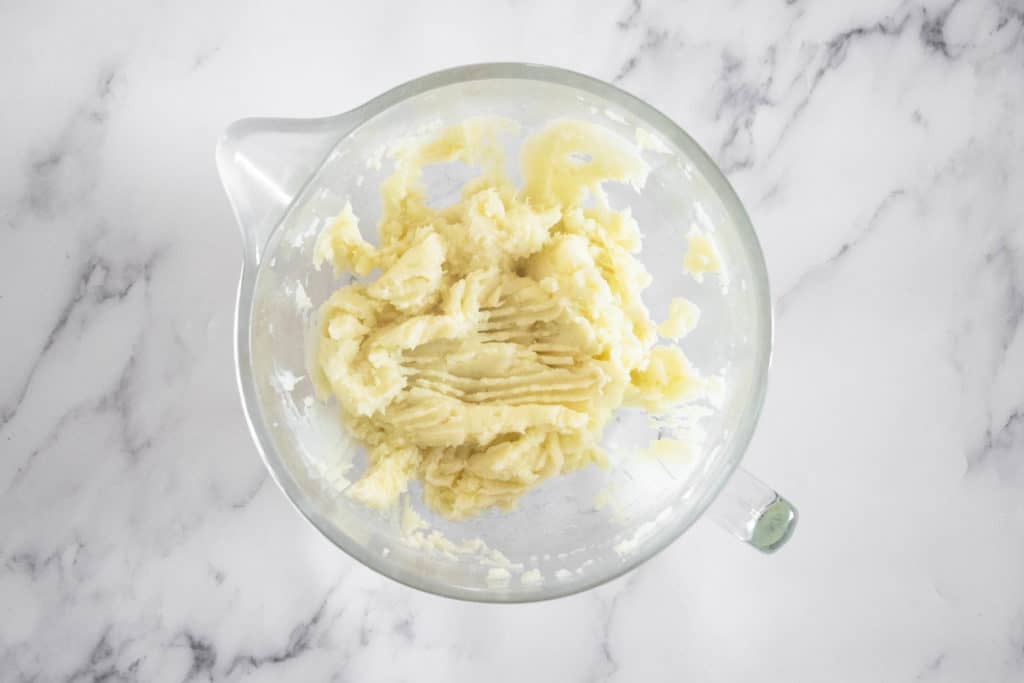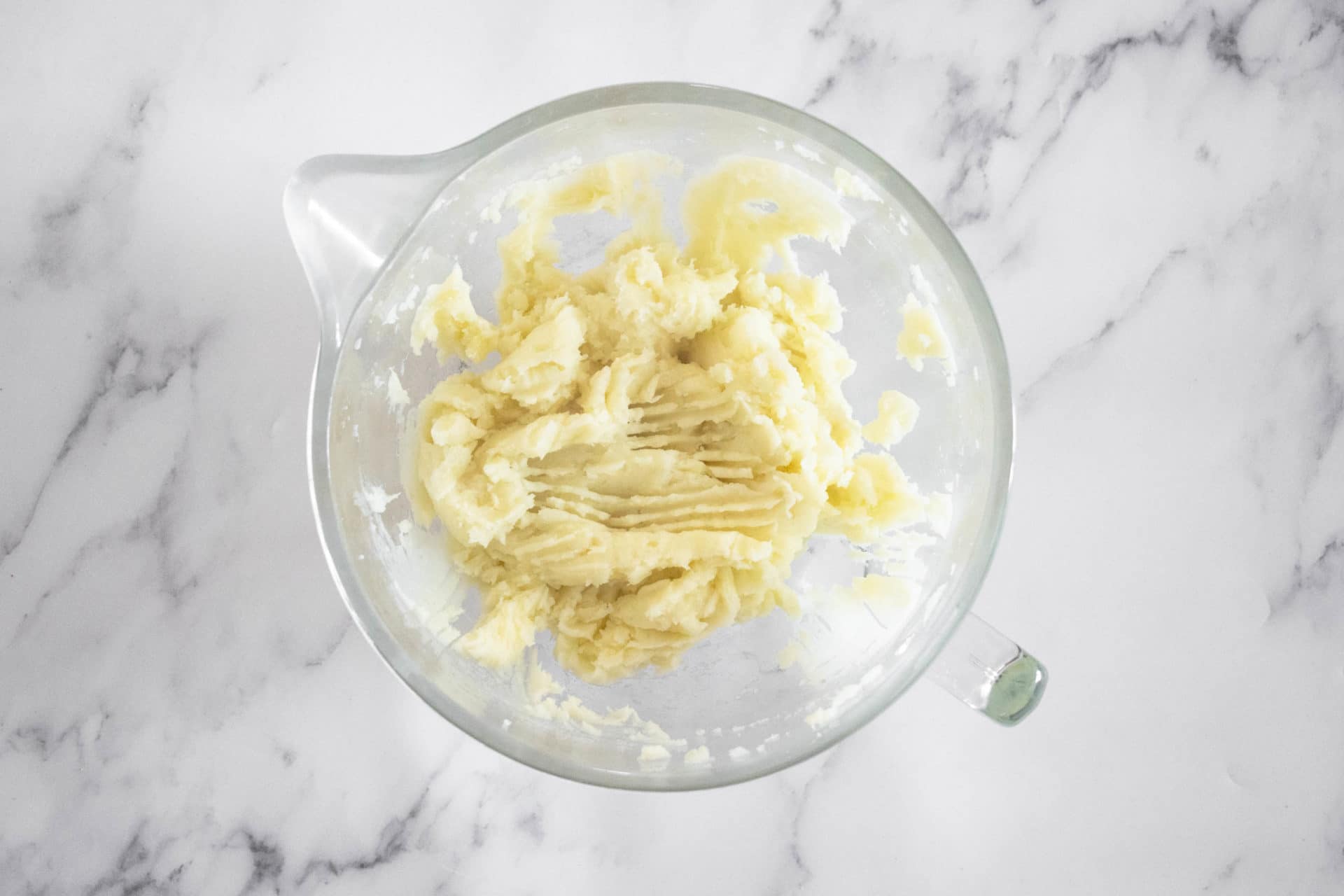 4. Add the butter and allow it to melt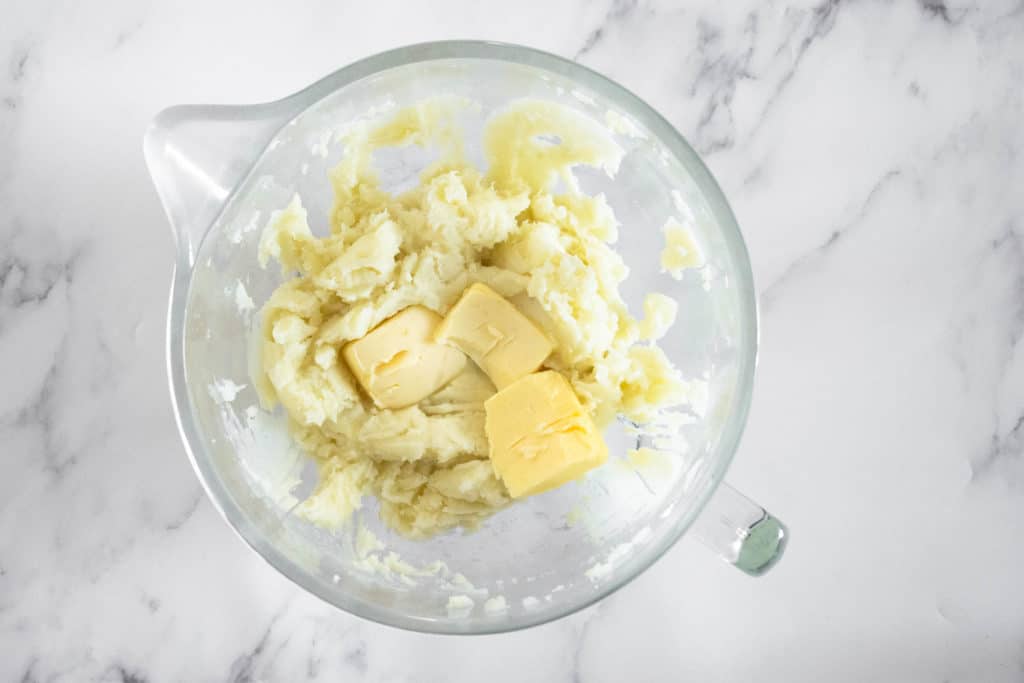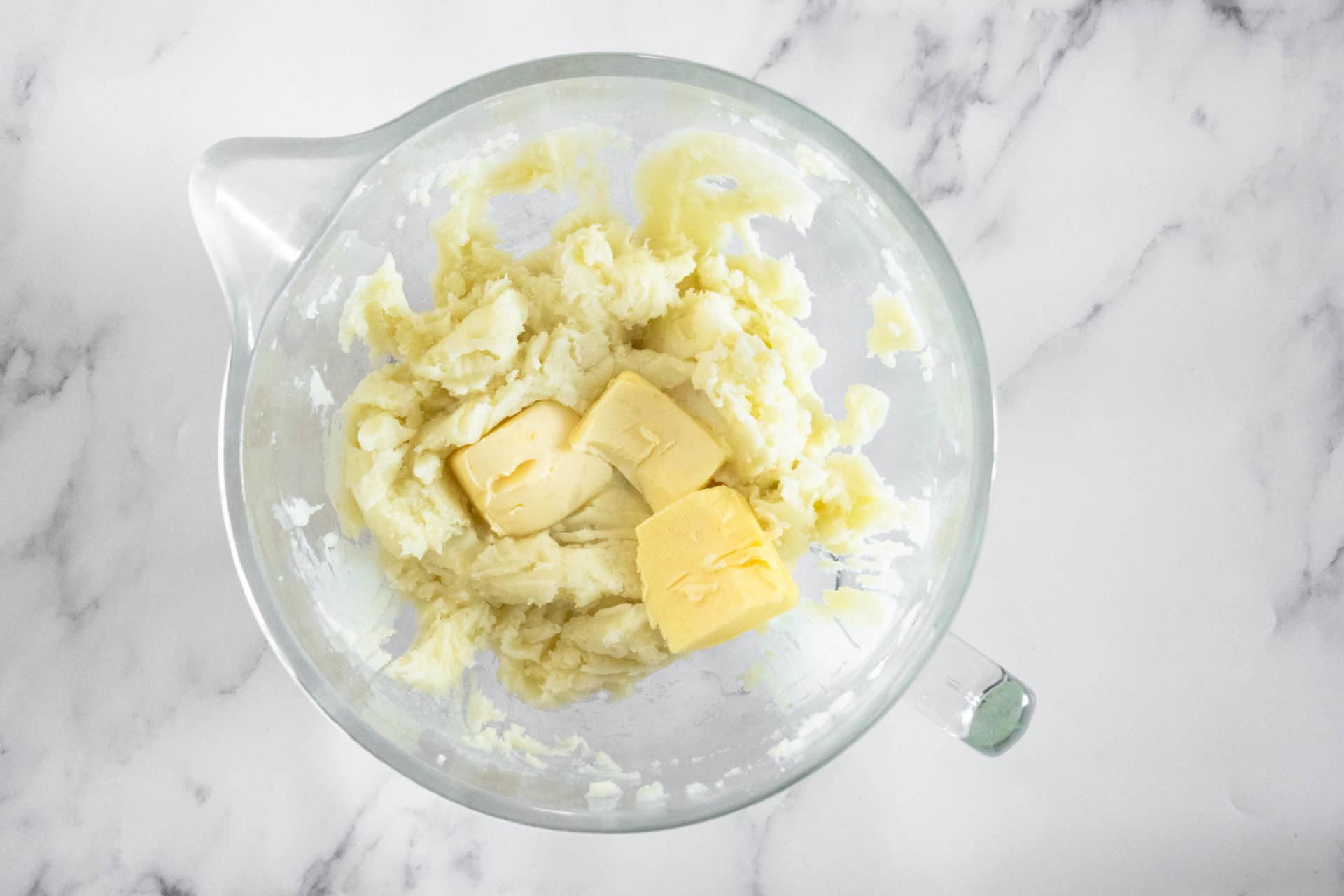 5. Then stir the butter throughout the potatoes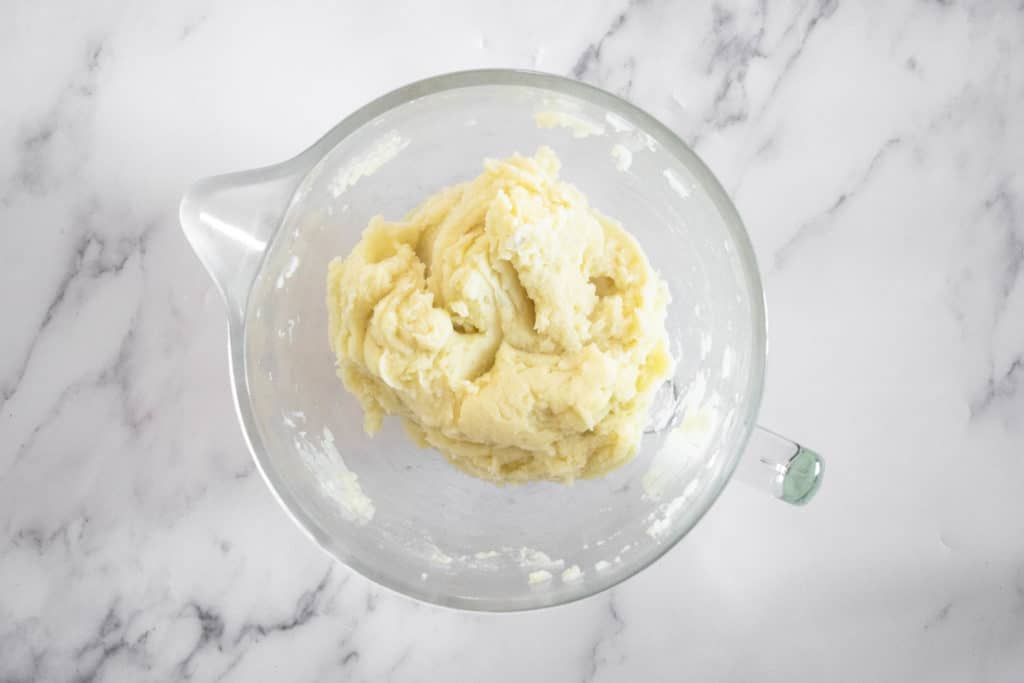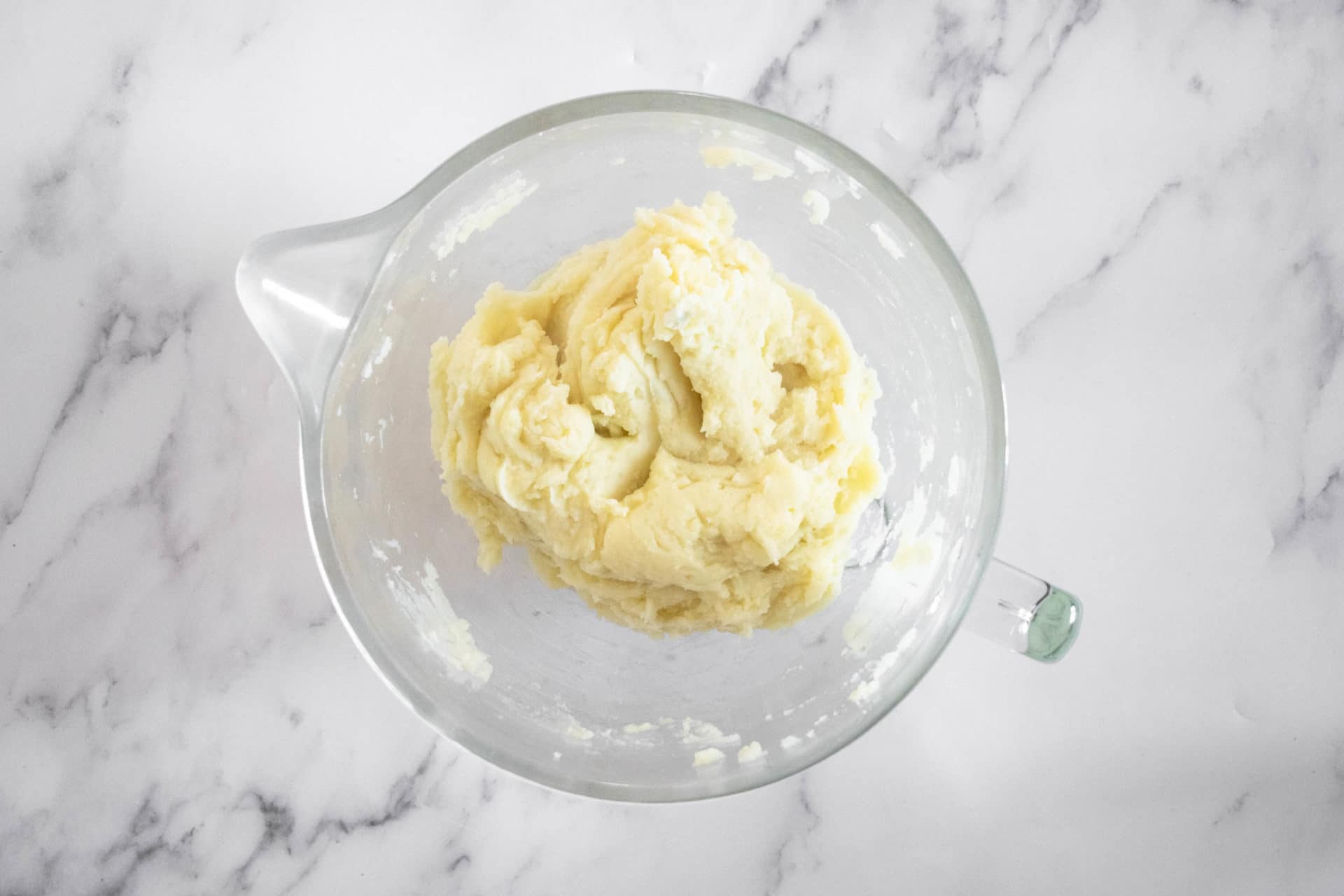 6. Add in the flour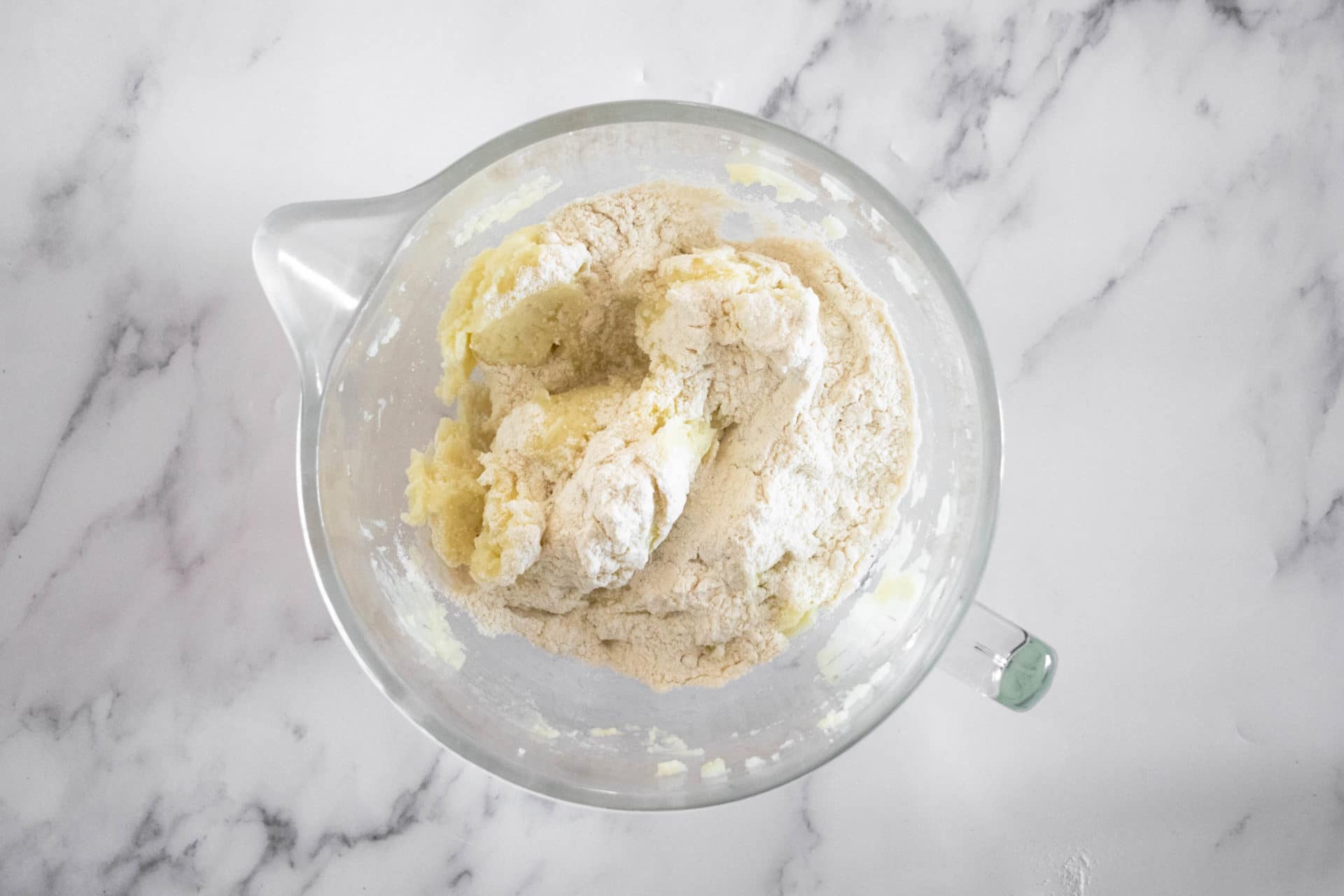 7. Then mix the flour through to make a rough dough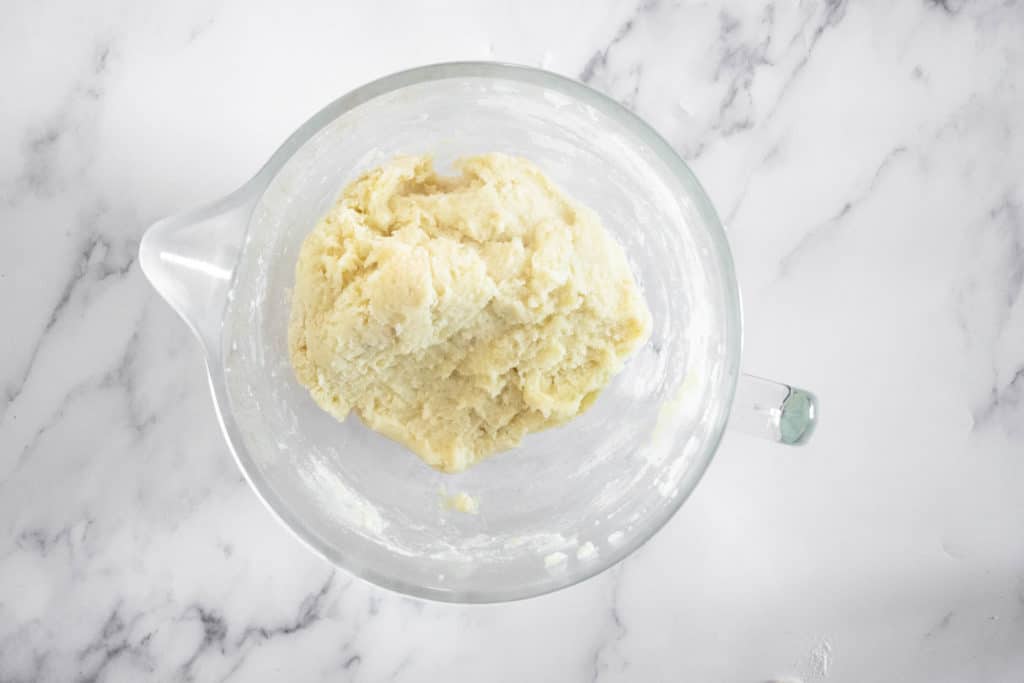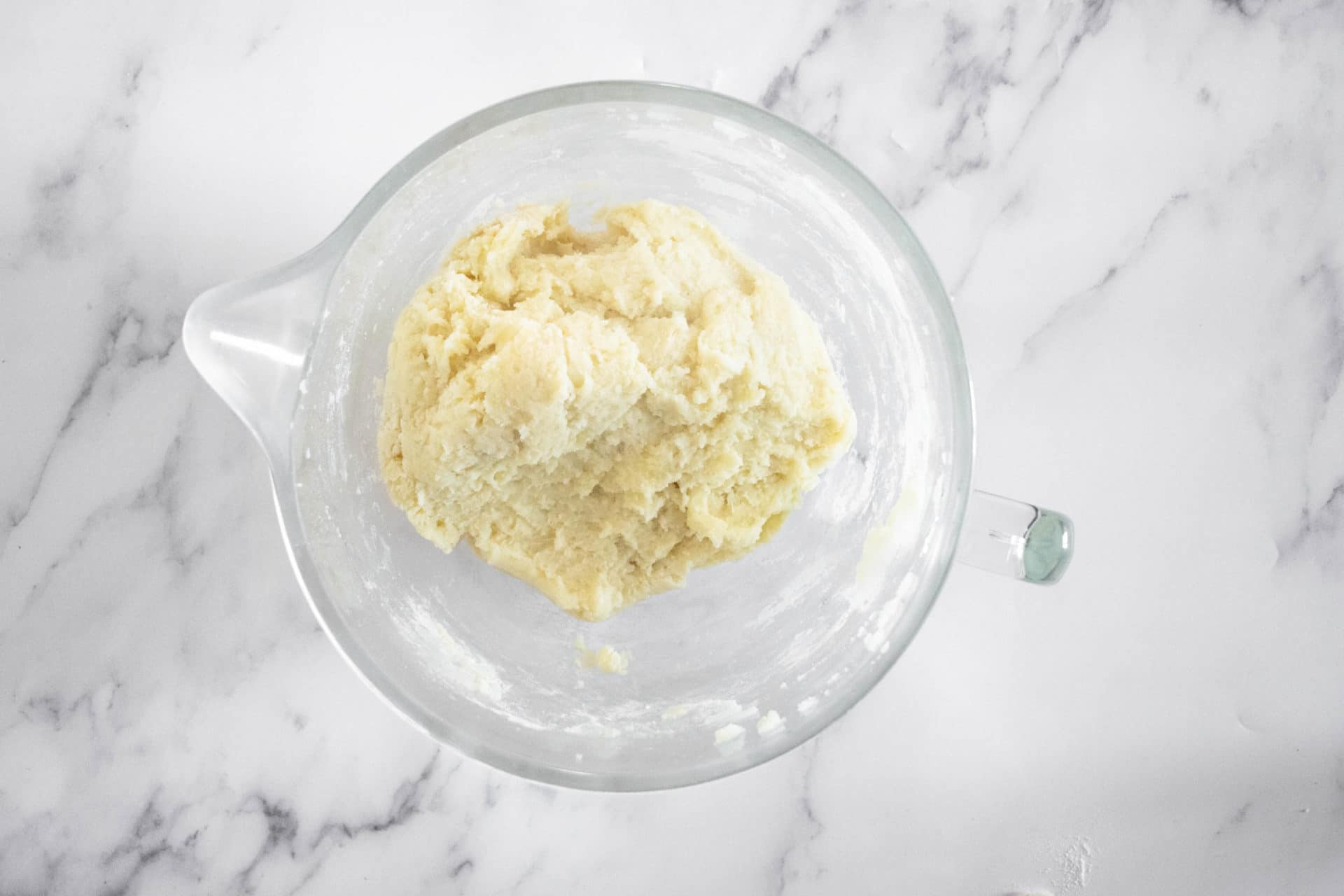 8. Flour a clean, dry work surface and turn the dough out onto it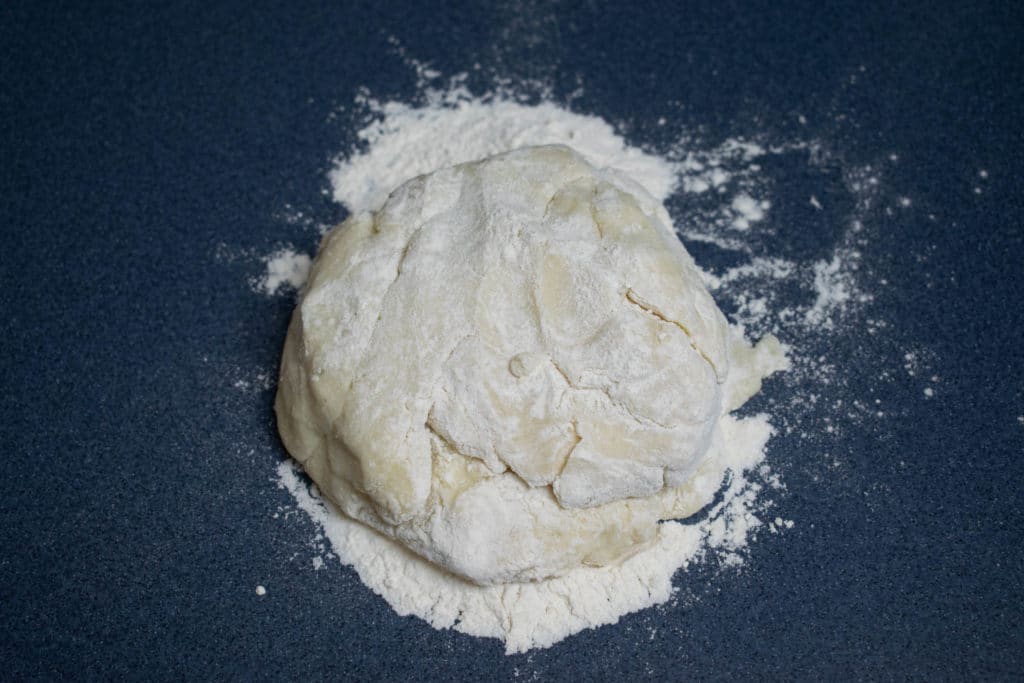 9. Divide the dough into equal-sized balls, about the size of a tennis ball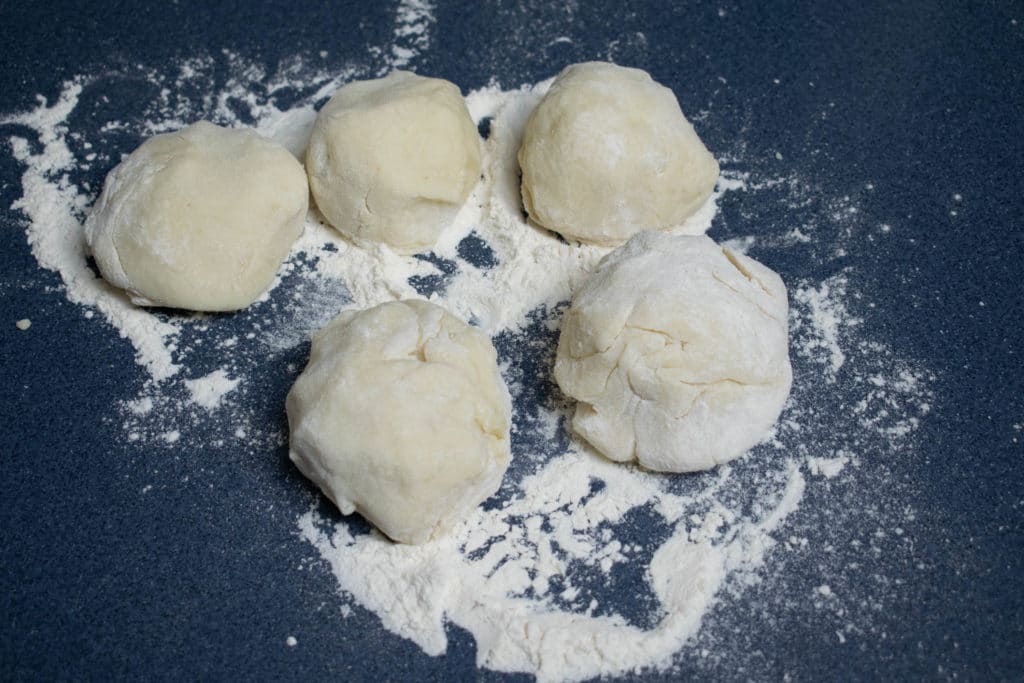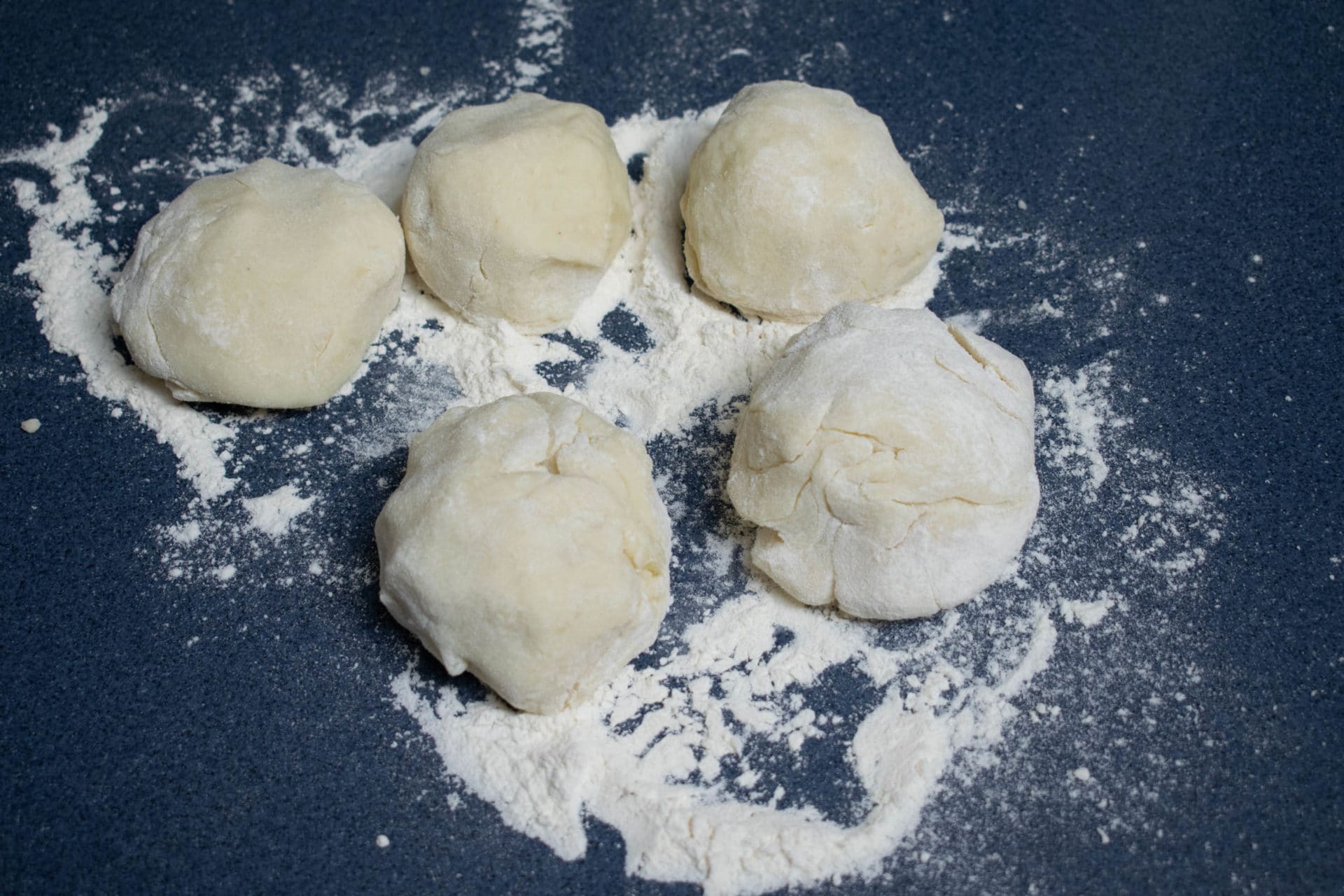 10. Continue to flour the dough mixture to make it easy to handle – then roll a ball into a round shape – about 1/4 inch thick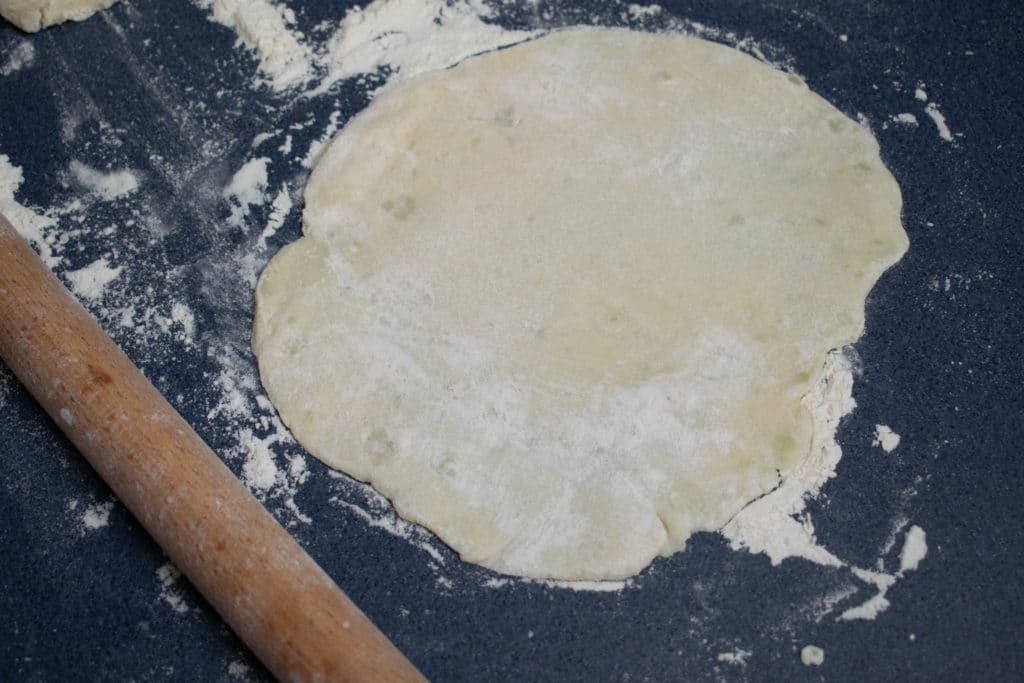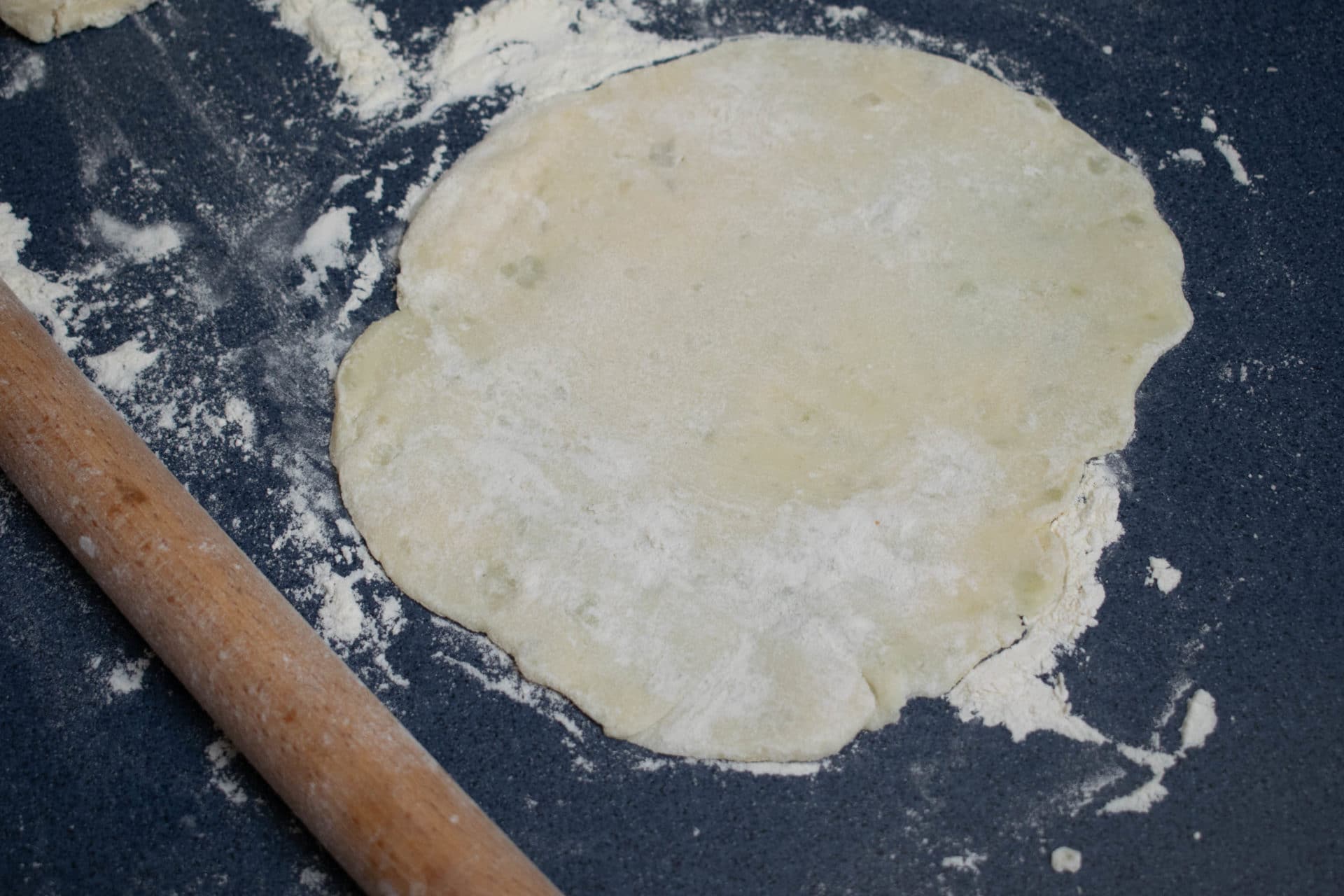 11. Then cut it into 4 pieces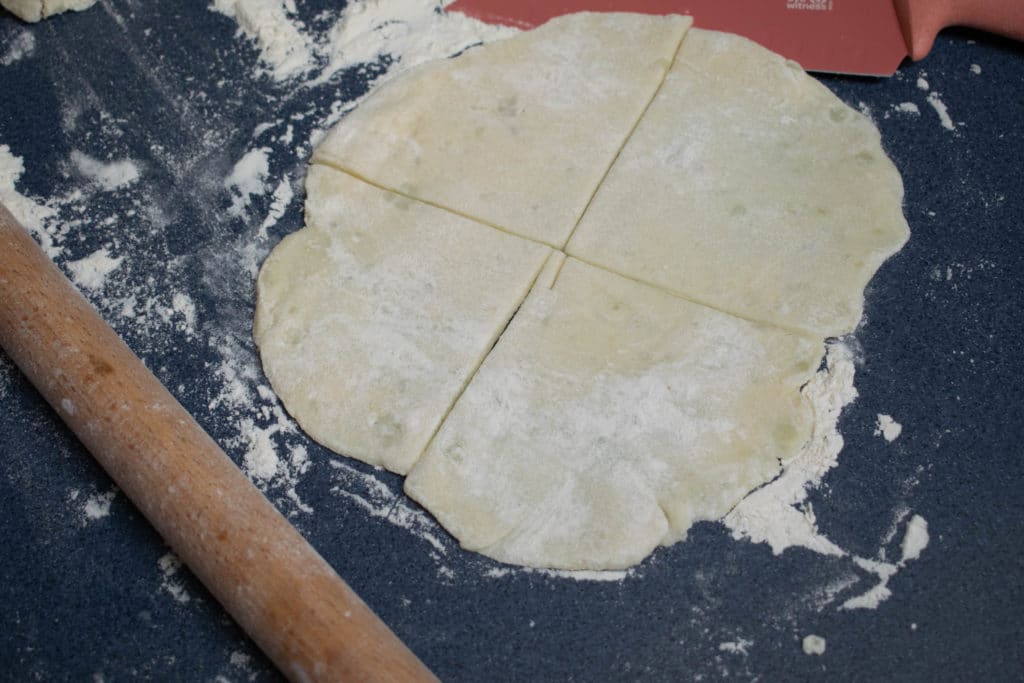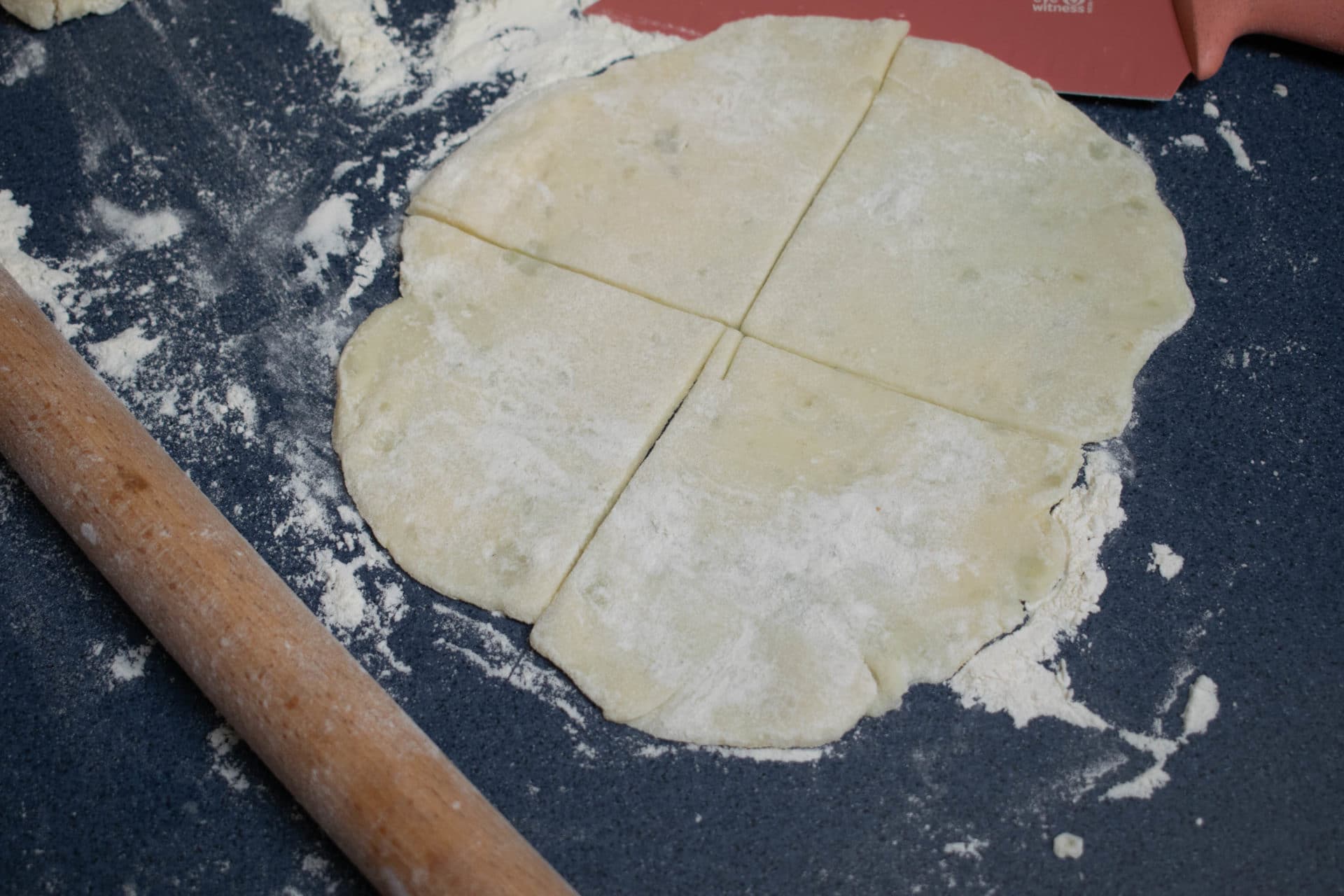 12. Heat a pan to medium heat (dry pan – no need for any oil or butter)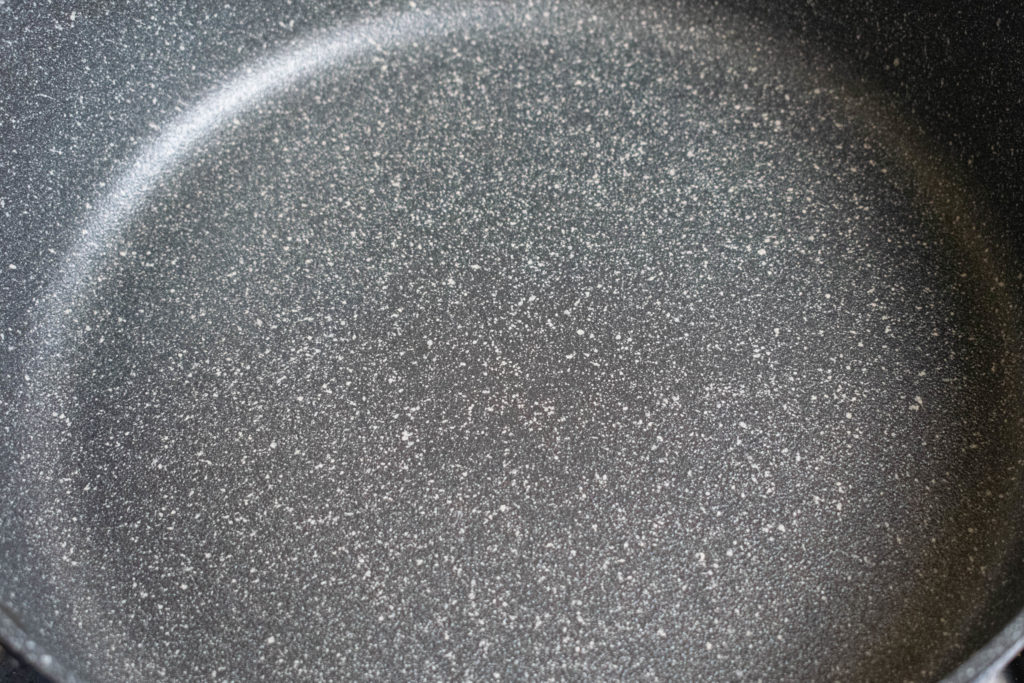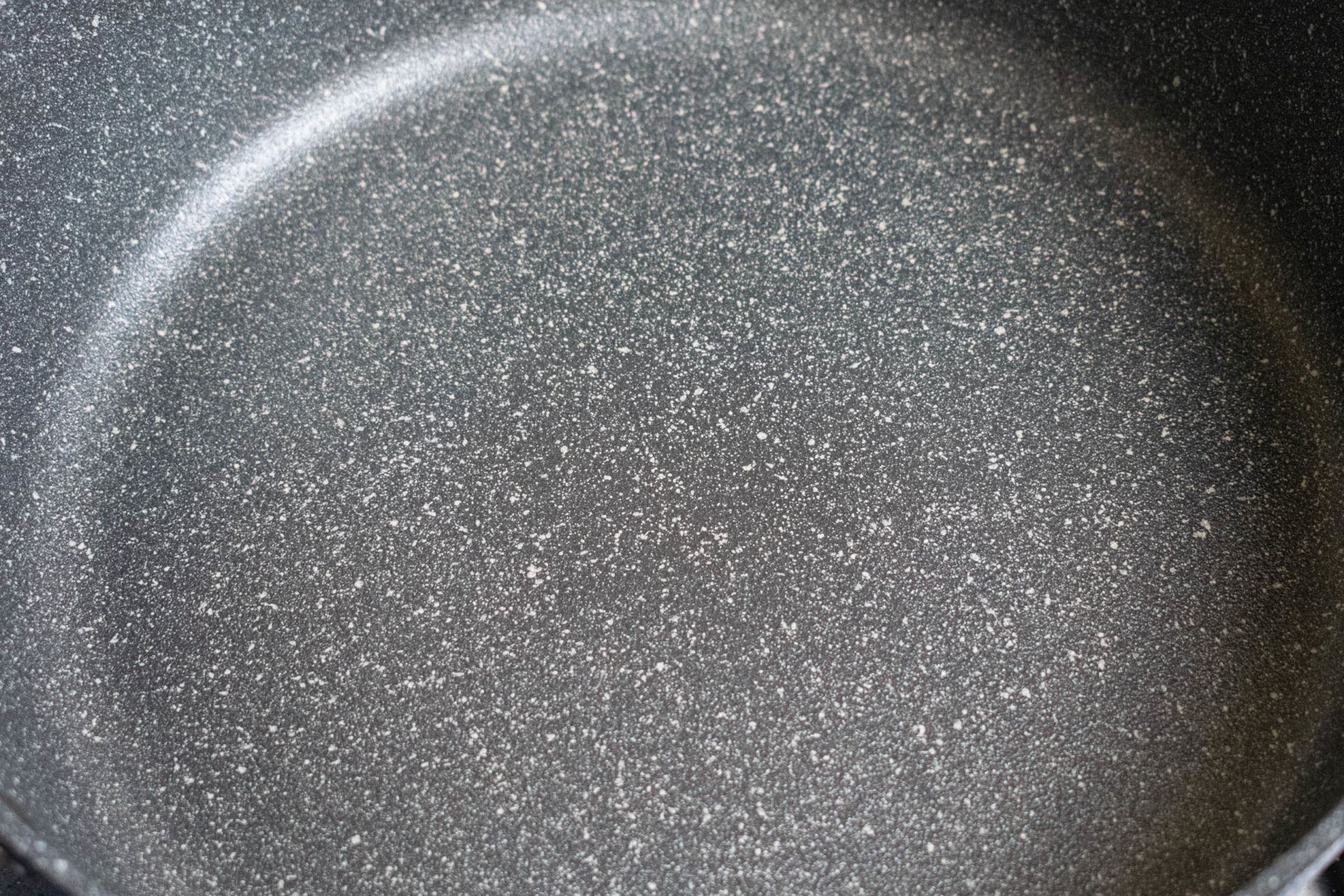 13. Then add in the rolled out farl – turn the heat to low and cook for 3 minutes on one side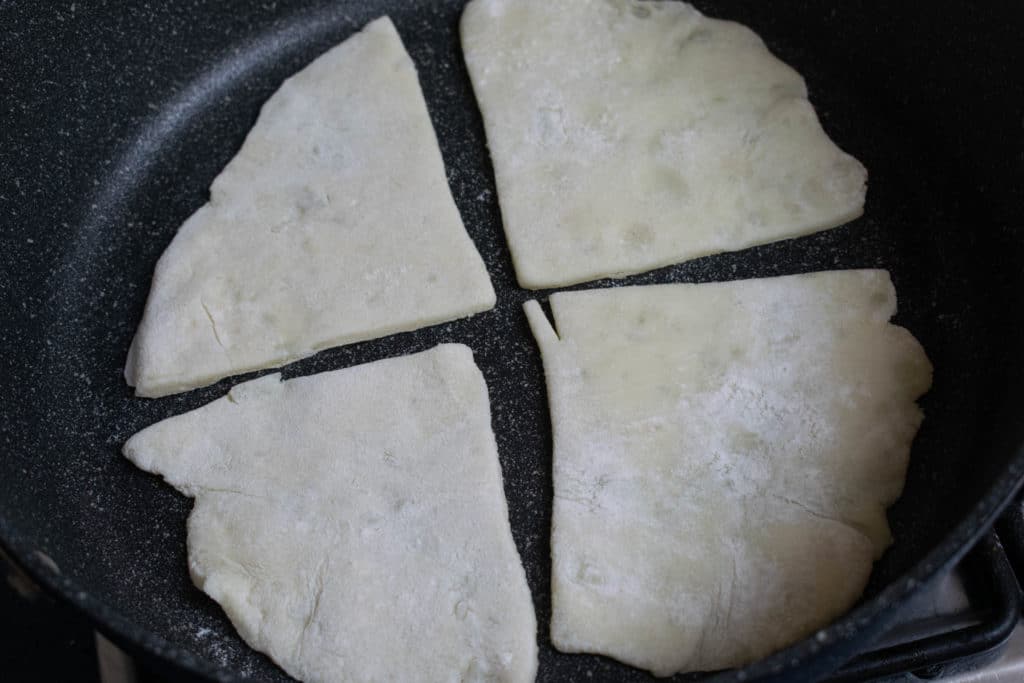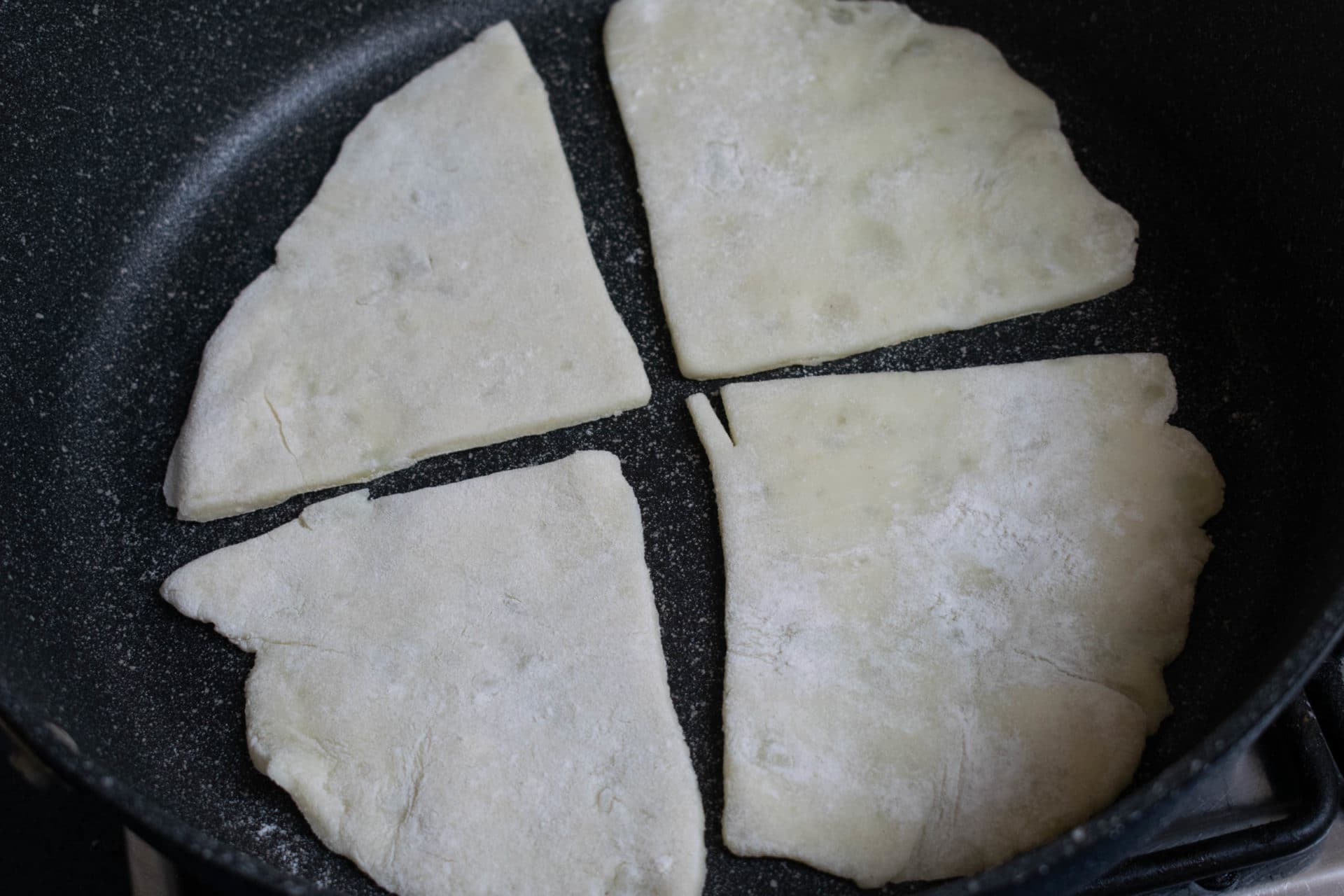 14. Then flip and cook for a further 3 minutes on the other side (or until both sides are nicely browned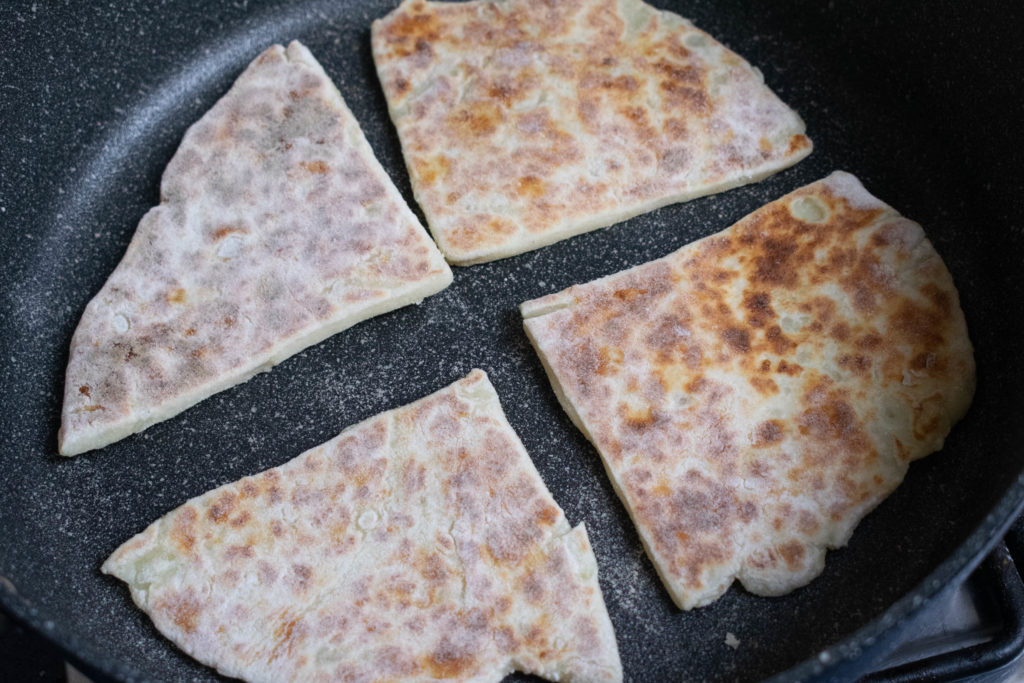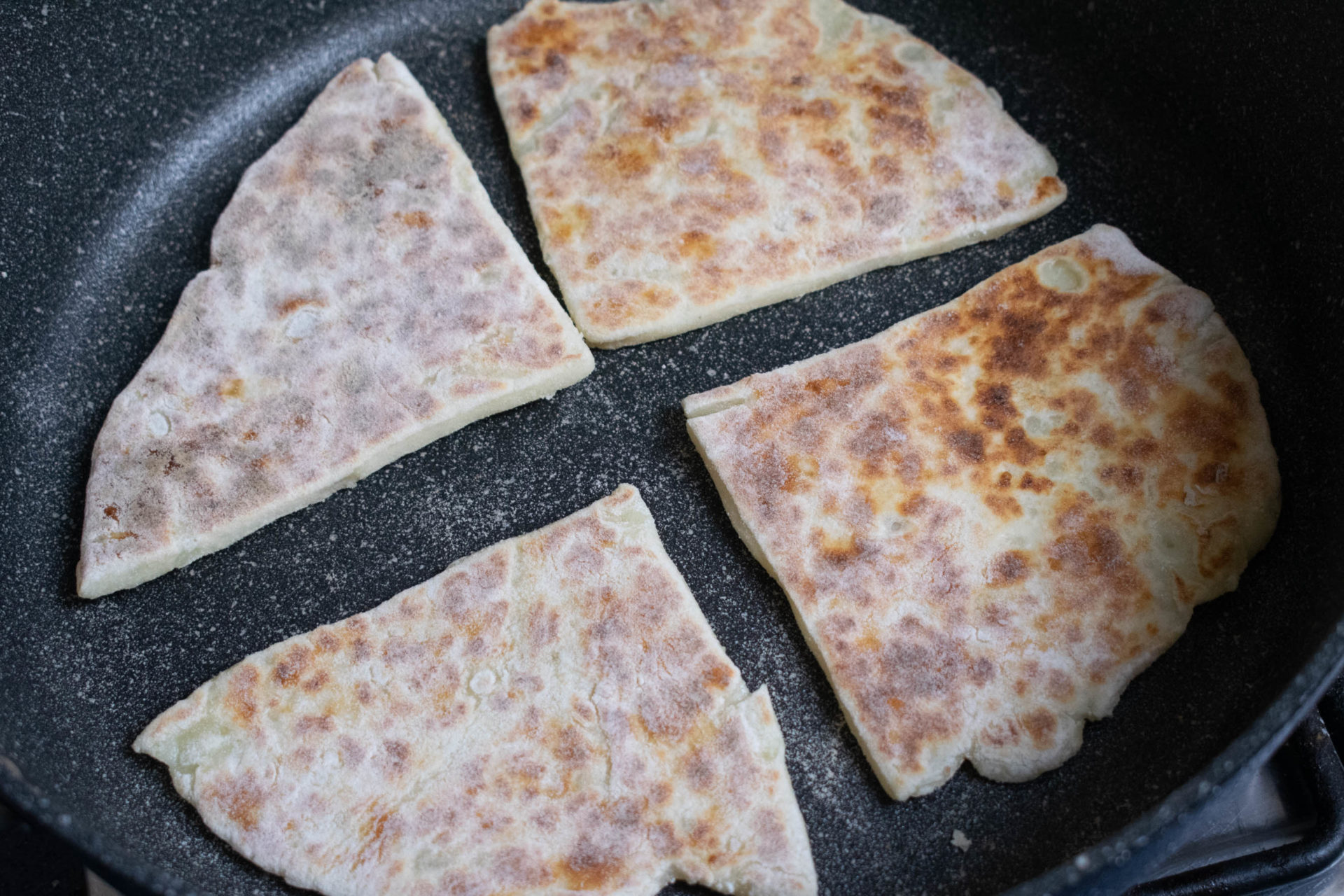 15. Transfer to a plate – and repeat this process with the rest of the farls. If there is access flour left in the pan after frying the first set of farls, simply remove it with some kitchen roll so it doesn't burn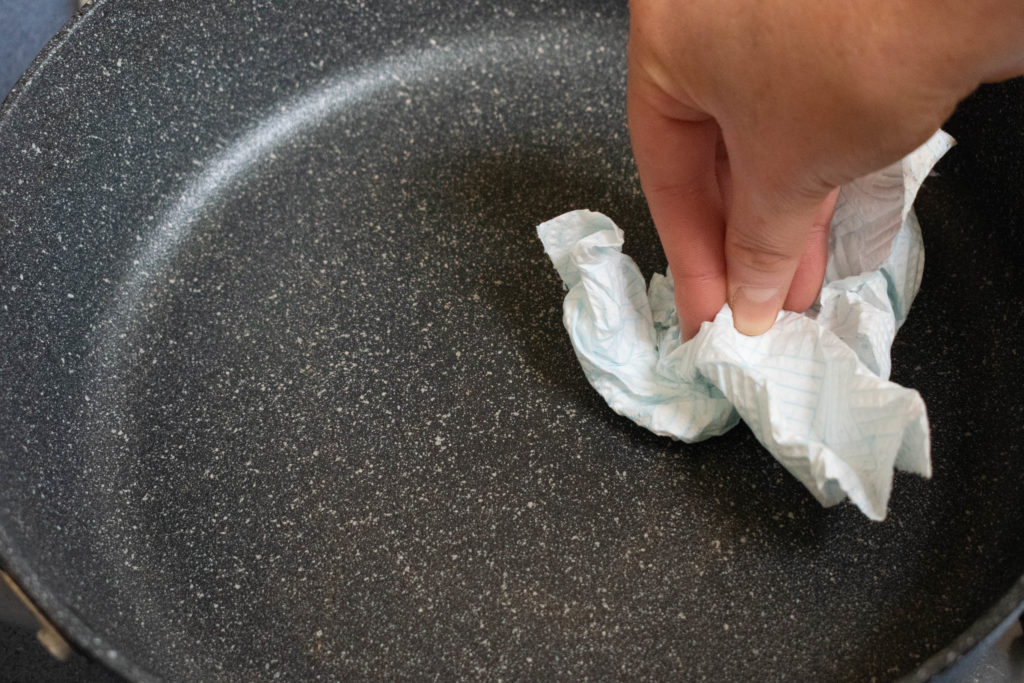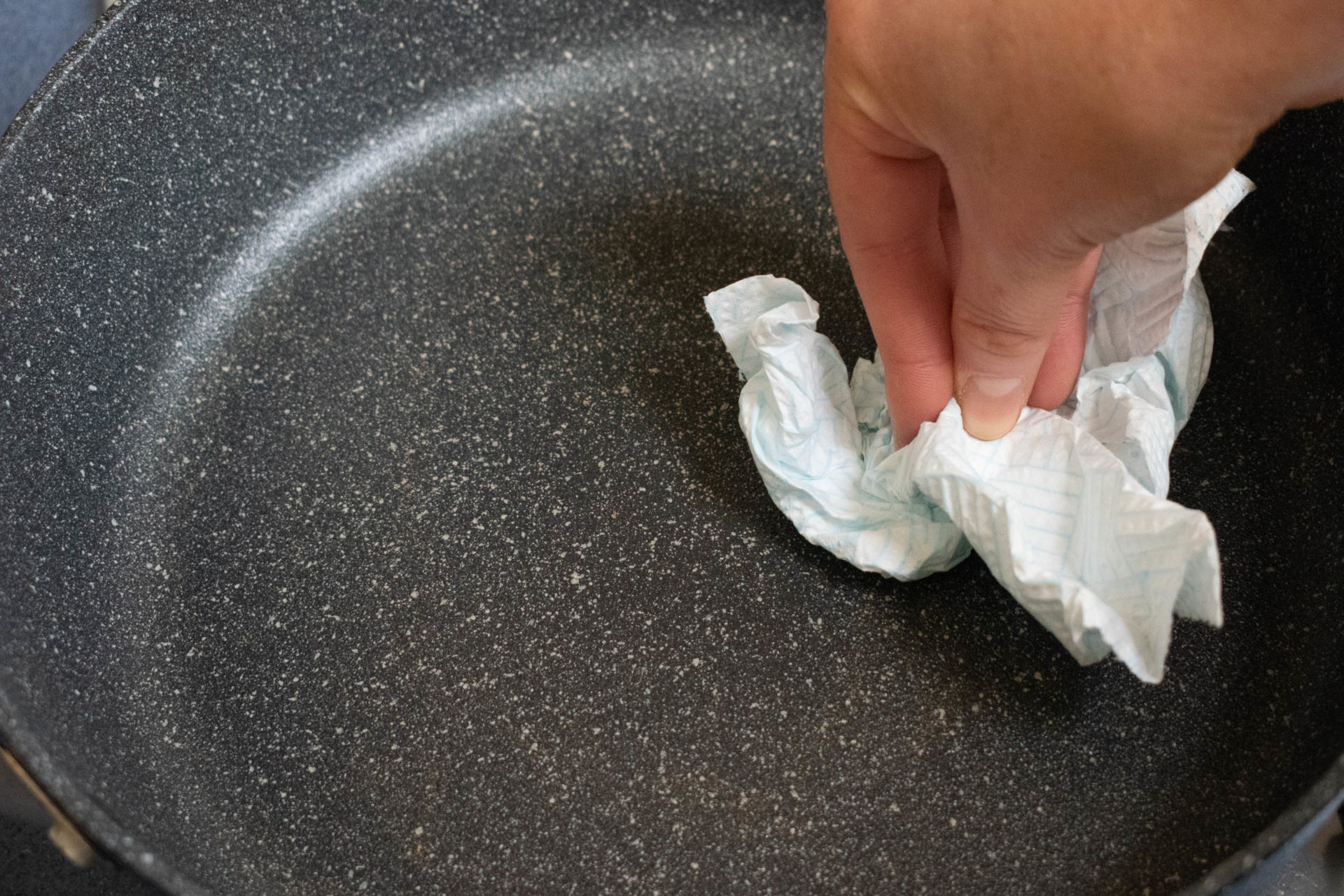 16. Serve the farls alongside a breakfast, or alone, buttered. You can freeze the farls, or store in the fridge and toast (unbuttered) to reheat.
Yield: 10 Farls
Potato Farl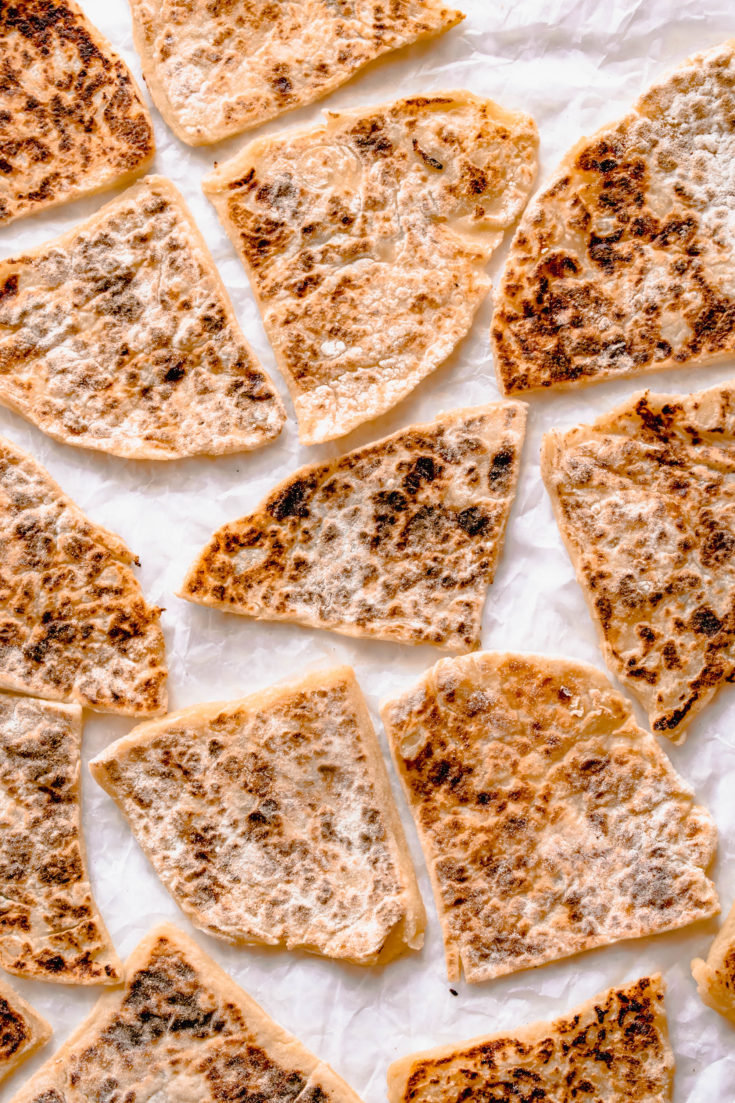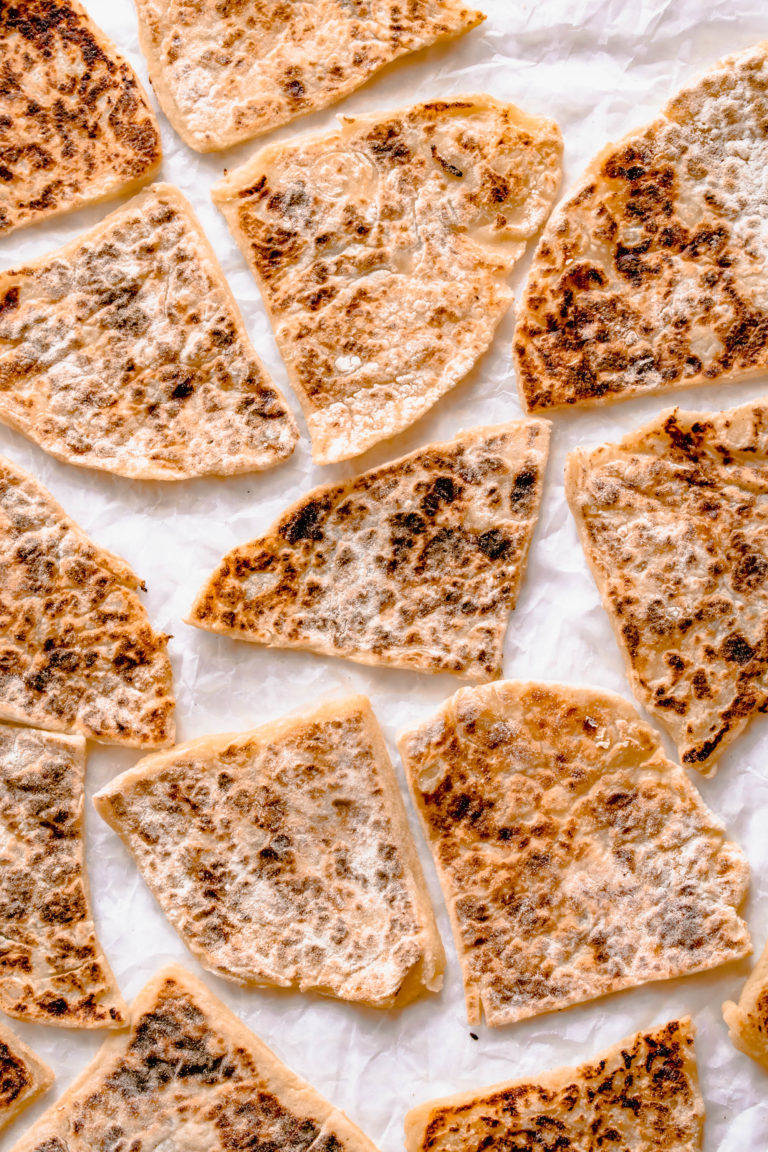 Traditional Potato Farls (sometimes also called potato cakes) recipe. Made easily with potatoes, flour and butter.
Ingredients
4 Potatoes
70g Plain Flour
1 Tsp Salt
2 Tbsp Butter
1 Tbsp Milk
Instructions
Add water to a deep saucepan and bring to a boil
Peel and quarter the potatoes
Add the potato quarters to the boiling water and cook until soft throughout when pricked with a fork
Drain the potatoes and dry completely (I allow them to sit in the sieve over the empty pan [heat off] to dry) then mash them using a potato masher
Place the mashed potato in a large bowl and add in the 2 tbsp butter - allow the butter to melt with the heat of the potatoes
Then add in the flour, salt and milk
Mix until combined and a thick dough has formed
Lightly flour a work surface and tip the dough out
Divide the dough into tennis-sized balls then, using a floured rolling pin - roll each ball to a 1/4 inch thick circle - then cut into 1/4s. Keep flouring if the dough is too sticky
Heat a large, non-stick pan to low/medium heat
Add one farl circle to the pan and cook for 3 minutes on one side, until flipping and cooking a further 3 minutes on the other (until browned)
Roll out the next farl circle, and repeat
Serve with salted butter alongside a breakfast (or alone!)
Notes
I use Maris Piper potatoes.
Don't remove all the flour from the rolled out farls - it adds to their taste. But if there is access flour in the pan before you cook the next farl, remove it else it'll burn.
You can freeze these farls and keep in the freezer for up to 1 month. Else keep in the fridge. Reheat in the toaster.
Nutrition Information
Yield
16
Serving Size
1
Amount Per Serving
Calories

109
Total Fat

4g
Saturated Fat

2g
Trans Fat

0g
Unsaturated Fat

1g
Cholesterol

10mg
Sodium

181mg
Carbohydrates

17g
Fiber

2g
Sugar

1g
Protein

2g
Nutritional data provided here is only an estimate. If you're tracking these things for medical purposes please consult an outside, trusted source. Thanks!