This Slow Cooker Bolognese recipe is honestly one of my favourite things to cook in my slow cooker.
It takes really minimal prep, much less than a traditional bolognese, and the results are way better in my opinion! I switch out minced beef for braising steak so the meat is super tender – I'm not a fan of minced beef in the slow cooker at all.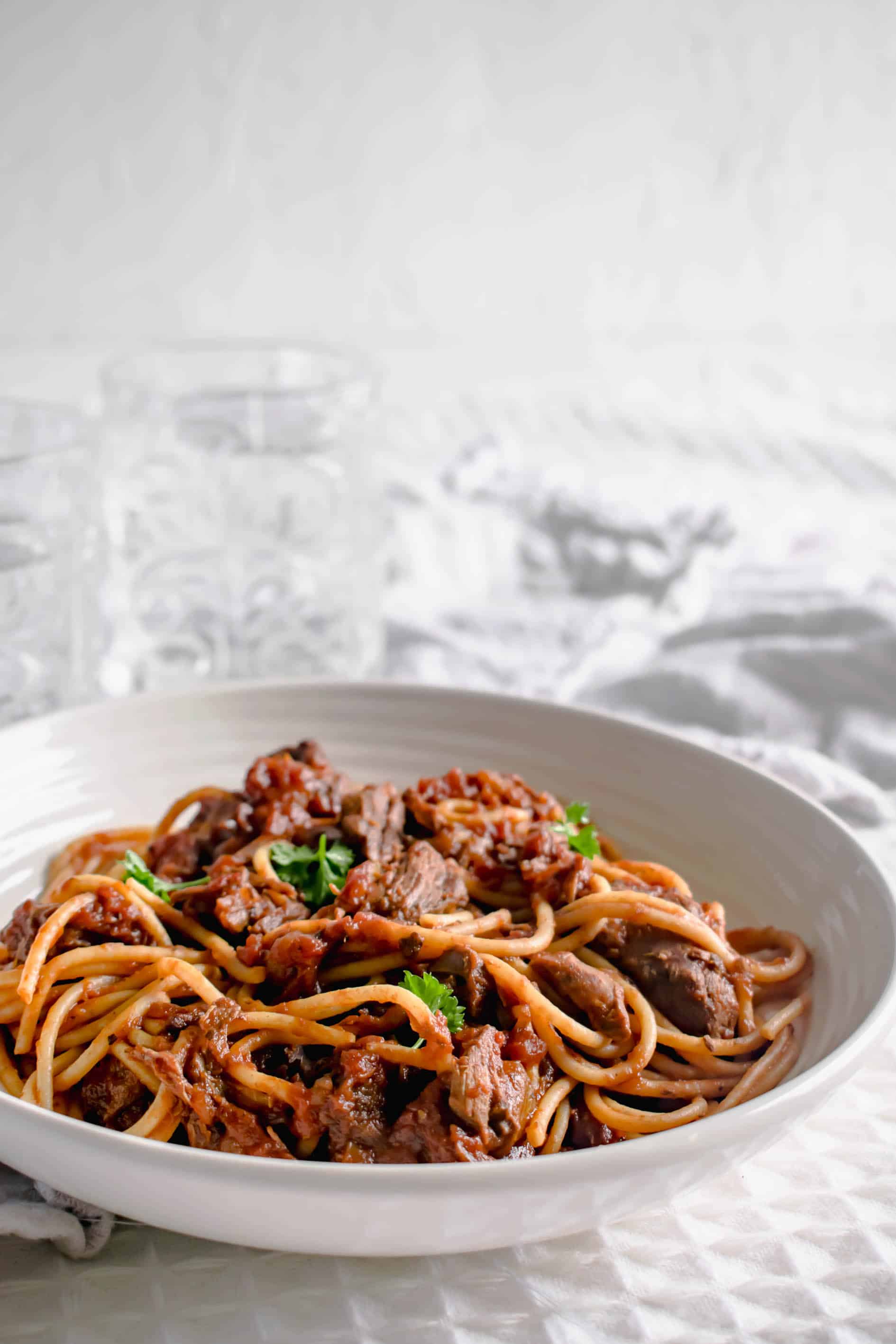 The first steps to making this Slow Cooker Bolognese is to brown off the beef and onions – this step is really important. It develops the flavours and makes the dish much richer in taste.
You can choose to use either red wine or water in this recipe depending on your preference. I love either version. My husband adores the richness of the dish with red wine, whilst my mum likes the 'lightness' of the dish with water. I switch it up each time I cook it.
I tend to lean towards using water in the summer months and red wine in the winter. But always serve this with wholegrain spaghetti and some garlic baguette.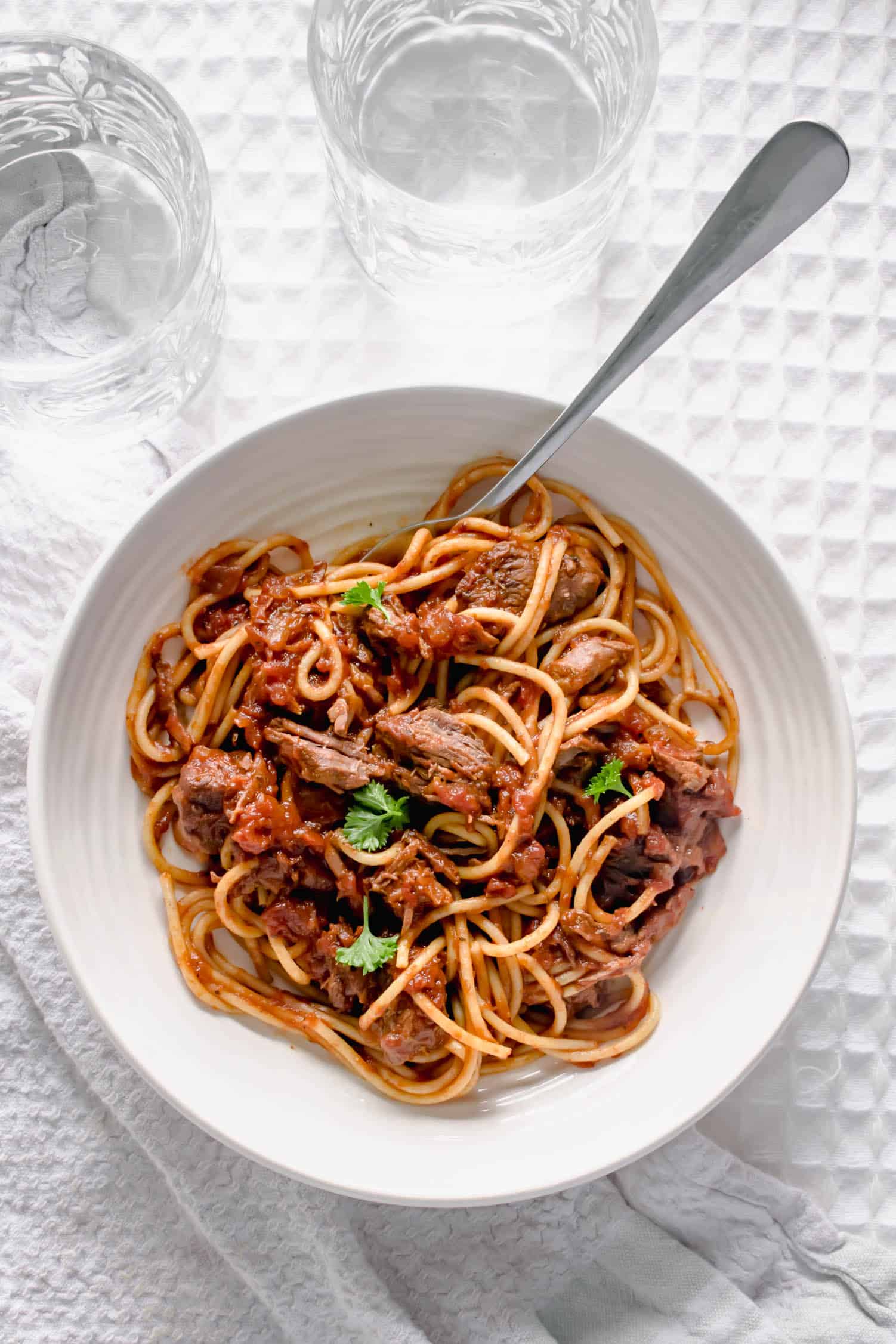 This bolognese is easy to prepare and delightful to come home to. I opt for this recipe over traditional stovetop spaghetti bolognese for the taste and convenience.
How to make Bolognese in the slow cooker
Scroll down for recipe card and ingredient list
1. Heat oil in a large non-stick pan, or in your slow cooker pan if you have a sizzle & simmer model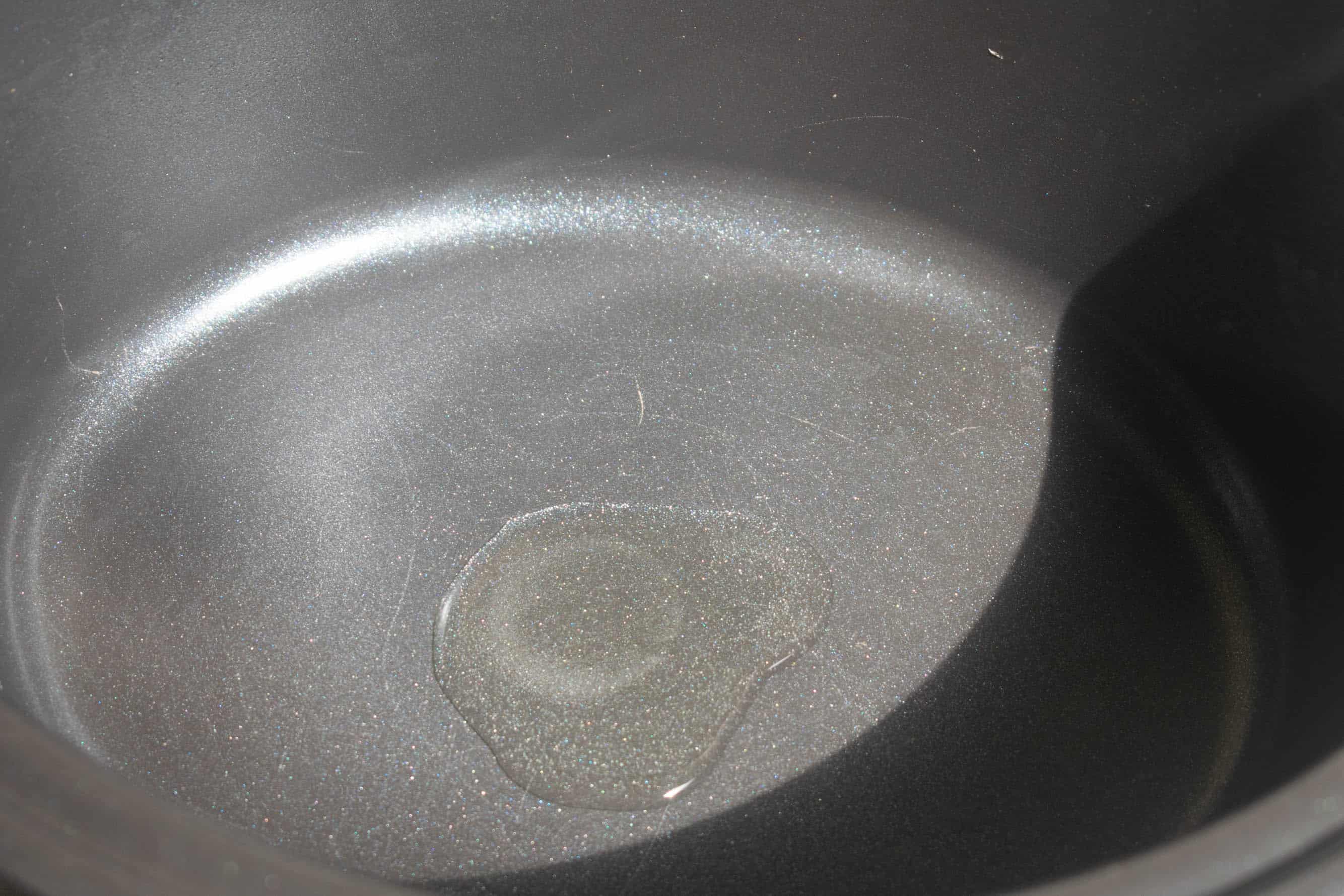 2. Add the beef and onions to the hot oil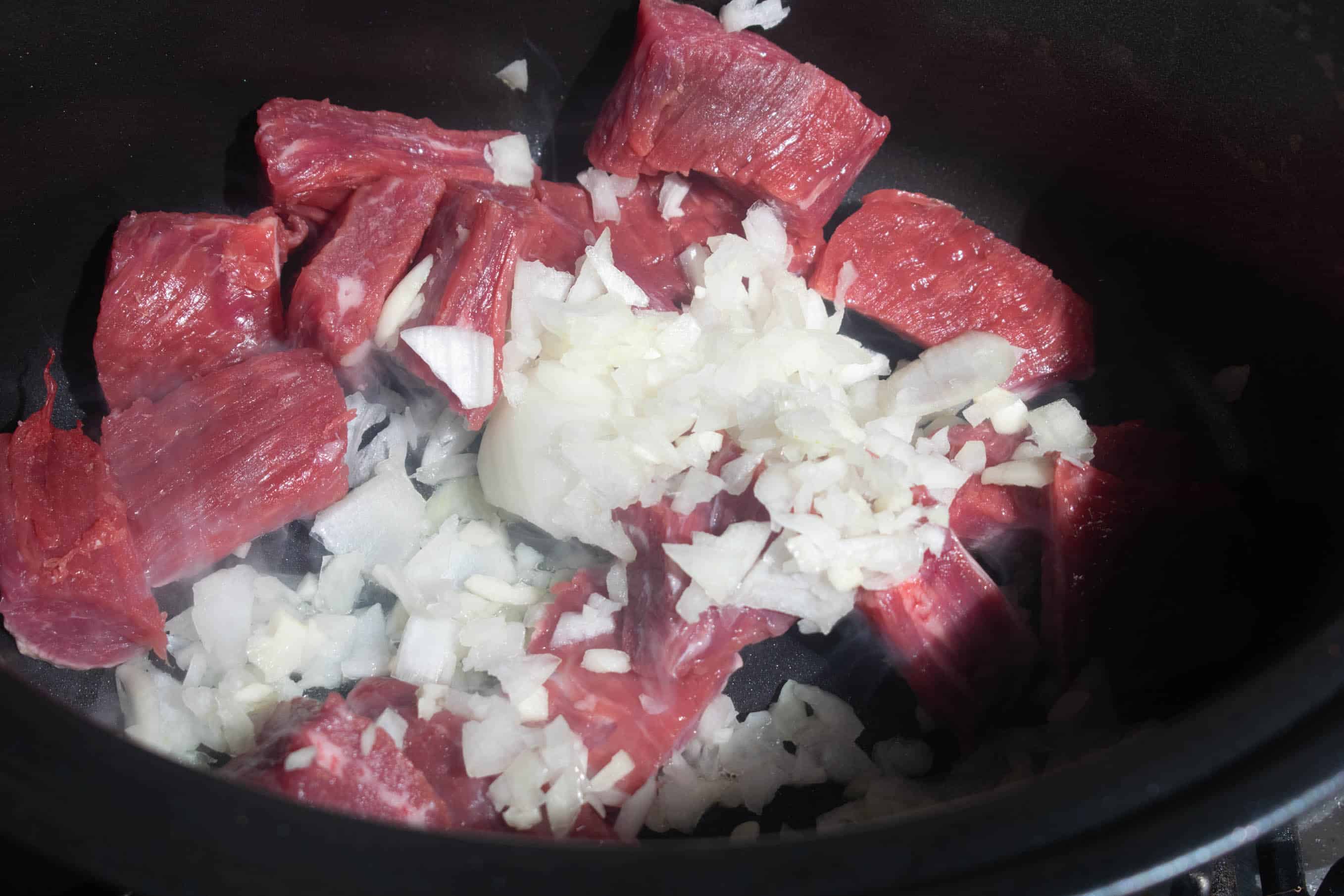 3. Cook until the beef and onions are browned (5-10 minutes on medium high)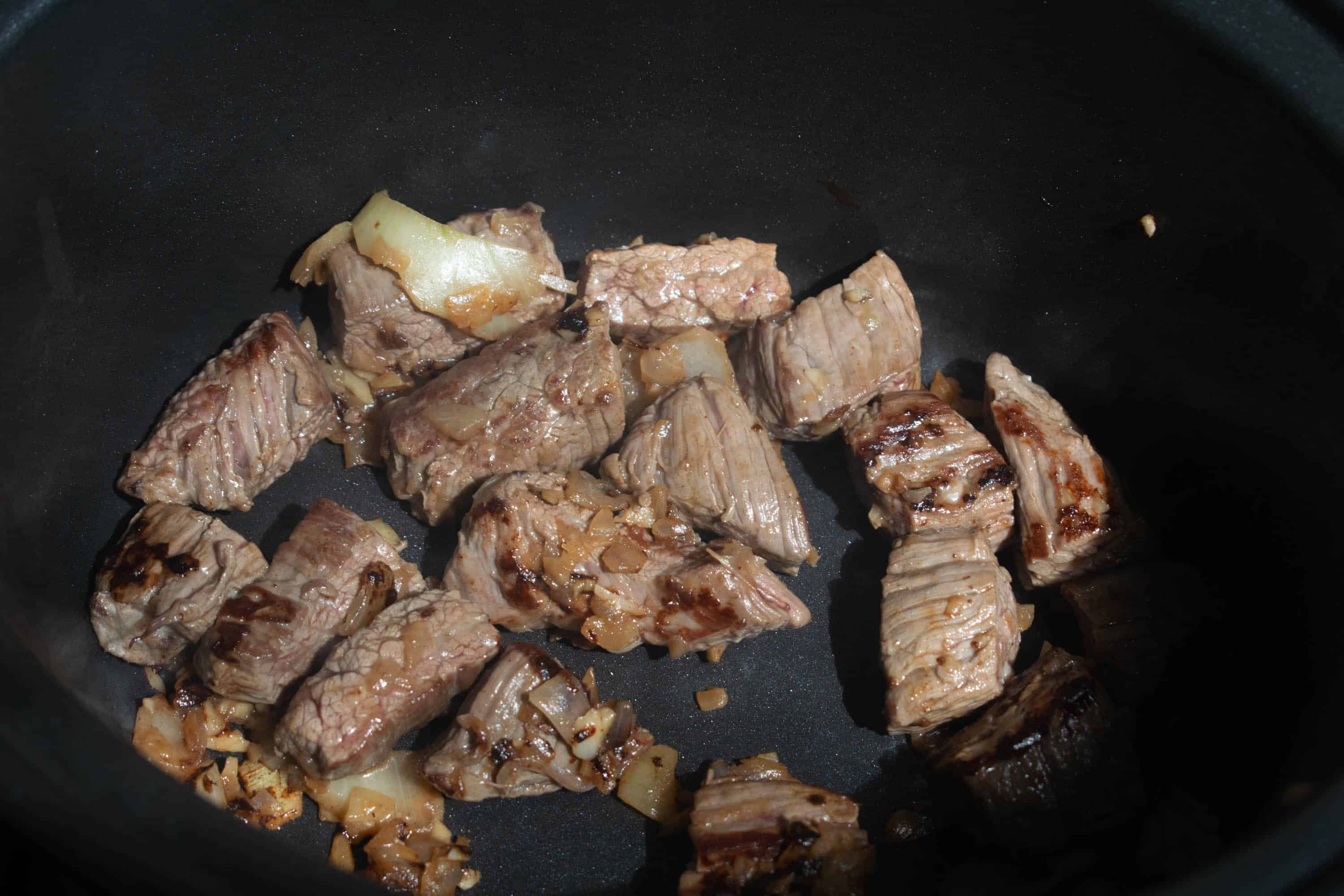 4. Then add the Italian seasoning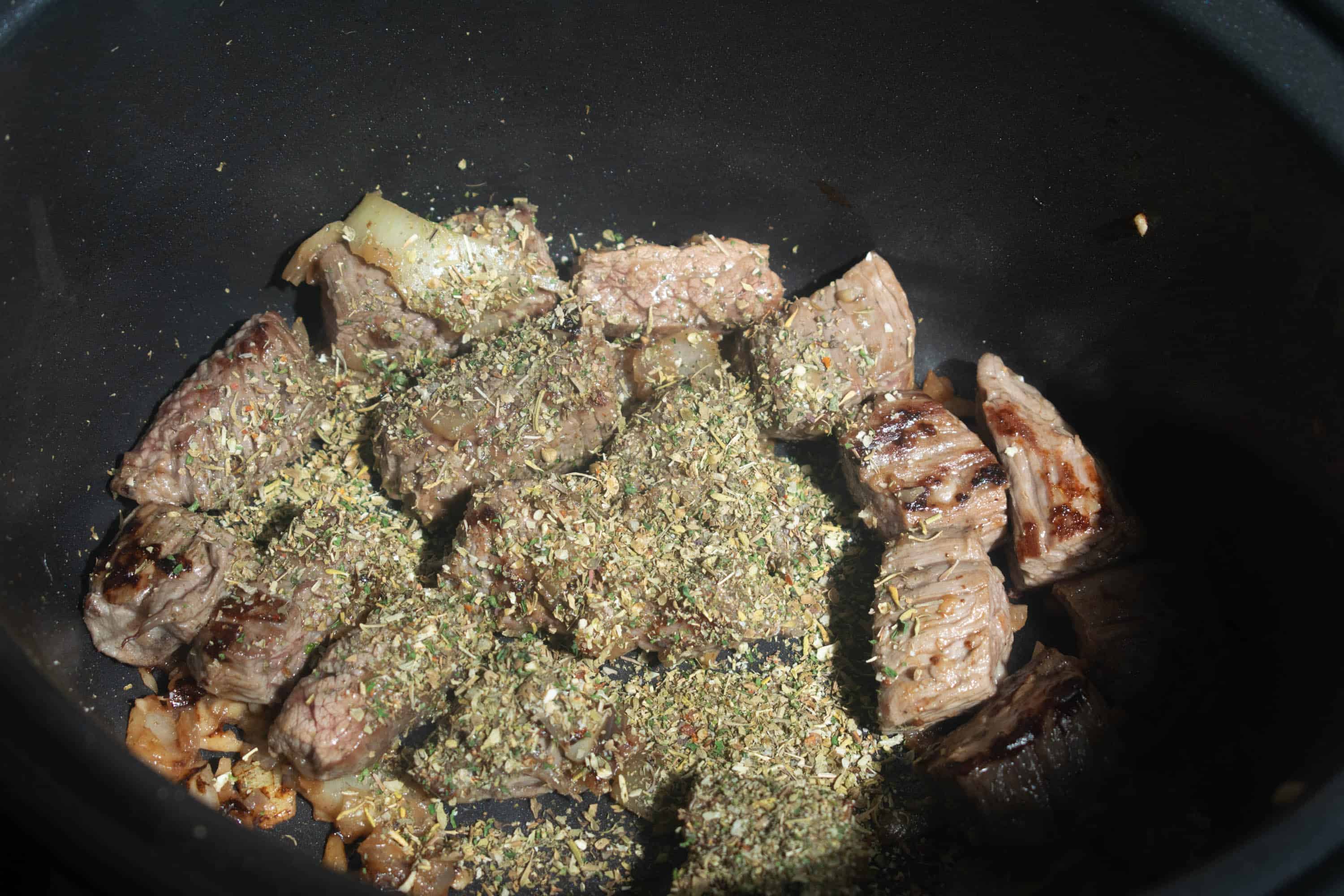 5. Then add the tinned tomatoes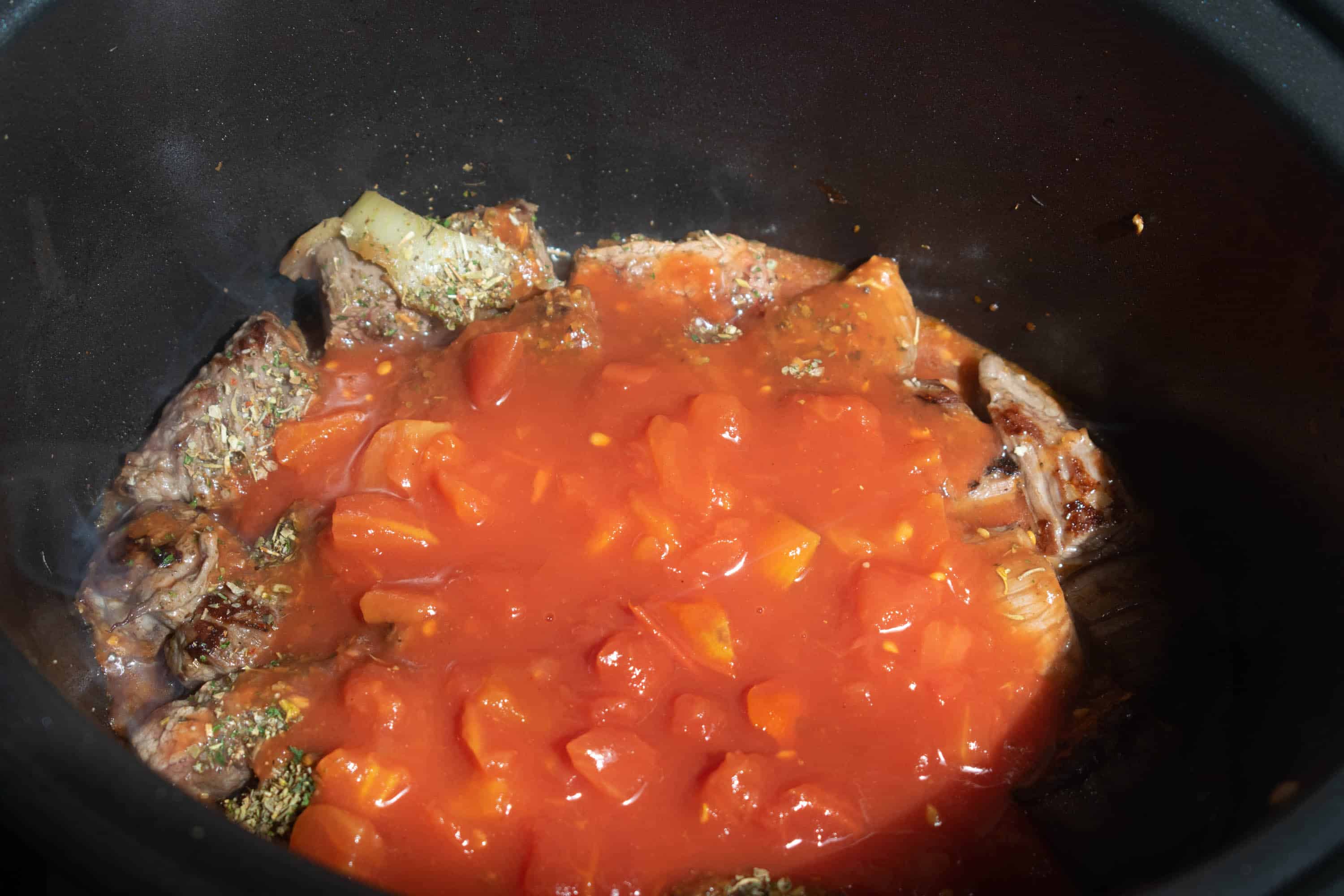 6. And red wine or water (150ml is just over 1/4 the tin – so I use the tin to roughly measure)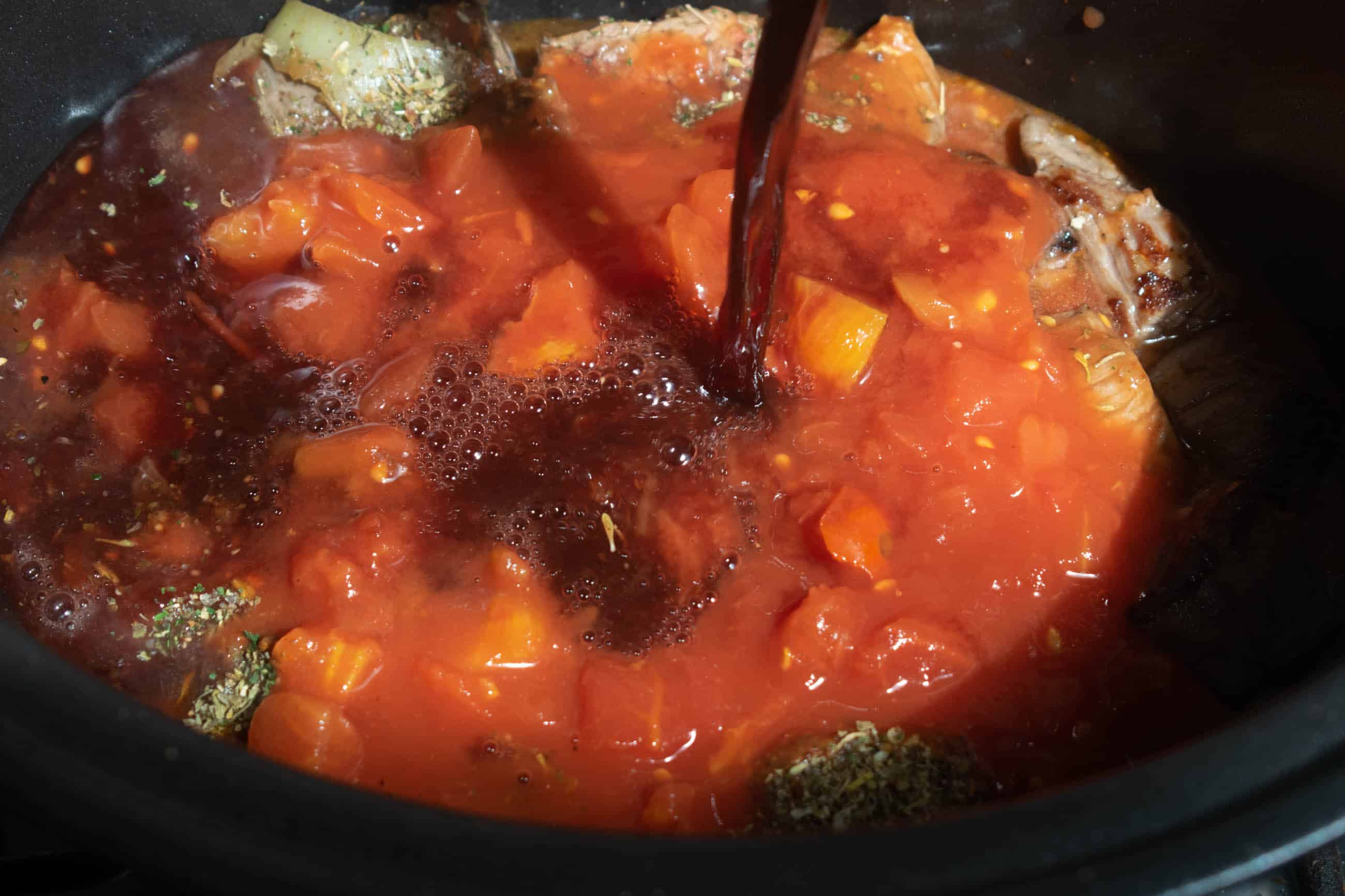 7.  Then add the rest of the ingredients (except cornflour)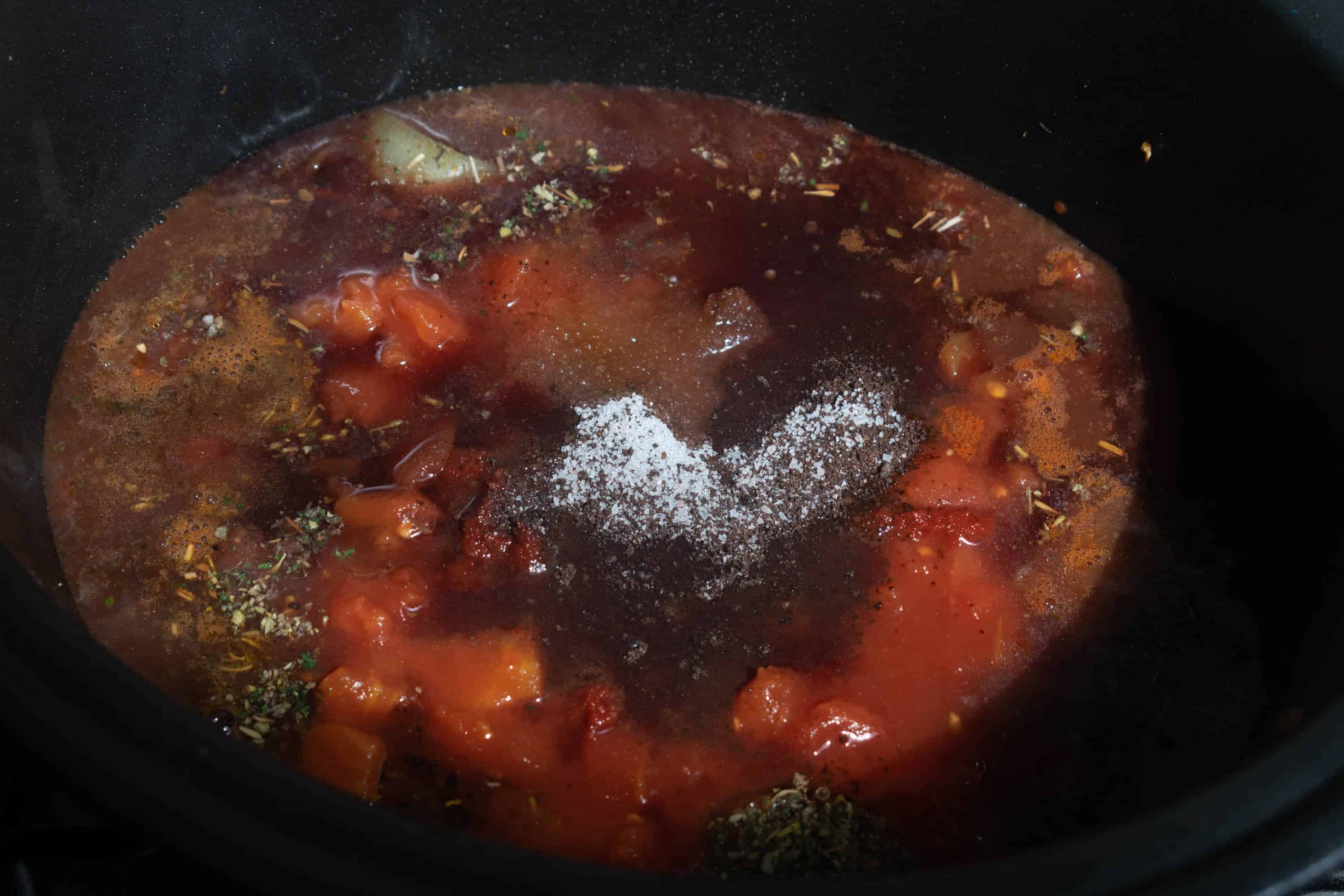 8. And cook (lid on) on low for 5 hours or high for 3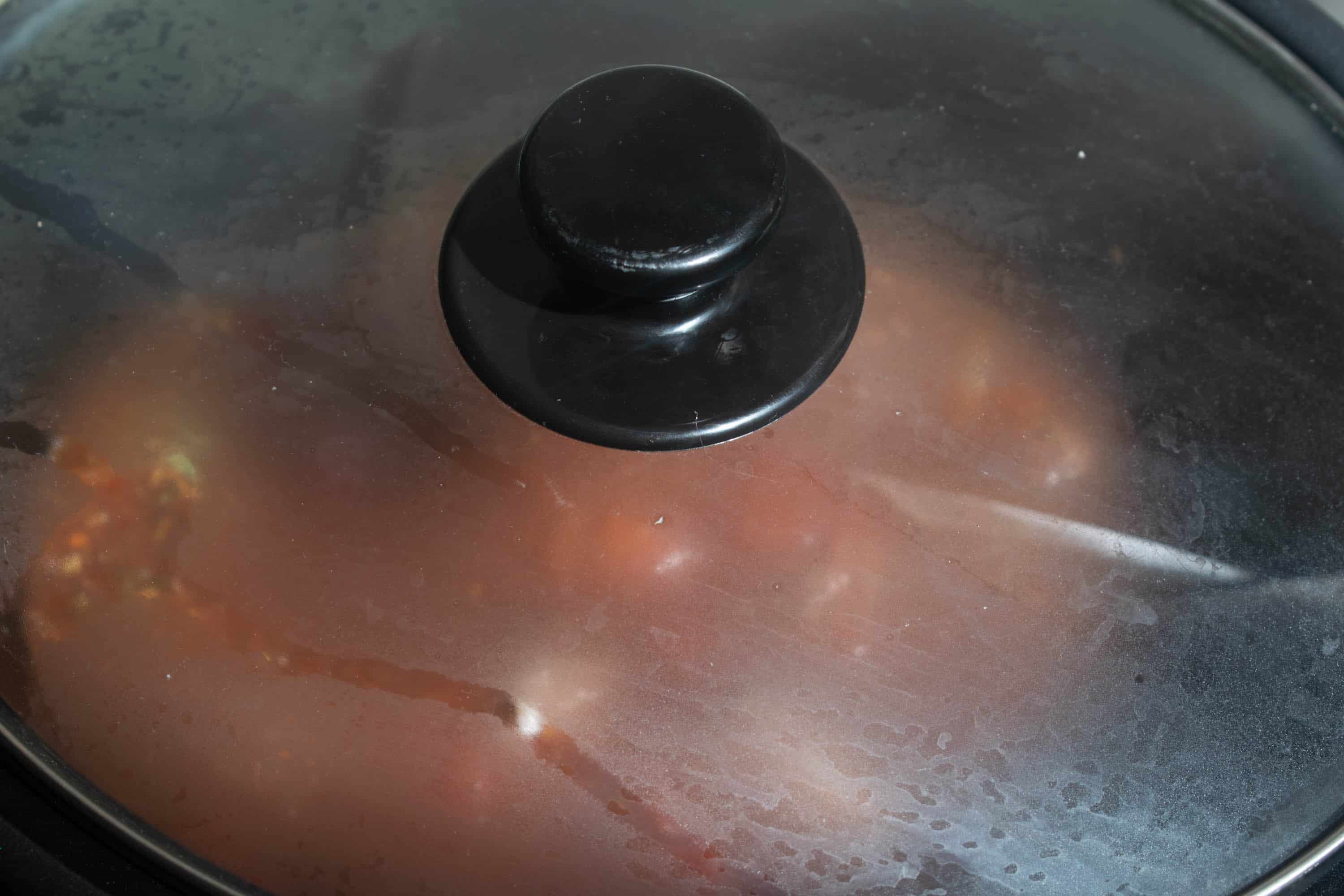 9. Once the bolognese has cooked check if the sauce is thick enough for your liking. If it needs to be thicker take 1 tbsp of sauce and mix with the cornflour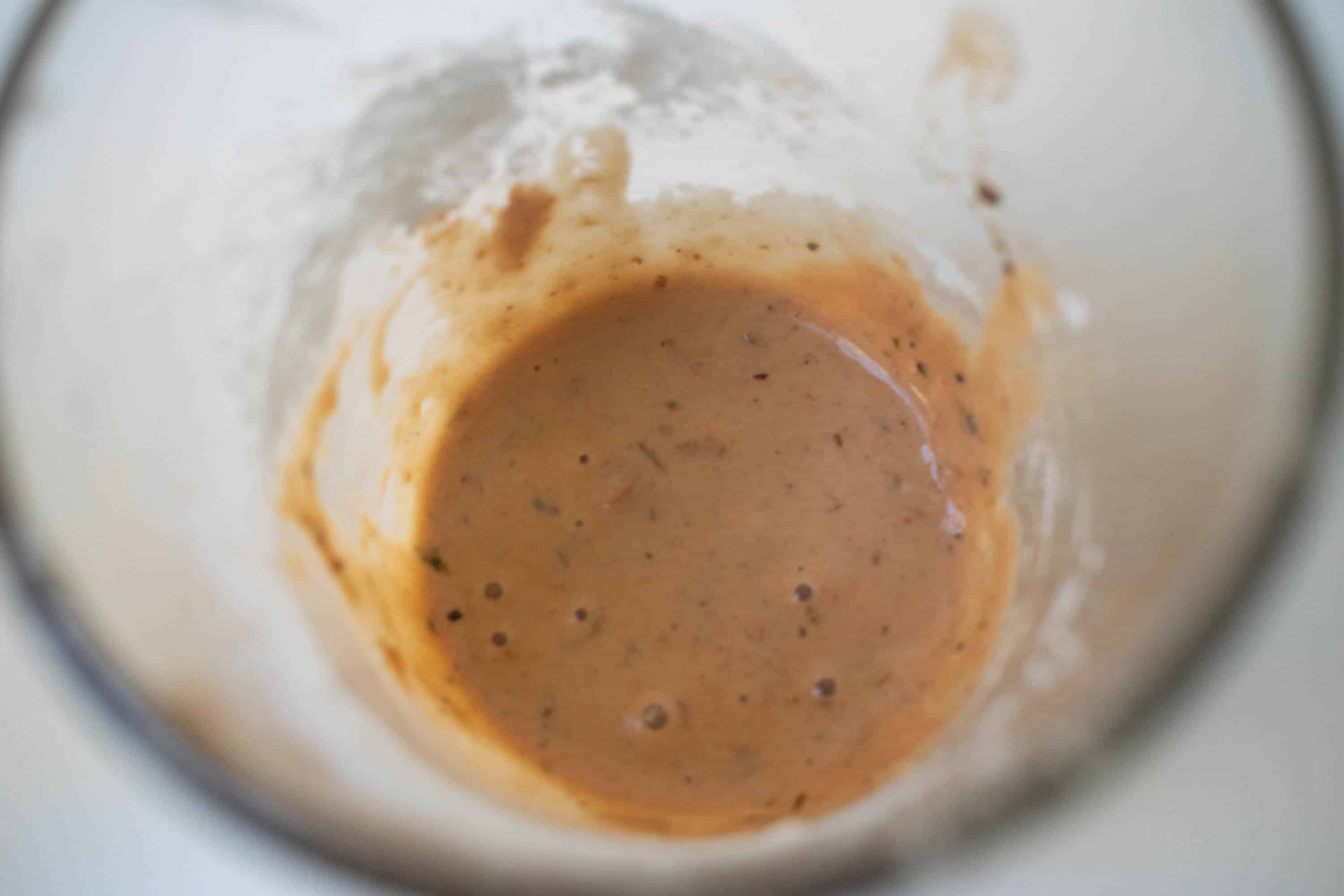 10. Stir this into the bolognese to thicken the sauce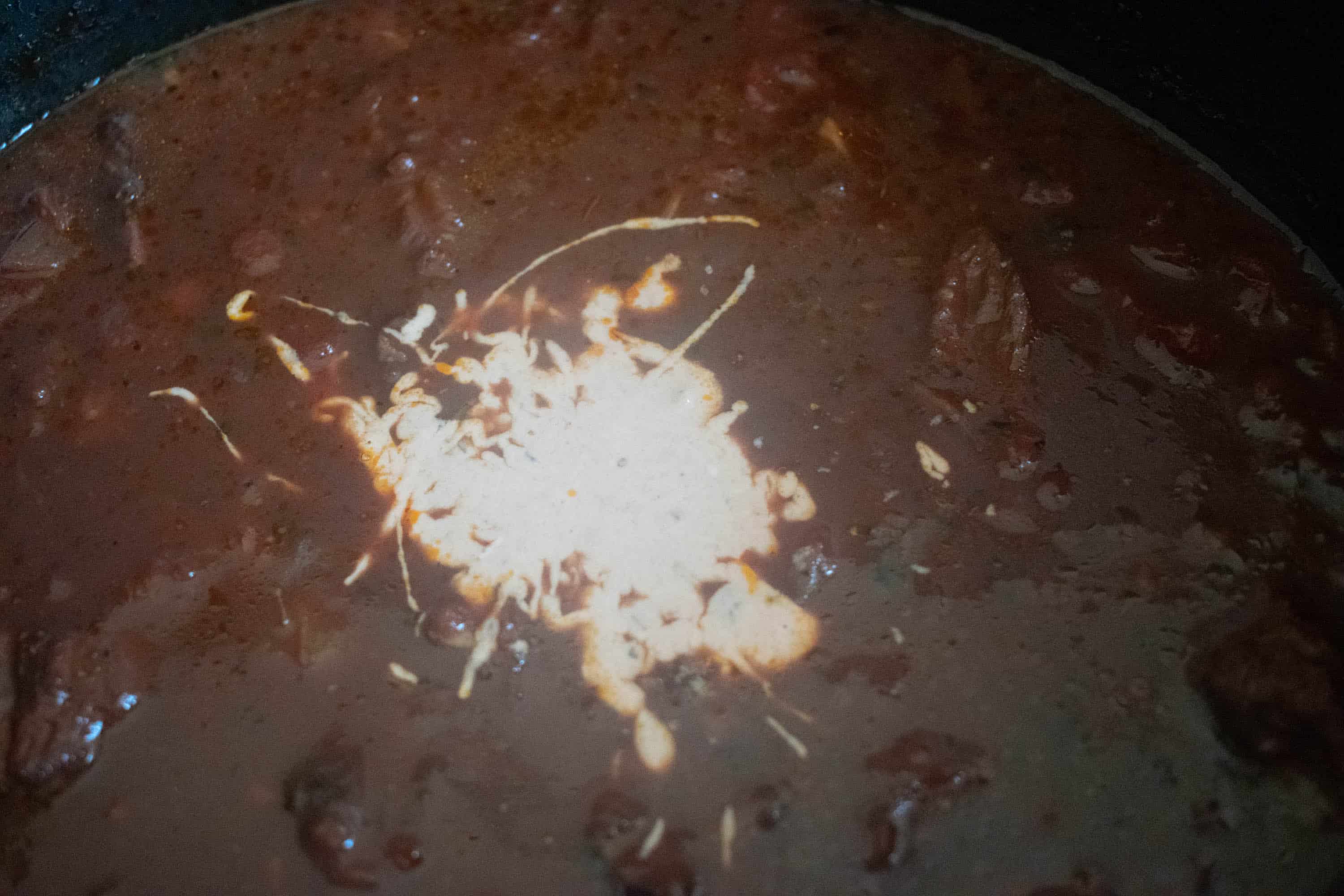 11. Then serve! On a bed of spaghetti, topped with cheese (Optional)
Yield: 6 People
Slow Cooker Beef Bolognese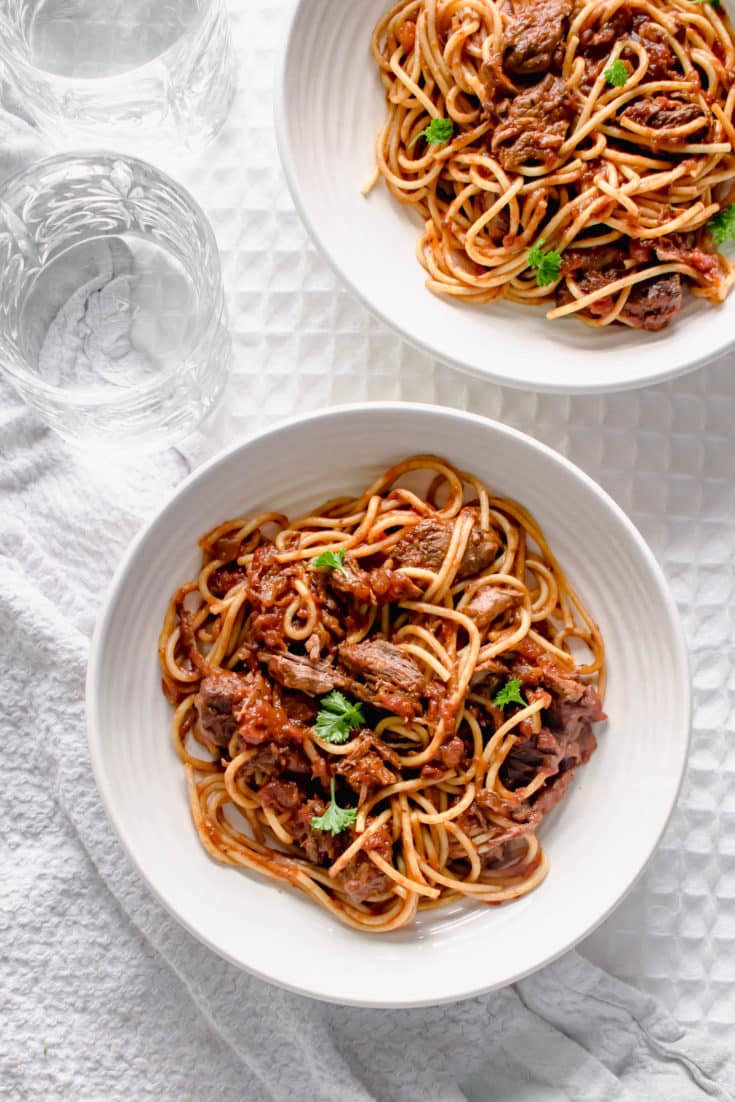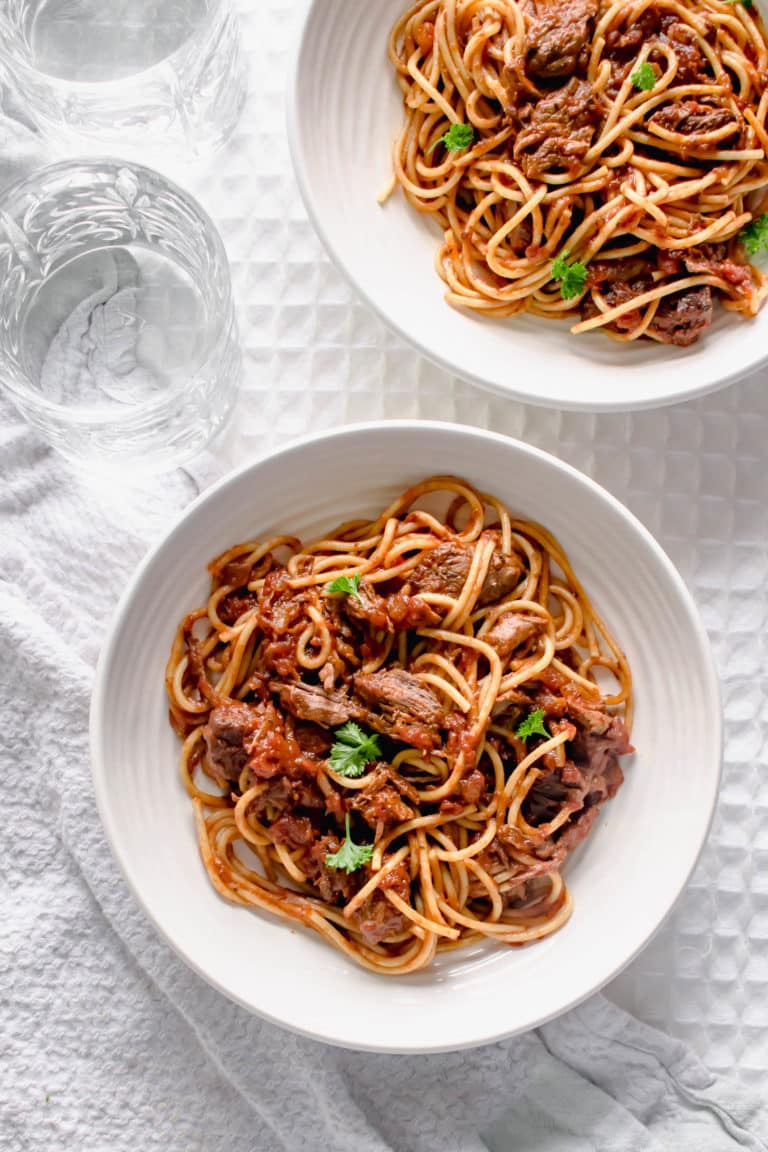 An easy, delicious slow cooker bolognese recipe
Total Time
4 hours
10 minutes
Ingredients
400g Braising Steak
1 Onion
2 Garlic Cloves
2 Tbsp Italian Seasoning
400g Tinned Tomatoes
150ml Red Wine OR water
1 Beef Stock Cube
1/2 tsp salt
1 Tbsp Sugar
1 Tbsp Cornflour
To Serve (Optional)
Spaghetti, Garlic Bread & Grated Cheese
Instructions
Finely dice the onion and garlic cloves
Chop the braising steak into bite-size pieces
Heat the oil in a large, non-stick pan (or use the slow cooker pan if you have a sizzle & simmer model)
Add the steak and onion to the hot oil and cook for 3 minutes, until both are browning
Then add the garlic clove and cook for 1 minute
Next add the Italian seasoning and allow to cook for 30 seconds
Then add the remaining ingredients
Stir to combine
Then pour all into the slow cooker, and cook for high for 3 hours or low for 5 with the lid on
Once cooked, take a spoonful of the sauce and put it into a cup/bowl. Add the tbsp of cornflour and mix to form a paste.
Pour this paste back into the slow cooker and stir - this will thicken the sauce.
Once cooked, stir and serve on a bed of spaghetti bolognese.
Nutrition Information
Yield
4
Serving Size
1
Amount Per Serving
Calories

368
Total Fat

19g
Saturated Fat

7g
Trans Fat

0g
Unsaturated Fat

9g
Cholesterol

97mg
Sodium

871mg
Carbohydrates

11g
Fiber

3g
Sugar

5g
Protein

29g