This Slow Cooker Teriyaki Chicken Thighs recipe is SO good. Succulent, juicy thighs in a rich and sticky teriyaki sauce.
This meal is ideal as a mid-week treat, weekend fake-away or dinner party show-stopper. Seriously, it's THAT good!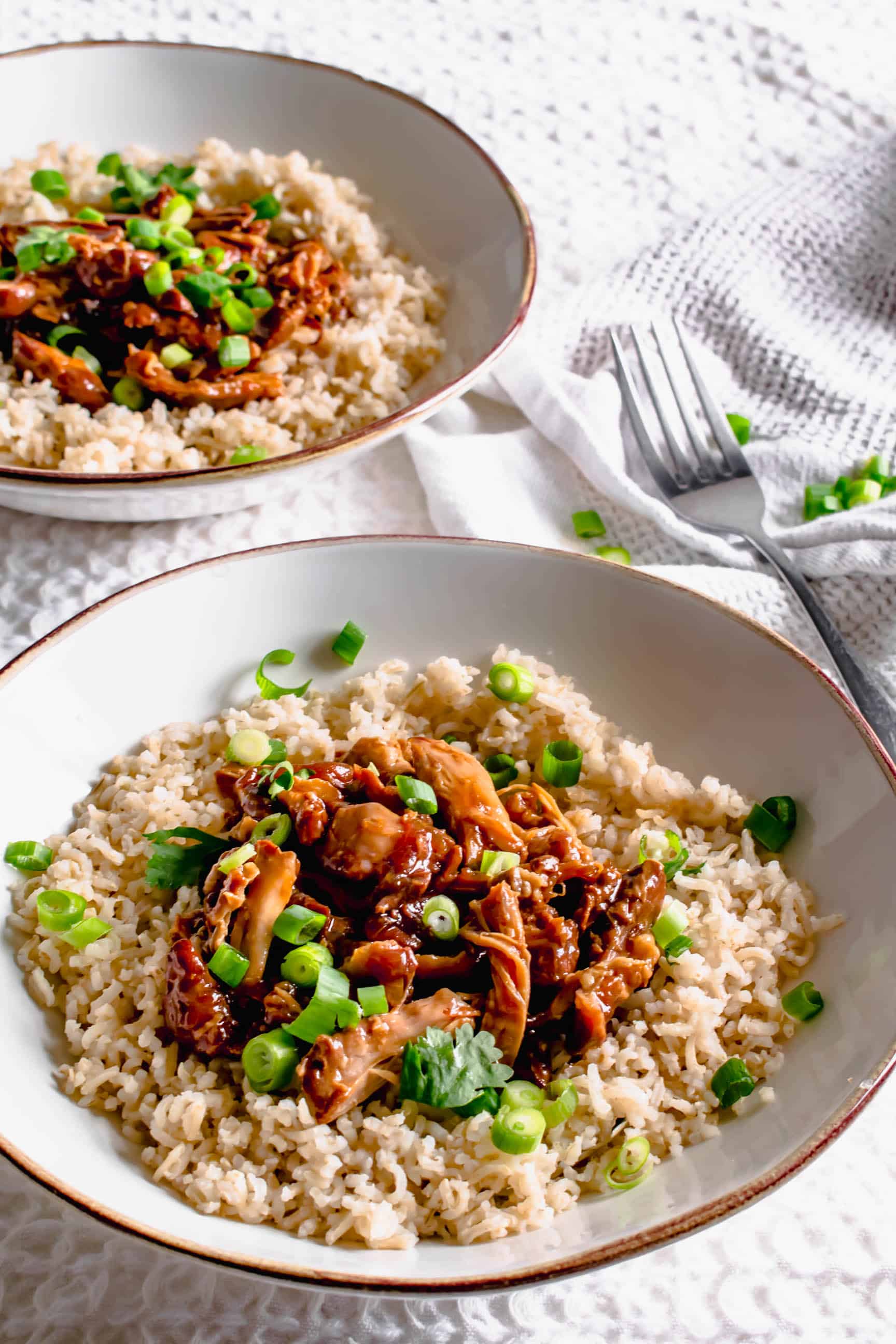 I tend to serve this teriyaki chicken on a bed of rice scattered with crunchy spring onions for a bit of bite. The sauce is thick, flavoured with honey, garlic and mirin for a take-away style flavour.
I recommend you take the minutes to fry the chicken and onions before slow cooking – it really does help to develop the flavours. But, if you're pressed for time you can skip this step.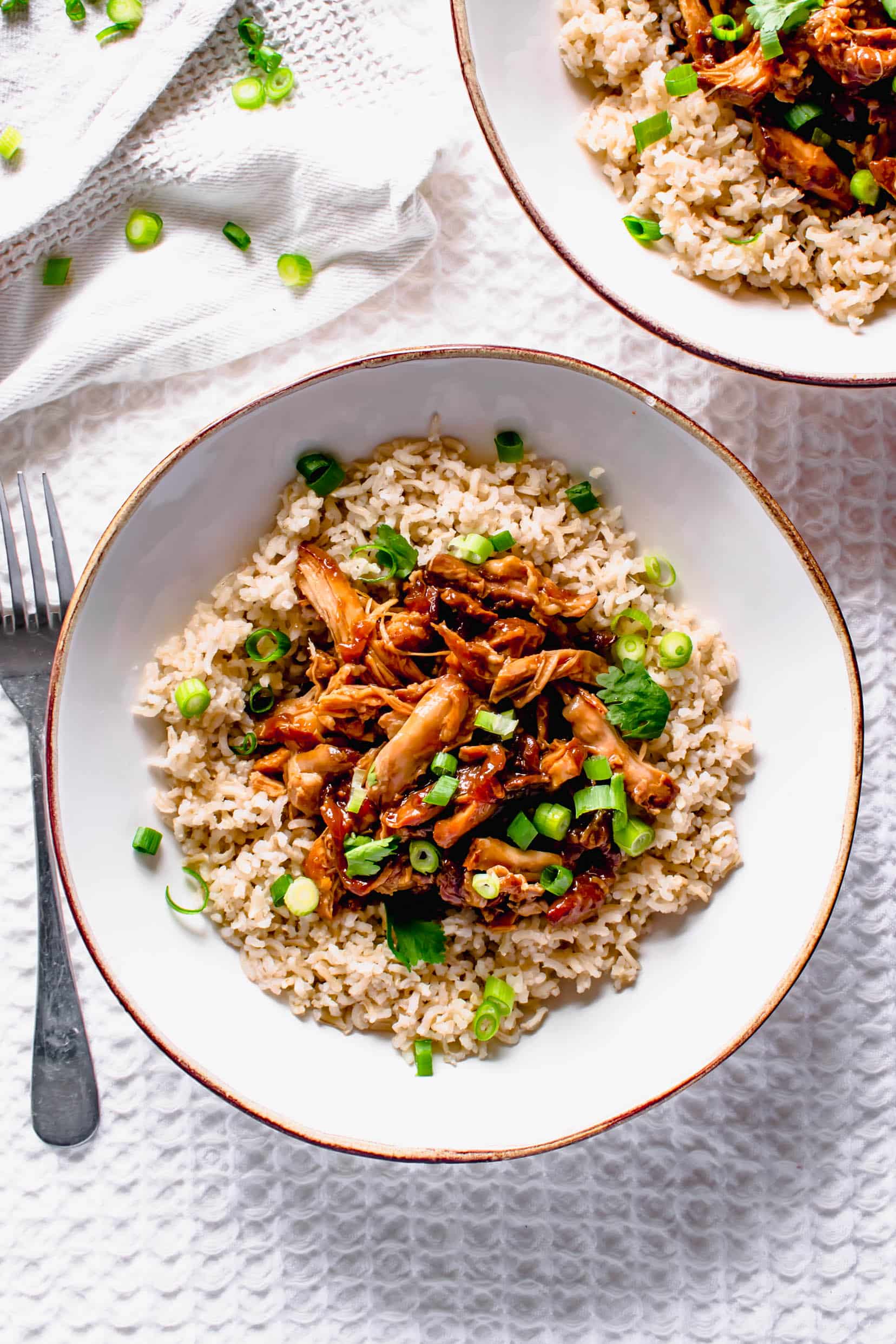 How to Make Sticky Teriyaki Chicken Thighs In The Slow Cooker:
Scroll down for recipe card and ingredient list
1. Mix together the sauce ingredients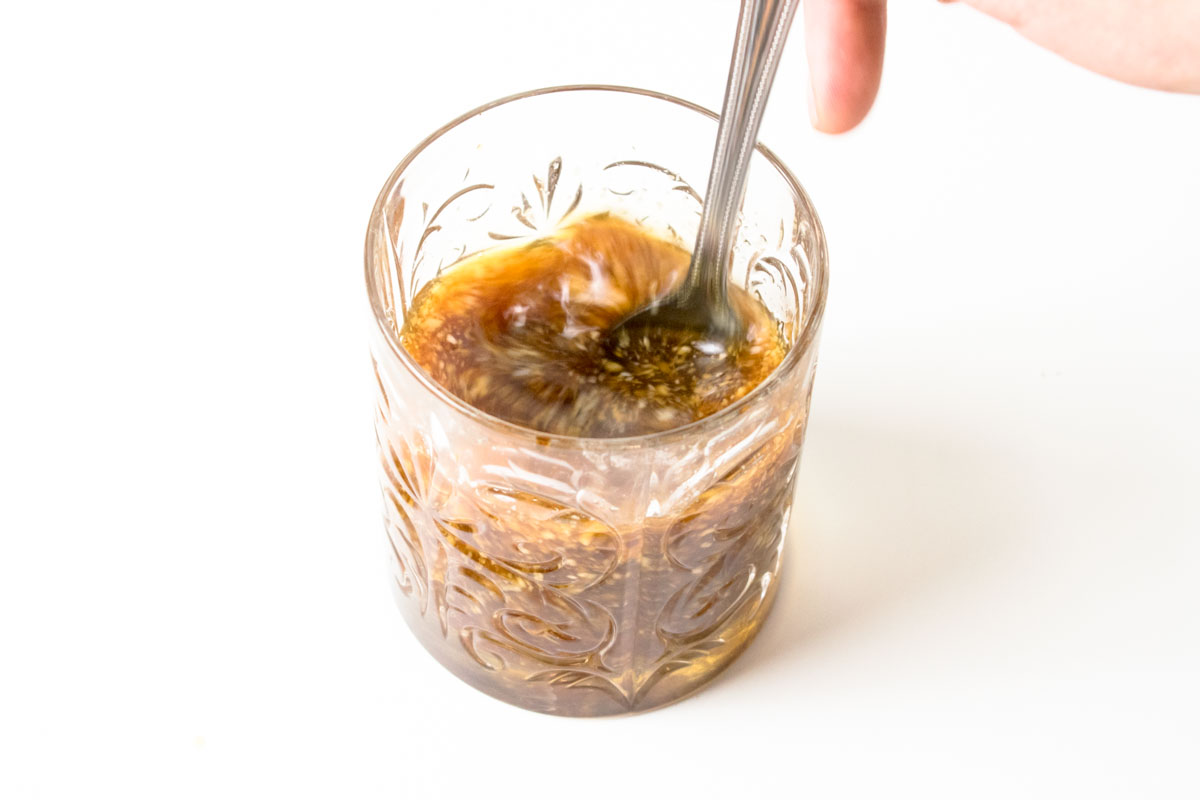 2. If you have a sizzle to simmer slow cooker pot, then add this directly to your hob. If you're unsure if your slow cooker pot can go on the hob – use a non-stick pan here.
Add the oil to the pan and turn the heat to medium/high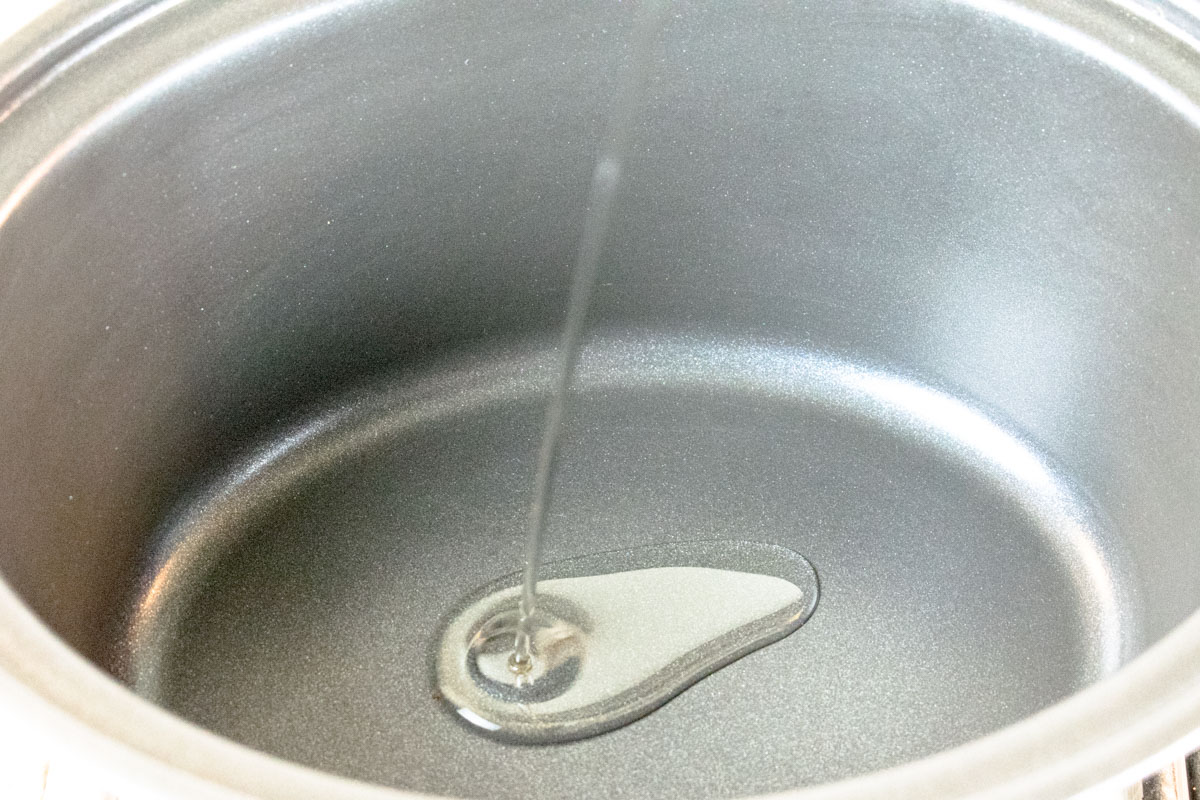 3. Add the onions and cook for 3 minutes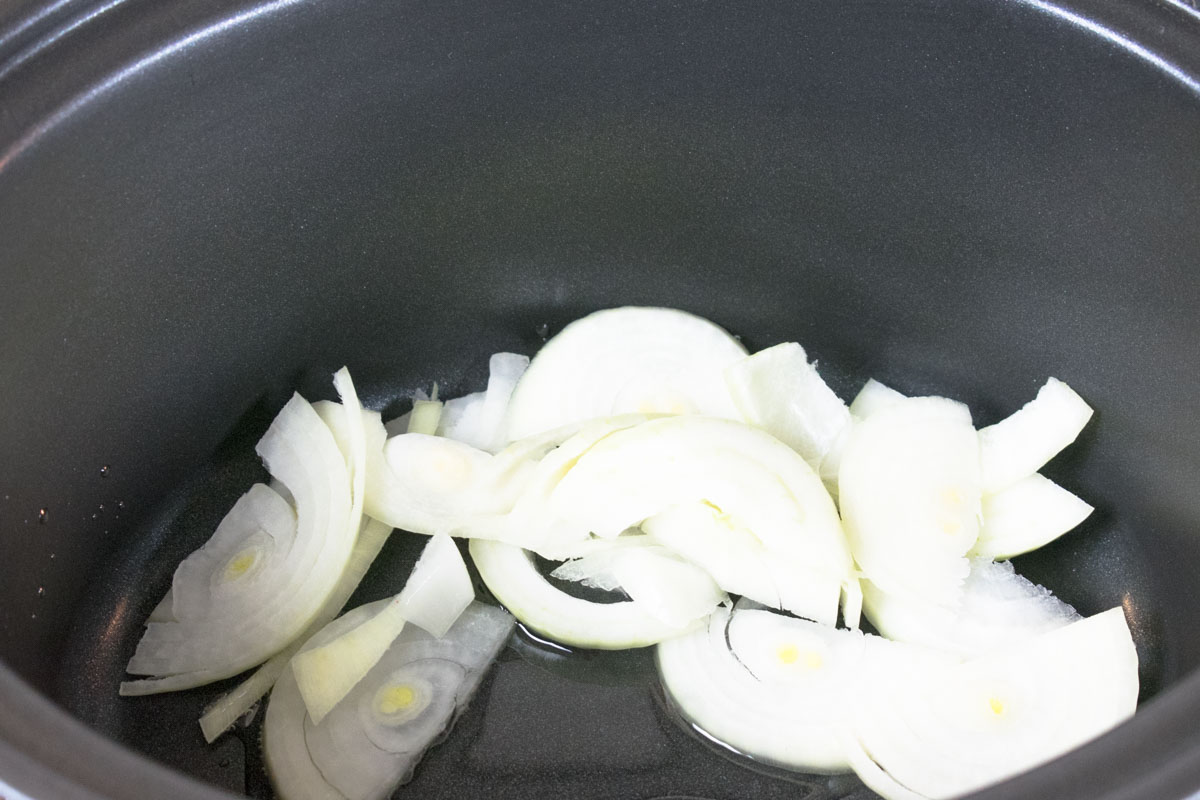 4. Then add the chicken thighs and cook for a couple of minutes each side, until they begin to brown slightly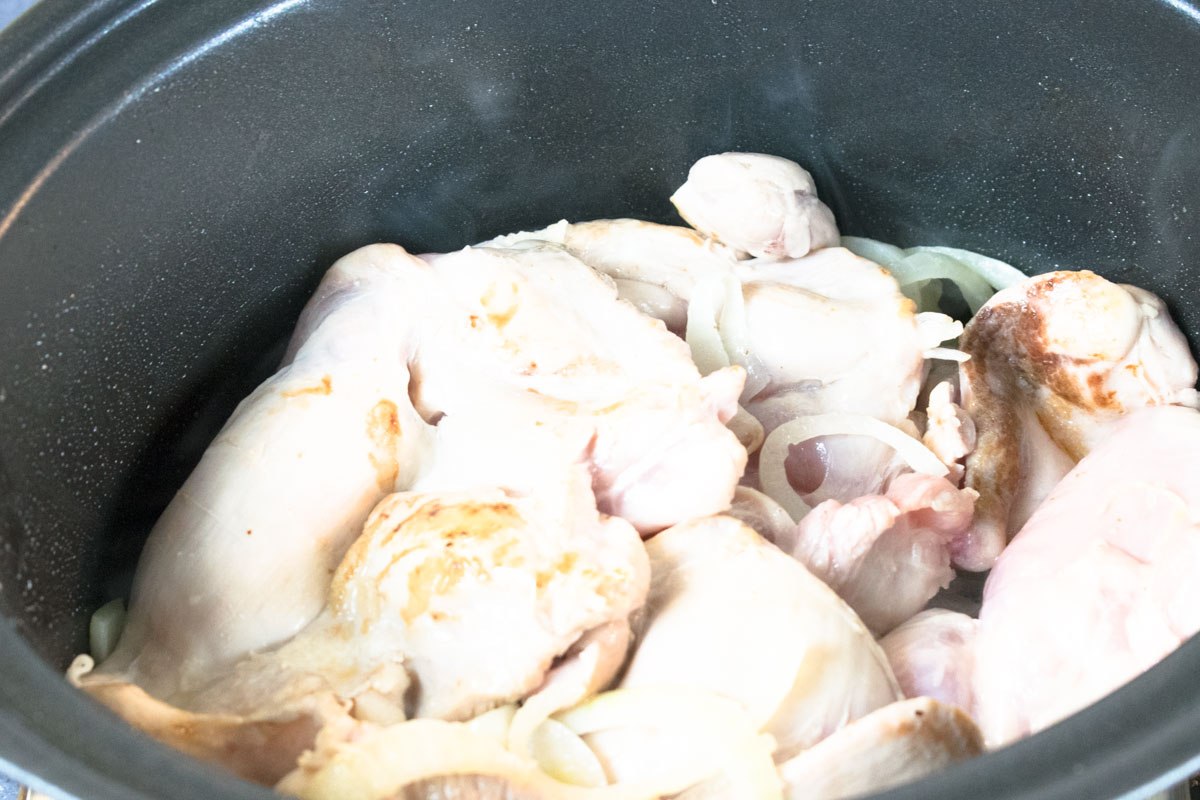 5. Then add the flour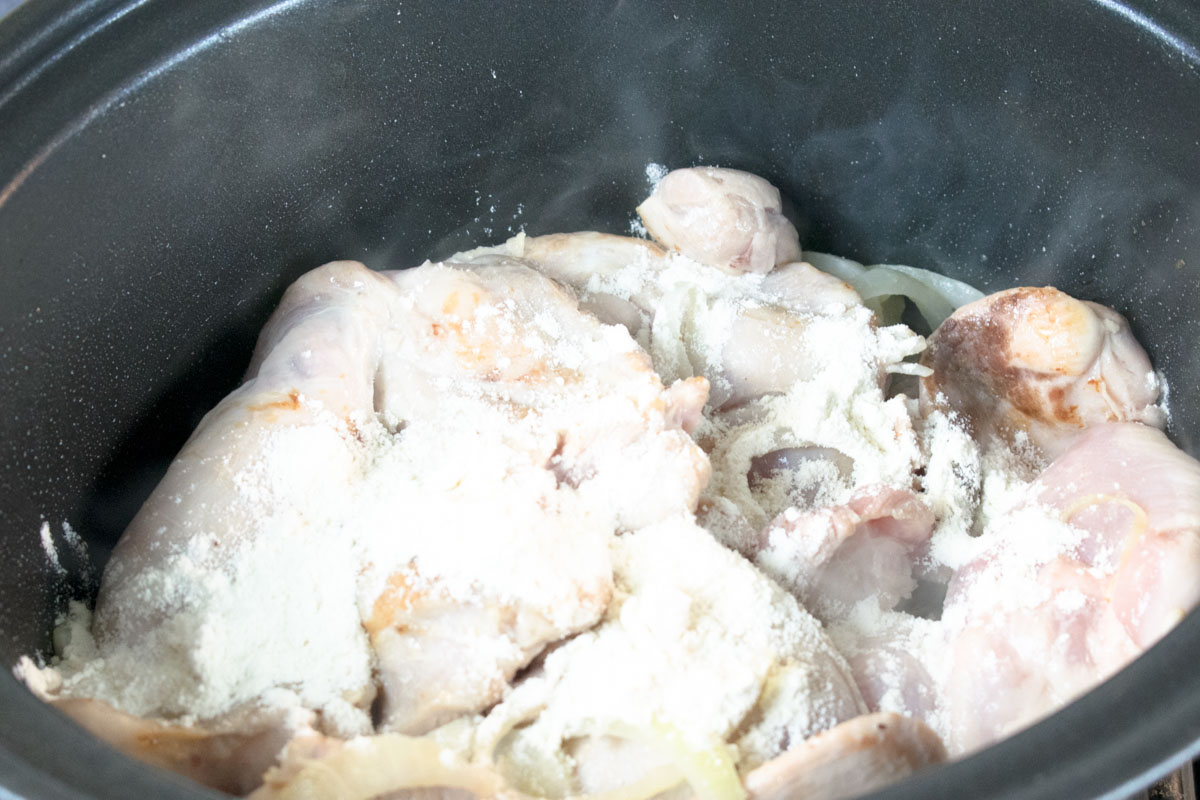 6. Stir to coat the chicken in the flour, and cook for a couple of minutes more to cook the flour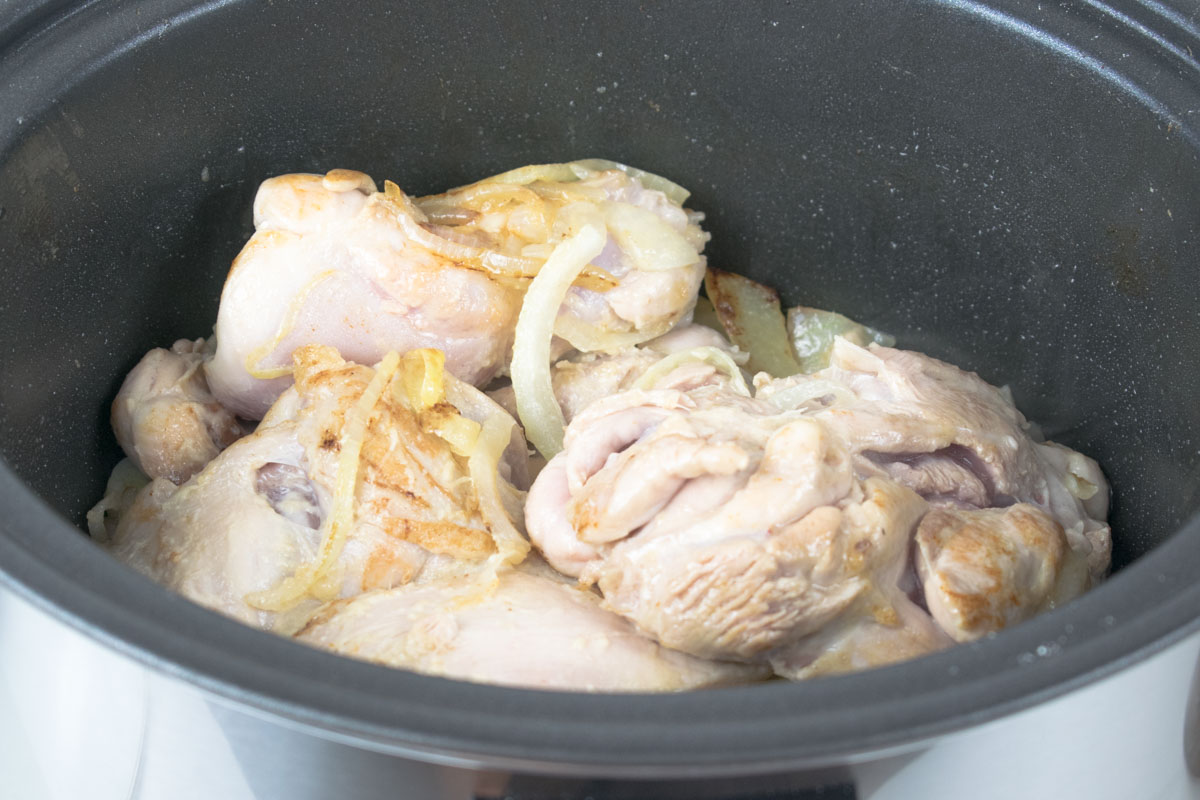 7. Place the slow cooker pan back in the slow cooker (or if you used a pan here, pour the contents into your slow cooker pan) – then pour in the sauce you made earlier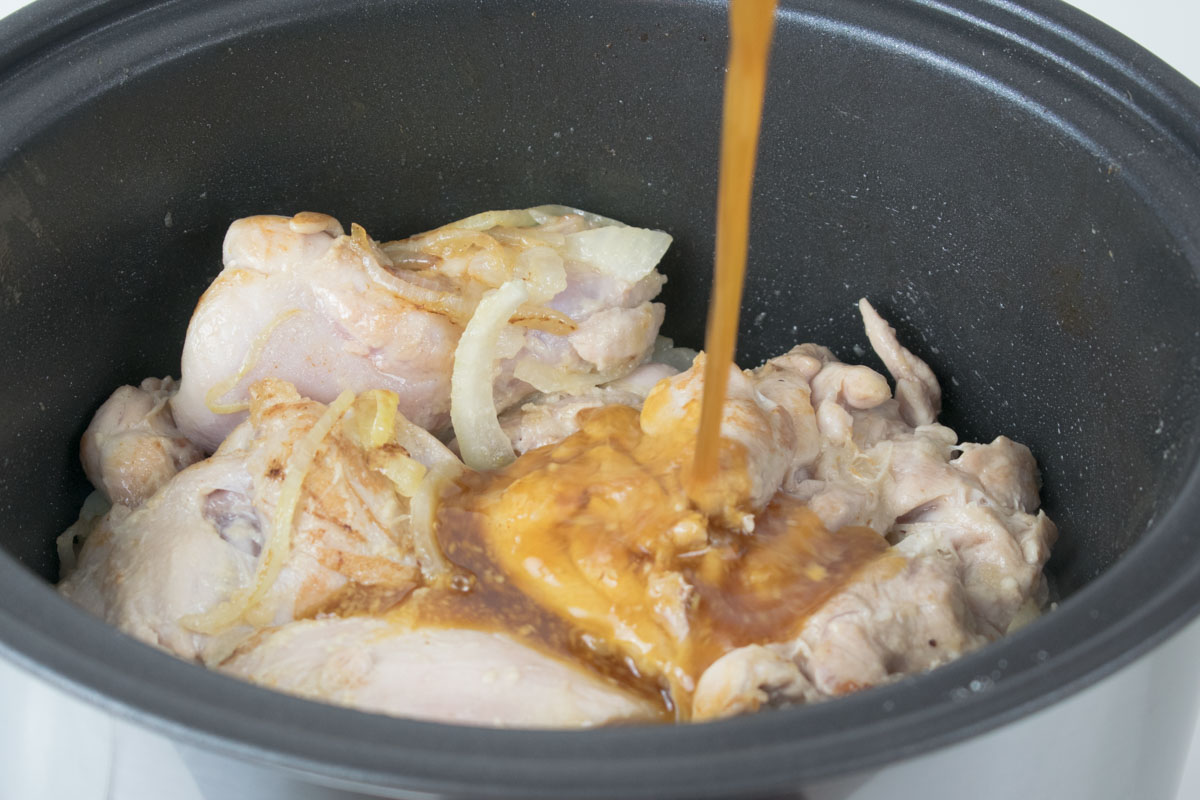 8. Stir to coat the chicken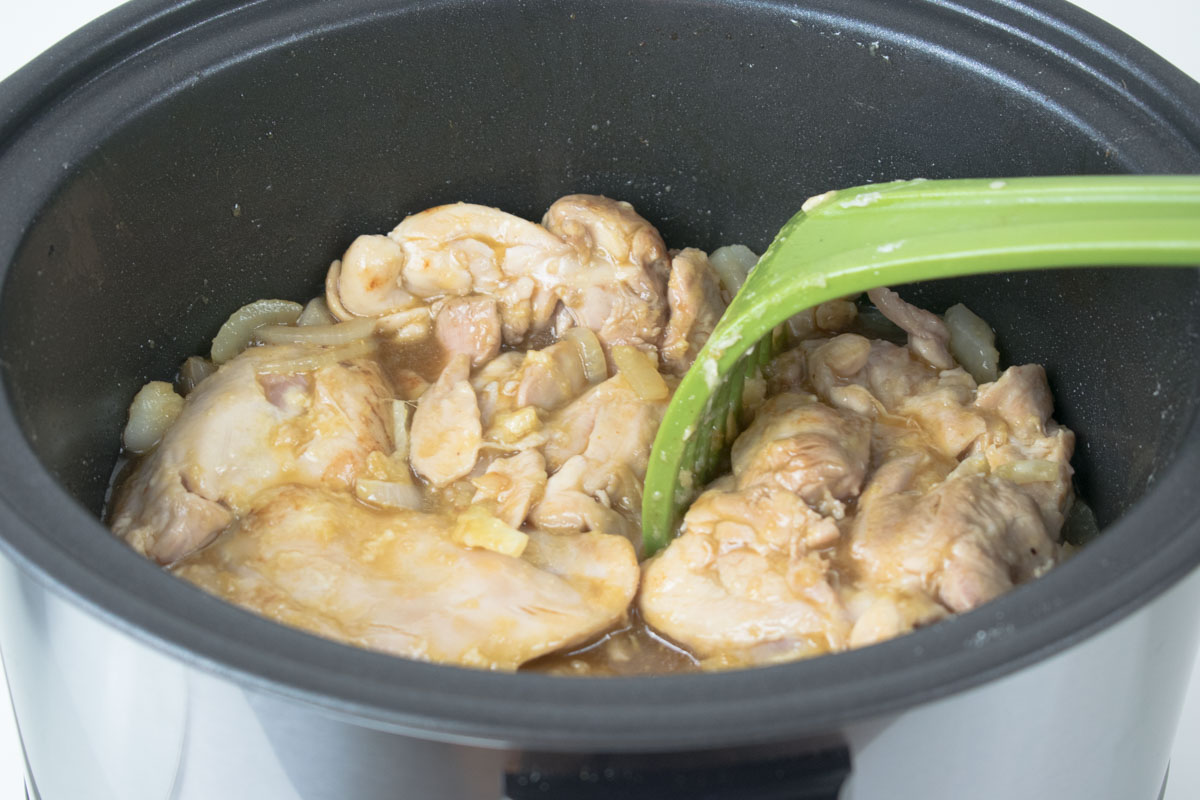 9. Then close the lid and cook on low for 4-6 hours (depending on your slow cooker)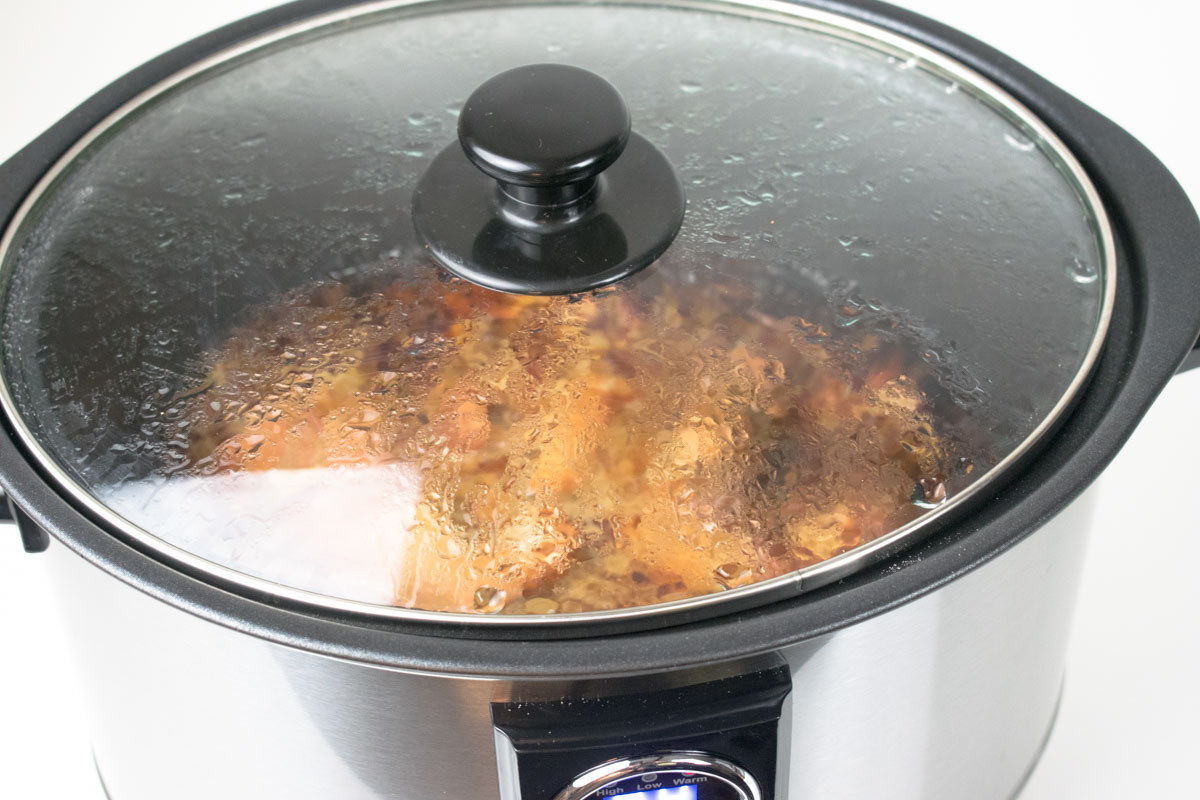 10. When it's cooked it should look like this: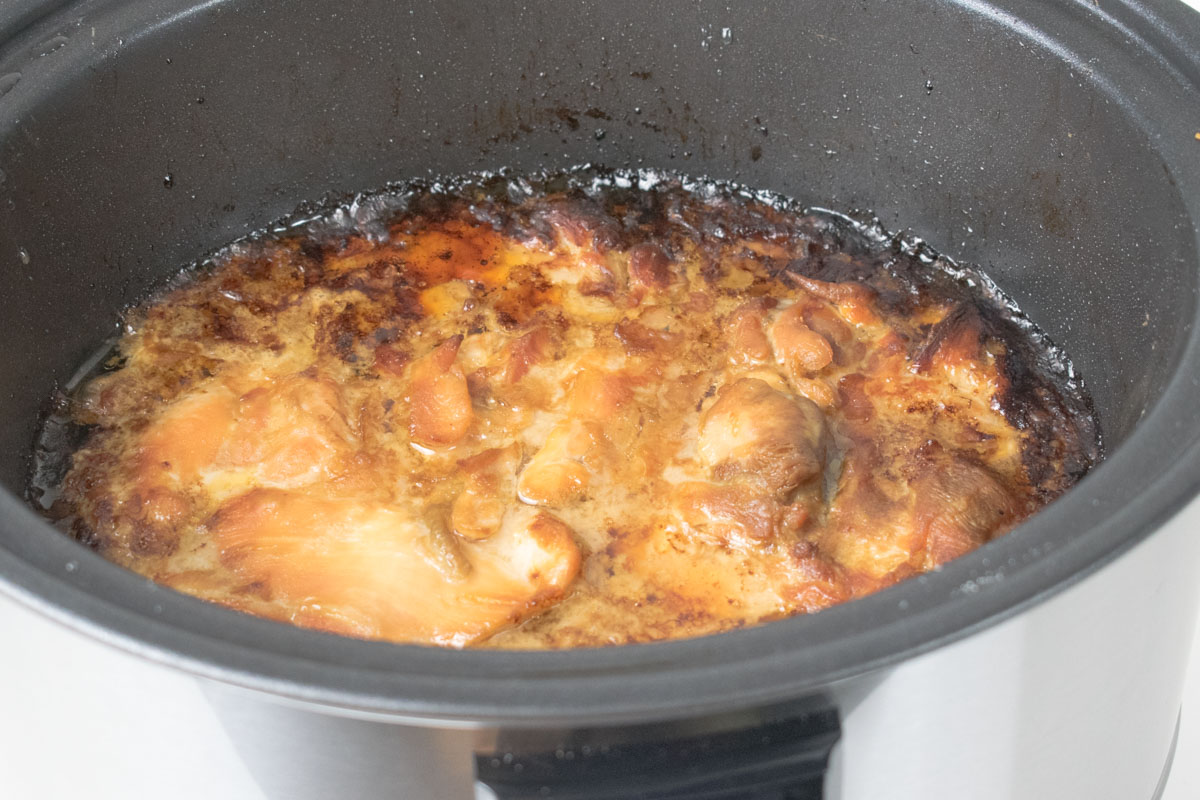 11. Stir to mix the sauce together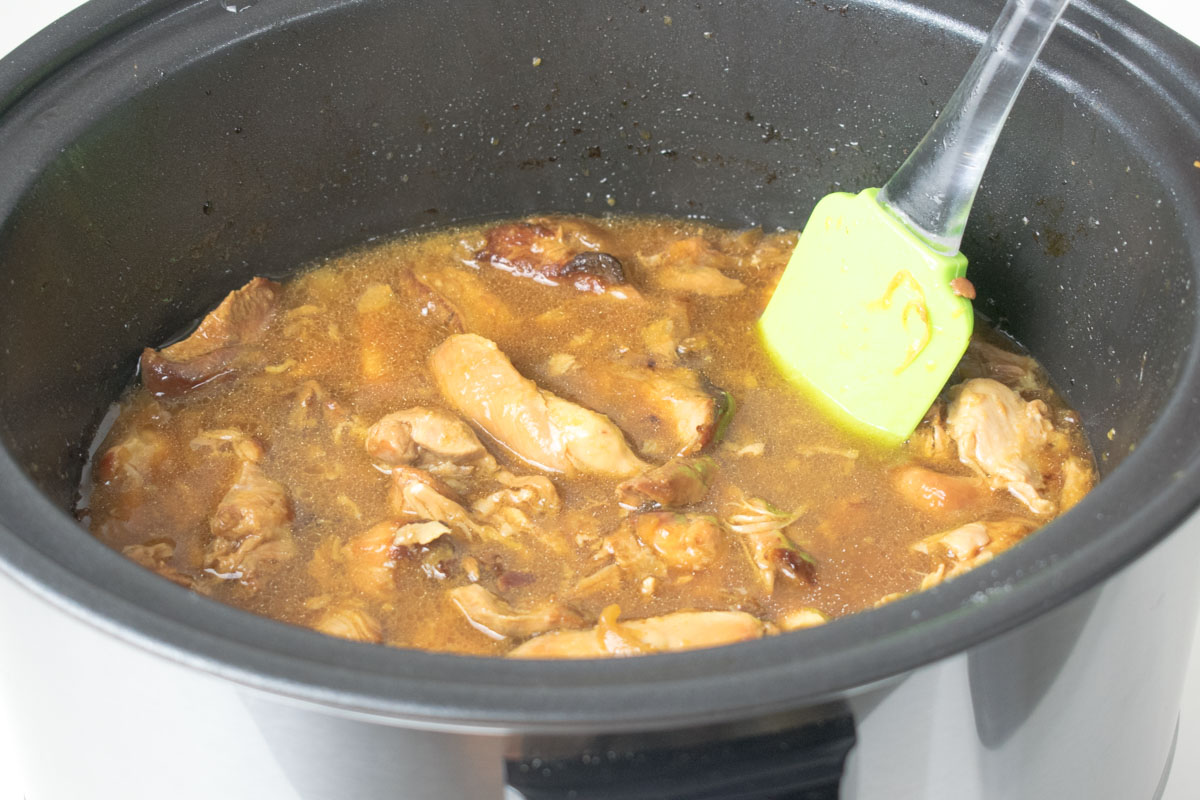 12. Take a spoonful of sauce and add it to a bowl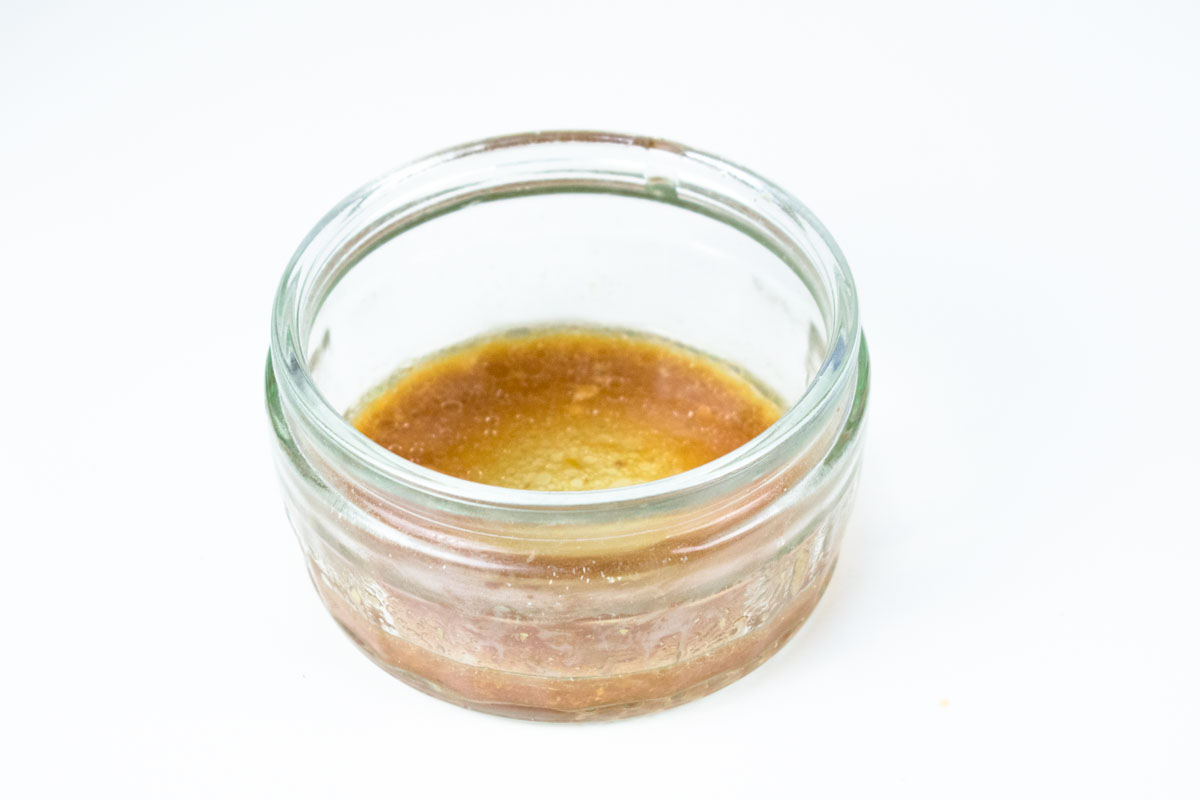 13. Then add a heaped tablespoon of cornflour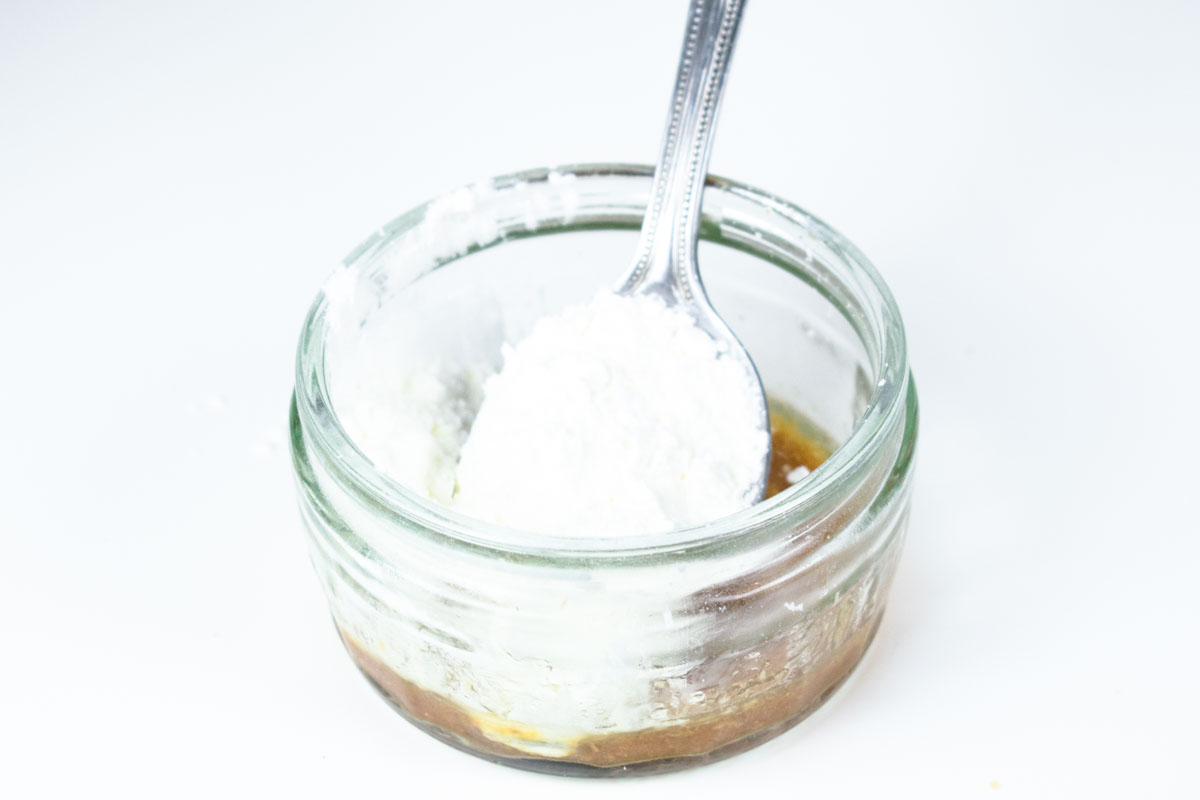 14. Mix to make a paste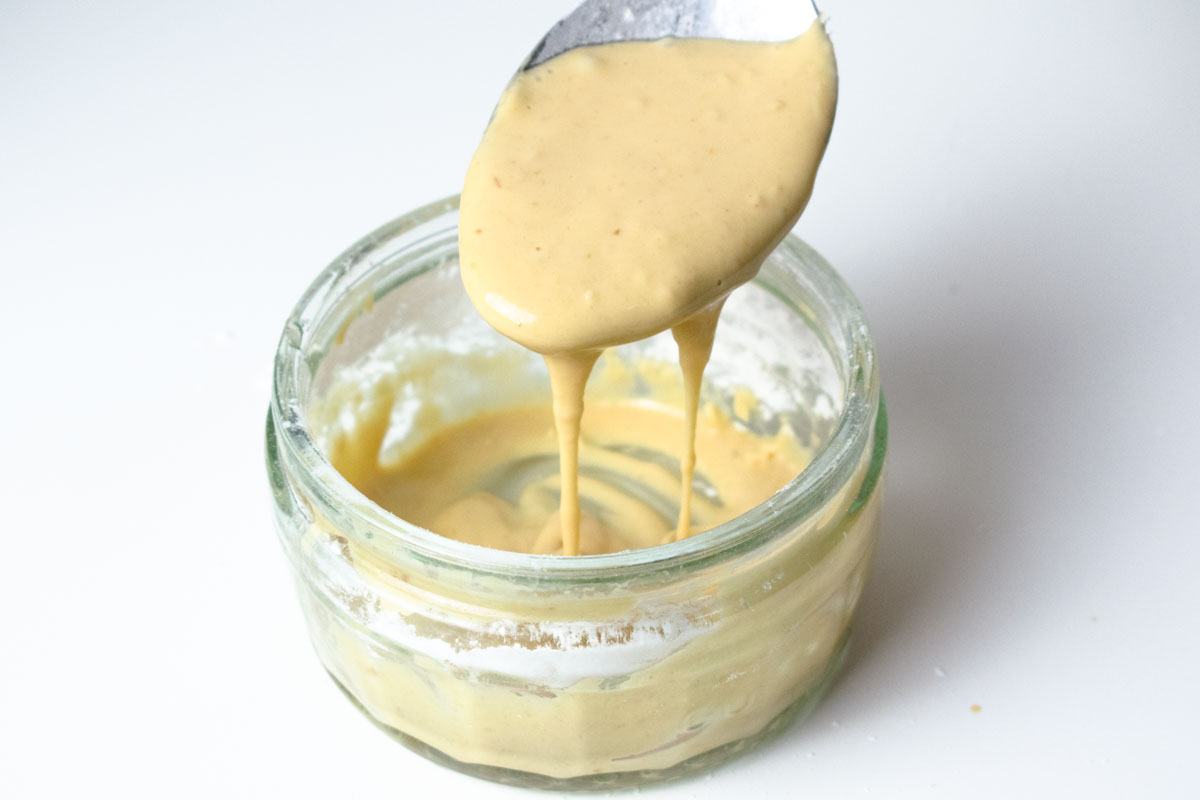 15. Pour the paste into the sauce – then stir to combine – this will thicken the sauce – ready to serve. As the dish cools, it will become even thicker.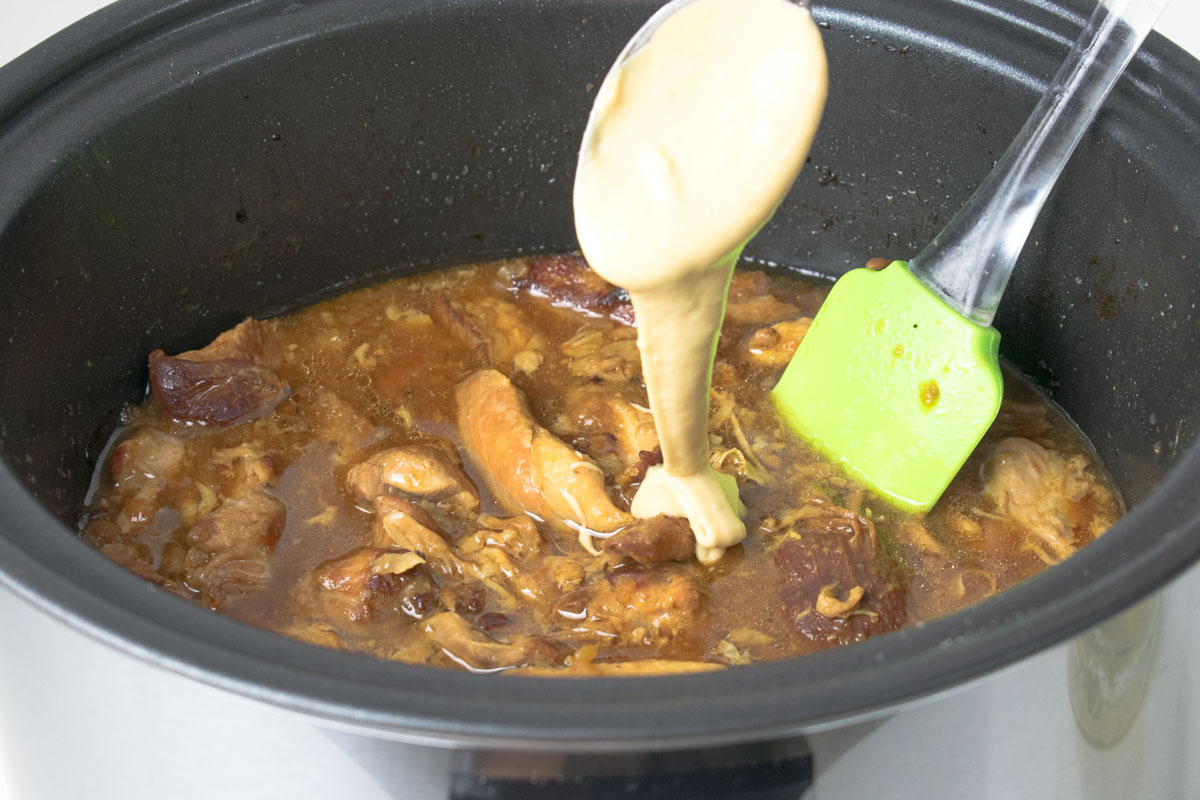 Yield: 4 People
Slow Cooker Sticky Teriyaki Chicken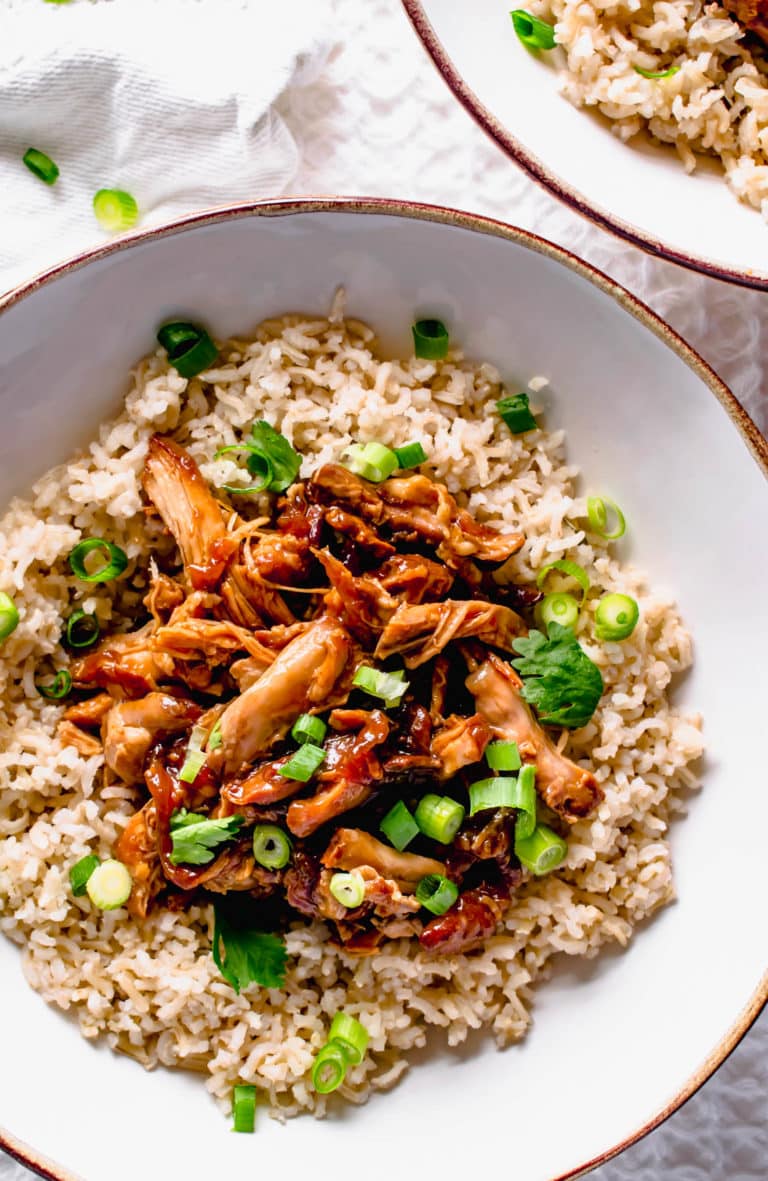 Total Time
6 hours
5 minutes
Ingredients
4 Boneless Chicken Thighs
1 Onion
1 Tsp Vegetable Oil
1 Tbsp Plain Flour
For The Sauce
8 Tbsp Light Soy Sauce (120ml)
8 Tbsp Mirin (120ml)
4 Tbsp Water (60ml)
1 Tsp Lazy Ginger
1 Tsp Lazy Garlic
2 Tbsp Honey
1 Tbsp Cornflour (Optional)
To Serve (Optional)
Chopped spring onions
Rice
Instructions
Slice the onion into equal strips
Add the oil into a frying pan (or if your slow cooker pan is hob safe, add it directly to the slow cooker pan)
Heat the oil then add the sliced onion and chicken thighs
Cook on high for 3 minutes, stirring often, so sear the chicken thighs
Add the flour to the pan and stir to coat
Cook for a further 1 minute, then turn off the hob
Transfer the chicken and onion into your slow cooker pan (or place the slow cooker pan back into your slow cooker, if used)
Pour in all the sauce ingredients
Stir to coat the chicken
Place the chicken skin side up
Close the lid and cook on low for 4 to 6 hours on low setting, until the chicken is cooked through and the sauce thick
Once cooked, shred the thicken thighs with a fork and thicken sauce with cornflour (if needed - see image above)
Serve with chopped spring onion and white rice
Notes
Recommended Products
As an Amazon Associate and member of other affiliate programs, I earn from qualifying purchases.
Nutrition Information
Yield
4
Serving Size
1
Amount Per Serving
Calories

398
Total Fat

19g
Saturated Fat

6g
Trans Fat

0g
Unsaturated Fat

14g
Cholesterol

166mg
Carbohydrates

26g
Fiber

1g
Sugar

10g
Protein

35g