This sweet potato Korean curry has a rich, sweety, smokey flavour. Its perfect as a main course paired with spring rolls and rice (dip the spring rolls in the sauce – yum!) or as a side dish to a Korean dinner party!
The sauce is heavily flavoured of Gochujang paste and coconut milk. If you've not had Gochujang paste before – it is an amazing flavour which is quite unique! It's a chilli paste which has a deep, rich flavour (easily adds depth to veggie dishes!) which is an even balance of sweet and savoury. The taste is smokey to me – and I love it!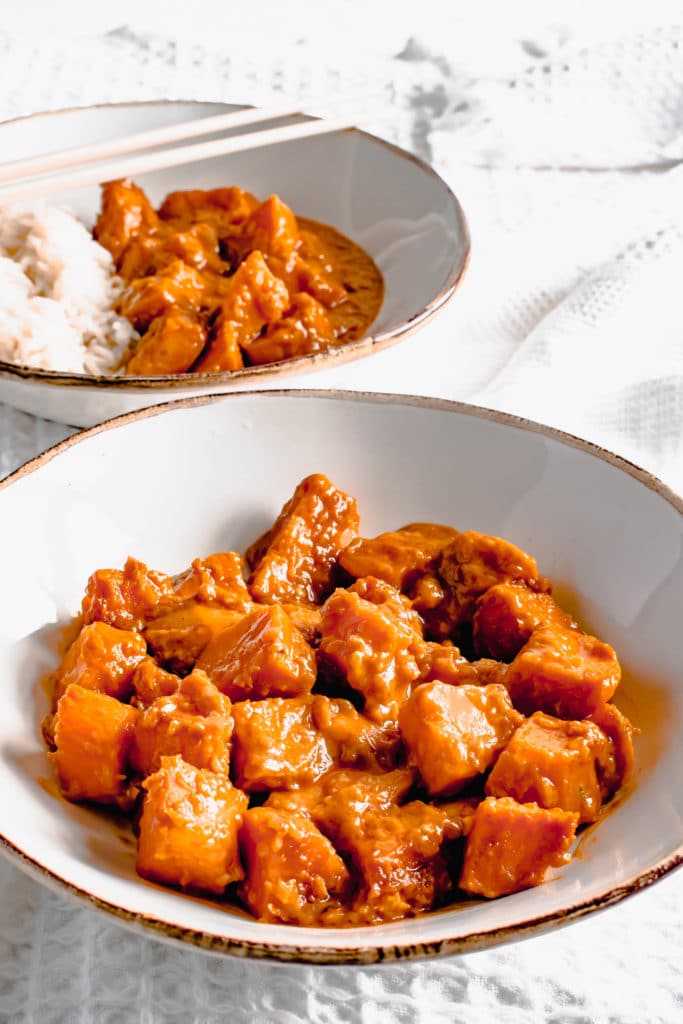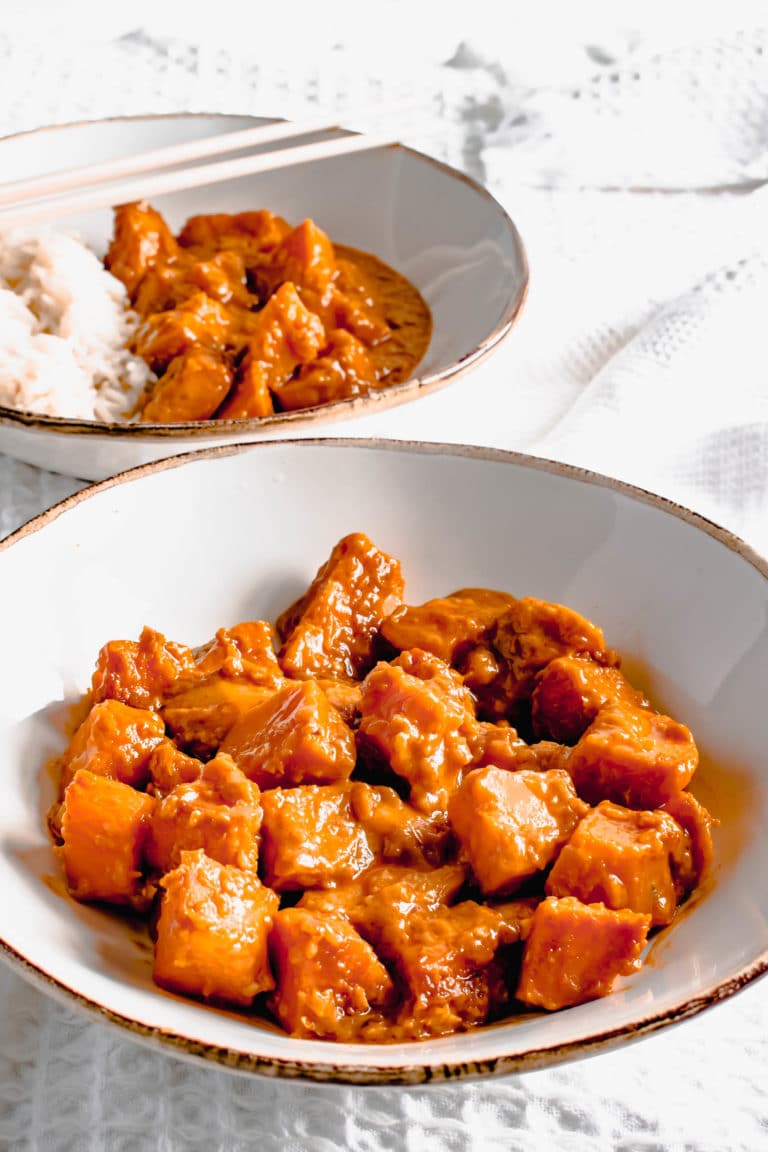 This sweet potato curry is a dish I like to serve to guests (and my husband occasionally) as a completely different take on curry. It's so moorish and unlike most curries you'll have tried before!
This dish is one of those 'accidentaly' vegan meals, which makes it suitable for everyone! This also makes it amazing for freezing or keeping in the fridge for up to 5 days for packed lunches!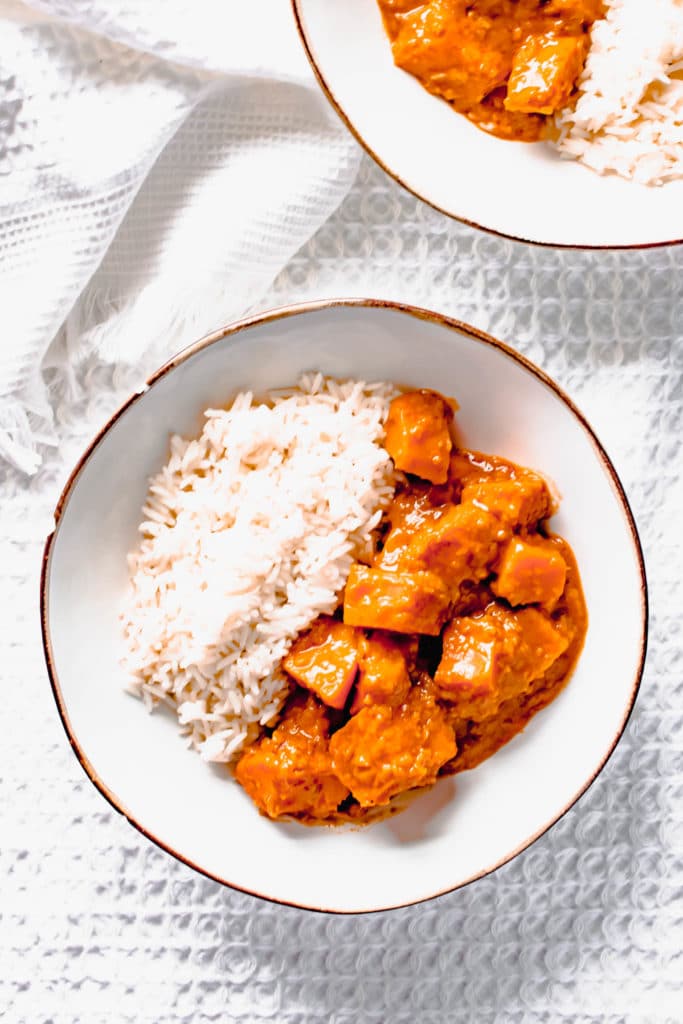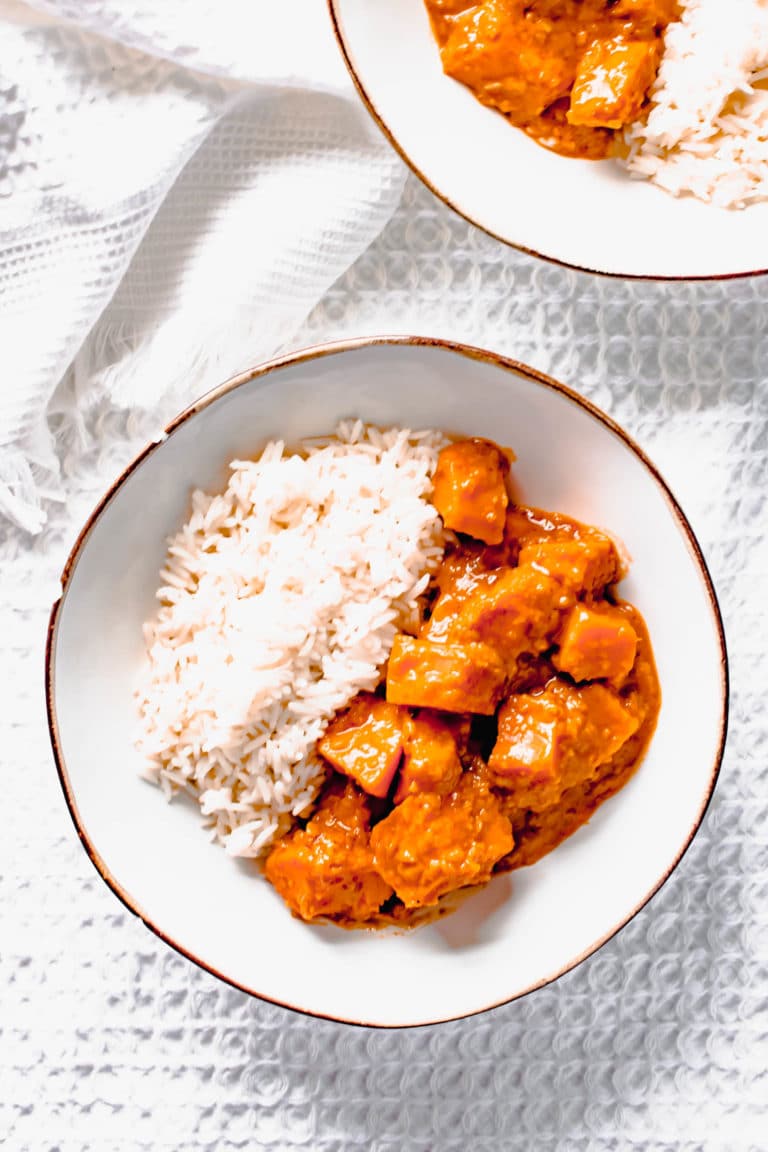 You can use this recipe with storecupboard ingredients – and if you don't want to peel and chop a fresh sweet potato – use frozen chunks! Just remember to add some additional time to the frying to make sure it's cooked through!
How To Cook Sweet Potato Korean Curry
Scroll down for recipe card and ingredient list
1. Chop the sweet potato into evenly sized pieces (or use frozen, pre-chopped)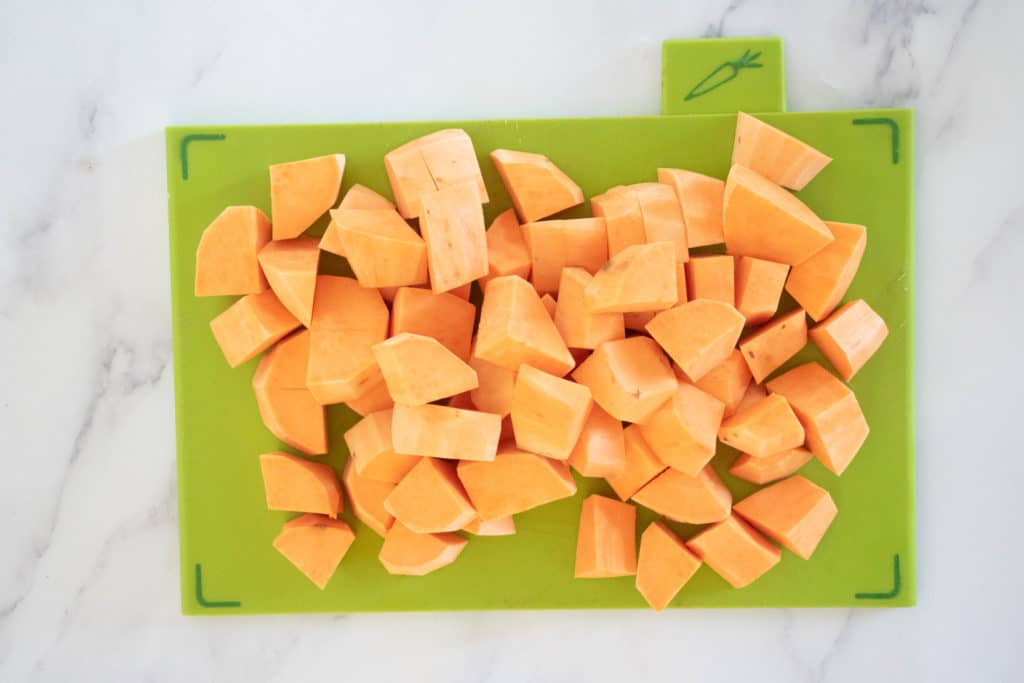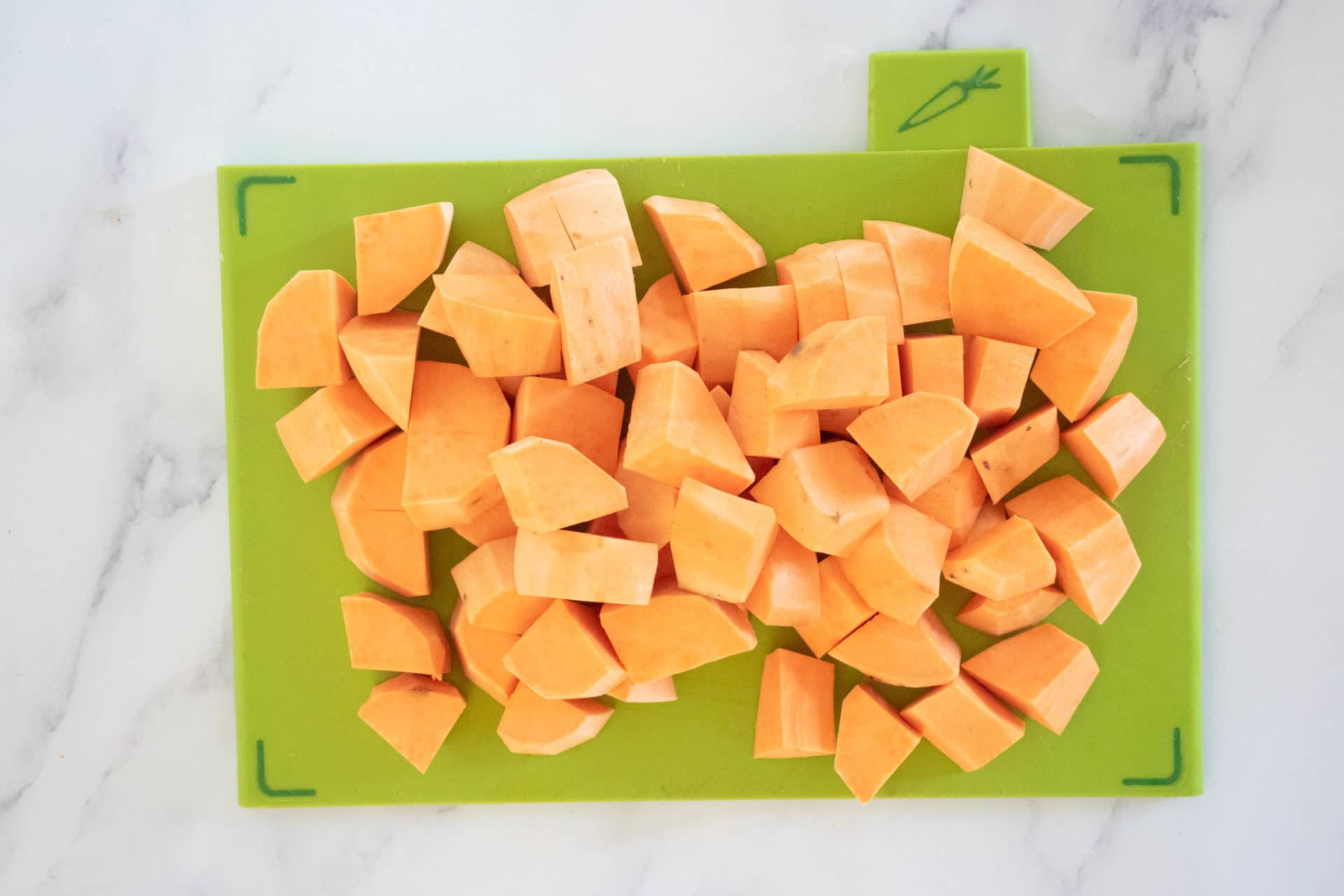 2. Finely dice the onion, garlic and ginger. I use my food processor to do so, but if you don't have one just chop by hand.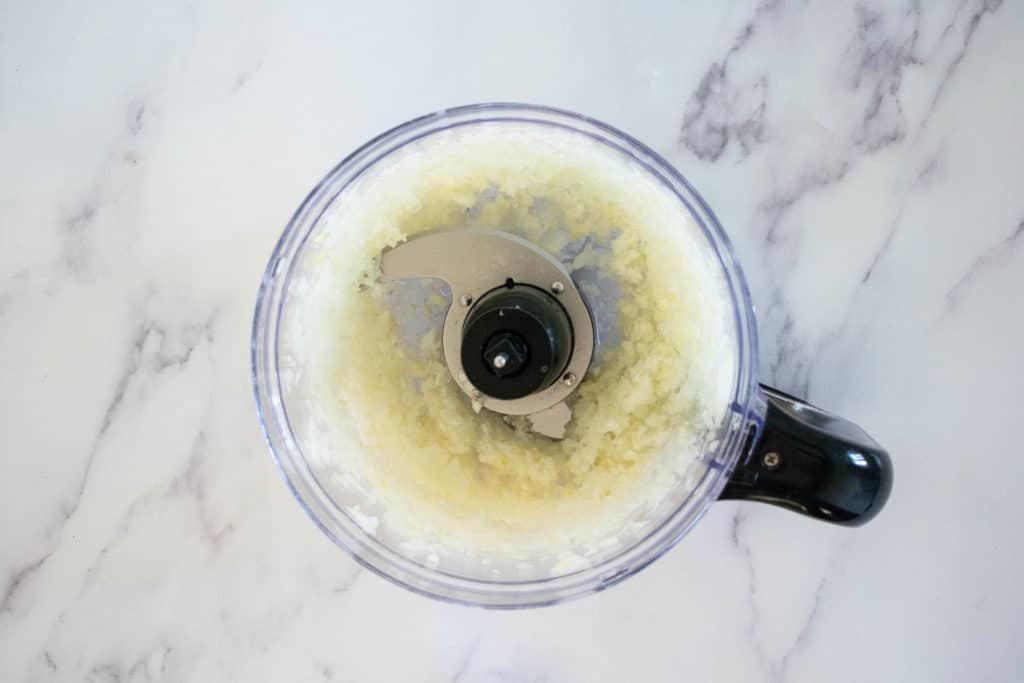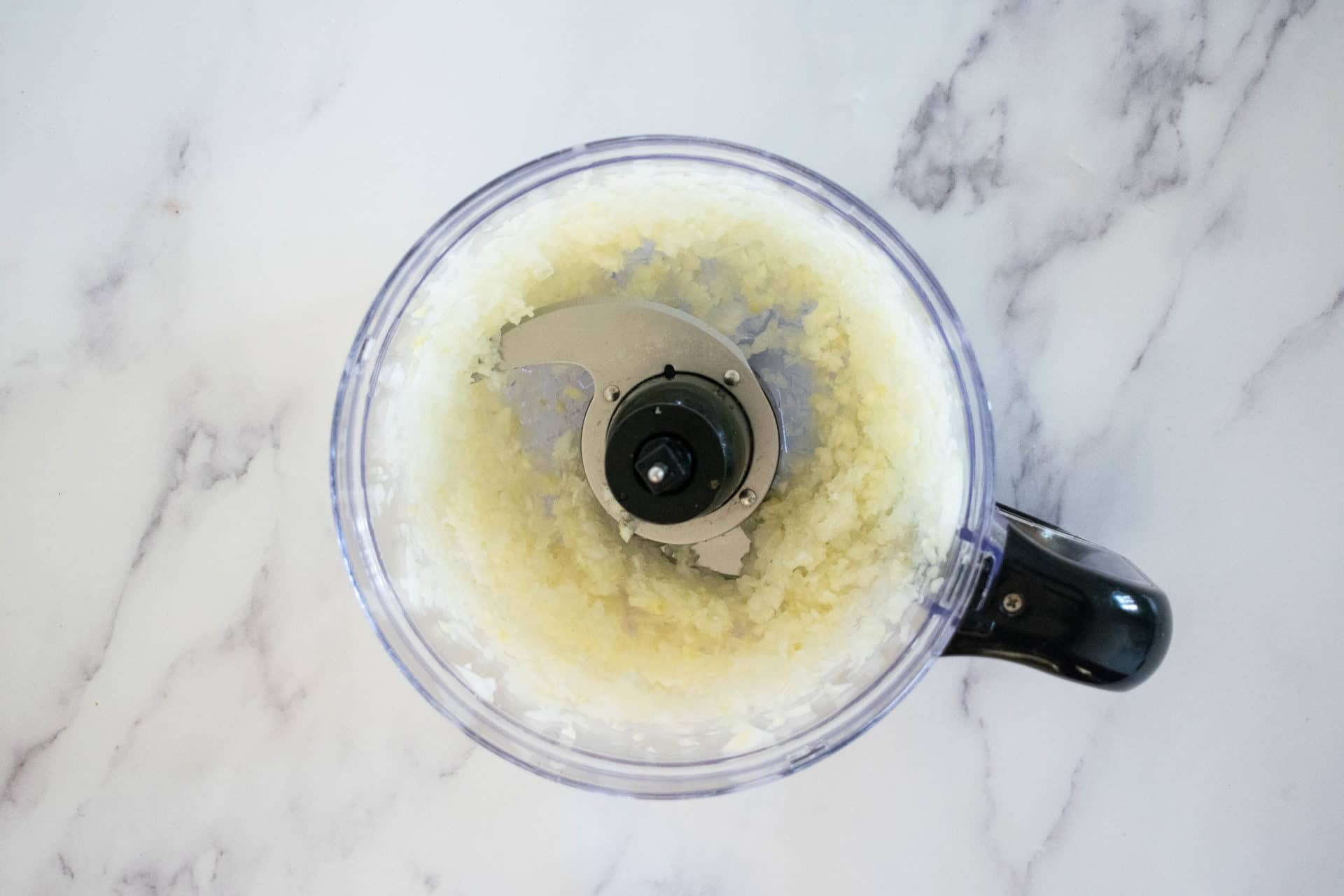 3. Heat oil in a large, non-stick frying pan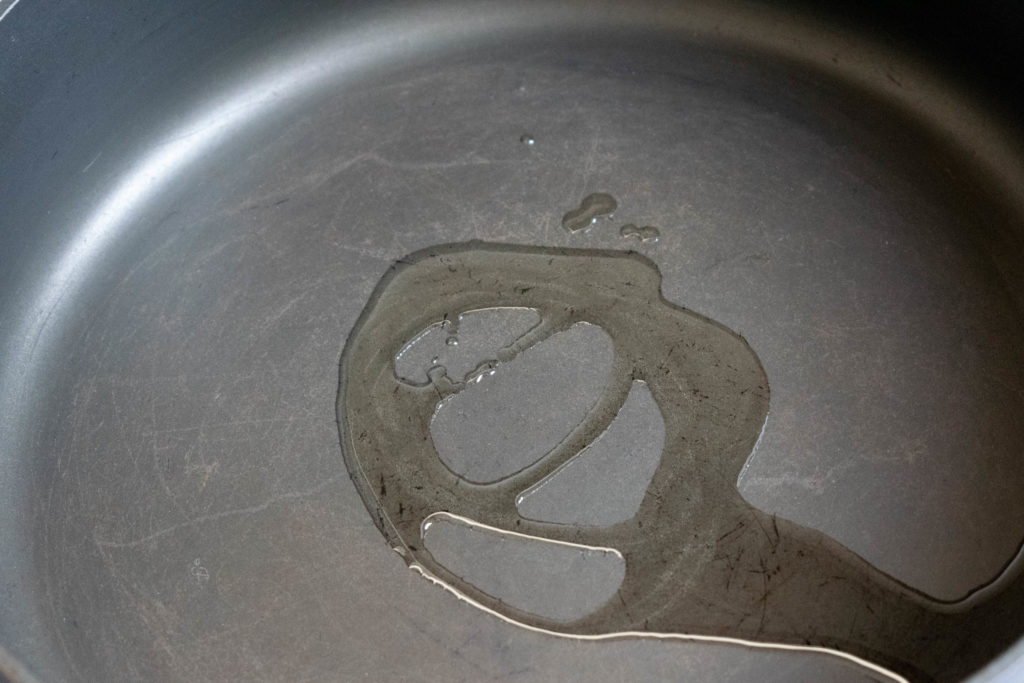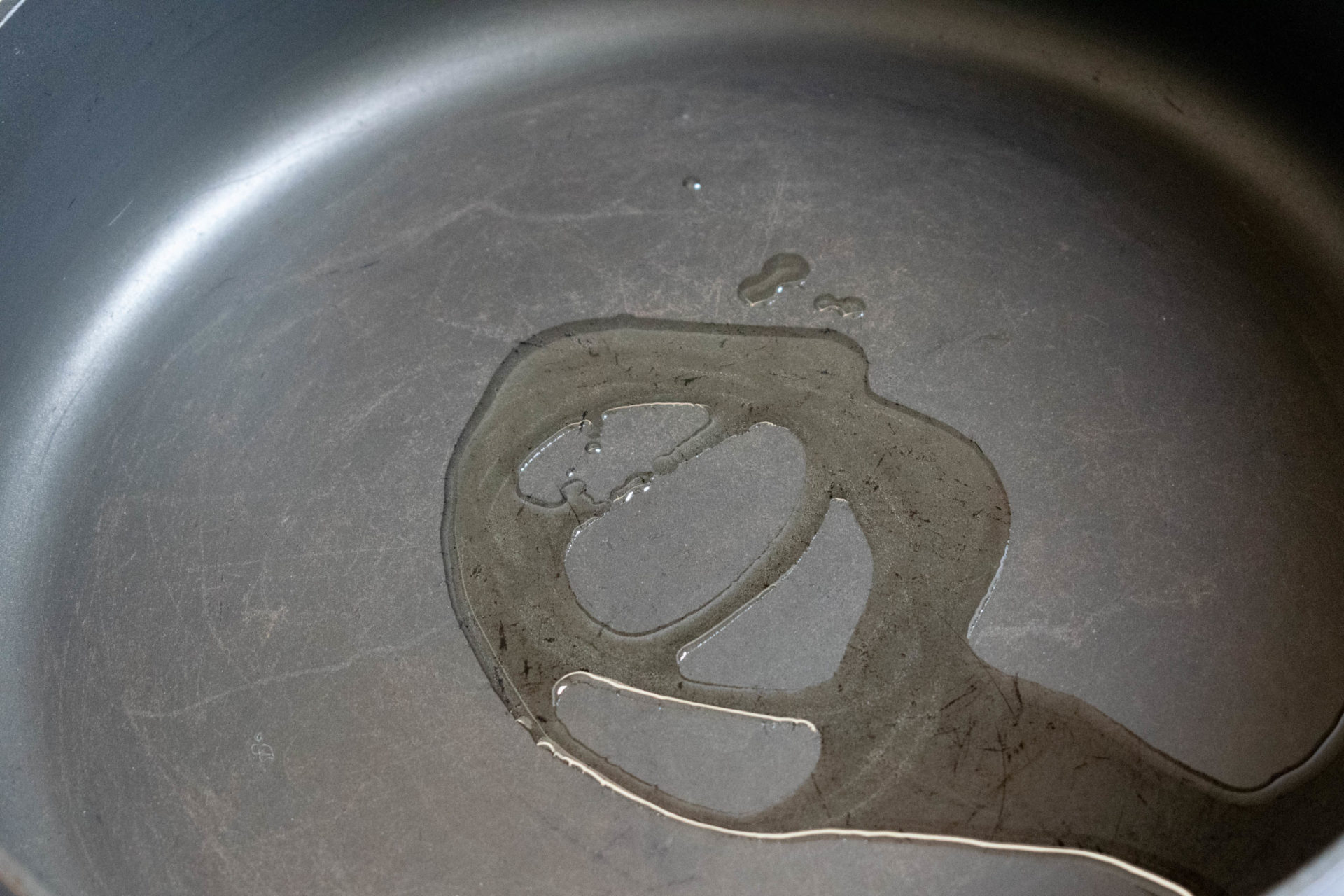 4. Then add in the finely diced garlic, ginger and onion.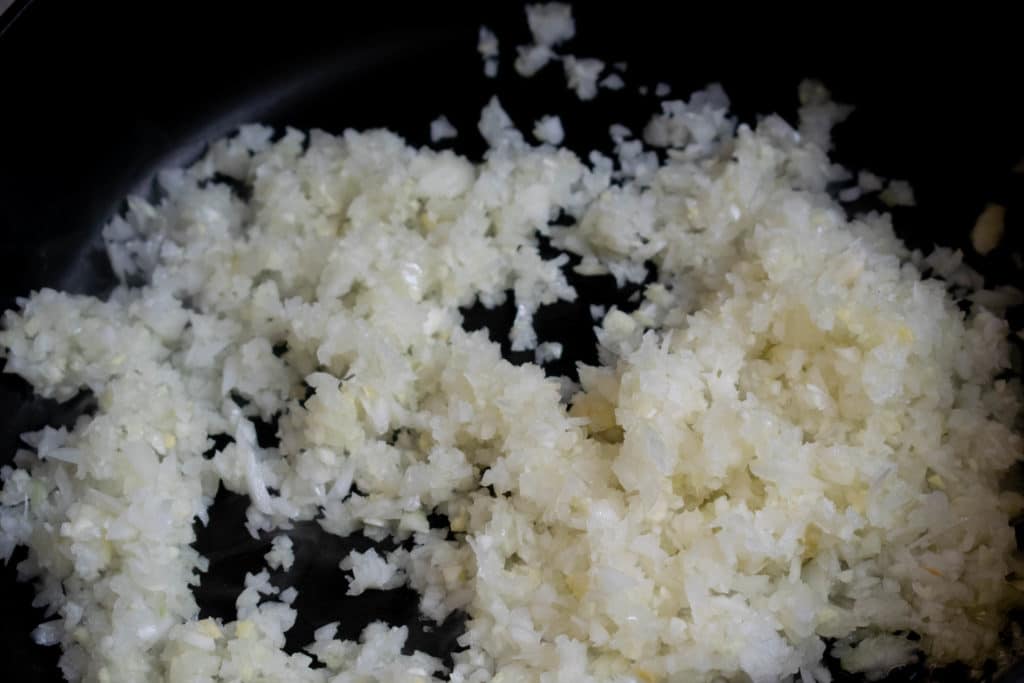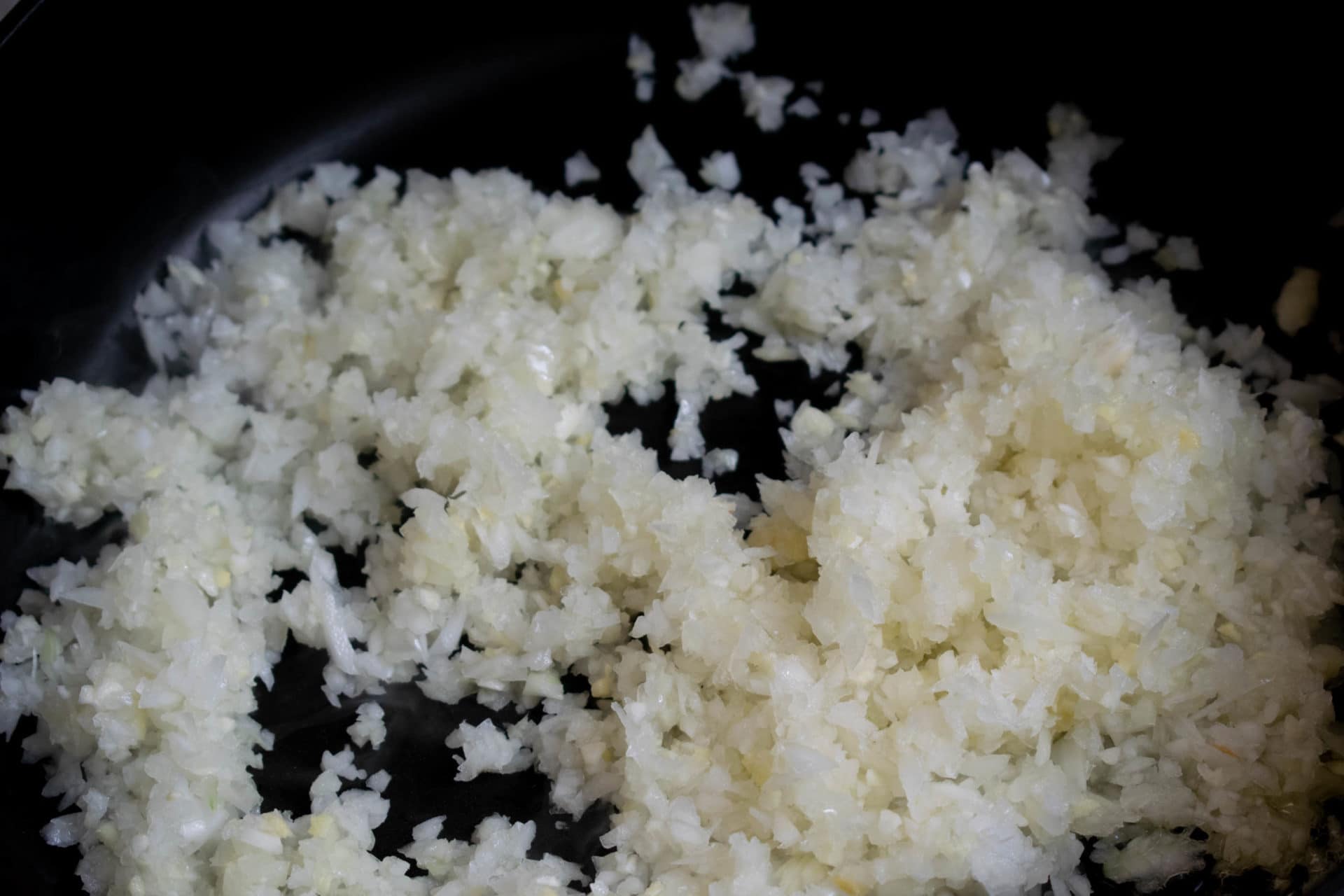 5. Stir and fry on medium heat for 3 minutes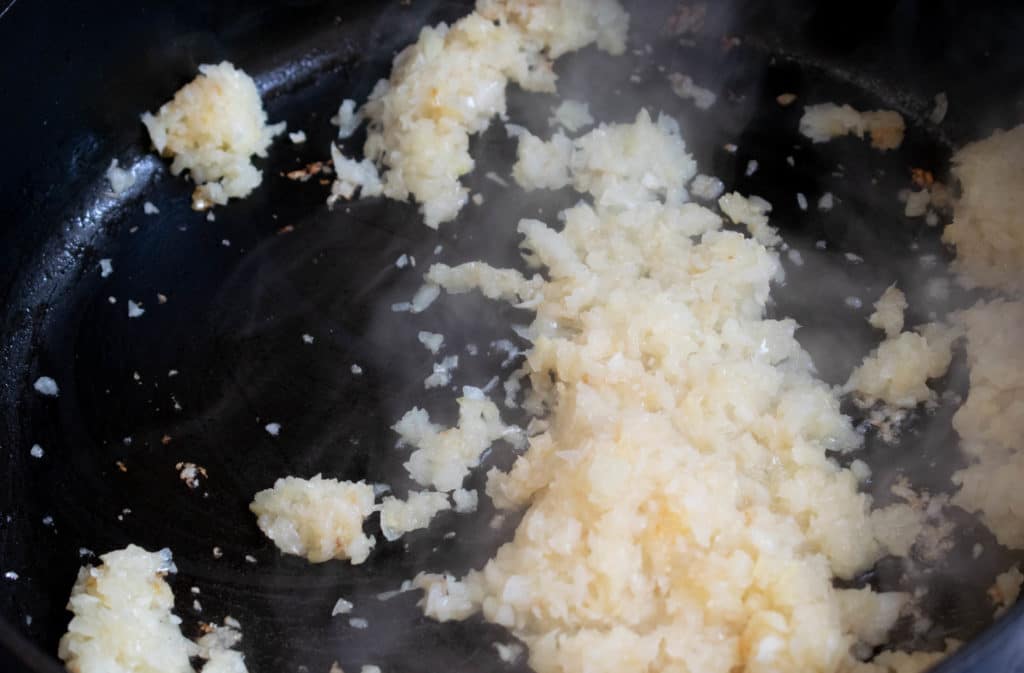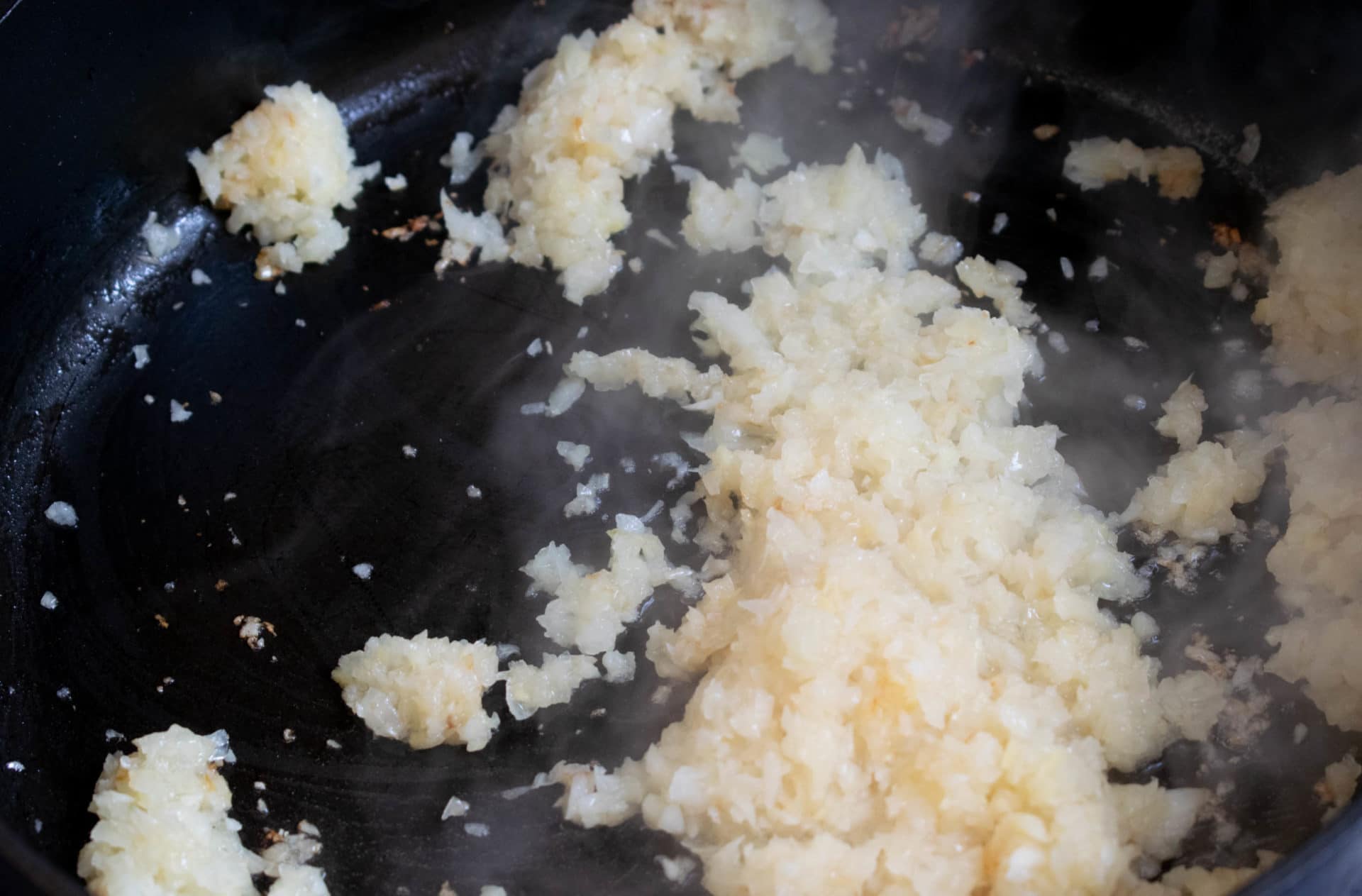 6. Then, add the diced sweet potato to the pan, stir to coat everything evenly and fry for a further 3 minutes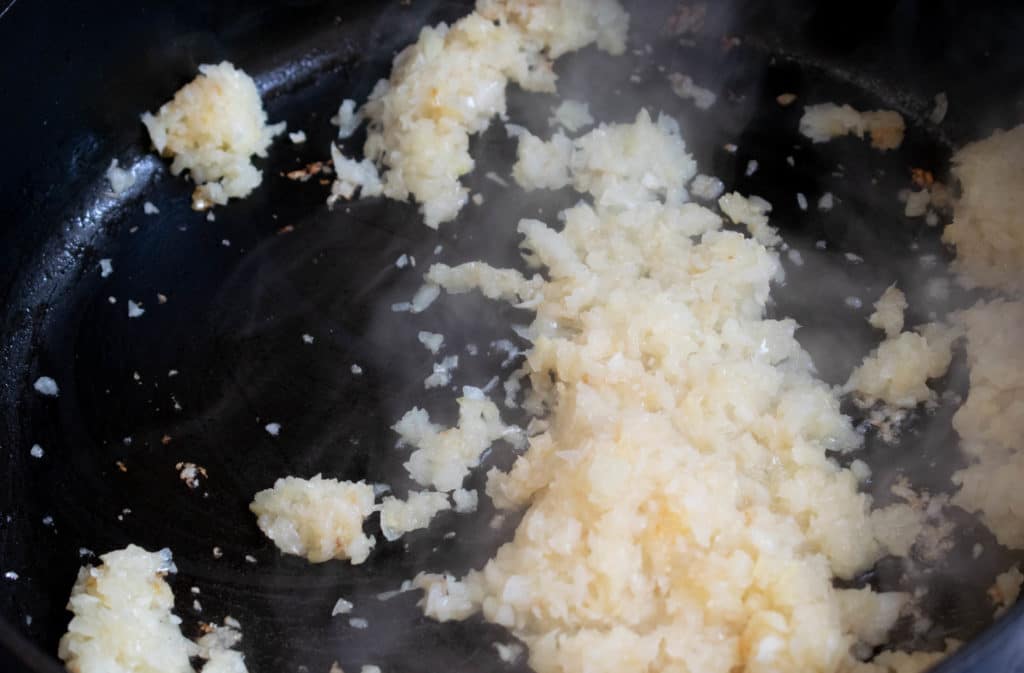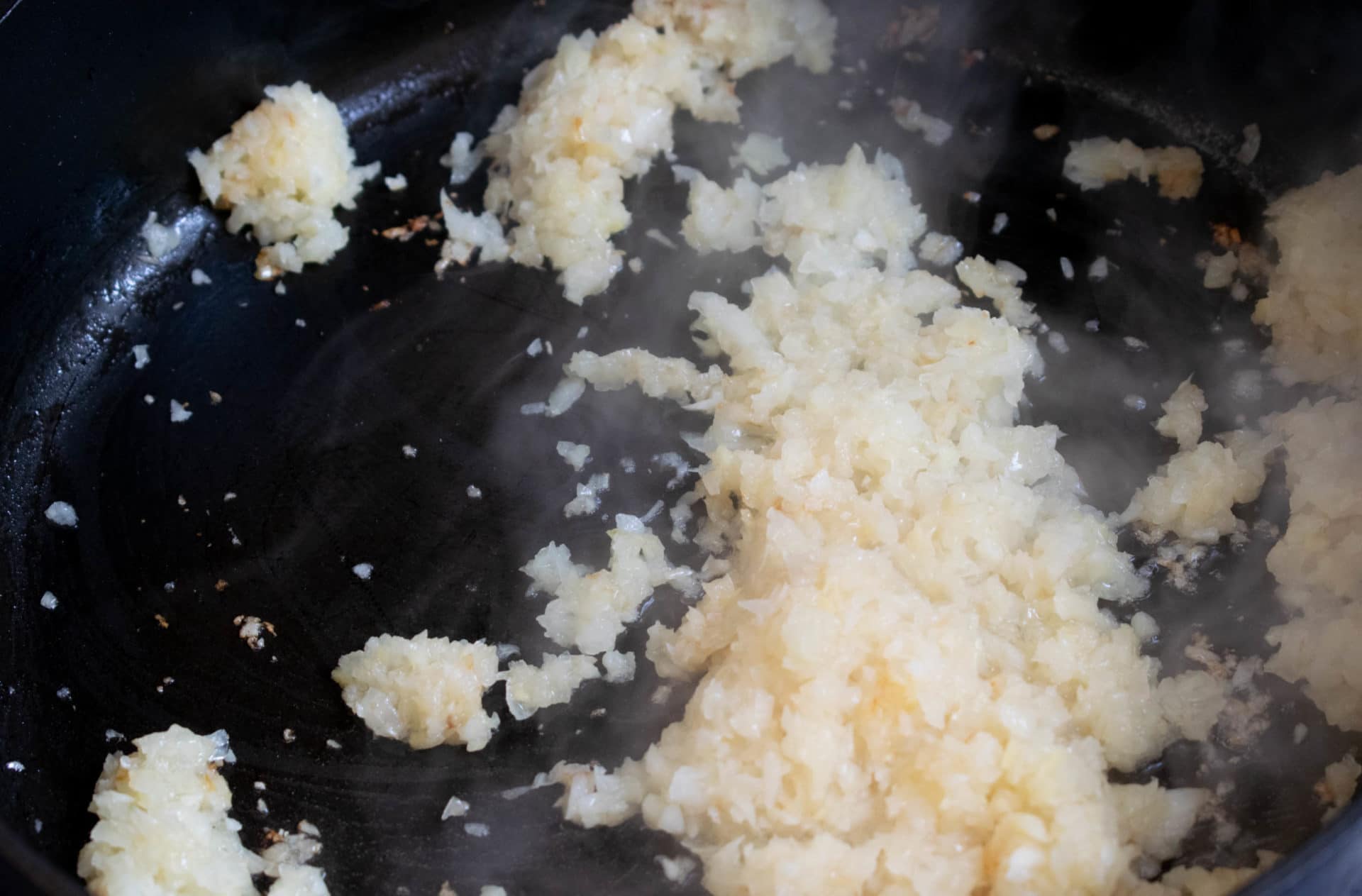 7. Add in the sweet potato chunks and cook for 3 more minutes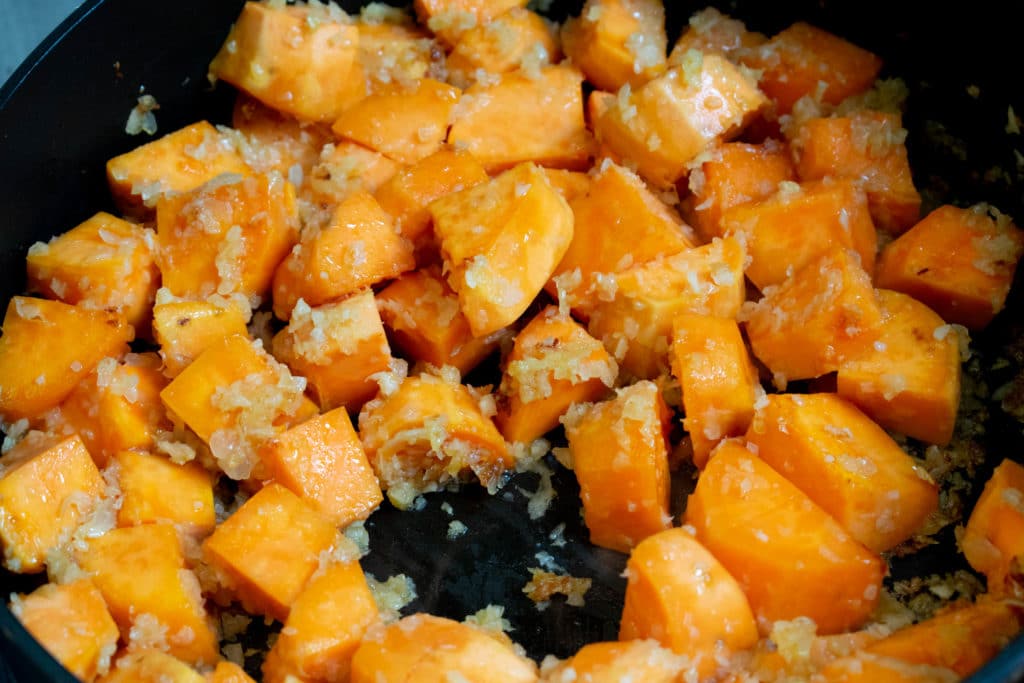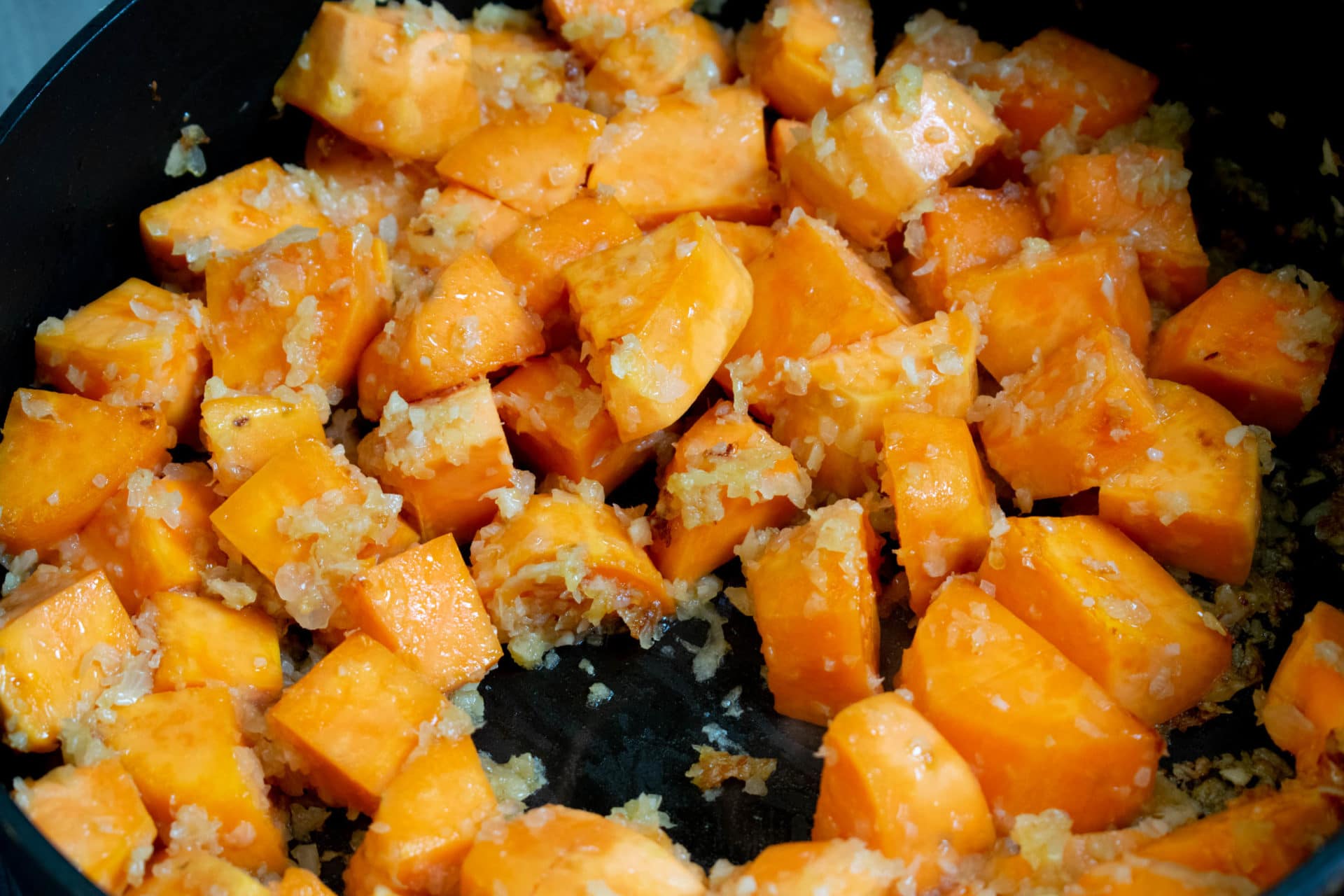 8. Then add in the gochujang paste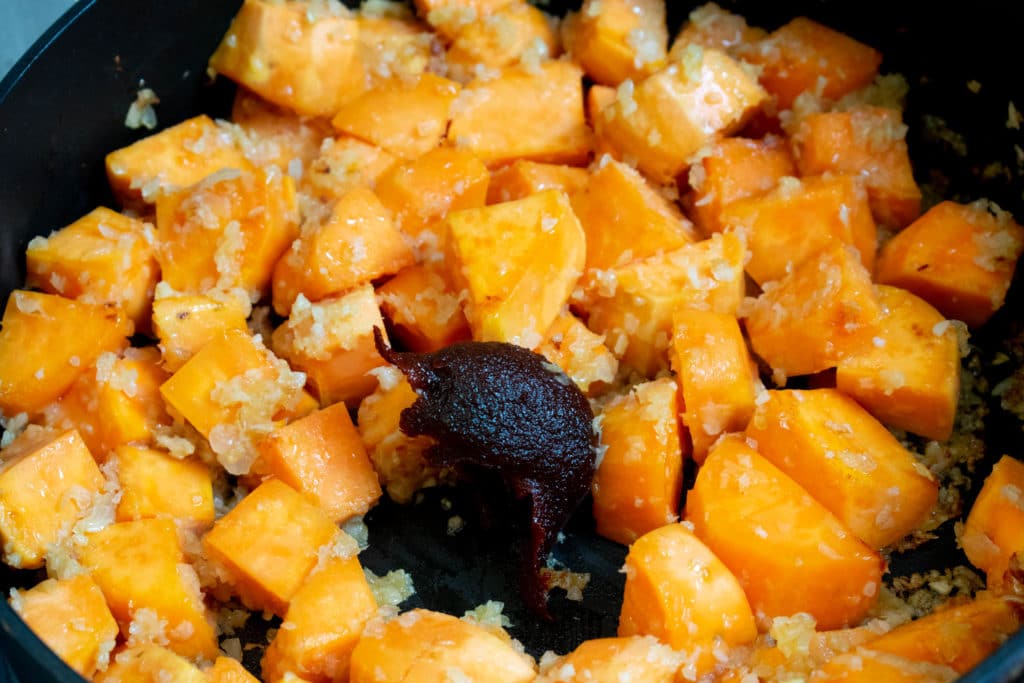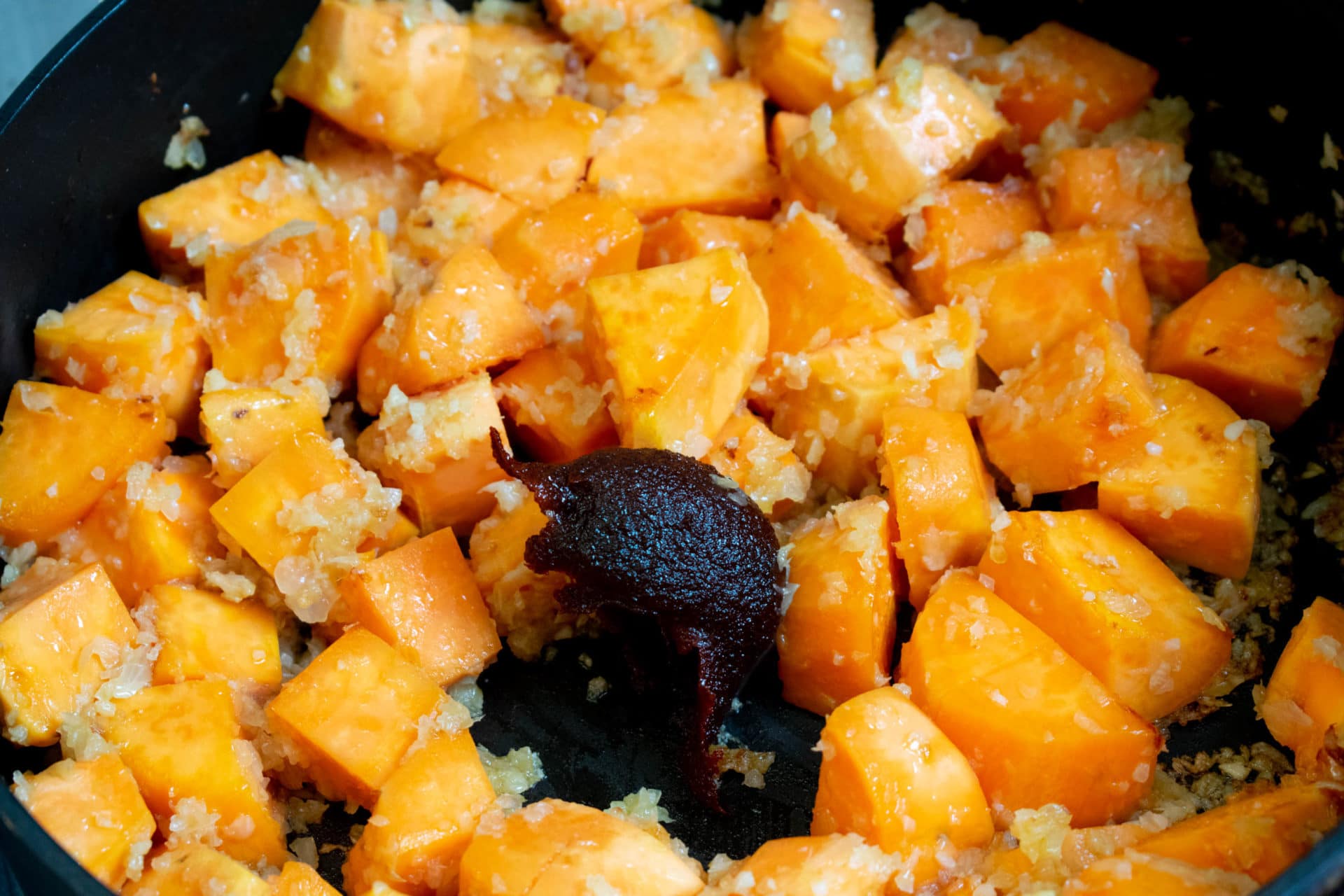 9. And coconut milk, then stir and bring to a low boil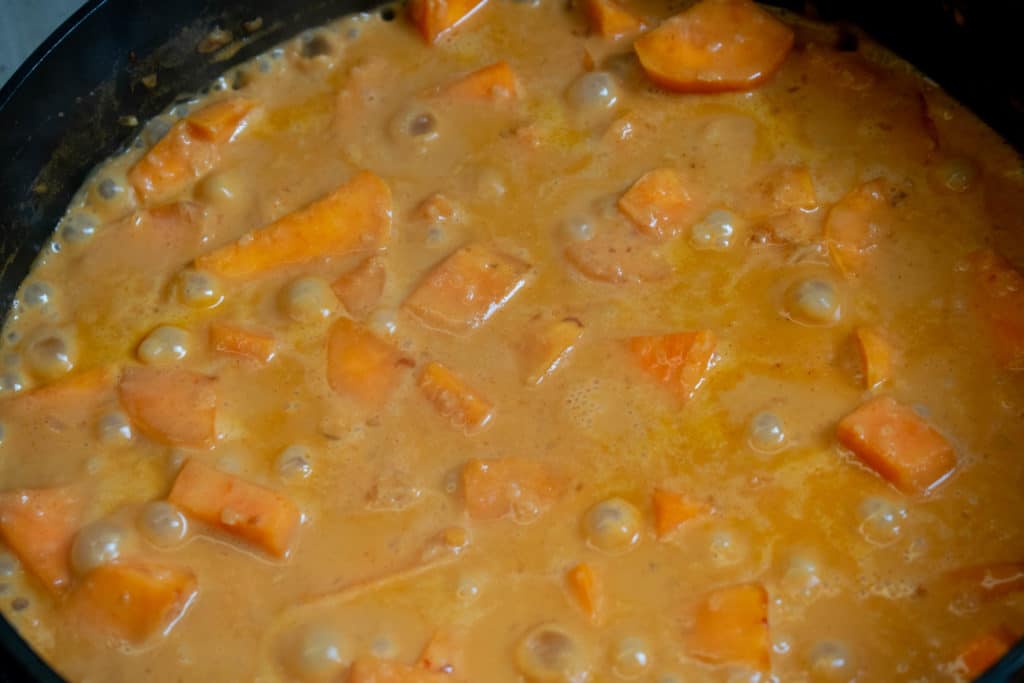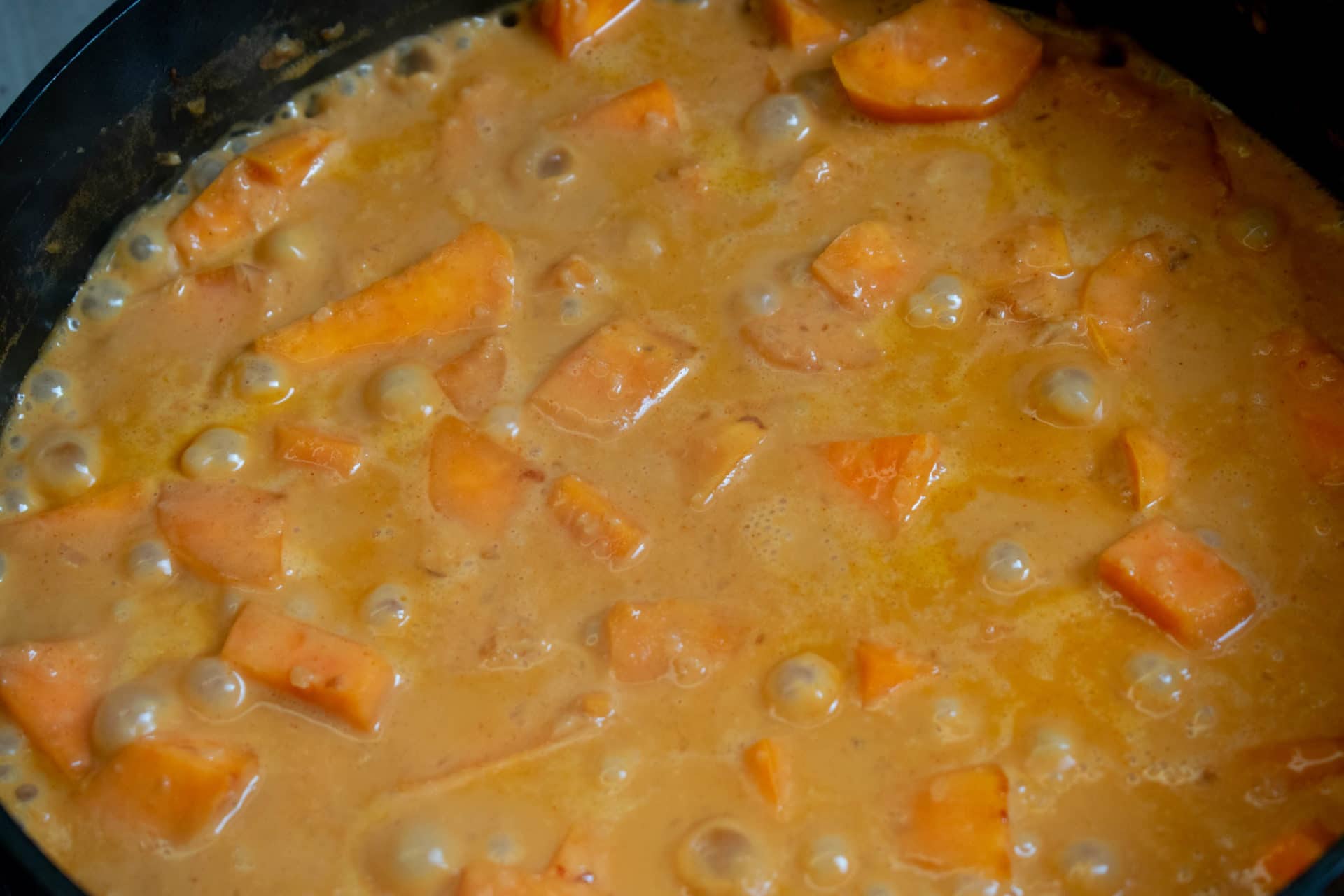 10. Add in the soy sauce, honey and rice-wine vinegar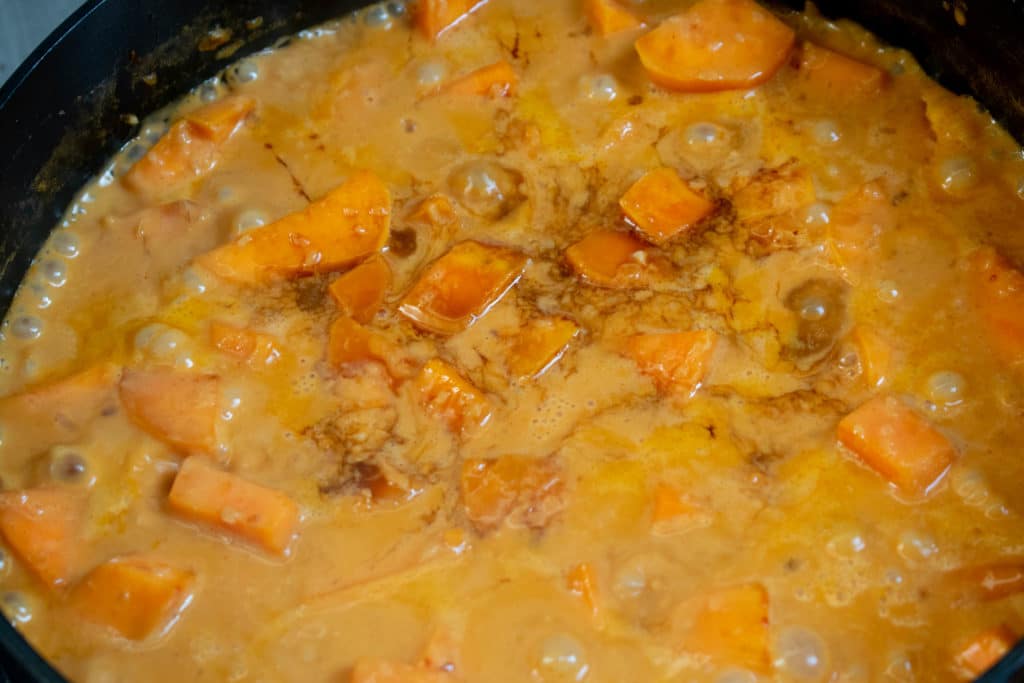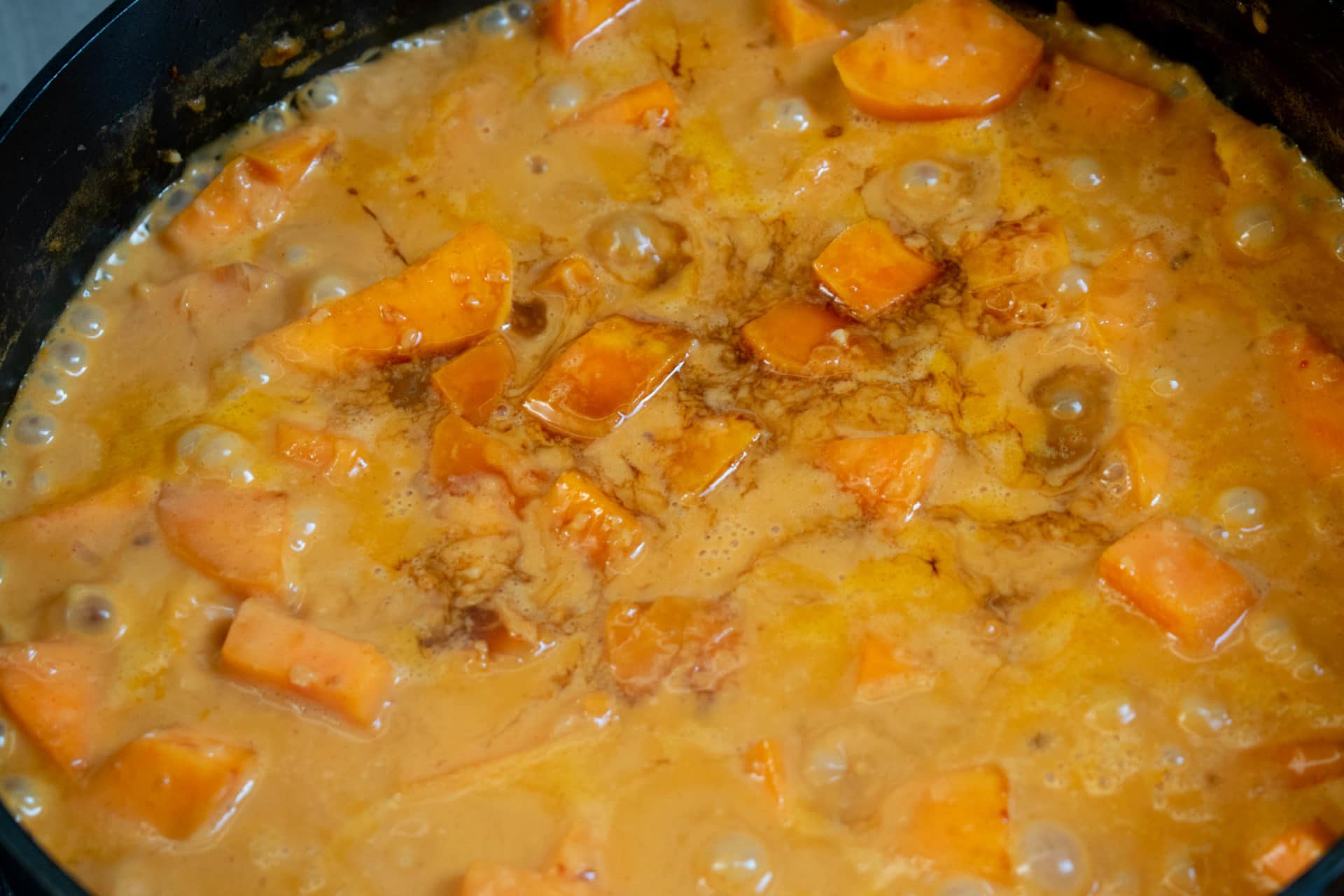 11. Stir, and continue to cook for a further 6 minutes – or until the sweet potato is cooked and sauce thickened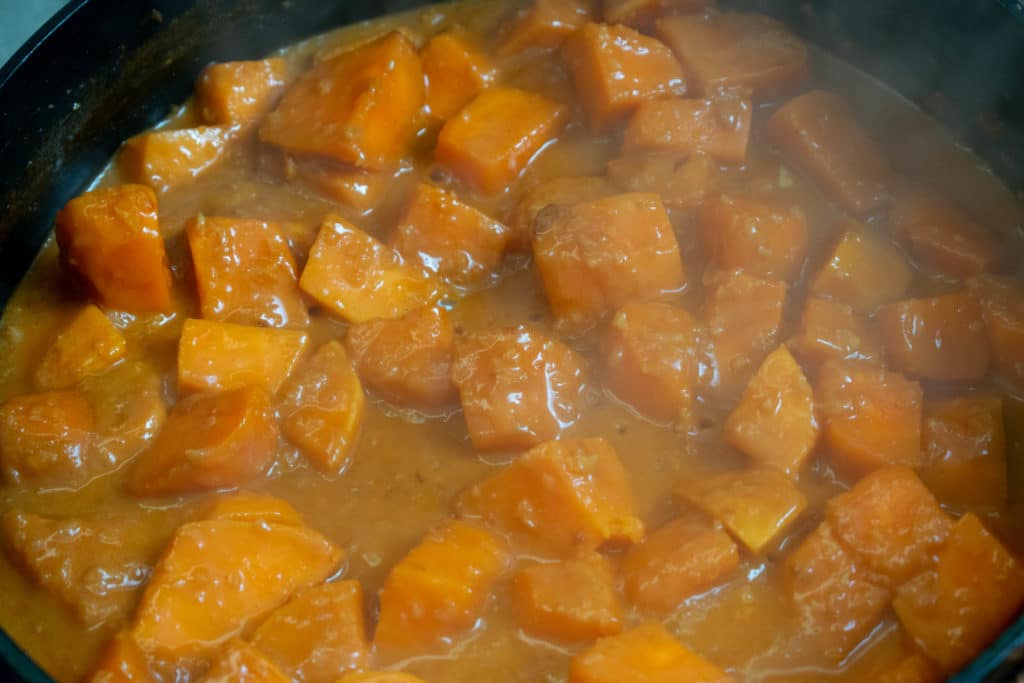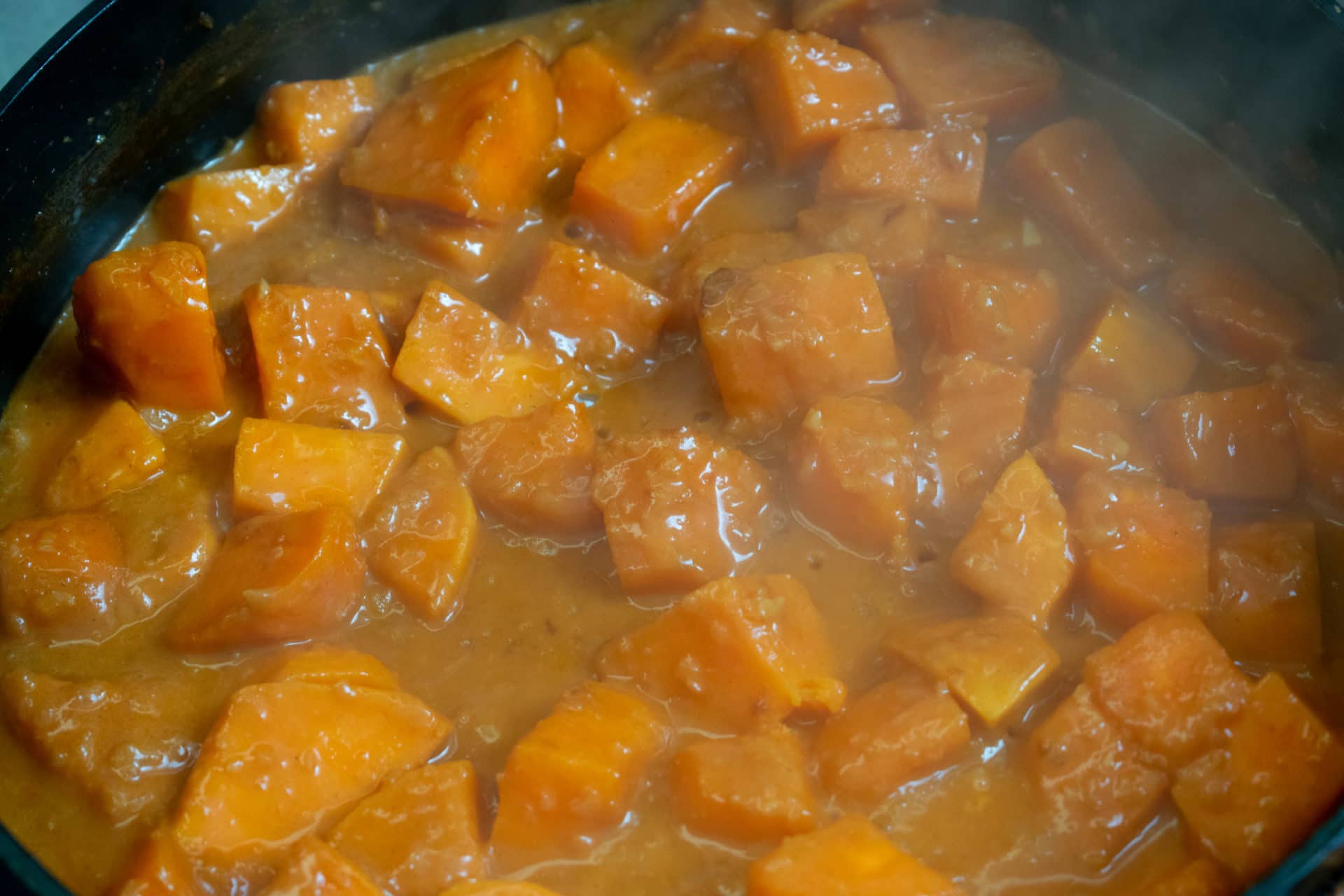 Yield: 4 Servings
Sweet Potato Korean Curry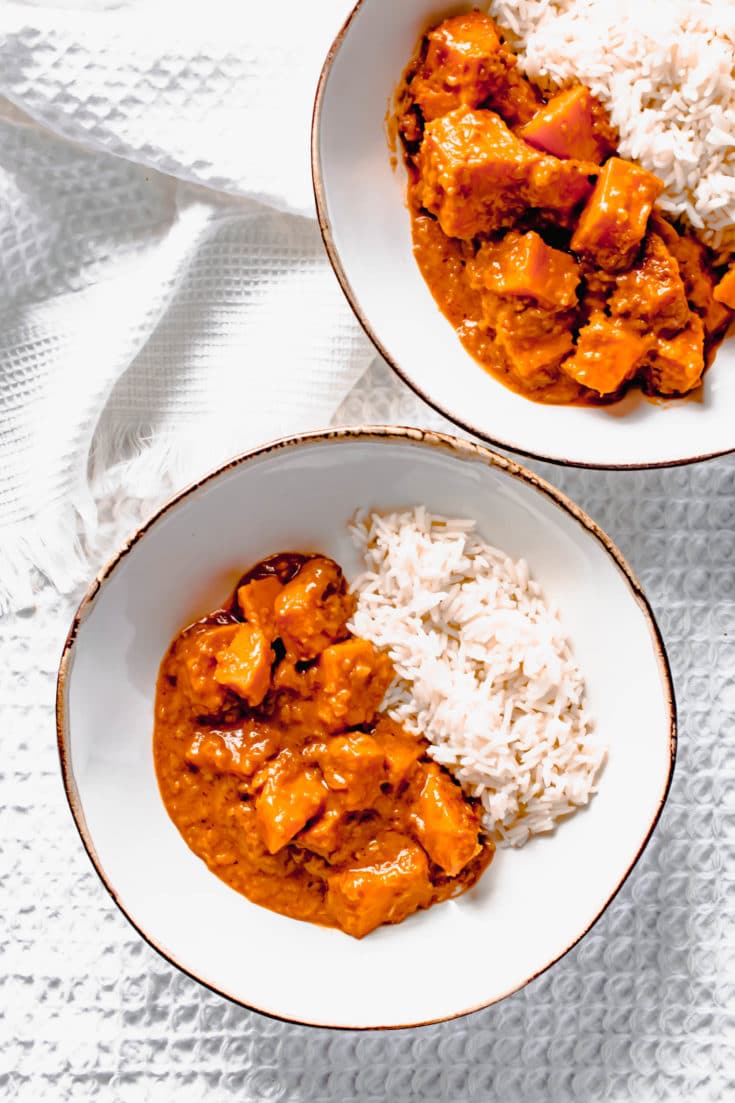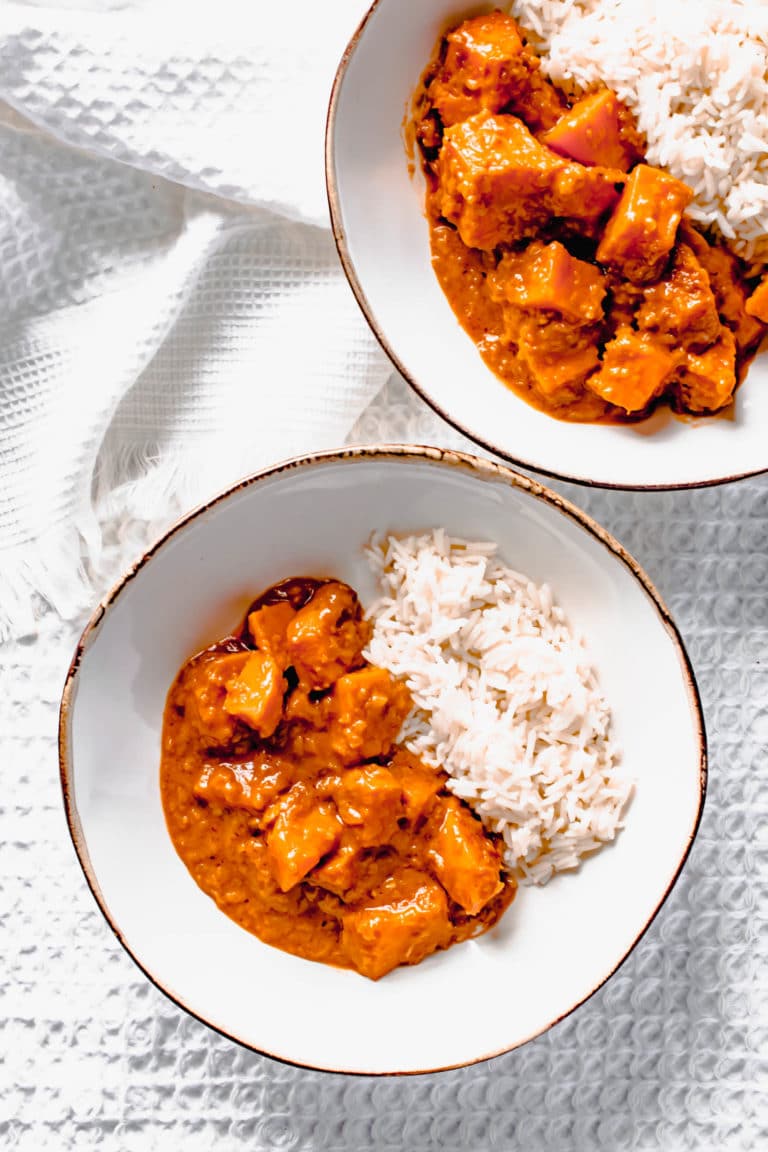 A deliciously smokey, sweet potato Korean curry. Made with Gochujang chilli paste and coconut milk.The perfect side dish or main course!
Ingredients
1 tablespoon oil
2 onion
4 sweet potatoes,
1 400ml tin coconut milk
3 Garlic Cloves
1 inch Ginger
1/2 Tbsp Honey
1 Tbsp Gochujang Paste
1 Tsp Soy Sauce
1 Tsp Rice Wine Vinegar
To Serve!
3 Tbsp Chopped peanuts, handful chopped coriander
Instructions
Peel and cube the sweet potatoes, finely dice the onions, ginger and garlic
Add oil to a large, non-stick pan
Add in the diced onions, ginger and garlic and fry on a medium heat for 3 minutes, stirring often
Then add the diced sweet potato to the pan, stir to coat everything evenly and fry for a further 3 minutes
Add the gochujang paste and stir to coat
Then add in the coconut milk, rice wine vinegar, soy sauce and honey
Turn the heat down and simmer on low for 10 minutes, or until the sweet potato is cooked
Serve! On a bed of rice, topped with fresh coriander and crushed peanuts