This sweet potato saag aloo is one of my go-to 'super-food' dishes. It's packed full of vitamins and superfoods and is such a versatile dish. We eat this as a side dish to spicy chicken or even alone as a filling lunch or dinner. It's perfect to take to work as leftovers too!
This recipe freezes a treat, so I often make a large batch and freeze portions. It might not be the prettiest of meals, but it packs tons of flavour and is a lean, nutritious meal.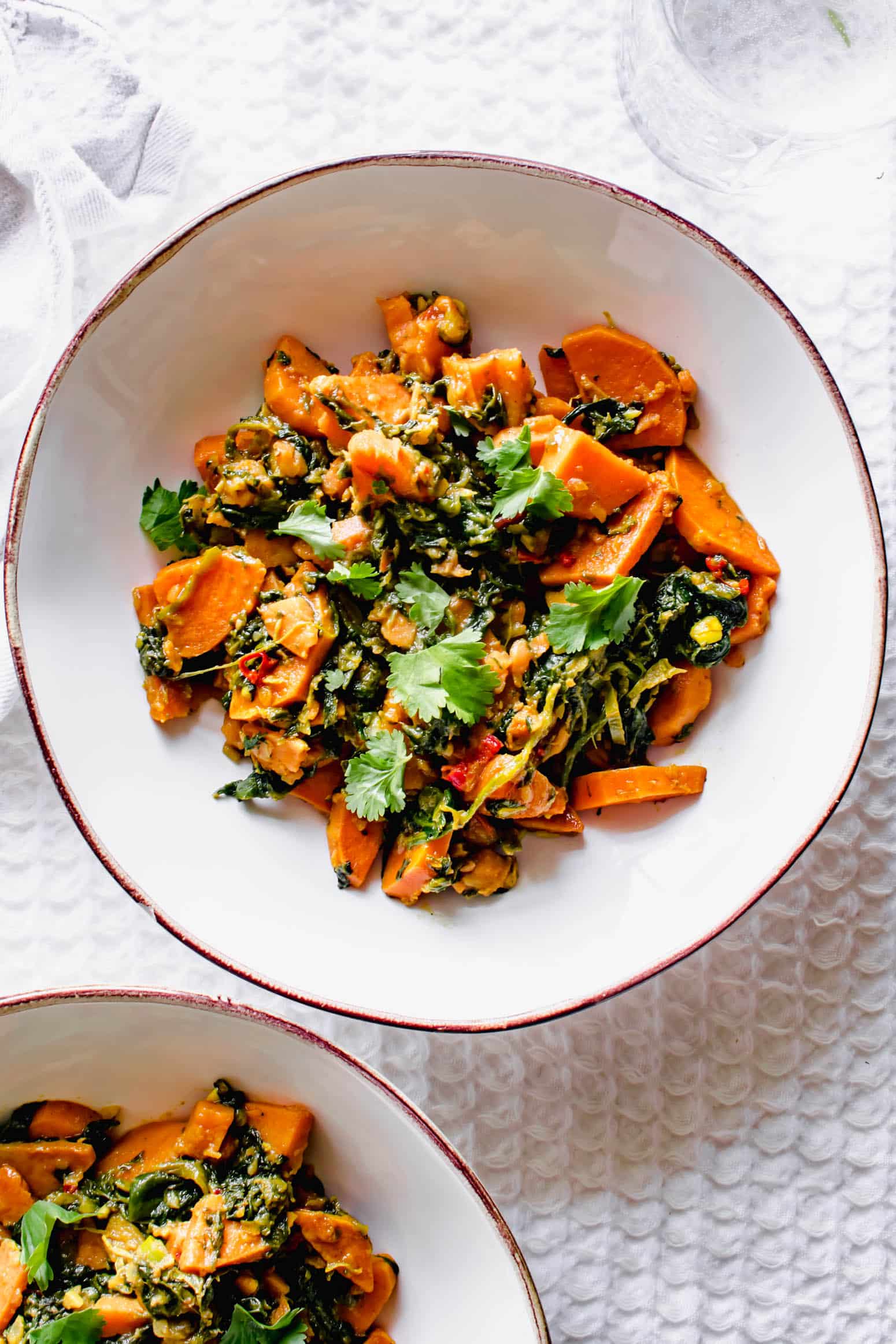 This Indian spiced sweet potato saag aloo is vegan and packs more than just flavour! It's lean, healthy and filling. The dish contains lots of 'superfoods' – this means the ingredients are nutritionally dense, including:
Sweet potatoes
Sweet potatoes are a rich source of fibre as well as containing an array of vitamins and minerals including iron, calcium, selenium, and they're a good source of most of our B vitamins and vitamin C. One of the key nutritional benefits of sweet potato is that they're high in an antioxidant known as beta-carotene, which converts to vitamin A once consumed.
Spinach
Spinach is loaded with tons of nutrients in a low-calorie package. Dark, leafy greens like spinach are important for skin, hair, and bone health. They also provide protein, iron, vitamins, and minerals.
Turmeric
Turmeric has over 9,000 articles published on its healing properties. Turmeric is a powerful anti-oxidant and has also been shown to decrease inflammation in vessels, skin, and the intestinal tract. It can also help regulate blood sugar levels.
How To Make Sweet Potato Saag Aloo
1. Add oil to a hot, non-stick pan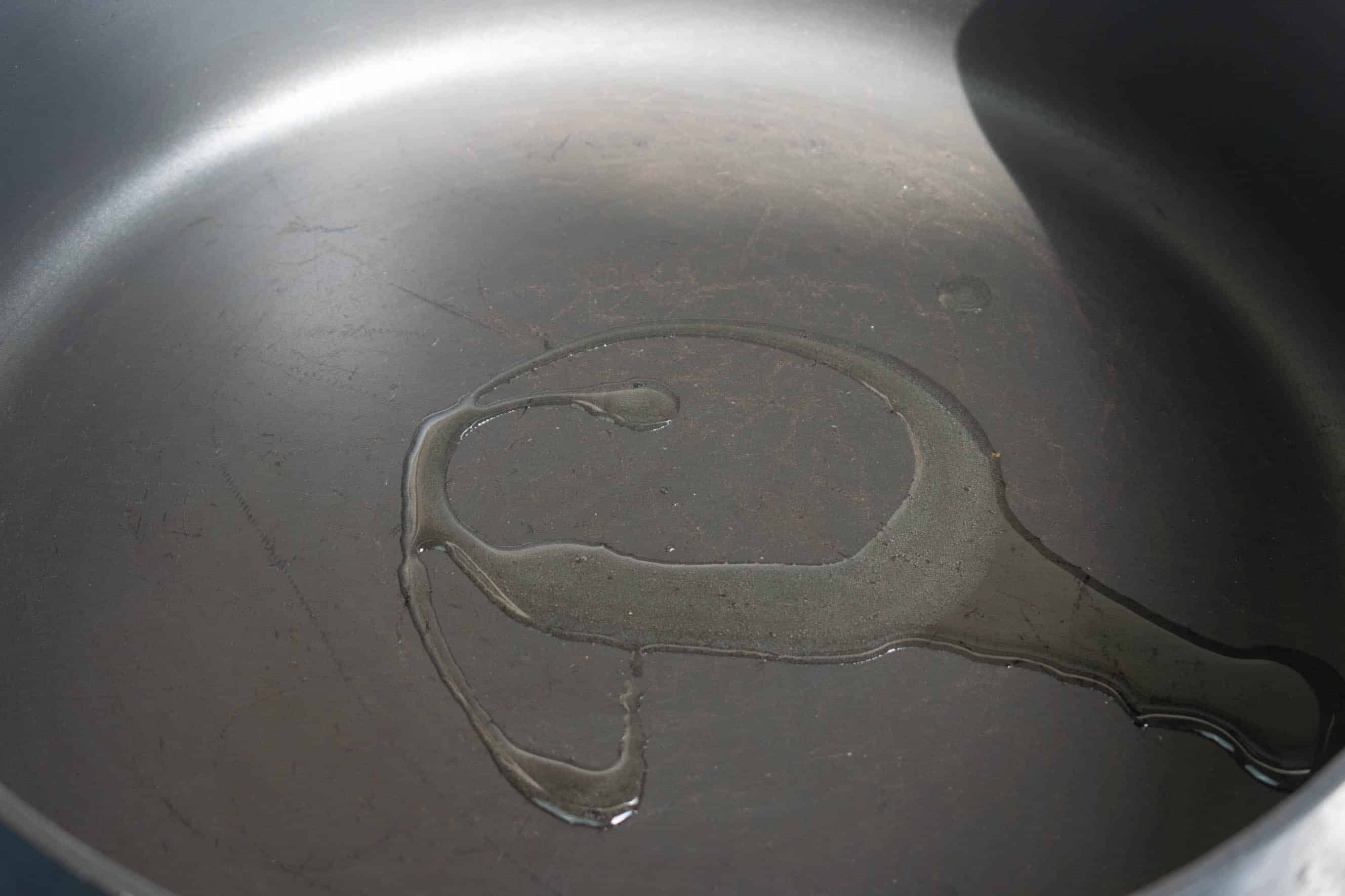 2. Add the finely diced onion and garlic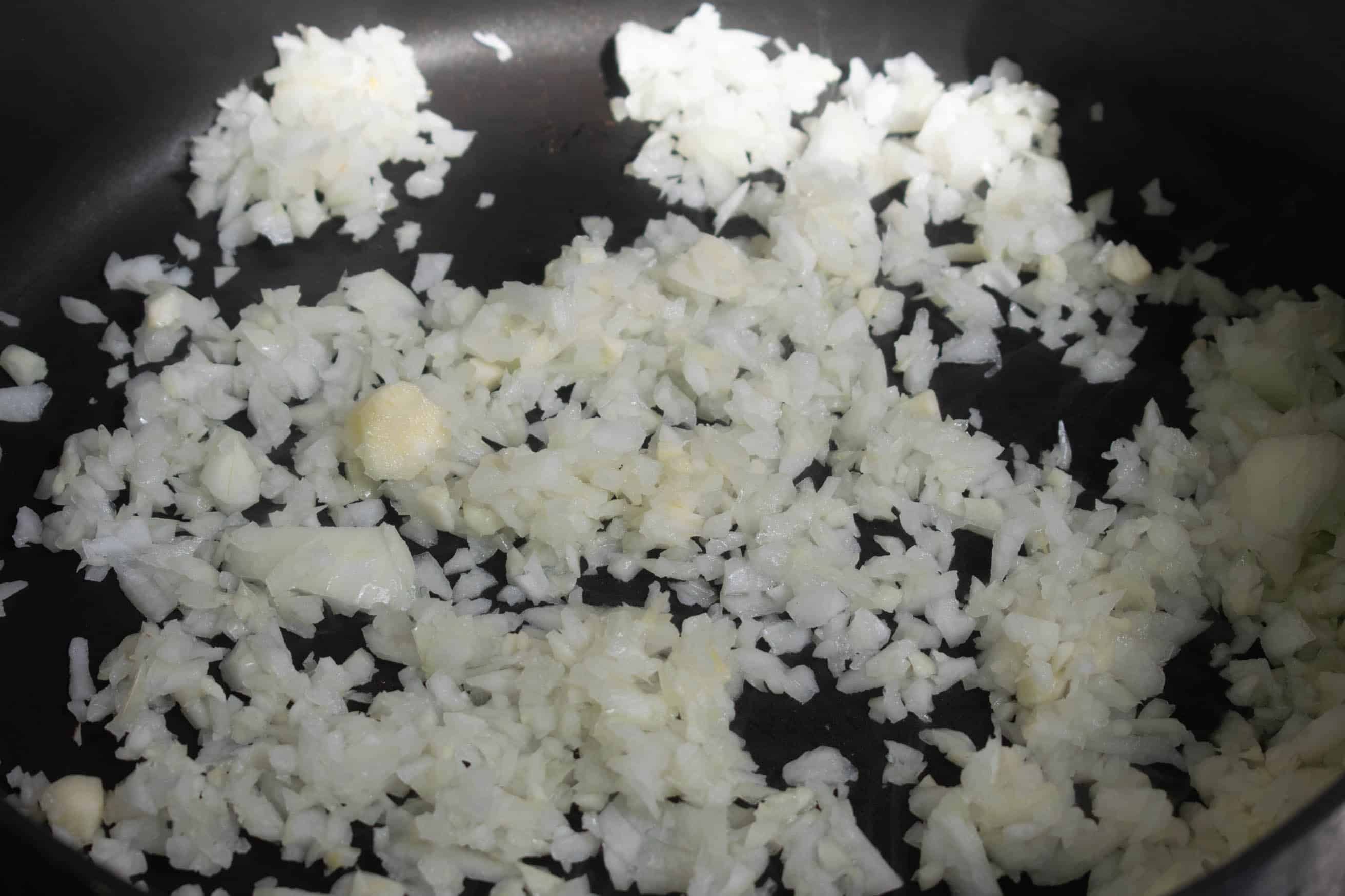 3. Cook until the onions begin to turn brown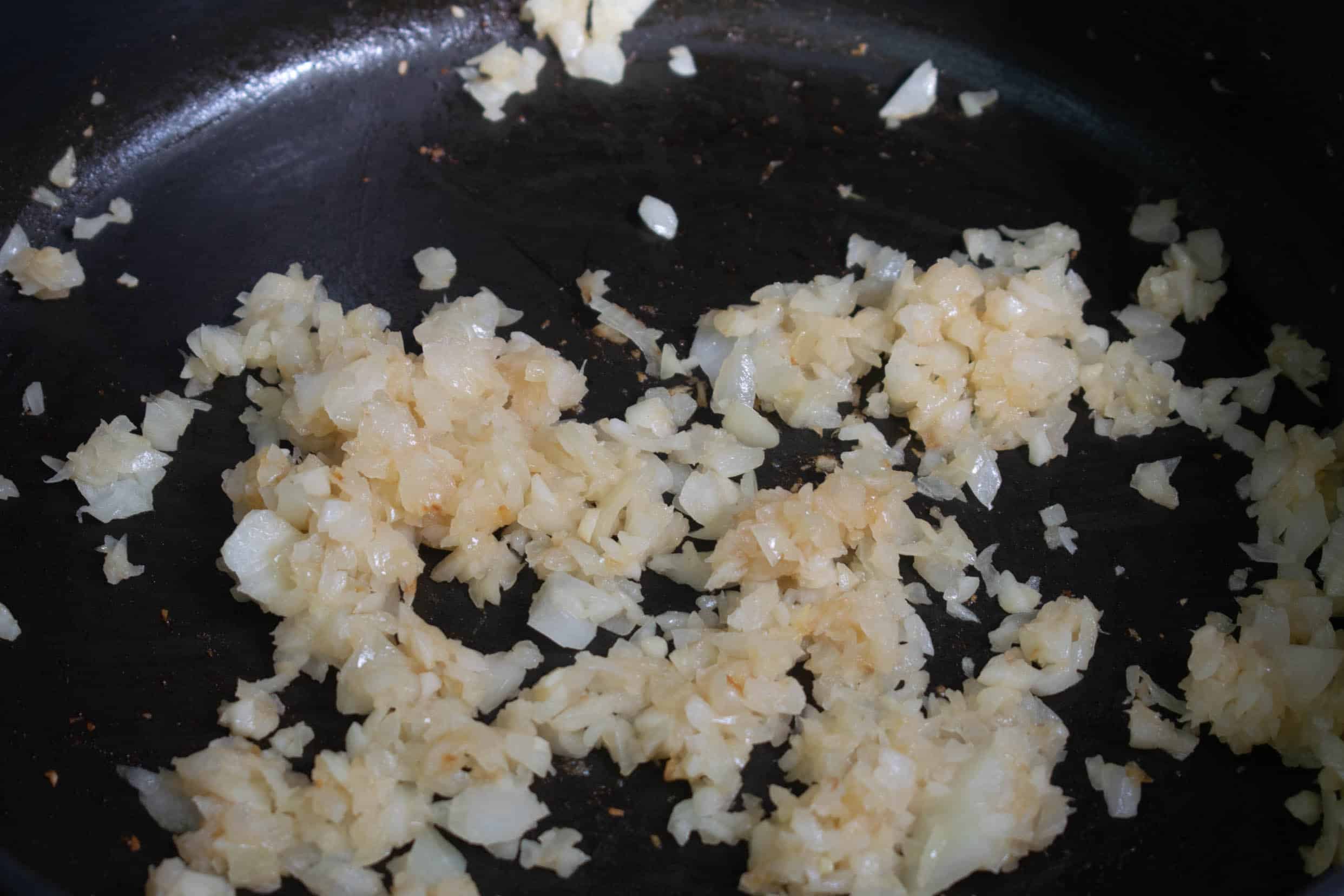 4. Then add the ground spices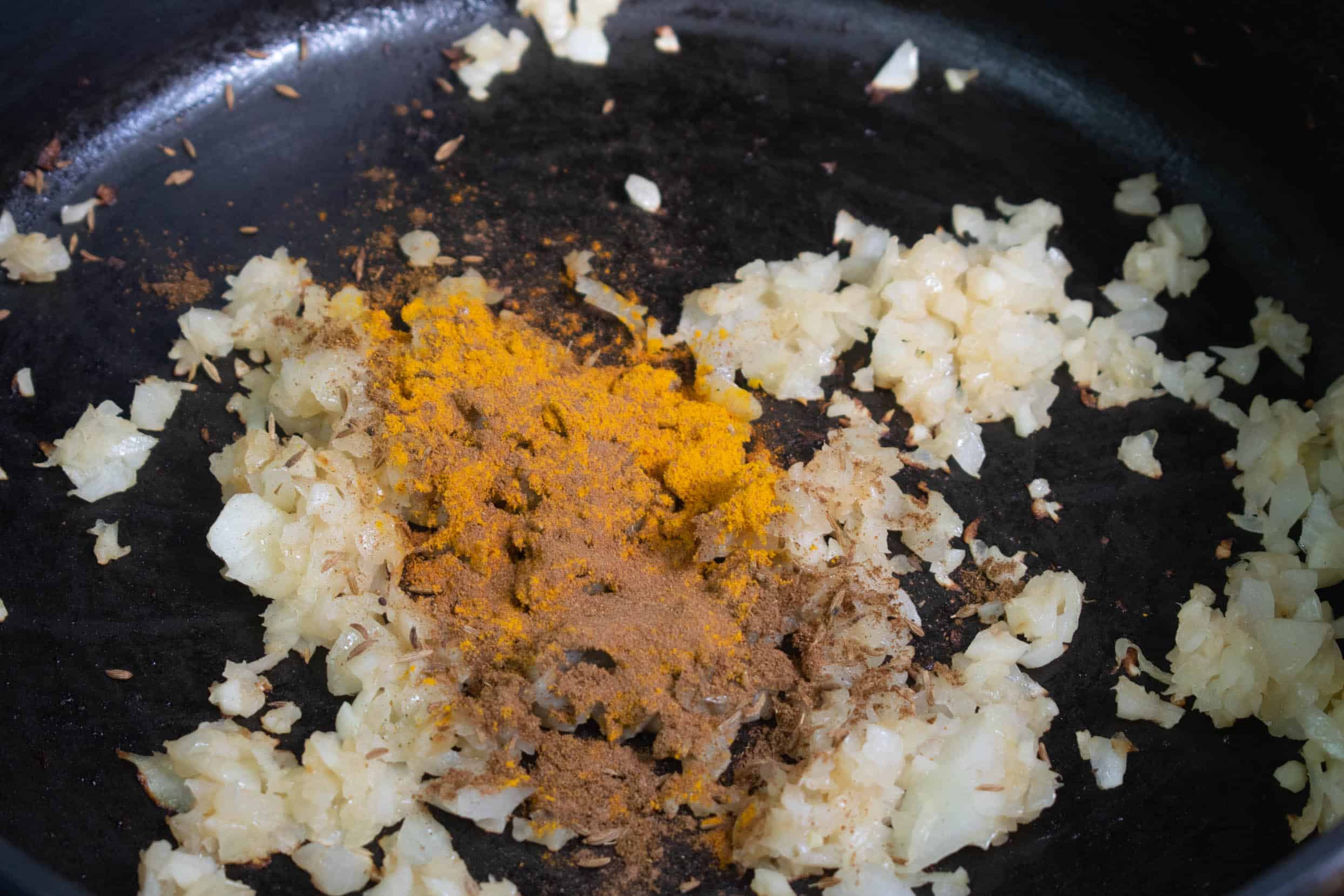 5. Stir to combine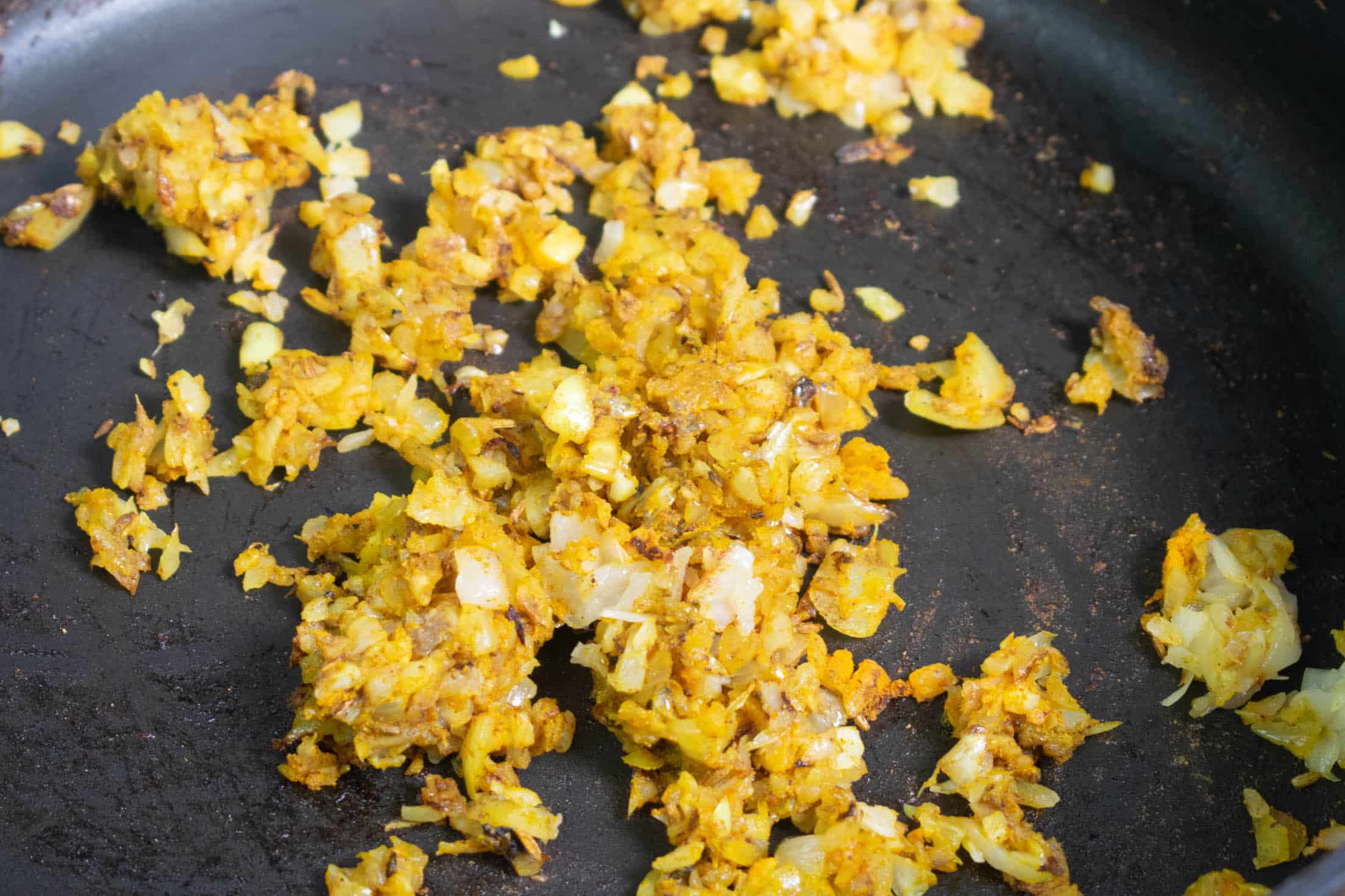 6. Then add the sliced tomato and chilli. Fry for 2 minutes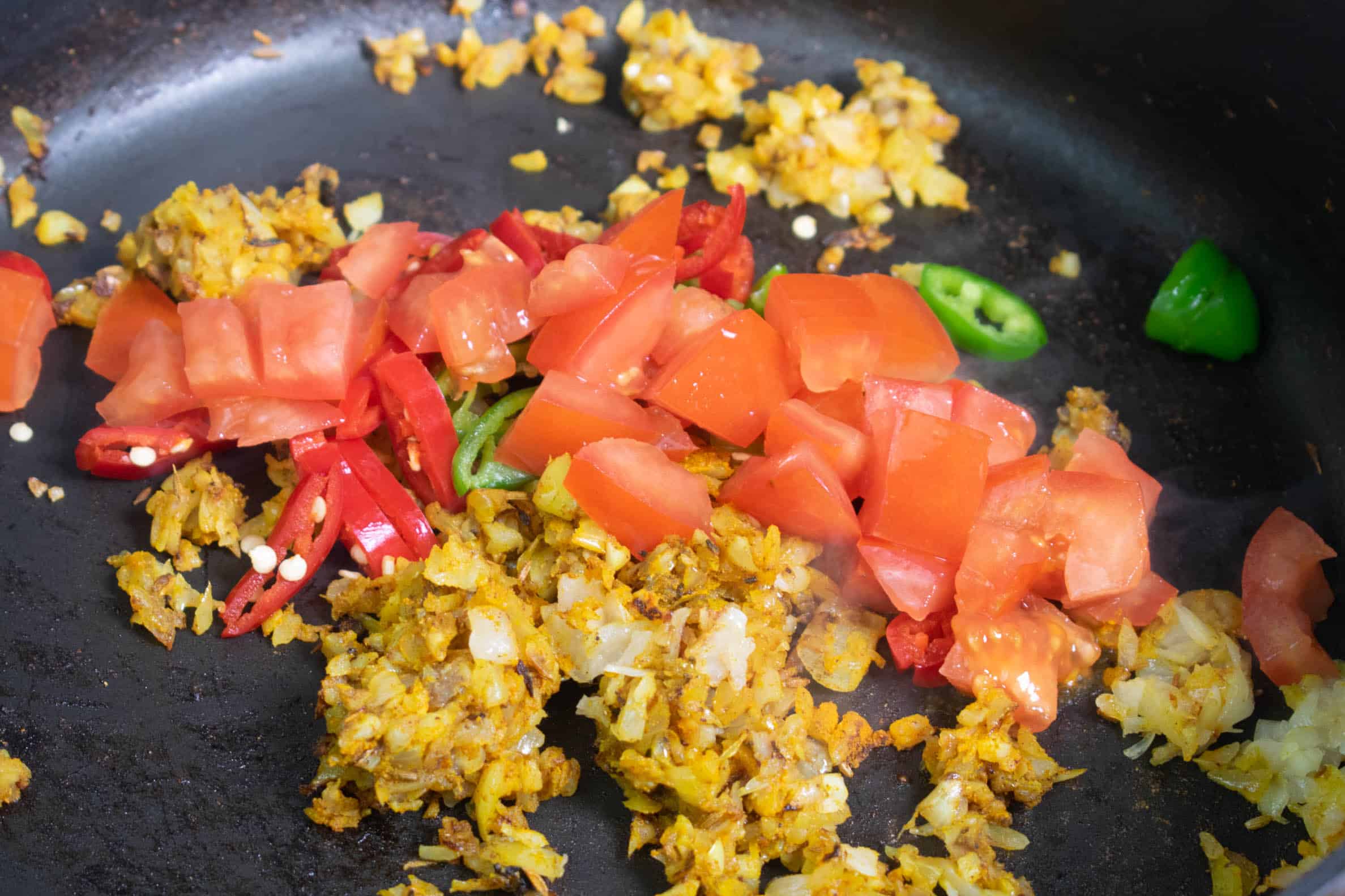 7. Next add the chopped sweet potato pieces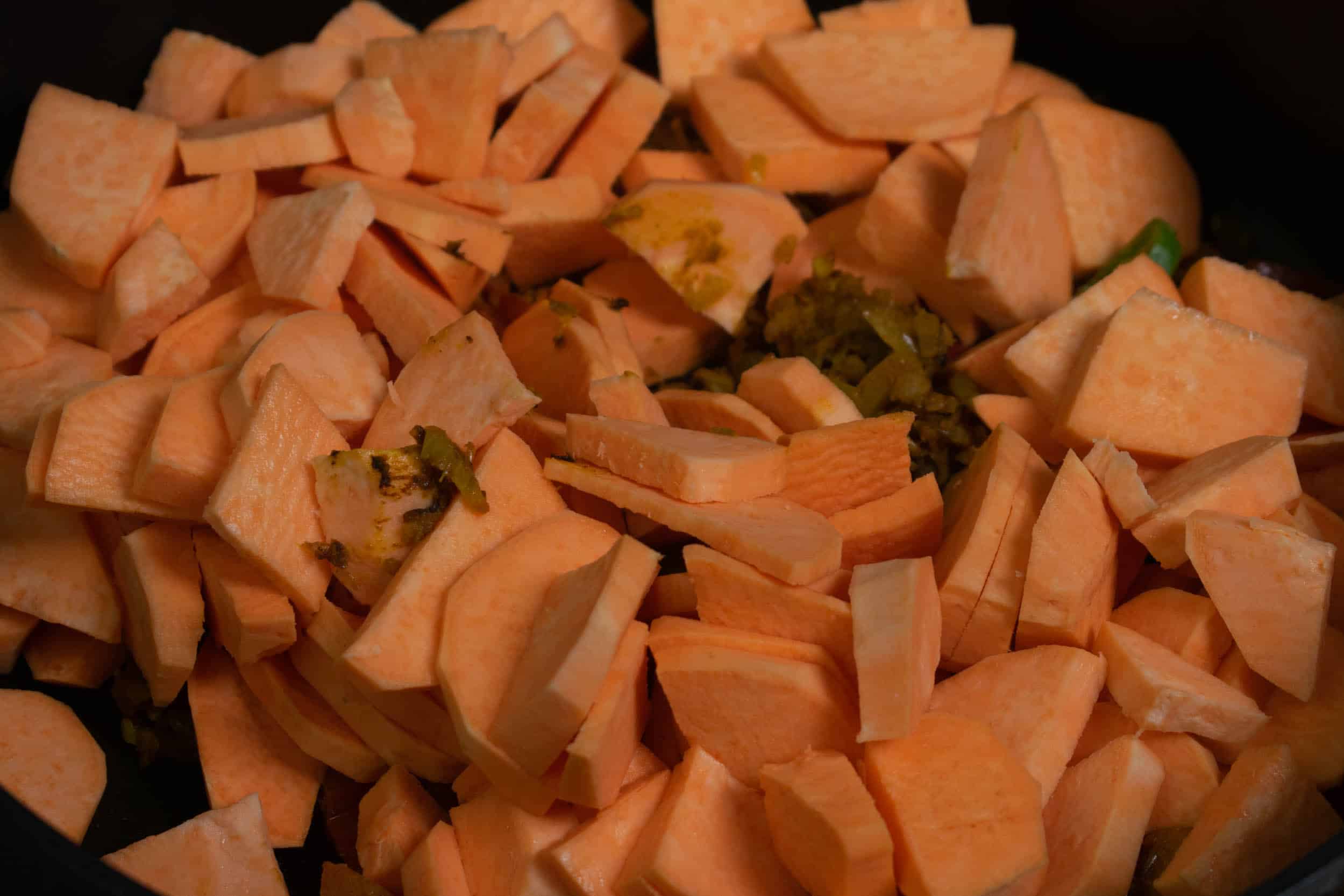 8. Stir to combine, then add in the spinach and water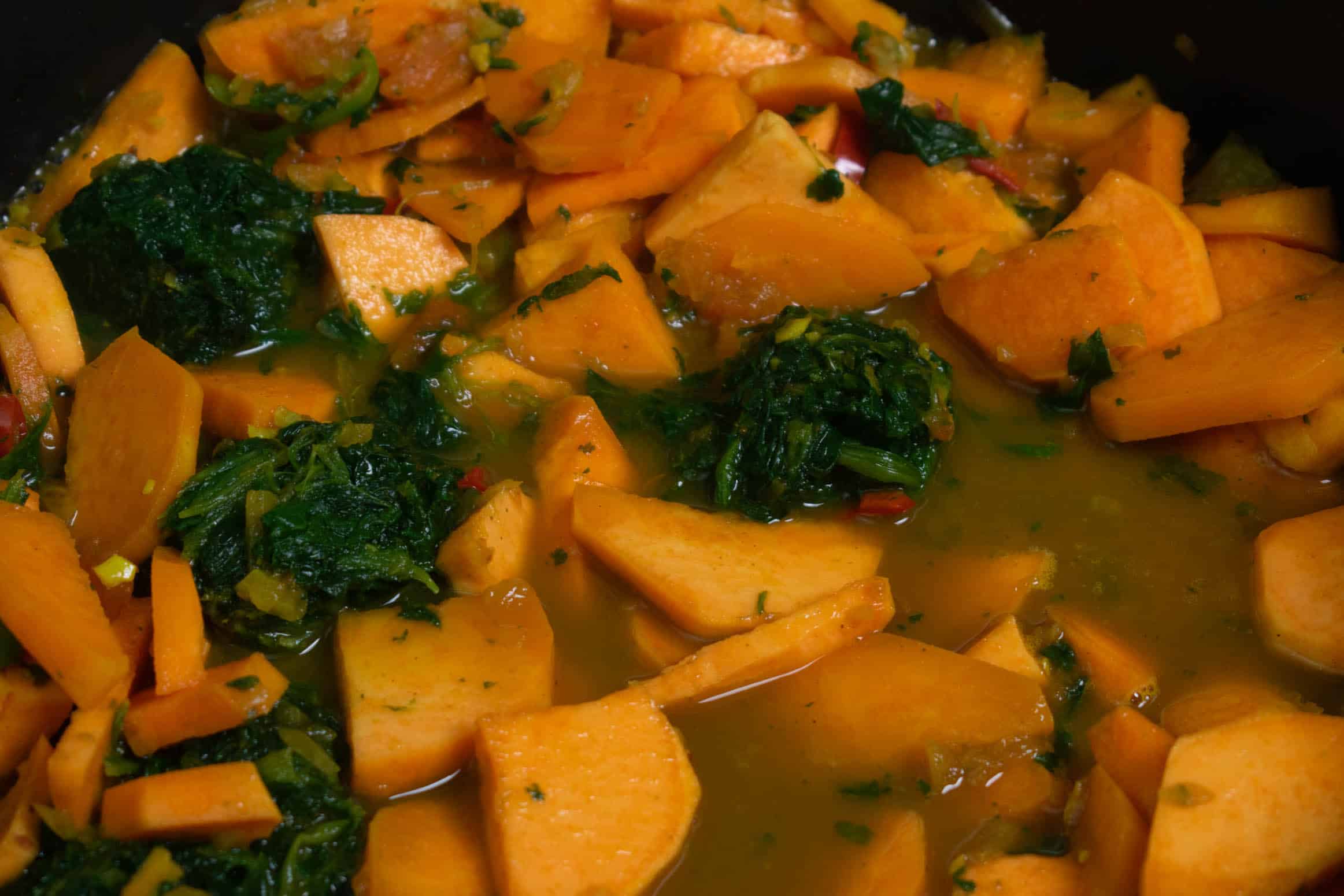 9. Bring to the boil then cook until the sweet potato is cooked through (about 10 minutes)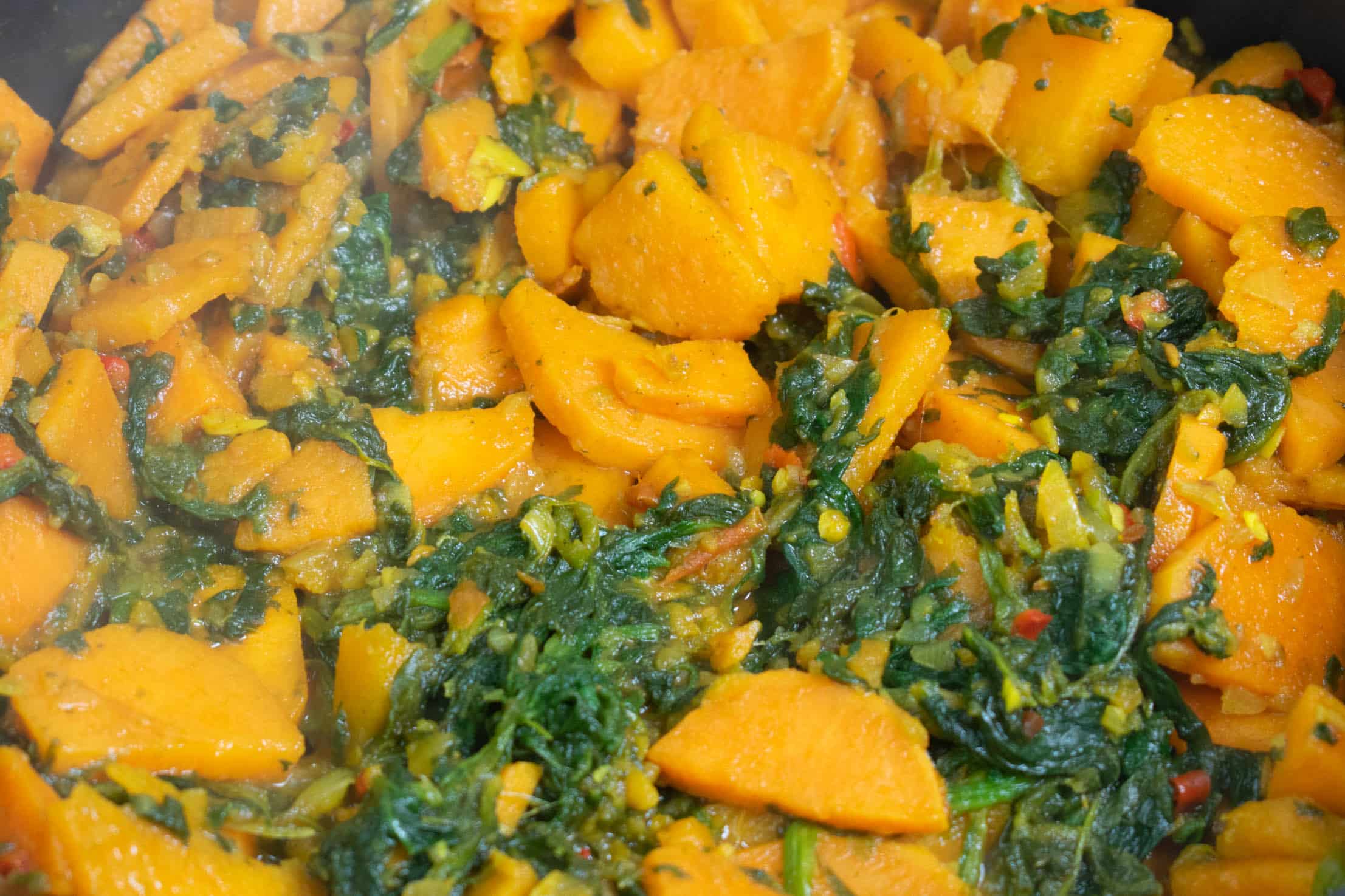 Yield: 4-6 Servings
Superfood Saag Aloo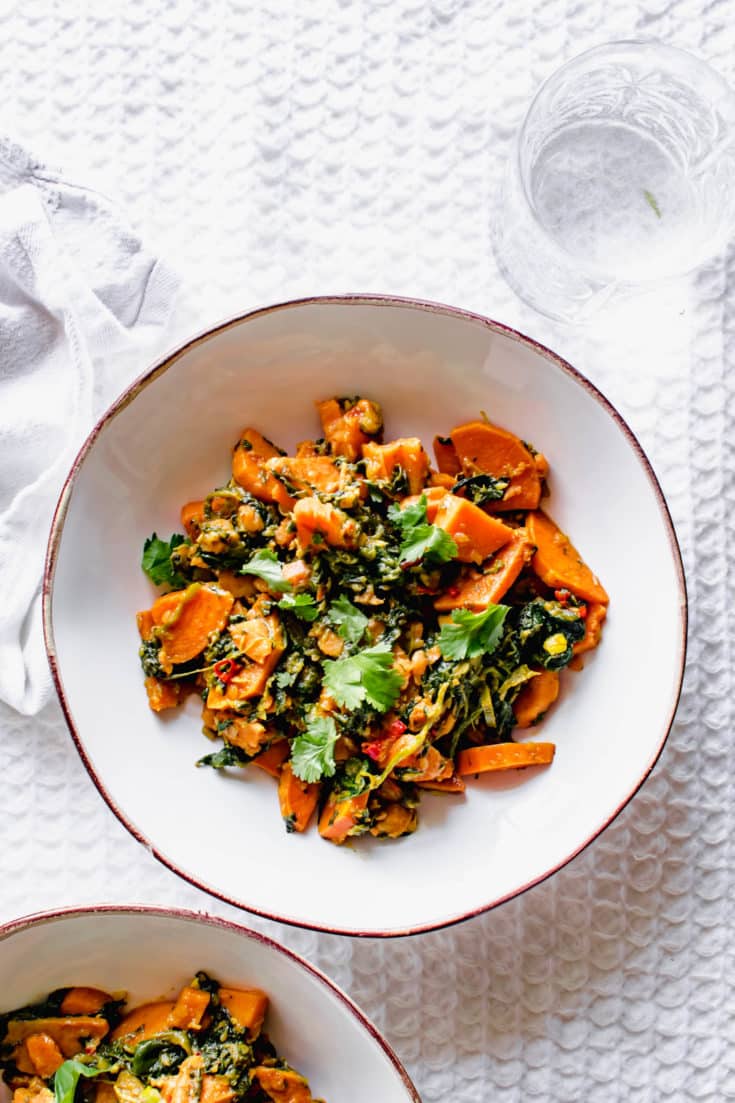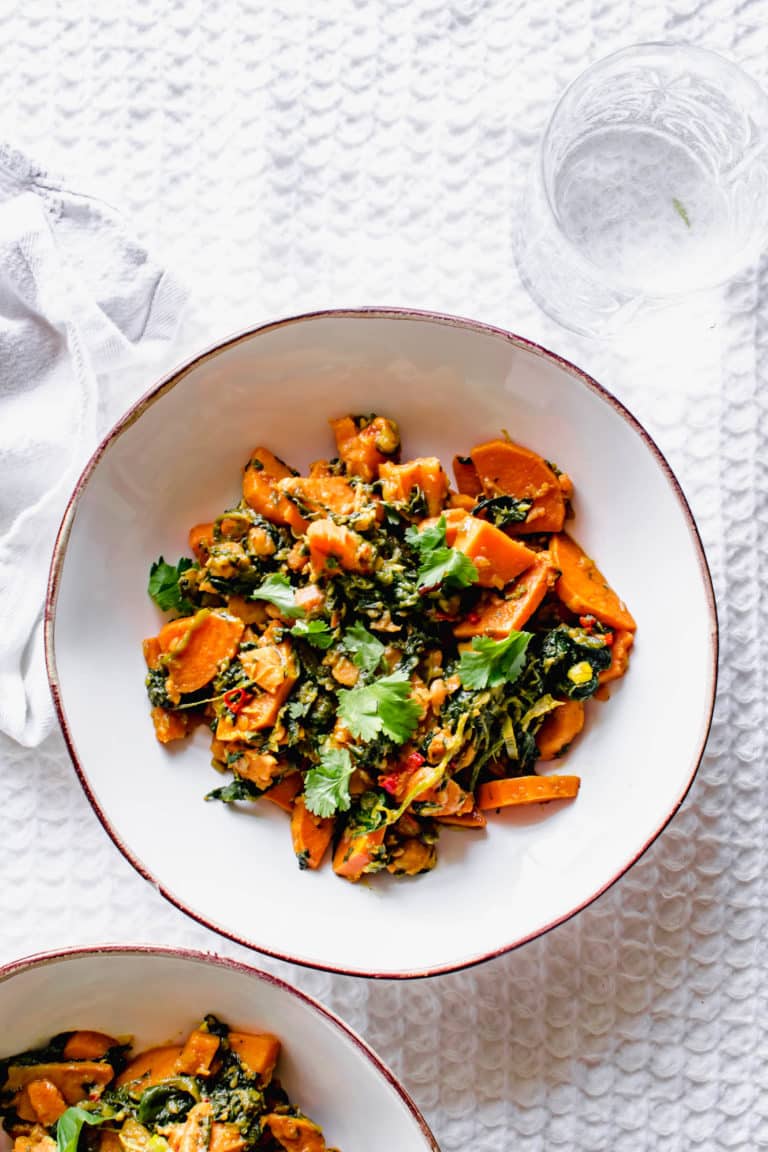 A delicious Indian spiced saag aloo using sweet potato and spinach for a superfood kick. This vegan dish is perfect as a filling lunch, dinner or side dish.
Ingredients
1 tbsp oil
1 onion
2 garlic cloves
2 chillis
1 tomato
3 sweet potatoes
1 tsp turmeric
1/2 tsp whole cumin
1/2 tsp garam masala
1/2 tsp cinnamon
5 pieces frozen spinach
250ml water
1 handful coriander
Instructions
1. Finely dice onions, chilli and garlic
Add oil to a hot, non-stick pan
2. Add the finely diced onion and garlic
3. Cook until the onions begin to turn brown
4. Then add the ground spices
5. Stir to combine
6. Then add the sliced tomato and chilli. Fry for 2 minutes
7. Next, add the chopped sweet potato pieces
8. Stir to combine, then add in the spinach and water
9. Bring to the boil then cook until the sweet potato is cooked through (about 10 minutes) add more water if needed
Nutrition Information
Yield
6
Serving Size
1
Amount Per Serving
Calories

331
Fiber

10g
Protein

18g