Toad in the hole! One of my all time favourite dinners.Yorkshire pudding and sausages, baked together and topped with gravy is a winters night dream. Another meal which is popular in our house is a classic sausage tray bake – just toss sausages and veggies together in the oven and after 30 minutes you've got a easy and delicious dinner.
Here, we combine the two meals into one, super dish – toad in the hole tray bake. Simply pop the vegetables in the Yorkshire pudding batter alongside the sausages and you've got a simple, satisfying toad in the hole tray bake. (You might also fancy my pigs-in-blanket toad in the hole recipe here)
Whilst this is a simple, one-dish kinda meal, there are some strict rules you need to follow when trying to achieve the perfect Yorkshire pudding batter:
Let the Yorkshire pudding batter sit for at-least 10 minutes
Make sure the oil is really hot before adding the batter
Minimise the time the hot oil is out of the oven; be as quick as possible
Do not open the oven door whilst the batter is cooking, it'll make the batter flop
Yield: 4
Toad In The Hole Tray Bake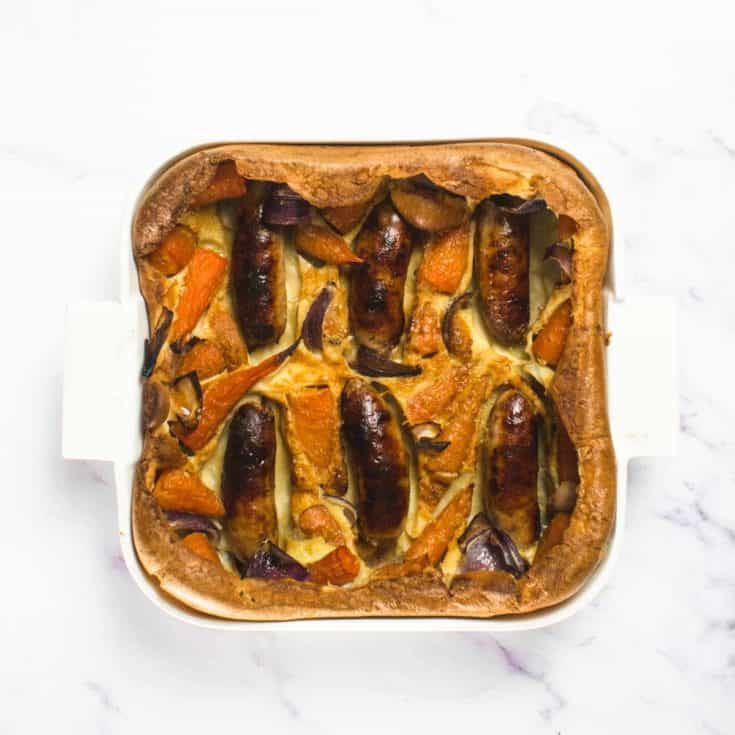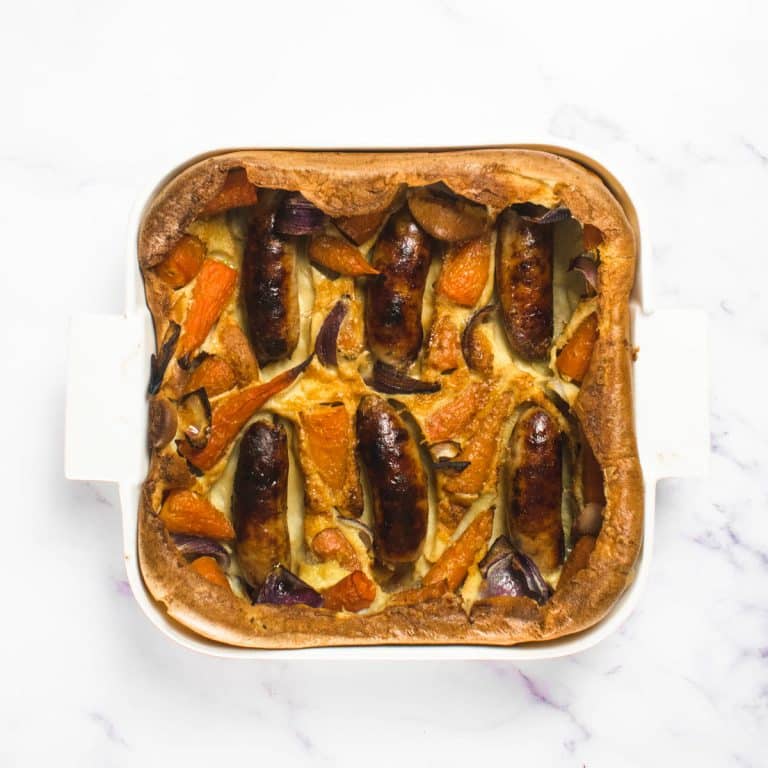 A classic toad in the hole with the welcome addition of carrots and red onions. 
Ingredients
140g Plain Flour
3 Eggs
150ml Milk
Sunflower Oil
6 Sausages
Handful Baby Carrots
1 Red Onion
Instructions
Preheat the oven to 200C
In a large bowl, mix together the flour, eggs and milk). Allow this to stand whilst you prepare the rest of the meal (this will make your Yorkshire pudding rise even more)
Pour oil into a large, non-stick dish and placed into the pre-heated oven (you want a thin layer which covers the complete base of the dish)
Roughly chop the red onion and slice your baby carrots in half lengthways
Heat some oil in a non-stick frying pan and lightly fry your sausages until they begin to get some colour all the way around
Remove the dish of hot oil from the oven (be very careful at this stage, and try to make sure you do everything quickly - you don't want the oil to cool down)
Pour the batter mixture onto the hot oil, then place the browned sausages into the batter, and surround with the red onion and carrots
Place the dish back into the oven, close the door and cook for 30 minutes, until risen and brown. Resist all temptation to open the oven door before the yorkshire pudding is cooked - it will make your batter 'sink'
Once the batter is a mid/dark brown colour, remove from the oven and allow to cook slightly before serving with lots of gravy