Turkey meatballs are a great, low-fat dinner for the whole family to enjoy.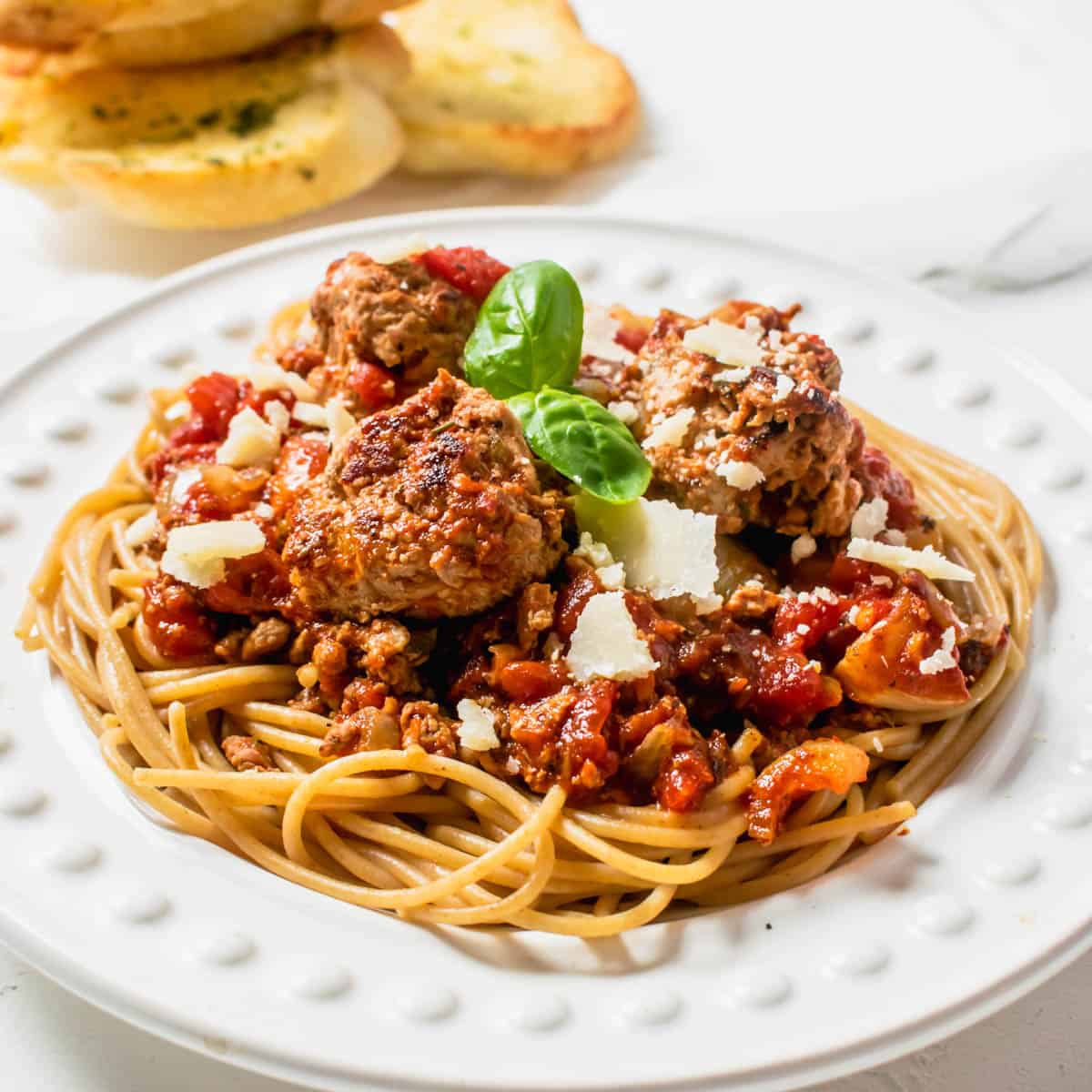 How To Make Turkey Meatballs In Tomato Sauce
Add oil to a pan and heat to low/medium

Add ONE chopped onions and fry on low/medium heat for a few minutes

Once the onions begin to brown, add ONE crushed garlic clove

Whilst the onions are cooking, begin to make the meatballs by combining the 'meatball' ingredients in a bowl and mixing with your hands to combine (keep an eye on the onions in the pan to make sure they don't burn)

Use your hand to form the ground turkey mixture into balls, then add to the pan of onions – turn up the heat to medium / high

Use a spatula to turn the turkey meatballs so they cook evenly, but don't turn them too often, be careful not to break up the meatballs
Add the Italian seasoning to the turkey meatballs 
Add the tinned tomatoes, balsamic vinegar and sugar, then stir to combine and coat the meatballs 
Cook on medium for a 10 minutes, until the mixture has thickened and all flavours combined. If you need more liquid in the pan, add some water 
Serve on a bed of hot spaghetti, topped with fresh basil and cheese – yum!

Yield: 4 People
Turkey Meatballs In Tomato Sauce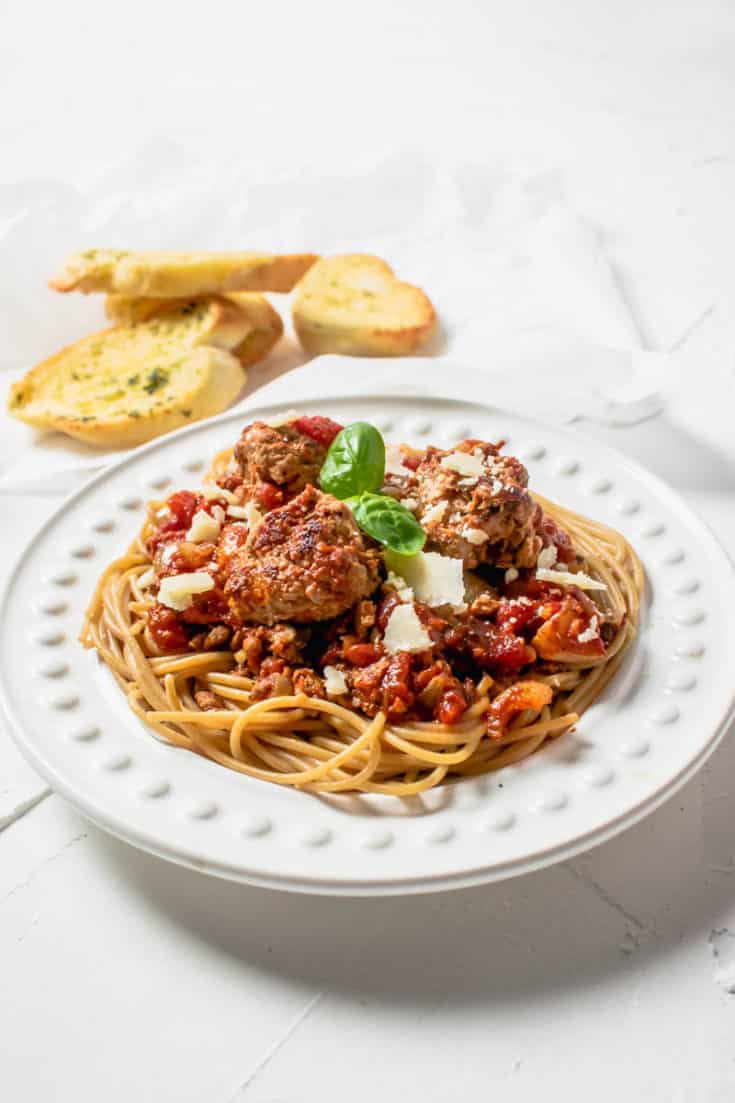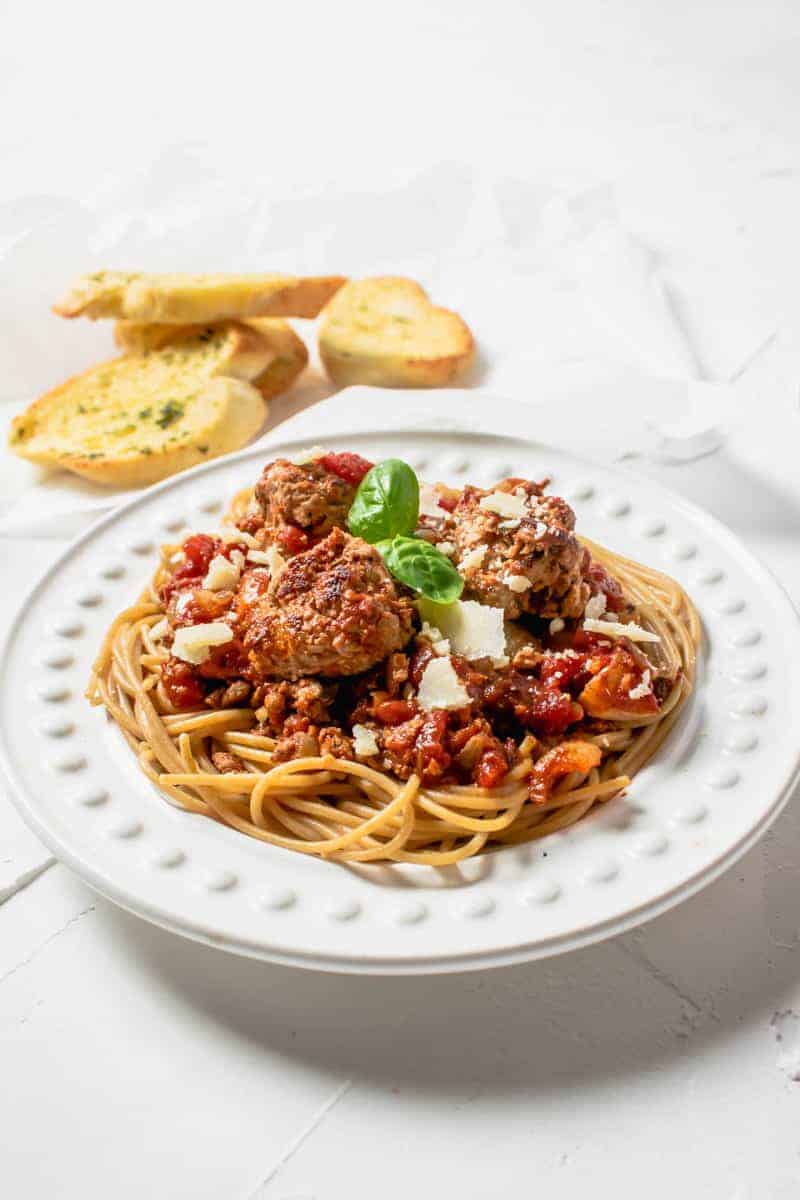 Healthy, delicious turkey meatballs in tomato sauce
Ingredients
1 Tbsp Oil
2 Onions (one for the meatballs, one for the sauce)
2 Garlic Cloves (one for the meatballs, one for the sauce)
1 Tbsp Italian seasoning
1 Tin of chopped Tomatoes
1 Tbsp Balsamic Vinegar
1 Tsp Sugar
1 Small Egg
500g Ground Turkey / Turkey Mince
Instructions
Chop one onion chunky
Chop one onion finely
Heat oil in a large, non-stick pan and add the chunky chopped onion, frying on medium heat for a few minutes
Then add ONE crushed garlic clove, stir and cook on low whilst you make the meatballs
To make the meatballs combine the other crushed garlic clove, finely chopped onion, egg and turkey mince in a large bowl
Form the meat into balls using your hands
Then drop the meatballs into the hot onion pan - allow to cook on medium/high heat until browned on the bottom, then turn and brown the other side
Add the Italian seasoning, stir
Then add the tinned tomatoes, sugar and balsamic, stir and cook on medium heat for 10 minutes until the sauce has thickened and the meatballs are cooked through
Serve on a bed of pasta or spaghetti, topped with fresh basil and cheese (optional)