On the UK Mcdonald's menu, there are 5 chicken burgers available, these are the McCrispy, McSpicy, McChicken Sandwich & Chicken Mayo (and the Bacon Chicken Mayo which is just the chicken mayo with bacon on it).
There used to be a chicken burger called the 'Chicken Legend' which was actually my favourite thing on the McDonalds menu – but this was discontinued in 2022. If you miss the chicken legend though – here's my recipe for a homemade one (it's worth it!).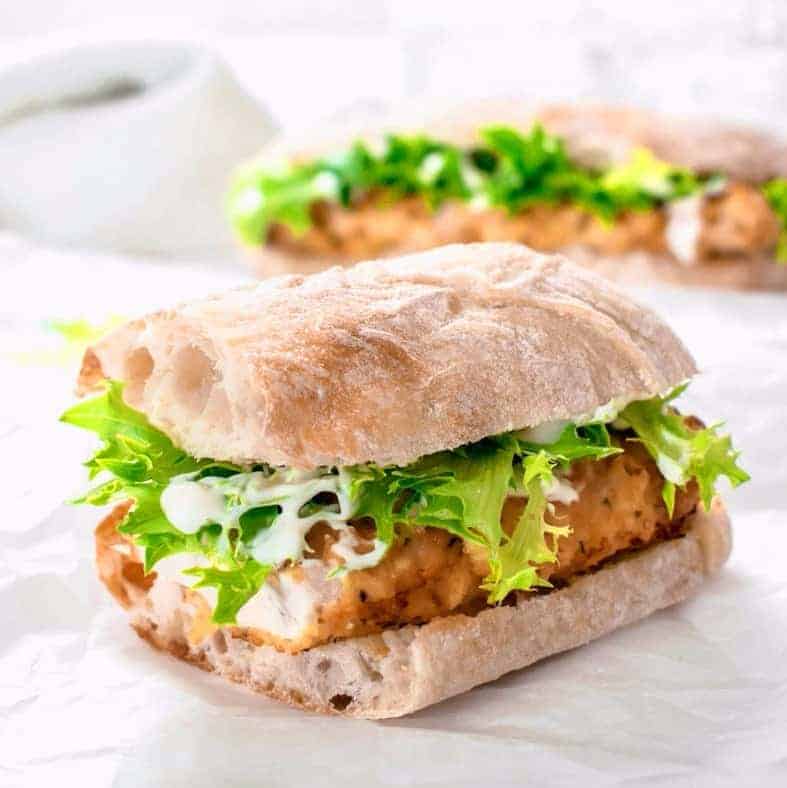 But, back to Mcdonalds and those 5 burgers they do have. I'm always a bit unsure of which is the best to order, my thought process is:
Chicken Mayo – is only 99p, great, but it's quite small – so, I'd tend to get this alone as a snack or with some medium fries for a smaller lunch too
McChicken sandwich – isn't half as popular and I rarely see it ordered, but I used to have these years ago before the chicken legend
McSpicy / McCrispy – these are quite new and the most popular of the burgers offered I think. I've had both the McCrispy and McSpicy and enjoyed them, but think I prefer a Chicken Mayo
So, today I've ordered and taste-tested the 3 main McDonald's chicken burgers (McCrispy, Mayo + McSandwich) side by side, and here are the results:
Firstly, I'm surprised that the McChicken Sandwich really isn't that much bigger than the Chicken Mayo. There is quite a price difference between the two (McChicken Sandwich is 3 or 4x more expensive).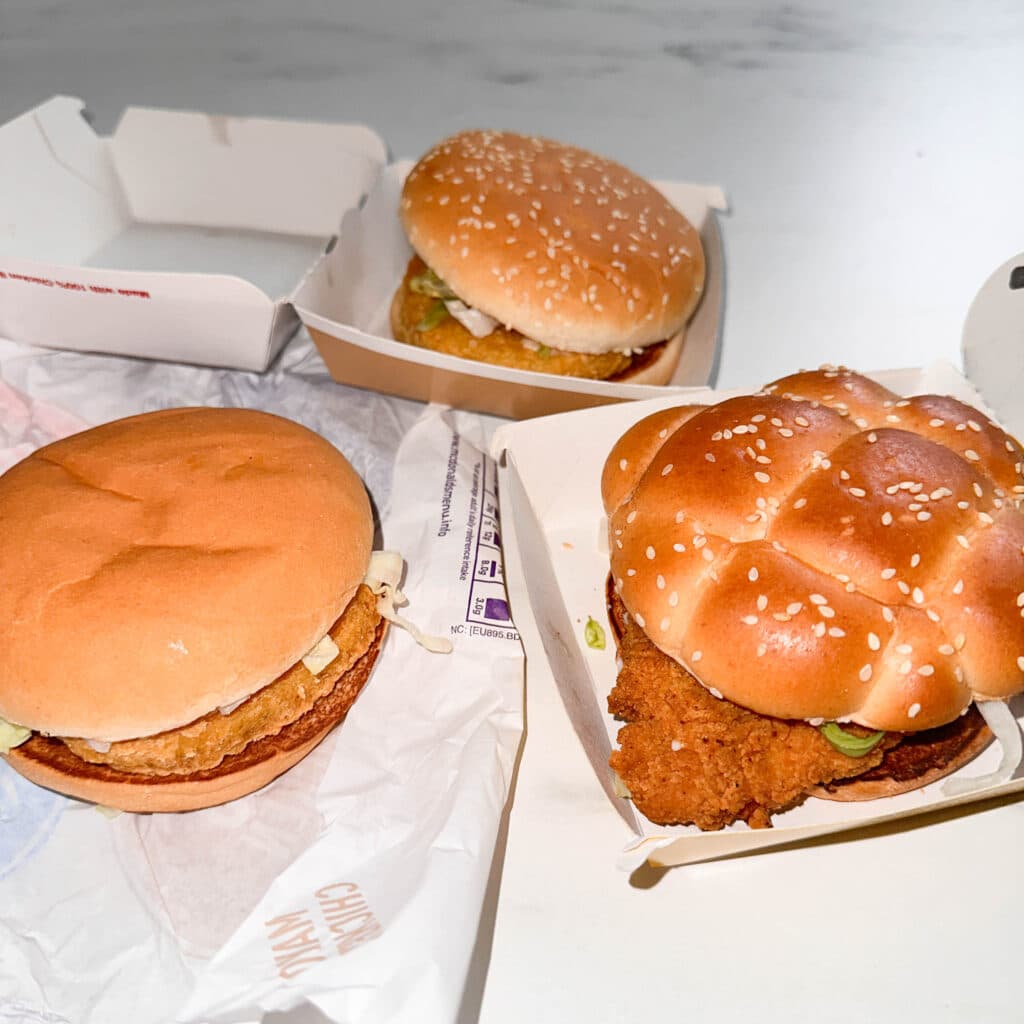 The differences:
McCrispy
McSandwich
Chicken Mayo
The Bun

Sesame Topped Sourdough Style Bun
770 kJ | 182 kcal

Sesame Bun
670 kJ | 158 kcal

Bun
603 kJ | 142 kcal
The Burger

McCrispy Patty
1,032 kJ | 246 kcal

Coated Chicken Patty
703 kJ | 168 kcal

Chicken Patty
477 kJ | 114 kcal
The Toppings

Iceberg Lettuce & Black Pepper Mayo
216 kJ | 52 kcal

Iceberg Lettuce & Sandwich Sauce
163 kJ | 39 kcal



Cool Mayo
115 kJ | 28 kcal
The Price
£5.49 on it's own, or £7.79 as part of a meal
£4.49 or £6.89 as part of a meal
£1.29 or £4.69 as part of meal
My Rating
These prices and ingredients are accurate as of Sept 2023
Here's my review of each of the McDonalds Chicken Burgers: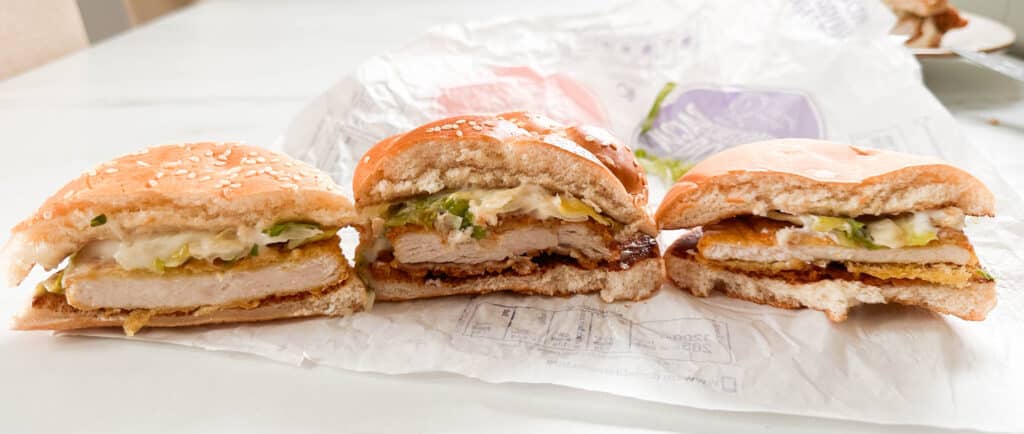 1. The McCrispy
The most expensive of the 3 burgers tried today. This burger is nice – I don't like it as much as the McLegend, but it's a solid replacement. The bun is nice and feels more premium, the chicken is really well-coated and certainly crispy.
The coating on the burger is seasoned well with lots of pepper, whilst this isn't spicy – I think if you like milder tastes you might find it a little bit though (if that makes sense).
The 'black pepper mayo' just tasted like normal mayo to me. This burger is a nice size, however, it is £7.79 as part of a meal so quite pricey by my fast-food expectations.
2. The McChicken Sandwich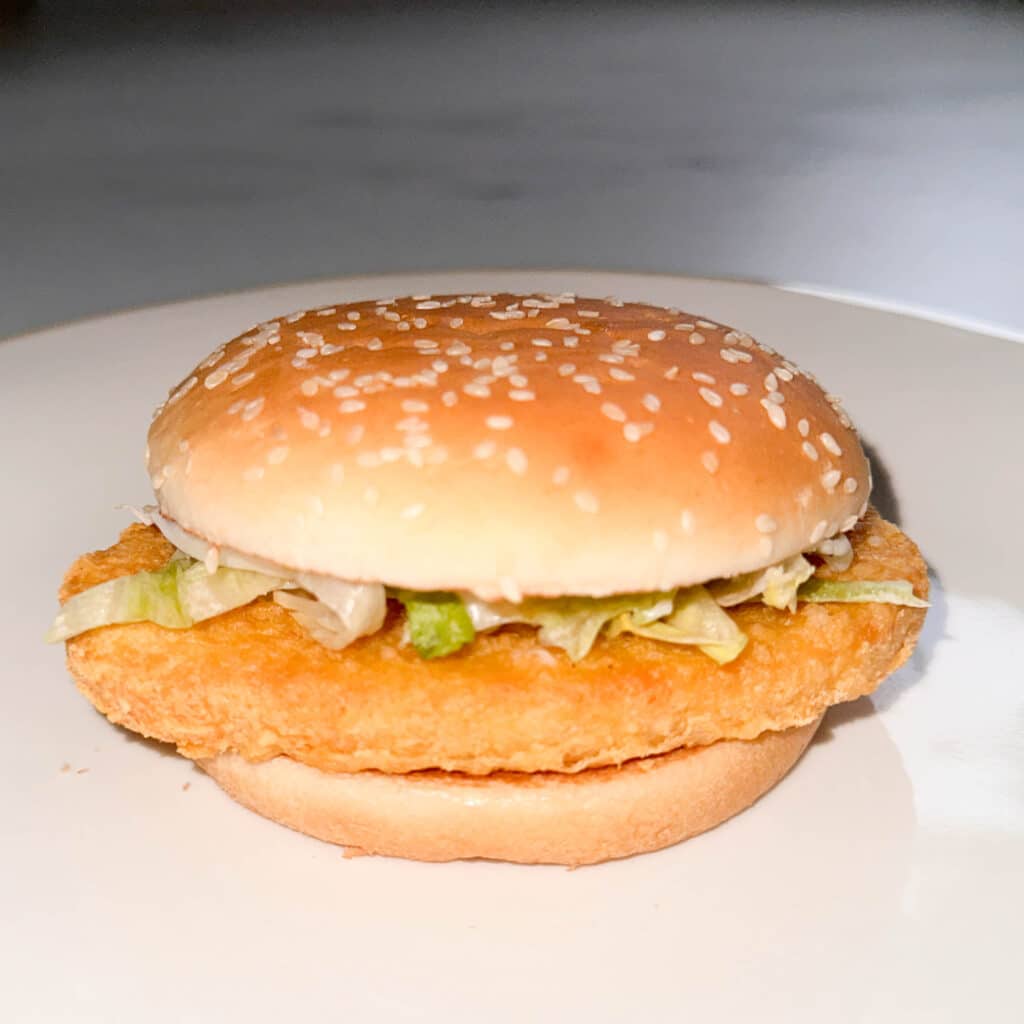 The cheaper of the two 'main' burgers on offer, this is quite different from the McSpicy in a few ways. The main difference being that the burger patty is like a big chicken nugget rather than pieces of meat. It's coated in a batter which is just like the chicken nuggets, so, if you like those this might be the burger for you. This had WAY more mayo on, and the mayo felt creamier and nicer too – looking at the ingredients this is likely as its 'sandwich sauce' instead – this was a nice touch. The bun was soft and more like the beef burger buns.
3. The Mayo Chicken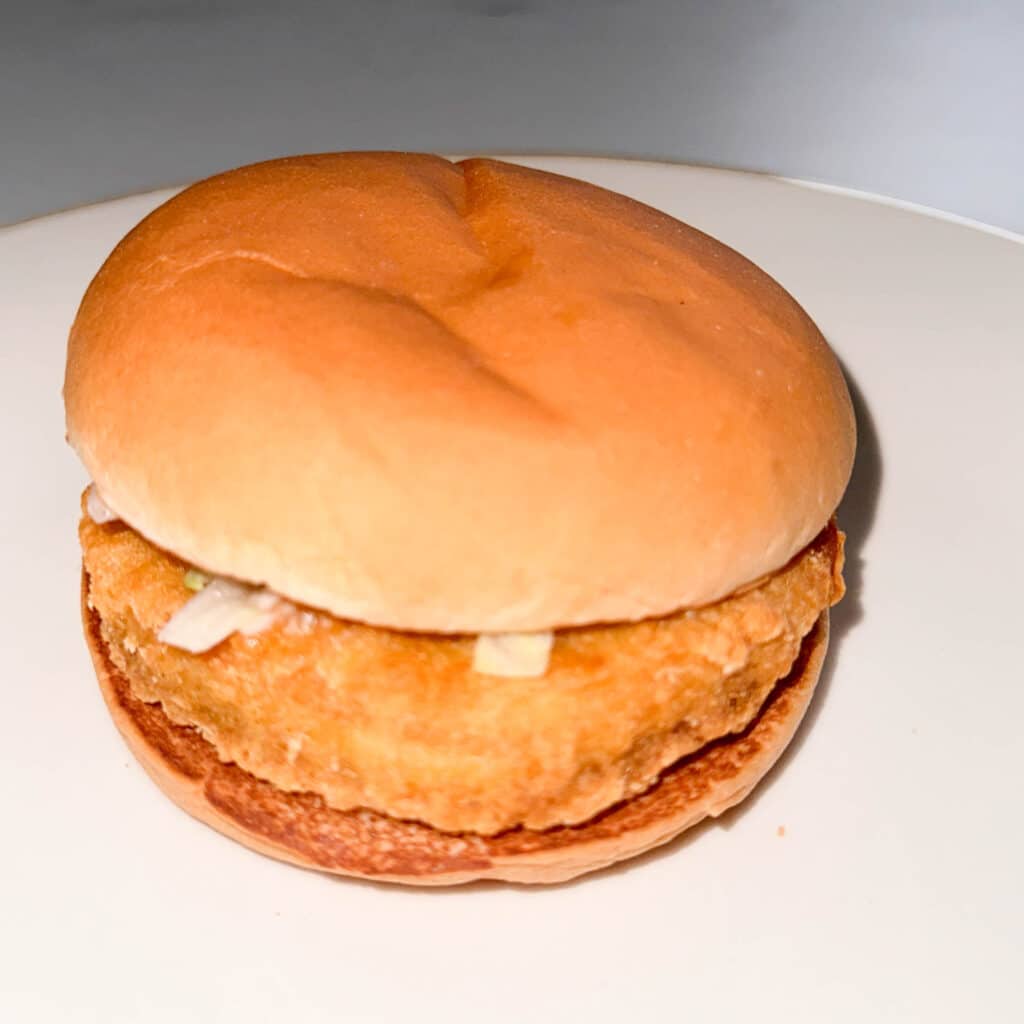 At 99p, this is like a smaller version of the McChicken Sandwich to me. It's the same 'formed' meat rather than pieces of and in a 'chicken nugget' style batter. My burger didn't have much mayo, and the mayo was definitely a bit more basic than the McChicken sandwich sauce. But – despite it being the most basic of the round-up – I think it's my favourite. I like the simplicity and small size and at 99p it's a really easy meal to pick up on the go.
Final thoughts
Tasting them all side by side really showed how similar the McSandwich and Chicken mayo are – they're both basic chicken sandwiches with lettuce and mayo (albeit different type of mayo). Whilst the Mayo on the McChicken sandwich was creamier – I'd opt for the Mayo chicken every time because it's 99p vs £4.49 and really not that much different. It is smaller though, so if I was hungrier I'd likely just get 2 of them.
The McCrispy however is a totally different sandwich to either – the meat is clearly chicken meat which is coated, rather than a large chicken nugget style and it has way more flavour. If you're after a good chicken burger – I'd recommend the McCrispy, however if you're after a fast-food hit and quite like nuggets and simpler flavours – save some money and get the Mayo chicken.
What's your favourite McDonalds chicken burger – and should I try the McSpicy next? Please comment below!