The Actifry can cook so much more than chips and roast potatoes. This month i'm working on writing up and photographing all my Actifry recipes and creations.
This Actifry pasta sauce recipe is absolutely heavenly. It is made quickly, and easily, meaning you don't need to babysit a pan to get a rich, healthy pasta sauce from scratch.
The way i've served the sauce below is mixed through pasta, but this easy Actifry Tomato Sauce can be served with meat, vegetables or even as a pizza sauce.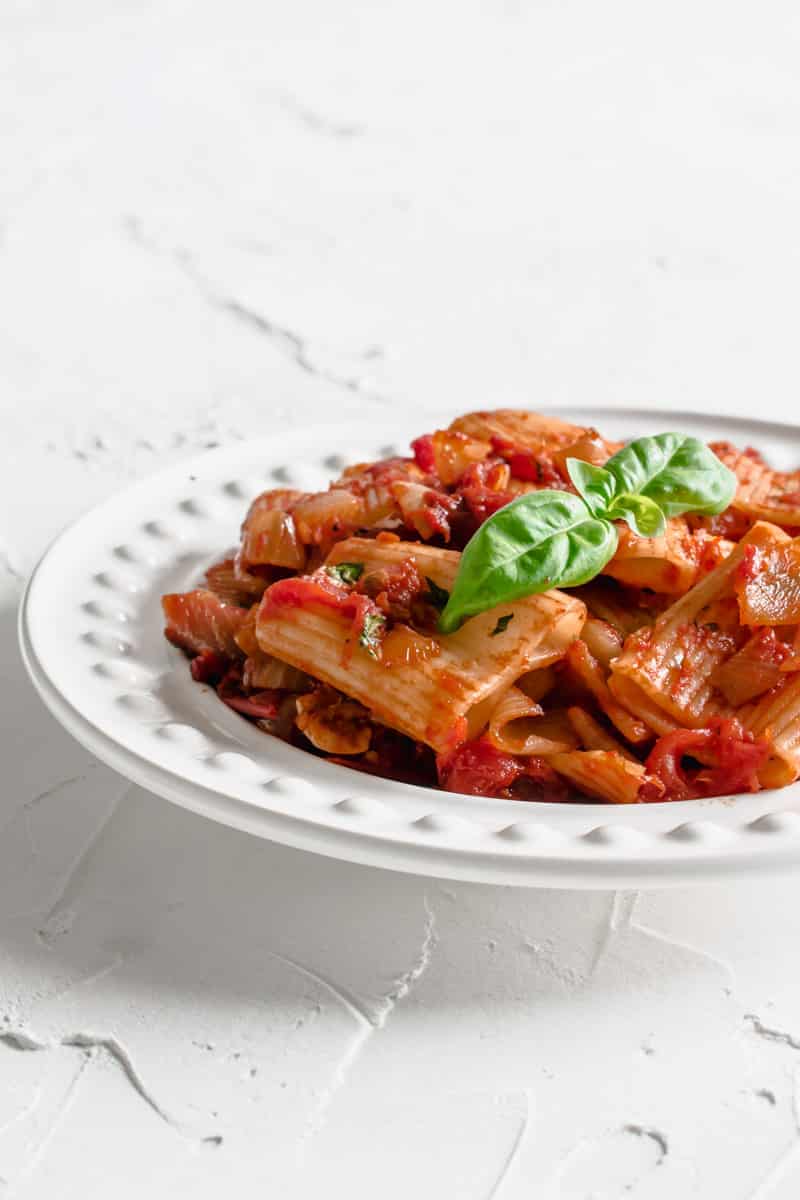 Keep the paddle in whilst cooking this pasta sauce as it will perfectly rotate the onions and garlic turning them sweet and delicious. Please don't skip adding the sugar, the addition of sugar to tomato dishes has a huge effect to the final taste – it makes the dish richer, cutting through the acidity of the tomatoes.
How To Make Tomato & Basil Pasta Sauce In The Actifry
Scroll down for printable recipe card
Begin by chopping the onion and crushing the garlic cloves

Add the garlic and onion to the Actifry

Then add the oil and cook for 10 minutes

After 10 minutes, your onions should look like these:

If you're serving your sauce with pasta, I recommend you make a start on boiling the pasta, as per packet instructions, now

Add the tin of tomatoes to the Actifry
Then add the Italian seasoning

Add the balsamic vinegar

And finally, add the sugar and tomato puree

Use your spoon to combine and break up the puree

Then turn the actifry on and cook for a futher 10 minutes, or longer if you'd like it thicker – after 10ish minutes, this is how mine looks: 
drain your pasta, then add to the Actifry along with the basil

Cloe the lid and cook for a further 1 minute, to combine the pasta and the sauce
Serve hot, or cold, garnished with additional basil
Yield: 4 People
Actifry Toamto & Basil Pasta Sauce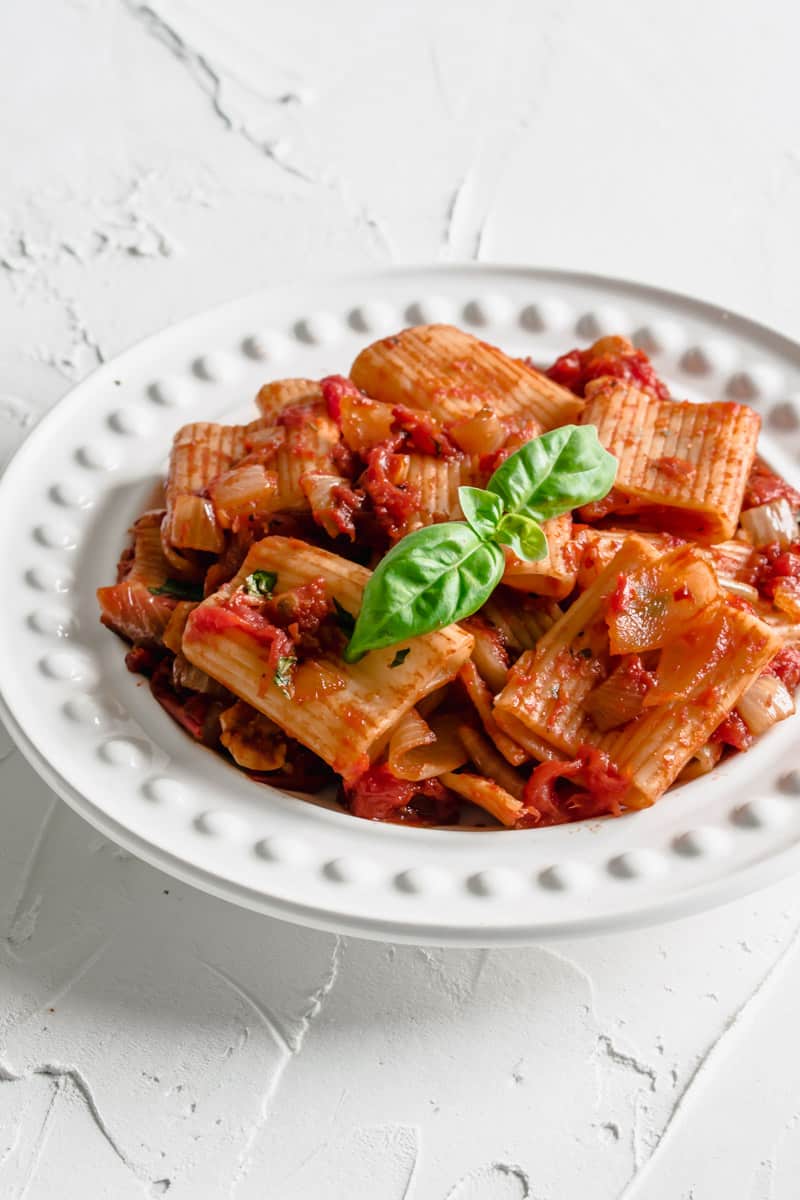 A super delicious and nutritious pasta sauce made in the actifry. Rich, tomato and fresh basil makes for a light, healthy lunch the whole family will enjoy. Cooked with minimal oil in an airfryer / Actifry
Ingredients
1 tbsp Oil
1 Onion
2 Garlic Cloves
1 Tin Chopped Tomatoes
1 Tsp Sugar
1 Tbsp Tomato Puree
1 Tsp Italian Seasoning
1 Tbsp Balsamic Vinegar
1 Handful fresh chopped basil
Pasta to serve (as much pasta as you normally use to serve 4)
Instructions
Chop the onion and mince the garlic cloves
Add the onion and garlic cloves to the actifry with 1 tbsp oil
Cook for 10 minutes, with the paddle in
After 10 minutes, put your pasta in a pan of salted water, as per packet instructions
Then, add the tinned tomato, tomato puree, sugar, Italian seasoning and balsamic to the Actifry
Stir, close the lid and cook for 10 minutes
After 10 minutes, the sauce should be thick and rich
Drain the pasta, then add to the sauce in the Actifry, with the chopped basil, close the lid and allow to cook for a further 2 minutes
Serve and enjoy