Yield: 4 people
Chicken Bhuna Recipe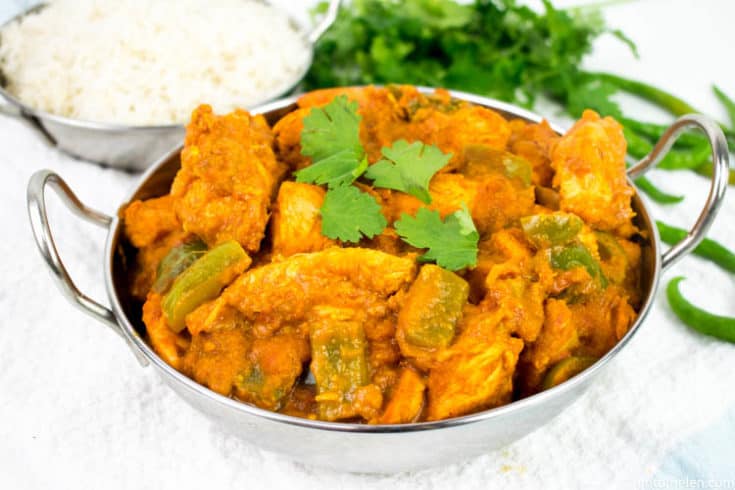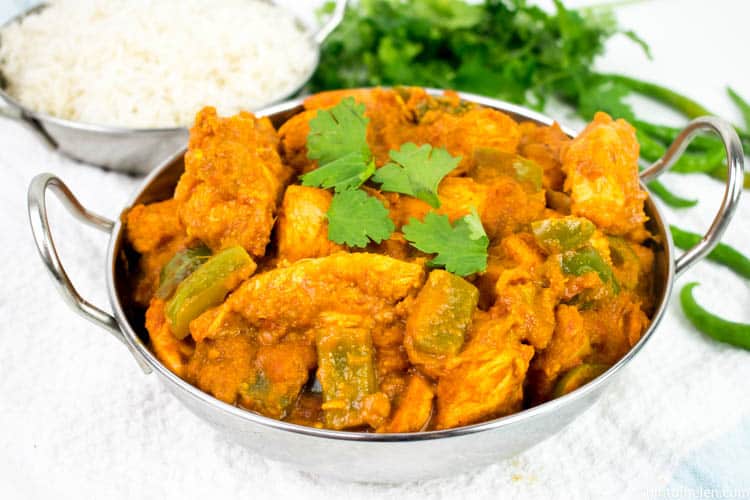 Delicious recipe for Chicken Bhuna - made just like a local, Indian restaurant! The recipe requires you to make a gravy base mixture beforehand - but trust me, its worth the effort! 
Ingredients
4 Chicken Breasts (Diced)
3 tbsp Oil
5 Garlic Cloves
2 tsp Ginger / Garlic paste
1 Onion
1 Green Chilli
2 tsp Curry Powder
1/2 tsp Paprika
1 tsp Turmeric
1/2 tsp Cumin
1/2 tsp Ground Coriander
1 tsp Tomato Puree
1 tsp Salt
1 Green Pepper
1 Tomato
300ml Base Gravy
To Serve (Optional)
Instructions
Slice the onion and dice the pepper into even sized chunks
Heat oil in a large, non-stick pan and add the onion, cook on low until softened and golden.
Then add the pepper, chicken, chilli and garlic/ginger paste - cook for about 3 minutes, stirring constantly.
Add the dried spices, stir and cook gently for about 1 minute.
Add the tomato puree and chopped tomato - cook for a further 30 seconds.
Add the base gravy and stir everything together, then turn up the heat. Cook on high until your chicken is cooked through, and the gravy thick and combined.
Remove from the heat and serve topped with fresh coriander.
How To Make Chicken Bhuna At Home
Make sure you have some pre-prepared curry base sauce ready for this recipe

Chop and marinate your chicken in Patak's Tandoori Spice Marinate
Heat oil in large, non-stick pan and fry the chicken until cooked through (or grill the chicken if you'd prefer)
Once the chicken is cooked through, remove from heat and set aside on a piece of kitchen roll to dab off any access oil
Heat oil in a large, non-stick pan and add the sliced onions
Cook until browned and soft – about 5 minutes 
Then, add the green pepper and chilli to the pan, stir and cook for a further minute – if you need to add more oil to the pan, do so

Then, add the ginger garlic paste, stir and cook 
Add the dried spices and cook for a further minute
Add the remainder of the ingredients
Stir and cook on high heat 
Add the base sauce 
Continue to cook on high heat 
Reduce the heat and add the earlier prepared and cooked chicken – heat until the chicken is warmed through

Remove from the heat once the chicken is heated through – serve and enjoy