This cornflake tart is so simple and nostalgic. A firm favourite in our house, and one of my husbands all time favourite desserts. It's the perfect combination of sweet and buttery flavours; a homemade shortcrust pastry, filled with strawberry or raspberry jam and layered with sticky golden syrup cornflakes – delicious!
The tart is lovely served with custard or ice cream – or alone is lovely, too! I know it looks like there's alot of steps below to make it, but once the pastry is done it's very simple (and using homemade pastry makes all the difference vs shop bought).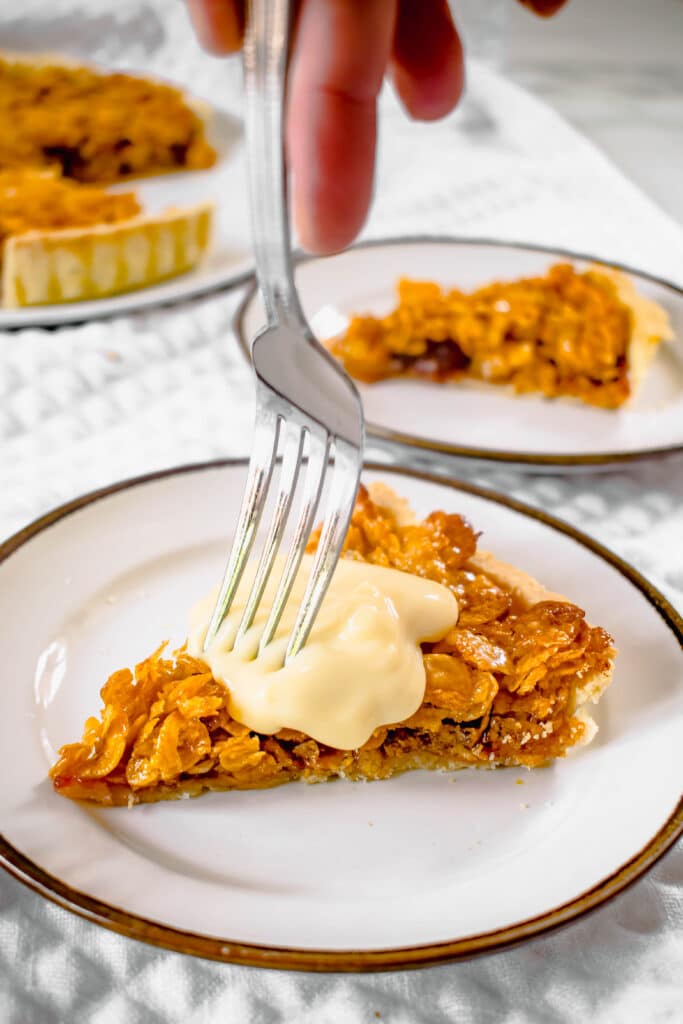 I also have recipes for old school cake and chocolate crunch, if you'd like to take a trip down memory lane, check them out.
How to make a cornflake tart
Step by step photos and instructions – scroll down for the full ingredient list and printable instructions
1. Begin by pre-heating your oven to 180C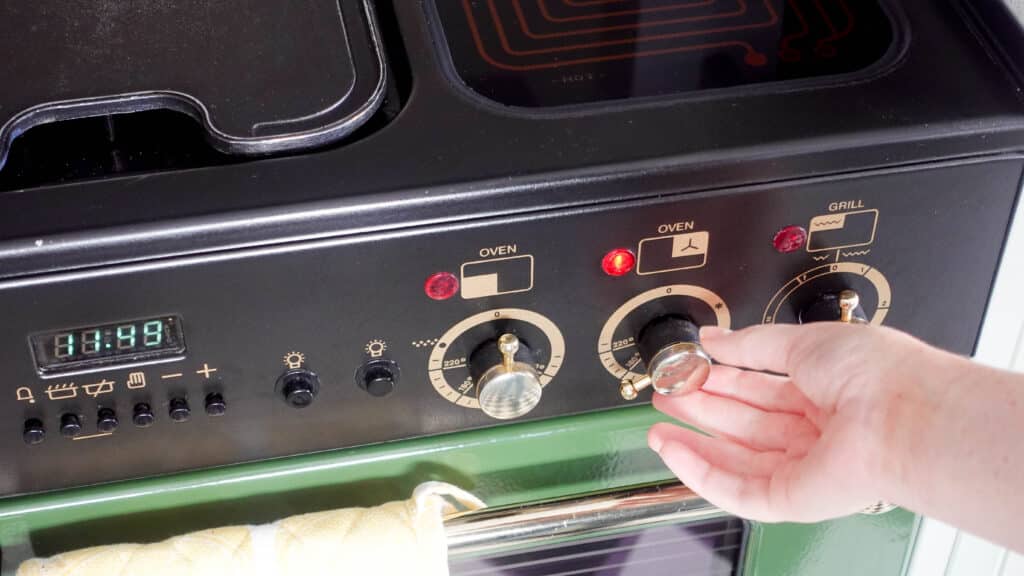 2. Measure out the 200g plain flour and 100g unsalted butter, and cut the butter into small chunks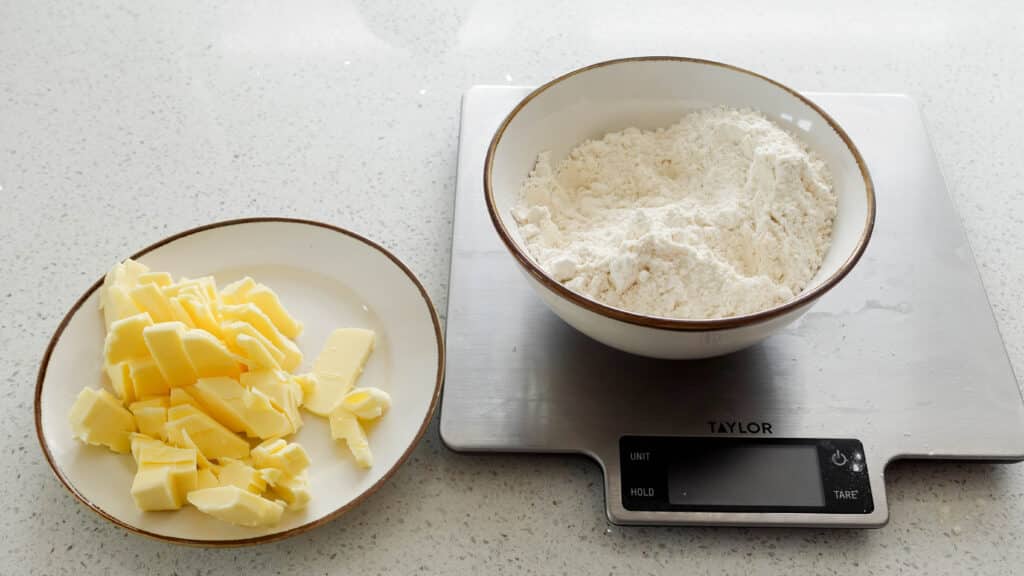 3. Then use your hand (or a food processor) to mix these together, it will come together to form a chunky breadcrumb texture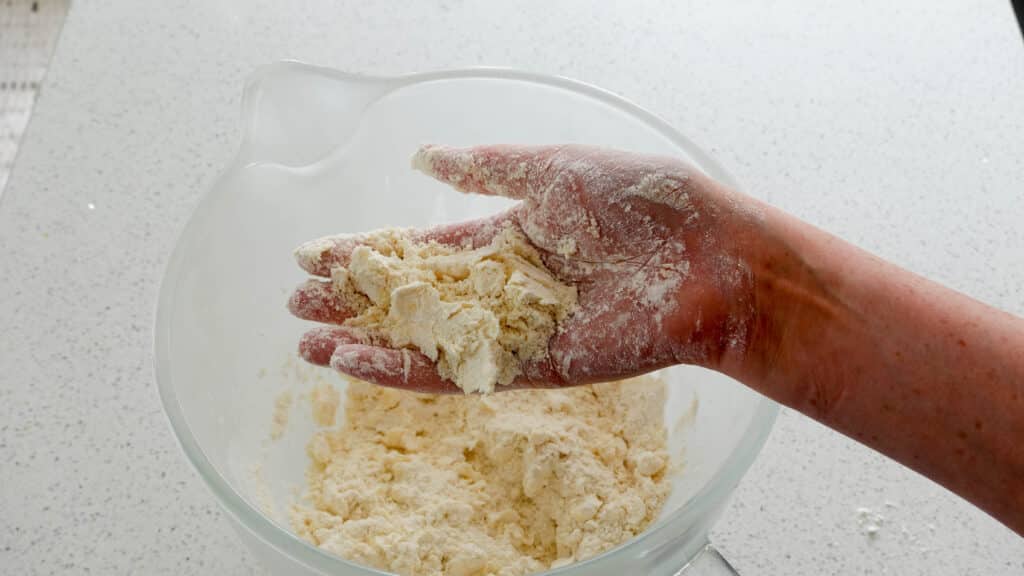 4. Then, slowly add in COLD water, 1 tbsp at a time (you'll likely need 3-4 tbsps) and mix with a spoon until it starts to come together, then, use your hands to mix it –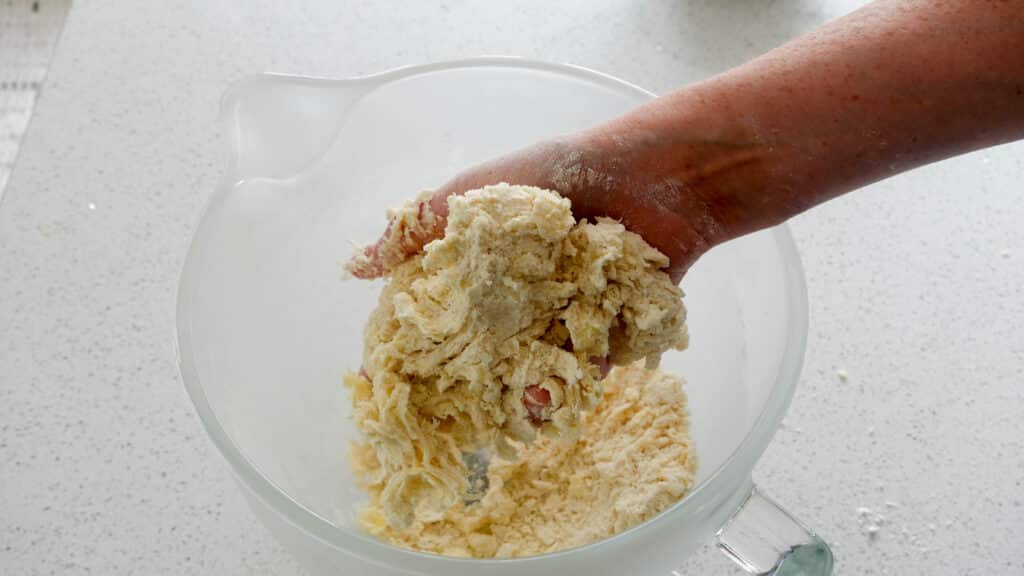 5. After a moment of hand mixing, it should form a ball of dough – like this: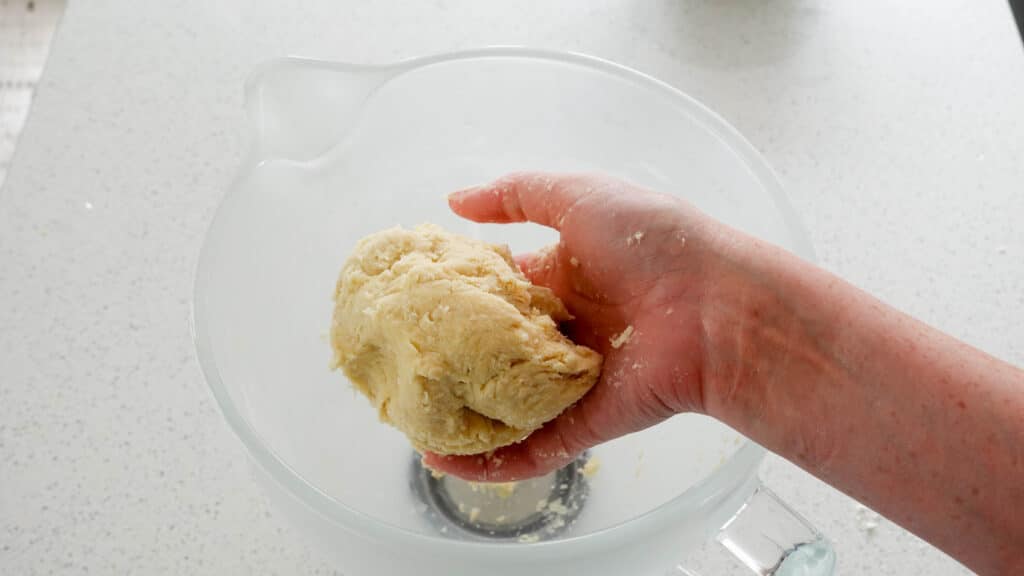 6. Then rub your tart dish with butter (I tend to put my hand inside a sandwich bag to do this, it keeps your hand clean)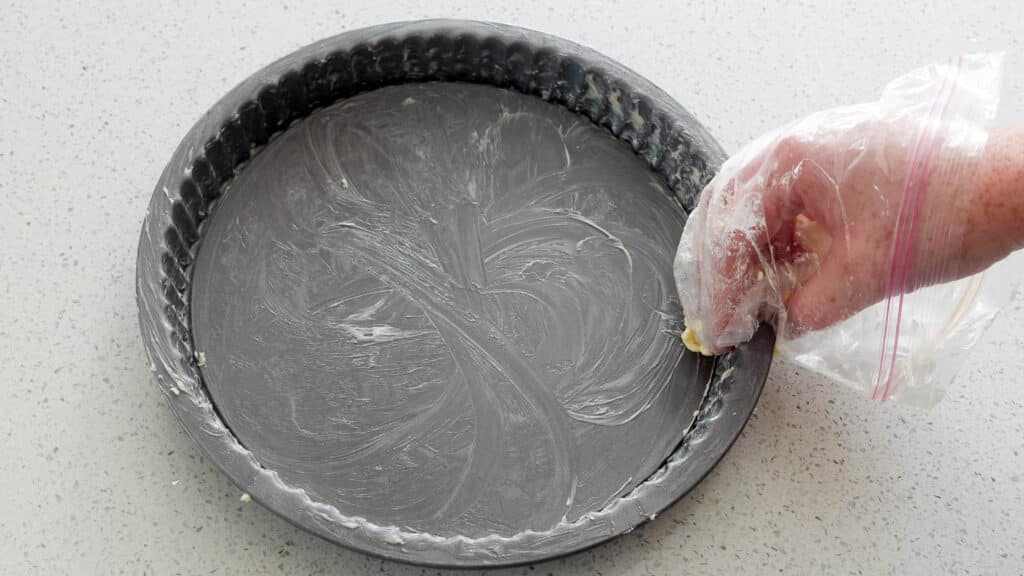 7. Next, lightly flour a clean surface and place your dough on it, turn the dough over so both sides are floured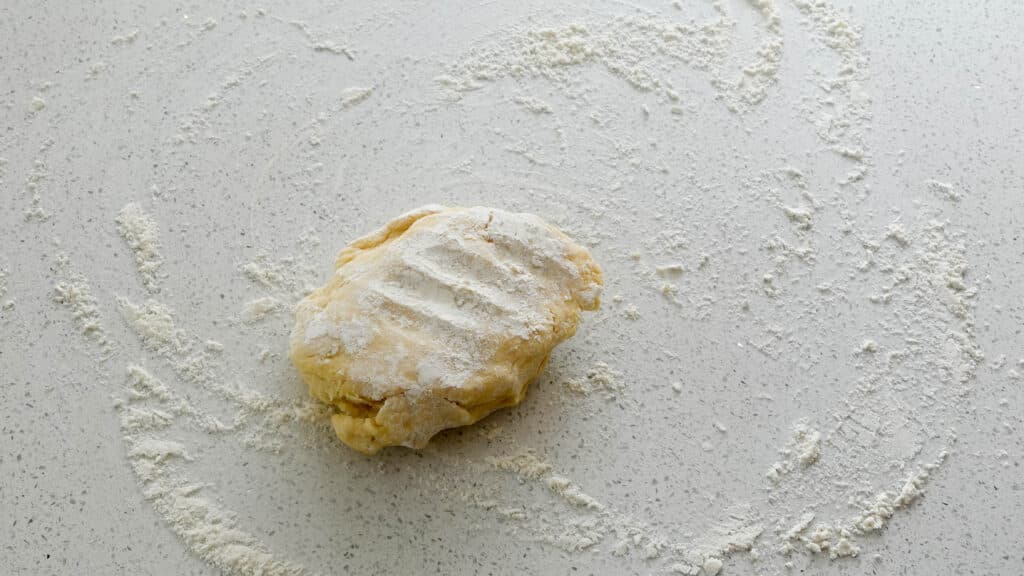 8. Then roll your dough until it's wide enough to cover your tart dish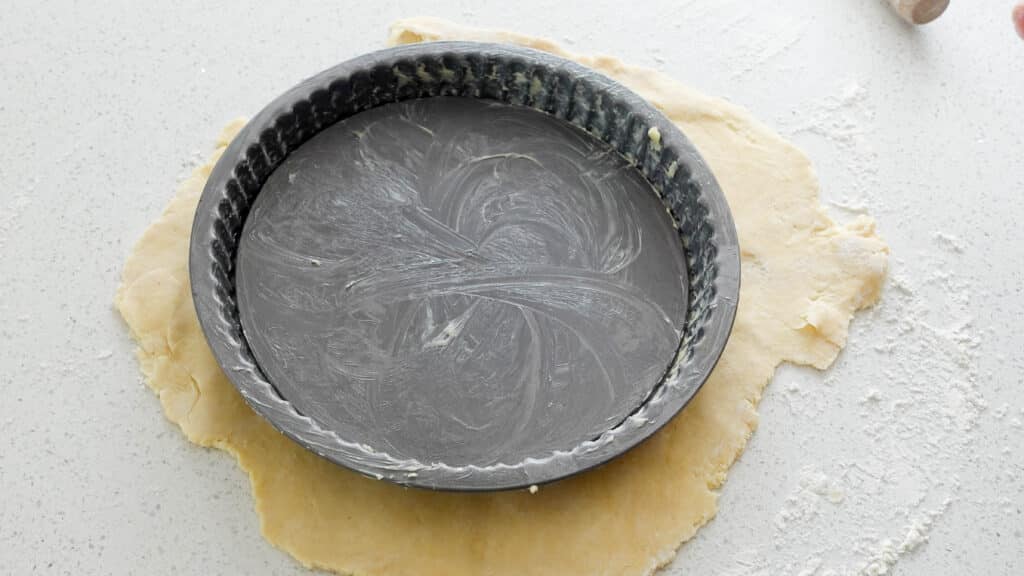 9. Place the pastry inside the dish, poke the bottom with a fork (so the base doesn't puff up too much during the blind bake) and trim the edges of pastry, leaving some overlapping the lip of the dish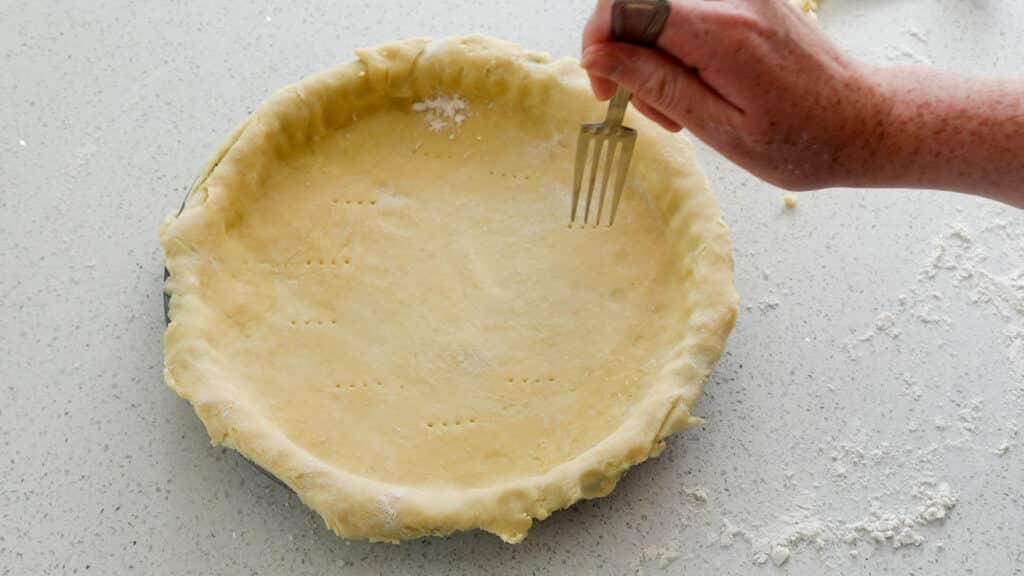 10. Scrunch up some parchment paper / baking paper and place it into the tart base
11. Fill with baking beans – or, if you don't have baking beans, use dried pasta or rice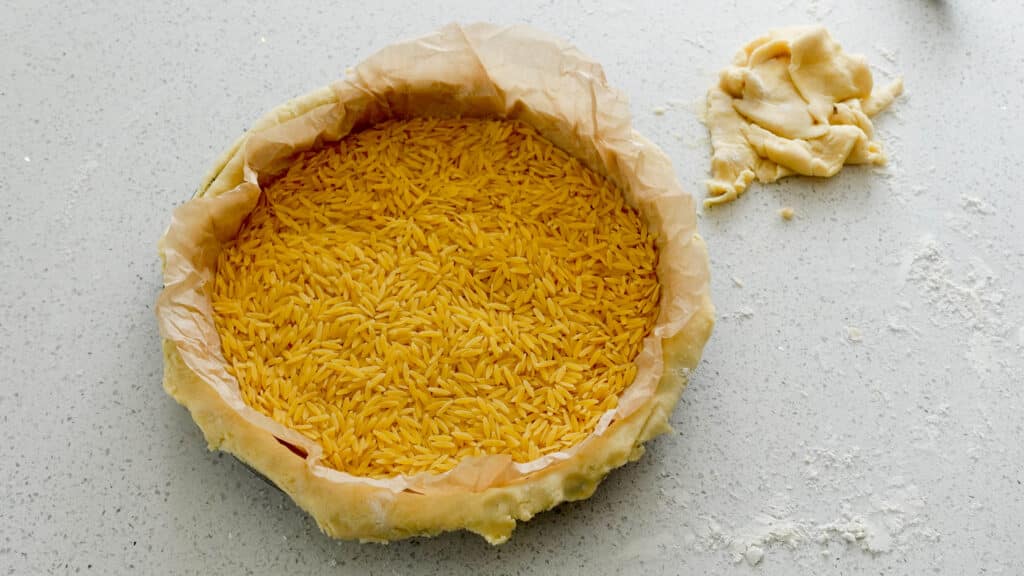 12. Then, put the tart base in the oven for 15 minutes on 180C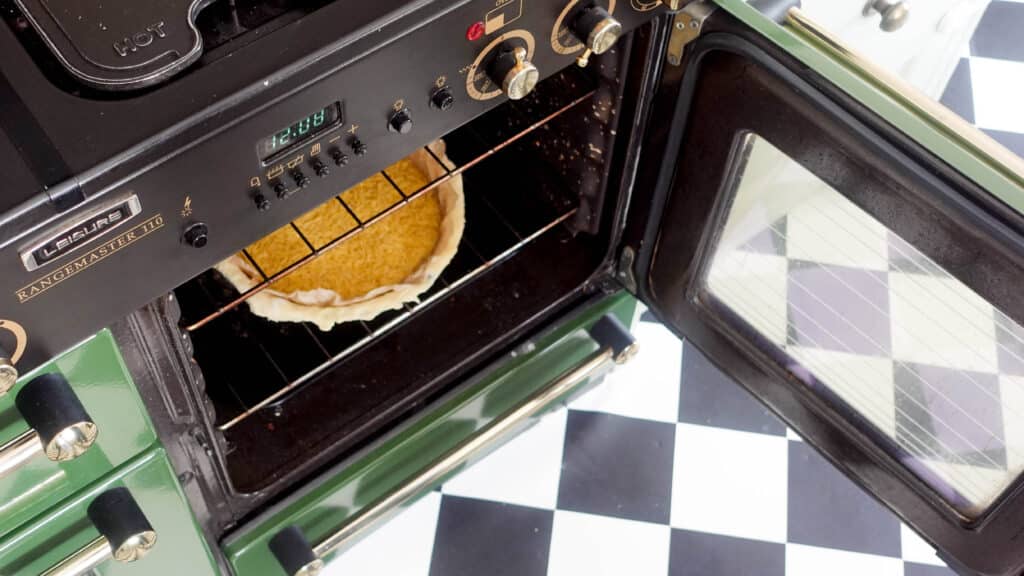 13. Whilst the base is baking, measure out your 100g of cornflakes
14. And measure / combine the 50g butter, 130 golden syrup and 30g light brown sugar, pinch of salt, into a large saucepan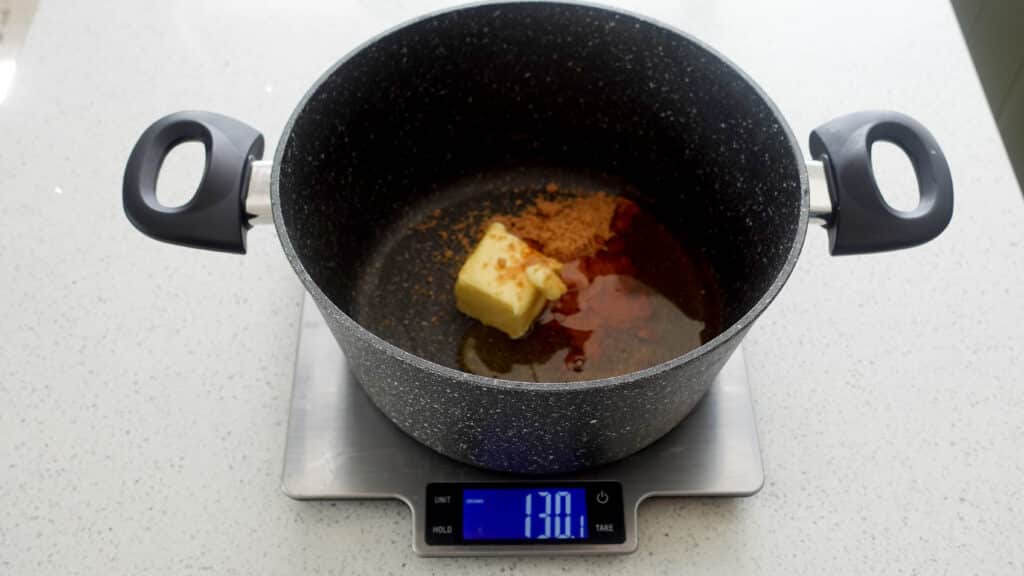 15. Heat on a low/med heat until all is melted and combined (stirring often) then immediately turn the hob off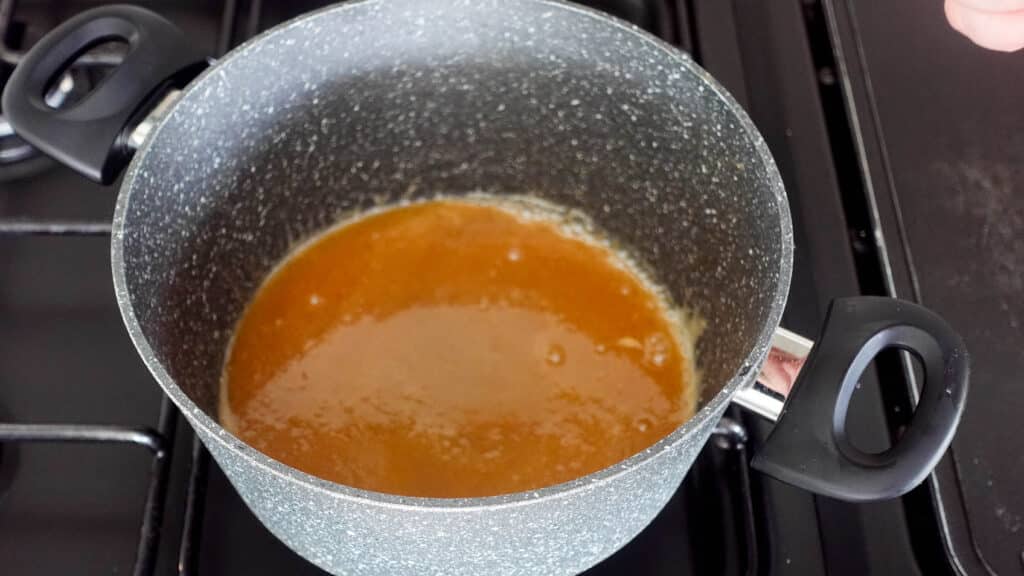 16. Pour in your cornflakes and stir so they're coated in the sticky mixture, set aside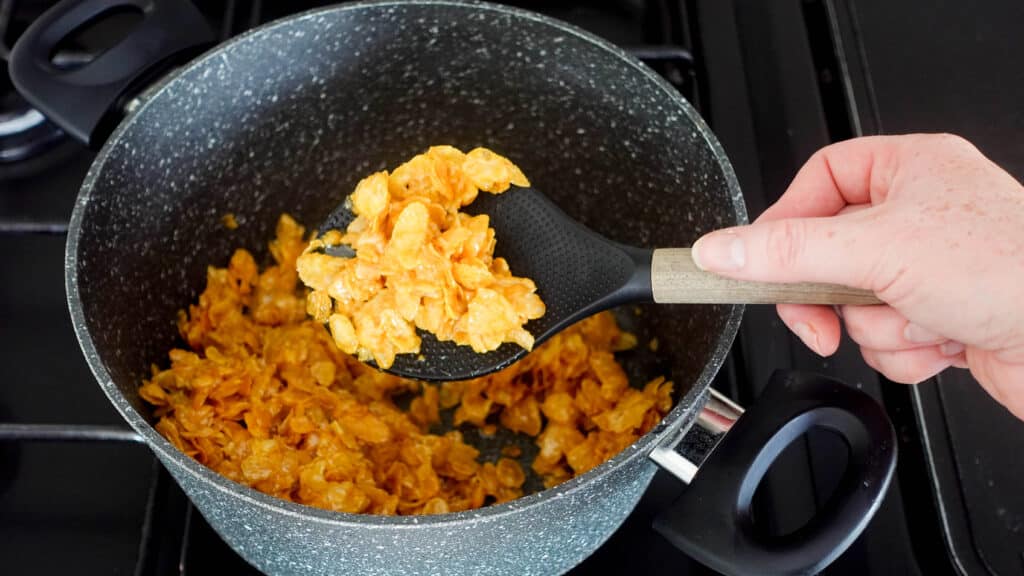 17. After 15 mins of baking – remove the tart base from the oven, and remove the parchment paper and baking beans (bin those)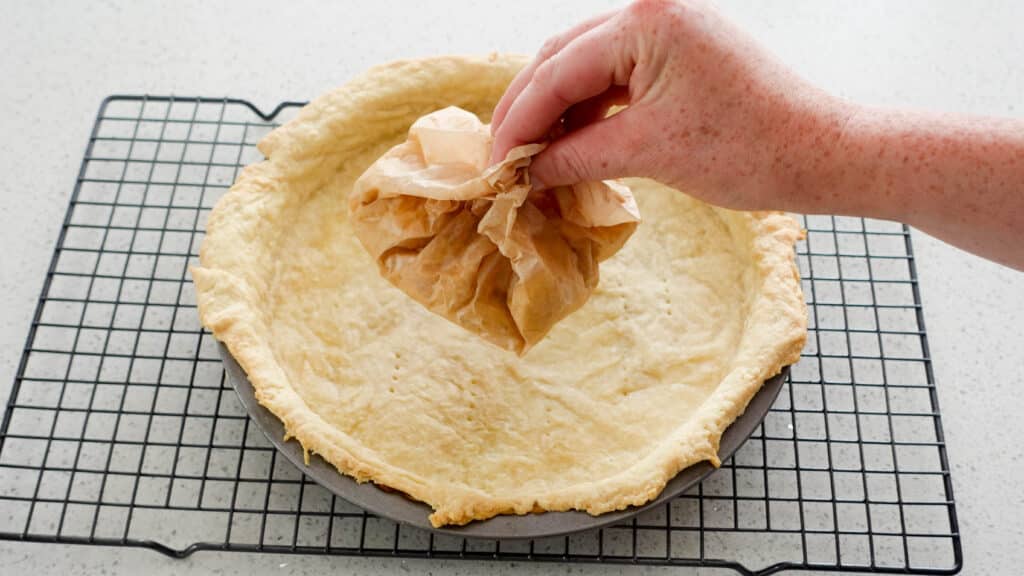 18. Trim the pastry edge so it's flush to the dish, using a bread knife is easiest (this is just so the tart looks neat when it's cooked, so is optional if this is a step you'd struggle with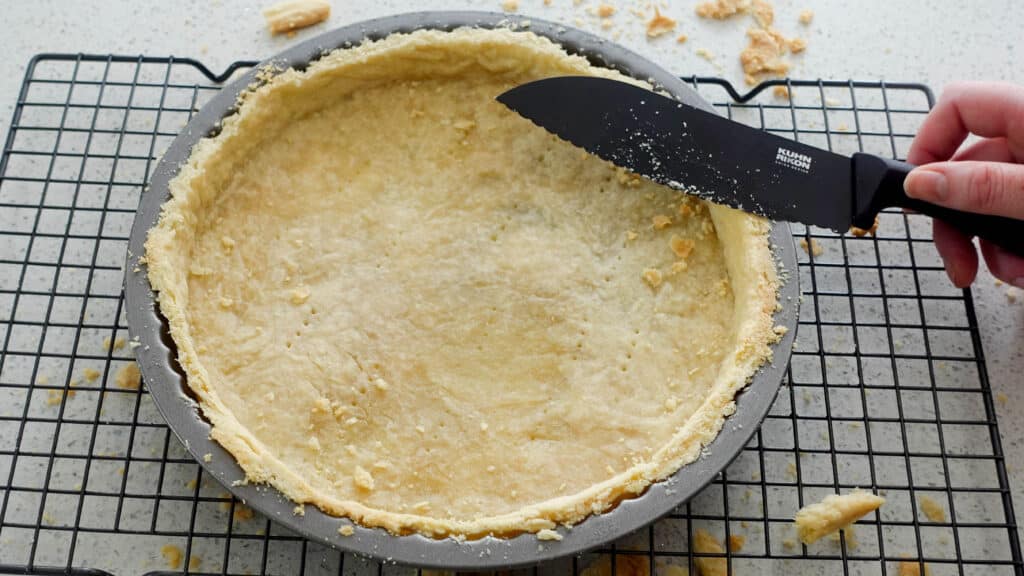 19. Then spread the 130g jam into the base (you can add more jam if you'd like)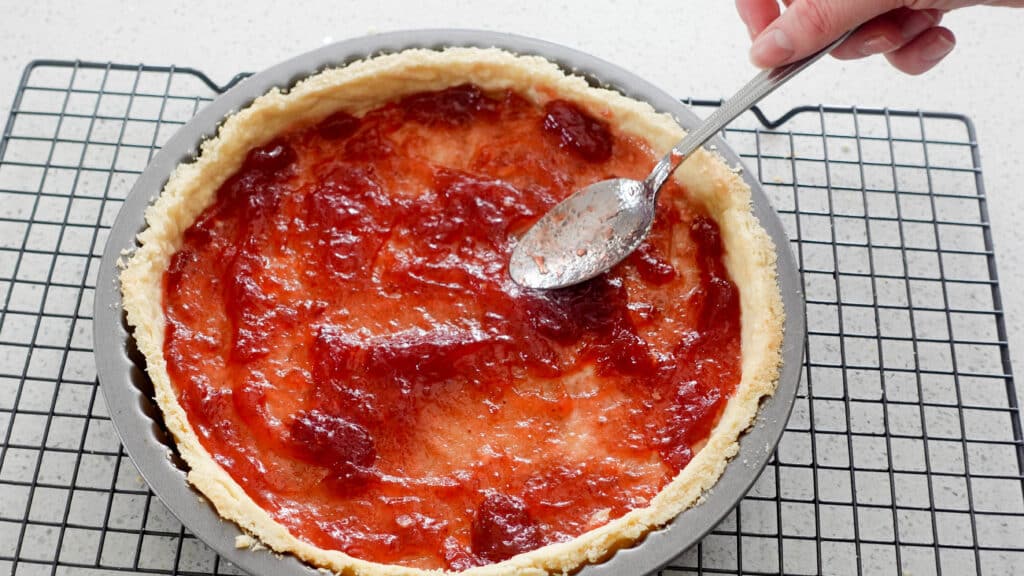 20. And finally, top with the sticky cornflake mixture, use a spoon to push it down into a flat layer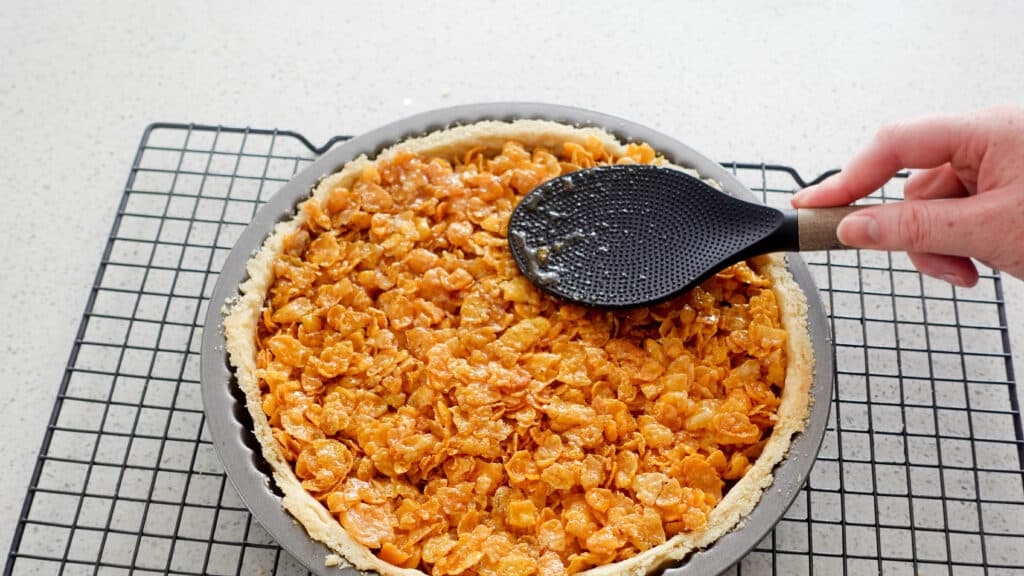 21. And bake for a final 5 minutes! Once it's baked allow it to cool for 20 mins before cutting (to allow the jam to set) and enjoy!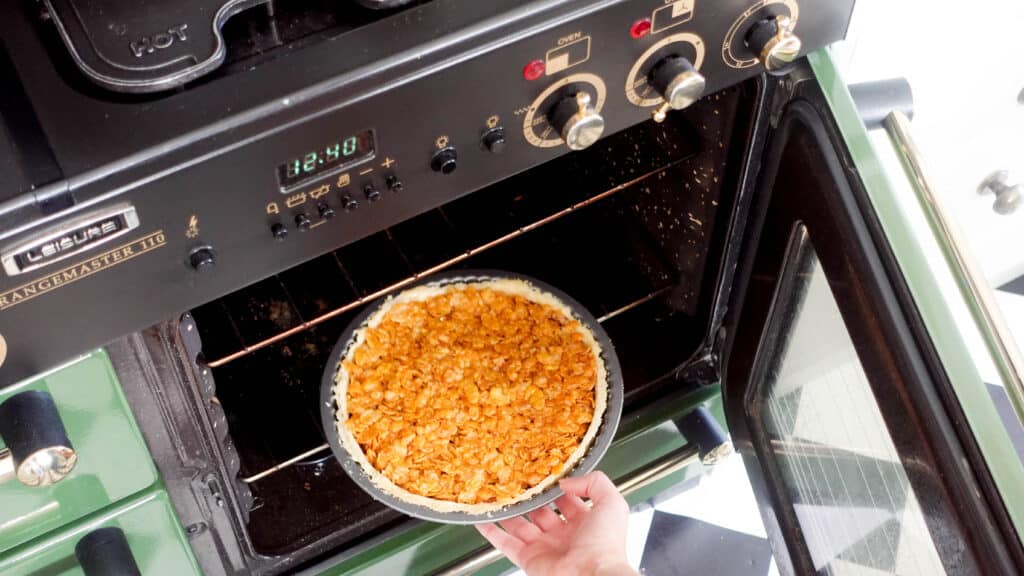 Yield: 8 servings
Cornflake Tart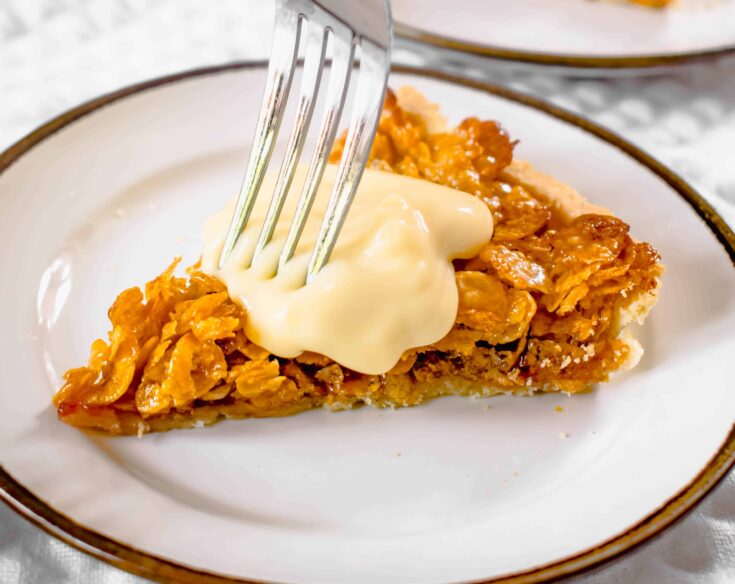 A deliciously nostalgic cornflake tart, made with homemade shortcrust pastry and a thick layer of strawberry jam. This is a super easy dessert which the whole family can enjoy, and the kids can get involved with making it, too.
Ingredients
For the pastry:
200g plain flour
110g butter
1-3 tbsp cold water
For the filling:
130g strawberry or raspberry jam
50g butter
130g golden syrup
30g soft light brown sugar
100g cornflakes
Instructions
Pre-heat your oven to 180C
Then, begin making your pastry:
- Cut the 170g butter (cold, straight from the fridge) into small cubes
- Then, add the flour, icing sugar and butter into a large mixing bowl
-Use your hands (or a food processor) to mix together until it forms rough breadcrumb texture
-Then, gradually add in the water (spoon by spoon) and mix until the dough comes together
Once the dough has come together, set aside
Lightly flour your work surface, and use a rolling pin to roll the pastry into a thin sheet which is large enough to cover your tart tin
Brush the tart tin with butter, so the tart doesn't stick to it once cooked
Then, layer the pastry over the tin and push in
Trim around the edges of the pastry leaving just a small amount of excess hanging over the rim (see images/video above for example)
Use a fork to poke some small holes into the pastry base
Then, lay a sheet of parchment paper into the base of the tart, and fill with either baking beans - or dried pasta, dried rice etc. (so when you blind bake the pastry it doesn't puff up)
Then, bake the pastry base in the oven for 10 minutes of 180C
Remove from the oven, and remove the parchment and baking beans
Now, begin making the filling (you could start this when the pastry is in to blind bake, or once it's out of the oven, whenever you feel most confident to do so).
Heat the 130g golden syrup, 50g butter and 30g light brown sugar in a large saucepan until melted and combined - then turn off the heat.
Add a pinch of salt, stir
Then, add in the cornflakes - and stir to fully coat in the sticky mixture - this is your tart filling!
Next, add the 130g jam to the cooked pie base, use a spoon to smooth it out
Then, add on the cornflake mixture - use a large spoon to flatten it down and spread it out evenly
Finally, place the tart back in the oven to cook for a final 5 minutes
Serve and enjoy! This is delicious alone, with ice cream, or with custard
Nutrition Information
Yield
8
Serving Size
1
Amount Per Serving
Calories

347
Total Fat

17g
Saturated Fat

10g
Trans Fat

1g
Unsaturated Fat

5g
Cholesterol

43mg
Sodium

232mg
Carbohydrates

47g
Fiber

1g
Sugar

13g
Protein

4g
Nutritional data provided here is only an estimate. If you're tracking these things for medical purposes please consult an outside, trusted source. Thanks!