Cottage pie is the perfect autumn and winter meal – it's a one-pot dish that is so comforting and makes perfect leftovers too.
This cottage pie is made up of minced beef, carrots, peas and garlic – topped with thick, creamy mashed potato – then finished with grated cheese and crisped up in the oven. You can make it ahead of time and re-heat at dinner time, or even make it the day before if you have guests coming over.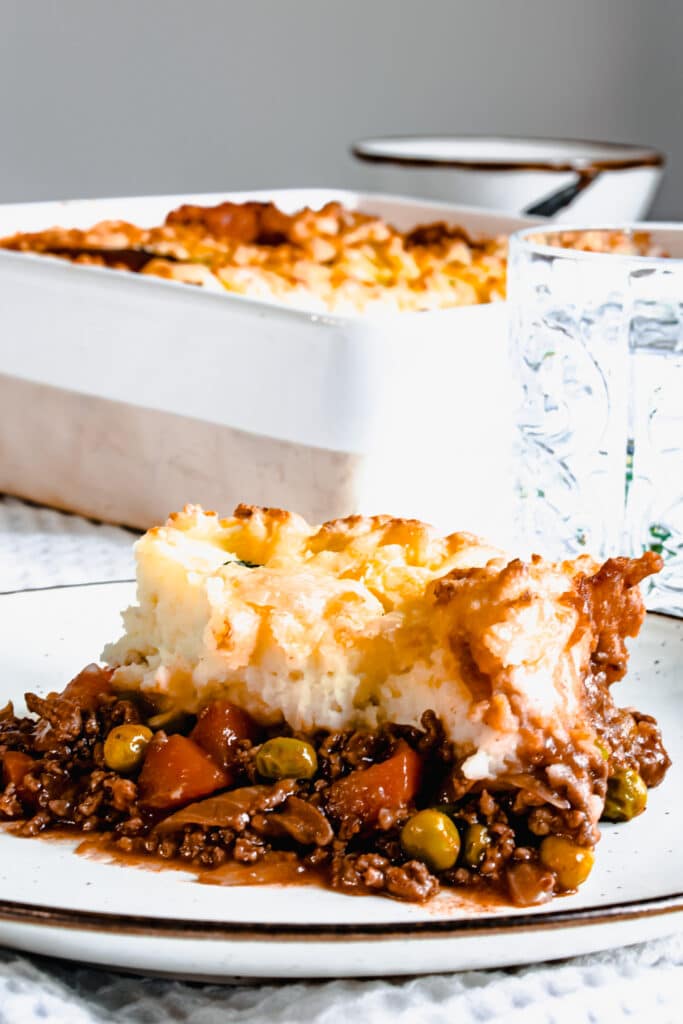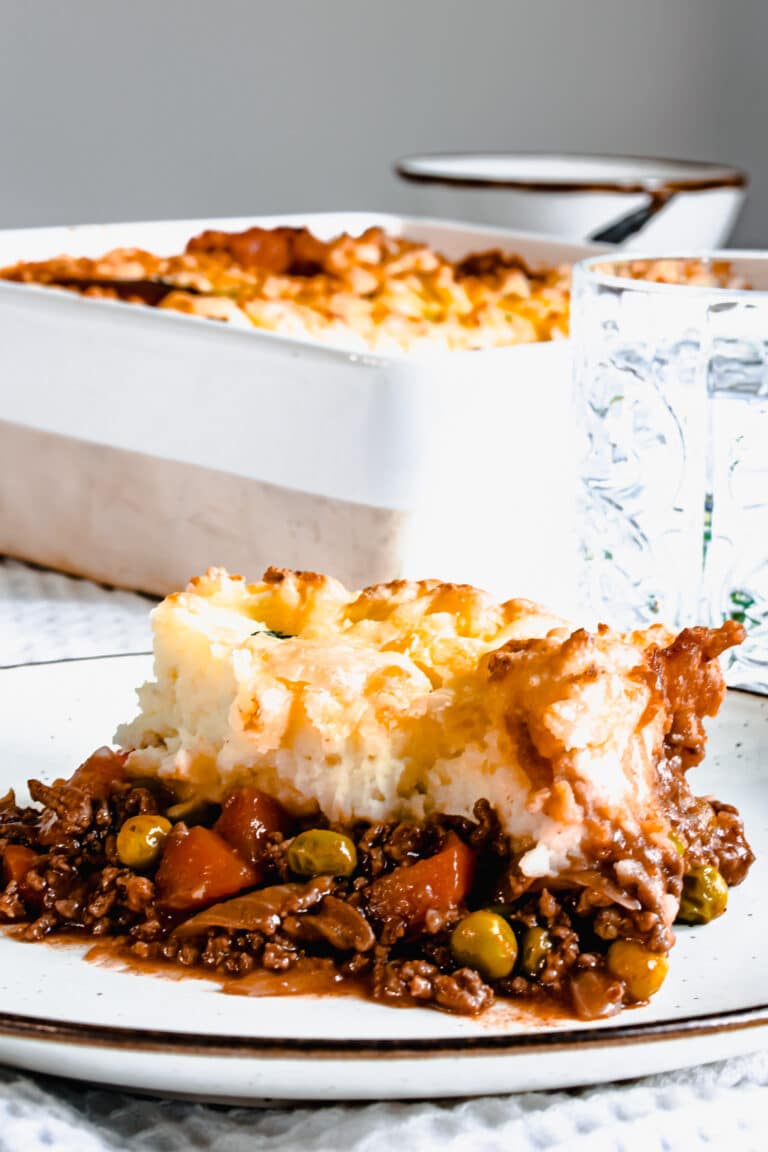 This is a traditional recipe which I've been making since childhood – my mum would always let me do the mashed potato toppings and I had great fun with patterns – if you want to get your kids involved in the kitchen I recommend giving them that task, too!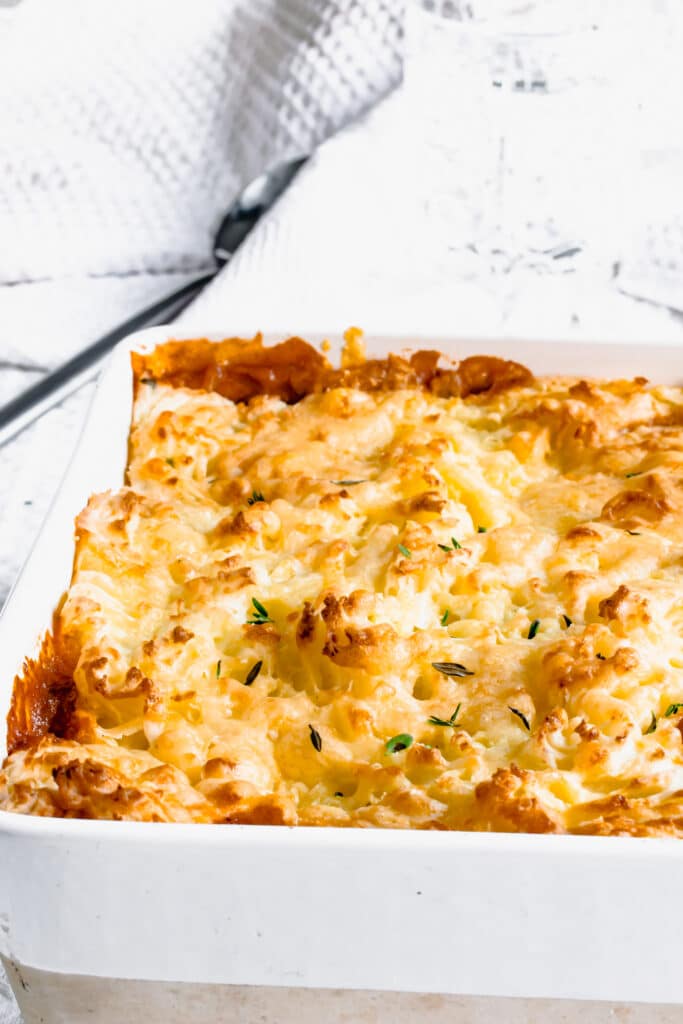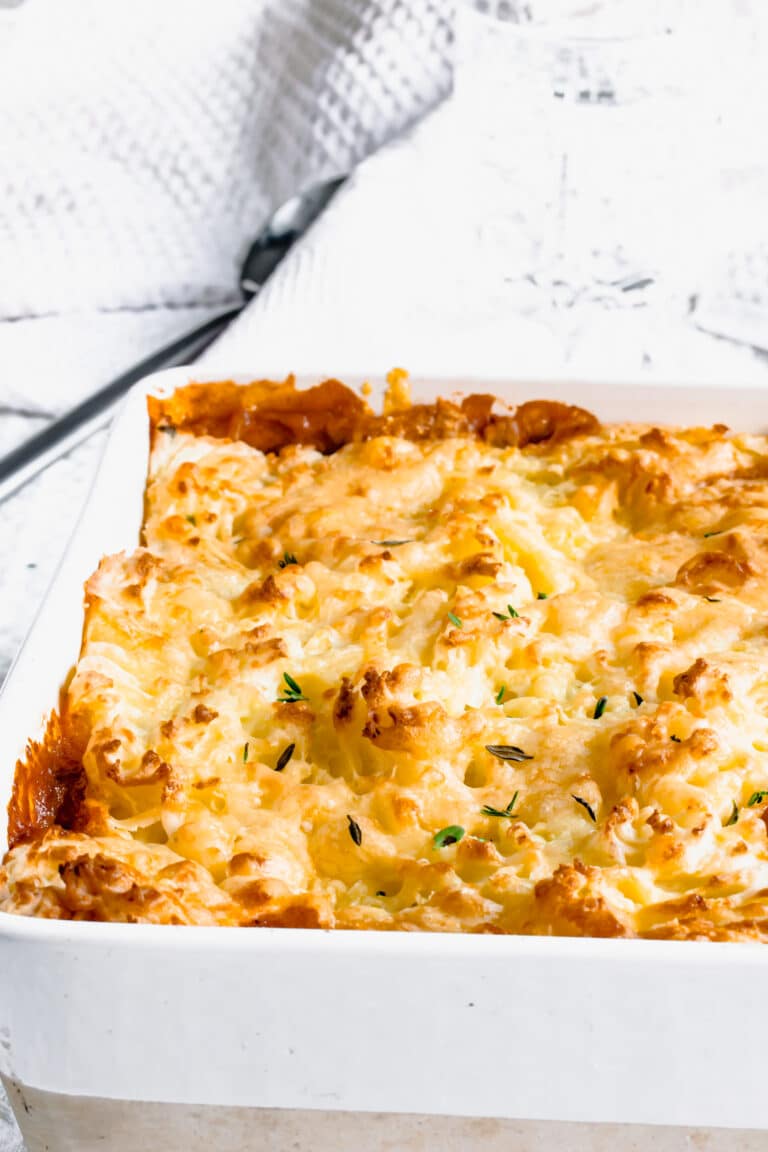 If you have a KitchenAid, you can make the mashed potato in it using this recipe.
I always serve my cottage pie with lashings of brown (HP) sauce and some buttered bread – yum!
How to make the best cottage pie at home
Scroll down to the bottom of photos for the full recipe and ingredient list. See below step-by-step photos:
1. Begin by chopping the carrots – I tend to slice lengthways, then finely widthways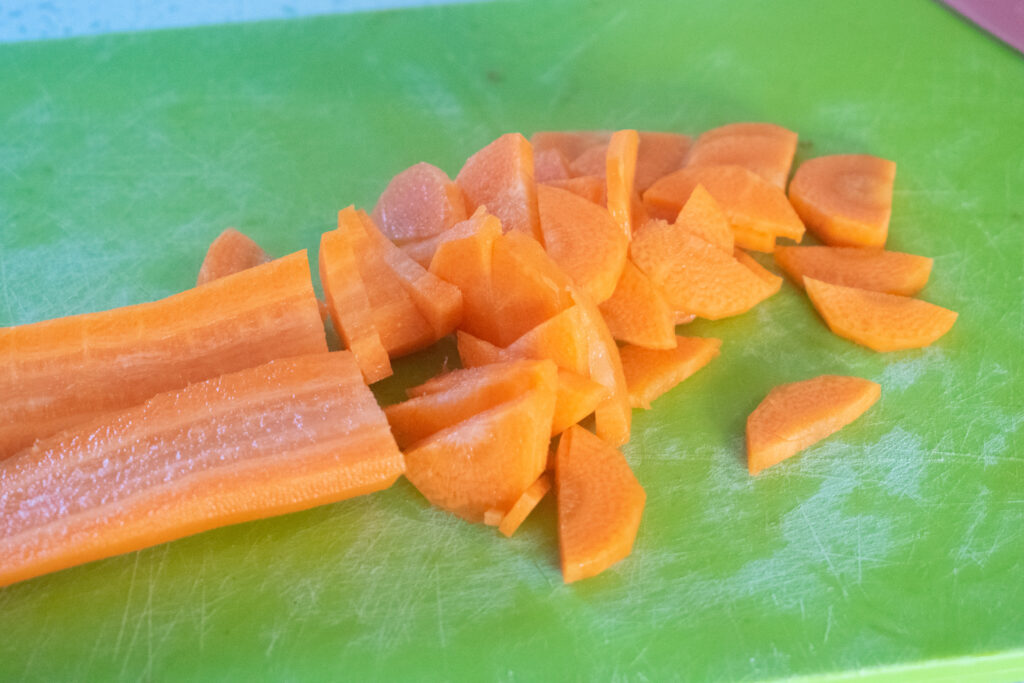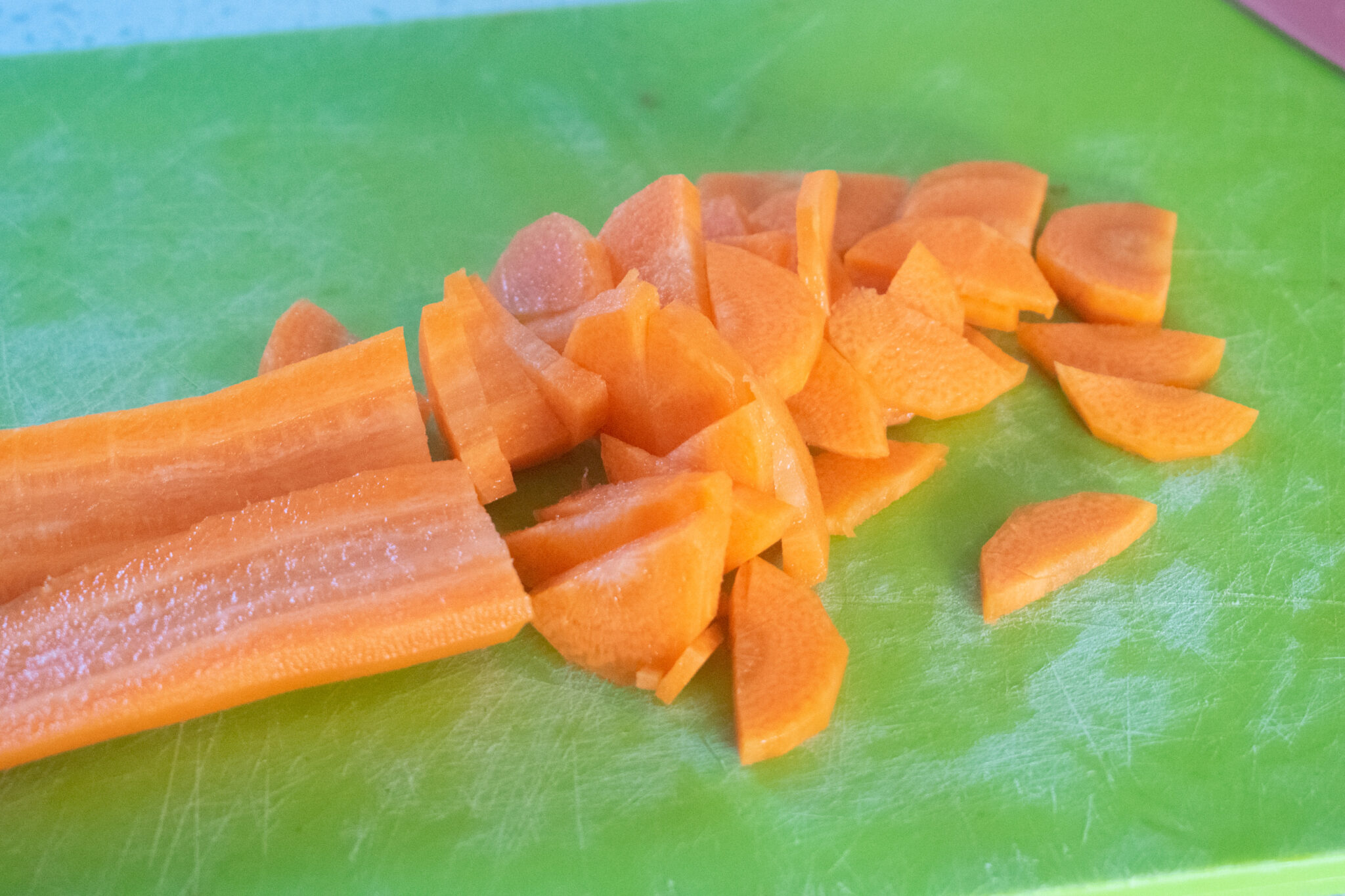 2. Then, dice one onion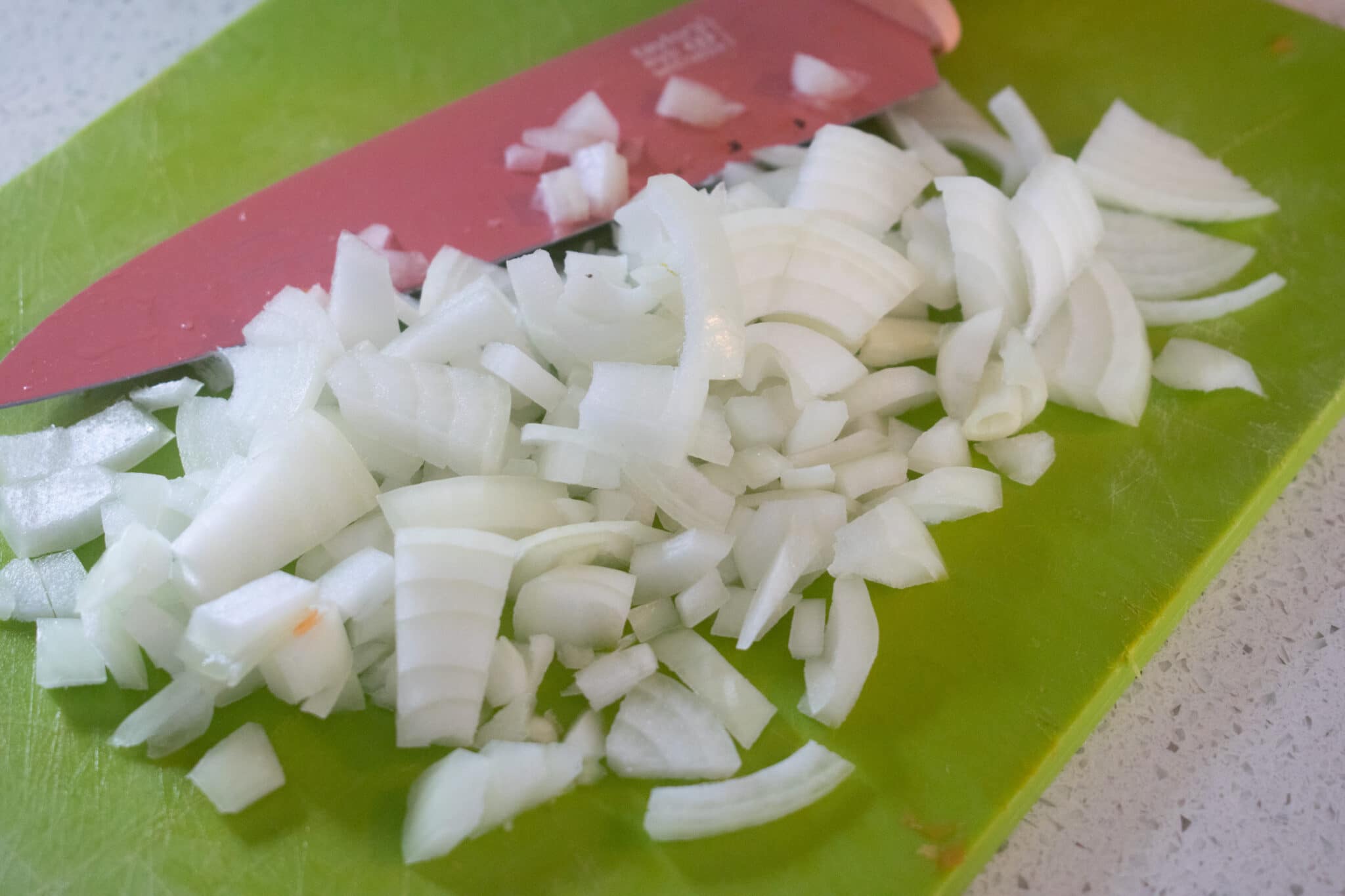 3. Heat oil in a large, non-stick pan to a medium heat – then, add in the carrots and onion. Stir, and cook for 3 minutes – until the onions begin to turn a little clear, like this: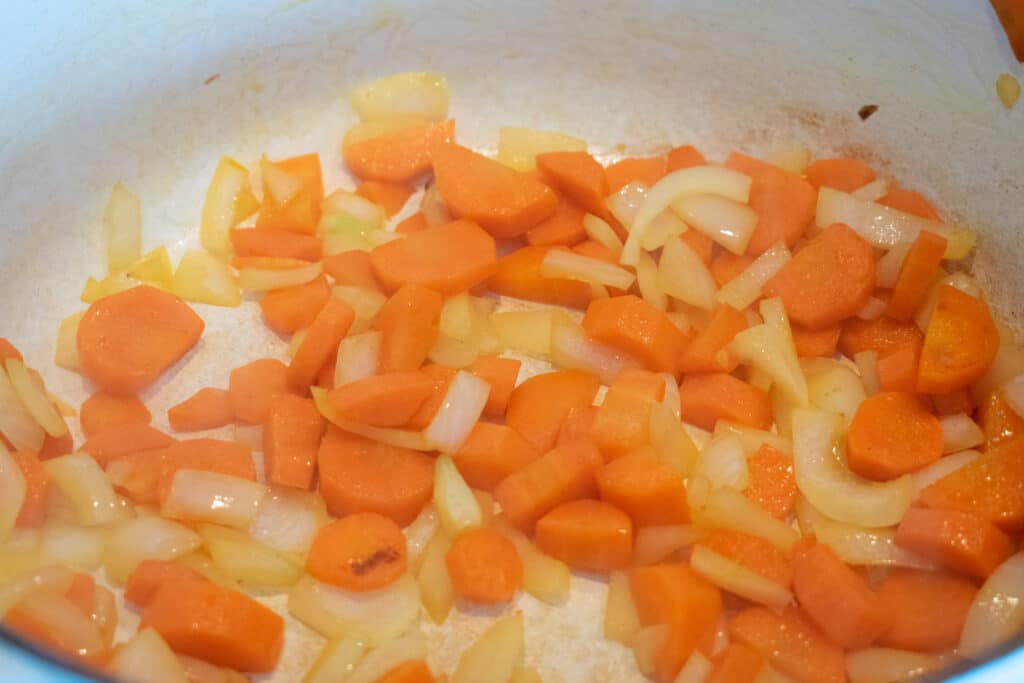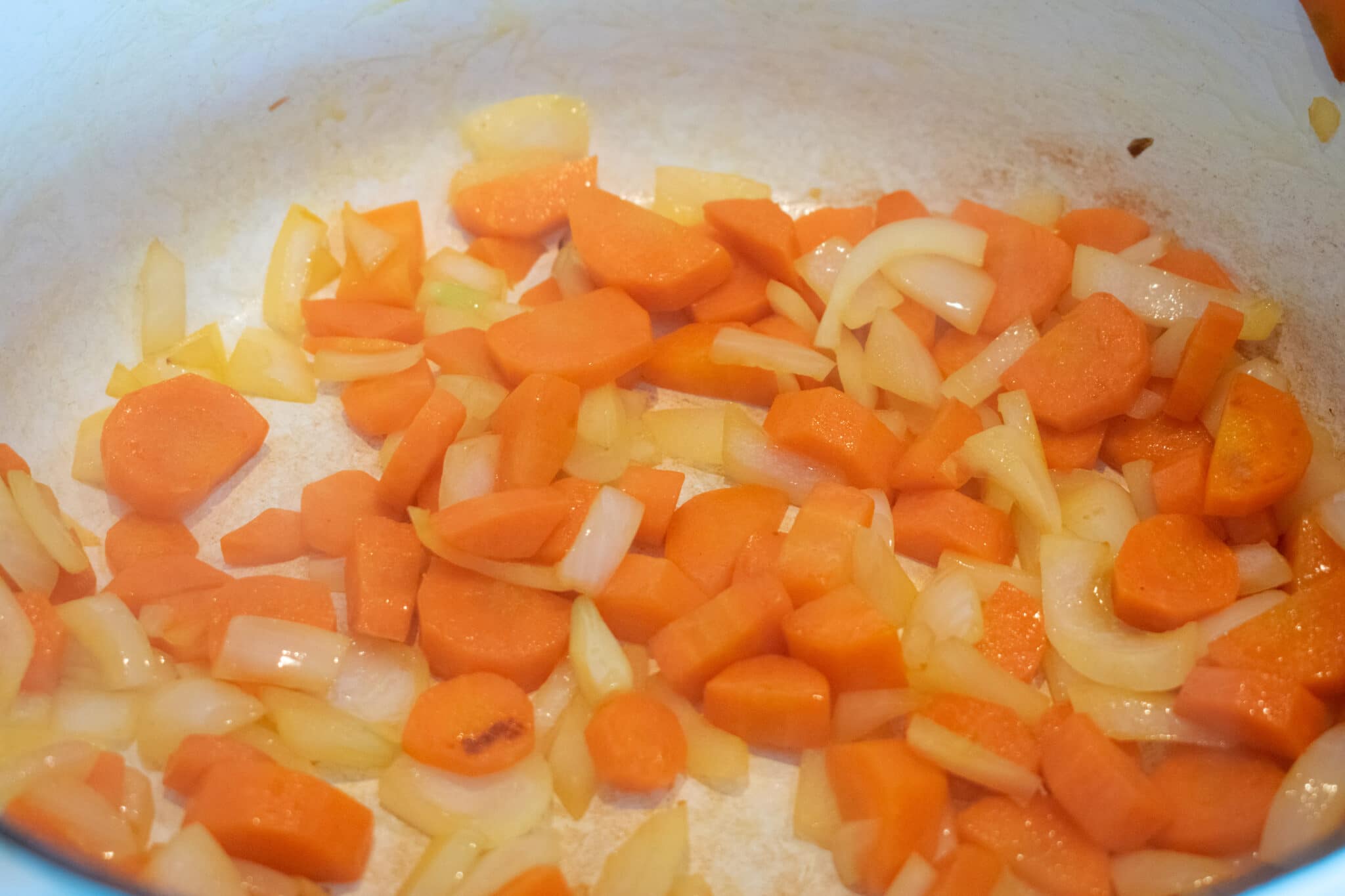 4. Then, add in the 500g minced beef – stir to break down into small pieces, and cook until browned throughout – like this, which usually takes 5-10 mins.
If your pan is small, then empty it of the carrots and onions, and cook the beef alone – then add in the carrots and onions once browned (so the pan isn't too crowded when cooking the beef)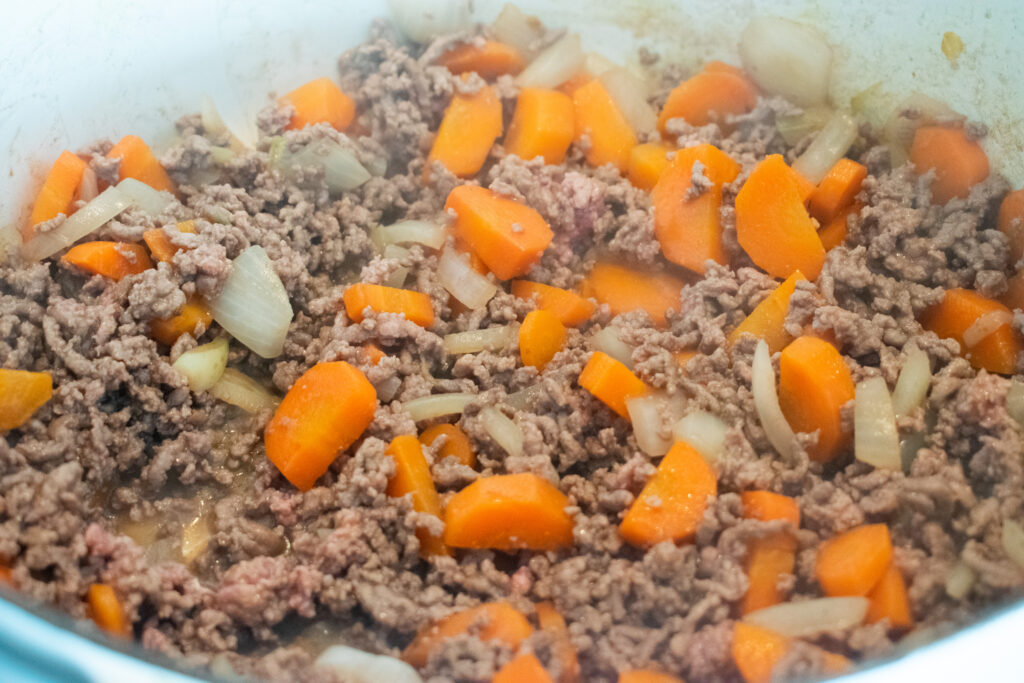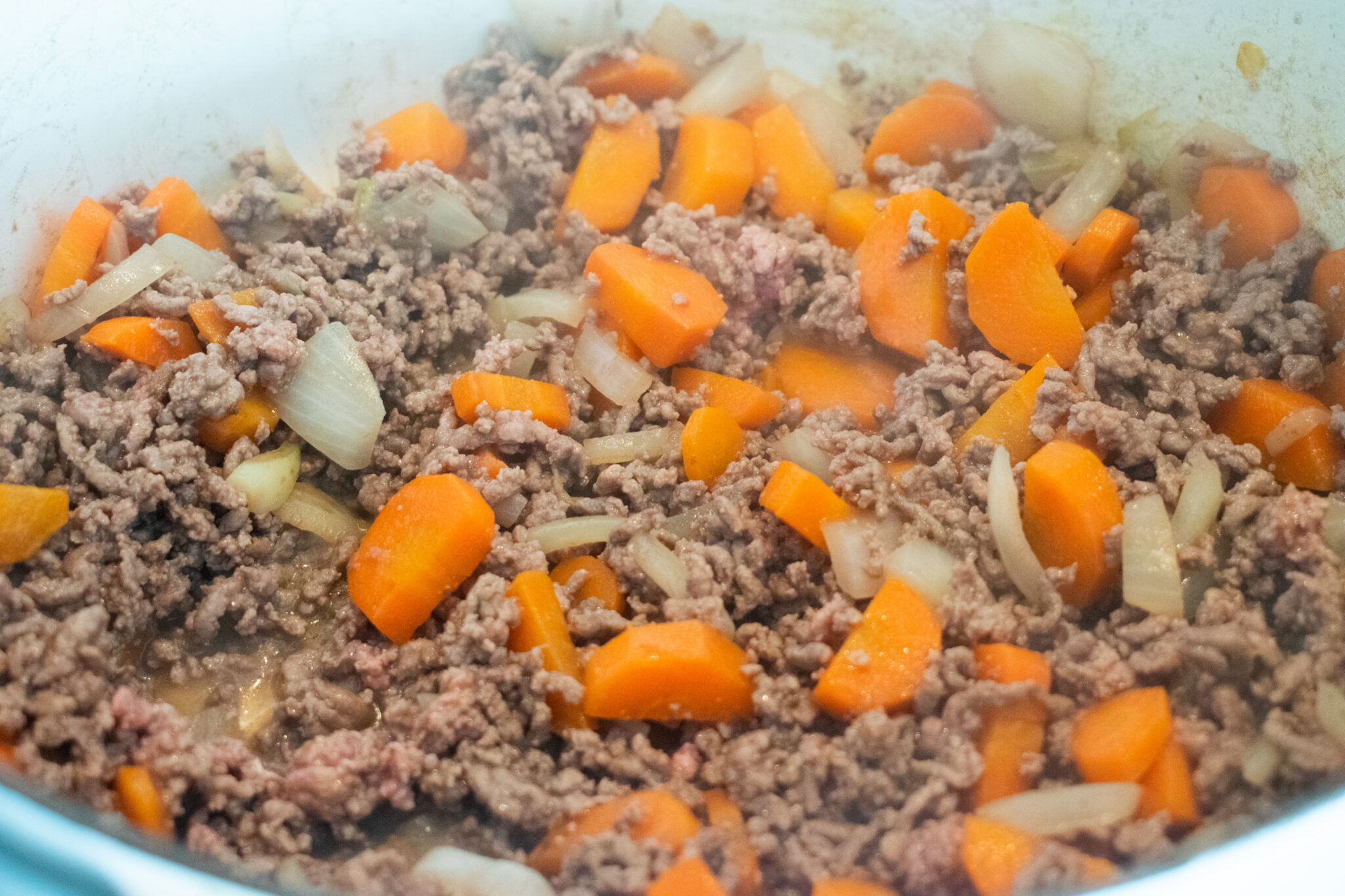 5. Whilst the beef is browning, boil the kettle and mix together 600ml of boiling water, with 1 beef stock cube – then set aside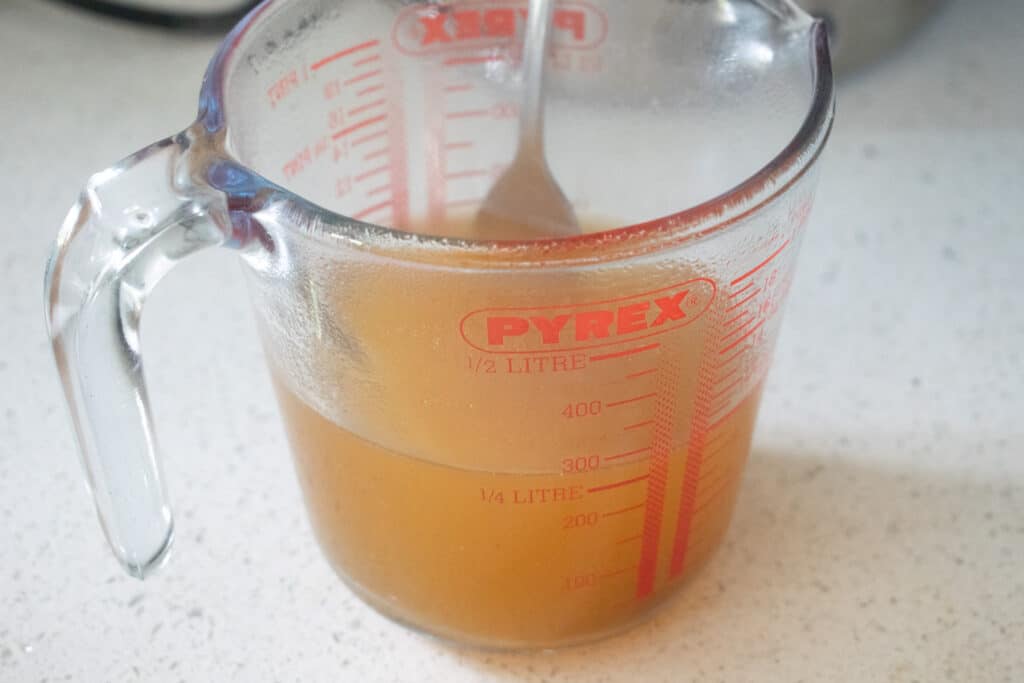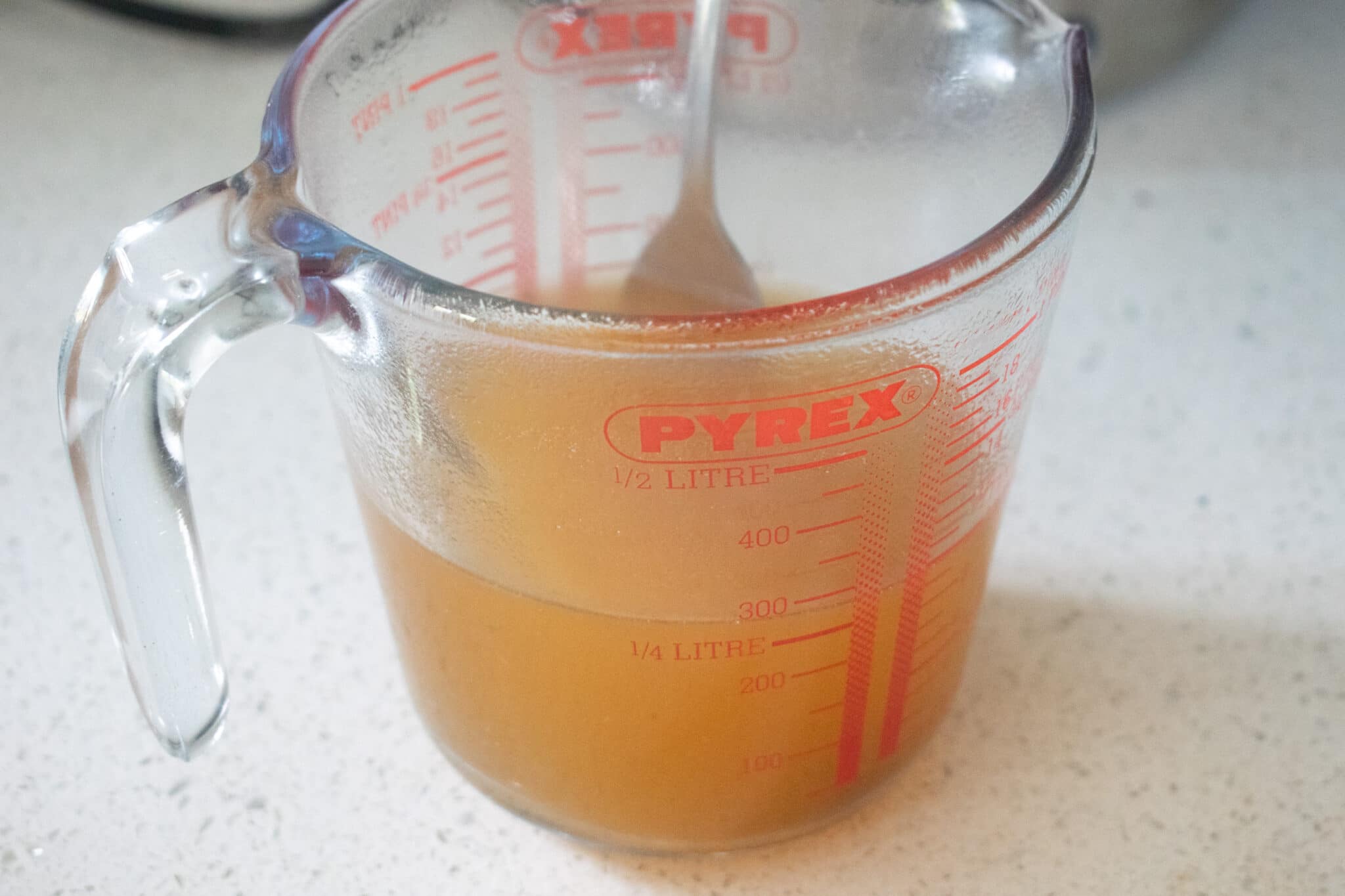 6. Once your beef is browned, add in the 3 crushed garlic cloves, 1 tbsp tomato puree, and 1 , or 2 tsp of thyme (depending on your preference)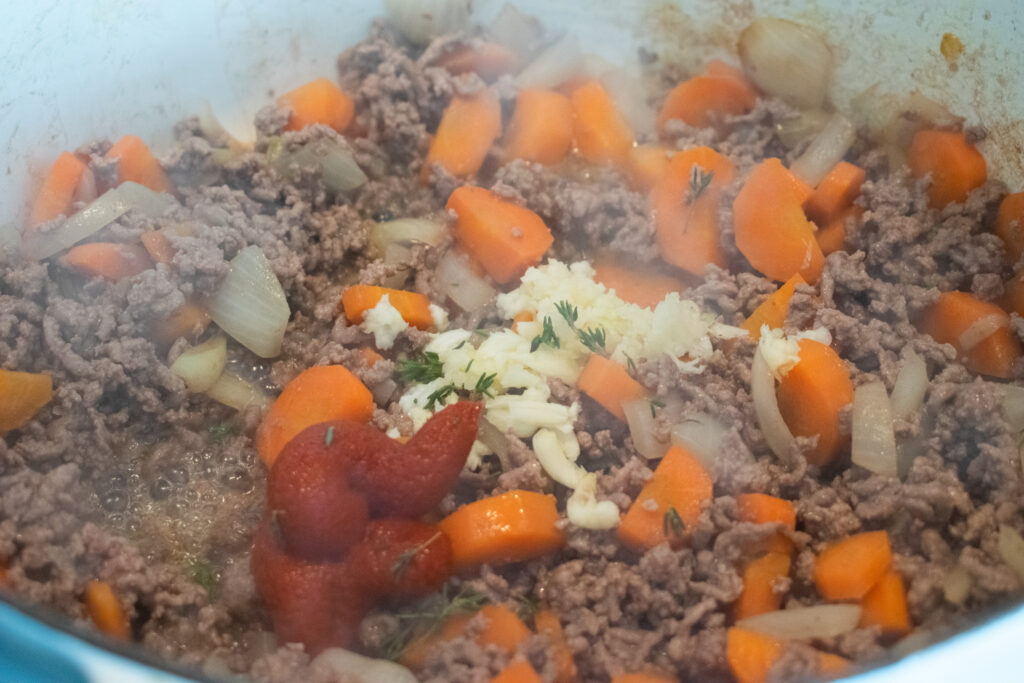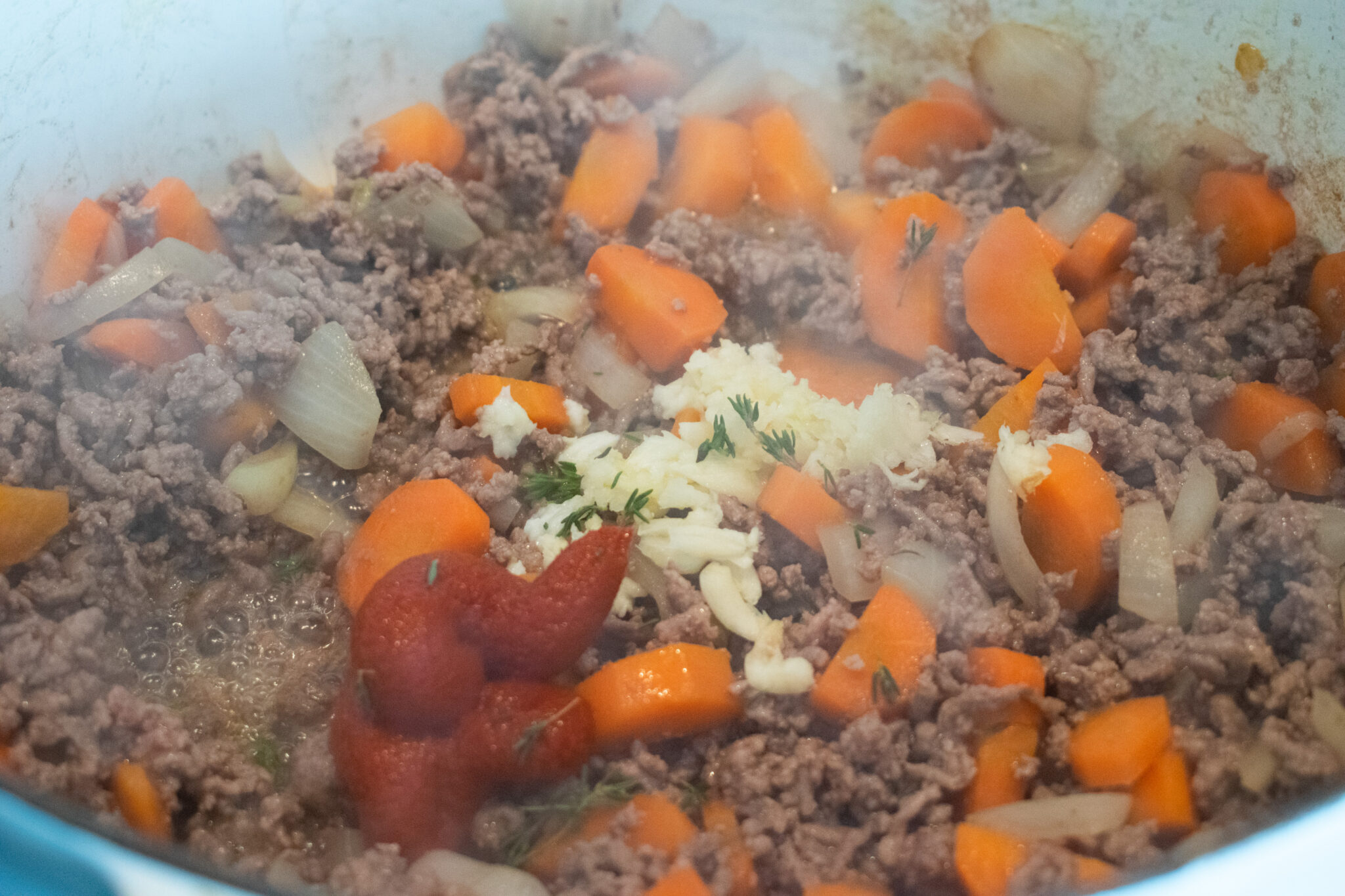 7. Stir to evenly coat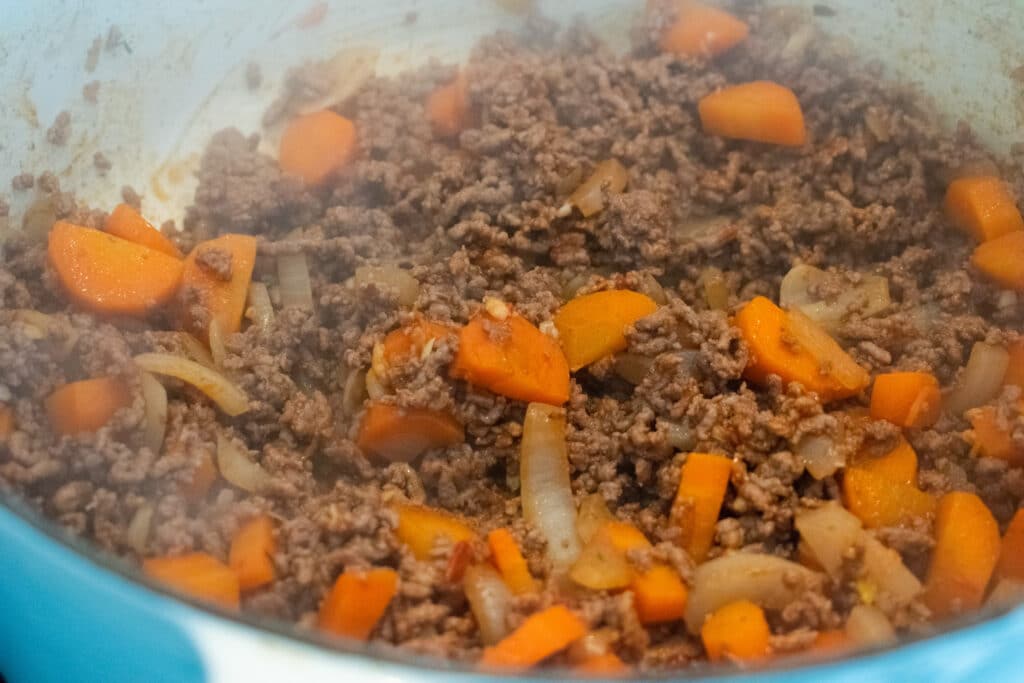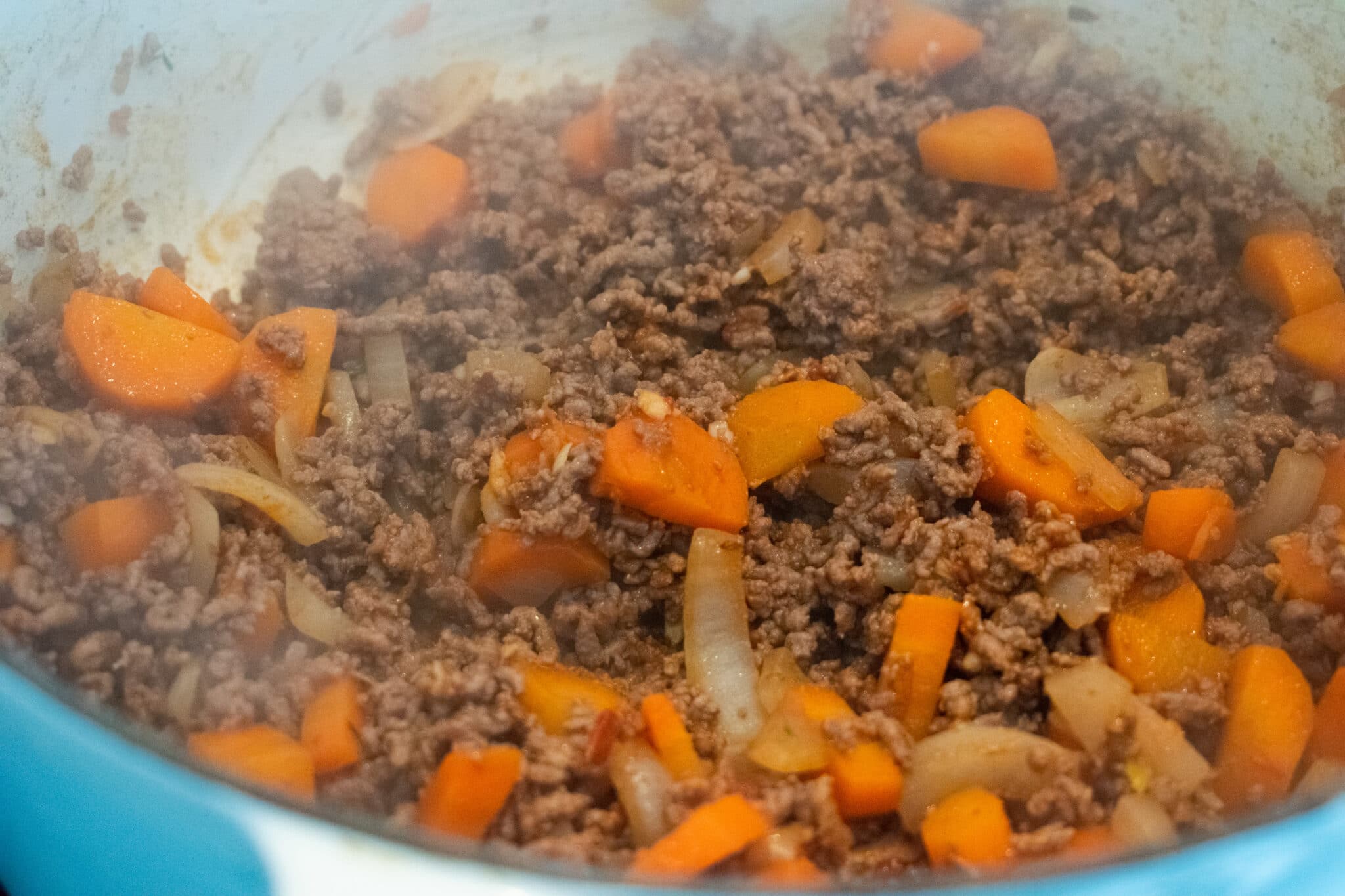 8. Then, pour in the earlier prepared stock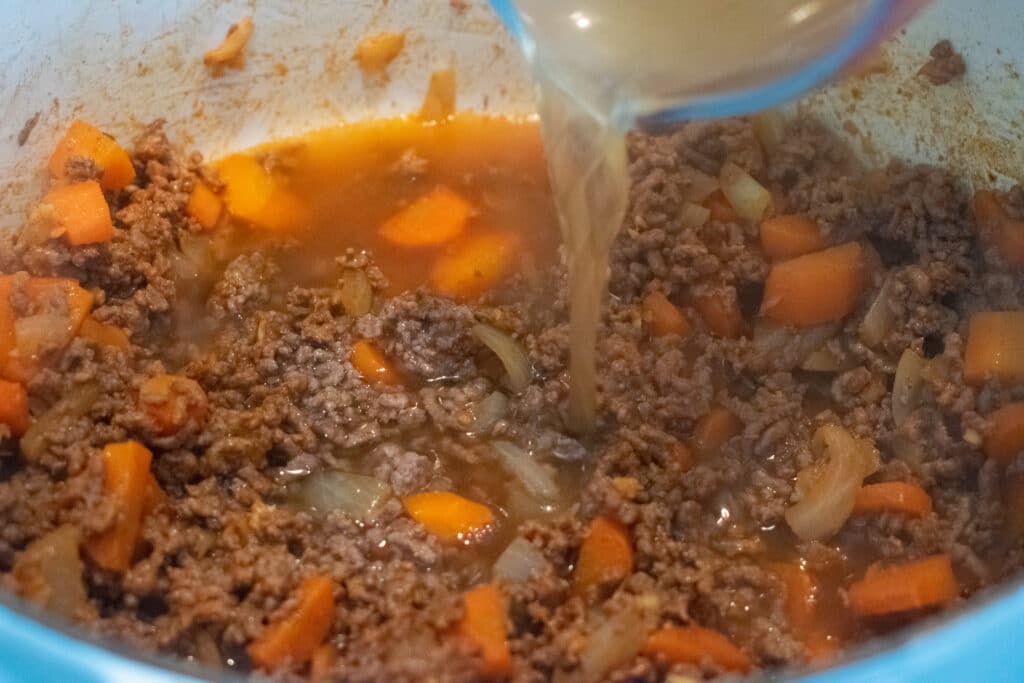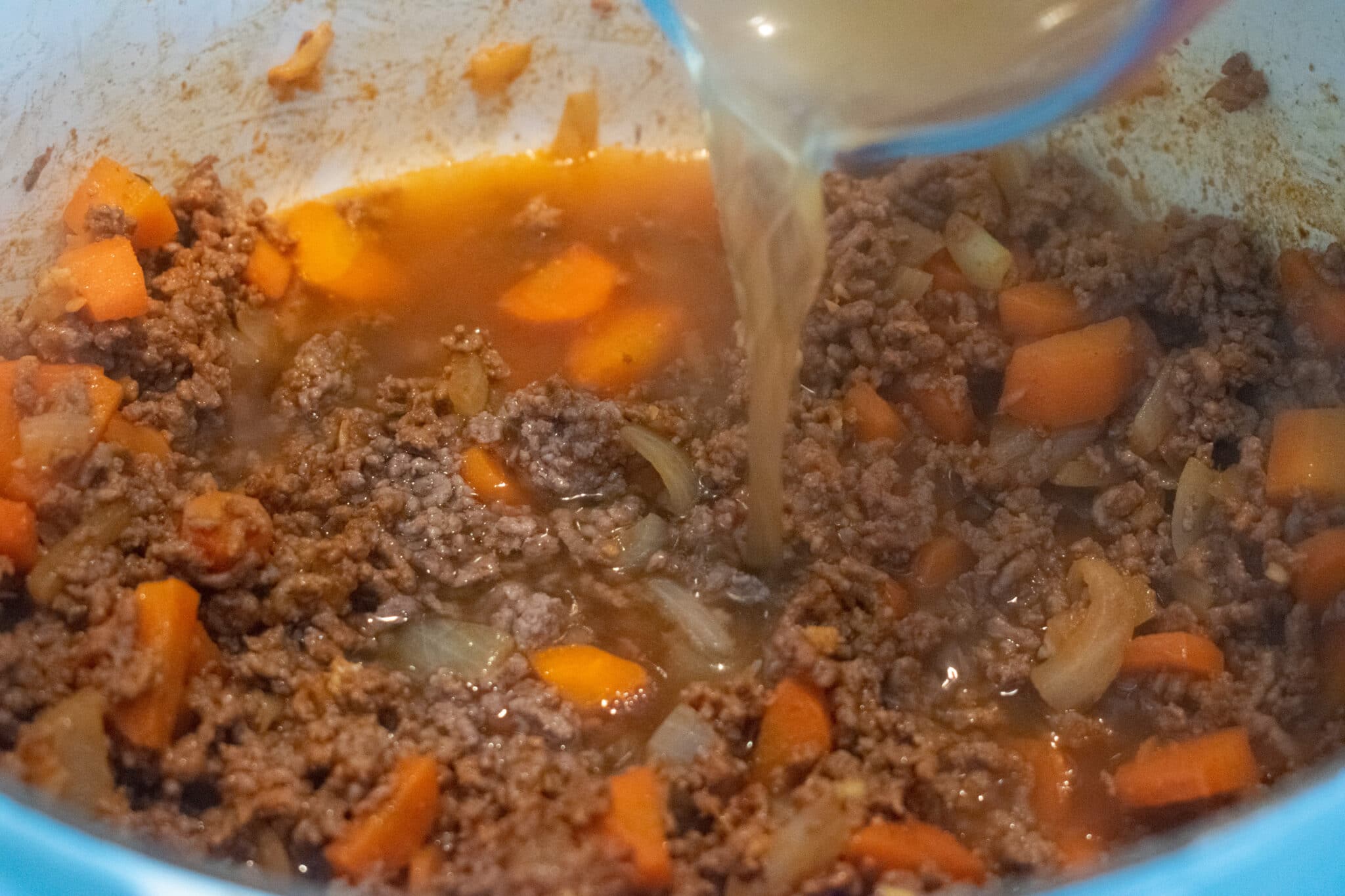 9. Followed by the Worcestershire sauce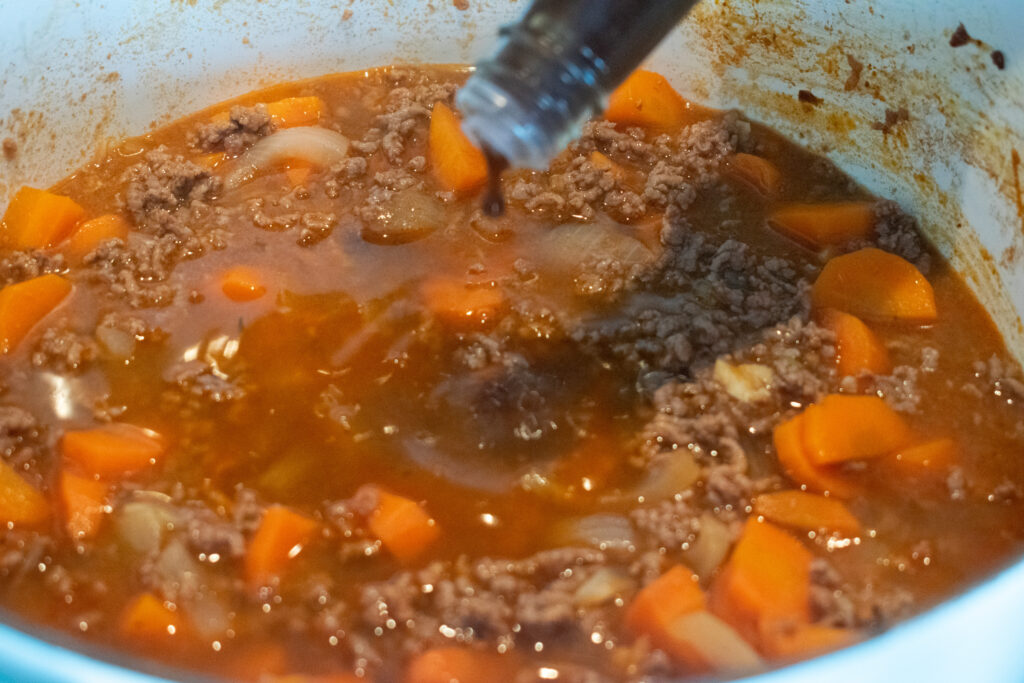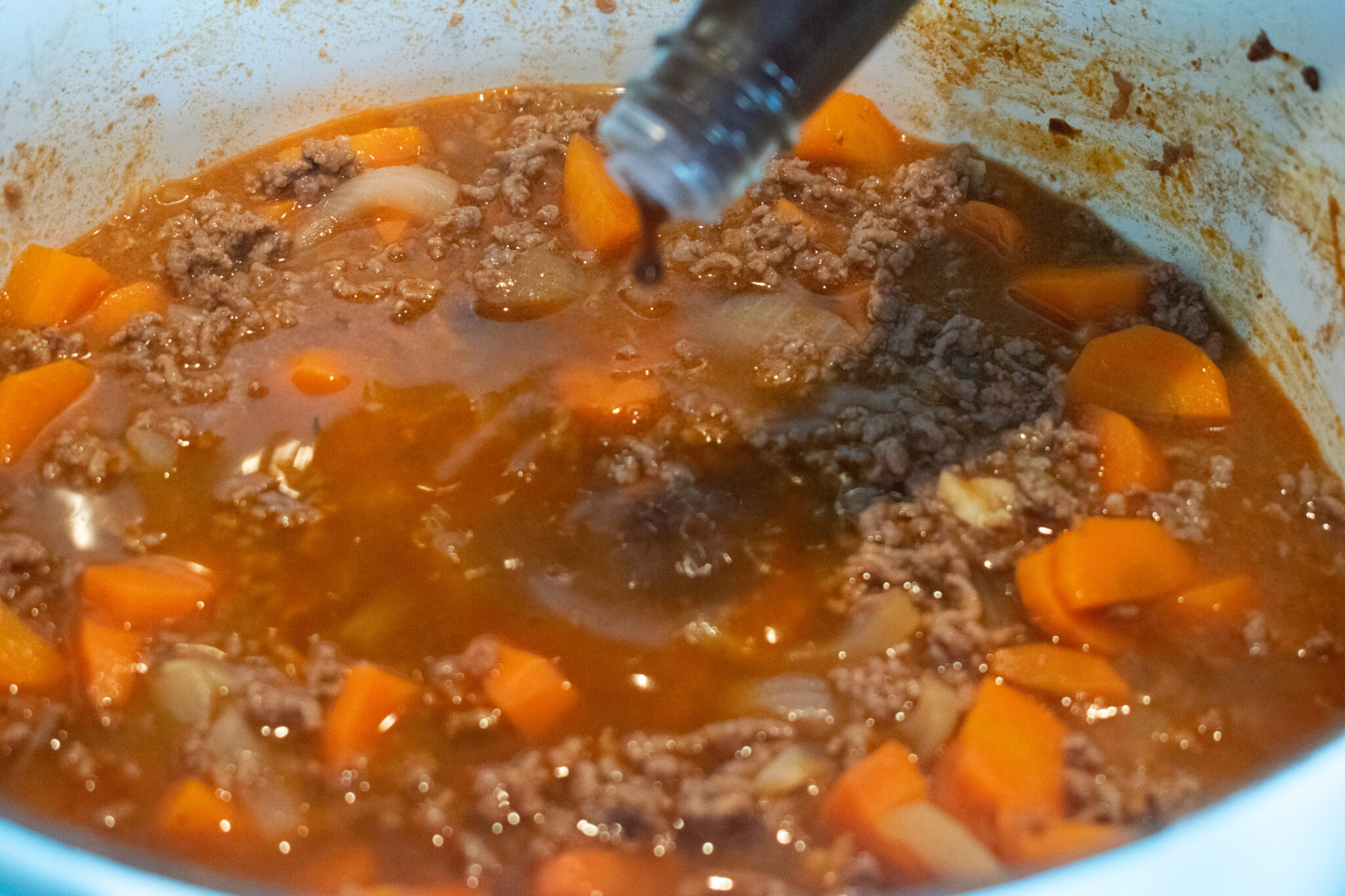 10. Stir – then turn the heat down to simmer, and allow to simmer on a low heat whilst you prepare the mashed potatoes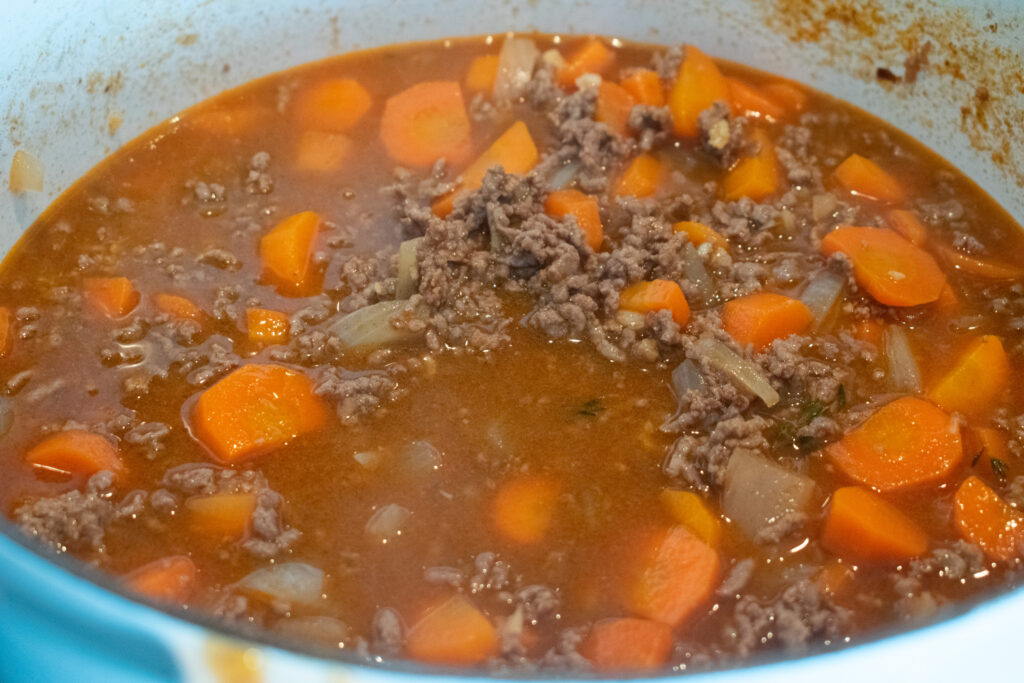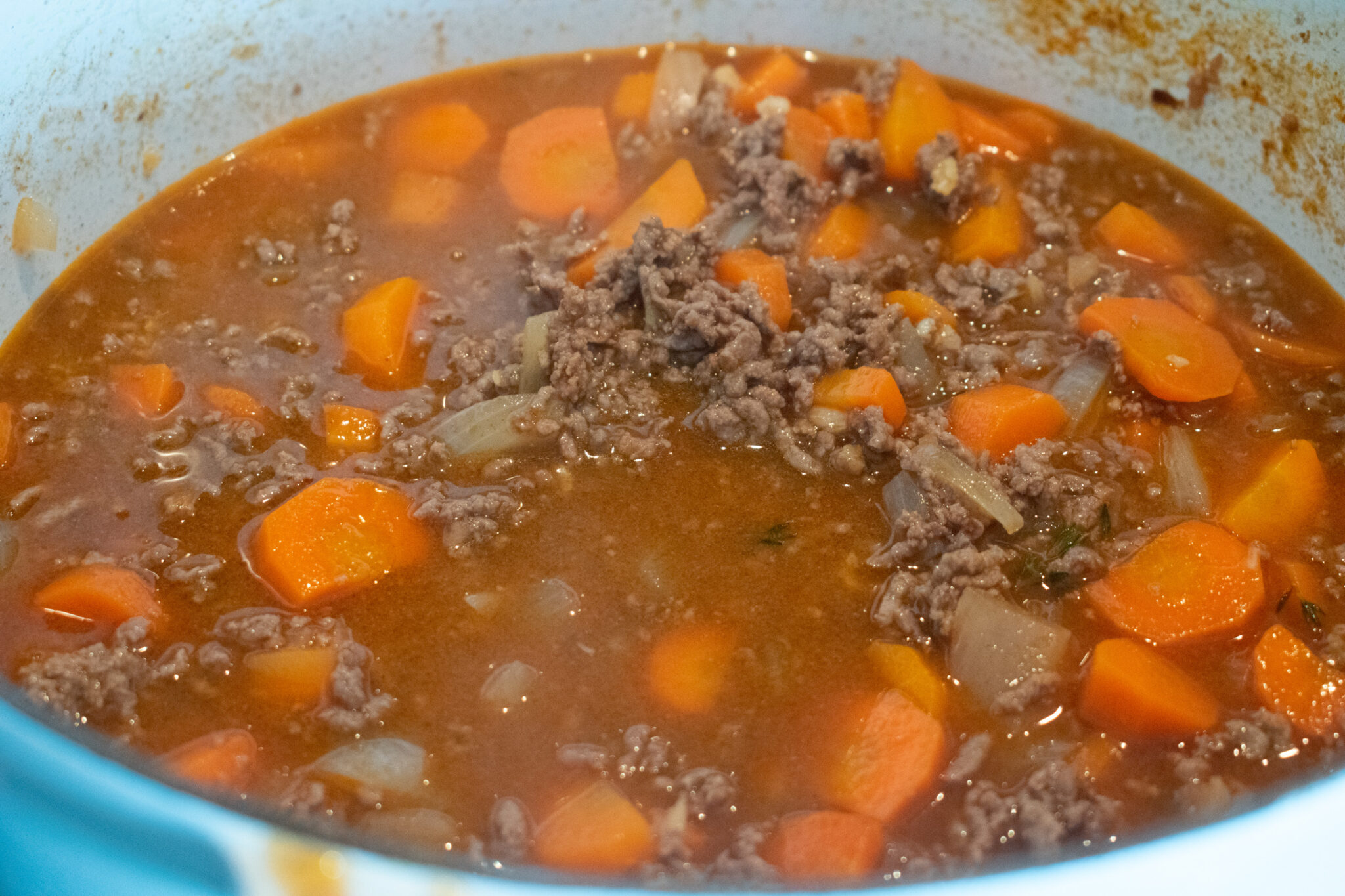 Making the mashed potatoes (if you know how to make mash, skip to step 17)
Pre-heat your oven to 200C
11. Begin the mashed potato by peeling the potatoes (about 6 normal sized ones) into equal-sized pieces – I tend to make them this size: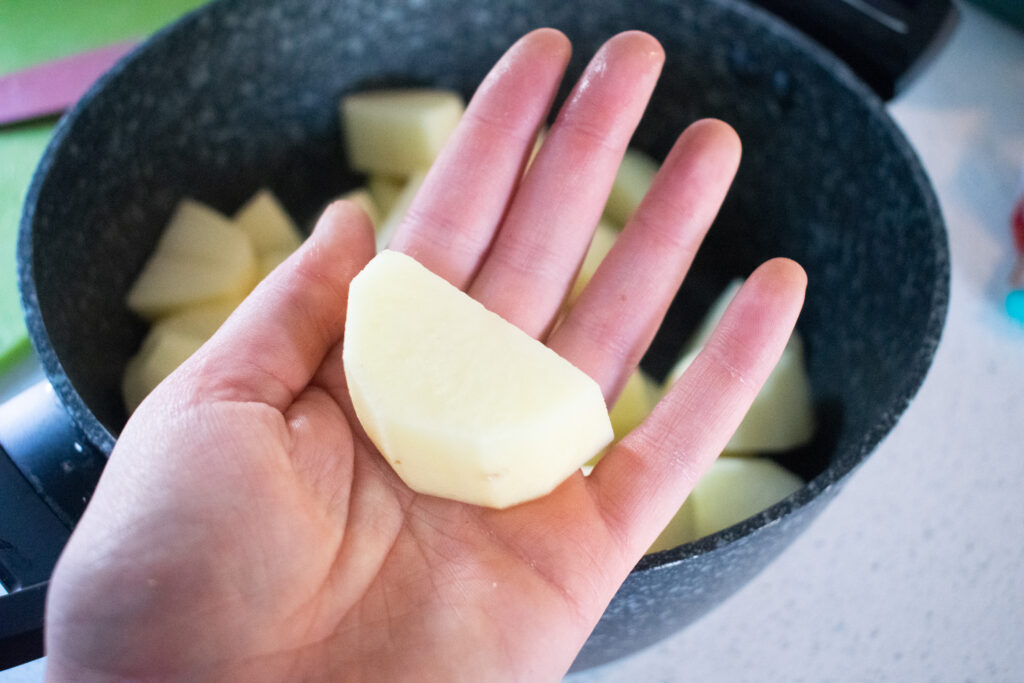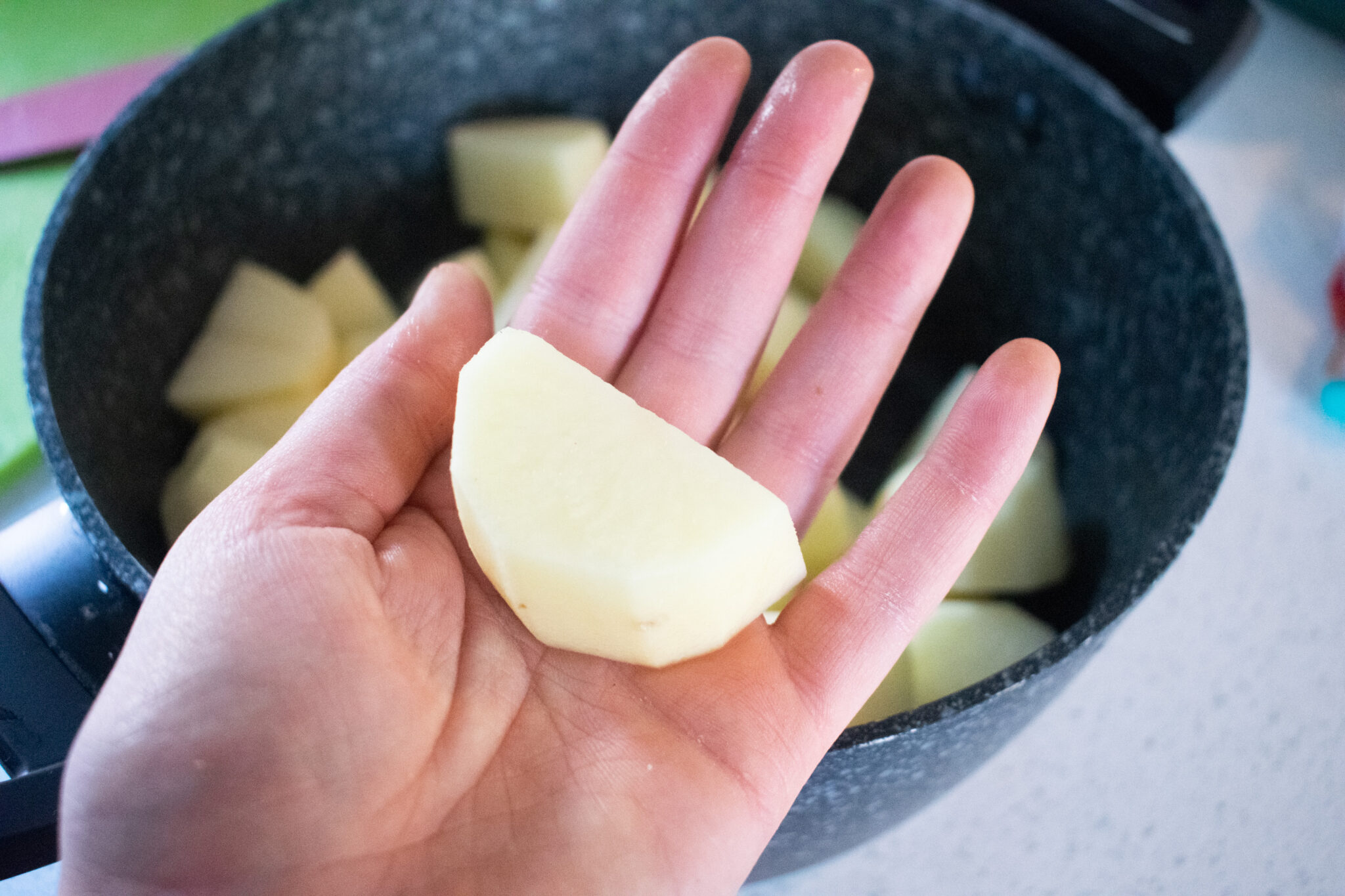 12. Then, add the potatoes into a large pan, and rinse with cold water – then drain away the cold water (this will wash off excess starch)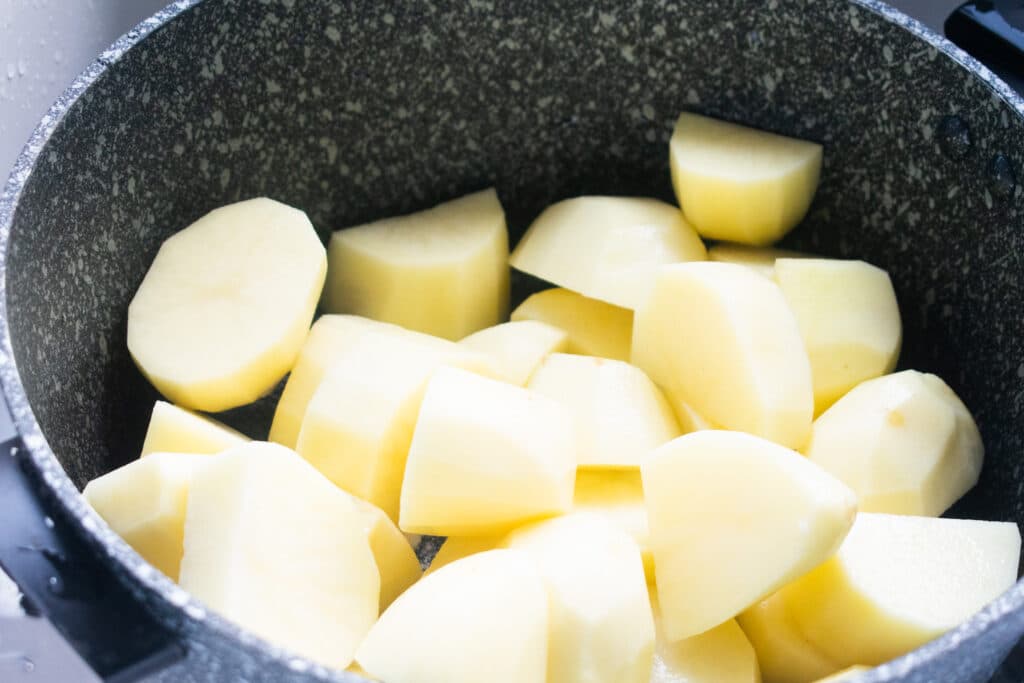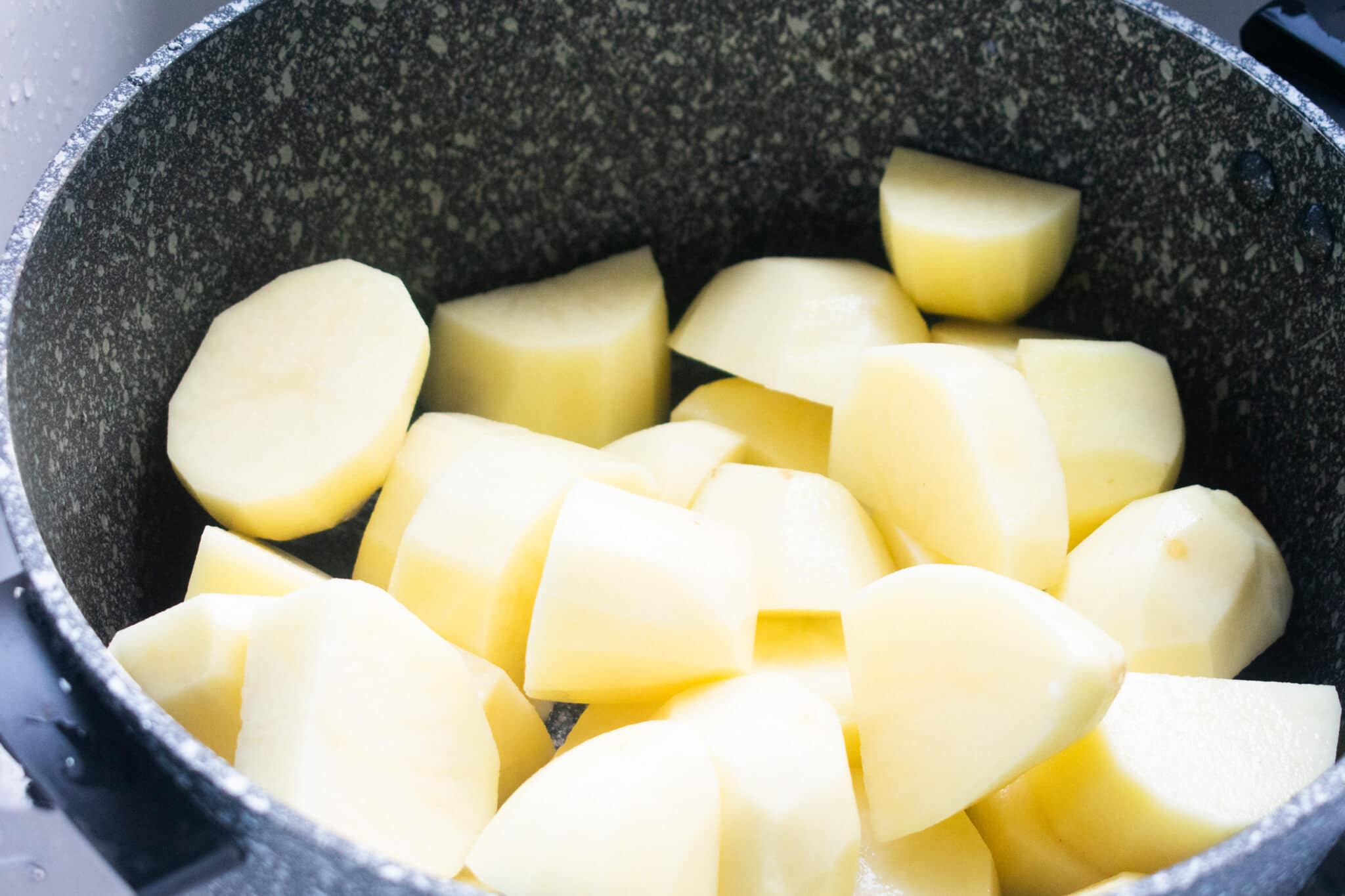 13. Next, fill the potato pan with boiling water (from the kettle)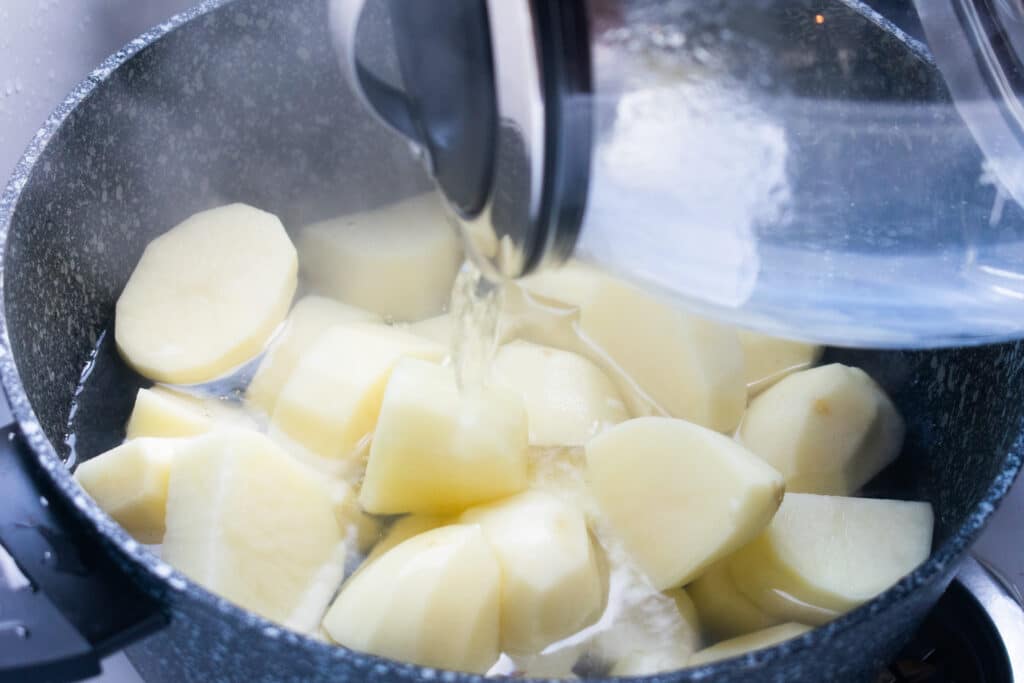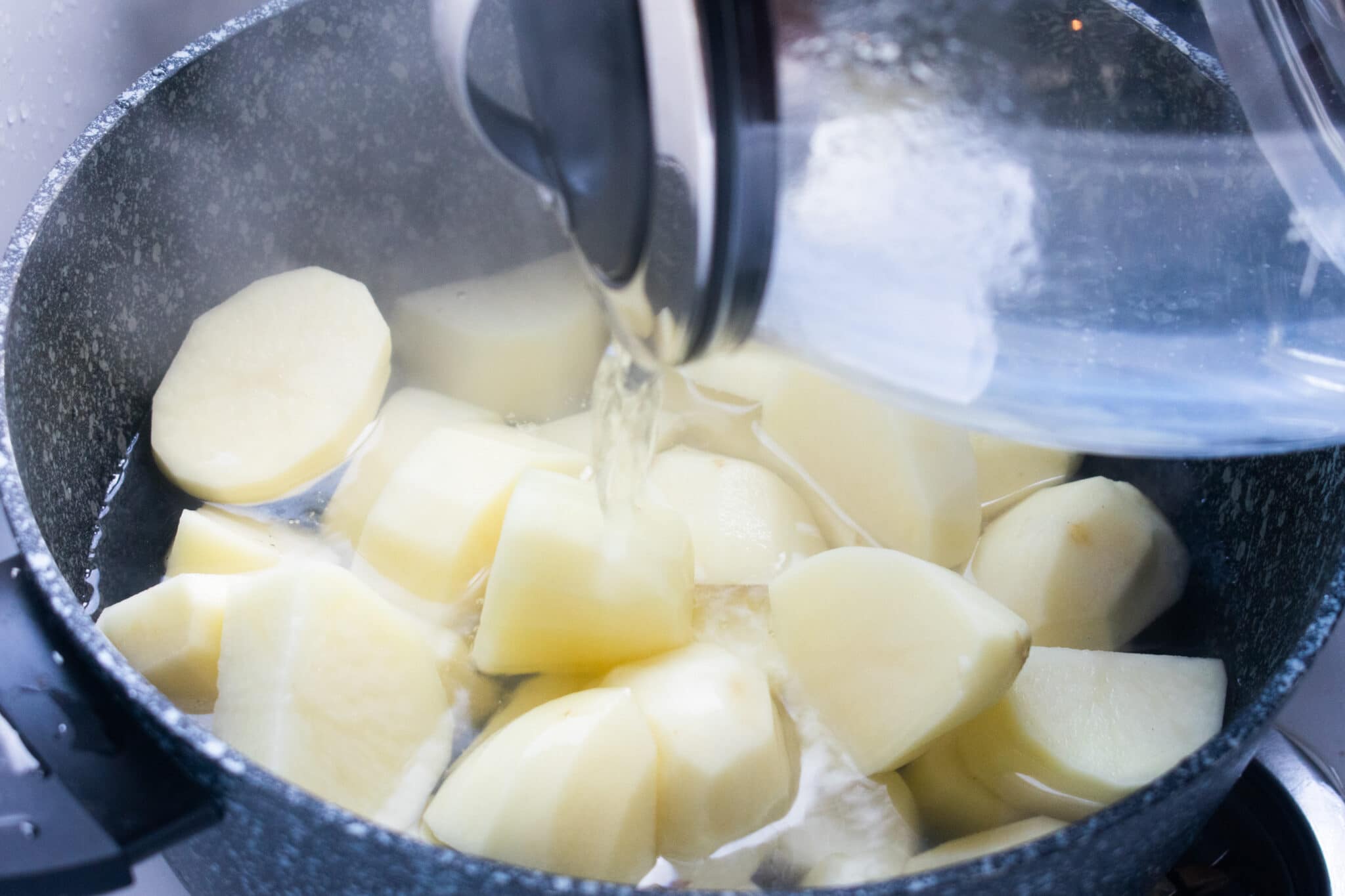 14. Transfer the pan to the hob, and turn the temperature to medium – boil gently for 15 to 20 minutes until the potatoes fall apart when pierced with a fork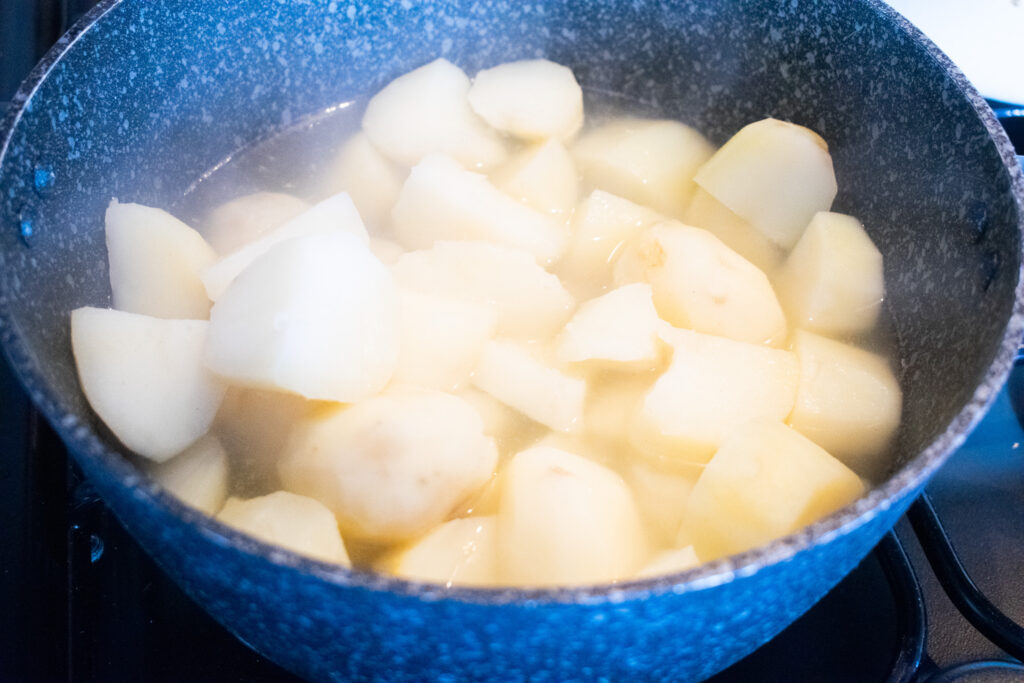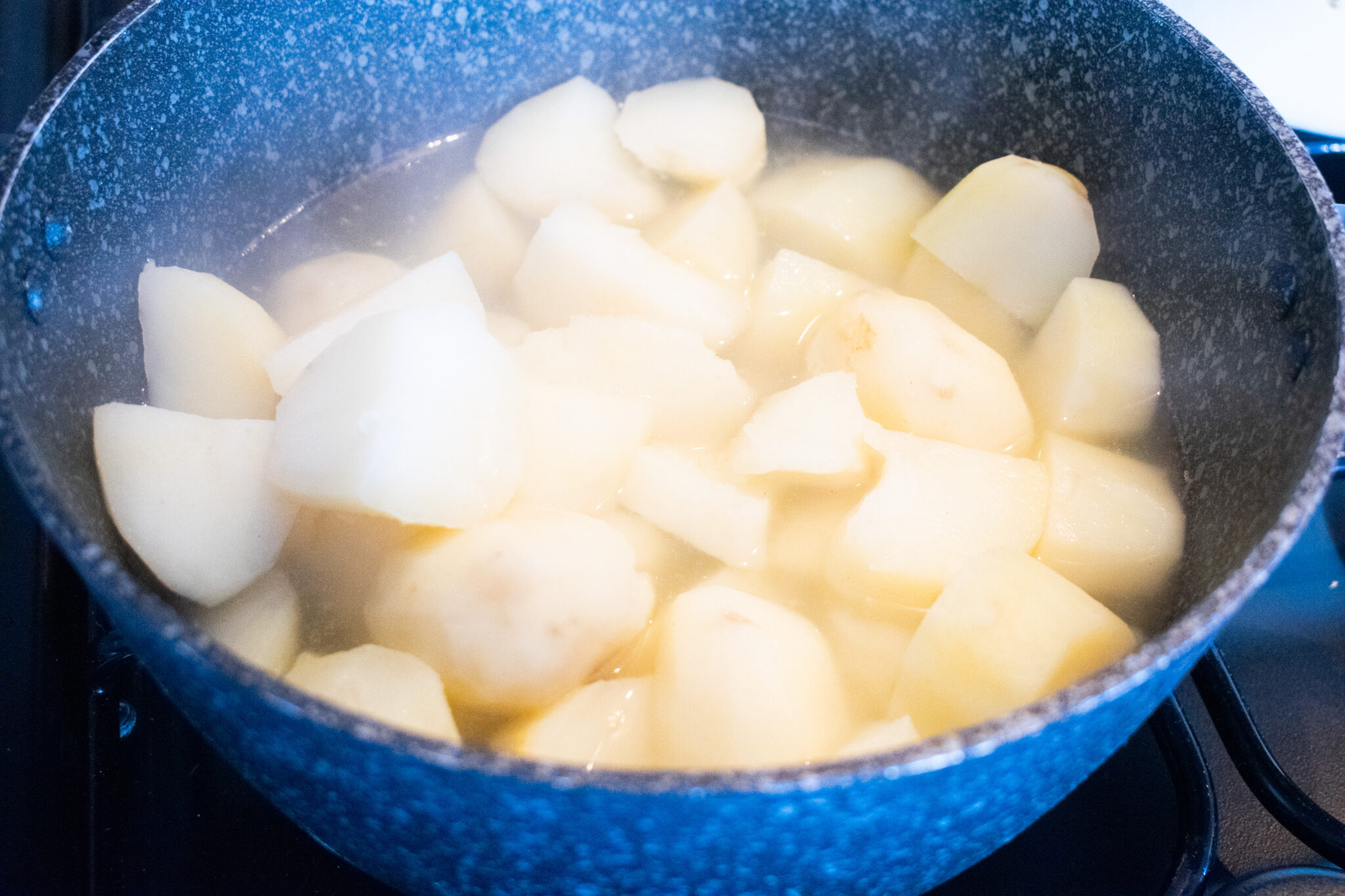 15. Then drain the potatoes using a sieve, and allow the potatoes to sit in the sieve for 2 mins – for any final water to evaporate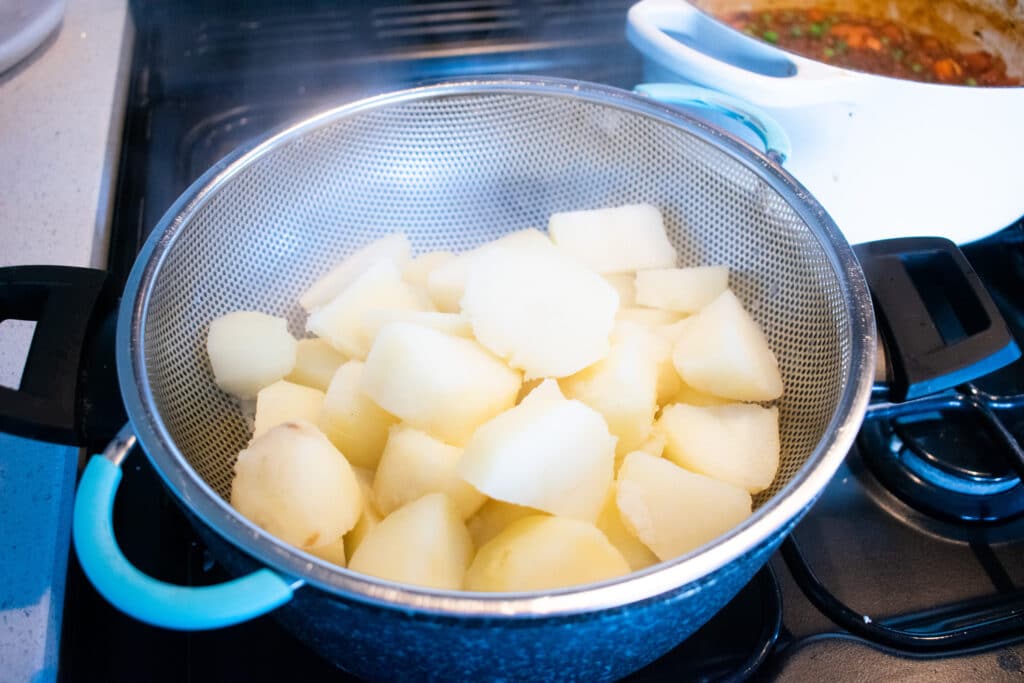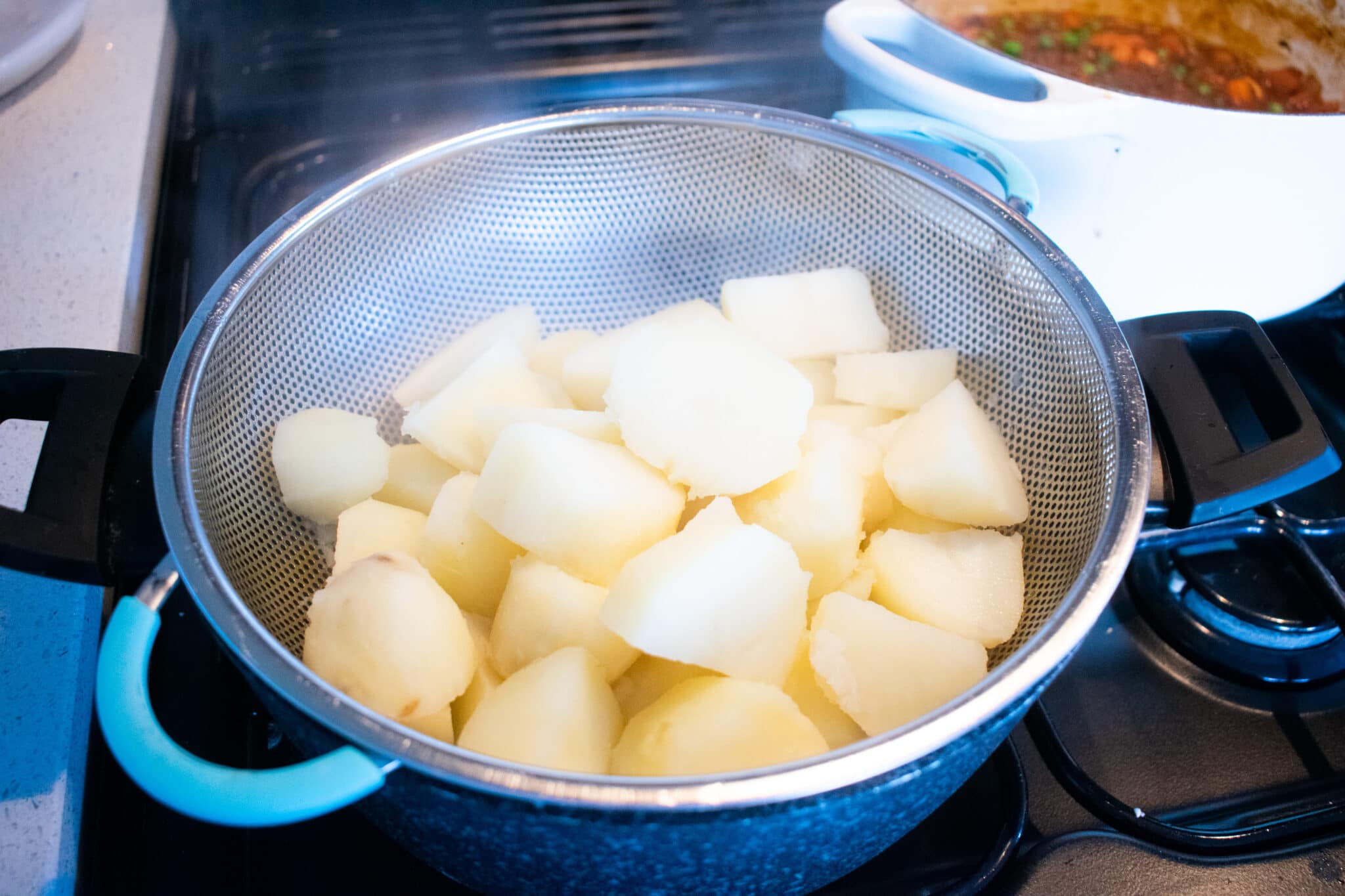 16. Add 1 tsbp butter, 1/2 tsp salt and 3 tbsp of milk to the soft, drained potatoes – then use a potato masher to mash until smooth and creamy (add any more milk, salt or butter as needed)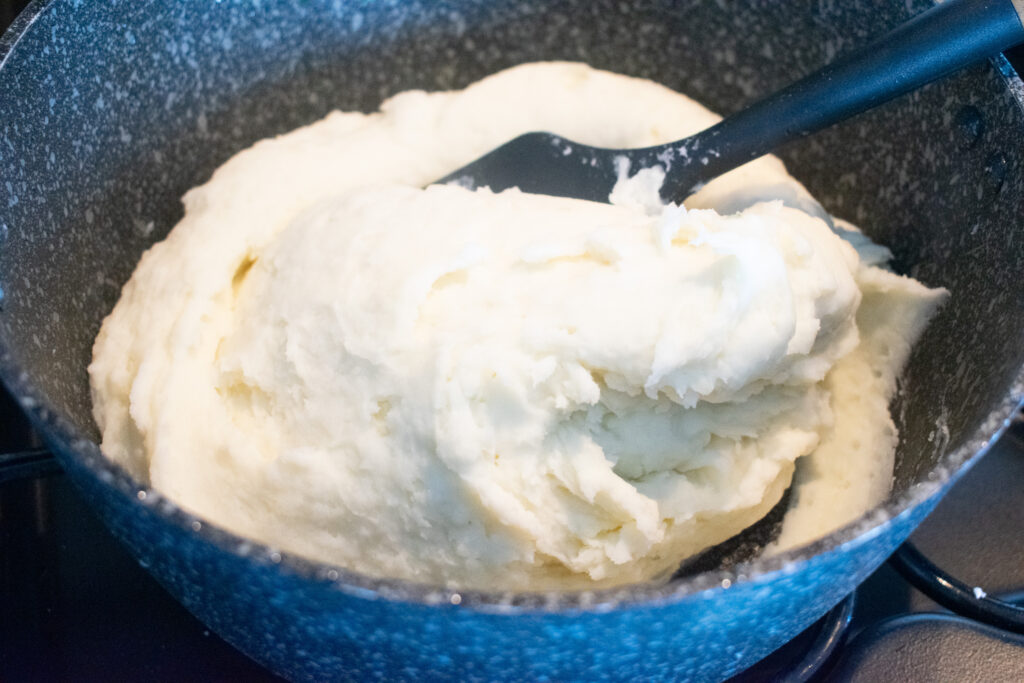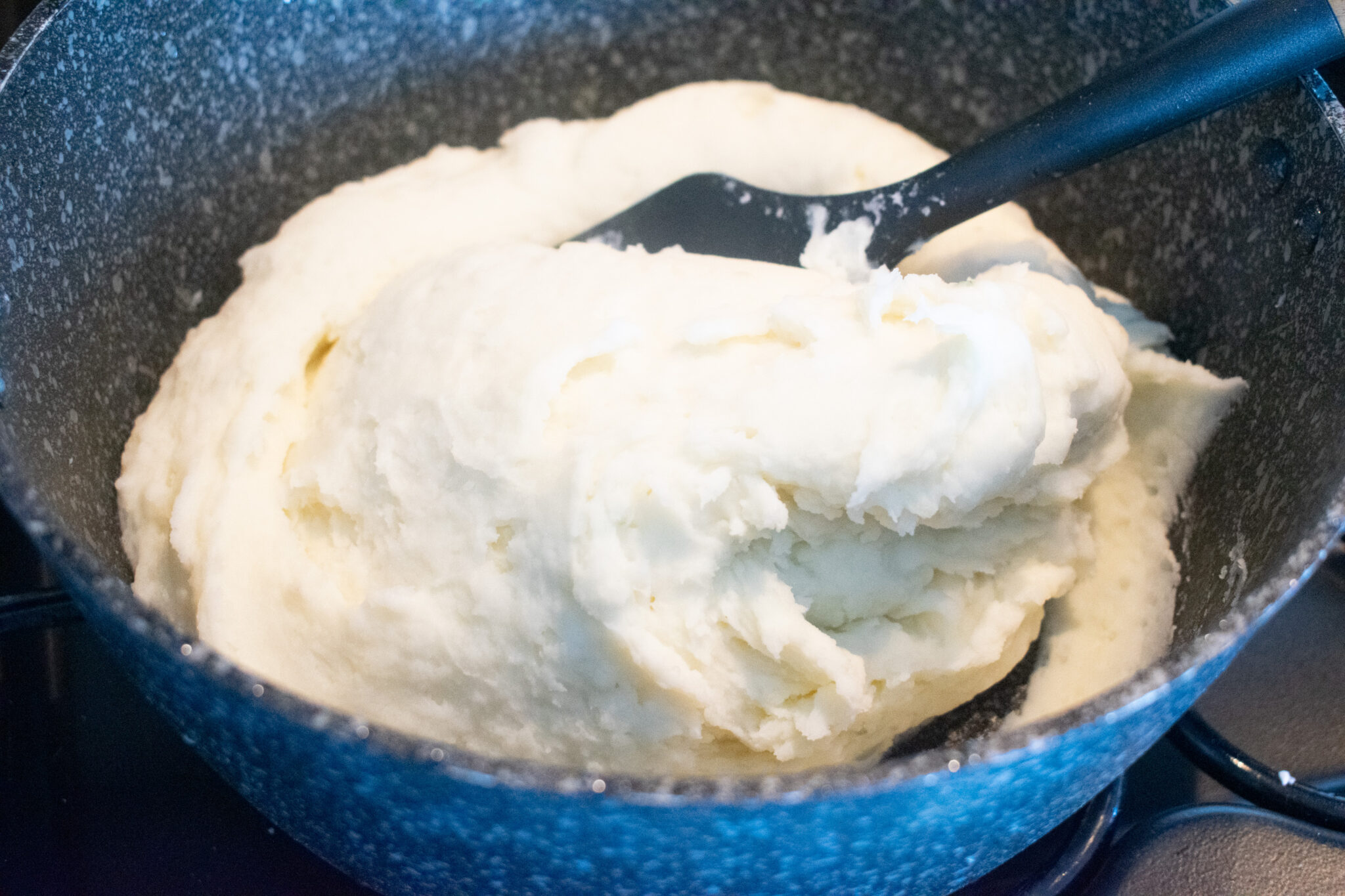 17. Now (about 30 minutes later) turn your attention back to the base mixture – pour in 150g of frozen peas, stir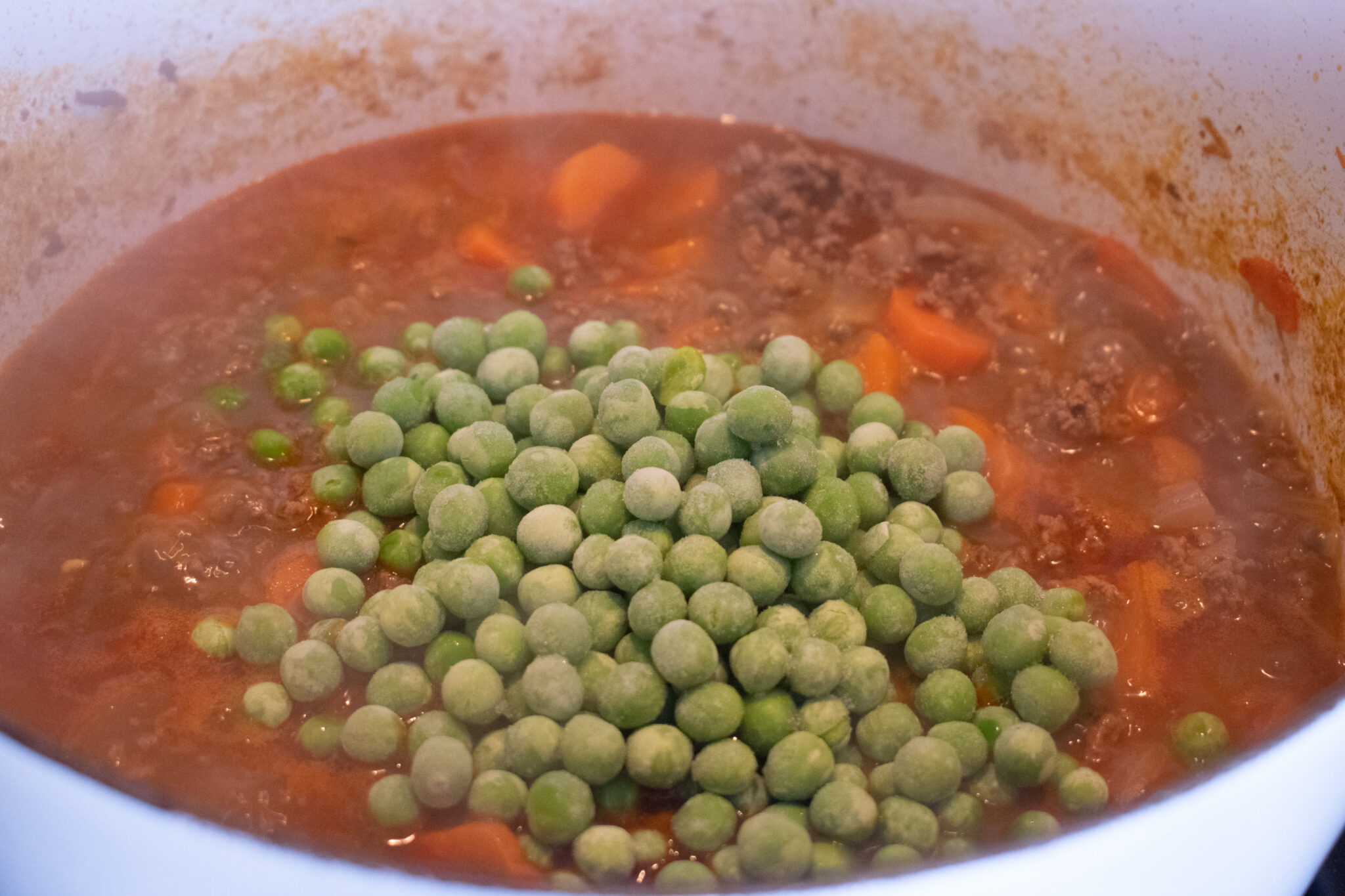 18. Then, stir in 1 tbsp gravy granules (this will thicken the liquid)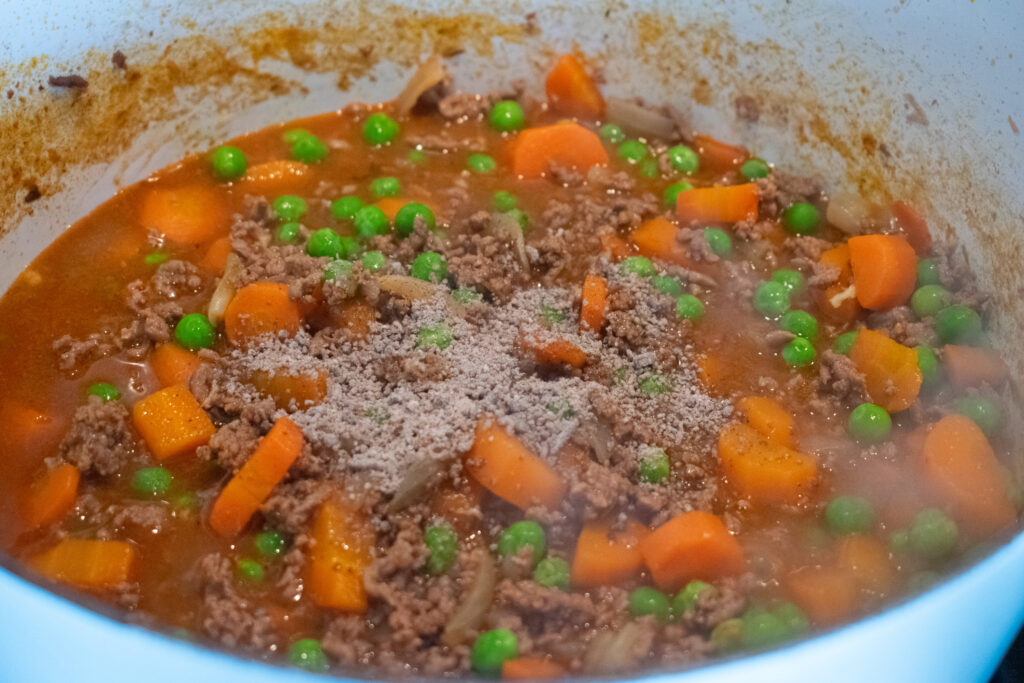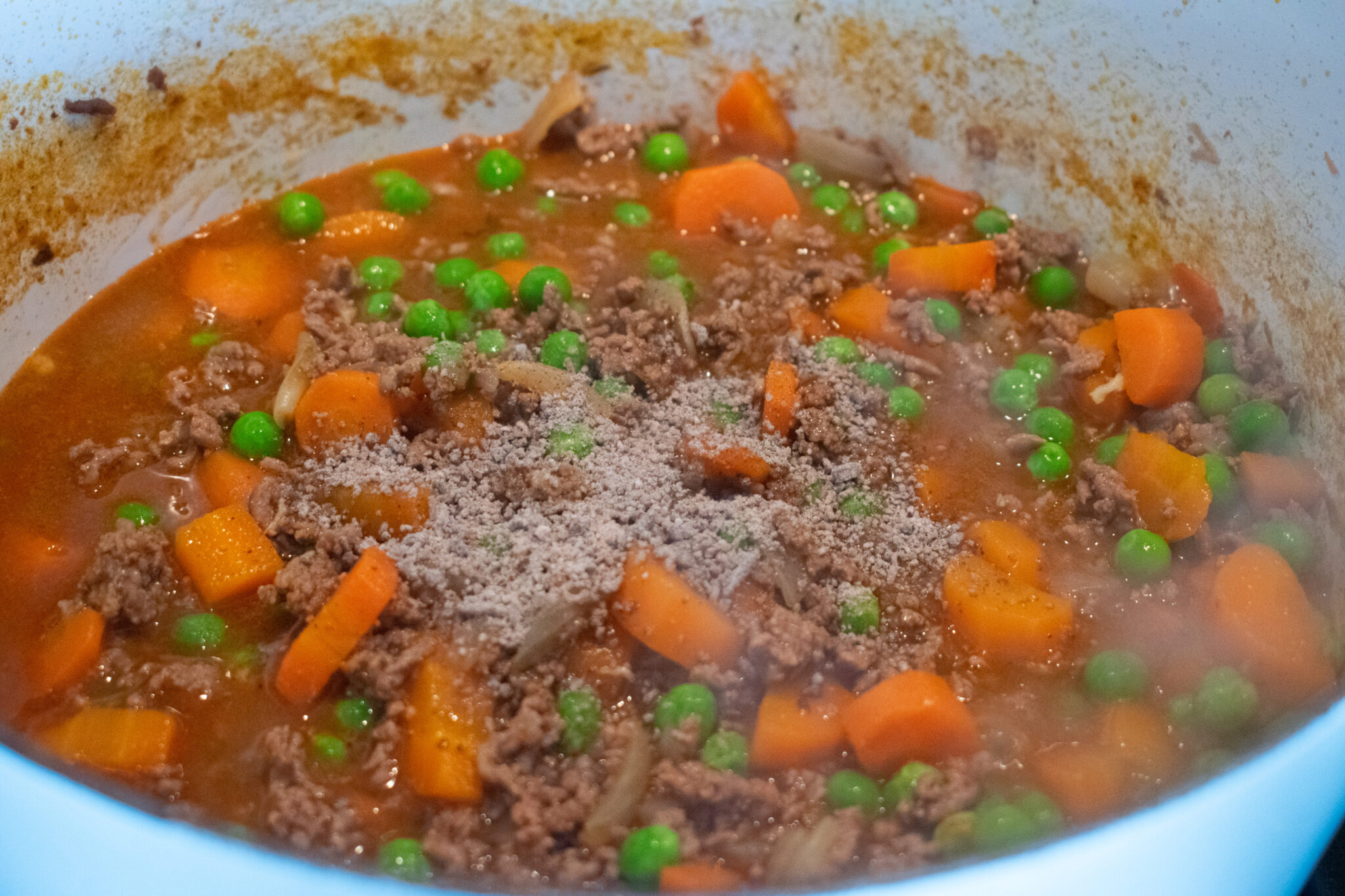 Assembling and cooking the cottage pie
19. Stir the mixture to dissolve the gravy granules – then, transfer the mixture to a deep-sided oven-proof dish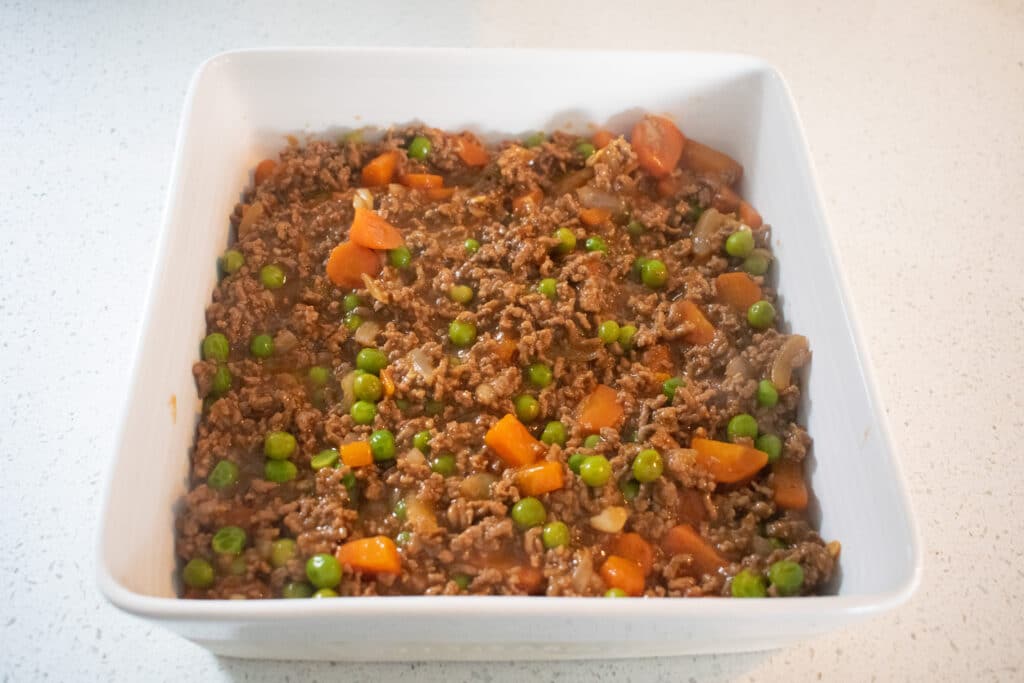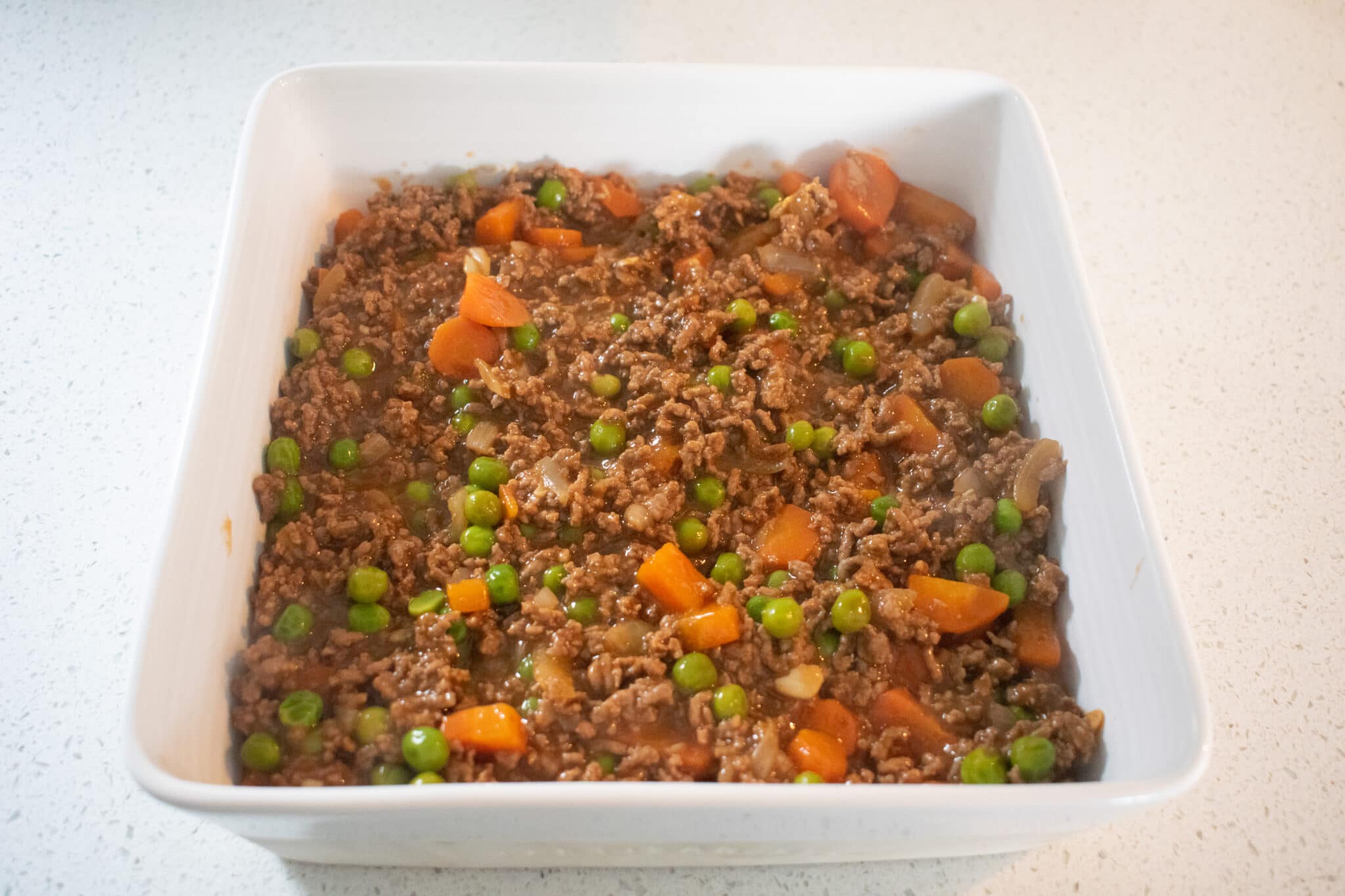 20. And top with the mashed potato – do this in steps, using a large spoon to spoon the mashed potato to all sides of the dish (this is to make it easier to spread – if you put it all in one bunch the next step is harder)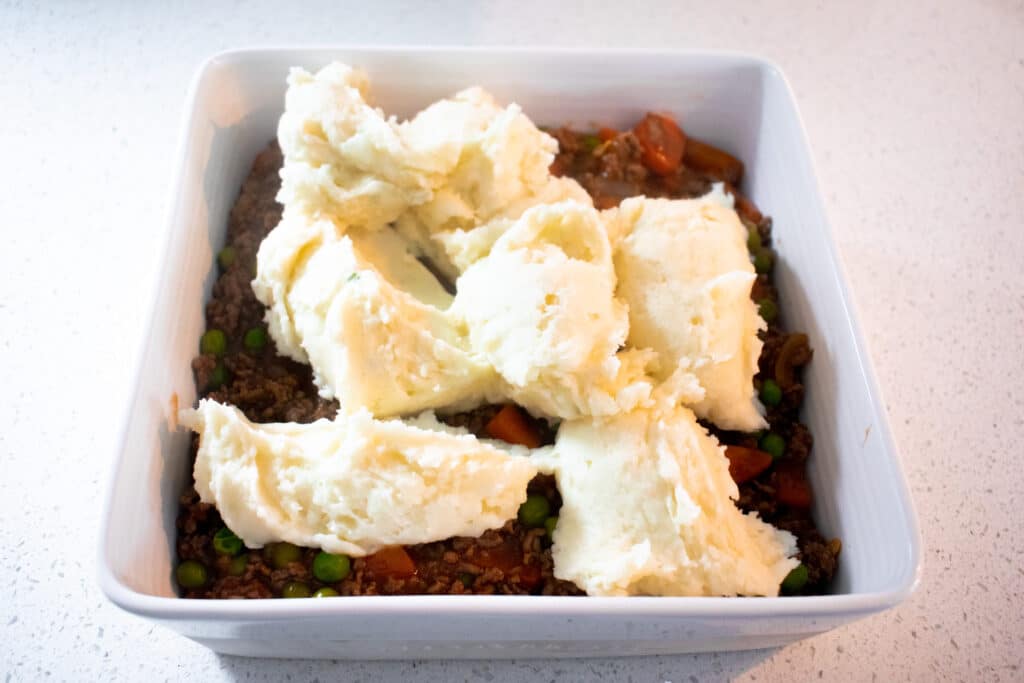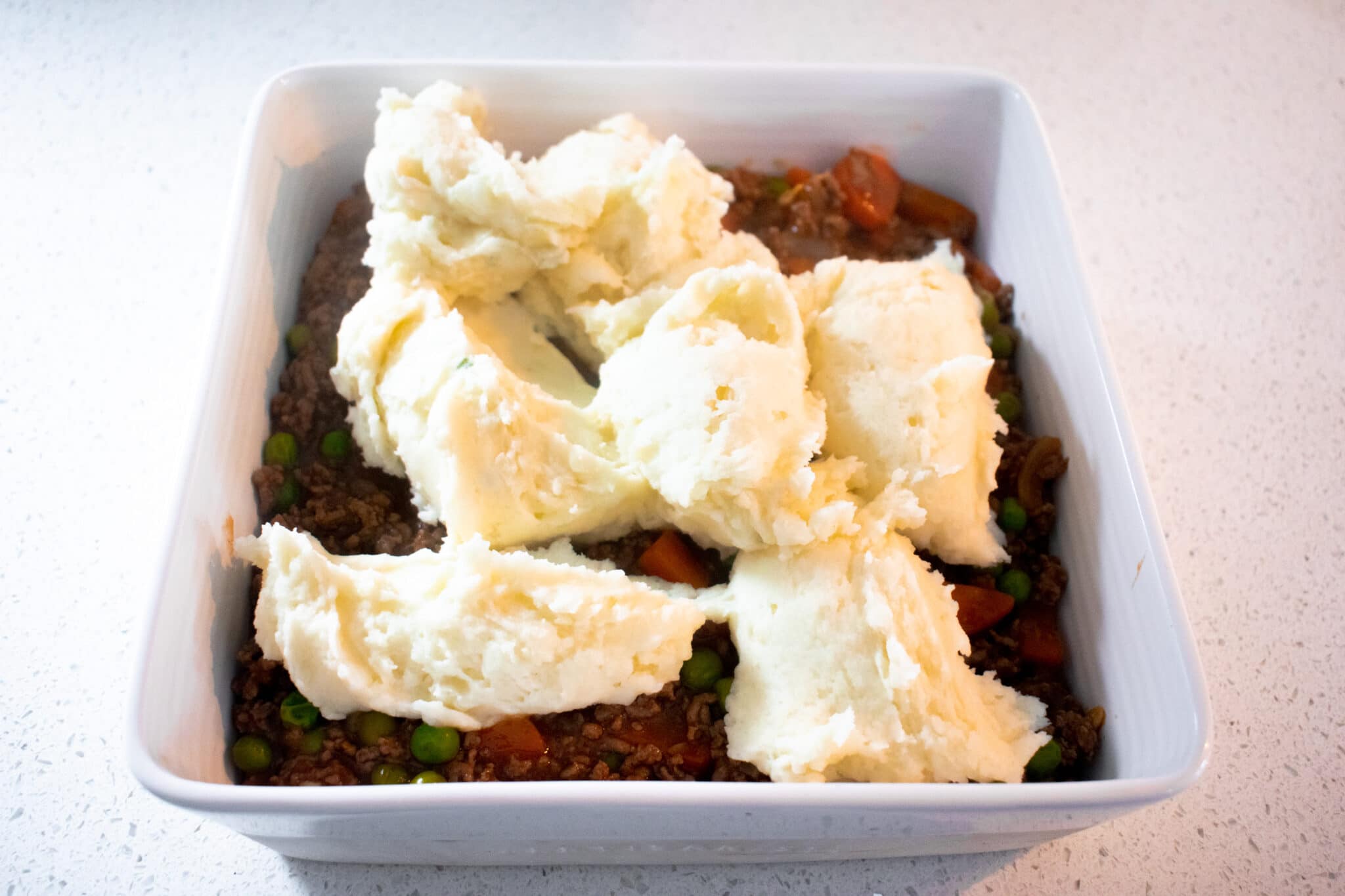 21. Then, take a fork and spread out the mixture – be gentle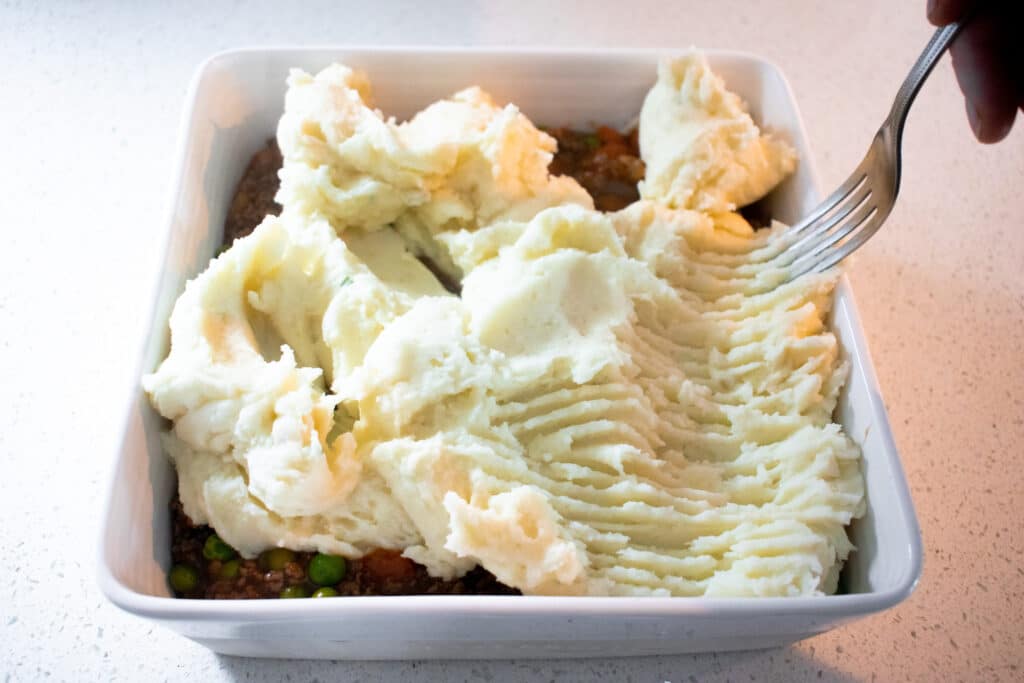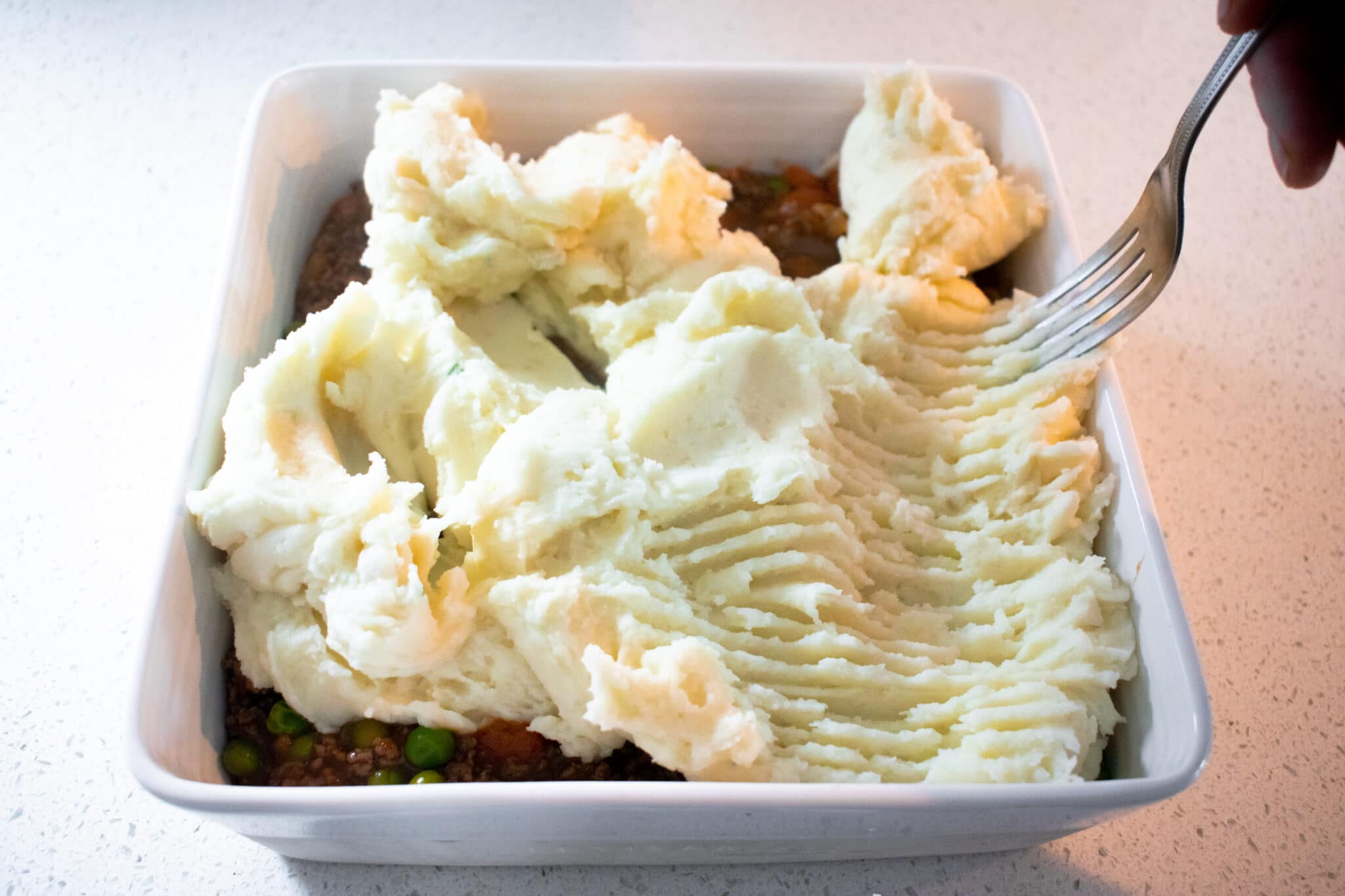 22. Then, once it's evenly spread – use your fork to create a rough texture on top (you want it to be rough so it crisps up in the oven)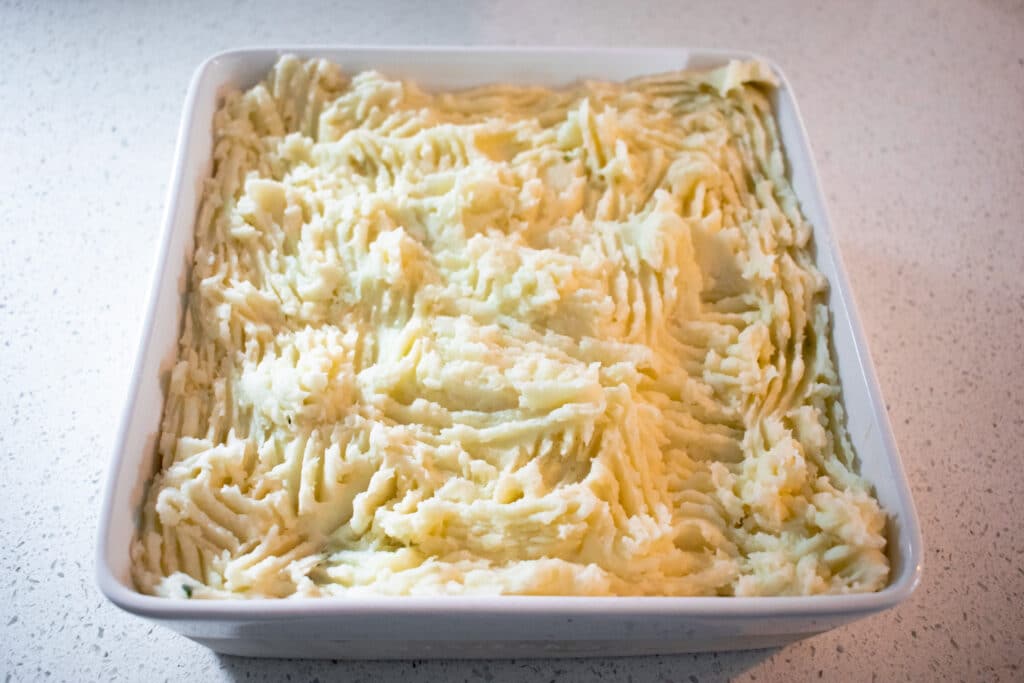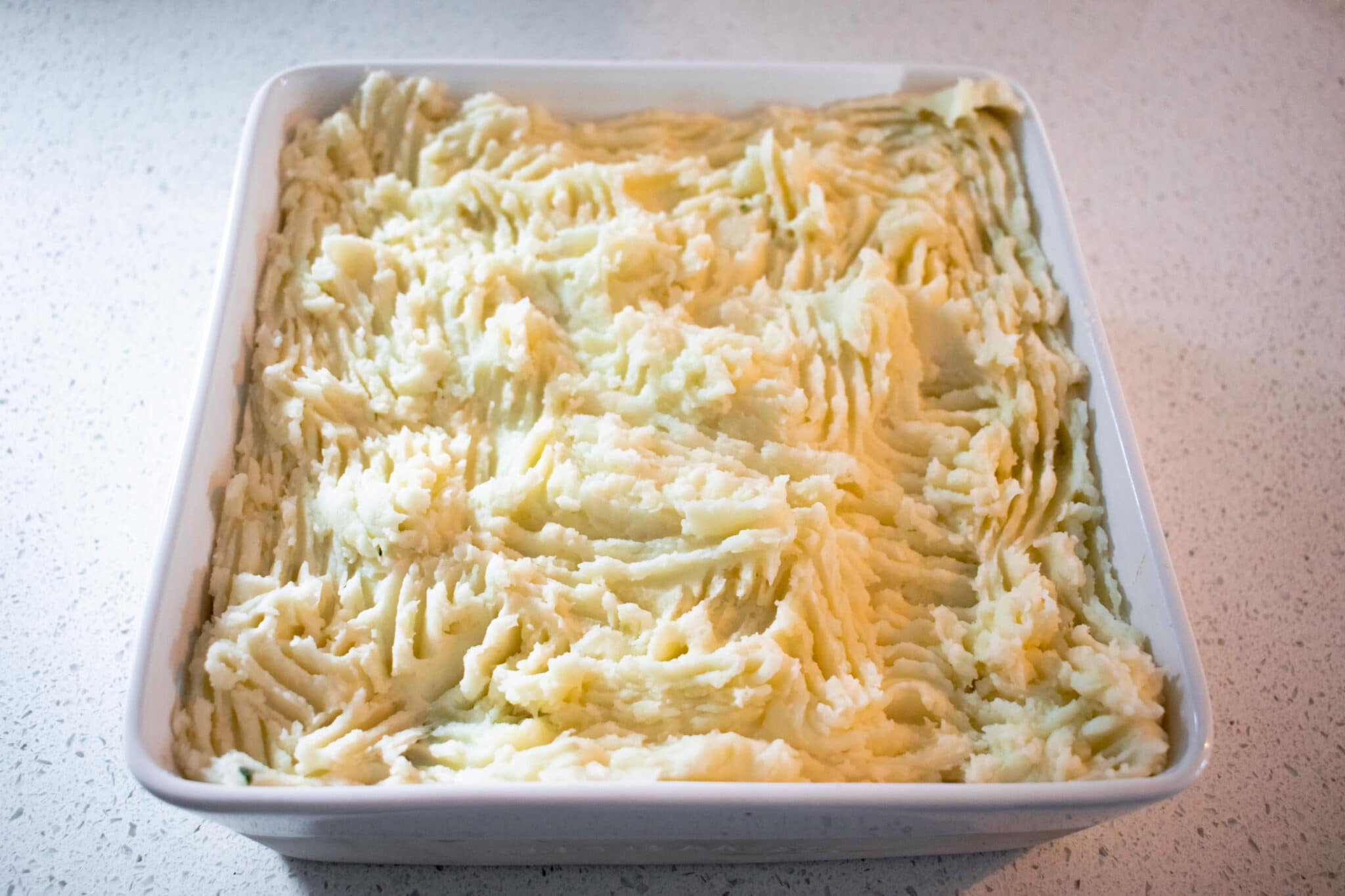 23. Top with grated cheese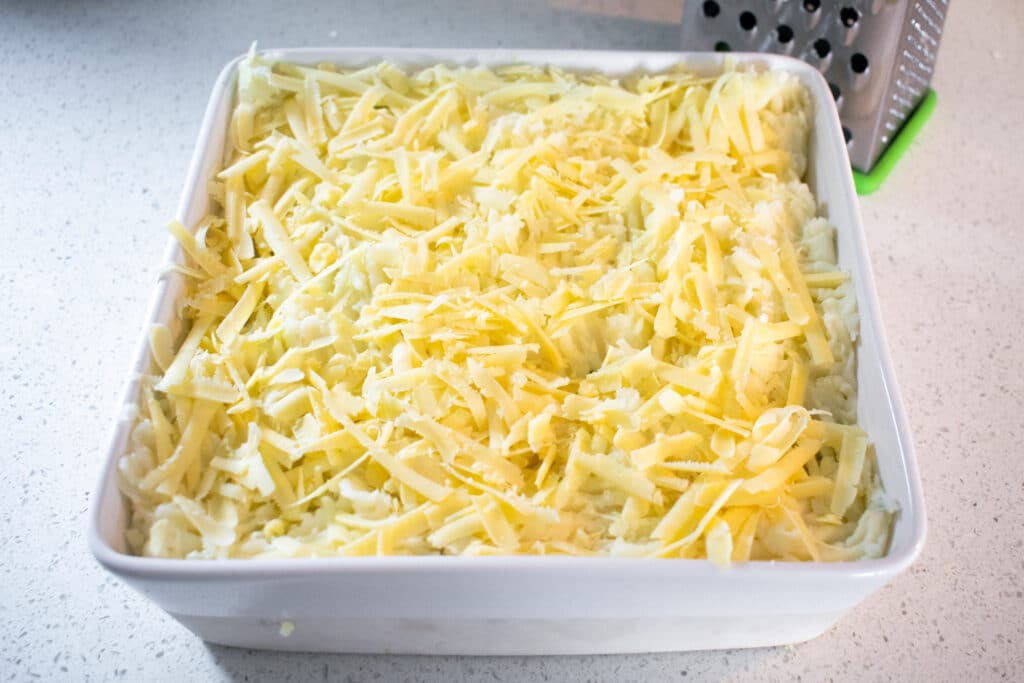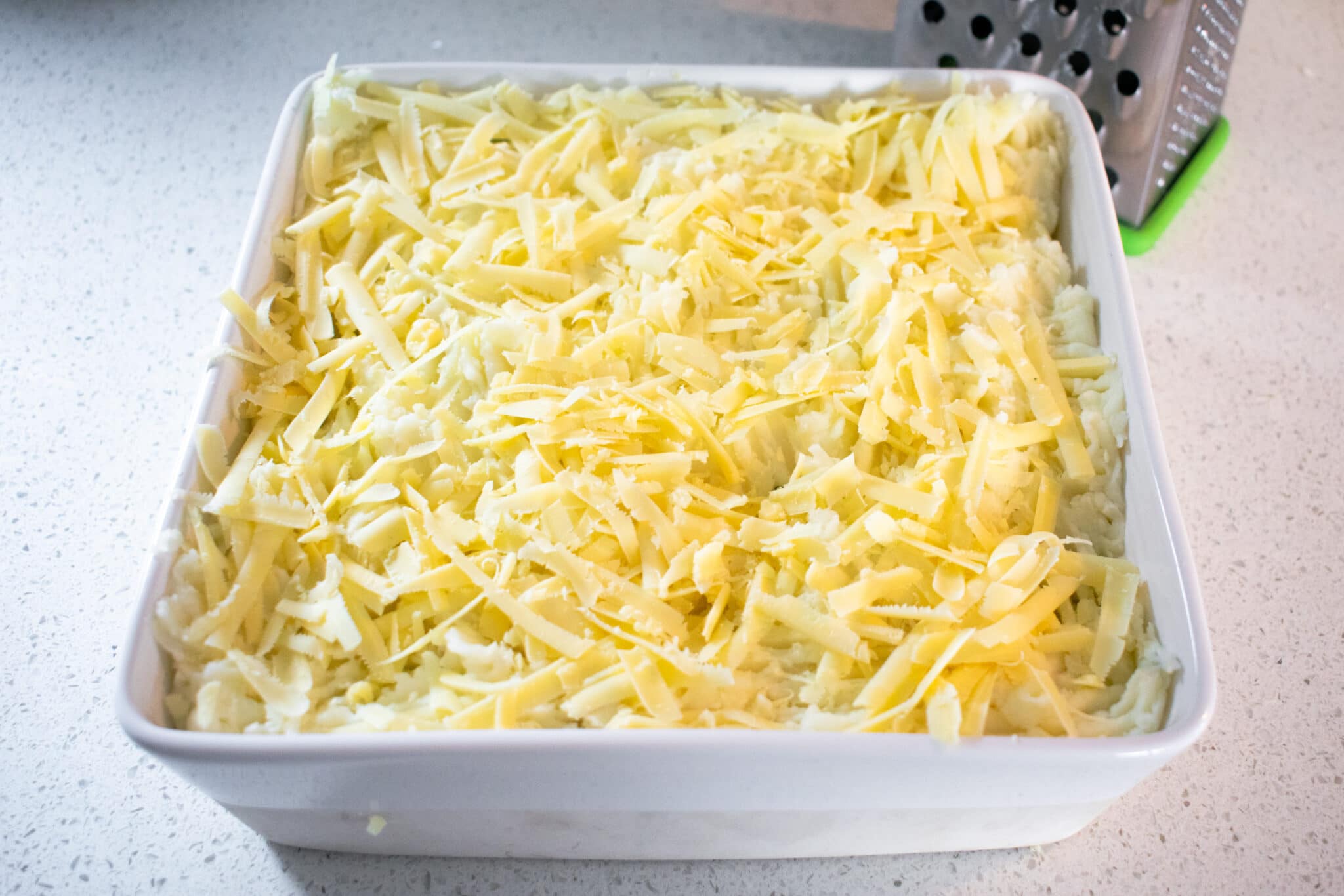 24. Then, cook in the oven at 200C for 30 minutes, until the cheese has browned and bits of the mash are crisp (don't worry if some gravy bubbles up – like it did here)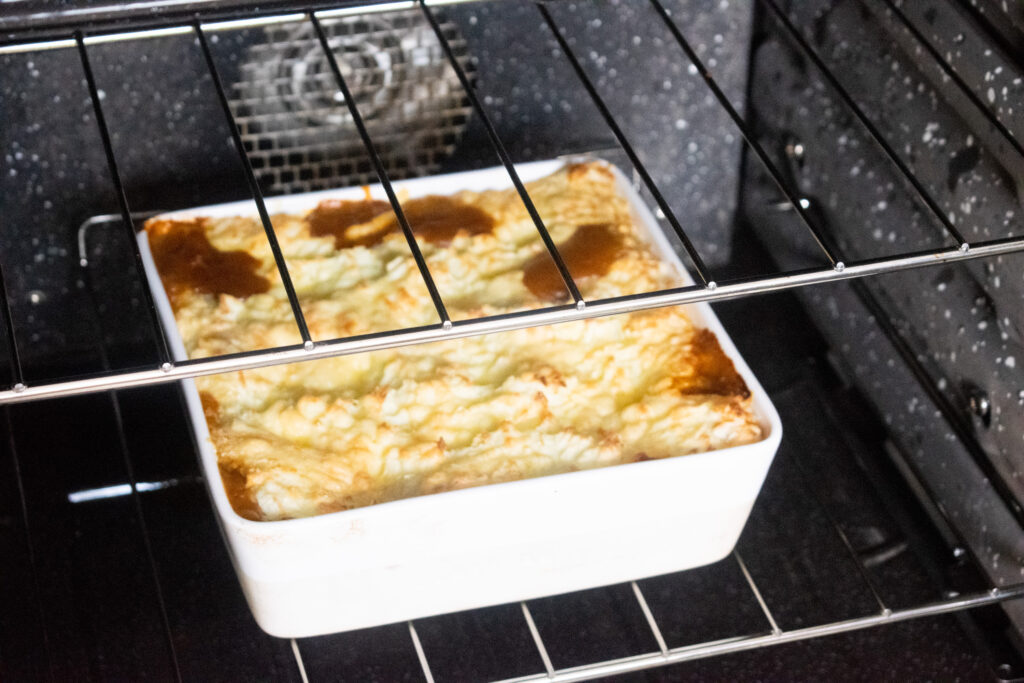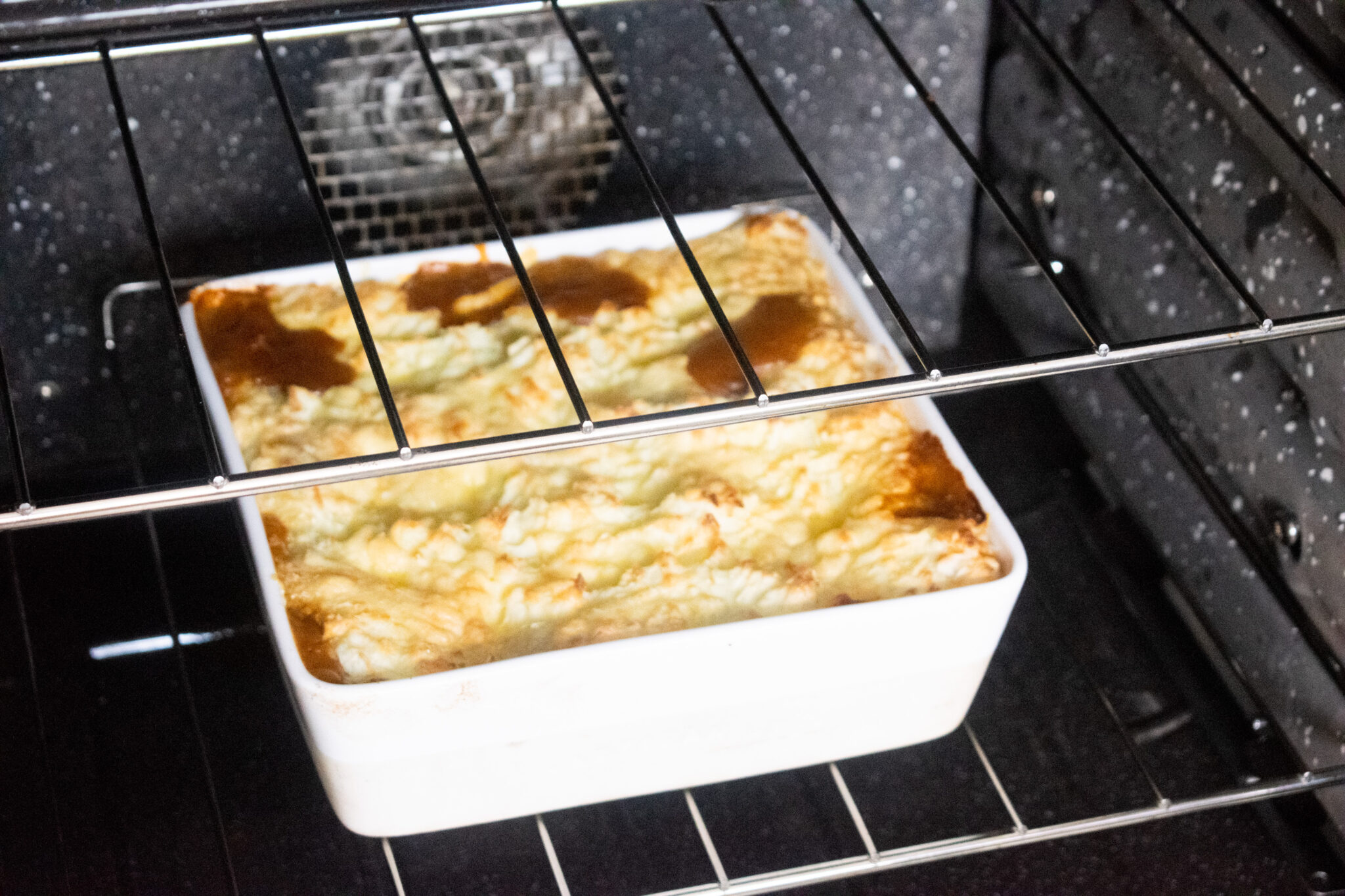 25. Then, remove from the oven allow to cool for 5-10 mins and serve
Yield: 6 Servings
Cottage Pie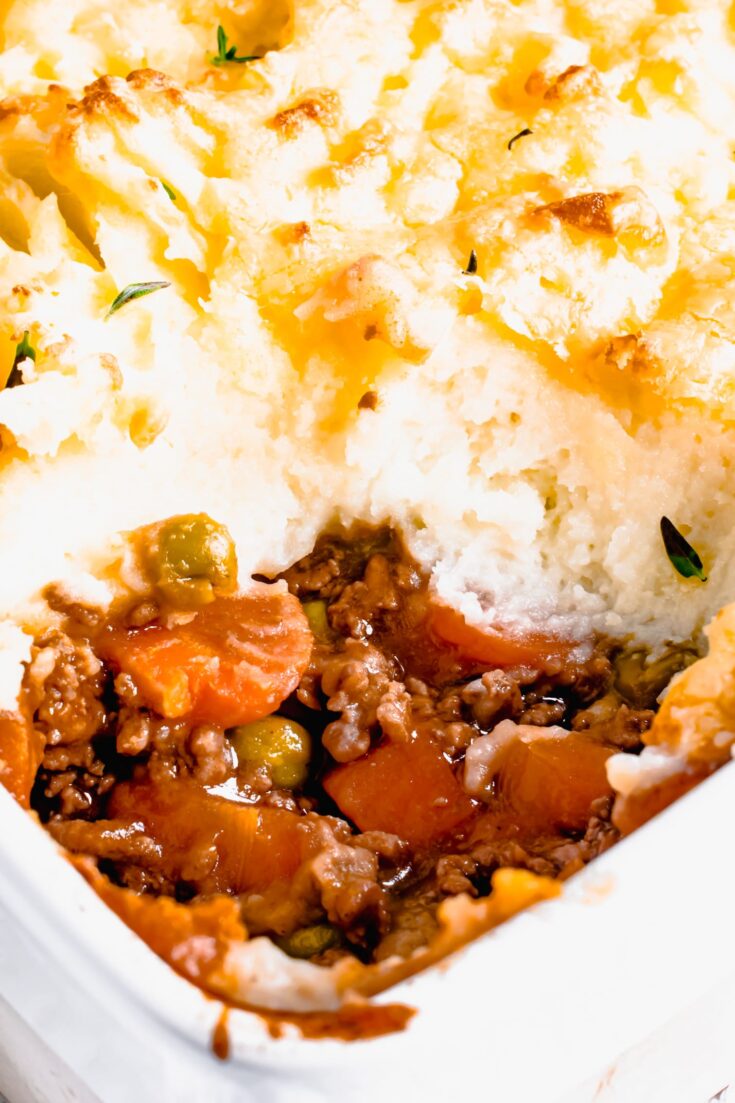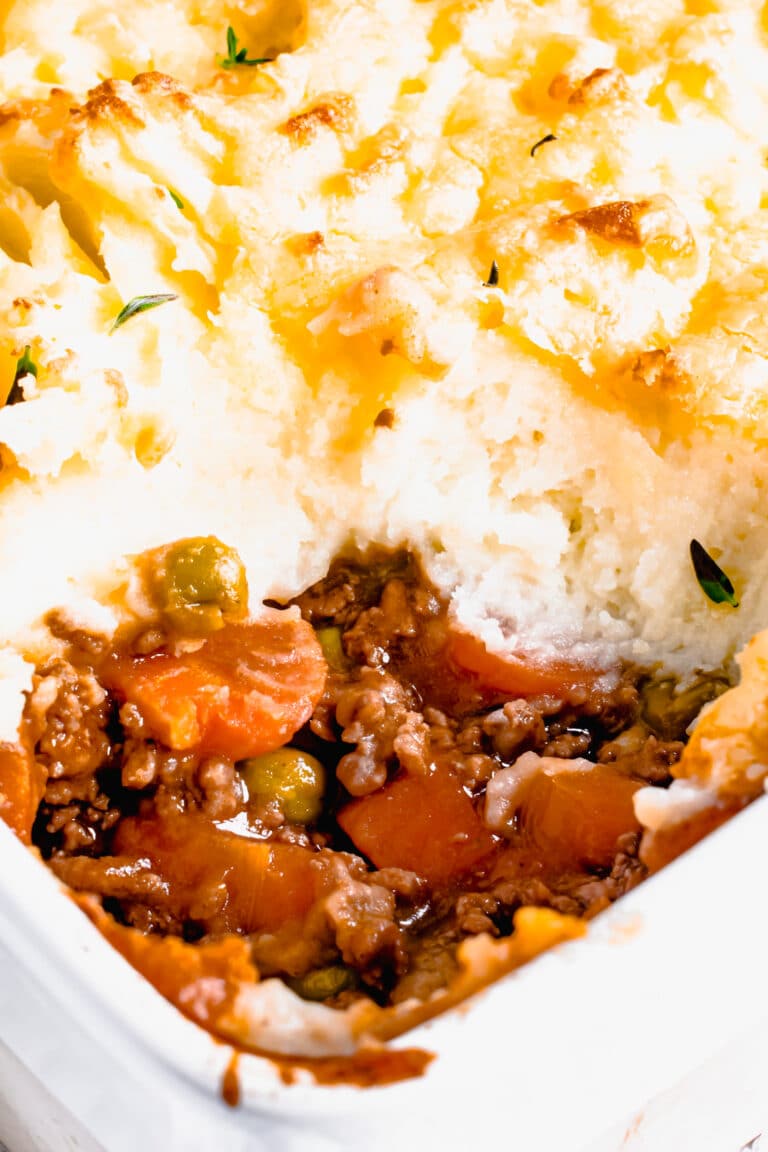 A delicious, classic cottage pie made with rich, thick gravy, beef, carrots, and peas.
Total Time
1 hour
10 minutes
Ingredients
2 tbsp oil
1 onion
3 carrots
500g lean beef mince
3 garlic cloves
1 tbsp tomato puree
1 or 2 tsp thyme (fresh or dried)
1 beef stock cube
600ml water
1/2 tsp salt
1 tbsp Worcestershire sauce
150g frozen peas
1 tbsp beef gravy granules
For the mash
6 potatoes
1 tbsp butter
4 tbsp milk
To Serve
Instructions
Step 1: Making the meat & gravy base:
Boil the kettle, and mix 600ml of water with the stock cube - set aside
Finely dice the onion
Thinly chop the carrots (I tend to peel, cut lengthways, then slice into thin pieces - as per the photos above)
Peel and crush the garlic - then set aside
Heat the oil in a large, non-stick pan
Add the onions and carrots, stir and cook for 3 mins, stirring often until the onions begin to turn slightly clear
Then, add in the minced beef
Use your spatula or wooden spoon to break the mince into smaller pieces, stirring and cooking until browned - about 5-10 mins (if you have a small pan only, you may have to do this in 2 batches)
Then, add in the crushed garlic and thyme - stir
Then, pour in the earlier prepared stock, tomato puree, Worcestershire sauce, and salt
Stir, then turn the heat down to a simmer, cover with a lid and allow to simmer whilst you make the. mashed potatoes
Whilst your gravy/meat mixture simmers - prepare the mashed potatoes

Step 2: Making the mash
Peel and chop potatoes into equal-sized pieces
Add potatoes to a large pan of cold water, rinse of additional starch and drain away the cold water
Boil the kettle, then add the boiling water to the drained pan of potatoes, place on a hob/stovetop and simmer until a fork is inserted with no resistance.
Drain the potatoes and allow to steam in the sieve for a couple of minutes - to ensure they're properly dry
Then, return the potatoes into the dried, empty pan
Add in butter, milk, salt - and use your potato masher to mash until smooth

Step 3: Assembling & cooking:
Pre-heat your oven to 200C
Turn off the heat on the simmering meat/gravy pan
Add the peas, and gravy granules into the meat pan - stir to mix
Then, pour the mixture into the bottom of a large, ovenproof casserole or pyrex dish
Next, place the cooked mashed potato on top - take a fork and spread it out evenly, use your fork to make a pattern on the top (have fun with it!) you want the mash to be a bit 'rough' on top so it crisps up in the oven
Then, (optional - but recommended!) grate some mature cheddar over the top of the dish
Once assembled, place the cottage pie in the oven for 30 mins, or until the cheese is melted and bits of the mash is crisp
Remove from the oven - allow to rest for 10 minutes then serve and enjoy!
Nutrition Information
Yield
6
Serving Size
1
Amount Per Serving
Calories

451
Total Fat

15g
Saturated Fat

5g
Trans Fat

0g
Unsaturated Fat

8g
Cholesterol

85mg
Sodium

491mg
Carbohydrates

46g
Fiber

6g
Sugar

5g
Protein

33g
Nutritional data provided here is only an estimate. If you're tracking these things for medical purposes please consult an outside, trusted source. Thanks!