Garlic dough balls are a favourite in my house. They make an amazing side dish to almost *any* dinner and are amazing as an appetiser or nibbles for parties or nibbles. They're simple to make and are so worth the time.
Every time I bake these dough balls they're eaten by my husband within about 10 minutes. No matter how many I make, he just can't get enough of them. It's nice to have a recipe like this which makes a 'normal' dinner such as pasta, feel like a very special treat.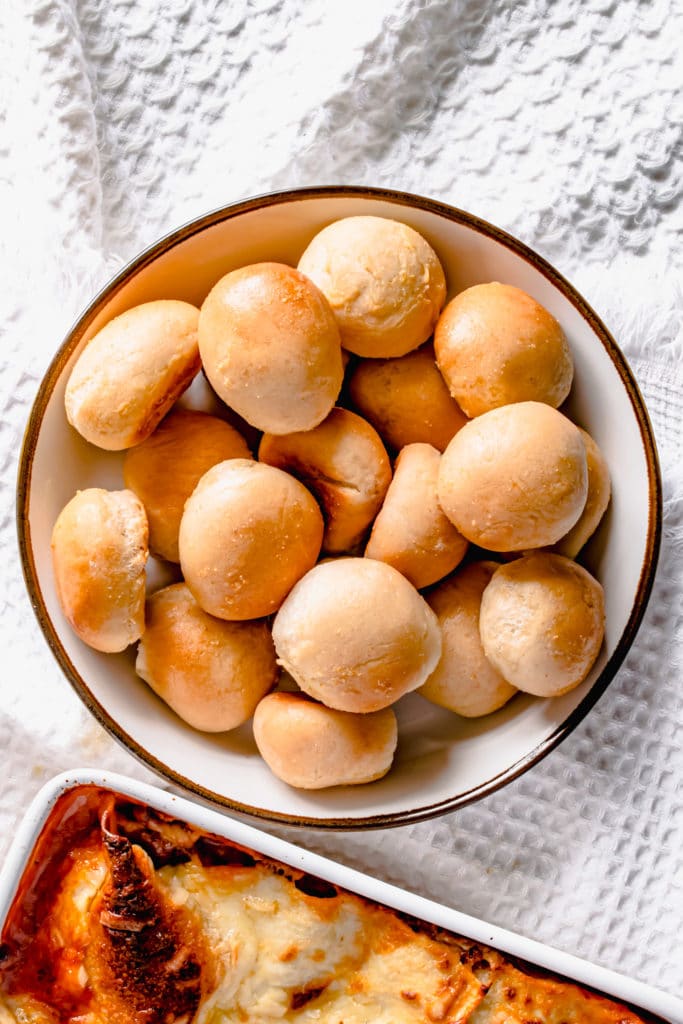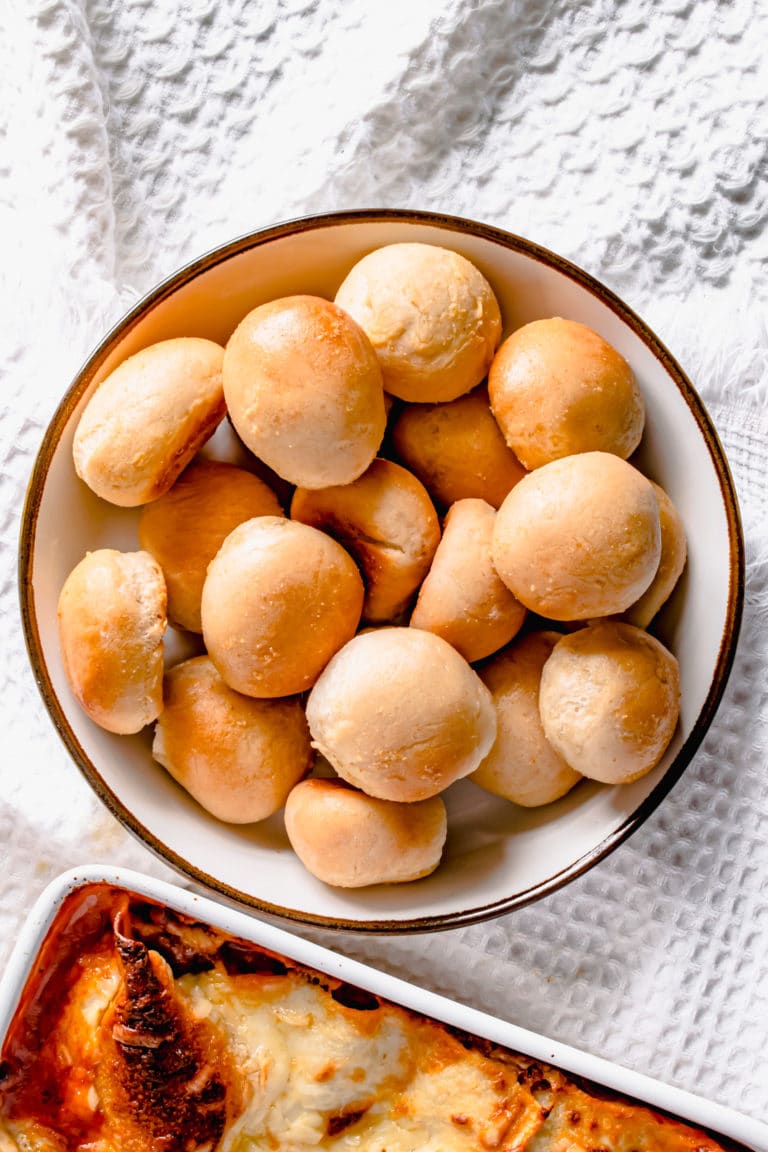 I flavour these dough balls with garlic at two stages – once, in the dough itself, and then by coating them in garlic butter. I don't actually use fresh garlic for this recipe – I use garlic granules as their flavour is just perfect (for our tastes at least!). If you'd prefer, you can use a freshly crushed garlic clove in the garlic butter.
The dough itself is an adaptation of my pizza dough recipe – you can easily double this recipe for enough to make a pizza, or next time you make pizza, make a few dough balls from that mix too!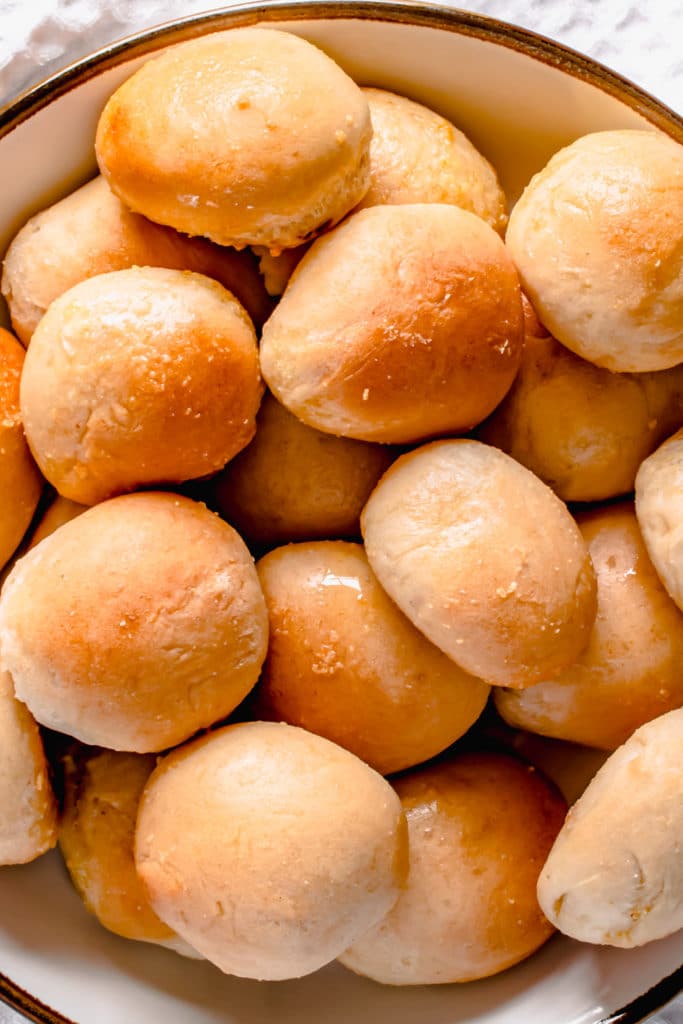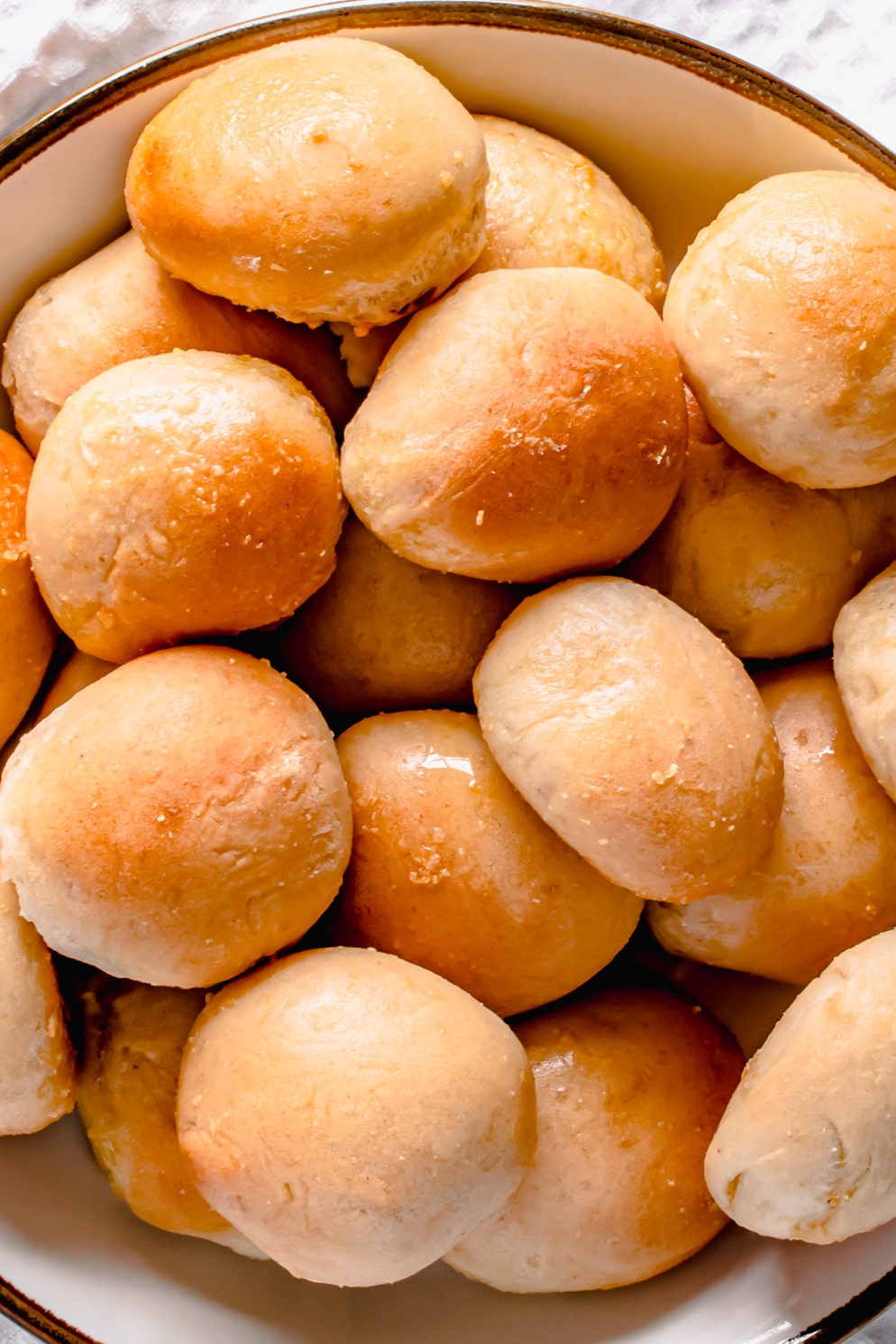 These garlic dough balls freeze really well too – just allow to cool and place into a freezer bag once cooked. They keep for about a month in the freezer.
They're really nice as a quick snack dipped into melted butter or pesto too!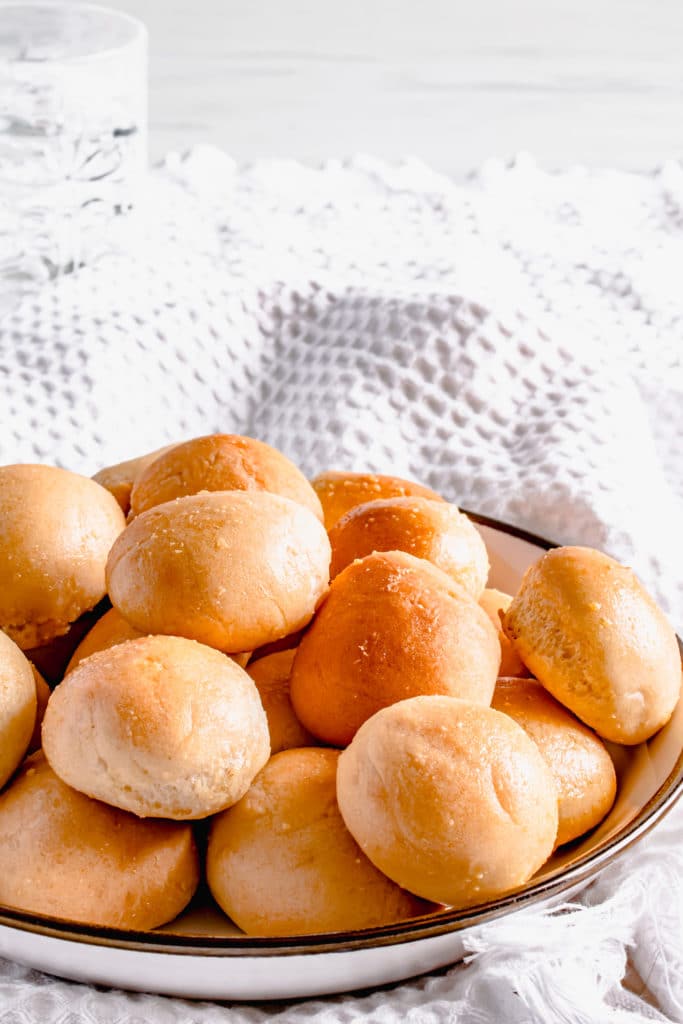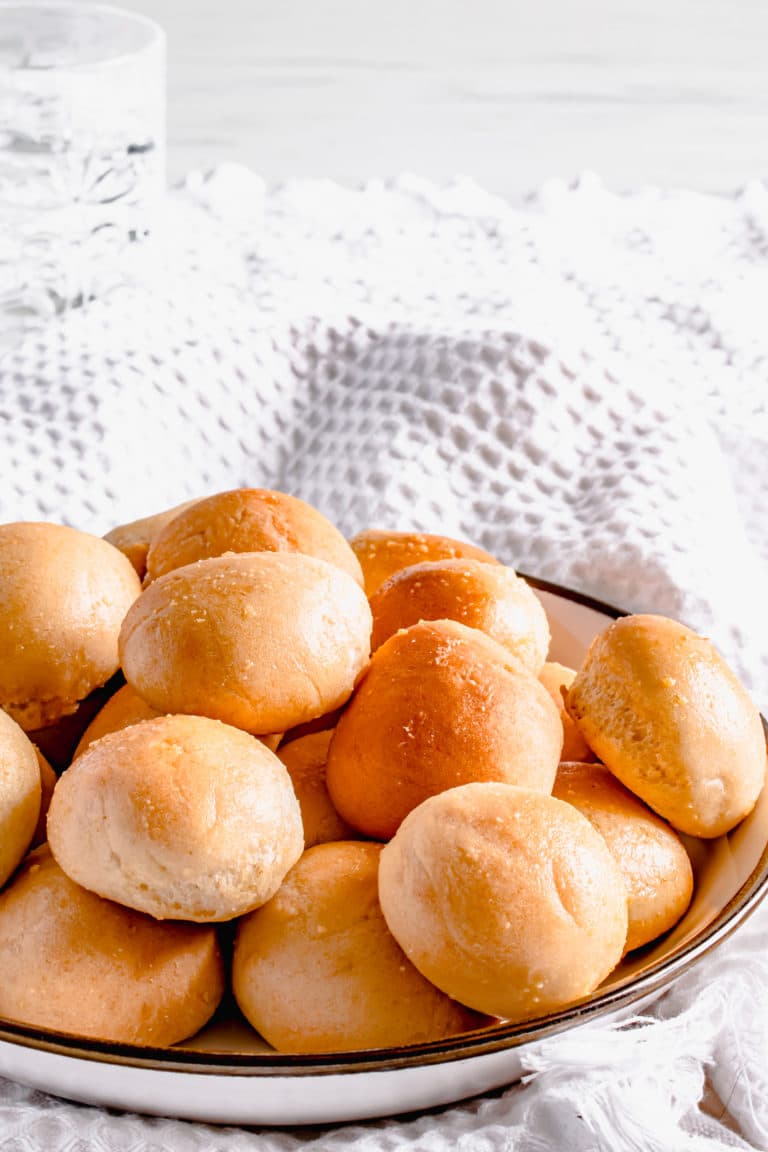 How to make Garlic Dough Balls at home
Scroll down for recipe card and full ingredient list
1. Add all the dry ingredients into your mixing bowl (measurements below)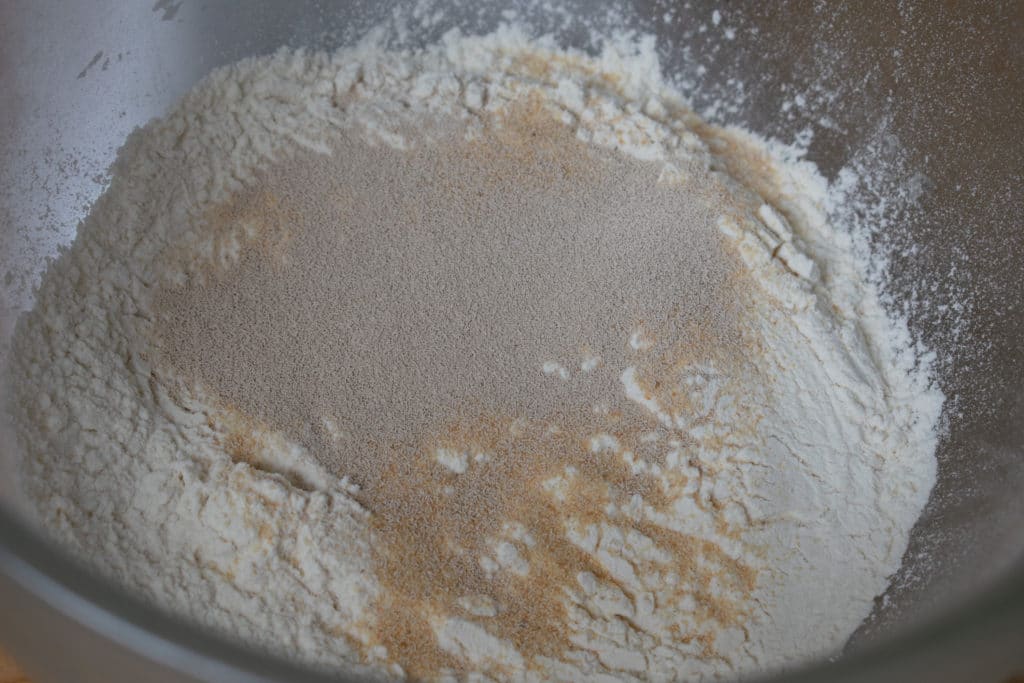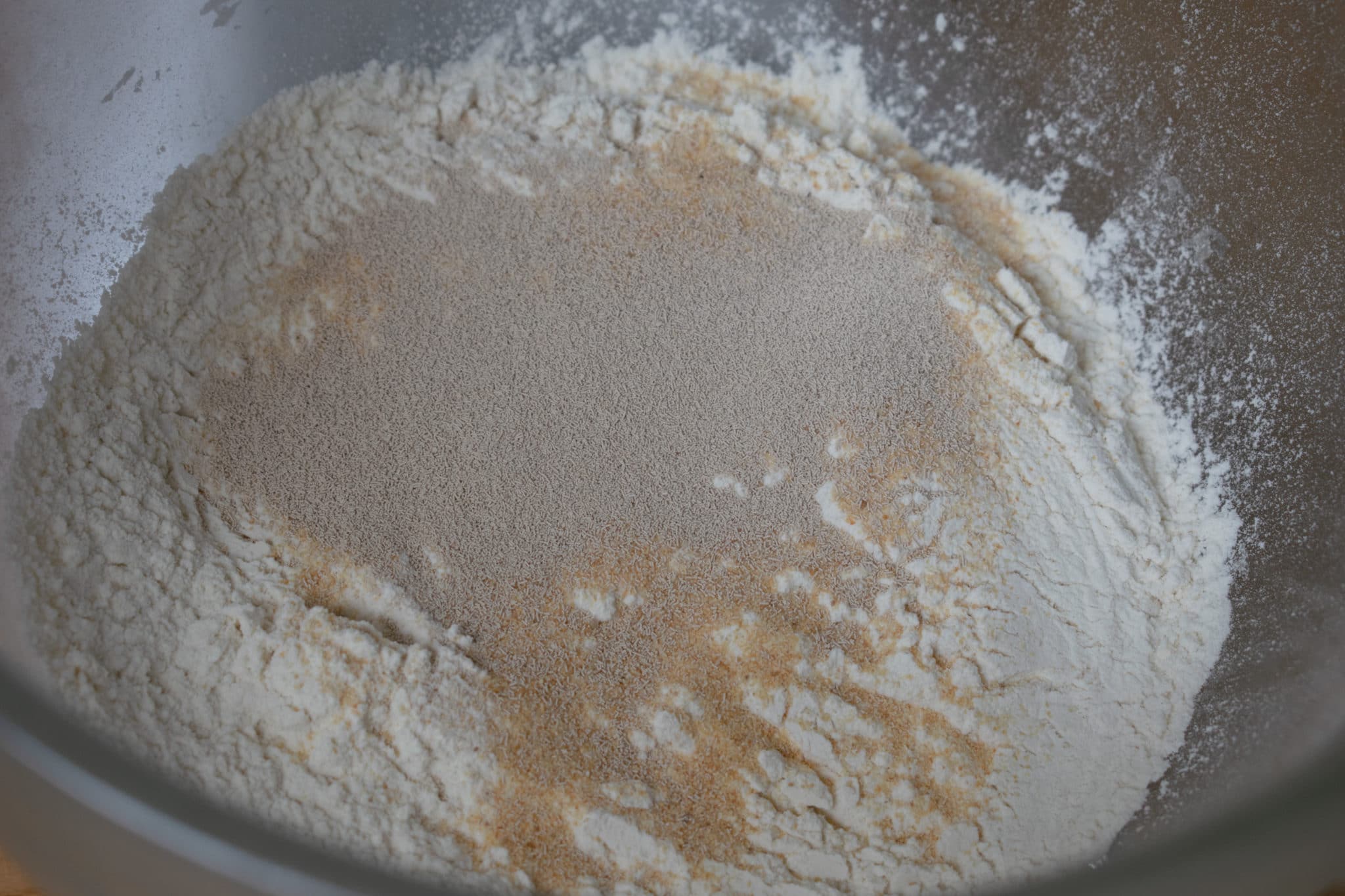 2. Then add in the honey and water (the water should be 'warm' to touch, but not hot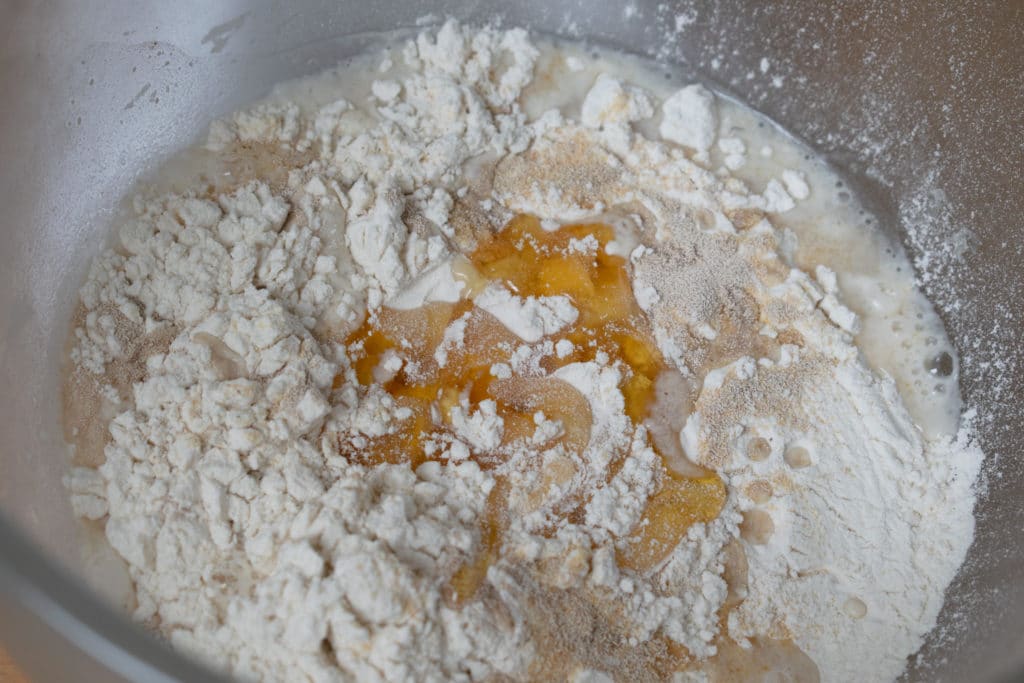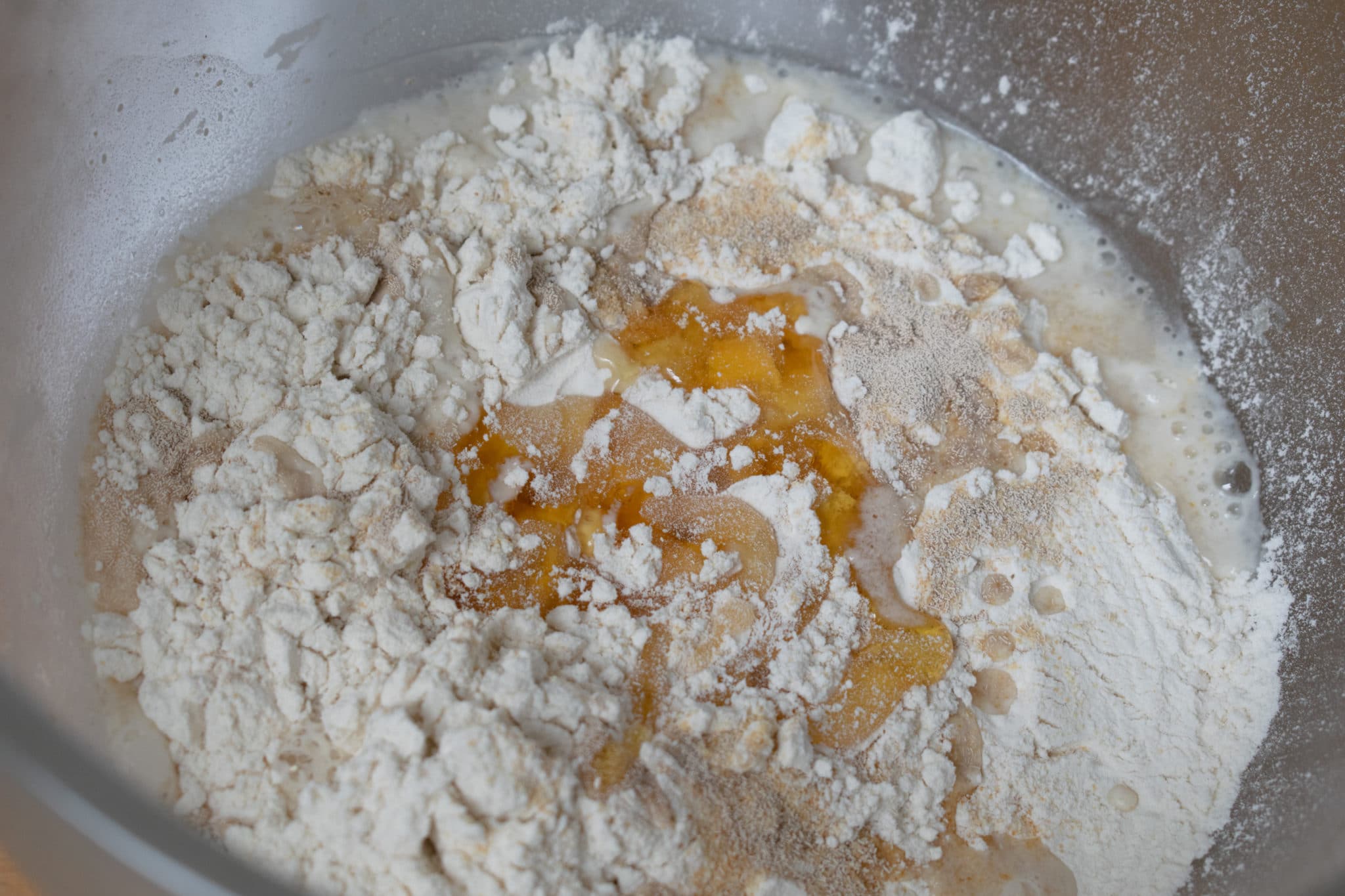 3. Mix together – I use my dough hook and a high setting on my stand mixer. If you don't have a stand mixer, knead with your hands for 5 minutes (the dough is quite sticky but keep working at it, add some oil to your hands if needed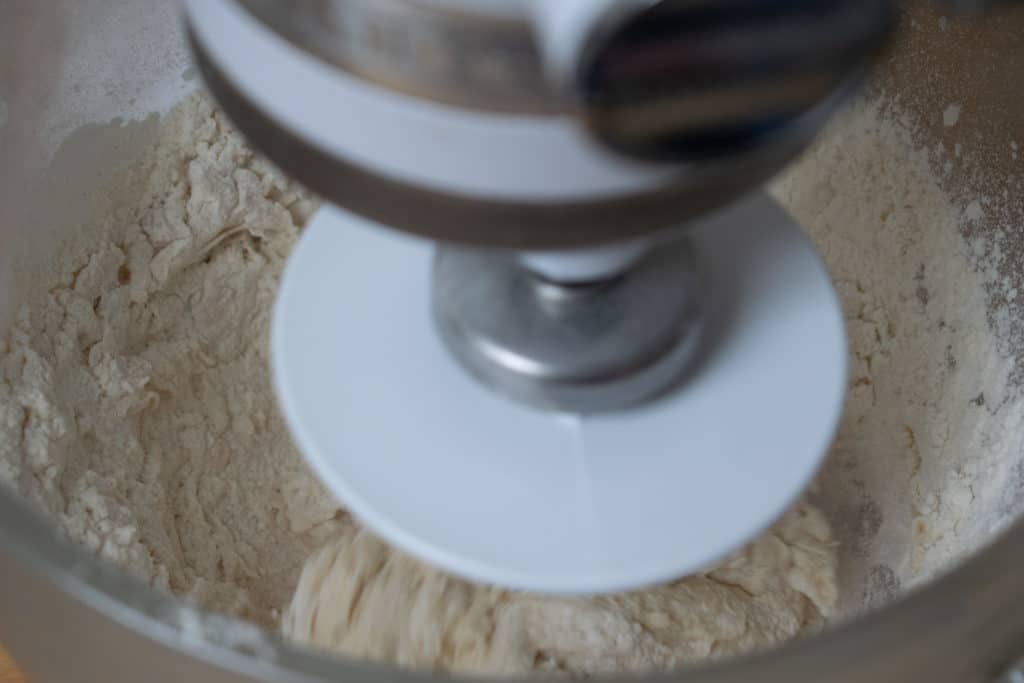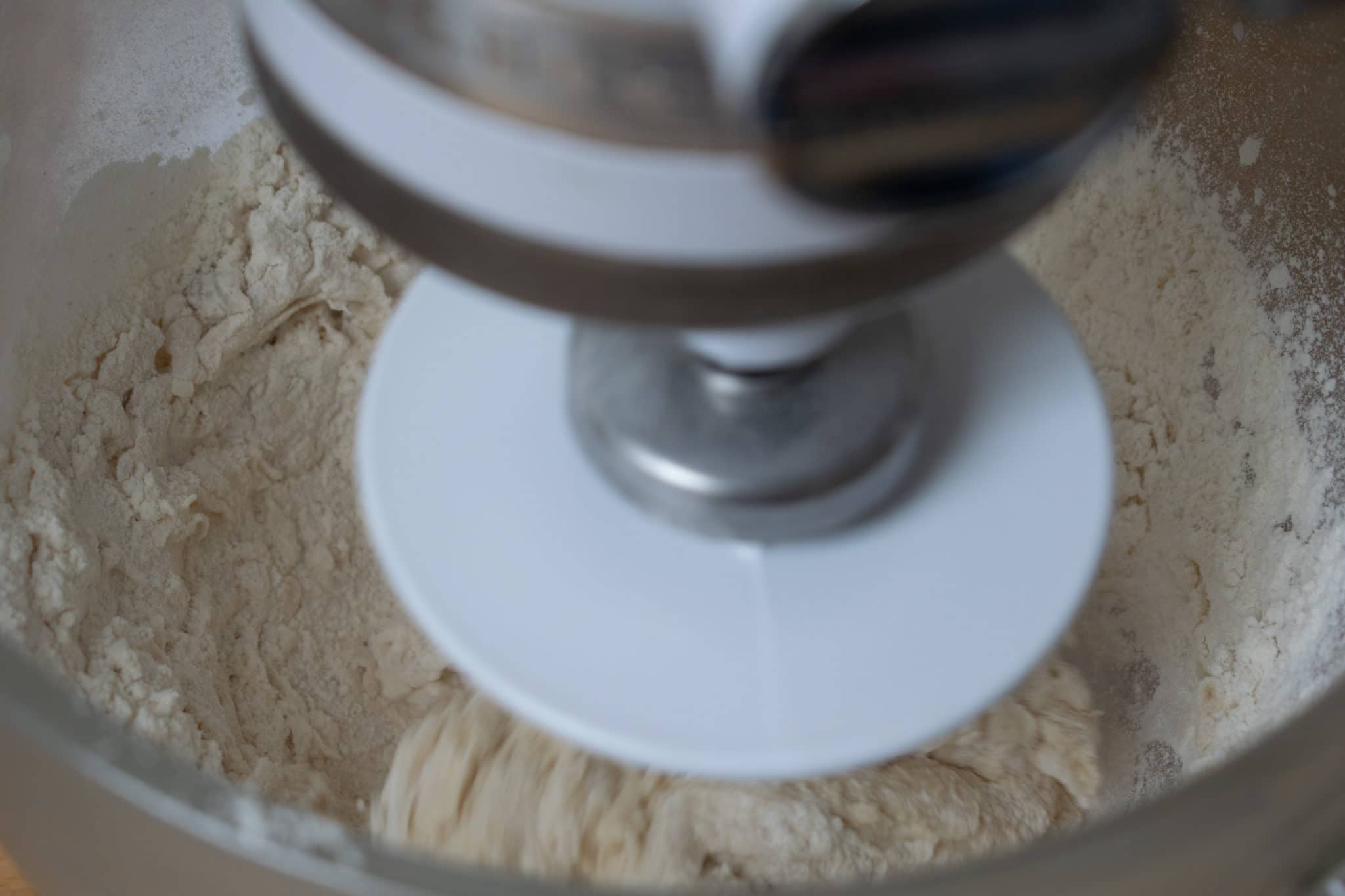 4. Once kneaded, add 1-2 tbsp oil and drizzle into the mixing bowl – form a ball with the dough, and sit in a warm place to rise for 30 minutes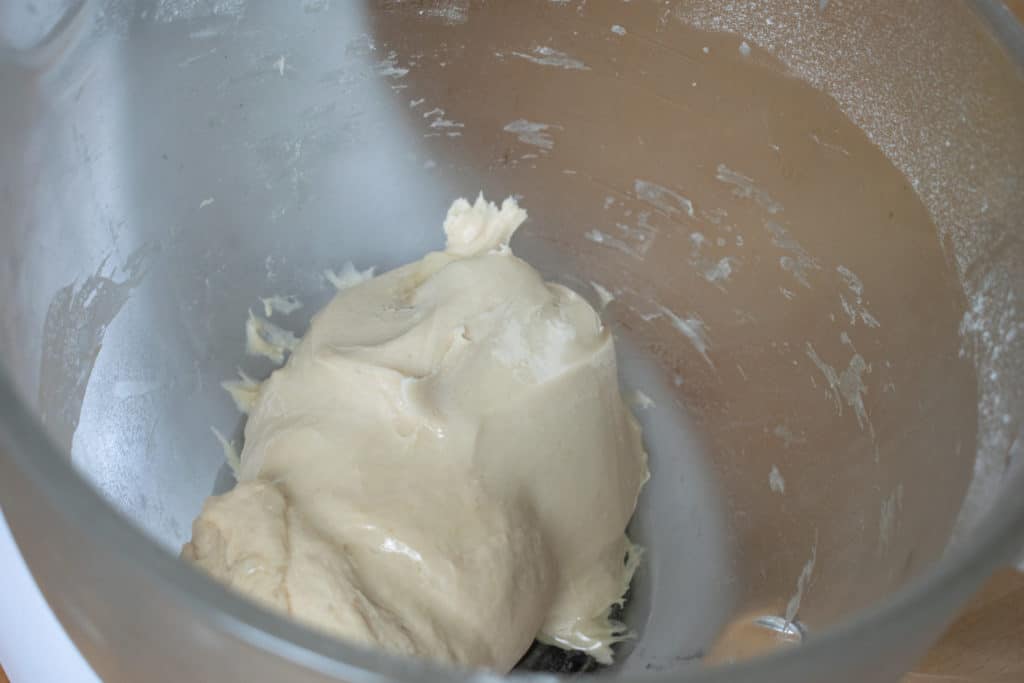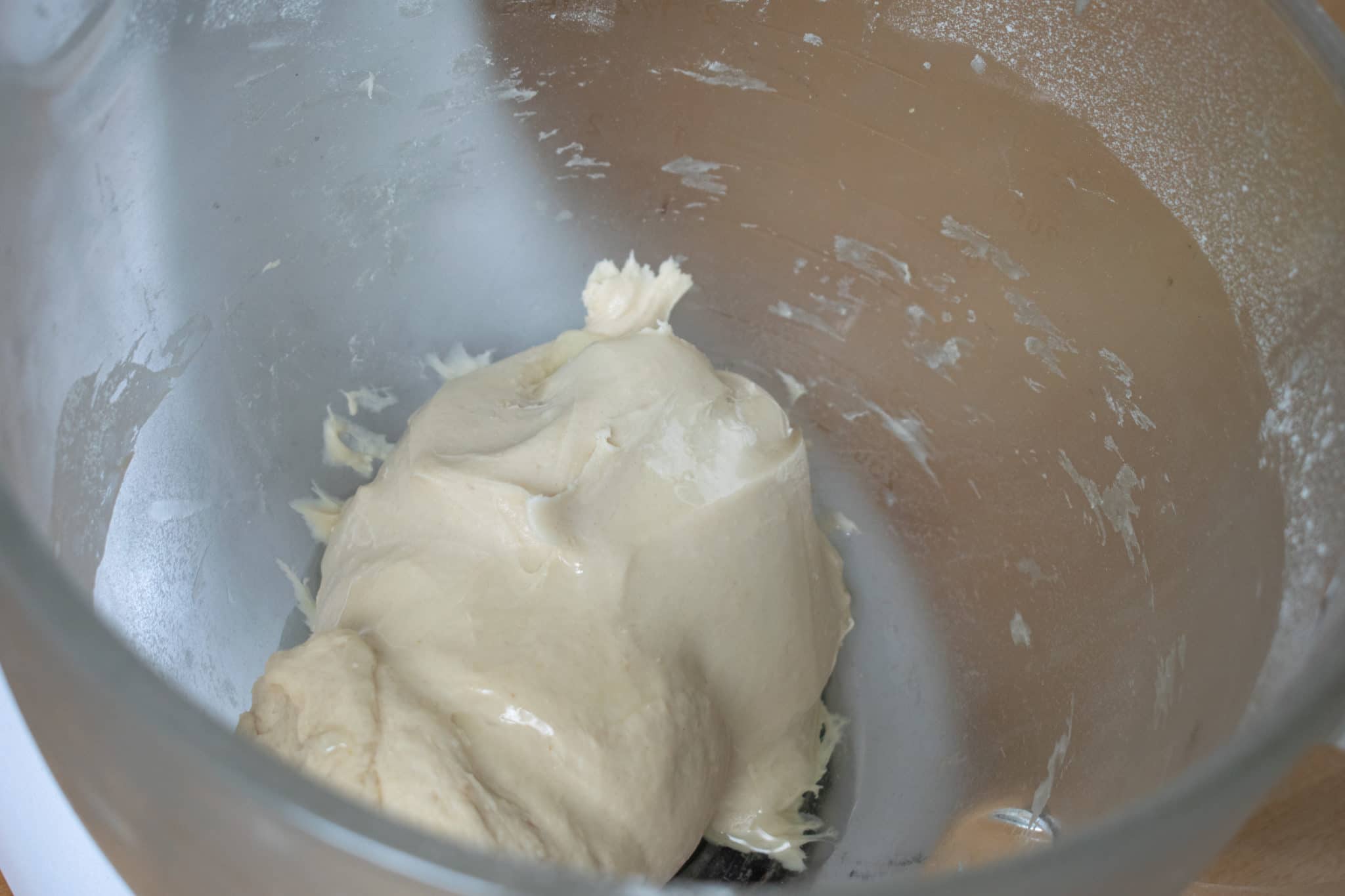 5. After 30 minutes, lightly flour a work surface and pre-heat your oven to 190C and place a large baking tray in the oven too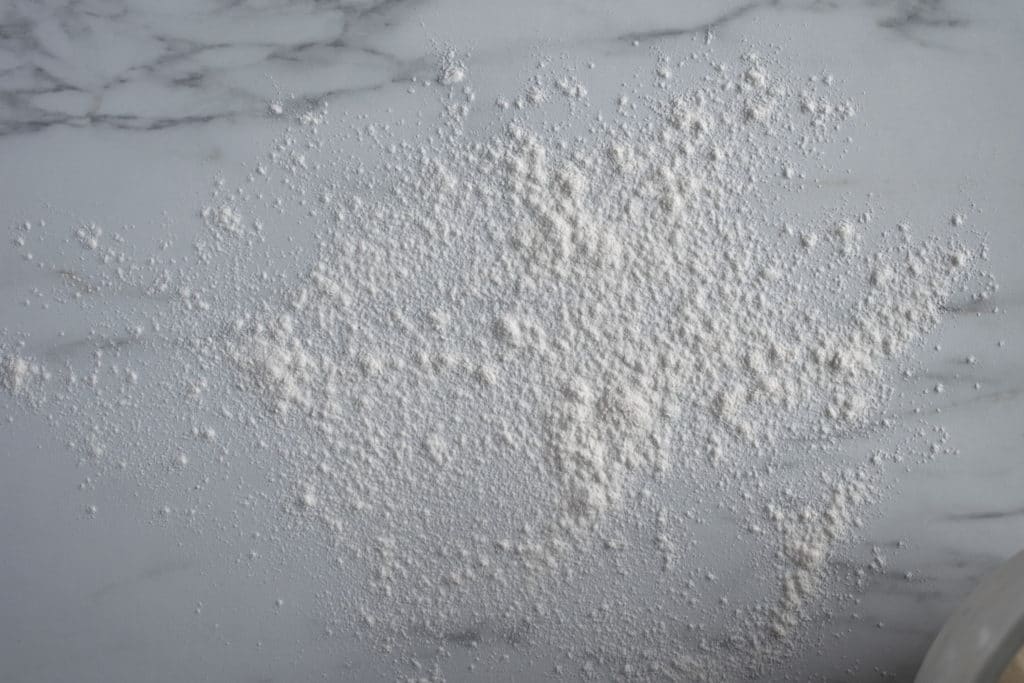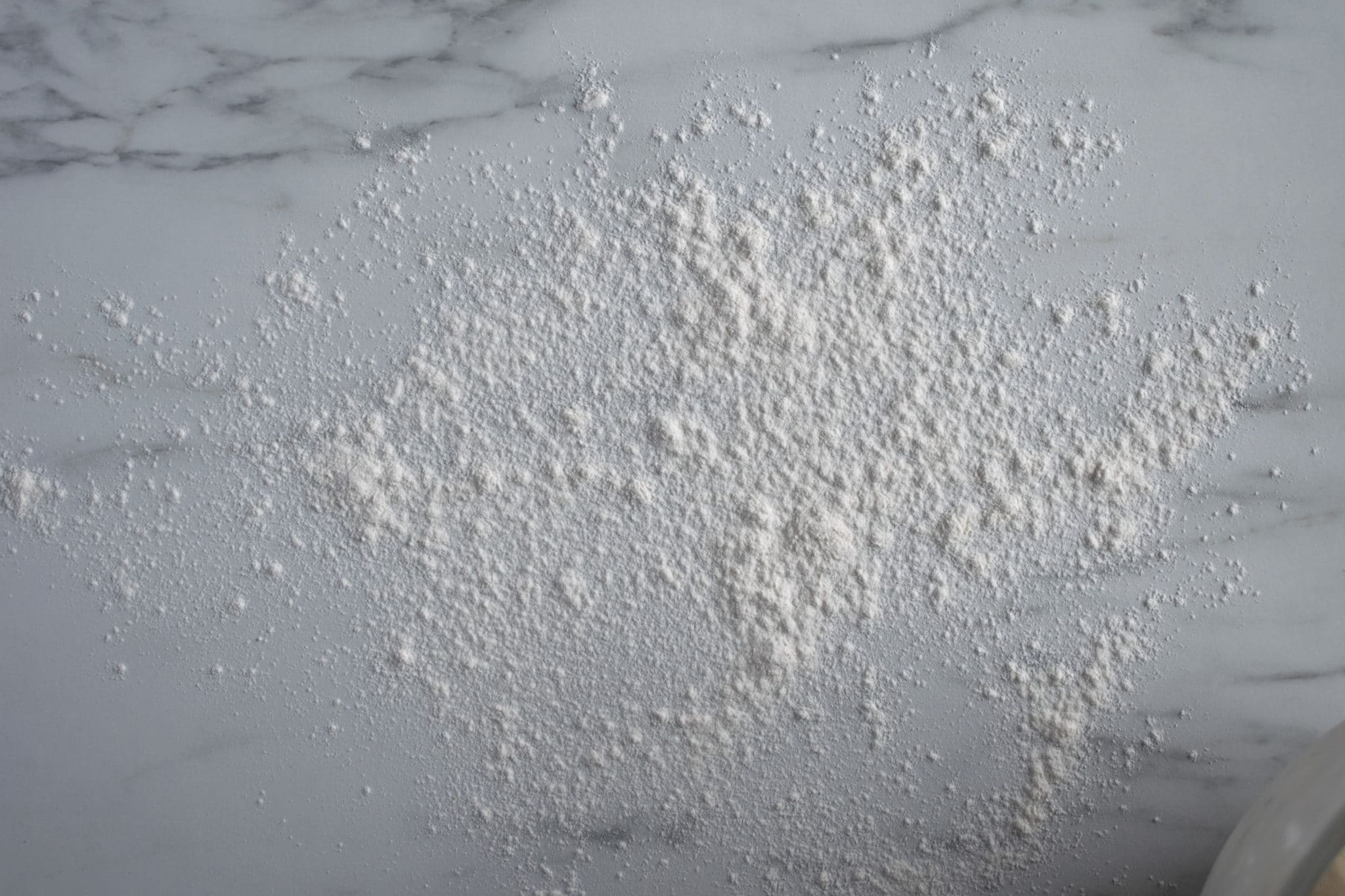 6. Tip the dough onto the floured surface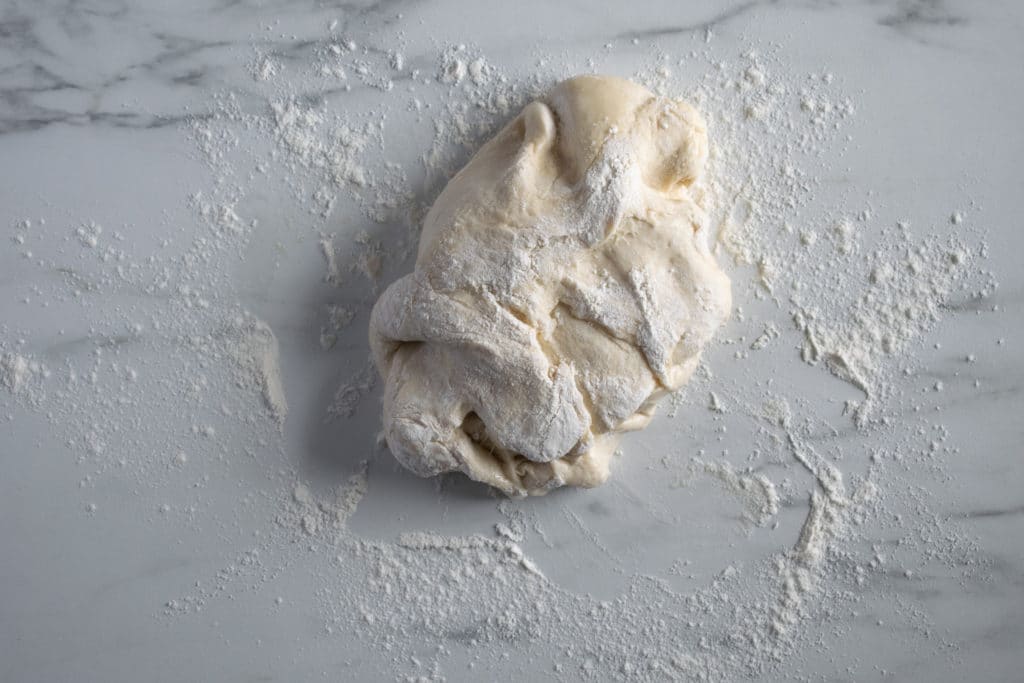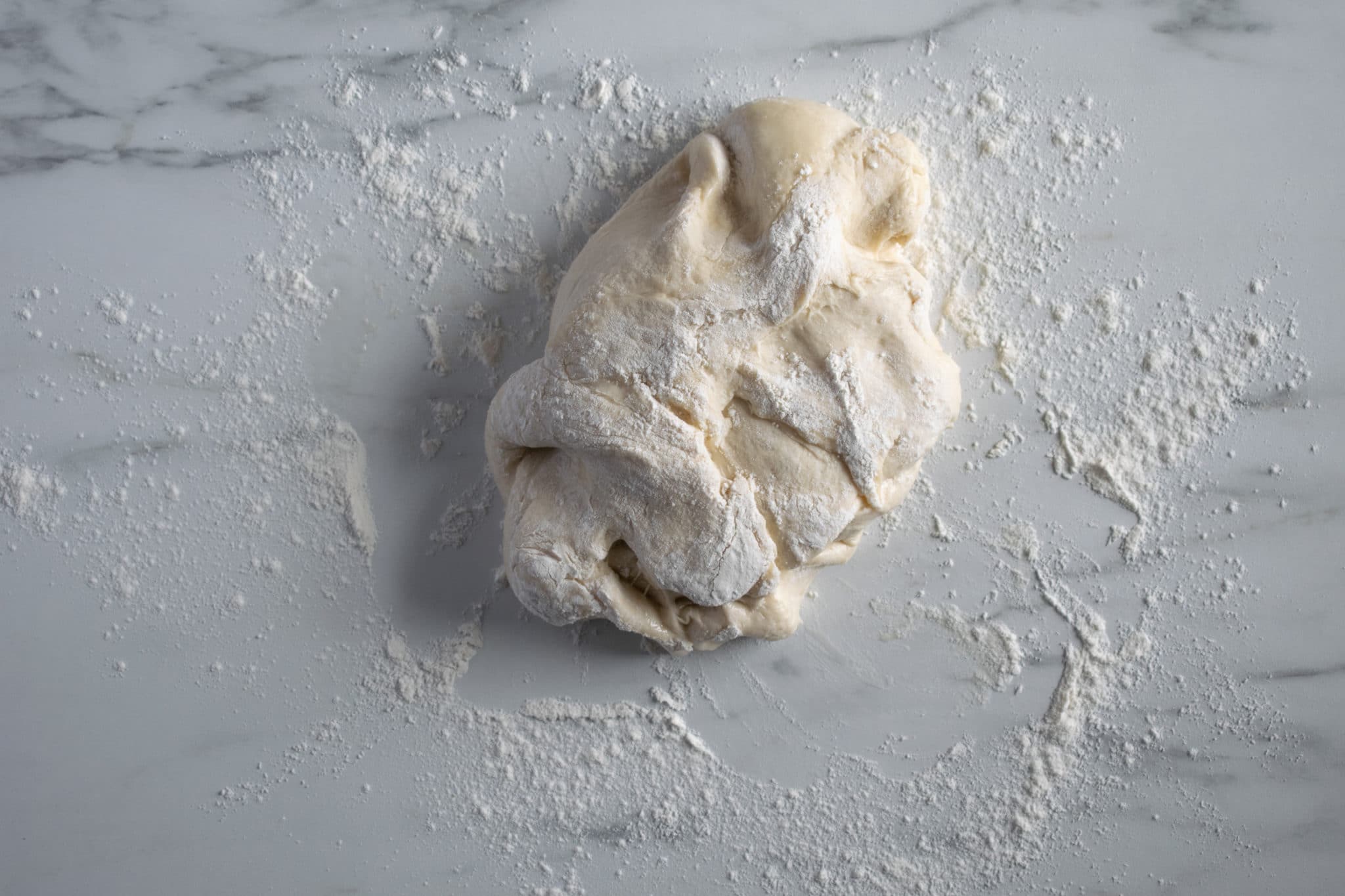 7. Divide the dough into equal-sized dough balls (mine were 15g each). Make sure to place the raw dough balls onto the floured surface once rolled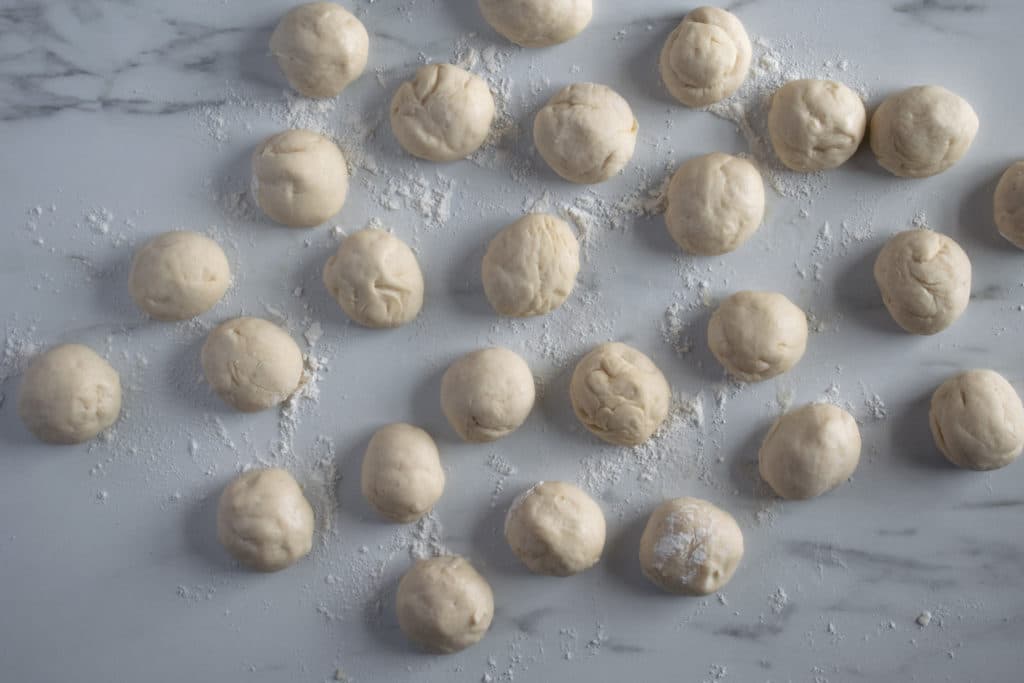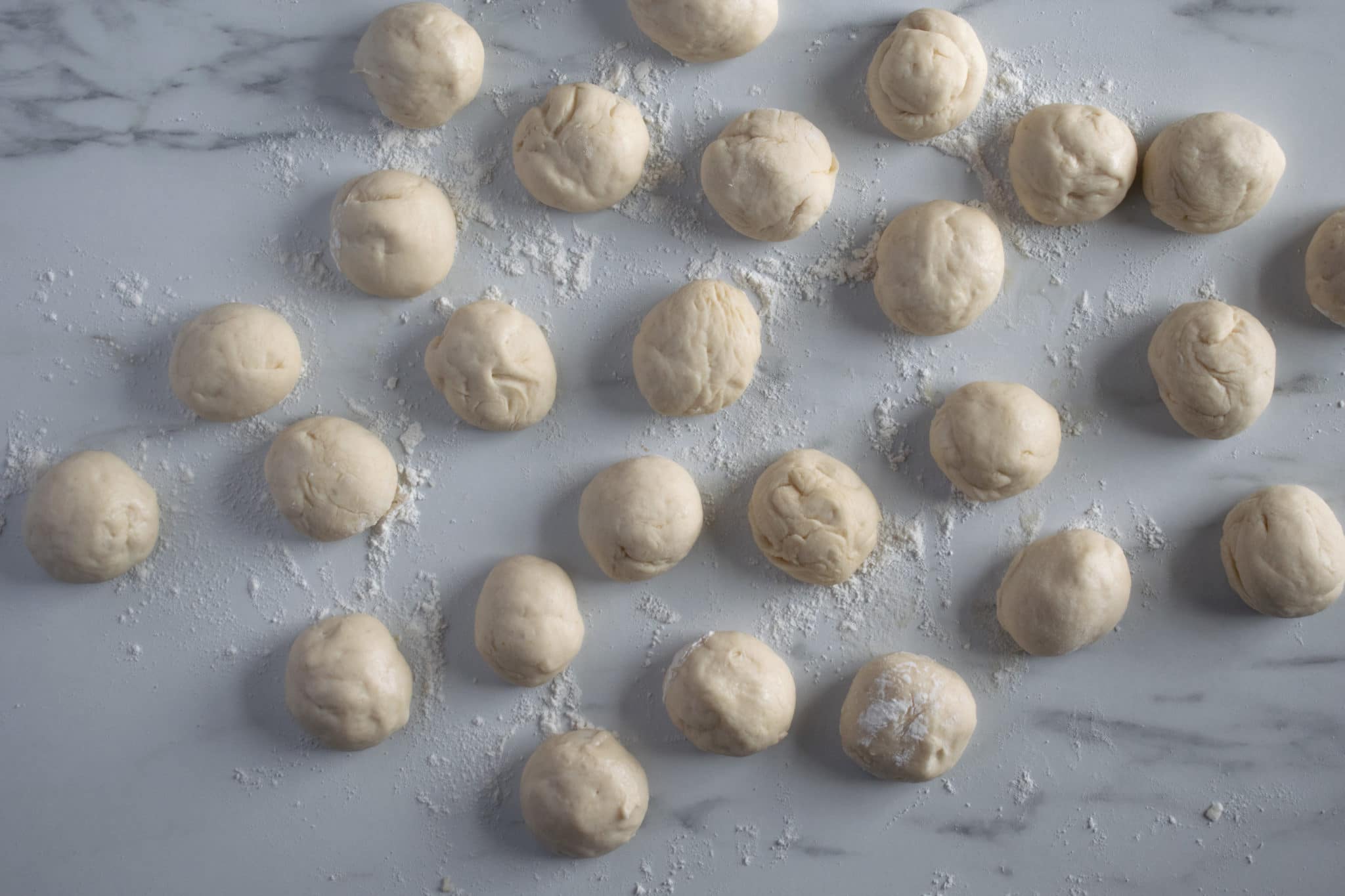 8. Cover with a clean tea towel for 15 minutes whilst the oven pre-heats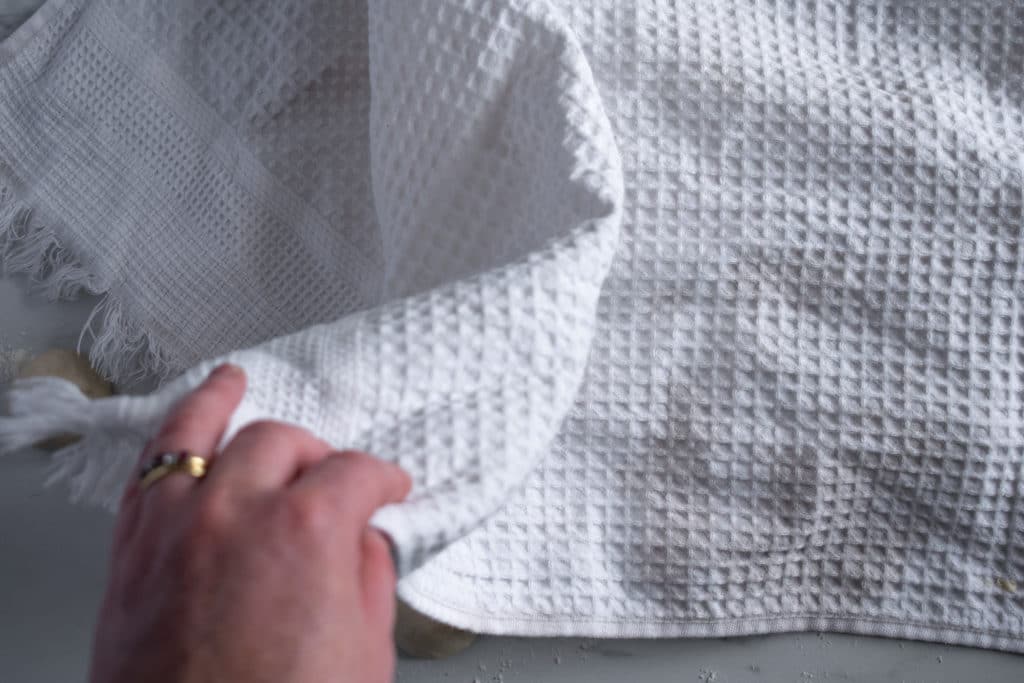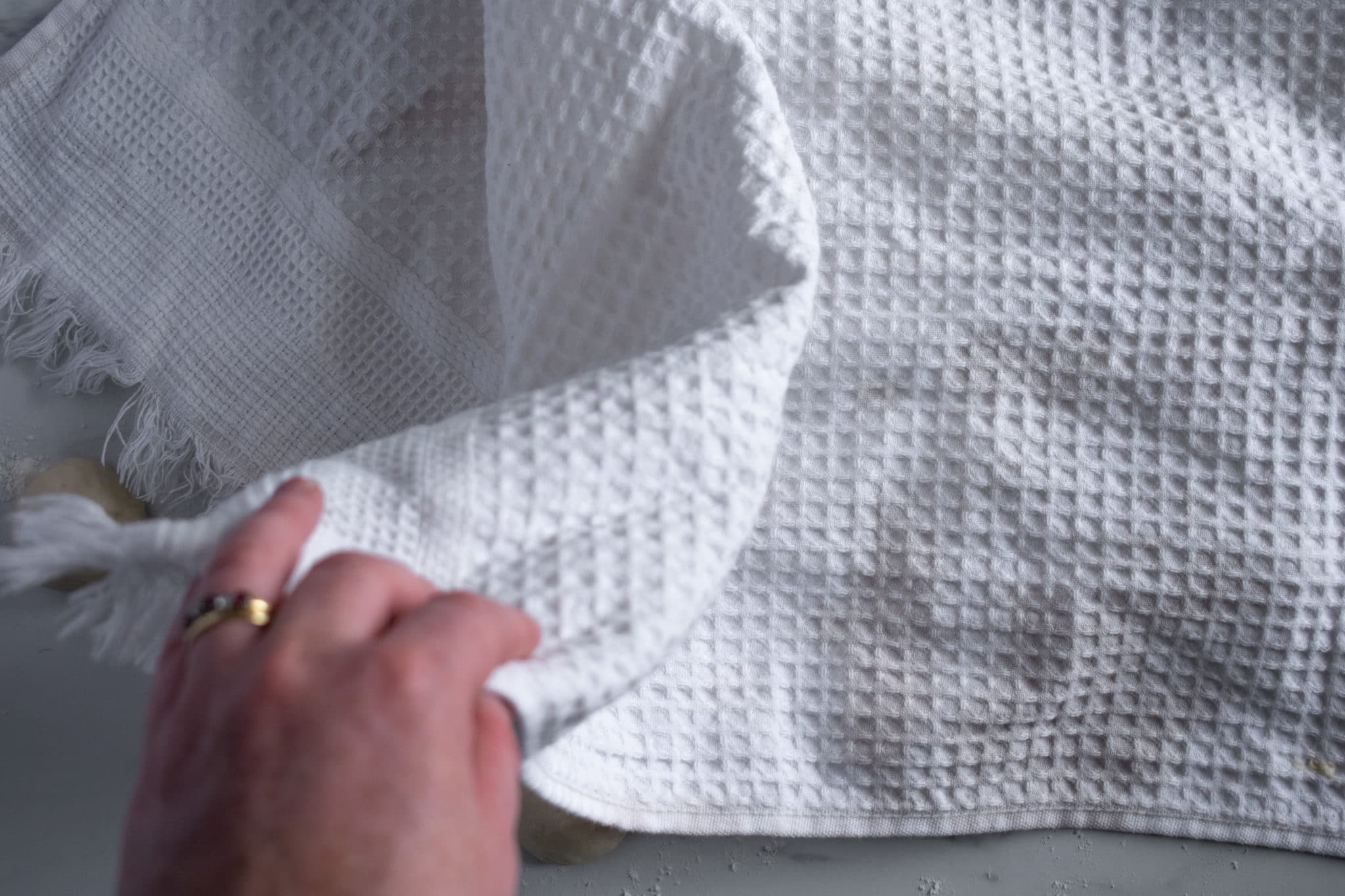 9. After 15 minutes, place the dough balls onto the warmed baking tray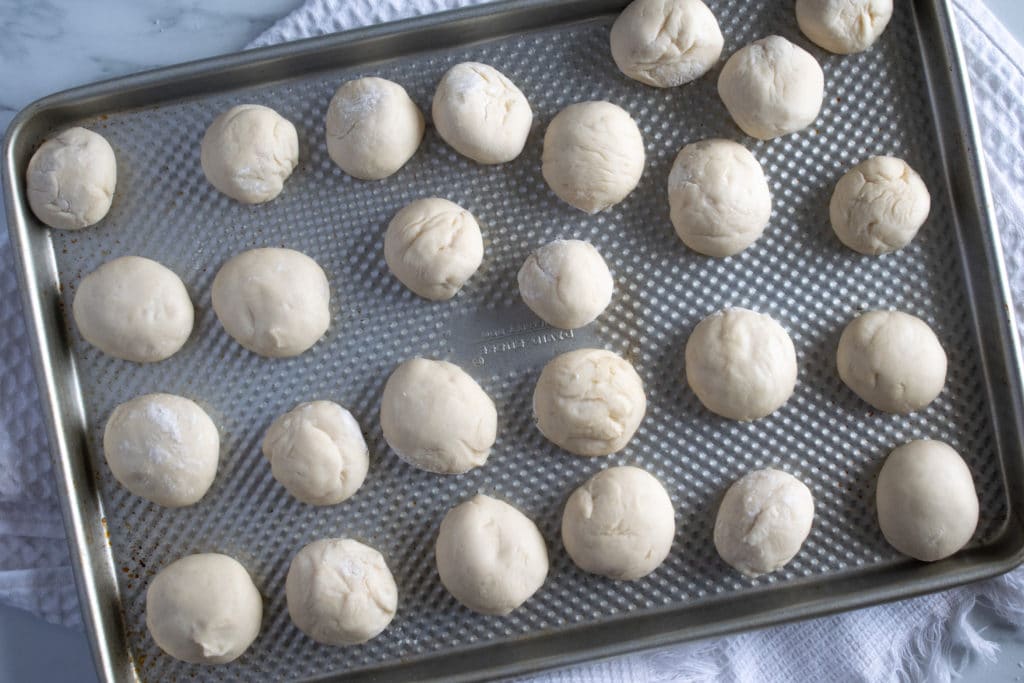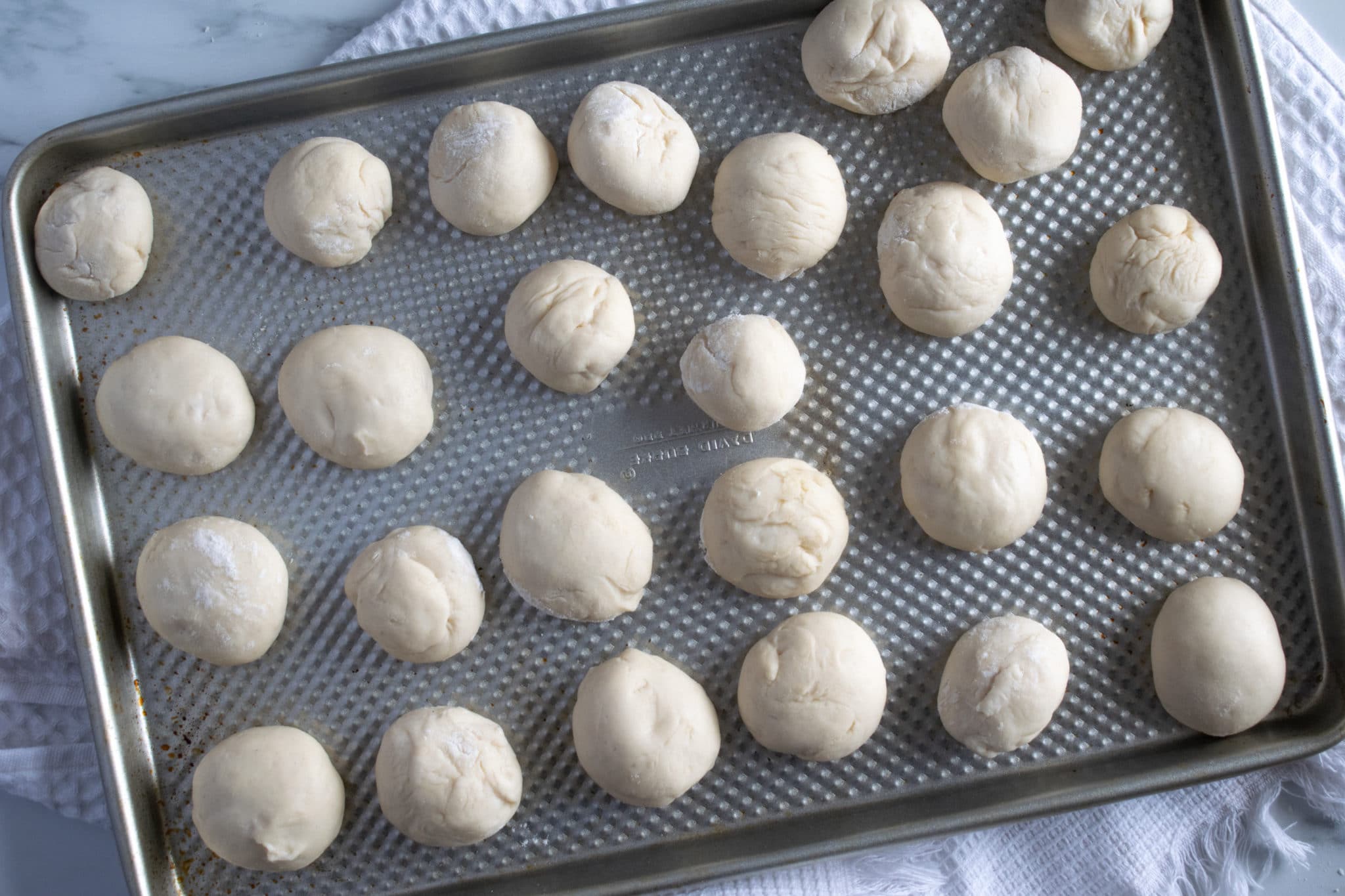 10. Bake for 12-15 minutes (or until cooked to your preference)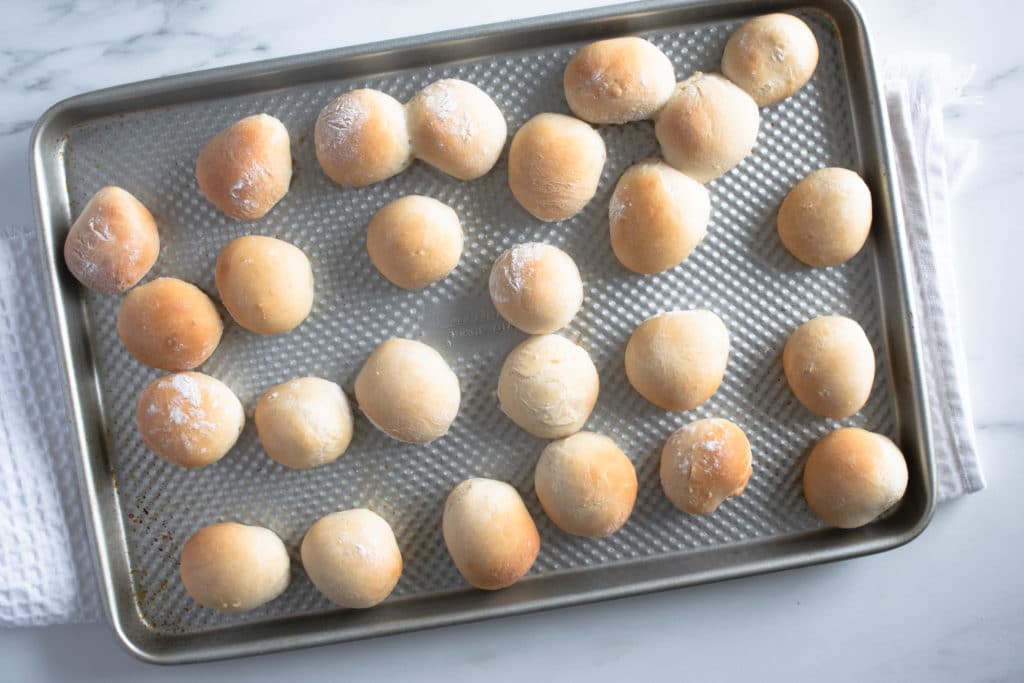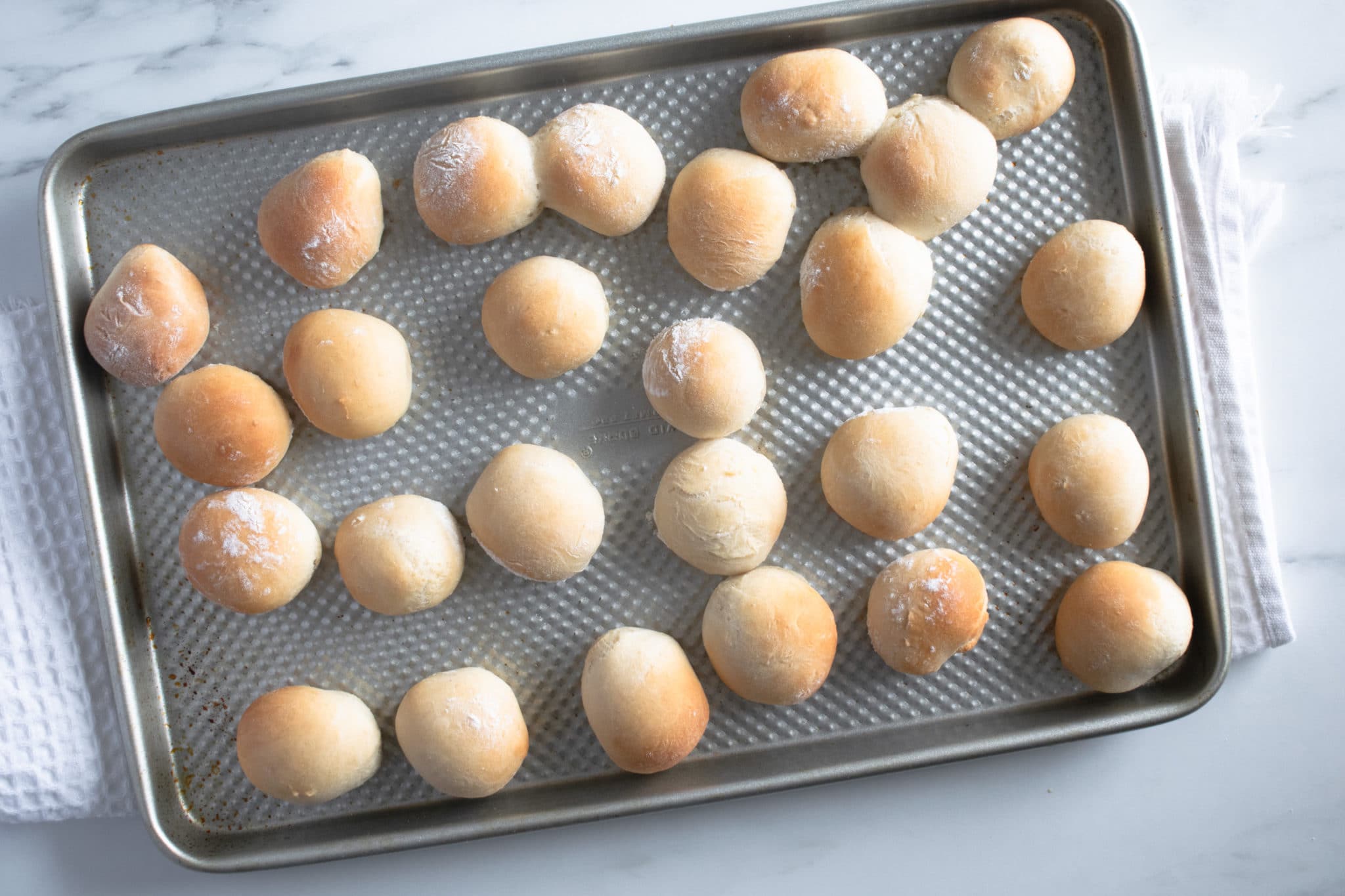 11. Whilst the dough balls are baking, mix together butter and garlic granules in a large bowl (this will be the garlic butter)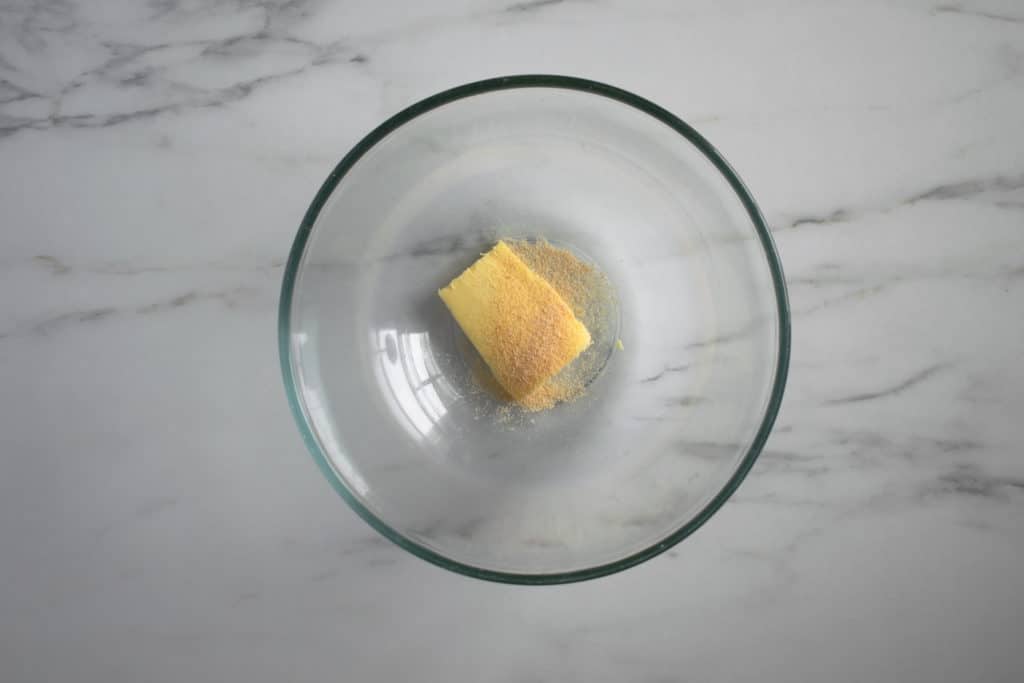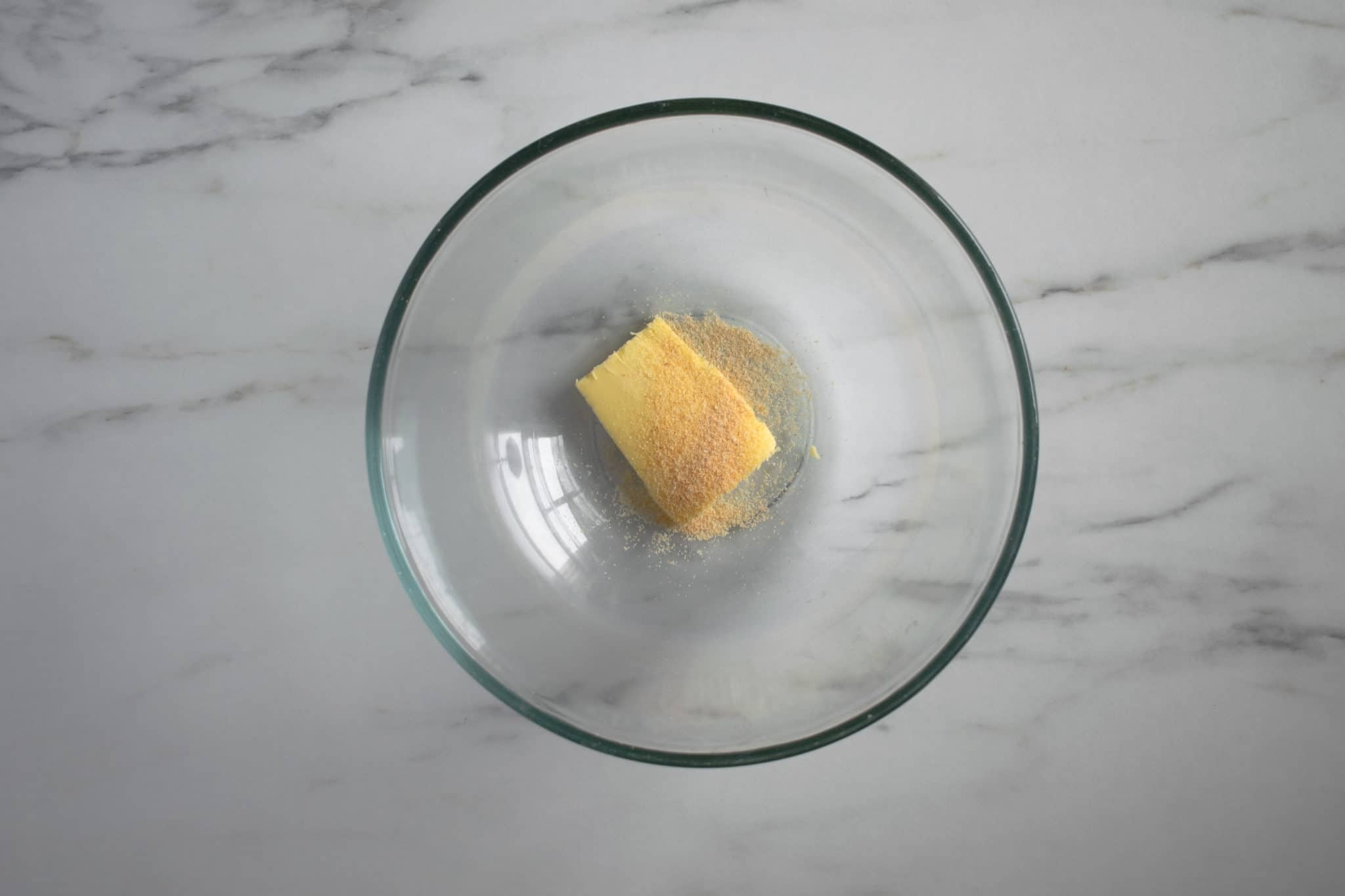 12. Once the dough balls are cooked, toss them into the bowl with butter – the butter will melt and coat the dough balls in an even layer of buttery, garlicy goodness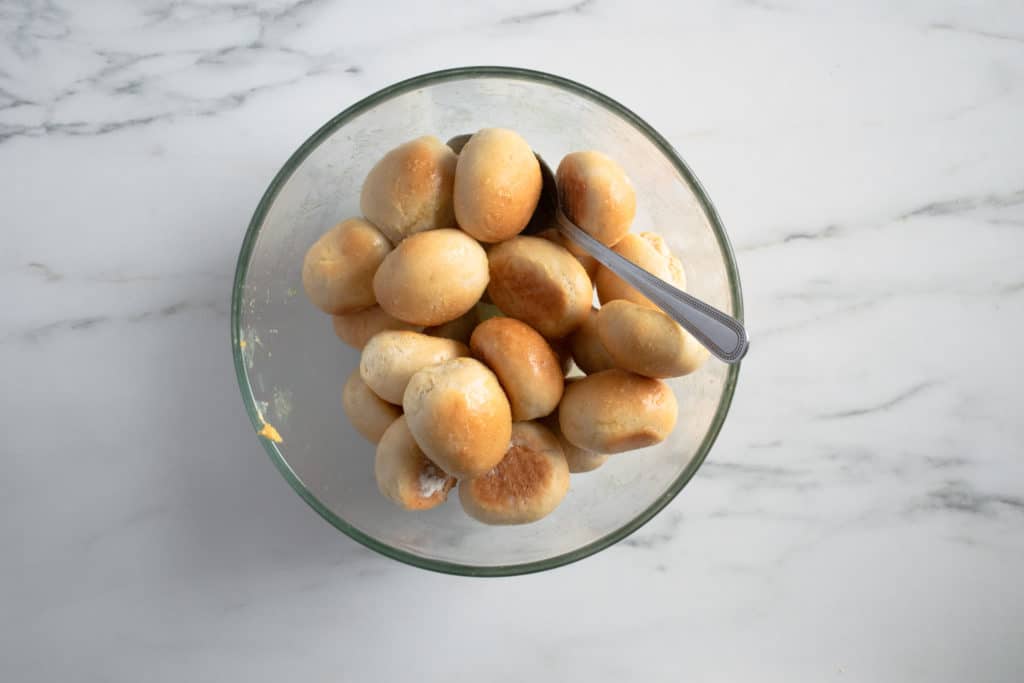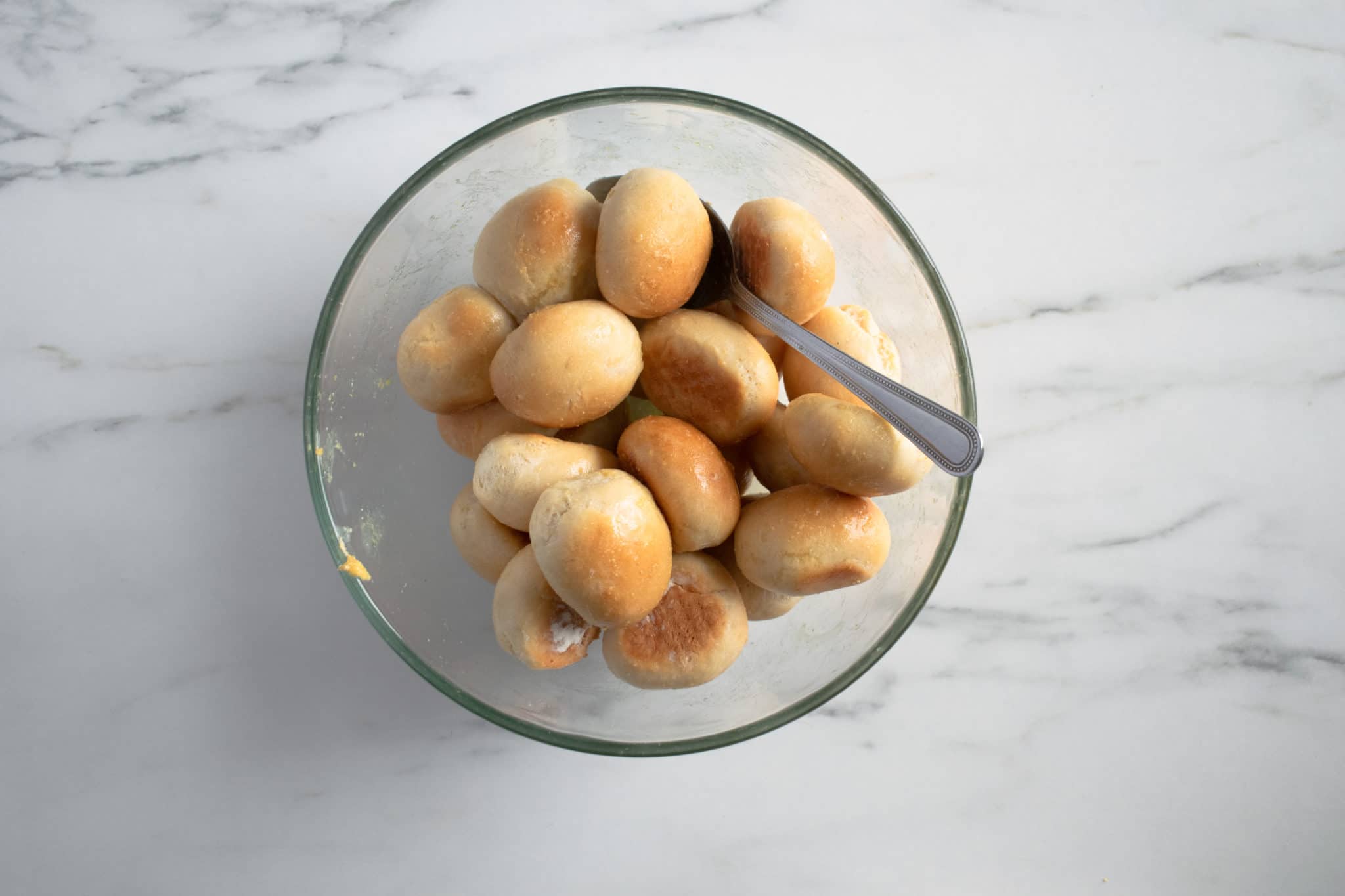 Yield: 12 Dough Balls
Garlic Dough Balls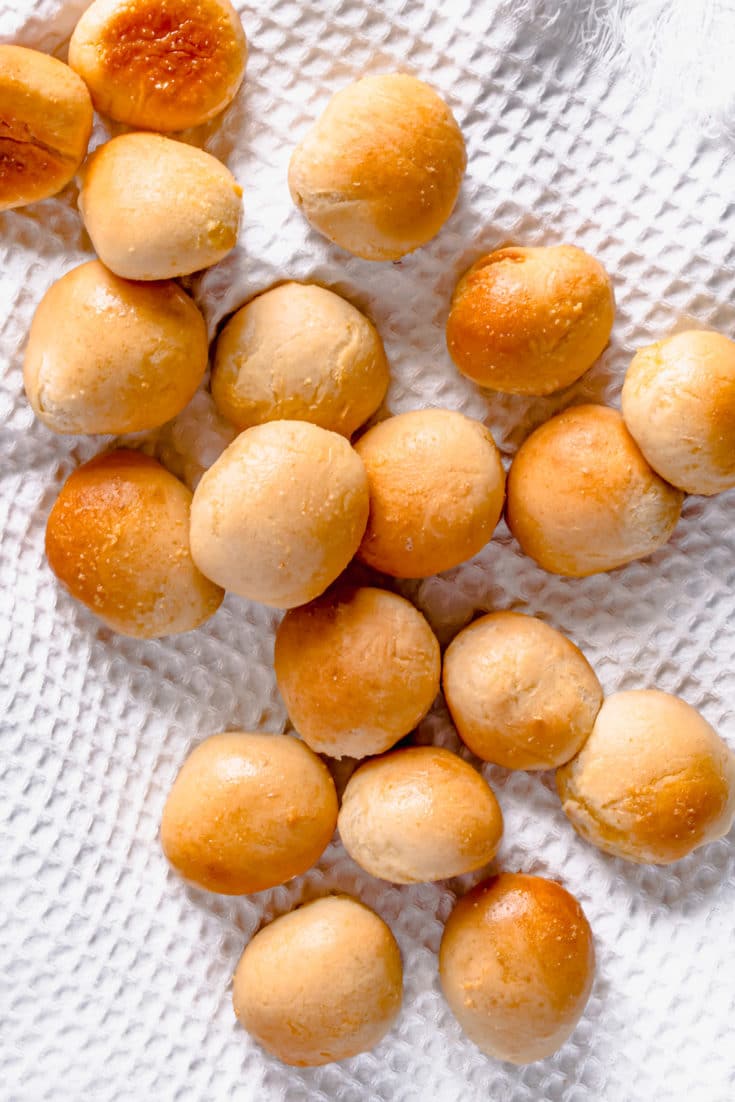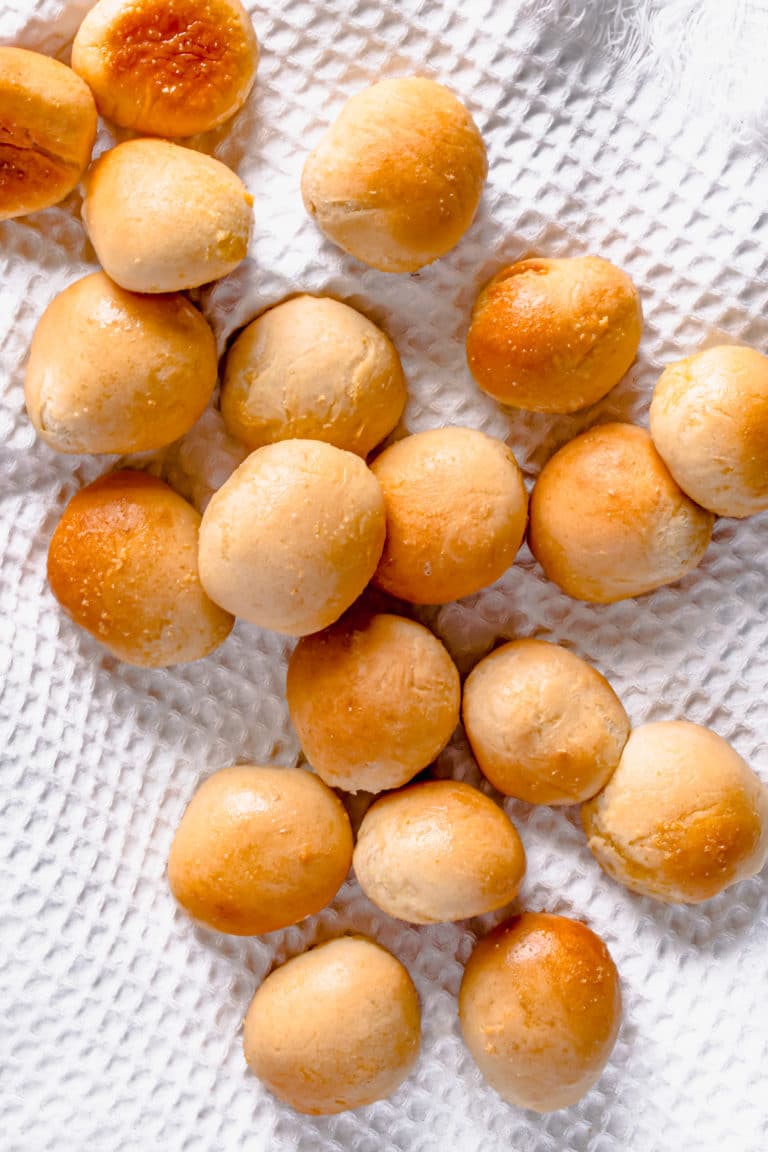 Easy to make at home these garlic dough balls are so delicious you'll be making them every week!
Ingredients
200ml warm water
1/2 sachet instant yeast (4g)
1 tbsp honey
1 tsp garlic granules
300g white flour
2 tbsp oil vegetable, olive or sunflower
Garlic butter (Optional)
1 tbsp butter
1 tsp garlic granules
Instructions
Add the water, yeast, honey, garlic granules and white flour into a mixing bowl (or stand mixer if you have one)
If you're using a stand mixer - use a dough hook and knead on high for 5 minutes. If you don't have a stand mixer - mix and knead the ingredients by hand for 5 minutes (until it comes together to form a springy ball)
Form the dough into a round ball - then pour a little oil into the bowl - toss the dough so it is coated in oil (do not knead further)
Cover the bowl of dough and leave to rise in a warm place for 30 minutes
After 30 minutes, flour a work surface using a little white flour
Turn the dough out onto the floured surface and divide into equal-sized balls (mine were 15g each) then cover with a tea towel for 15 minutes whilst you pre-heat the oven to 190C (put a baking tray in the oven to pre-heat at the same time too)
Once the oven is pre-heated, remove the preheated baking tray and evenly spread out the balls on the tray
Place the dough balls in the oven to bake for 12-15 minutes (depending on how 'done' you want them)
Whilst your dough balls are cooking, mix together butter and tsp garlic granules (this is your garlic butter)
Once the dough balls are cooked, place in a bowl with the garlic butter and toss to coat
Serve!
Notes
These dough balls freeze very well - just don't coat with the garlic butter, allow to cool straight for the oven and freeze in an airtight container or freezer bag for up to a month. To defrost, sit in the fridge or at room temperature for a few hours. Reheat in the oven for 3 minutes.
Nutrition Information
Yield
25
Serving Size
1
Amount Per Serving
Calories

39
Total Fat

1g
Saturated Fat

0g
Trans Fat

0g
Unsaturated Fat

1g
Cholesterol

0mg
Sodium

4mg
Carbohydrates

10g
Fiber

1g
Sugar

1g
Protein

1g
Nutritional data provided here is only an estimate. If you're tracking these things for medical purposes please consult an outside, trusted source. Thanks!