If you're on the hunt for a healthy, filling wrap - you're in the right place! This recipe for a healthy, chicken and avocado wraps is an all time favorite, go-to. Crammed of delicious salad and spicy avocado - topped with baked chicken breast and caramelised onions and peppers. This recipe is perfect for dinner or packed lunches.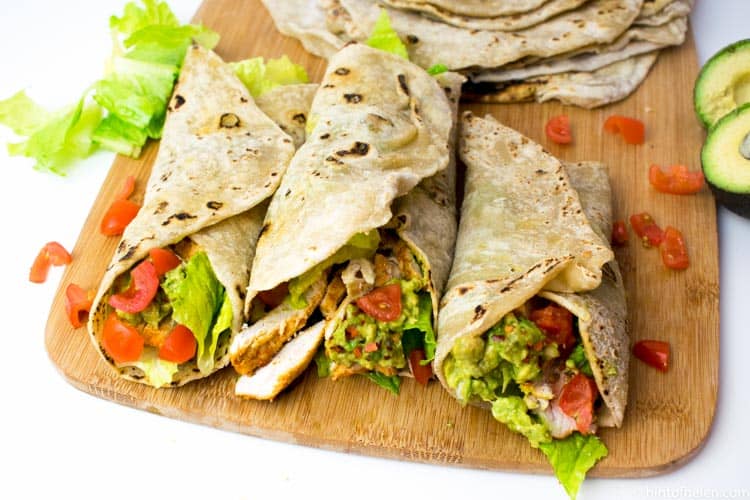 Today I used home-made tortilla wraps, recipe here, I highly recommend this recipe - but if you're looking to save some time (and energy) use whichever wraps you like from the supermarket.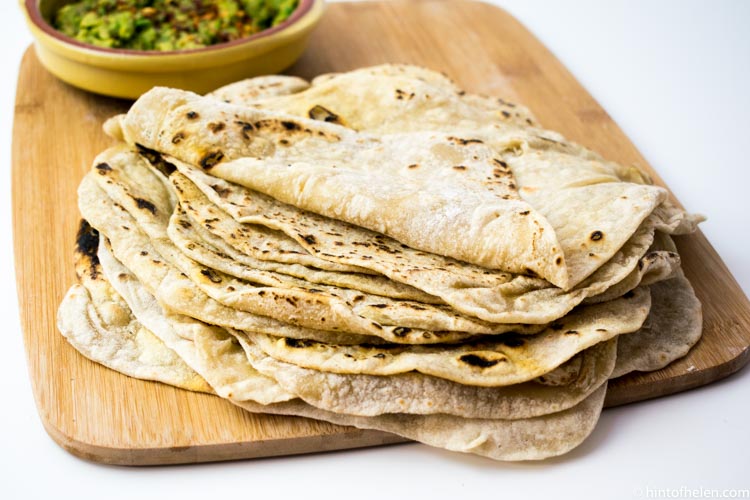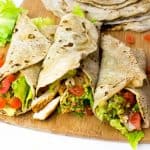 Healthy Chicken & Avocado Wraps
A super delicious and easy recipe for Mexican chicken and avocado wraps. Made using baked chicken breasts and tonnes of flavor!
Keyword:
Chicken And Avocado Wraps,, Healthy Chicken and Avocado Wraps, Healthy Chicken Wraps, Healthy Wraps
Ingredients
Chicken
1

tbsp

Olive Oil

3

tbsp

Lime Juice

3

Chicken Breasts

1

tbsp

Cumin

1

tsp

Chilli Powder

1

tsp

Garlic Powder

1

tsp

Salt

1

Chopped Onion

1

Chopped Pepper
Salad
2

large

Avocado

1

pinch

Salt

1

tsp

Chilli Flakes

(Optional)

Chopped lettuce

Chopped Tomatoes
Instructions
Add all chicken ingredients to a sandwich bag (including the pepper and onion), seal and shake/rub to coat the chicken in the marinate. Leave in the fridge for a minimum of 15 minutes (prepare this the evening before, or the morning of for maximum flavor - but 15 minutes is fine if you're in a rush!)

Lightly oil a baking tray, and add the marinated mixture. Then place in the oven to cook for 25 - 30 minutes (until chicken is cooked through).
Whilst the chicken is baking, prepare the smashed avocado and salad filling:
To smash the avocado, put the flesh of the avocado in a bowl and crush with a fork and a little salt (and chilli flakes, if you're using) - set aside.

Chop the lettuce and tomato, toss together and set aside.

Once the chicken is cooked and removed from the oven, roughly chop your chicken into bite sized pieces and assemble your wraps by spreading the smashed avocado as a base, then topping with the chicken, pepper and onion mixture, and layering lettuce and tomato on top.

Wrap tightly, eat and enjoy!
How To Make Healthy Chicken & Avocado Wraps At Home
Mix the lime juice, oil and spice mixture
Add chicken, onion and peppers to a sandwich bag then add the spice mixture. Toss to coat the chicken, then chill in the fridge for a minimum of 15 minutes.

After 15 minutes, lay the chicken and veg mixture onto a baking tray and cook in the oven at 200C until the chicken is cooked through (25-30minutes)

Whilst the chicken is cooking, chop the tomatoes and lettuce and crush the avocado in a bowl using a fork - adding some salt and chilli flake
Once the chicken is cooked, remove from the oven

Slice the chicken into bitesized pieces

Spread the crushed avocado on an open wrap

Then layer with lettuce and tomatoes

And stack the chipped chicken breast on top of the wrap

Wrap tightly, serve and enjoy!