Fresh, homemade tortilla wraps are amazing. They're an element of wraps and fajitas which most of us don't give a second through to - something which simply holds the yummy stuff - but once you've cooked fresh wraps - they ARE the yummy stuff!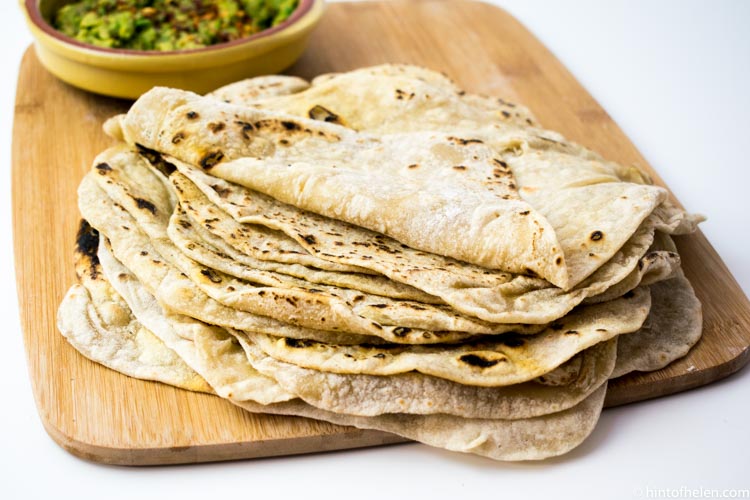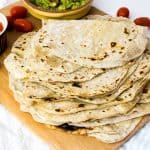 Homemade Tortilla Wraps
Easy step-by-step recipe to make fresh homemade tortilla wraps at home with just 4 ingredients.
Keyword:
Tortilla Wraps, Tortillas, Wraps
Ingredients
500g

Plain Flour

2

Tsp

Salt

330ml

Warm Water

6

Tbsp

Olive Oil

Additional Flour
Instructions
Add all ingredients to a large bowl, and use a spoon to mix the ingredients together

Add a dash more flour, and then use your hands to knead the mixture into a soft dough - if the dough is too sticky, add some more flour

Cover with cling-film then set aside to rest for 10 minutes

After resting the dough, flour a flat, clean surface

Turn out the dough onto the floured surface, and add more flour to the top of the dough

Using your hands, divide the dough into 16 equal sized pieces - and flatten to round pebble shaped pieces

Roll each piece on the floured surface, using a rolling pin to a thin, round shape

Heat a dry, non-stick pan onto high heat

Add rolled tortilla and cook in the hot pan for 20-30 seconds, then flip and cook for 20-30 seconds on the other side

Remove from the heat and stack the tortillas until ready to eat
Add all ingredients to a large bowl

Use a spoon to combine the mixture

Once combined, top with more flour (to make the mixture less sticky, you'll be using your hands in a moment!)
Use your hand to knead the dough into a soft dough - it will be slightly sticky, but shouldn't be overly so - if it is to sticky to handle, add a little more flour until you can form a soft ball
Cover and set aside for 10 minutes

Flour a flat surface

Turn our the dough and top again with more flour 
Divide the dough into 16 equal pieces - and roll them into pebble shapes (use flour to stop them sticking to your hands)
Roll out each pebble into a round, thin tortilla 
Heat a dry, non-stick pan to high heat

Add a rolled our raw tortilla and cook on one side for 20-30 seconds 
Flip (the underside will have brown spots on)
Cook on the other side for a further 20-30 seconds 
Once cooked, remove from the hot pan and repeat until all tortillas are cooked
Stack the tortillas as you cook the rest - then serve and enjoy!