Here's my recipe for rice-cooker Nando's style spicy rice.
I have always thought t a chore to make rice in the pan for some reason; it always turned out kinda sticky, but despite that, i acquired my rice cooker sort-of by accident.
I bought a Tefal 8-in-1 Multi Cooker for it's 'slow cooker' capabilities; it's actually a mega machine with 8 different settings (rice, brown rice, grains, steamer...) and since trying the rice setting i've never cooked my rice any other way! It makes perfect rice with minimal effort; meaning i'm able to experiment and make lots of different rice recipes.
This recipe is a nice change from our regular rice as it uses risotto rice (we're a family of basmati lovers). So next time you're craving Nando's spicy rice, but want to save some cash, and eat it on your sofa, give this recipe a go: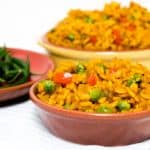 (Better than) Nando's Rice
Delicious nano's style portuguese rice. Made with paprika, turmeric and cumin for a delicious home-cooked dish.
Ingredients
1

tsp

cumin

1/4

tsp

dried chilli flakes

1

tbsp

turmeric

1/2

tsp

paprika

1

cup

risotto rice

1

cup

water

1/2

chicken stock cube

(You could use vegetable stock instead)

1/2

cup

peas
Instructions
Fry pepper and onion in heated oil for 2 minutes; stirring constantly

Add dried spices to the pan and cook for further 1 minute (Add more oil if the mixture is dry)

Add risotto rice, water and chicken stock to the hot pan and turn off the heat

Stir thoroughly so the rice is coated and nothing is stuck to the bottom of the pan

Transfer contents of the pan to your rice cooker; and set to white rice cook

After the first buzz, add your peas, stir and put the lid back down

Once completely cooked, stir and serve
If you also struggle with that perfect rice every time i highly recommend bagging yourself a rice cooker; the one i LOVE is currently on offer for £49 on amazon HERE.