Here's a list of some British foods, drinks and snacks I'd recommend if you're visiting the UK or just want to try something classic! This is a list of traditional foods, regional treats and easy-to-pick-up snacks too. This is just my personal faves really and I do find it hard to believe these aren't so common elsewhere in the world! I'd love to hear in the comments below what your favourite British foods and snacks are!
If you're looking to make something at home, check out my British recipes.
Toad in the hole
Toad in the Hole is one of my all-time favourite meals, ever. It's ultimate comfort for me and I serve it alongside mashed potatoes. It's not until I spoke about it on social media once that I realised it wasn't a thing everywhere… the British toad in the hole is sausages in a Yorkshire pudding batter – often served with gravy and mash. I'm actually not sure where I'd go to try this in a restaurant or out or about… perhaps a nice gastro pub? But this is most often a homemade dish, so check out my recipe for it. Or, you can pick up a nice one at M&S too (but homemade is 100% better).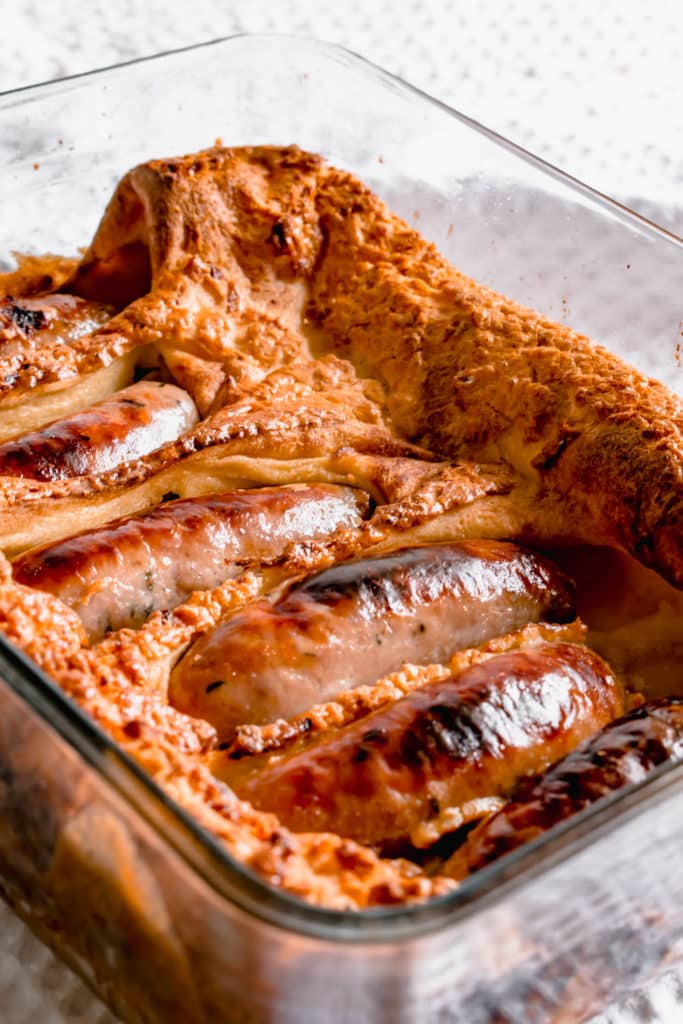 Chippy chips
This one goes without saying, but if you're around a chippy (aka a fish and chip shop) pop in and get some chips to go. Ideally with lots of salt and vinegar on them (when they ask 'salt n vinegar'? I always say 'yeah, lots please'). I dip mine into HP brown sauce (you'll see it's a theme throughout – I love brown sauce) but many people either have them plain or with gravy, chippy curry sauce, or mushy peas, or both- which is standard in all chippys.
Bacon 'butty' with brown sauce
A bacon butty is what we call a bacon sandwich (well, if you're from the North at least). Best served on white sliced bread like Warburtons toastie, with a healthy amount of butter and brown sauce.
Traditional 'school' cake
This is everyones favourite nostalgic bake. It's traditionally served at school, I always had mine plain but people pour custard over theirs too. You can often find this in small cafes, and it's really easy to make at home too. If you're hosting for a Brit who is feeling a little homesick this would be such a lovely treat to bake for them – click here for my easy recipe.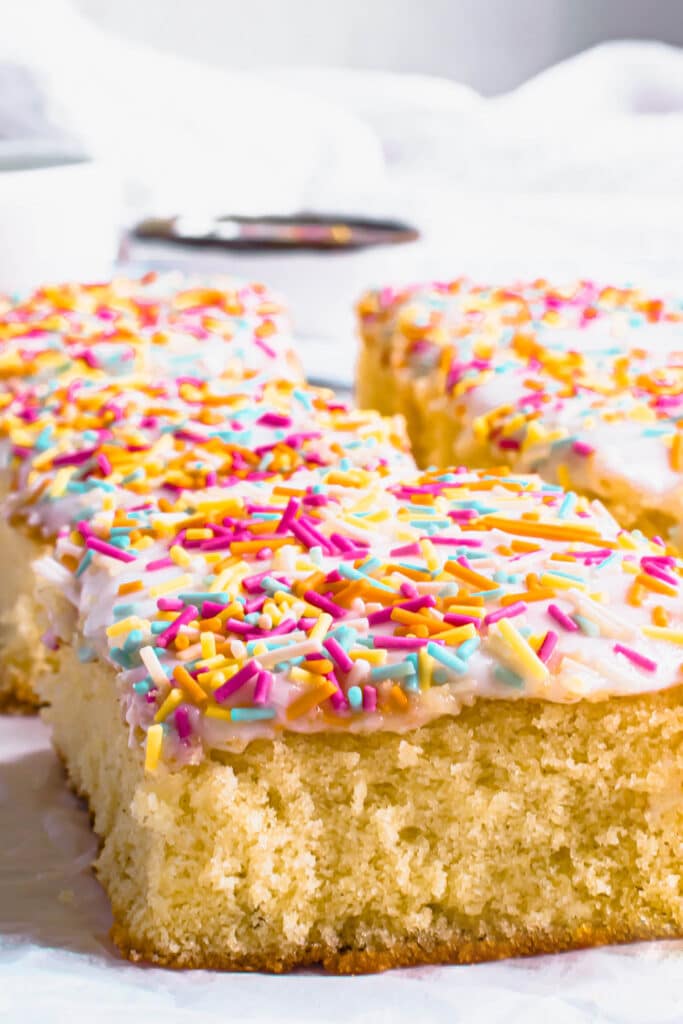 Chocolate Crunch cake
And along the lines of school bakes… chocolate crunch is also well-loved. It's technically a biscuit I think… but often served warm so it's soft. Once it's cooled down it's hard and crunchy (hence the name) also known as chocolate concrete cake. This one would be harder to find out and about, certainly isn't available in shops – the odd cafe sell it and I do see it rising in popularity, but generally, this is a homemade treat, too. Recipe here.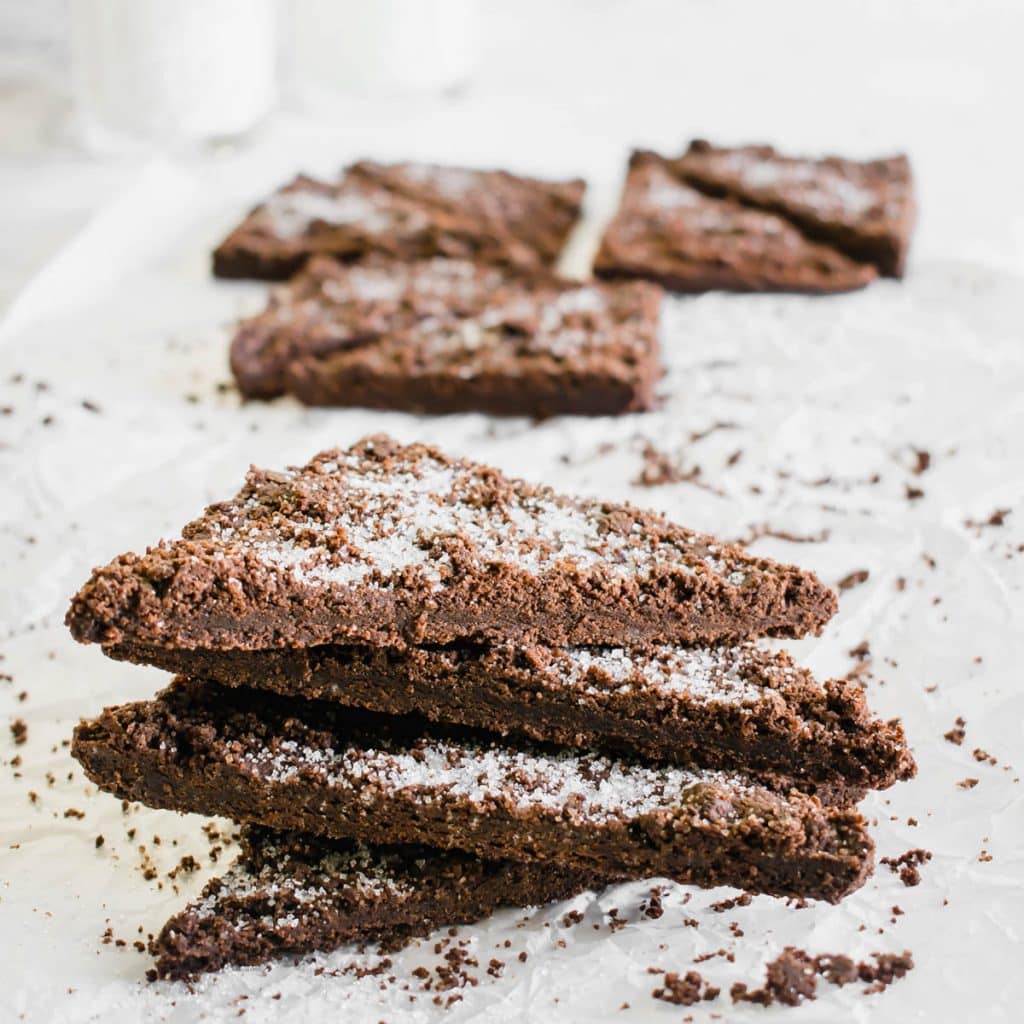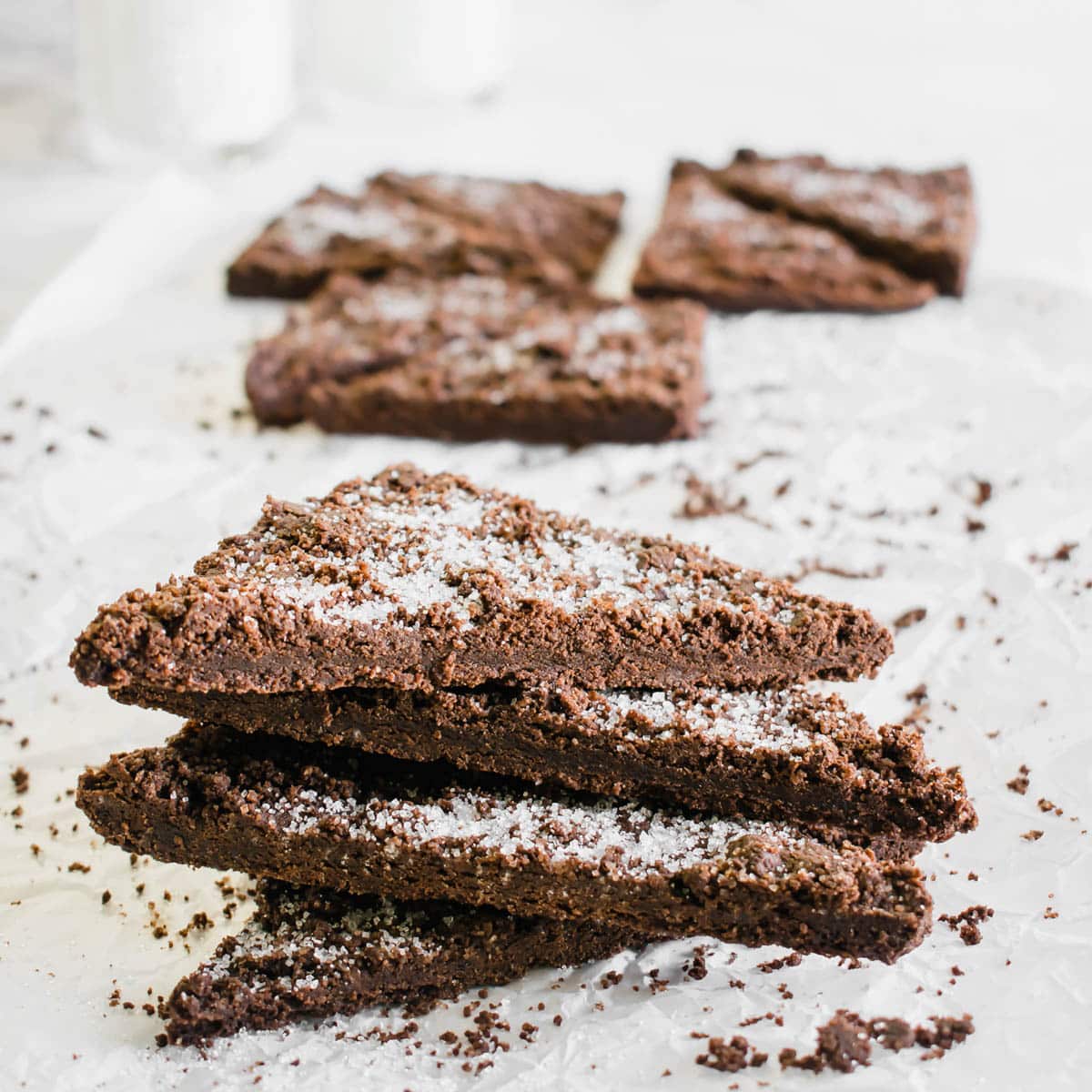 Tomato Soup with cheese & bread
A household staple! Grab a tin of Heinz tomato soup and sprinkle some grated sharp cheddar on top once it's heated and in the bowl. This would make an easy lunch.
The cheese will melt into the soup and you can scoop it out with your bread. I still remember when a friend in school recommended I add cheese in to my tomato soup, we were on the school bus and I couldn't wait to get home and try it, and I've done it ever since. Funny how some memories stick out isn't it?
Beans on toast, jacket potatoes, or anything!
Is this a British food and snack list without mentioning beans on toast? Just tinned baked beans in tomato sauce – poured on buttered toast. We also love beans on a jacket potato, or alongside pretty much any meal (e.g. fish fingers and chips, or a pie, or breakfast). You'll find it as a side in most cafes for this reason!
Traditionally the leading brand was Heinz, but I don't actually think this is the best anymore (the sauce is quite watery) Branson would be my recommendation if you have both brands available, and Aldi is actually my all-time preference (not just cause they're cheap – the sauce is thick).
Steak & Ale Pie
This has to be the best thing on the list in my opinion – nothing quite beats it. You can find this in Irish pubs, or nice gastro pubs. Also M&S do a nice one, too. Or, try my homemade steak & ale pie.
It has to be shortcrust pastry and a full pie casing all around, don't settle for a pub that just push some puff pastry on top of a stew – that's not cutting it!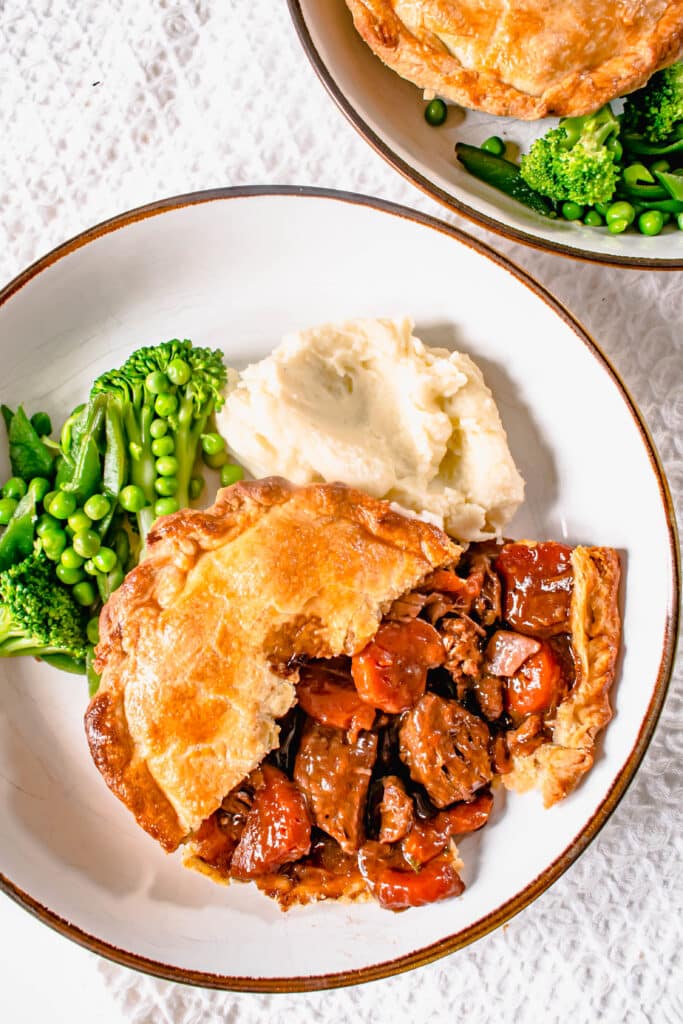 British Indian Restaurant Curry
Indian takeaways and restaurants are everywhere – and for good reason – the nation's favourite cuisine! You can't visit without trying one, and I'd recommend asking the staff to suggest a dish for you. Favourites include chicken tikka masala (very popular) with popodoms, rice and naan. Or, something a bit spicier like a rogan josh or Balti. Lots of people enjoy curry and chips, too!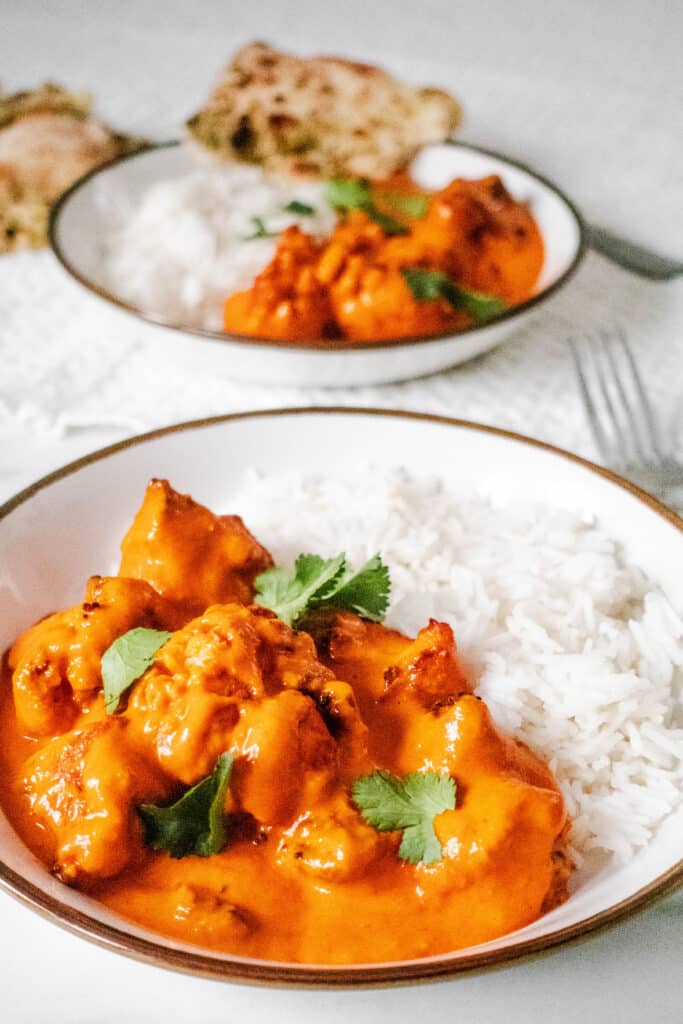 Salt & Pepper Chicken and Chips
And, on that note – our Chinese takeaways and restaurant dishes are also quite different to those across the pond, too! The all-time favourite has to be salt and pepper anything – you can get salt and pepper chips, chicken pieces, chicken wings, ribs… it's delicious! Often, we'll have the chips alongside sweet and sour or chow mein, too – don't knock it till you've tried it. I have recipes for both alongside lots of Chinese takeaway recipes here.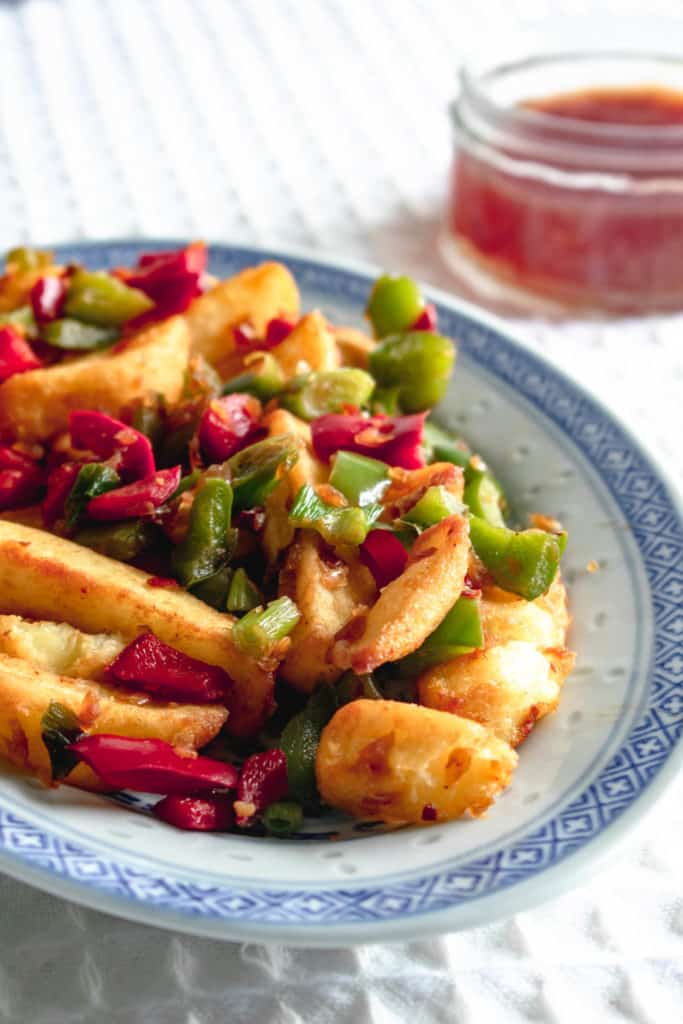 Rice pudding
I didn't realise this was a traditional British dessert until recent years – it should be everywhere! Super easy, you can find this tinned in the supermarket, or sometimes a posher version in the fridge section or make your own.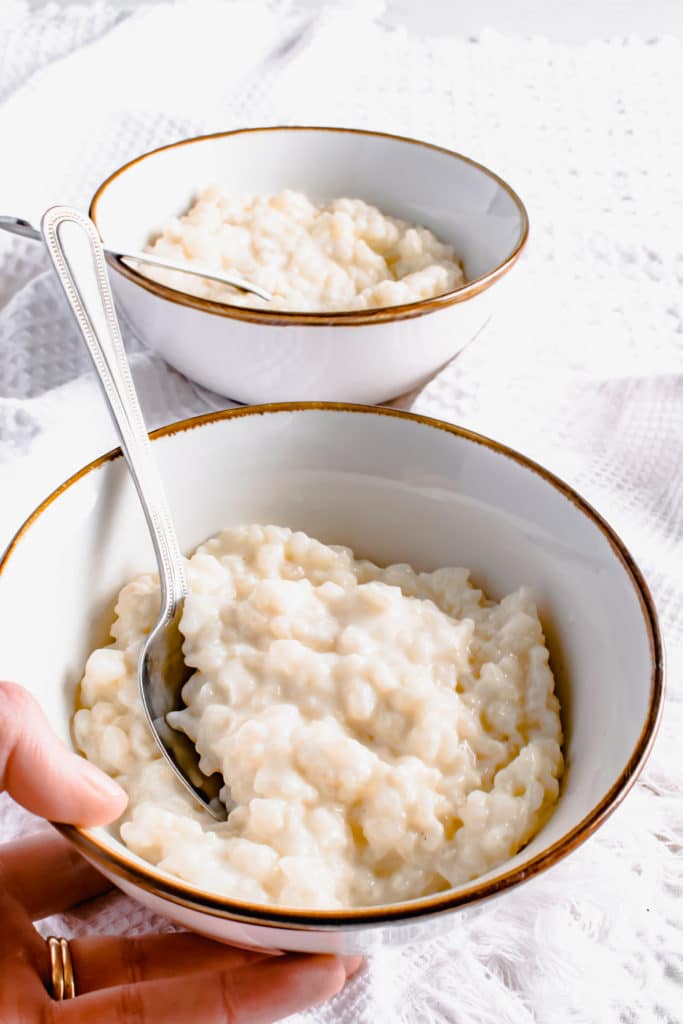 Potato farls/cakes
Delicious! This is a breakfast snack which you can have alongside a fry-up, or just alone and buttered. You'll find them in the bread/ toast /crumpet section of the supermarket and just toast or fry them. Or, you can make homemade – but if you're about I'd just pick them up in the shops.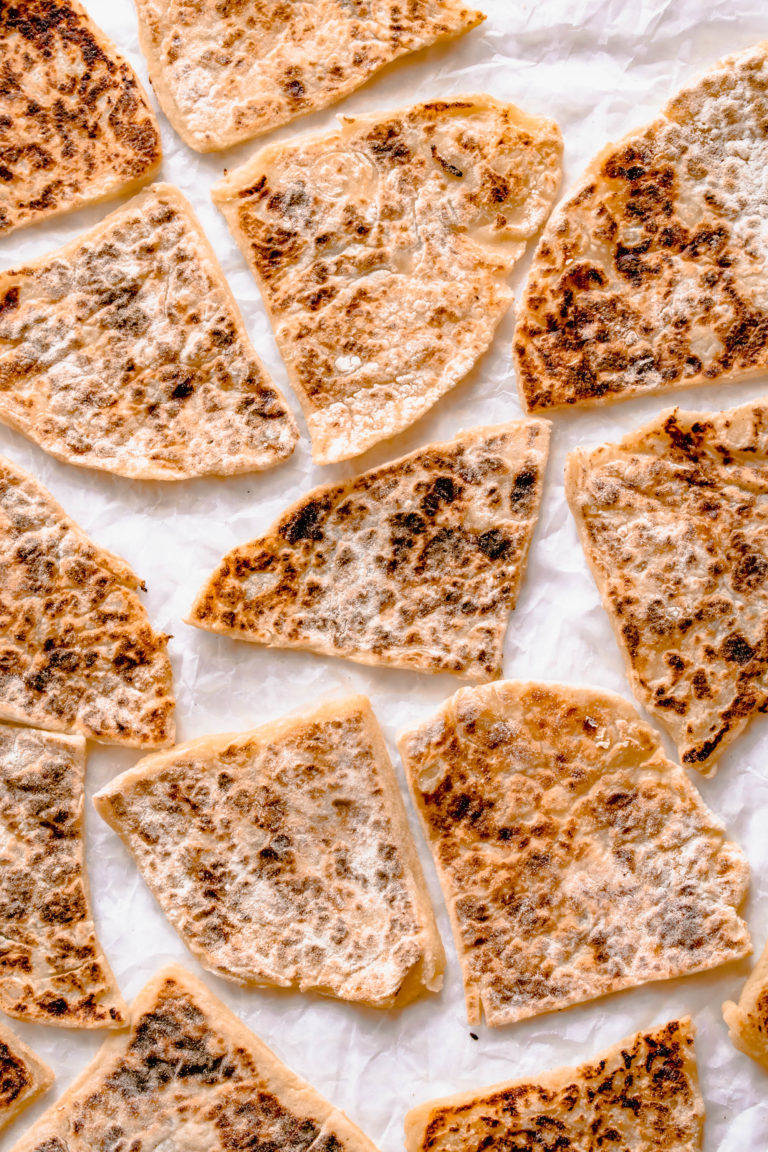 Crisps
Crisps, aka potato chips – are a go-to snack in the UK. You'll be able to find them in pretty much every shop, and as part of meal deals too. My favourites are:
Walkers (Lays elsewhere in the world) – cheese and onion or prawn cocktail
Monster munch – all flavours are great – they come in pickled onion, flaming hot and beef
NikNaks
Hoola Hoops – ready salted or beef
Guinness crisps – these taste like beef crisps and are nice, and novel, too!
Chocolate bars
Gosh, where do we start? I think British chocolate is the best, and love Galaxy and Cadburys. The British chocolate bars I'd recommend you try are:
Cadburys: Crunchy, Double Decker, Boost, Star Bar, Wispa Gold
Galaxy: Minstrels or the big bar of caramel
Frys – mint cream are DELICIOUS! A lovely minty fondant in a dark choc shell (also, after eights if you like mint)
British biscuits
If you go into any shop or supermarket, the biscuit section is usually very well stocked, and super cheap, too! They make a great, cost-effective and delicious snack. Here are some I'd recommend:
Empire biscuits – if you're visiting Scotland and see these in a cafe, grab one, they're lovely! (iced on top with a cherry or little sweet)
Gingernuts
Party rings
Chocolate caramel digestives
Jammie dodgers
Hobnobs (I prefer the chocolate version but plain ones are lovely, too)
Bourbon & custard creams
A cheap selection box of the classics – aka digestives, bourbons, custard creams etc.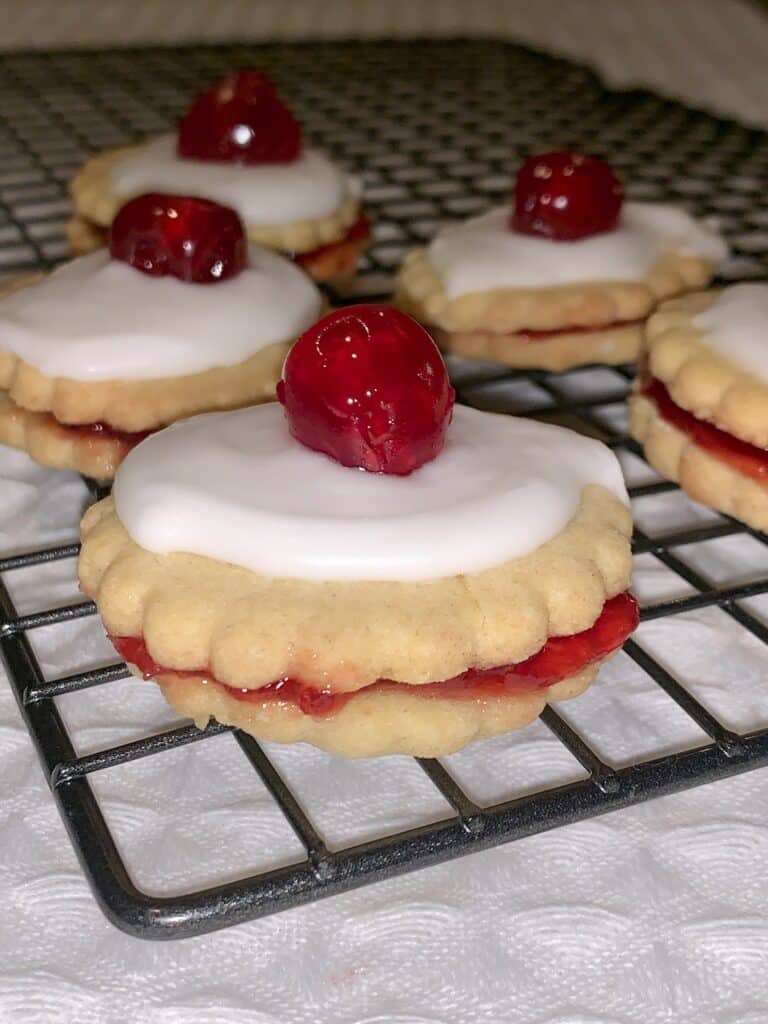 Drinks
Of course, it goes without saying – grab yourself a cup of British tea, but, as well as that, I'd try:
Vimto and Ribena
Traditional cordial or 'squash' which you dilute with water – orange or blackcurrant
Pimms & lemonade – a traditional alcoholic drink which is enjoyed in the summer with cucumber and strawberries
Irn Bru – a Scottish fizzy drink, impossible to describe, a non-descript fizzy fruity drink – well-loved (but also hated by a few!)
Have I missed anything you love or have been thinking of trying? Let me know in the comments below!