Turkey Bolognese is a quick, healthy dinner which I cook most weeks! It's also super cheap – which is always welcome!
Turkey mince is great to cook with, its really lean and low in fat which means healthier, lighter dinners for the family. This is my simple recipe for Turkey Spaghetti Bolognese which i've adapted from my much loved recipe for classic beef bolognese.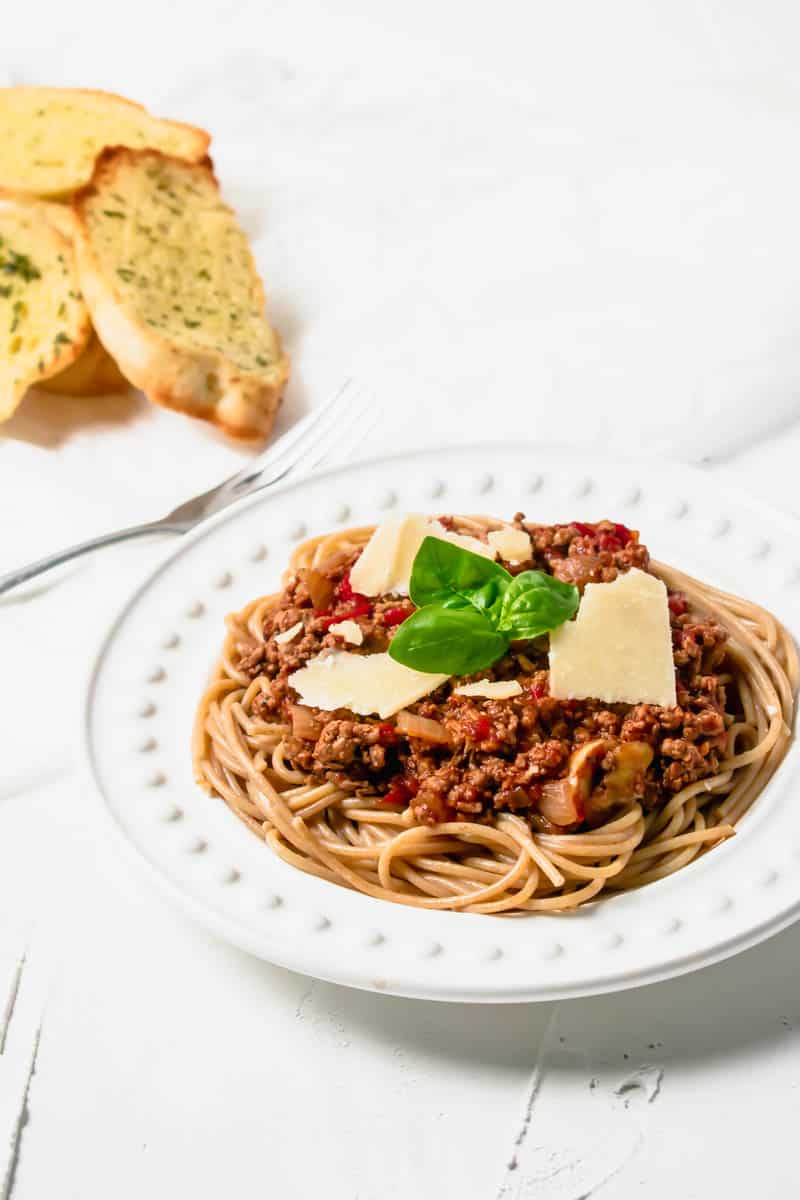 Using red wine and garlic in this recipe brings a deep flavor and really compliments the lightness of the turkey mince. Whilst it may be tempting to cut out the tsp of sugar, please don't – sugar is added to tomato based meals for a valid reason.
Is Turkey Bolognese Healthier than Beef Bolognese?
Comparing which type of minced meat is healthier is quite a minefield. Reading up on this great debate of if turkey is healthier than beef, it really boils down to what your health goals are.
Turkey is available in much lower fat percentages, I get mine from M&S or Aldi – whereas beef has higher levels of zinc and  Iron. Due to the lower fat percentage of turkey, it is a drier cut of meat so works well with saucy recipes like this – or filled with lots of seasoning and herbs if you're using it for a recipe such as turkey burgers.
How many Syns are in this Turkey Bolognese Recipe?
I believe low fat (less than 5%) turkey mince is free on the slimming world diet plan. If you're following a slimming world diet, I'd recommend you switch out the oil for a low-calorie cooking spray. If you have any questions about substrates, please ask in the comments below!
---
How To Make Turkey Spaghetti Bolognese At Home
For the printable recipe card, please scroll to the bottom.
Heat oil in a large, non-stick pan and add the chopped onions and crushed garlic

Fry for a couple of minutes on medium heat, until the onions begin to brown

Then add the turkey mince and Italian seasoning, stir

Add red wine
Stir, and cook for a few moments until reduced slightly – then add the chicken stock cube:
Stir to dissolve the stock cube

Add the tomato puree
Then add the tinned tomato, balsamic vinegar, salt and sugar. Stir and cook for a further 10 minutes to reduce and richen the flavour.
Meanwhile, boil the spaghetti as per packet instructions. Once the bolognese has reduced, serve on a bed of spaghetti with a grating of cheese.

Yield: 4 Servings
Turkey Spaghetti Bolognese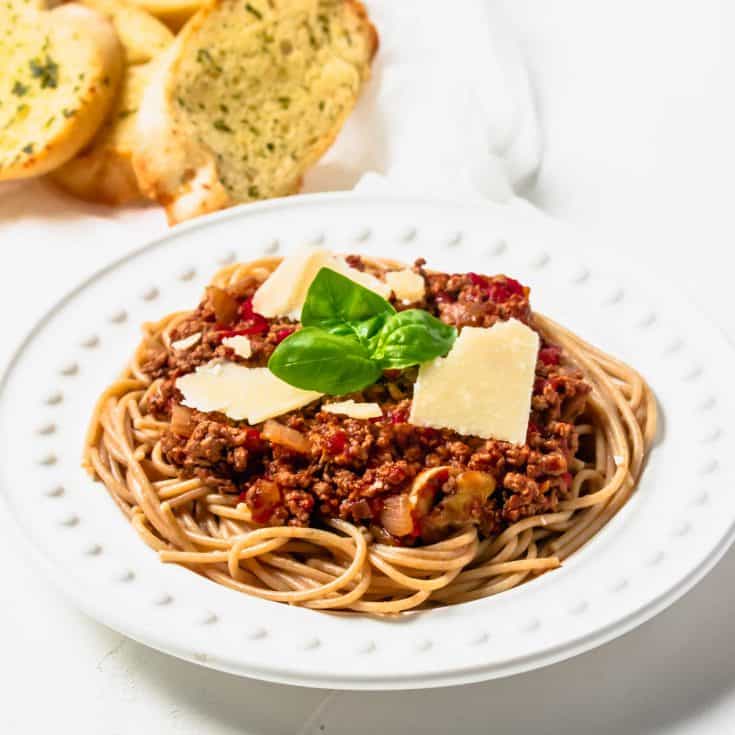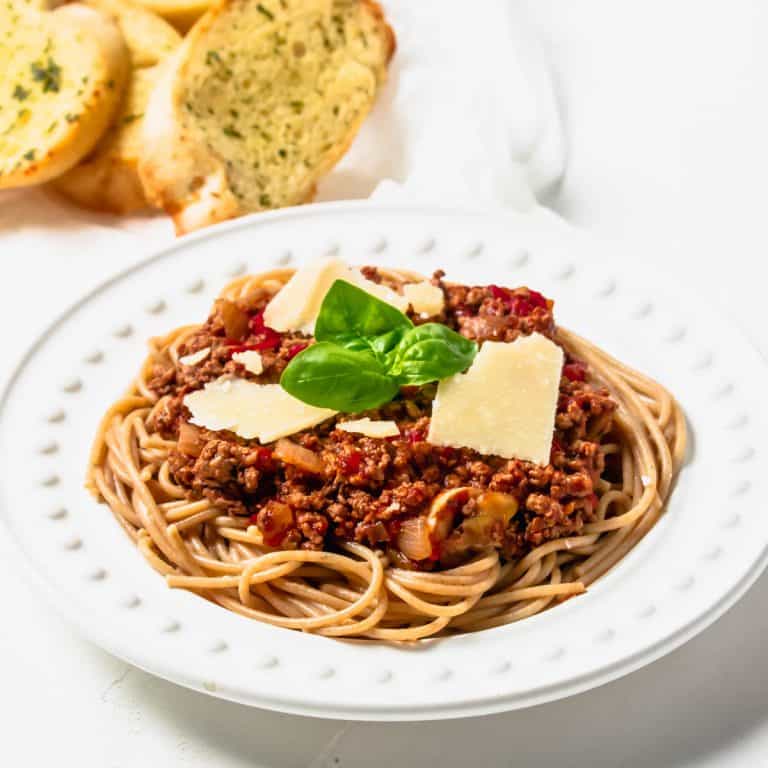 A healthy, quick turkey bolognese recipe made with red wine and garlic.
Ingredients
1 tbsp Oil
1 Onion
3 Garlic Cloves
500g Turkey Mince
1 Small Glass Red Wine
1 Chicken Stock Cube
2 tbsp Italian Seasoning
1 Tin Chopped Tomatoes
1 tbsp Tomato Puree
1 tsp Sugar
1 pinch Salt
2 tbsp Balsamic Vinegar
Spaghetti (to serve)
Fresh Basil (to garnish - optional)
Parmesan (or any cheese you have in) - to top, optional
Instructions
Roughly chop the onion and mince the garlic cloves
Heat oil into a large, non-stick pan and add the chopped onion and garlic. Fry on a medium heat for a few minutes, until the onion begins to brown
Add the turkey mince to the pan and stir using a wooden spoon
Add the italian seasoning, stir and cook until the turkey mince is brown and no pink remains
Add the glass of wine and chicken stock cube - mix until the stock cube has dissolved, then simmer until reduced (about 5 minutes)
Then add the tomato puree, salt, sugar and tinned tomatoes
Stir snd simmer for a further 15 minutes until reduced more
Meanwhile, cook the spaghetti as per packet instructions
Once the bolognese has reduced more, taste (add more salt if you'd like!) and serve on the bed of cooked spaghetti, with a grating of cheese and some fresh basil (optional)
Notes
My preference is always brown spaghetti for a little more bite. When I make beef bolognese I follow this same recipe, but instead use beef mince and beef stock 🙂
Nutritional Value calculated using VeryWellFit based on 4 servings and for the bolognese alone (not including spaghetti or parmesan).
Recommended Products
As an Amazon Associate and member of other affiliate programs, I earn from qualifying purchases.
Nutrition Information
Yield
4
Amount Per Serving
Calories

264
Total Fat

10.5g
Saturated Fat

0.8g
Cholesterol

5mg
Sodium

347mg
Carbohydrates

11.1g
Fiber

1.8g
Sugar

6.3g
Protein

25.4g