Your Actifry can cook way more than chips and roast potatoes. After my recent success experimenting with Sausage & Bean Actifry Casserole, I thought I'd give another winter warmer a go; the chicken casserole.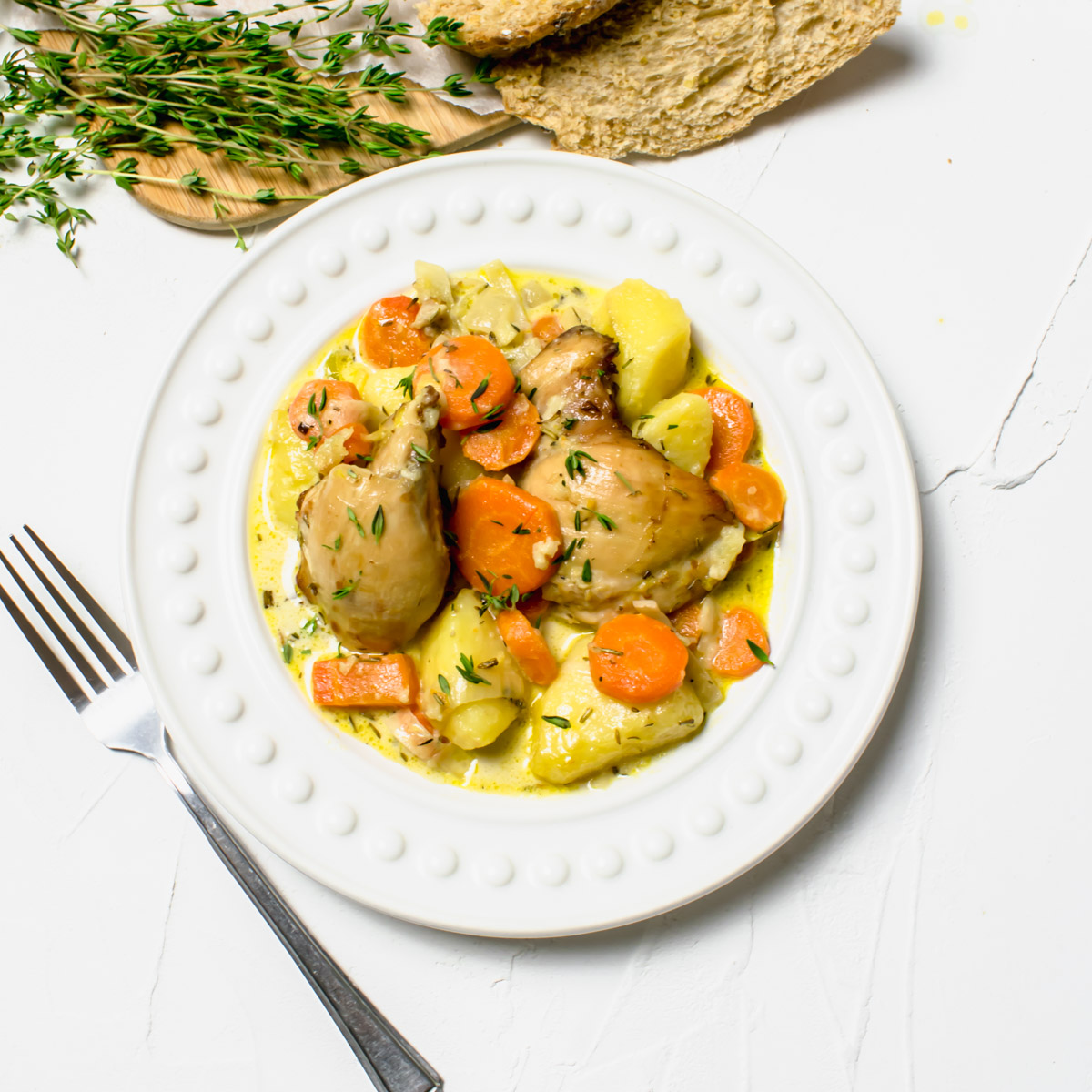 Its a 'one-pan' dish, packed full with potatoes, carrots, chicken thighs, leeks and onions – minimum washing up and effort, and a really delicious dinner!
Scroll down for printable recipe card!
How to make A Chicken Casserole in the Actifry:
Chop the carrots and potatoes into equal sized pieces – don't chop them too large, as you want them to cook within about 40 minutes

Add the carrot and potato to your Actifry

Add the oil – then turn on, and set the timer to 15 minutes

Whilst your carrots and potatoes are cooking, chop the onion, leek and crush the garlic

Slide any additional fat off the chicken thighs, then season with pepper and salt

Once the potatoes and carrots have cooked for 15 minutes, add the chicken, leeks, onion and crushed garlic – set the timer to cook for 10 minutes
Whilst the chicken is cooking, boil the kettle, and add 600ml of boiling water to a chicken stock cube, 1 tsp of rosemary, and 1 tsp of thyme 
Once the 10 minute timer goes off; pour the chicken stock into the Actifry and set to cook for 25 minutes
After 25 minutes, check the potatoes and chicken are cooked to your liking

If so – add the cream, and set timer for a futher 2 minutes to combine 
Done! Serve with some crusty bread

Yield: 4 People
Actifry Chicken Casserole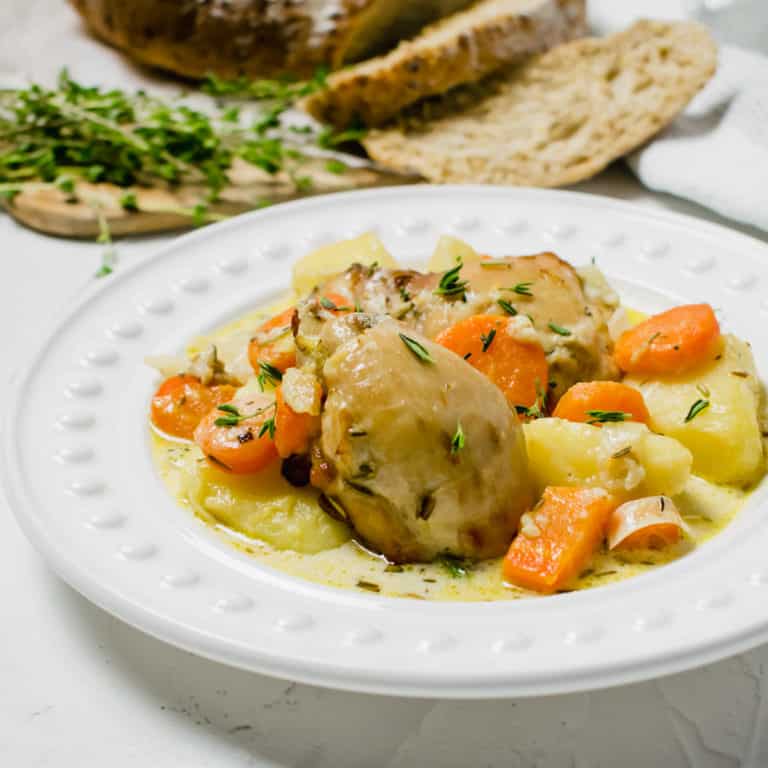 A true winter warmer! Make chicken casserole in your Actifry Air Fryer for a delicious dinner the whole family will love!
Ingredients
1 Tbsp Olive Oil
4 Carrots
2 Large Potatos
1 Onion
1/2 Leek
3 Garlic Cloves
Chicken thighs
1 tsp thyme
1 tsp rosemary
1 chicken stock cube
600ml Water
Cream
Salt & Pepper (To Season)
Instructions
Peel and chop the carrots and potatoes into equal sized, smallish bitesize pieces
Put into the actifry with 1 tbsp oil
Cook for 15 minutes
Whilst the carrots and potatoes are cooking, finely slice the leek, wash and drain
Then chop the onion into equal sized pieces, and crush the garlic
Slice any access fat off the chicken thighs, and season with salt & pepper
Boil the kettle, and then mix 600ml of boiling water with 1 chicken stock cube, 1 tsp of thyme, and 1 tsp of rosemary - set aside
Once the actifry has beeped that the carrots have been cooking for 15 minutes, add the chicken thighs, onion, garlic and leek
Close the lid and cook for 10 minutes
After 10 minutes, open the lid, and pour in the chicken stock mixture
Close the lid, and cook for a futher 25 minutes
After 25 minutes, check the thighs and potatoes are cooked to your liking - if not, add some more minutes onto the time (everyones Actifry seems to cook at a slightly different speed, depending on your model - i have a Tefal Orginal)
Once everything is cooked to your liking, add the cream, close the lid to cook for a further 2 minutes, then serve with crusty bread