If you're after the best turkey burger recipe – look no further than these healthy turkey burgers. I make these turkey burgers more or less every week – they're easy, delicious and guilt free. 
The ingredients of these healthy turkey burgers are all fresh and simple – starting by blitzing coriander (cilantro), red onion, garlic and chilli in the food processor. You can of course dice by hand if you prefer.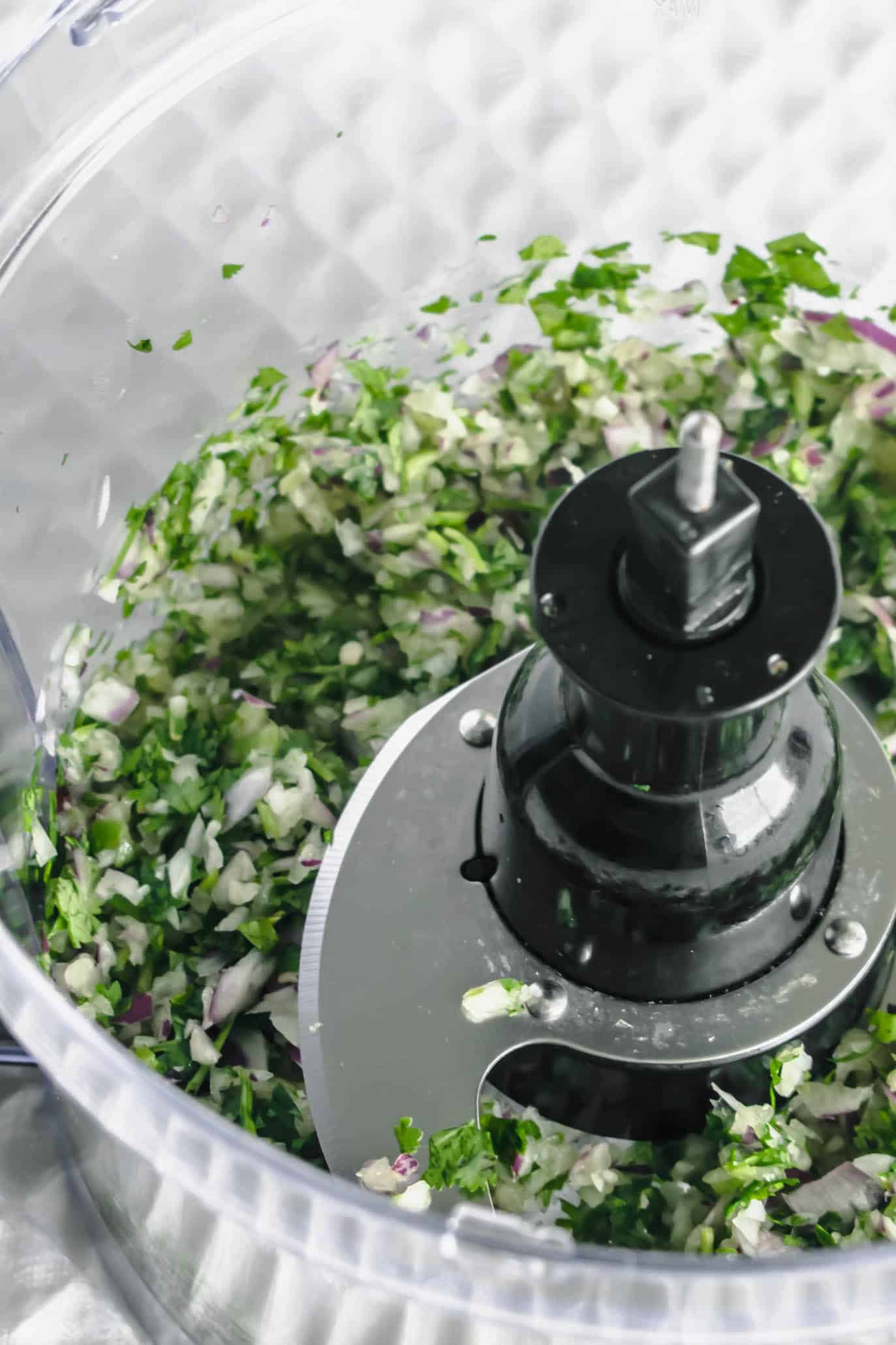 Are Turkey Burgers healthier? 
When comparing turkey mince to beef mince for burgers turkey does come out on top. With around 40 calories less per 100g, and 1.2g of fat per 100g versus 4g for beef. They're also slightly higher in protein too – winner. You can of course buy different fat % of minced turkey – I stick to the lowest I can find and the burgers are still juicy and flavoursome. 
These turkey burgers are slimming world friendly – just need to syn the breadcrumbs and divide by 4,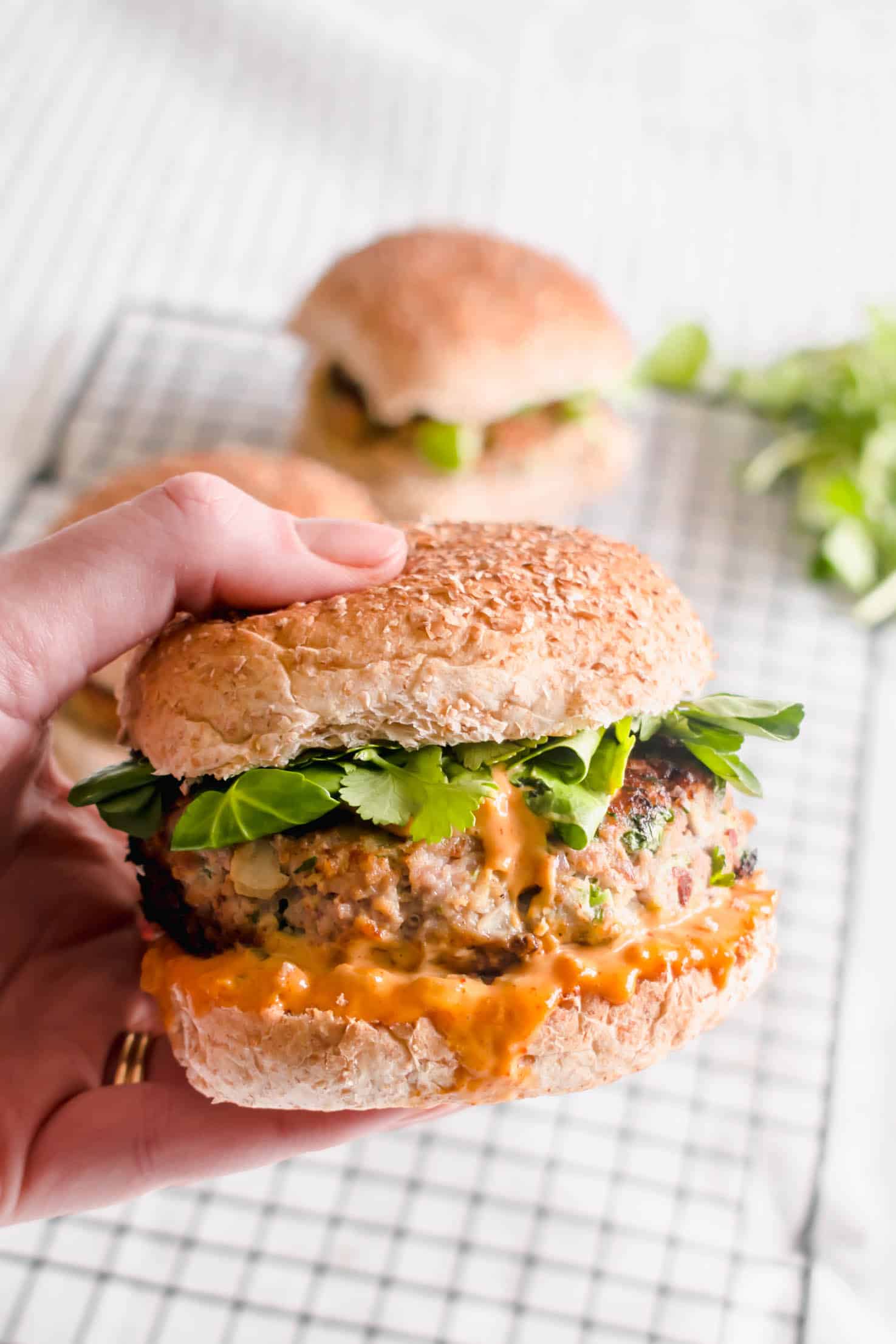 The Best Turkey Burgers
So… why are these the best turkey burgers? 
Turkey unfortunately doesn't always conjure up mouthwatering images, but these turkey burgers are juicy, pack some real flavour and are so far from what you'd expect.
I remember the first time I cooked these burgers for my husband – he was SO surprised and instantly became obsessed with them. We rarely have any other burgers at home now and he regularly cooks them for his colleagues at work too. 
I've chosen garlic, coriander and chilli for these burgers but have switched them up in the past too. My favourite combinations are adding curry or jerk powder – both of which I top with fresh chopped mango and red onion. 
Served in a soft brown bun, topped with salad and burger sauce. 
How To Make Healthy Turkey Burgers At Home
Scroll down for printable recipe card
1. Begin by chopping half a red onion, a handful of coriander, and crushing/mincing 2 garlic cloves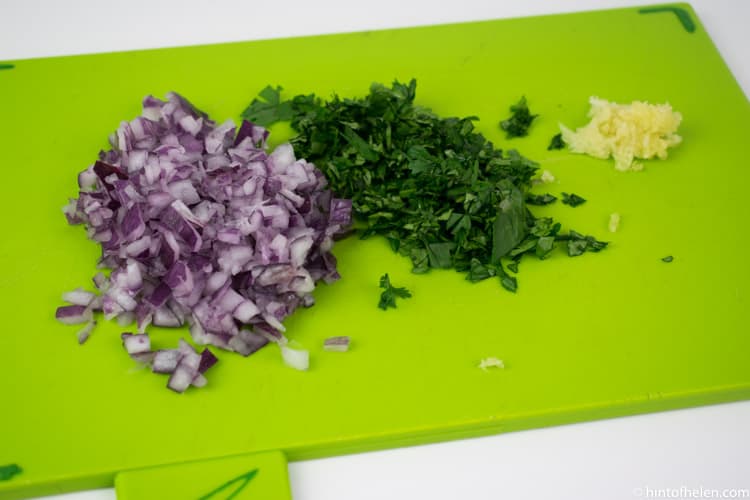 2. In a large bowl, mix together all the burger ingredients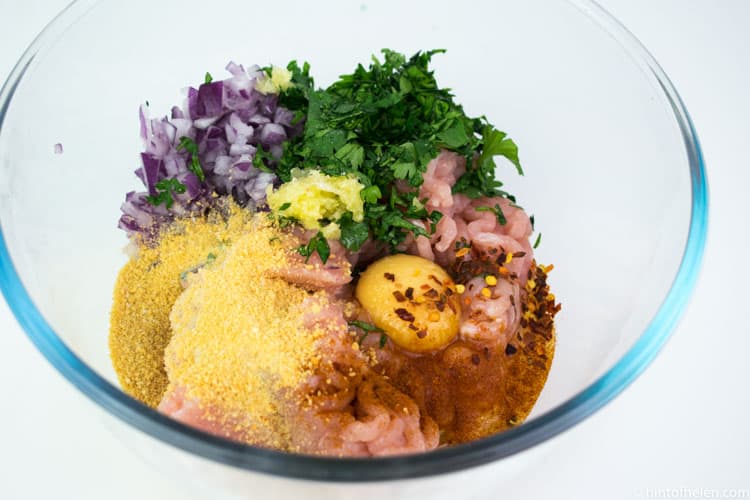 3. Use your hand to combine the ingredients, and form a ball – you want all the ingredients to be evenly distributed and the turkey mince to have lost its 'shape'. I used a medium sized egg – if your mixture is too wet, add some more breadcrumbs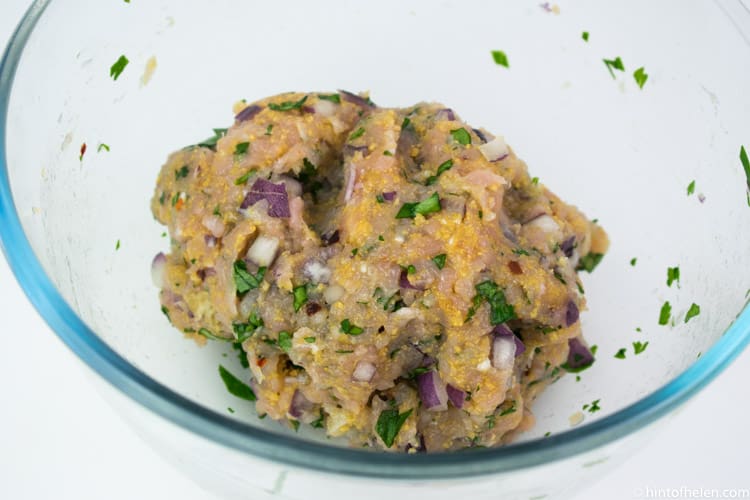 4. Roll the mixture into 4 even sized balls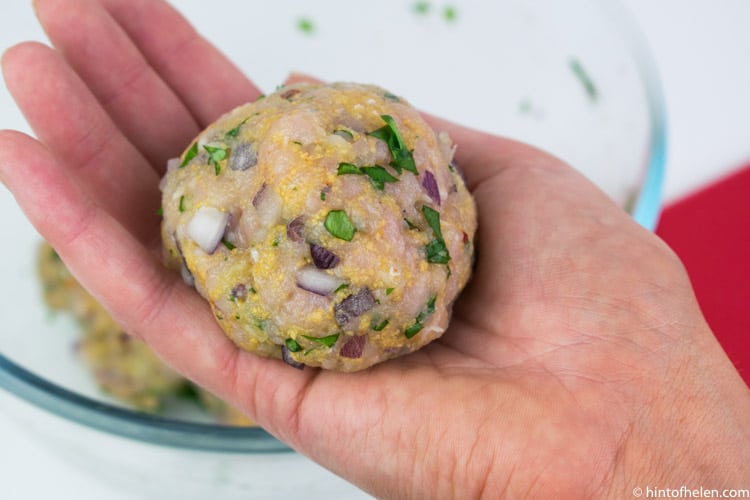 5. Press the balls with the palm of your hand on a chopping board to form round, burger shapes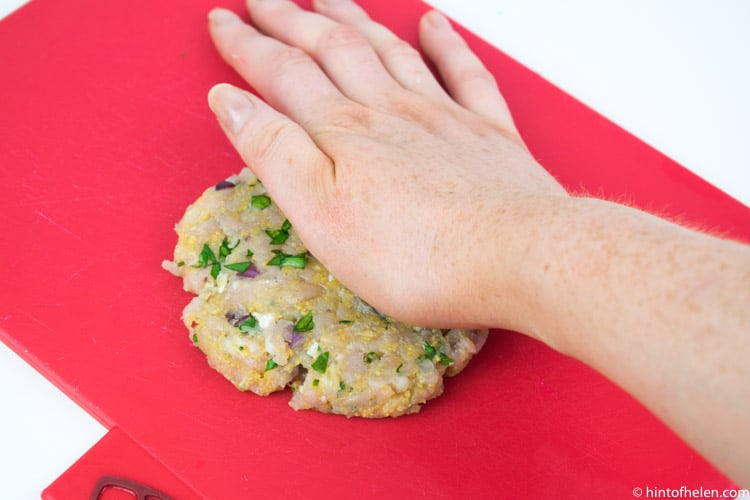 6. Heat oil in a non-stick frying pan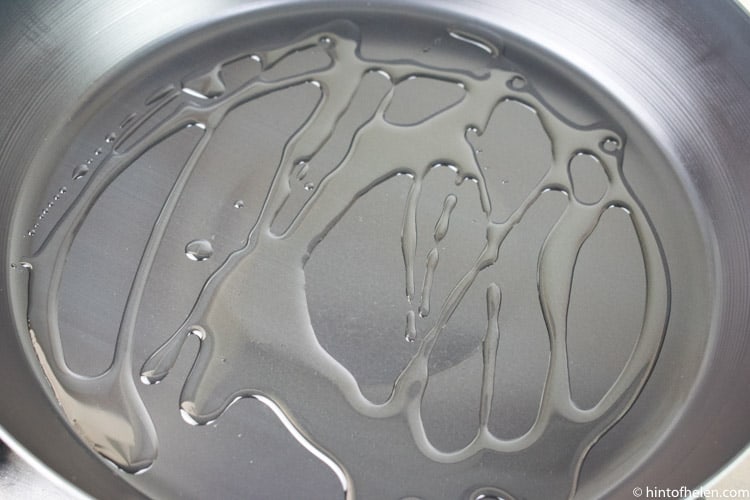 7. Add the burgers and cook on one side until browned underneath, then turn with a flat spatula to cook the other side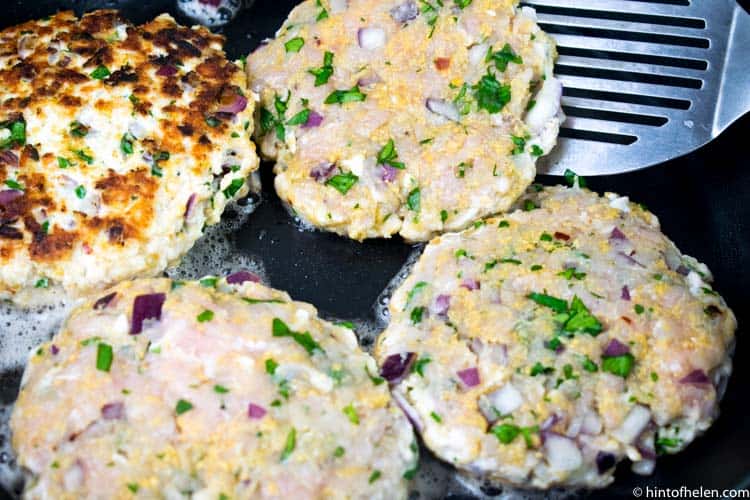 8. Cook until the burgers are cooked throughout and browned on both sides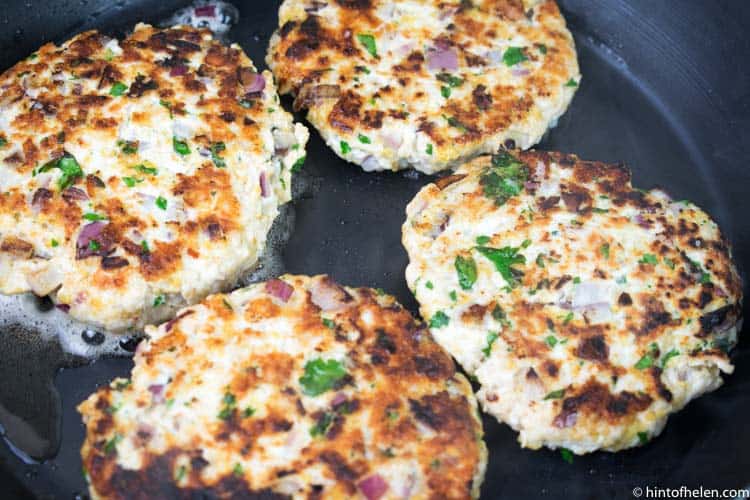 9. Remove from heat and serve in a bun with crisp salad and your favourite sauce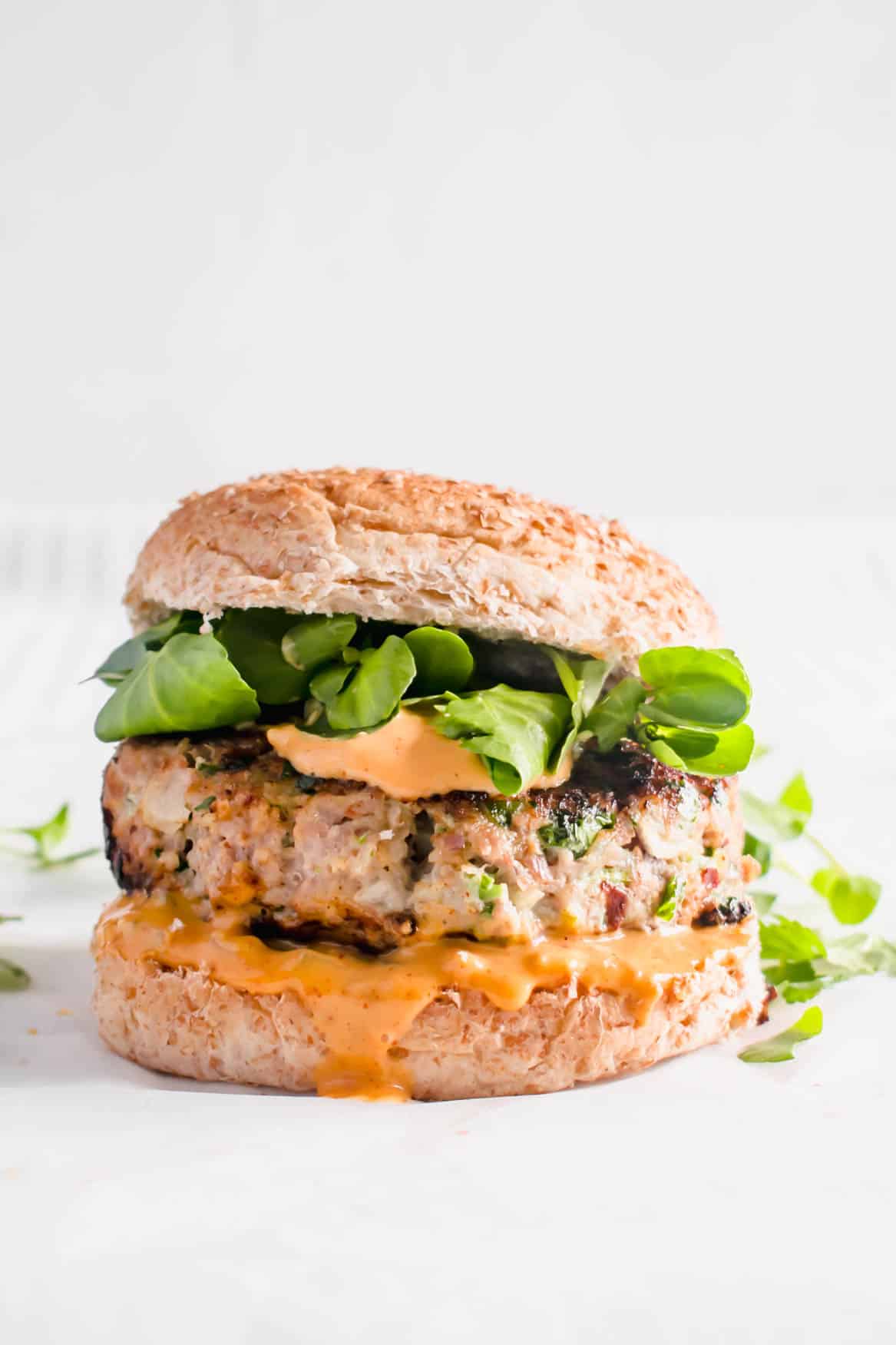 Yield: 4 Burgers
Healthy Turkey Burgers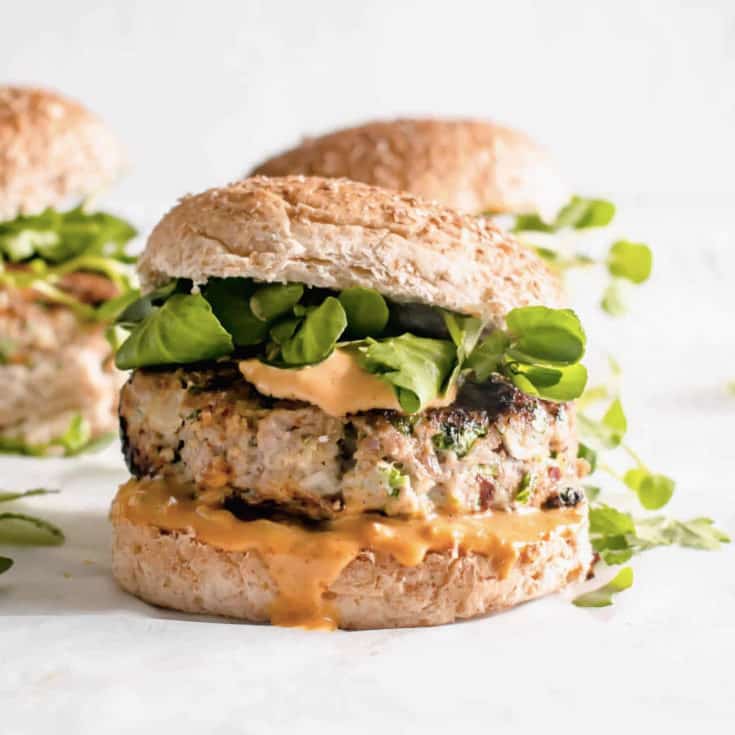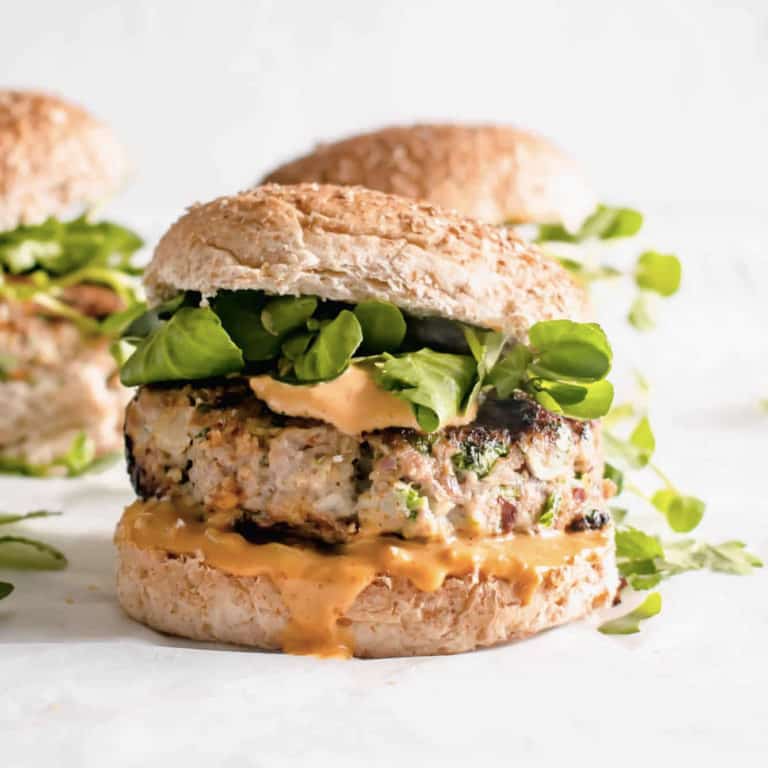 Delicious, quick and healthy recipe for fresh turkey burgers, using minced turkey, garlic, red onion and coriander.
Ingredients
Burger Ingredients
400g Lean Turkey Mince
2 Garlic Cloves (Crushed)
1/2 Red Onion (Chopped)
Handful Chopped Coriander
1/2 red chilli (optional)
40g Golden Breadcrumbs
1 Medium egg
1 tsp Crushed Chilli Flakes
1/2 tsp Paprika
1 pinch Salt
To Serve (Optional)
4 Burger Buns
Chopped Lettuce
You're favourite burger sauce
Instructions
Finely dice the garlic, red onion coriander and chilli (I use my food processor)
In a bowl, mix all the burger ingredients using your hands, to form a large ball which has all the ingredients evenly distributed (see image below). If your mixture is too wet, add some more breadcrumbs
Split the mixture into 4 smaller round balls, and use your hand to flatten into burger shapes
Heat oil in a large, non-stick pan over a medium heat
Add the burgers to the oil, and cook for 5 minutes on one side, until browned
Turn using a spatula and cook for a further 5 minutes on the other side - until browned and cooked through
Once cooked, remove from the heat and serve in a bun with lots of lettuce and your favorite burger sauce.
Nutrition Information
Yield
4
Serving Size
1
Amount Per Serving
Calories

420
Saturated Fat

6g
Trans Fat

0g
Carbohydrates

42g
Fiber

8g
Sugar

6g
Protein

35g