Here are some of my top tips and things I do when cooking a Christmas dinner for two to four people. Remember though, you can always up the quantities of your favourite things (e.g. pigs in blankets and Yorkshire puddings) so there's some nice snacks or nibbles later than evening!
The best thing about making a Christmas dinner for 2-4 people is you can make exactly what you want. There's no need to cater to a wider range of flavours or try and please all by over-catering. A small gathering makes for a lovely, high-quality Christmas meal that can be remembered for years.
Don't feel like you need to stick to tradition, if you don't like stuffing… don't serve it. If you don't fancy turkey – have chicken! There really are no rules for a smaller Christmas dinner, just make it a nice, tasty one!
As one of my main tips for the day is to just, think about it ahead of time and be comfortable with your plan, reading this post will give you a good head start, too!
Be calmly organised
The secret to any good Christmas (or in fact, any roast) dinner is to be calmly organised. Have a rough schedule in your mind ahead of time, and really don't worry if you don't stick to it too closely. Below are my top tips for a stress-free, calm day:
Not everything needs to be ready at the same time
Most important is to know that timing-wise, everything doesn't need to be 'ready' at the same time. By this, I mean, if you're trying to time it so your roast potatoes, sprouts, Yorkshire puddings, meat, etc. are all done at the same time, you're going to be stressed.
There are lots of elements on a Christmas dinner that can be made throughout the day and simply reheated in the oven for a couple of minutes closer to the time of serving (roast potatoes, roast carrots, and parsnips, pigs in blankets, stuffing balls, and Yorkshire puddings).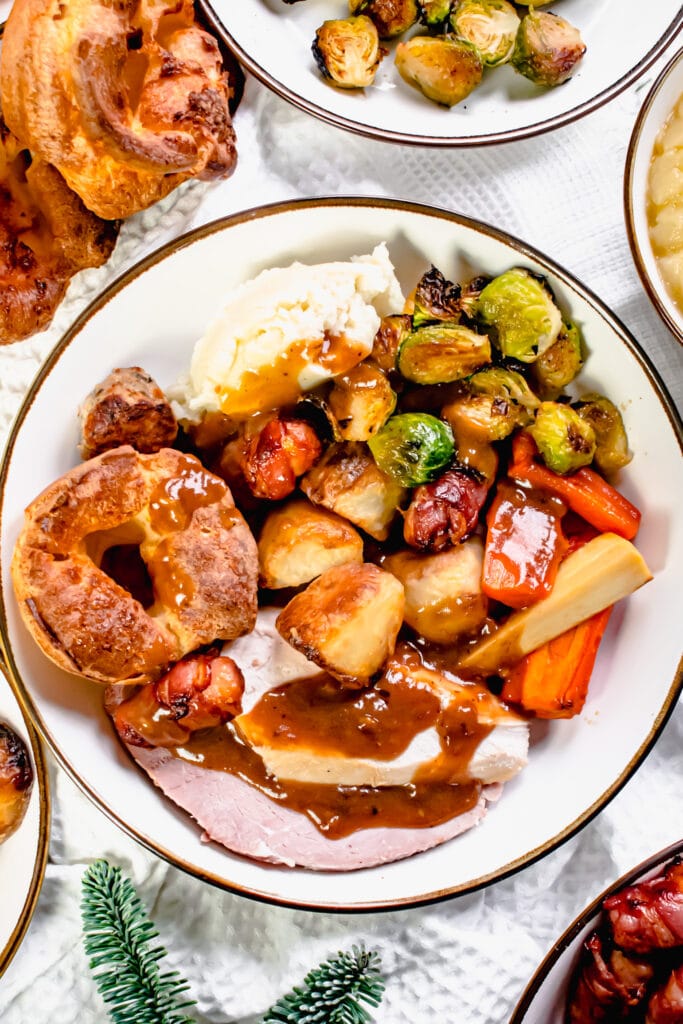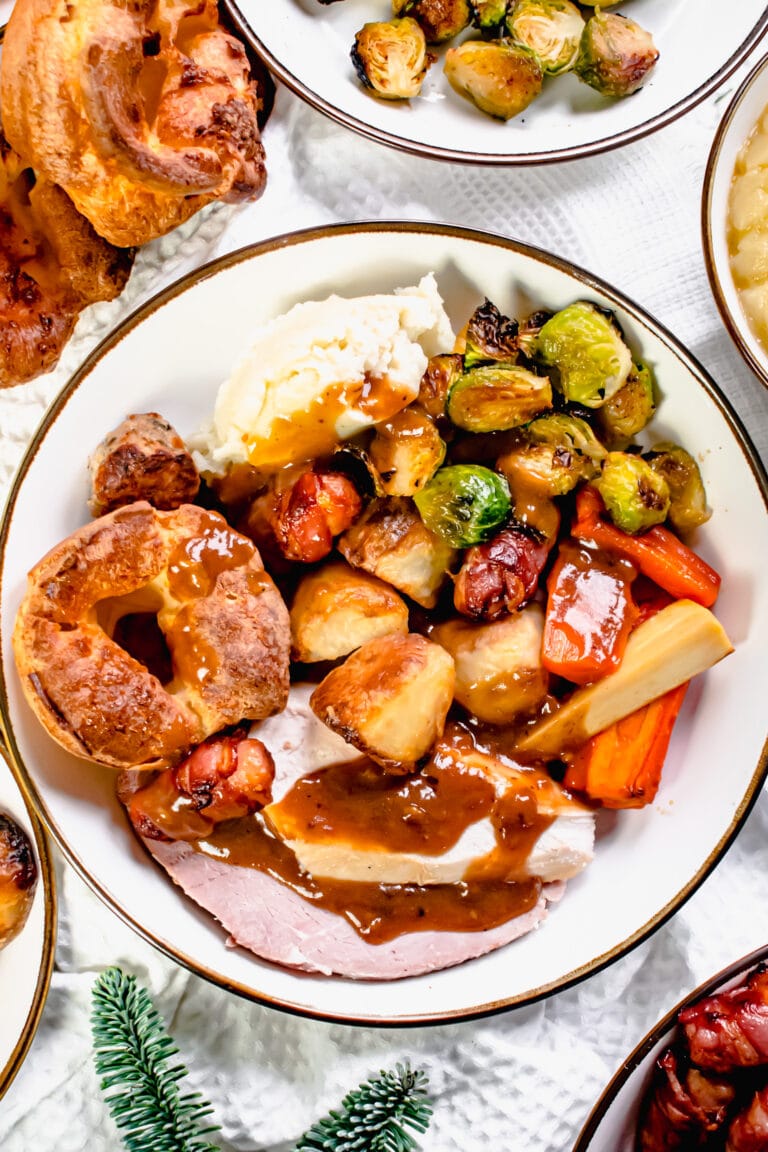 Don't overcrowd the oven
This can be tricky on Christmas day as there are so many elements. I recommend you stagger cooking your veggies if you have a single oven (more on this below) so they have a chance to crisp up properly when there's not much 'steam' in the oven. If you have limited baking trays and pans, it'll help with overcrowding, too!
Label your phone alerts, so you know what they mean
Set your timers for the day, and then label them – so you know when the buzzer goes off at 2 pm, it's time to put the Yorkshire puddings in, when it goes off at 2 pm, it's time for the Yorkshire puddings to come out, and the sprouts to go in! Here's how I do this on my iPhone.
If you see these things in the supermarket ahead of time, buy them and freeze them (as they often sell out)
Pigs in blankets
Stuffing balls
Dessert!
Do the prep work
I always do the prep work in the morning, for a smaller crowd, it's manageable to get the veggies peeled, chopped and set aside ready to cook later on – during a 20 min slot in the morning. This is a nice time to pop the radio on, make a brew and have 20 mins to yourself. Don't stress this bit, just do it when you can be bothered.
I tend to peel my potatoes, cut them into roast potato sizes, and set aside
Peel the carrots and cut them into pieces
Peel the parsnips and cut them into pieces
Cut sprouts in half (and, I recommend picking up prepared sprouts, if you see them – they're usually with the prepared veg fridge, which also has mashed potato, etc. in the supermarket)
Flash boil the carrots and potatoes together for 5 minutes, then drain and set aside ready for roasting later on
Make the Yorkshire pudding batter, now, too, and set aside (cool, room temperature) covered, until later on
Meats
As mentioned above, when making a Christmas dinner for 2-4, you have full control over which meat you serve! A roast chicken is great for a crowd of 2-4, especially if you prefer it. to turkey.
Remember all meat should be rested for ~20mins before slicing, so you have time to pop in anything which takes about 20-30 mins to cook (eg. stuffing balls, sprouts) at this point. You can of course also leave the meat longer than this to rest – so serve when you're happy and your family is ready to eat! (No need to rush).
If you want a second meat, but don't fancy roasting two, then go to the deli counter in your supermarket and pick up a few slices of thickly cut roast ham, pork, or beef to serve alongside. Covered in gravy and alongside the main meat it works out much easier!
And on the topic of gravy… please try to make it homemade! The recipes above all feature homemade gravy and I think this is actually THE most important part of the dish (I love gravy!)
Shop bought elements
On Christmas day, it's not about working too hard… I always shop buy these things to help:
Pigs in blankets
Stuffing balls
Mashed potatoes (the ones in the fresh veg aisle)
Sprouts which are prepared (again from the fresh veg aisle) – meaning, washed and peeled already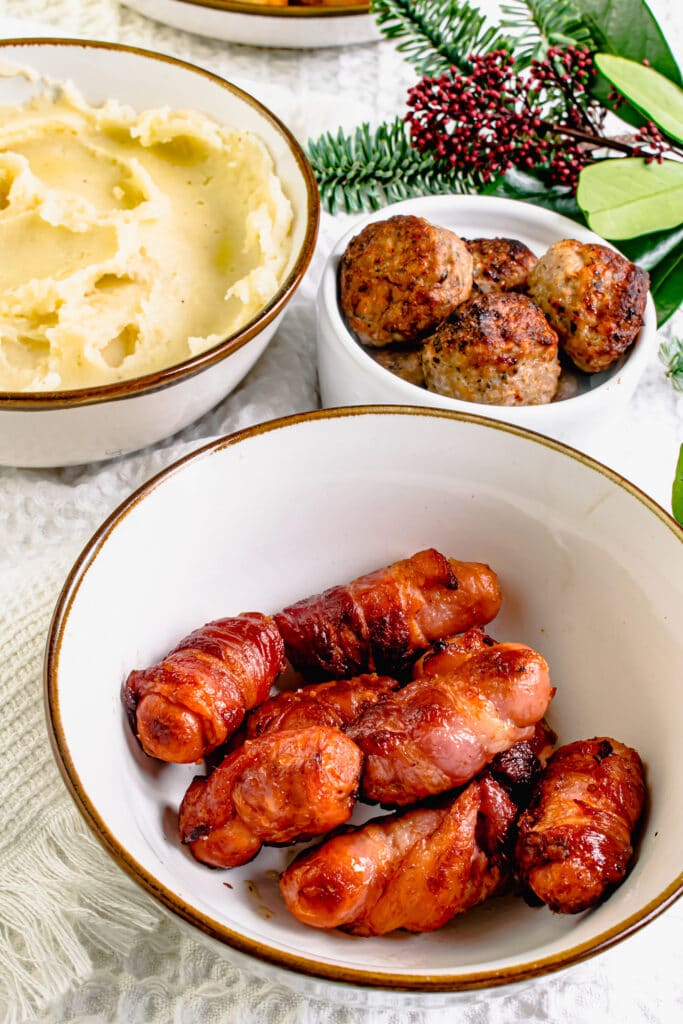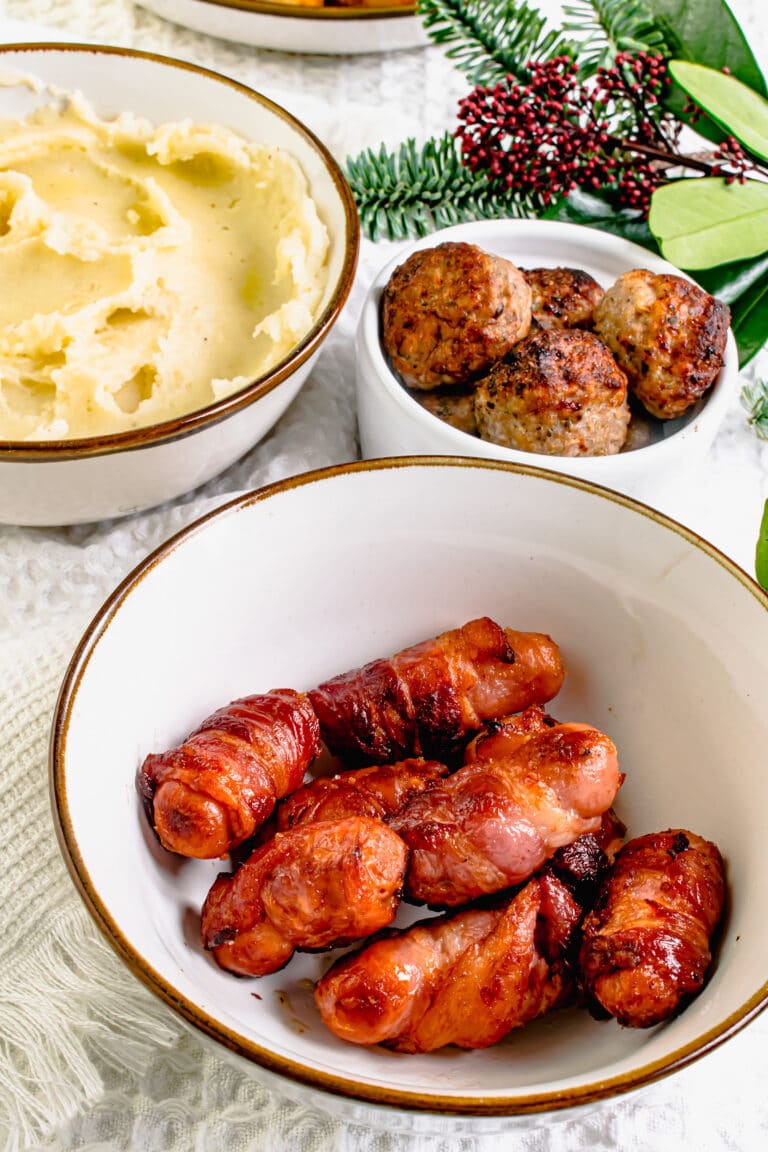 The stuff to make from scratch (ahead of time)
I love apple and cranberry sauce on Christmas day. I tend to make these one of the days running up to Christmas. Each take very minimal effort and time, and easily freeze for upto 30 days or store in the fridge for 5 days. If you're freezing them just remember to take out of the freezer to defrost on Christmas eve. I also love to quickly zap them in the microwave on Christmas day so they're warm to serve. Here are my recipes for either: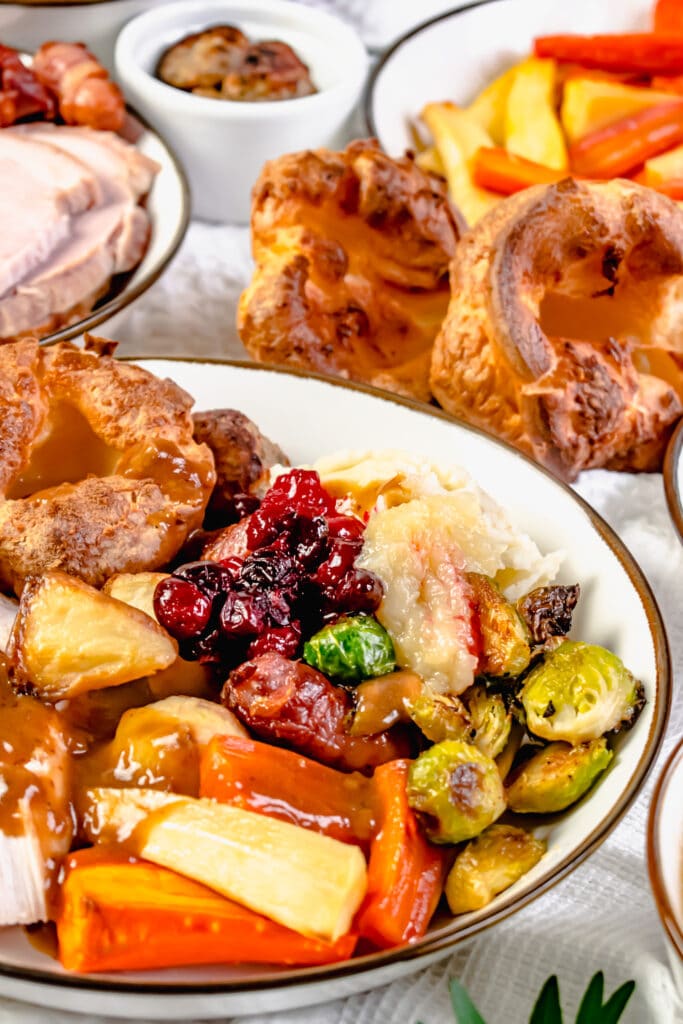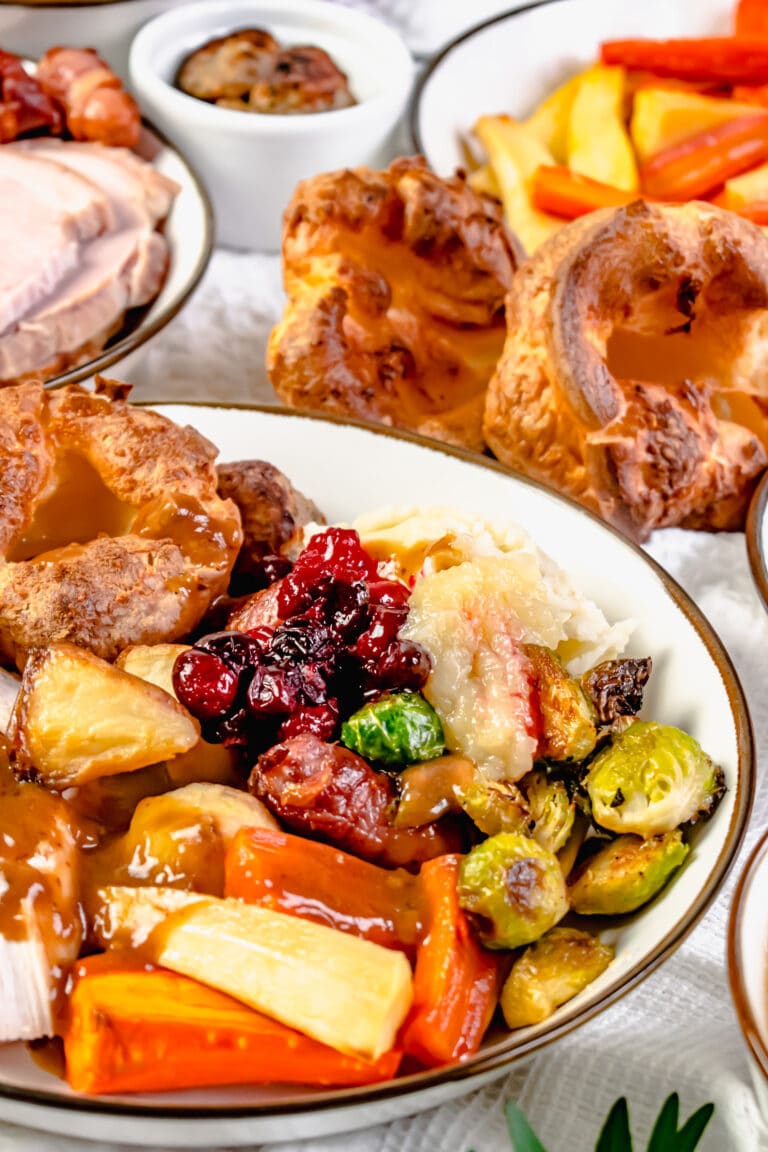 The stuff to make from scratch (on the day)
All the veggies of course! I'd prep these on the morning of, so you can relax and not be in the kitchen all afternoon. Prepare them to the point of all you need to do is toss in oil and pop in the oven.
If you're limited on pan space, do cook your vegetables in batches (they'll struggle to crisp up if your oven is too full, or the pan too crowded). By this I mean (for example):
Cook the roast potatoes at 12 on an oven tray which allows them to be in a single, non-crowded layer, then remove from the oven and set aside in a dish for later
Cook the roasted carrots and parsnips at 12.40 pm on an oven tray which allows them to be in a single, non-crowded layer, then remove from the oven and set aside in a dish for later
Ahead of serving, pop the prepared, cooked veg back onto an oven tray and cook for 5 minutes or until hot throughout again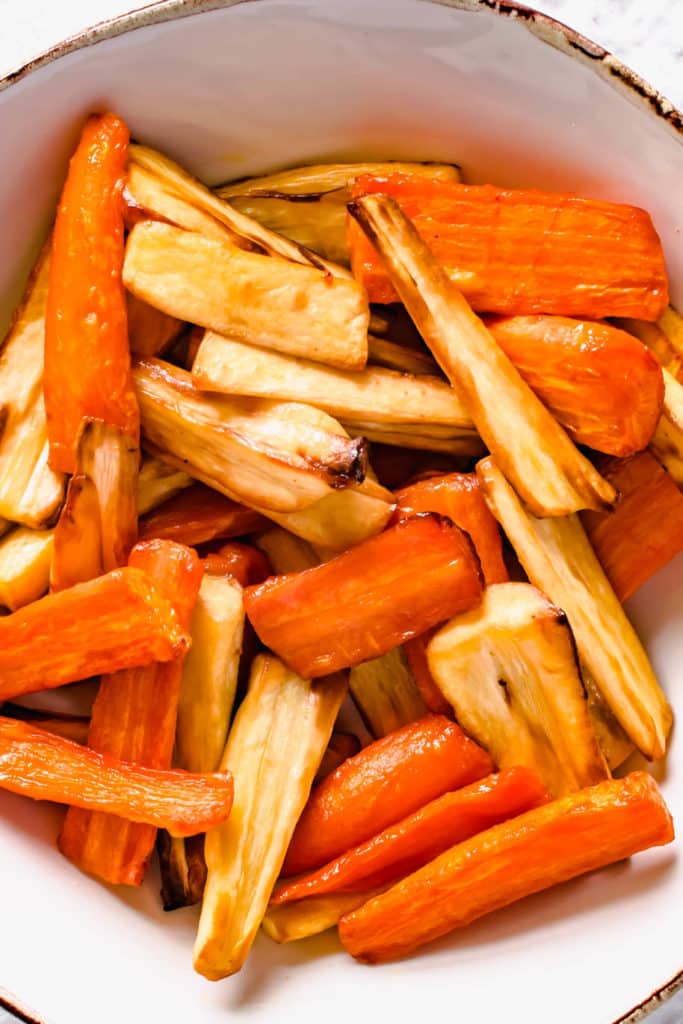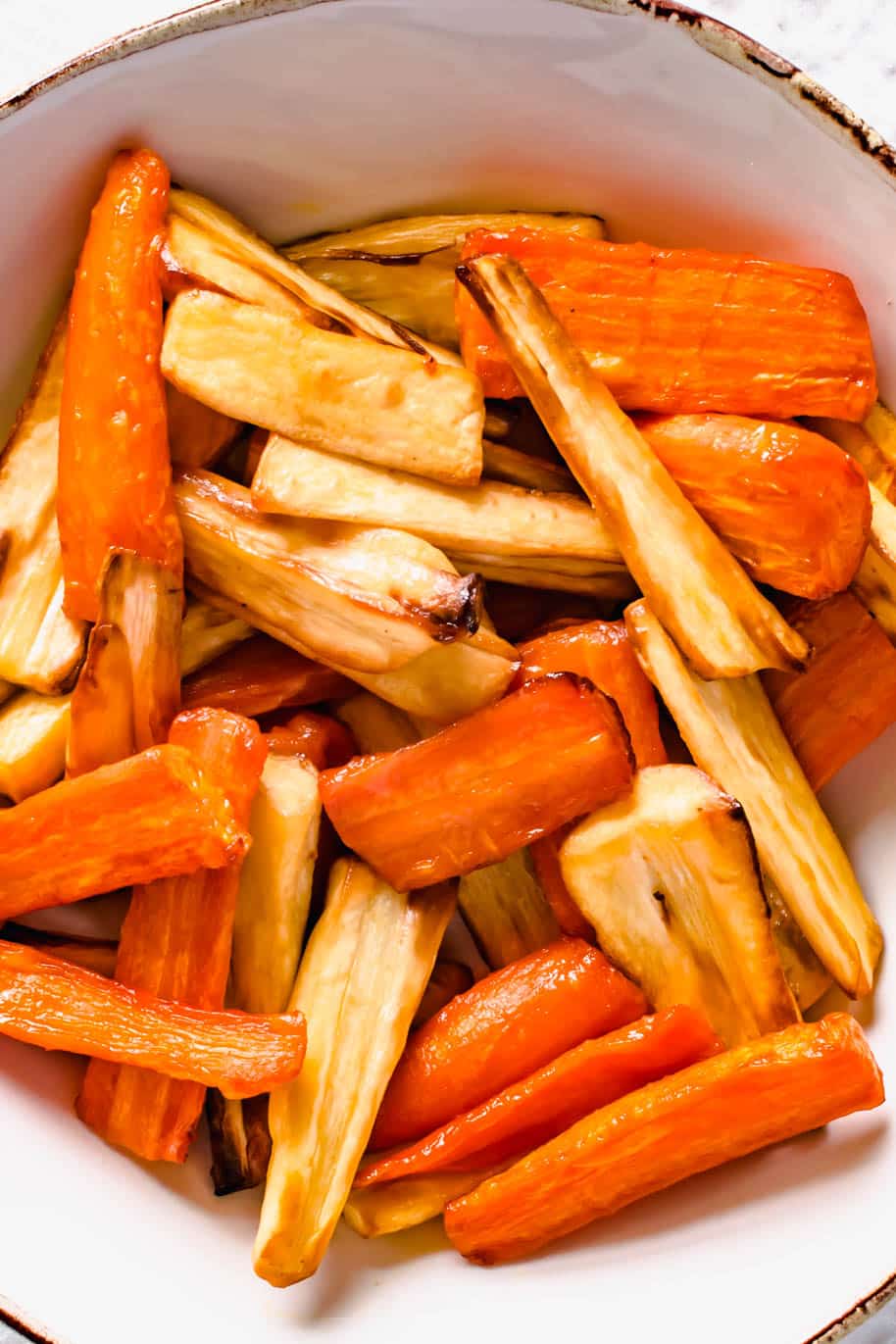 Yorkshire puddings should be made on the day, too
Here's my Yorkshire pudding recipe (it rises every time!)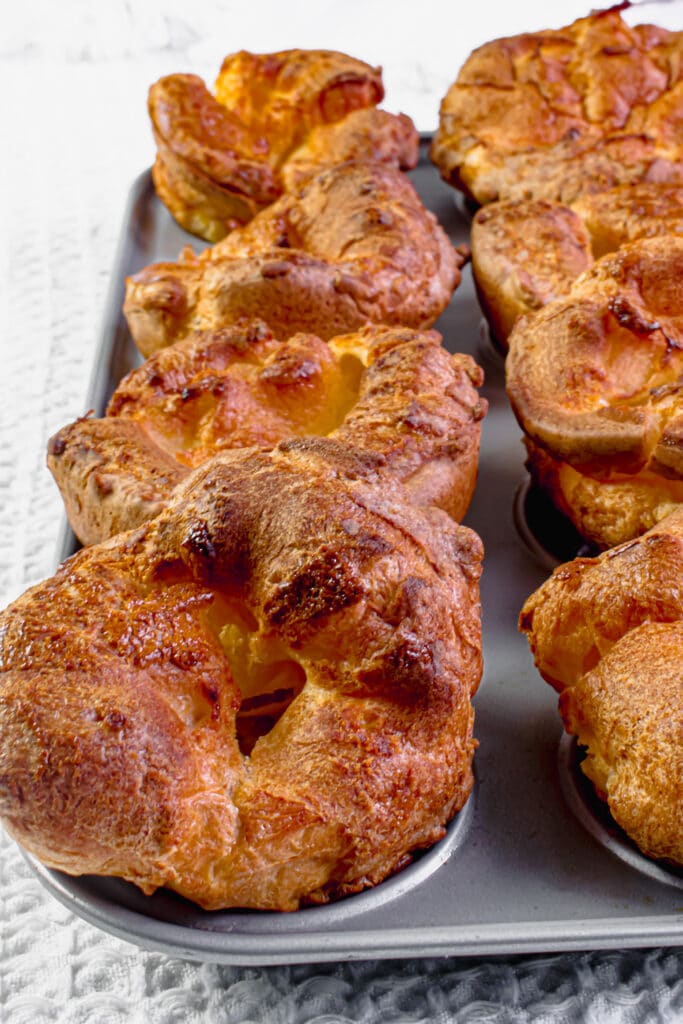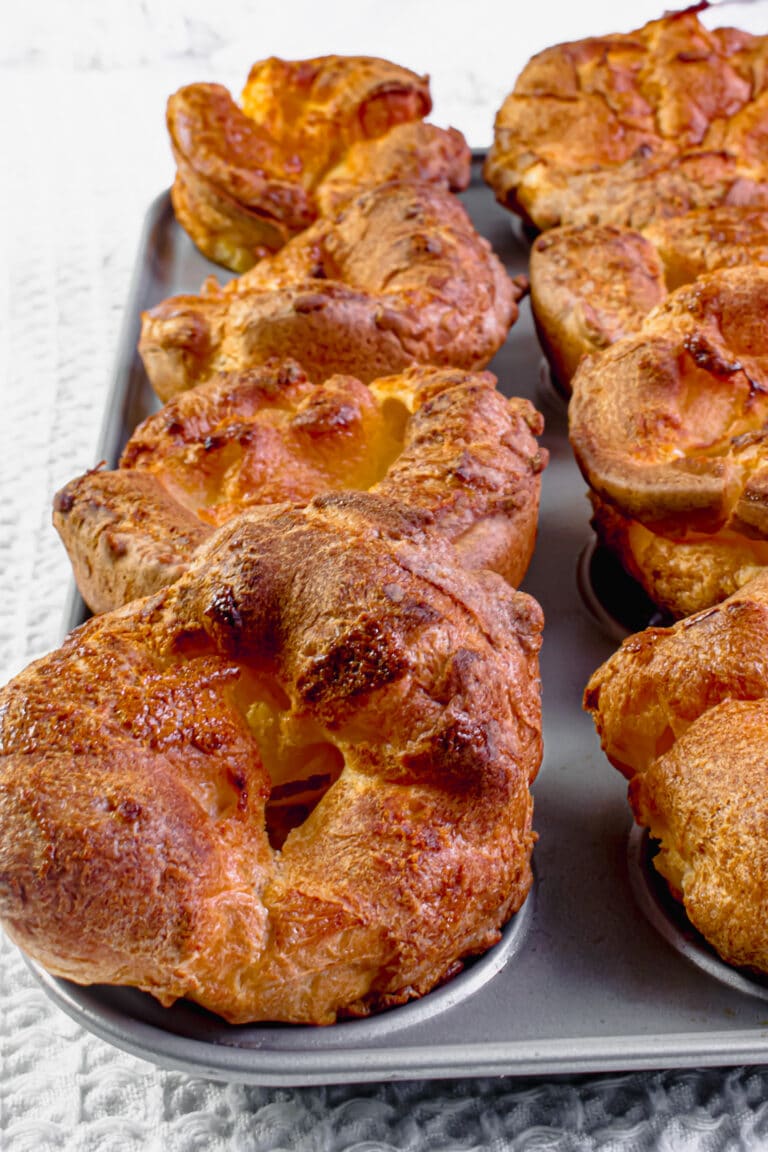 I actually love making Yorkshire puddings so much! Use the above tip on not everything needs to be made and ready at the same time. As Yorkshire puddings need to be in an undisturbed oven (as in, never open the door whilst they cook) for ~30 mins, choose a time within the day where you have space in the oven, and won't be opening it for 30 minutes or so. This can be before you've even started the roast, or whilst the meat is cooking… or even resting. They reheat very quickly (just need 2 mins back in the oven if they've cooled down).
Your oven will be hot all day too, so, make sure you pre-heat your oil in the hot oil before cooking them (you CAN'T skip this part)
Make your pigs in blankets ahead of time and use the oil for cooking other dishes
I tend to cook and crisp up my pigs in blankets with a fairy empty oven, earlier in the day, then drain off their oil to roast my sprouts in! I'll then simply pop the pigs in blankets on an oven tray for 5 mins before serving so they're hot through and crispy!
If you have an Actifry – it can help!
The Actifry is a great helper, especially when your oven is already full! Here are some dishes which you can easily do in your Actifry (and reheat in the oven later on if you need, too!)
Pigs in blankets (paddle removed)
Yield: 2 - 4 People
Christmas Day Shopping List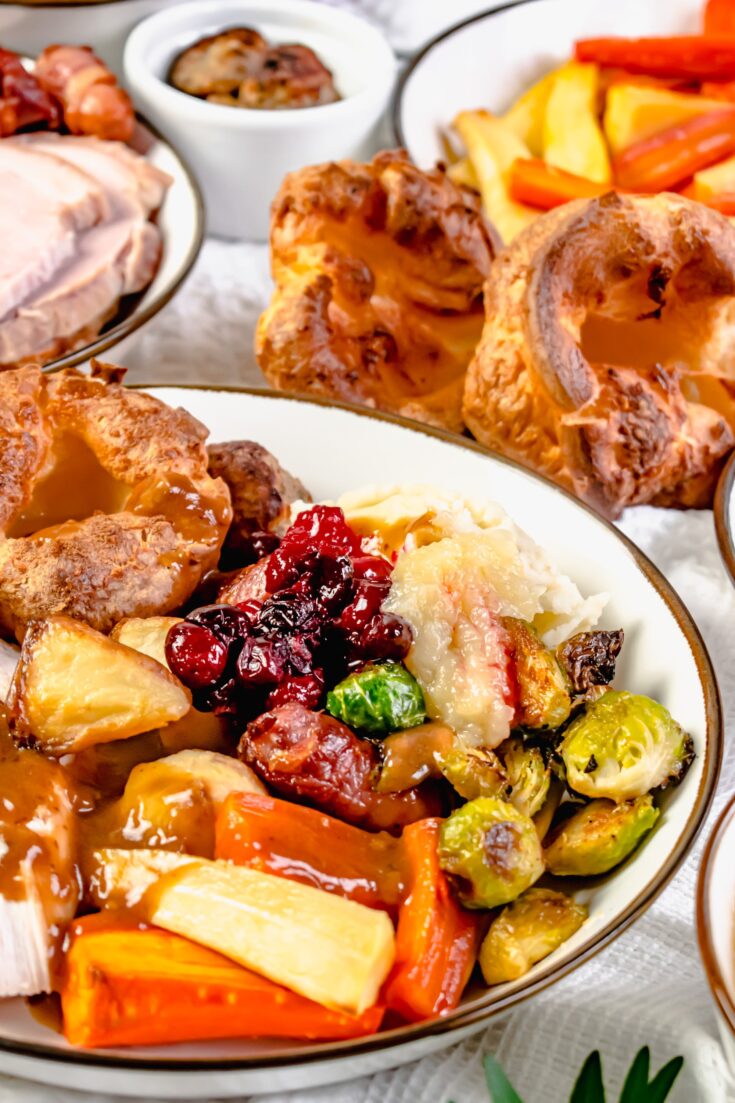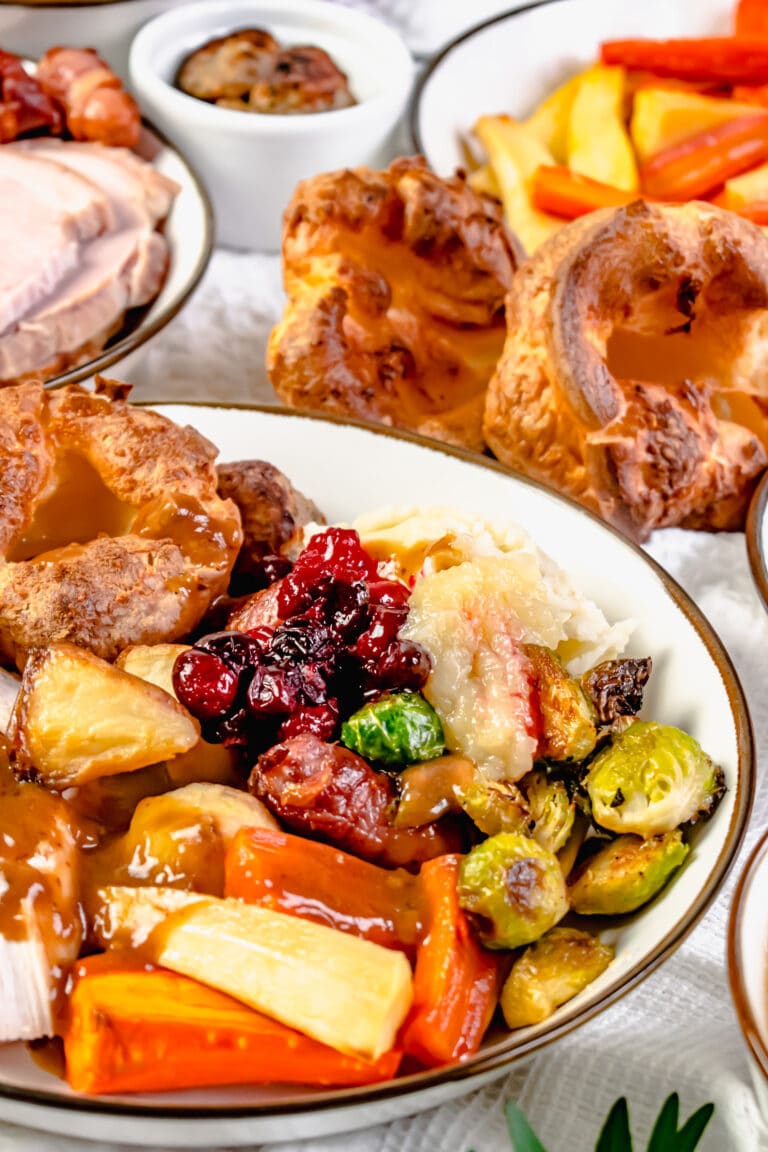 Below is MY shopping list for Christmas day dinner.
Ingredients
Mains
Meat (chicken, turkey, beef etc.)
If you want a secondary meat... grab a couple of slices from the deli?
Sides / fridge
Pigs in blankets
Stuffing
Vegetable aisle
Potatoes (Maris pipers are my preference)
Carrots
Parsnips
Sprouts (prepared if you can see them, usually where the fridge and prepared vegetables are)
Mashed potatoes
Frozen
Any peas, sweetcorn, etc. you fancy
If you're making Yorkshire puddings
Cupboard
Salt
Cooking oil
White wine, cider etc. for gravy if needed
Other
Dessert - any cakes you want
Apple, bread, or cranberry sauce
Notes
prepared, in-tray, again, in the fridge section of the vegetable aisle)