Salt and pepper chicken wings are one of my favorite starters to get at a Chinese takeaway. Here's a quick and easy way to make the delicious wings at home.
I worked in a chinese restauraunt a few years ago; and this was our most popular side dish, unsurprisingly as anything salt and pepper is amazing (see also my recipe for salt and pepper chips, and salt and pepper chicken breast). It's so simple and quick to make, and the result is really worth the extra effort you put in. One tip is urge you to follow is don't skip the part where you cook the onions to perfection – the onions are an important part of making this dish what it is so make sure they're sweet and delicious.
Using chicken wings makes this recipe super cheap and perfect for a home takeaway. It'll take you less time, less calories and less money to make this, and once you master it, I'm sure you'll say its even better than the local Chinese takeaway. The best thing about making your favorite restaurant classics at home is that you're able to make it just how you like it – as spicy as you like, as chunky as you like, as much as you like!
Let me know how you get on with this Salt & Pepper chicken wing recipe in the comments below!
Yield: 4 People
Salt And Pepper Chicken Wings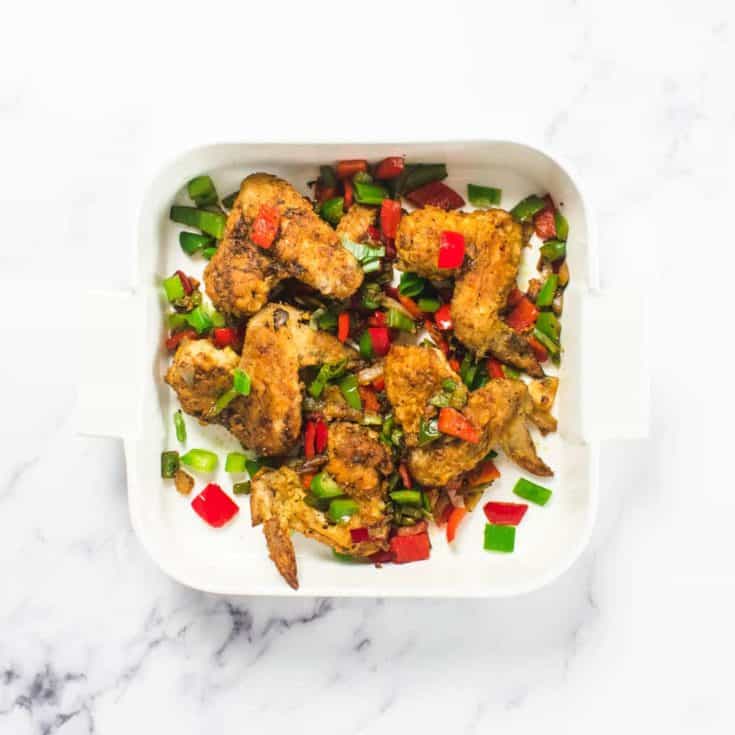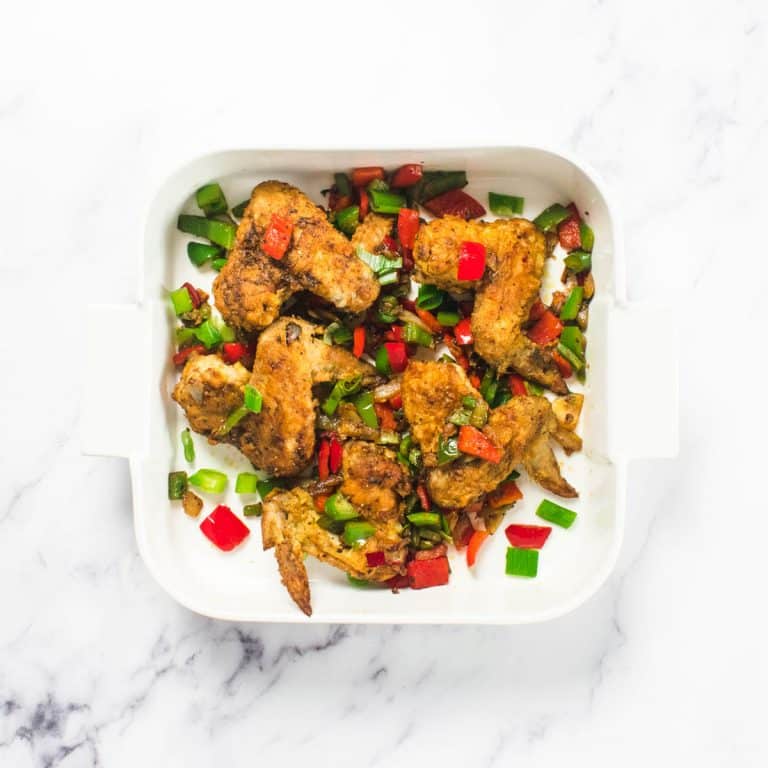 Recipe for Chinese salt and pepper chicken wings - better than takeaway
Ingredients
Vegetable or Sunflower Oil
For the battered Chicken
10 Chicken Wings
2 Eggs
1 cup Plain Flour
1 tsp Chilli Flakes
For The Vegetable Mix
1 Onion
1 Red Pepper
1 Green Pepper
1 Green Chilli
2 tsp Sea Salt
2 tsp Chinese Five Spice
1/2 tsp Sugar
1 tsp Chilli Flakes
Instructions
Roughy chop all of the vegetables and set aside
In a bowl combine the four and 1 tsp chilli flakes
Take another bowl, and crack the two eggs into it
Dip your chicken wings into the egg bowl, and coat with the egg
Then take each wing, a wing at a time, and toss it in the flour and chilli mixture, until its evenly coated - set aside and continue for all of the wings
Pour a layer of oil into a large pan (with deep sides - never fry with a shallow sided pan) and turn the heat to medium/high
Place the coated wings into the hot oil and cook until brown and crispy, and cooked inside - turning frequently and adjusting the oil heat so they don't burn
Once your wings are cooked, remove from the oil, turn off the heat, and place on a piece of kitchen roll to drain off excess heat
Heat 1tbsp of oil in a large, non-stick pan or wok
Add the onions to the pan, and cook on medium heat until they become transparent and begin to turn sweet (don't skip this step - it's important)
Then add the peppers and chilli to the pan, and stir fry for a couple of minutes
Add the salt, pepper, five spice and chill flakes to the pan, stir and then add the cooked chicken wings
Use a wooden spoon or tongues to make sure you really mix together the vegetables, seasoning and chicken wings - cook for a further couple of minutes until your chicken is hot through - then serve and enjoy!