Salt and pepper chips are one of my favourite things to get at a Chinese takeaway. Here's a quick and easy way to make the delicious side dish at home, using oven chips and fresh chilli, peppers and spring onions.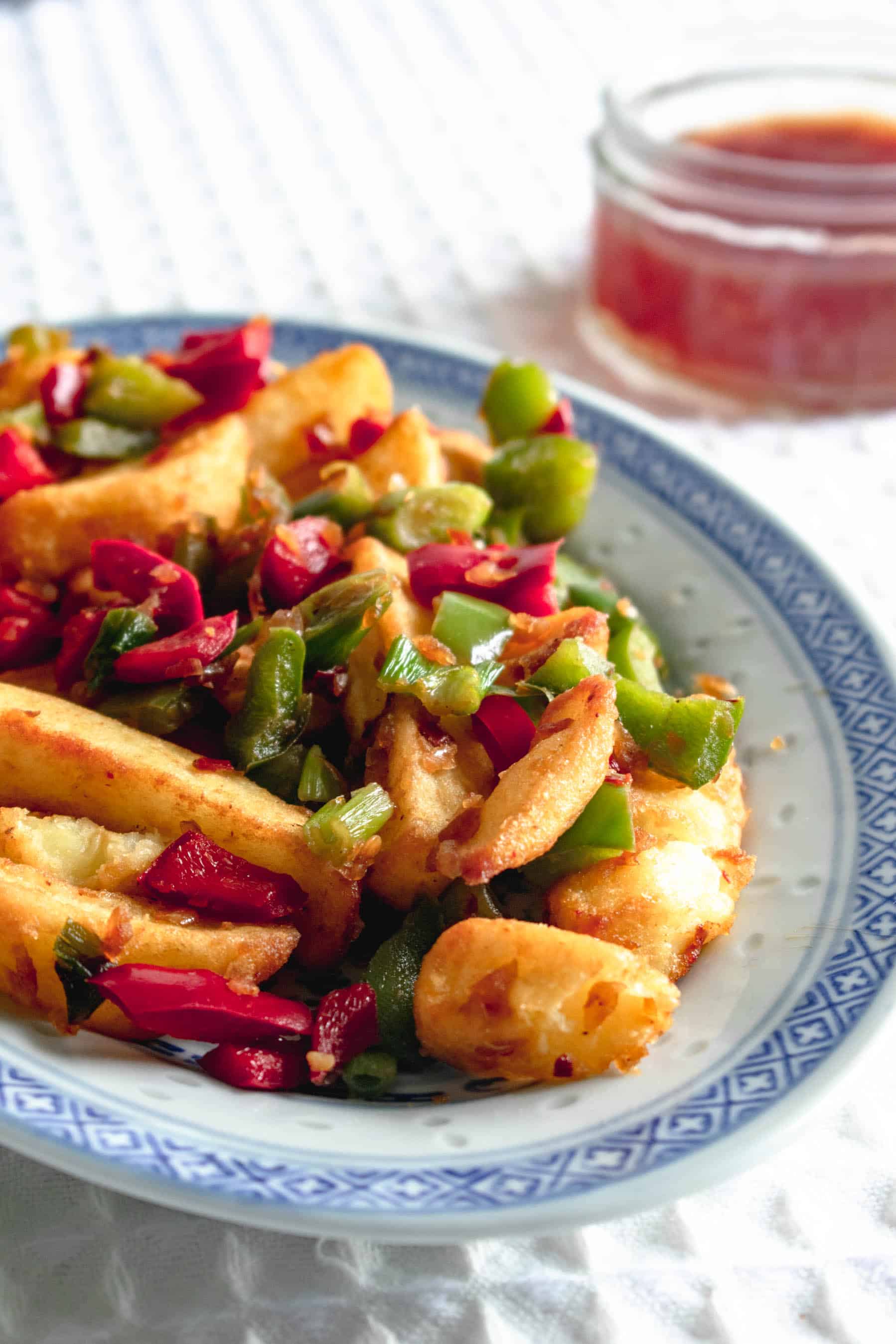 I worked in a Chinese restaurant when I was a teen; and these were always our most popular side dish, unsurprisingly as they're amazing.
It's so simple and quick to make, and the result is really worth the extra effort you put in. This is a really fun way to spruce up oven chips and a simple meal – or you can use homemade chips from the air-fryer too (Click here for my baked skin-on-fries which work great in this recipe.)
These salt and pepper chips can be as mild or spicy as you'd like – just add more or less chilli.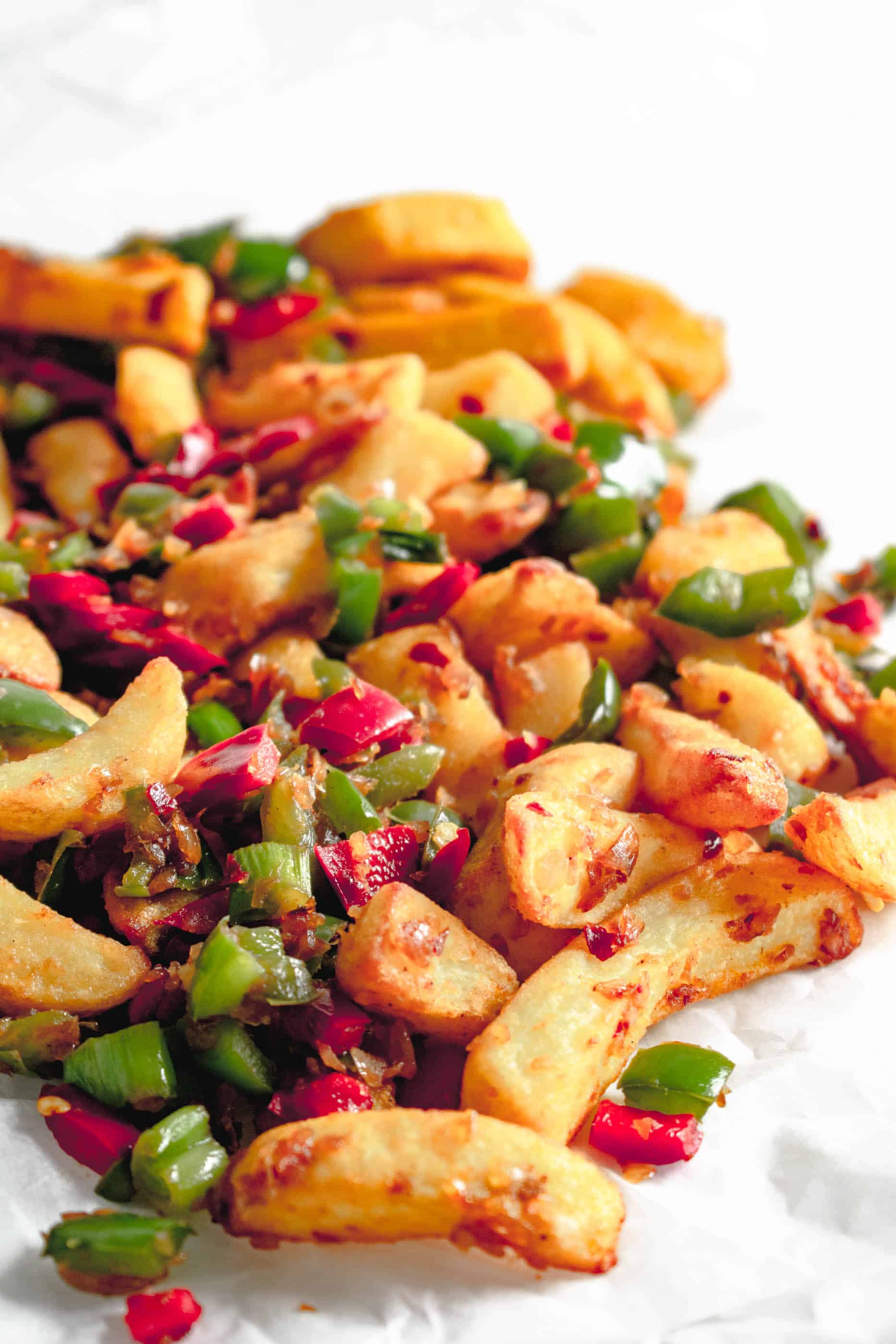 We often eat these on their own with a sweet chilli dipping sauce for an easy, delicious dinner, but you can serve them alongside any of your favourite Chinese takeaway-style dishes. Making these at home instead of grabbing them from a takeaway mean you're saving yourself money and calories – and can control the spice to exactly how you like them.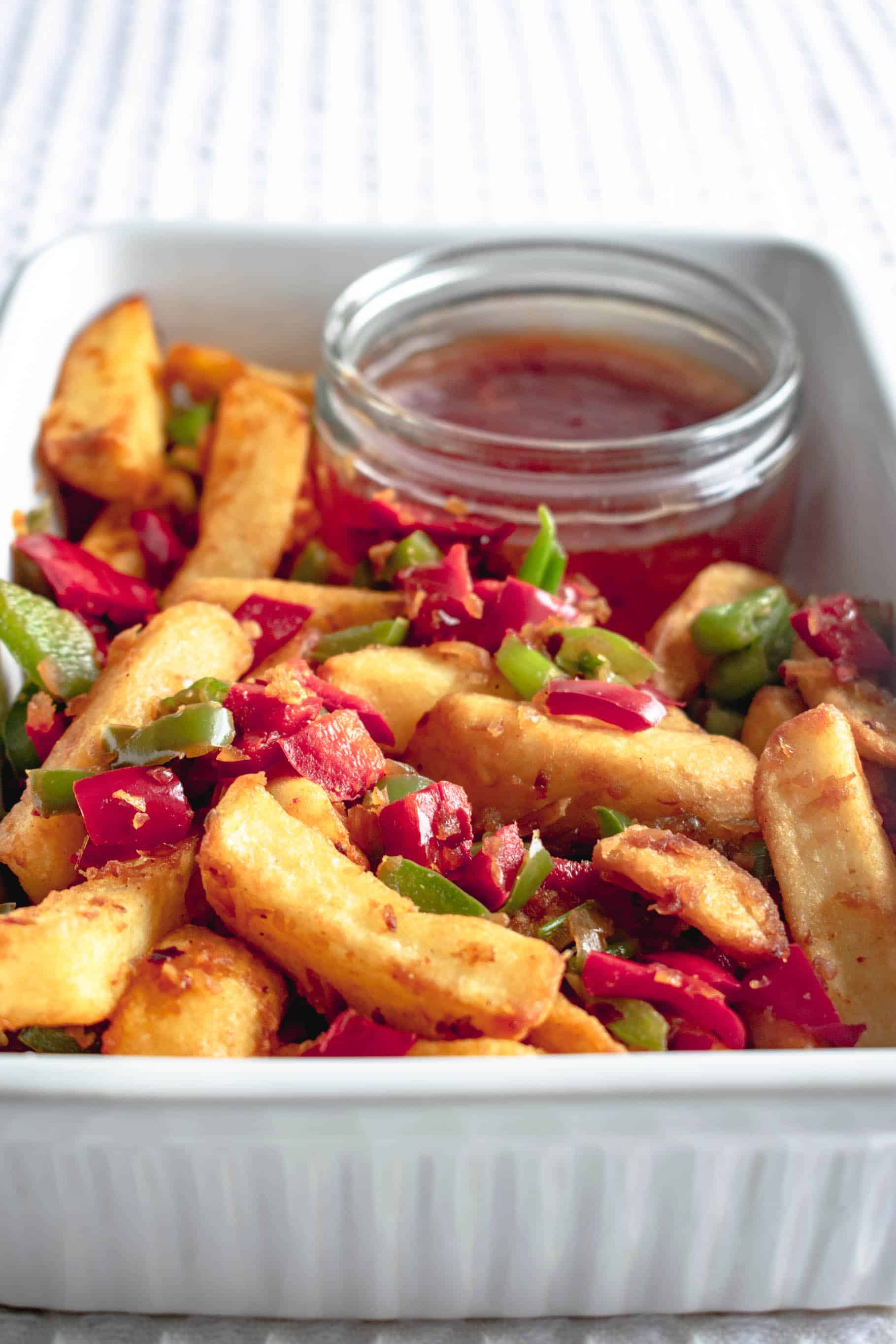 The chips are mildly spicy and loaded with salty flavour. YUMMY!
How to make salt and pepper chips at home:
1. Cook the chips as per packet instructions. Mine took 25 minutes in the Actifry. I tend to use oven chips when I make this recipe, but homemade ones are great too! Thick-cut or steak-cut chips are my recommendation.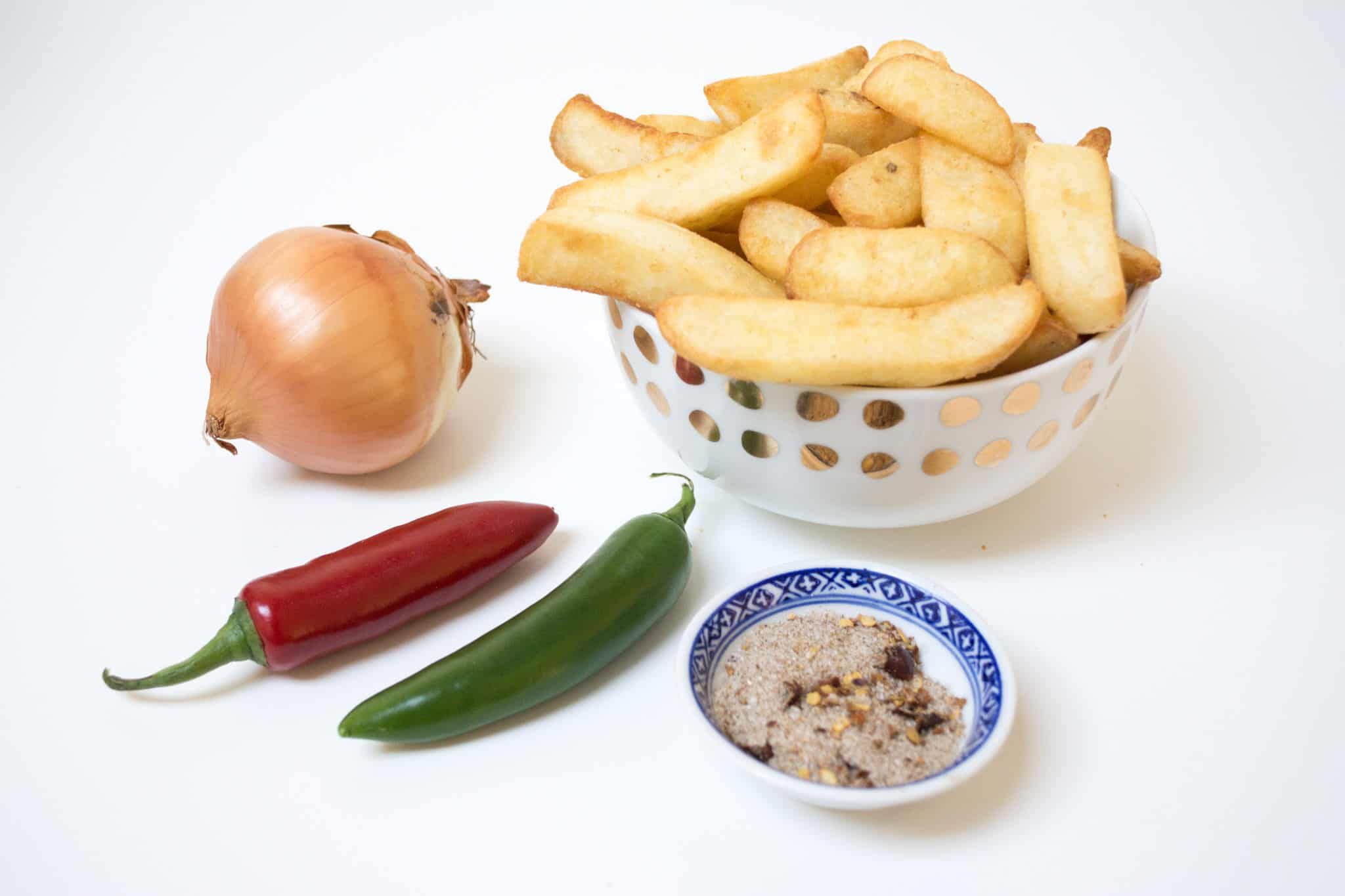 2. Whilst the chips are cooking, chop the chilli and onion into small pieces and measure out your spices.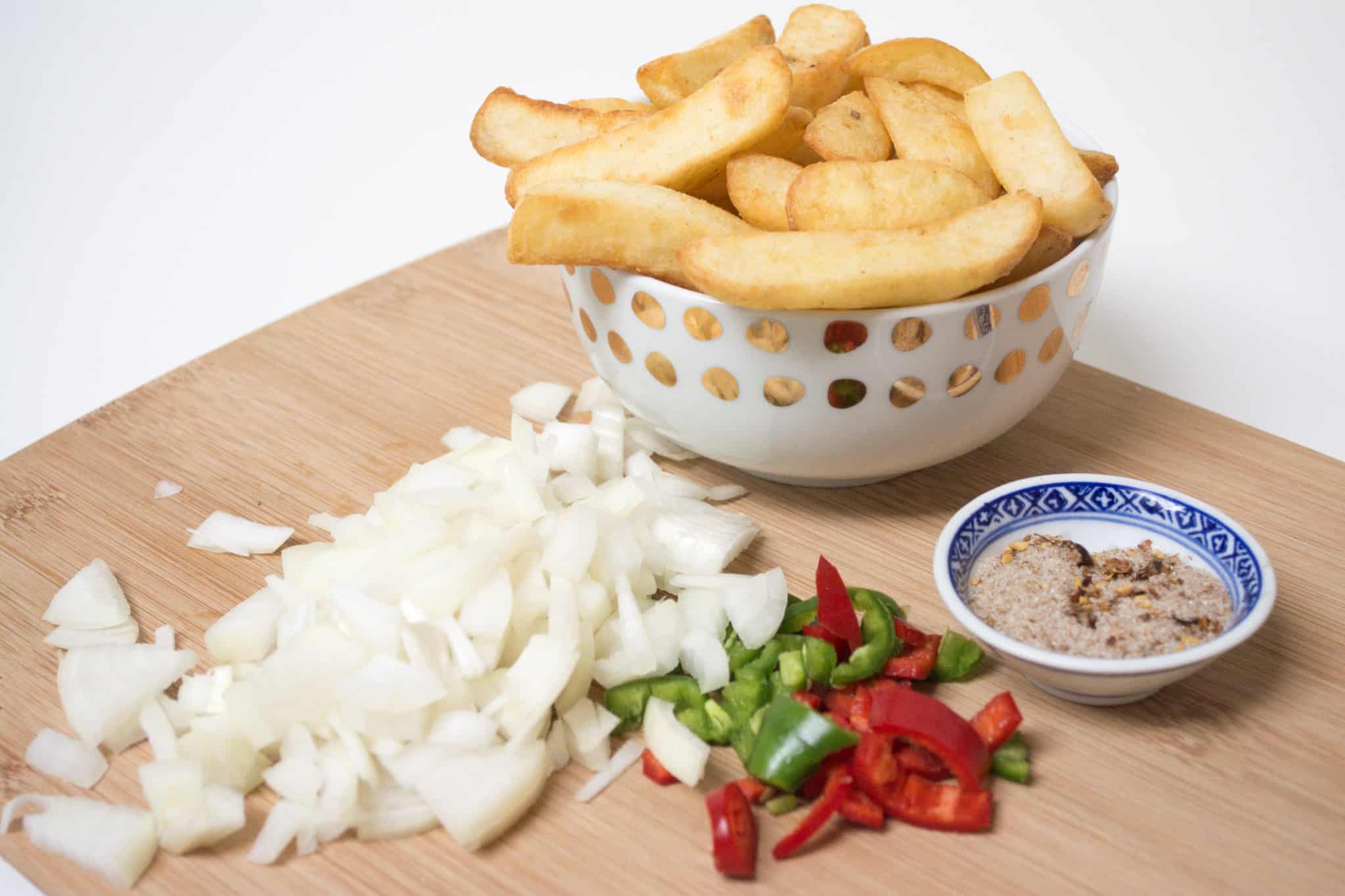 3. Once the chips are cooked, remove from the oven, actifry etc. and set aside. Then, heat  the oil in a large, non-stick pan to medium/high heat. Once the oil has heated up add the vegetables to the pan and stir to coat in the oil. Keep the heat medium/high and stir frequently. You want the onions to begin sweet and caramelised to add flavour to the chips.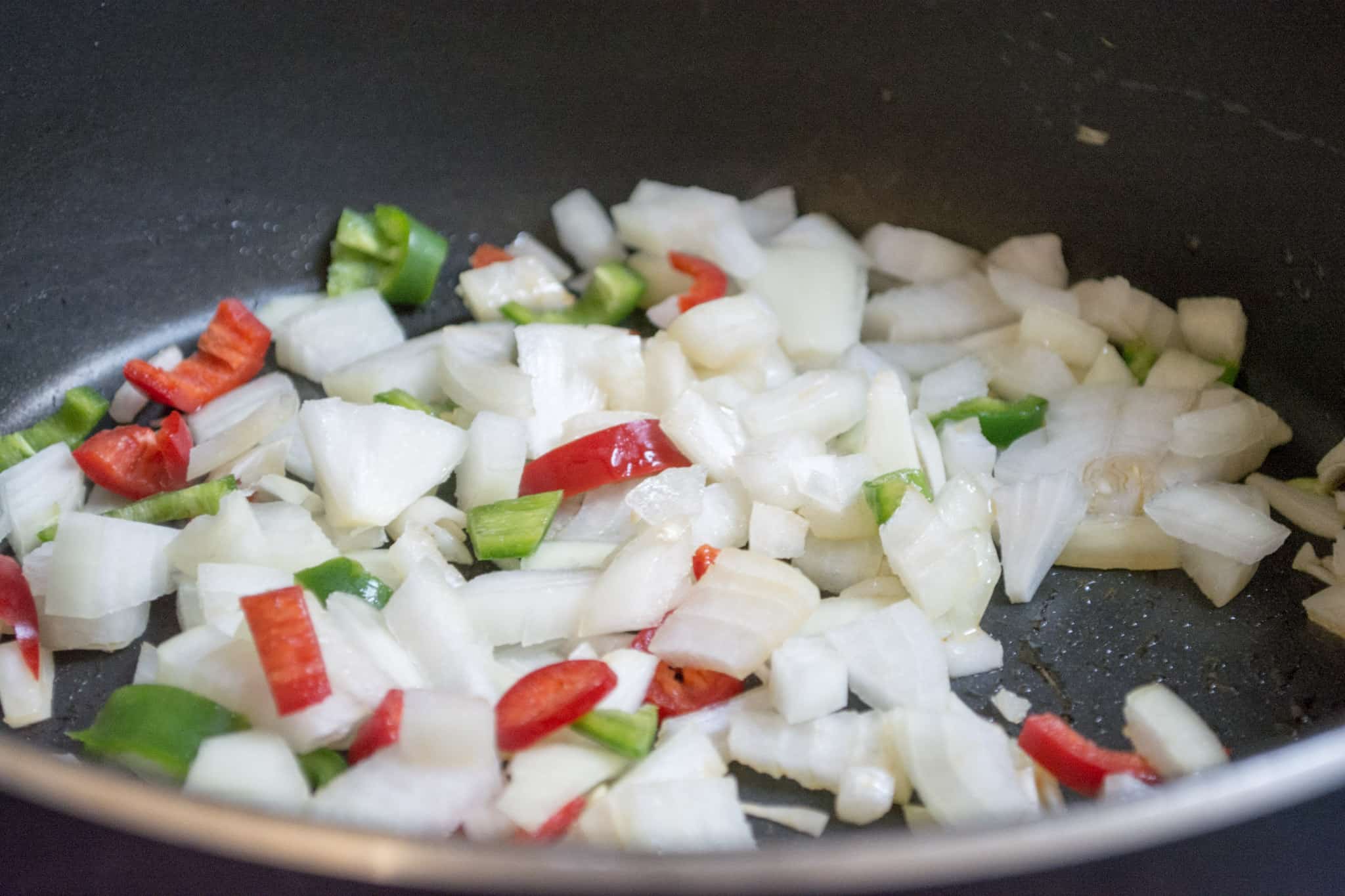 4. Once your onions begin to caramelise, add the spice mix and stir to coat the vegetables.
Then fry the mixture for a further minute: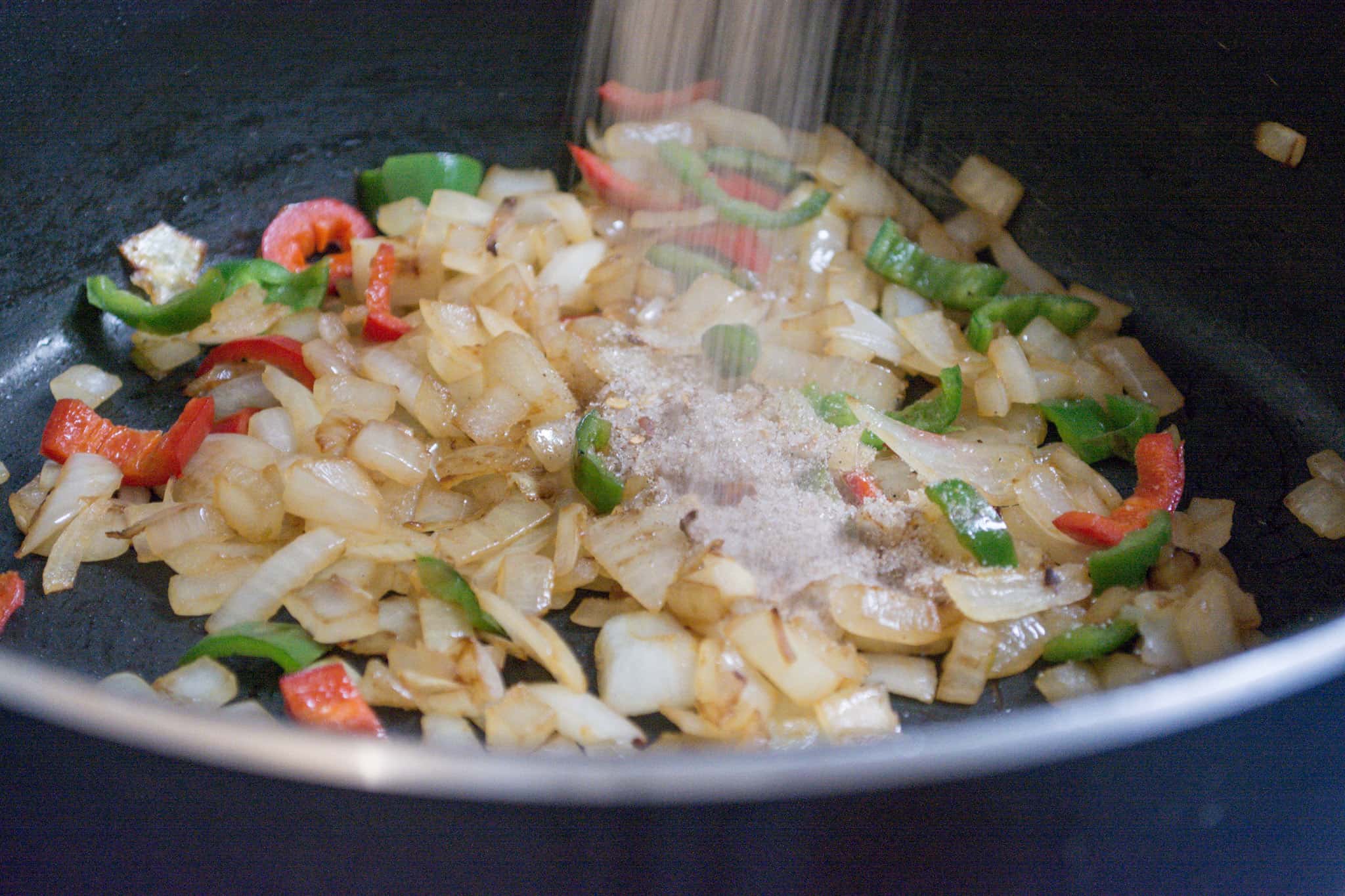 5. Then – it's time to add the cooked chips to the pan. Turn the heat to low and then stir everything together to coat the chips with the spices, chilli and onion: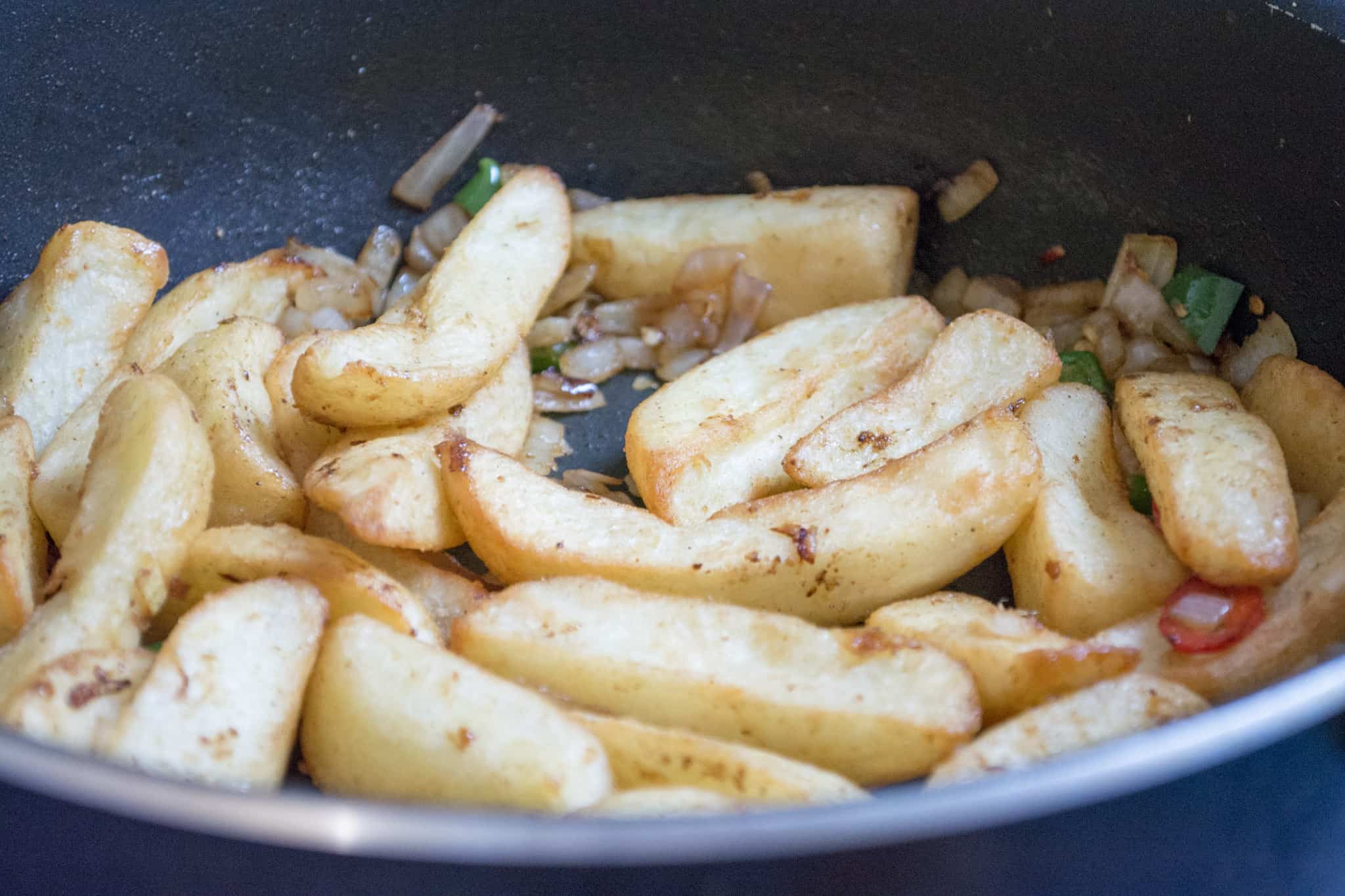 6. Then it's time to sit down and enjoy!
Yield: 2
Salt & Pepper Chips Recipe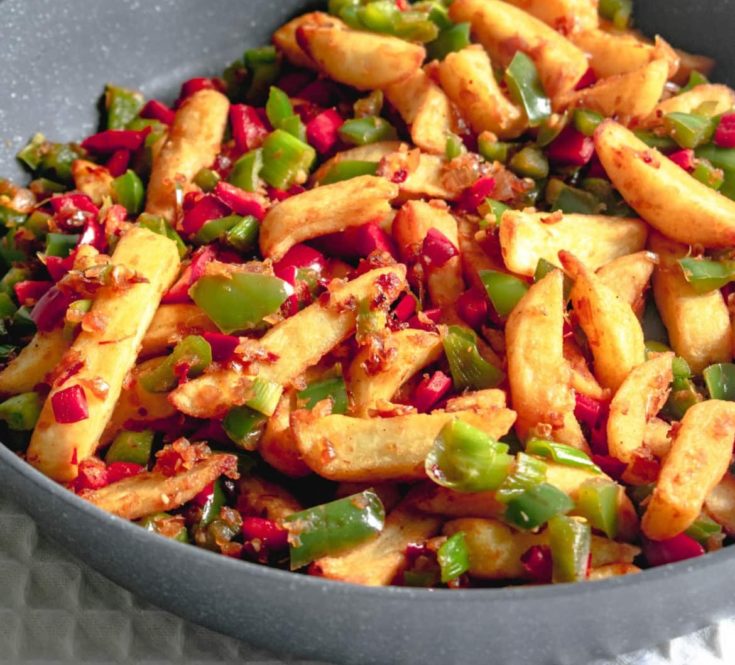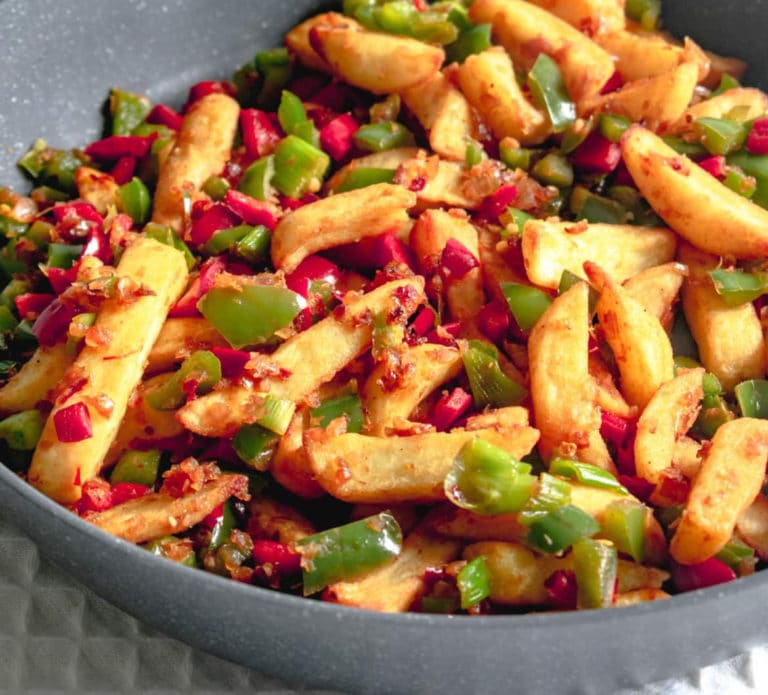 A classic Chinese takeaway classic, easy salt and pepper chips made at home using fresh or frozen chips, chillis and onion. Easy to follow recipe with step-by-step photos.
Ingredients
1/2 tsp sugar
Cooked oven chips, The amount you'd usually cook for 2 portions
1 onion
1 bell pepper
1 chilli (optional - I chose to use half one green and half one red for color)
2 tsp sea salt
2 tsp chinese five spice
1 tsp chilli flakes, (optional, depends how spicy you like it)
Instructions
Cook the oven chips as per packet instructions
Whilst the chips are cooking, chop the chilli, pepper and onion into small pieces
Once chips are cooked, heat some oil in pan and fry the chilli, pepper and onion until they begin to caramelise
Add the salt, five spice, chilli and sugar to the pan, stir to coat the onion and chilli and fry for a further minute
Add cooked chips to the pan, and stir to coat the chips in the spices. Turn off the heat, serve and enjoy
Notes
You can use frozen onions, peppers and chips if you need to! Don't skip on the browning of the onions - it brings so much flavour!
Recommended Products
As an Amazon Associate and member of other affiliate programs, I earn from qualifying purchases.
Nutrition Information
Yield
2
Serving Size
1
Amount Per Serving
Calories

469
Total Fat

27g
Saturated Fat

6g
Trans Fat

0g
Unsaturated Fat

15g
Cholesterol

51mg
Carbohydrates

38g
Fiber

4g
Sugar

6g
Protein

21g